Tehran Tourist Attractions
Tehran is the biggest city and capital of Iran, It is a vibrant, congested, multicultural metropolis with approximately 14 million habitants, including Persians, Kurds, Azeris, and other racial groups in Iran, making it the most populated city in Iran.
Are you vitalized by bustling sidewalks and a busy city that is always a whirlwind of activity, with historic sites at every turn and never enough time to see them all?Tehran should be among the first destinations you should consider! The history and culture of Tehran are intriguing and date back to significantly distant times. Tehran is also a cosmopolitan city and motherland of various tourist attractions, including several artistic and historical museums like the National Museum of Iran. Numerous palaces and gardens are of great interest, such as the Golestan palace, Niavaran palace, and Negarestan garden.Tehran is located on the South hillside of the Alborz mountain. It is located in an area of genuine beauty with flat areas alternating with mountainous chains and plateaus.
Top Tehan Tourist Attractions
Tehran residents speak standard Persian, and its weather is incredibly defined by its geographical location, surrounded by mountains in the North and deserts in the South. Hence, The North of Tehran enjoys cold and arid weather, but the South is primarily warm and humid.Tehran AttractionsExploring this glamorous municipality will carry you through more than 250 years of Iranian history – from the glittering Golestan Palace and the neighboring Grand Bazaar to the beautiful Azadi Tower. Then there are the incredible museums, gardens, and hospitable, friendly people. Regardless, Read on to uncover more additional sightseer locations and hidden gems throughout Tehran.
1. Golestan palace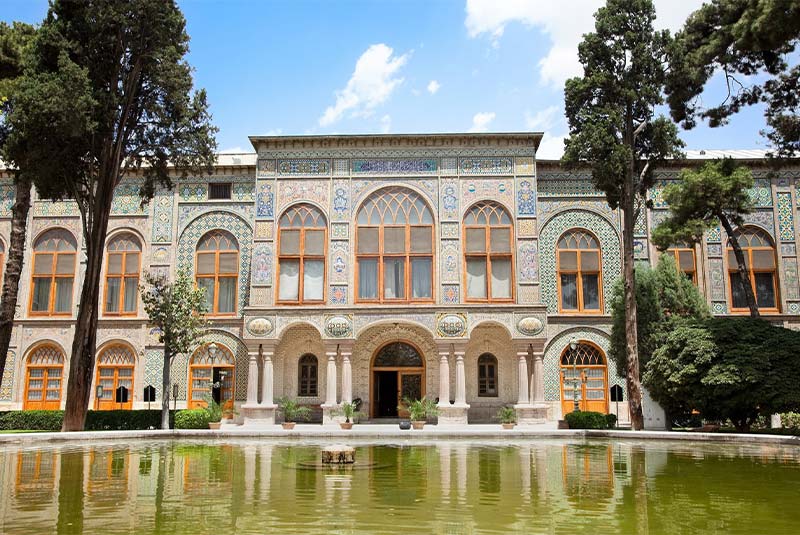 If you are looking for the oldest historical monument in Tehran, let us take you to the South of Tehran, where a magnificent collection of Iranian art and architecture awaits visitors amidst the hustle and bustle of the Grand Bazaar! A place you must visit when traveling to Iran is Golestan Palace.Golestan Palace complex is a superb place to enthrall yourself in Iranian architecture from the Zand era until today. The elegant Golestan Palace, also known as the rose garden palace, is a masterpiece of the Qajar era, incorporating the successful integration of earlier Persian arts and architecture with Western influences.
The Golestan palace displays the treasures and luxuries of the Qajar rulers. It is a historical complex of magnificent buildings adorned with beautifully painted tiles and set around a graceful garden.In addition to the beauty of the palaces and museums of the Golestan complex, something that will significantly impress you upon arrival is the excellent tiling of the walls. The complex comprises gardens, royal buildings, and collections of Iranian crafts and European presents from the 18th and 19th centuries. The complex also consists of three central archives: the photographic archive, the library of manuscripts, and the archive of documents. Join us to show you some parts of this fantastic complex: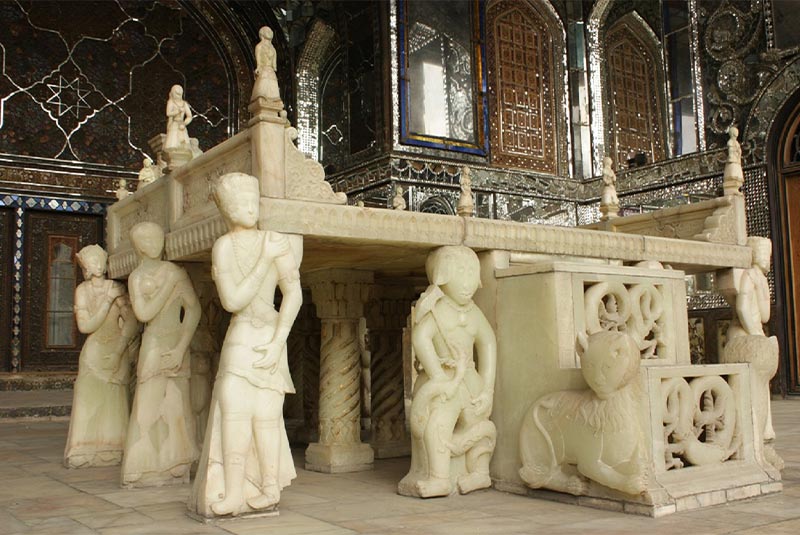 The marble throne is a reflected, open-fronted hall bogarted by a glorious throne made on a large scale to display the kingdom's glory. The throne was created in the early 1800s by order of Fath Ali Shah, the second monarch of the Qajar dynasty. Carved human figures defend the throne, with demons and fairies holding the throne just like Solomon's throne.
The veranda where the marble throne is positioned is artistically and beautifully adorned with artworks and mirror works. The marble throne hall was used for Nowruz greetings of Qajar kings and formal events, including the coronation of Reza Shah in December 1925. The throne terrace displays the most exemplary Iranian architecture, adorned by paintings, marble carvings, tile-work, stucco, mirrors, enamel, woodcarvings, and lattice windows.
2. Darband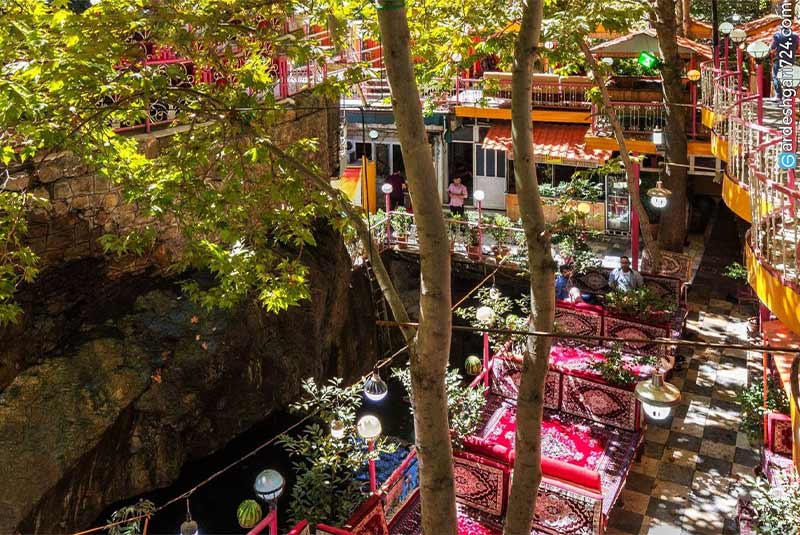 Darband is one of the most soothing places in Tehran to kick back with tea and a qalyan, with a mountain-village feeling. Darband translates to "door of the mountain." It is formerly a village close to Tajrish, a neighborhood inside Tehran's metropolis.Having 200 years of history behind it, Darband is a famous hiking route spiraling up a narrow rocky valley, with water from the river cascading down the mountains. The trail heads up into the Tochal summit. It is spattered with a panoramic sequence of teahouses, restaurants, booths, and hookah lounges decorated with flowers, pools, and fountains that add taste to the enticing mountain-village feel. It also has a chairlift for those not interested in hiking and easy commuting for the hikers.You will enjoy having your meal or drink while listening to the harmonious melody of the river and the waterfalls at Darband restaurants that serve both traditional and modern cuisines.
You can also try street foods in stalls like Kebabs, grilled corn, cooked beans, and Persian fruit. Experiencing this hurly-burly aura, full of people spending their evenings in Darband, will leave you with an unforgettable adventure.Darband also has a superb climate that creates a very different lifestyle for the inhabitants, who live in the old and rustic houses along the lanes with their domestic animals.In addition, Darband has the Climber Statue, honoring Colonel Amir Shahghadami, who courageously rescued a group of American climbers whose plane crashed into Tehran's northern mountains and the Zahir-od-dowel graveyard.
3. Saadabad Complex Museums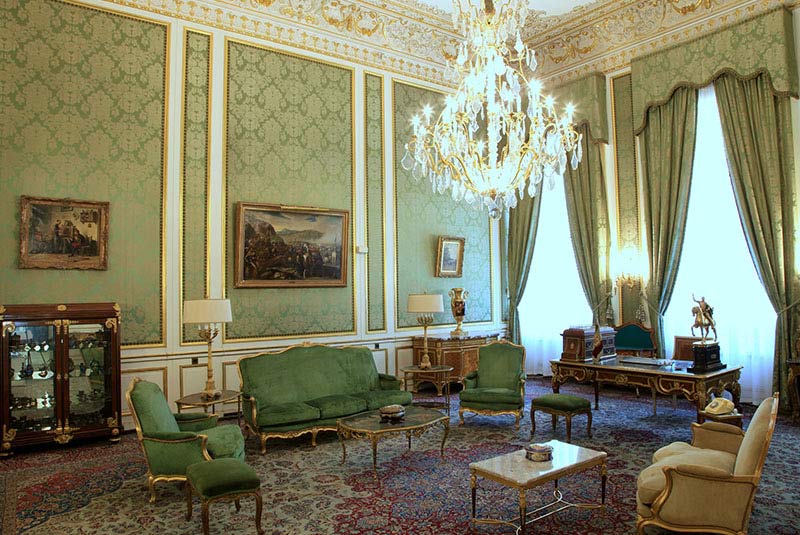 The Saadabad Complex is one of the most striking Tehran attractions and a must-see location you may not like to lose on your Tehran voyage.The Saadabad Palace is located in northern Tehran, with The Alborz Mountains bounding it in the North, the Darband district in the east, the Velenjak region in the west, and Tajrish Square and Bazaar in the South. The Qajar dynasty originally constructed the Saadabad complex in the 19th century and used to be a summer residence for royals due to its good weather. It Covers 110 hectares and comprises 18 different buildings.
It also has many other facilities and installations such as poultry and dairy halls, banana garden and greenhouses, pools, fountains, tennis courts, bowling halls, and the open cinema and theater halls.The many precious artworks in Saadabad Palace offer a magnificent ambiance and eye-catching architecture. In the following piece, you can keep up with us to learn more about the palaces and museums in the Saadabad complex.
The Saadabad Green Palace was the first Palace constructed in the complex during the Pahlavi dynasty under the command of Mohammad Reza Shah. He used this monument as his private Palace, where his private meetings took place. The structure is called the 'Green Palace' due to the exquisite bloom of its façade. Moreover, a collection of Persian craftworks, including mirror marquetry, Persian rugs, and plasterwork, are displayed in this breathtaking Palace.
4. Tehran Grand Bazaar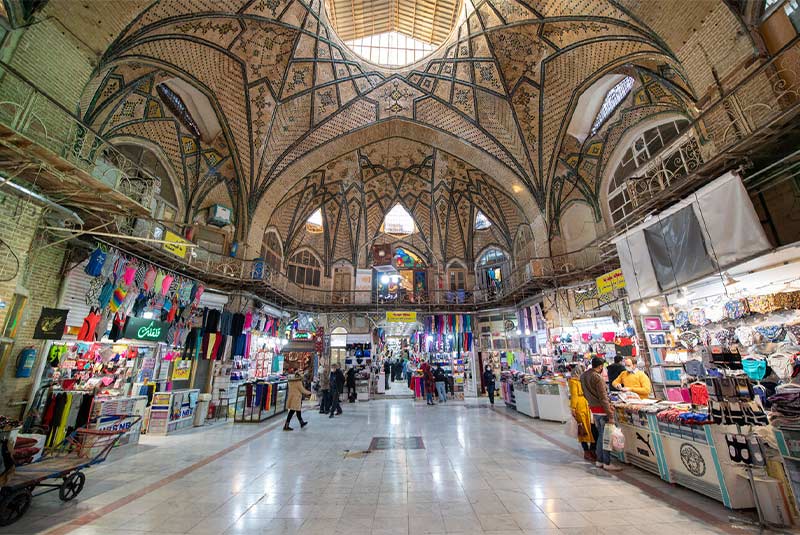 Visiting the oldest Bazaar in Tehran would sound great. Tehran grand bazaar confronts you with the rich history of the Iranian Markets at its best once you step into it. This bazaar offers a feast of vibes, blooms, aromas, and sounds that never cease to impress. Tehran grand bazaar has a unique and intricate architecture with eye-catching arches, complicated passageways, and conventional air-conditioning systems that provide excellent visual pleasure for its visitors. The universal fame of the Tehran Bazaar is because it has myriad functions rather than being simply a trade center.
Mosques, religious monuments, a ZoorKhaneh (Traditional Persian Gymnasium), public bathrooms, traditional tea houses, and restaurants with unbelievably mouthwatering Iranian dishes took shape around the bazaar. It is the only wholesale center in Tehran. Nevertheless, it does not mean you cannot do retail shopping here. It also plays a key role in supplying the capital's goods and is crucial in exchanging goods throughout the country.Tehran Grand Bazaar is the most suitable spot for those who care about economical prices. This bazaar has different small bazaars called "Bazaarcheh" for each commodity; for instance, a specific area designated for gold or beauty products. Therefore, you should decide where you want to buy things from. Tehran Grand Bazaar has been located at the city's heart since its creation in the early 16th century.
It has several entrances, with Sabze-Meydan being the main entrance. It is one of Iran's most OK preserved surviving bazaars, distinguished by its vibrant cultural and architectural heritage. Tehran Grand Bazaar looks like a mythical old city full of wrenches, turns, and corridors. It would be best to go to this bazaar for shopping and explore its unique history by walking in the labyrinthine alleys around the bazaar that turn it into a mesmerizing touristic spot. The bazaar is brimming with herbs, fresh fruits, nuts, dates, home appliances, clothes, and almost anything that comes to mind.
You can also try Iranian foods in the Market, such as Dizi and kebabs. Many visitors prefer to try seasonal foods like fresh pistachios, boiled beetroot, boiled turnip, potatoes, and eggs in the Market.Amidst the rush and bustle of the Tehran Bazaar, You can also visit ancient mosques in the bazaar, like the Shah Mosque and the Abdullah Khan Mosque.Lastly, keep in mind that there is no space for car parking around Tehran Grand Bazaar. So, it is better to go to the bazaar by public transport.
5. Niavaran Palace Complex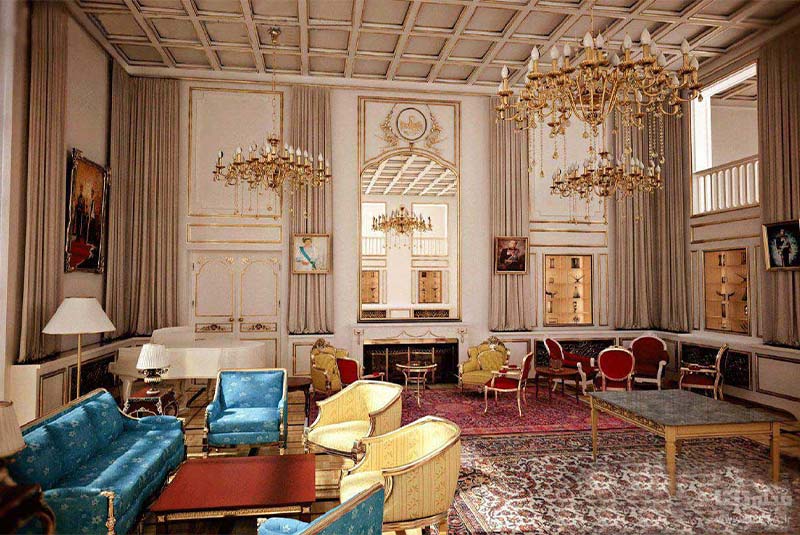 The Niavaran complex, located in the North of Tehran, was used as a summerhouse by Qajar kings. It has an area of about 11 hectares and is endowed with tremendous natural and historical beauty. All monuments in this complex belong to the Qajar and Pahlavi Periods.This complex was entitled Niava
ran because the Qajar king, Fathali Shah, ordered a construction of a lovely garden in a beautiful area beside the village of "Gordevi" or "Gordebeh" to replace the reed-bed that was adjacent to the town. This garden of Fathali Shah that replaced the reed bed was called Nei (reed) Avaran (growing).
Niavaran Palace Complex has breathtaking architecture and decoration like any other royal palace in Iran. The ceiling and walls of the Niavaran palace complex will ultimately leave you hypnotized because of its unique decoration with delicate stuccos, sensational mirror works, and Qashani by the best Iranian artists of the time. This oasis complex contains several parts, including palaces, museums, gardens, and a library. The three main palaces in the Niavaran complex are Sahebgharani Palace, Niavaran Palace, and Koshk-e Ahmad Shahi (Koshk is a pavilion). However, read more to find out more about its different parts and why you should visit this place.
You will see the Jahan Nama Museum in the western part of Sahebgharani Palace. This museum exhibits a substantial connection to the perfectionism of handicrafts from the ancient eras. This mansion displays the entire world's history, and one can witness the evolution of humankind's taste and feel. It also has valuable objects dedicated to the Pahlavi Family and other belongings they purchased themselves.Historical objects from diverse civilizations and societies worldwide, such as Ancient Egypt potteries, second-century stone protons of Buddha, and pottery containers from Archaeological sites in Iran dating back to the 2nd millennium B.C. and bronze figures of Lorestan from the 1st and 2nd millennium B.C. are collected here.
In addition, charming pieces of art by leading and creative Iranian artists such as Faramarz Pilaram, Manouchehr Yektai, Parviz Tanavoli, Hossein Zenderoudi, Sohrab Sepehri, and Bahman Mohasses, and the works of the prominent 20th-century artists such as Picasso, Dali, Renoir, Gauguin, and Braque, who have impacted the history of contemporary art in the world, get together in the museum.
6. National Museum of Iran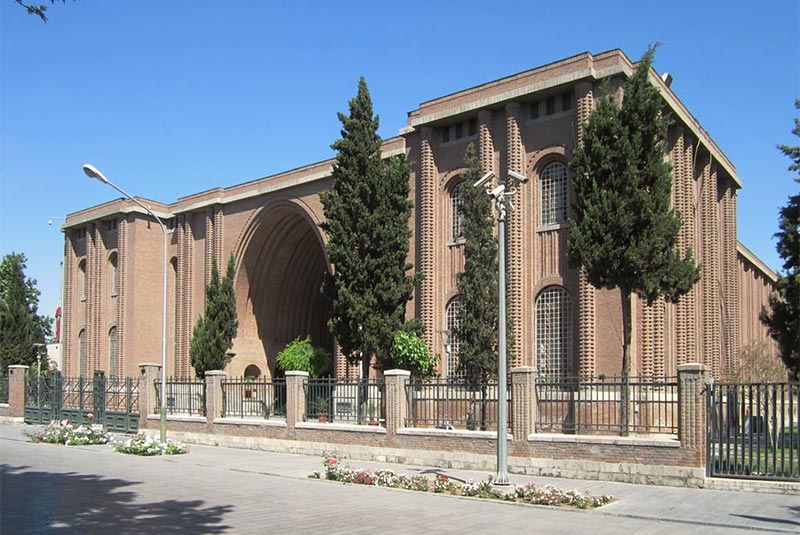 The National Museum of Iran is the first preference for tourists curious about archeology and history. The National Museum of Iran is a perfect recommendation for tourists interested in the history of human civilization. A visit to this museum will leave a breathtaking feeling of being part of a million years of human settlement and cultural achievement in Iran.It is the main Museum in Tehran, and its exhibition enfolds Iran's history from the Paleolithic to the Qajar period. Therefore, tourists can track the whole history of Iran – from the Stone Age to the 20th century.The National Museum of Iran consists of two buildings. The first building is the Ancient Iran Museum, and the second is the Museum of Islamic Archaeology and Art of Iran.The National Museum of Iran houses the largest collections of archaeological objects in Iran, dating from the early Paleolithic to the late Islamic period.The museum contains Paleolithic personal ornaments, clay, and human figurines from the early village communities. There is also the earliest evidence of administrative technology and writing from the 4th millennium BC, Persepolis stone reliefs and capitals, and the Ilkhanid Mihrab (prayer niche) of Dar-e Behesht exhibited in this museum.In this museum are some collections, including stone tools that belong to the Stone Age( more than 30 000 years old). Also, visitors can observe a copy of the Babylonian Code of Hammurabi – the world's first legislation. The most shocking and exciting exhibition item – is Salt Man from Zanjan. Salt man is a salt-cured mummy found in a salt mine in Chehrabad. Moreover, there are statues, manuscripts, pottery, and other items on display.
7. Bam-e Tehran
One charming spot you can stay to take a break from the crowd during your visit to Tehran is Bam-e Tehran. This place has a fresh and mountainous climate that would rejuvenate your body and soul. Thrilling amusement and food courts are available here to add to your pleasure.Bame Tehran (Roof of Tehran) is an ideal place in the Alborz mountains with lovely weather and a calm atmosphere. Besides the healthy environment, there are plenty of restaurants and cafes to satisfy your stomach with Iranian and international dishes.Bame Tehran is also a great place to spend time doing different workouts. You can find booths where you can buy training suits, sports apparel, hiking gear and equipment, and even flower pots and plants. Many tourists enjoy visiting this place to avoid their busy everyday lives. You can spend your time here by beginning a lovely trek and watching the city in the silence of the night.
There are also many entertainments in Bame Tehran like a multidimensional cinema, sled, bag jump, bungee jumping court, trampoline court, tennis court, zip line, cube club, food court, and many other things.Bag jumping can be an exciting choice if you are a sports fan. Bungee Jumping is perfect if you want to feel like you want to float in the air, you can find pure satisfaction doing bungee jumping. Rock climbing on the artificial walls of Bame Tehran is another thing you can do to have an overflow of adrenaline in your veins. Do you want to recall your childhood memories? Try the trampoline jumping at the Bam-e Tehran complex. You can also play tennis while viewing the wonderful city of Tehran.You will be impressed by the special effects like wind, storm, and chair vibration in the 5-dimensional cinema in Bame Tehran. Escape Room is just another entertaining activity you can try with your friends. In this event, you get locked in a room, and you should find a way out with the given clues. Zip Line is also an adventurous and exciting thing to do here. You will experience flying at a 60-meter height and landing about 200 meters away.If you do not have acrophobia, another activity you can try in Bame Tehran is the telesiege. The Telesiege will move you from the first station to Cheshmeh Restaurant, where you can get to the benches and see the beautiful city of Tehran. Finally, Bam-e Tehran is the best choice to make unforgettable memories of Tehran. The city's landmark stretches from the hillside to the surrounding valleys and has an admirable view.
8. 30 Tir Street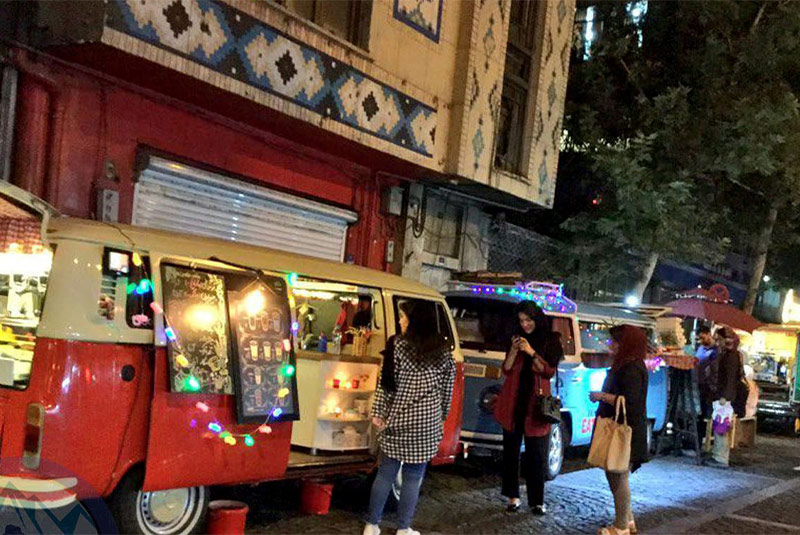 Many cities are known for their impressive streets, which attract locals and tourists for being a nighttime resort, and Tehran is not an exception. If you are on a Tehran voyage, try not to skip visiting 30 Tir Street, where you can experience a unique and fresh atmosphere with many hospitable people spending their long nights in Tehran. Hundreds of people have extraordinary nightlife on 30 Tir Street, eating, chatting, walking, listening to street music, and having street foods.30 Tir (pronounced see-ye teer) corresponds with July 21 and is entitled after the date of the massive pro-Mossadegh uprising against the Shah in 1952, in which dozens of individuals were killed. This cobblestone street intersects Imam Khomeini Street between Imam Khomeini Square and Hasan Abad Square. It continues North to Nofel Loshato Street near the Embassy of France. The street is also known as Religions Street because it hosts different holy places of various religions, such as Saint Peter's Church.Saint Peter's Church is a gorgeous spot to photograph yourself standing in front of the angel wings painted on the church's walls. The design of this church combines Persian & European architecture, making it astonishing. American preachers established Saint Peters Church in 1876. It is now used by Armenian Protestants and Korean immigrants in Iran.30 Tir Street Food:If you want to try street food in Tehran, 30 Tir Street will be the best option. On this street, there are numerous quality restaurants and cafés, but still, the place is nearly swarmed by street-food sellers. The omnipresence of foods here allows you to see various kinds of delicious foodstuff in and around. The aromas of different beverages, meals, and desserts on this street are so glamorous that you cannot help but start tasting them. You can find various Persian cuisines, including fast foods, snacks, Kebabs, Aash-Reshteh, Del-o-Jegar, etc.—being replete with Van Cafes, kiosks, and food stalls. This beautiful place welcomes every individual warm-heartedly. Christians, Muslims, and Zoroastrians gather together, making tourists from different religious backgrounds feel like they are not far from home.
9. Tochal ski resort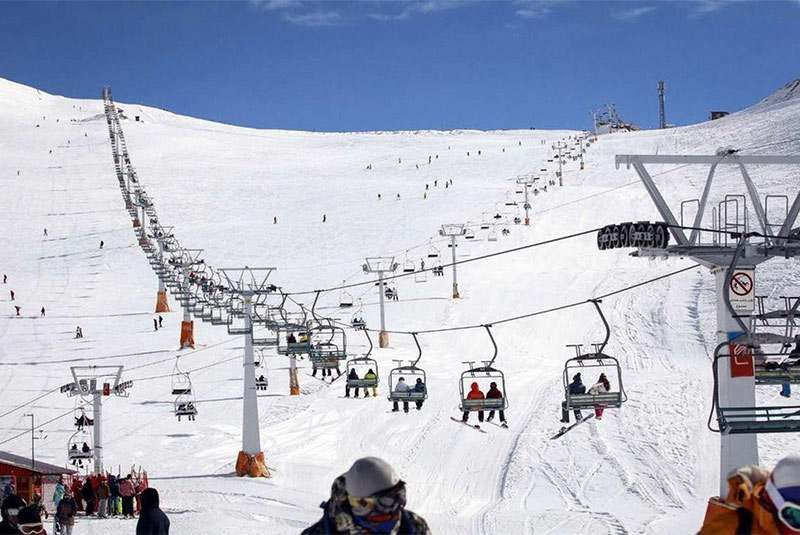 Tochal Ski Resort is among the most famous ski centers in Iran. It is a special place for nature tourists and ski lovers. Tochal Ski resort also has comfort facilities and various other services to make a more unforgettable memory. In addition, the weather is calm in spring and summer. Hence, it has a refreshing nature that will revitalize your soul. The dazzling snow on this mountaintop makes it ideal for winter sports.Tochal's literary meaning is "small lake," The logic behind this naming is that there is a natural ice lake beside this mountain.There are seven stations on Tochal Complex, and their arrangements are from low to high heights. It takes about 3 hours to walk from the first station to the last station.A part of this complex has many astonishing terrains and an eye-catching view of Tehran. Here, you can enjoy the beautiful sights, pleasant weather, various springs with crystal water, and peaceful silence. Other parts have numerous restaurants, traditional tea houses, paintball arenas, tennis courts, shooting clubs, skate rinks, and fitness clubs. The most fabulous entertainment in Tochal Complex is the Tochal ski resort. The Tochal ski resort is situated at the seventh station and has two-chair lifts and one T-bar. The best time to go skiing is usually from November to April or even June, depending on the climate and the snowfall.
10. Milad tower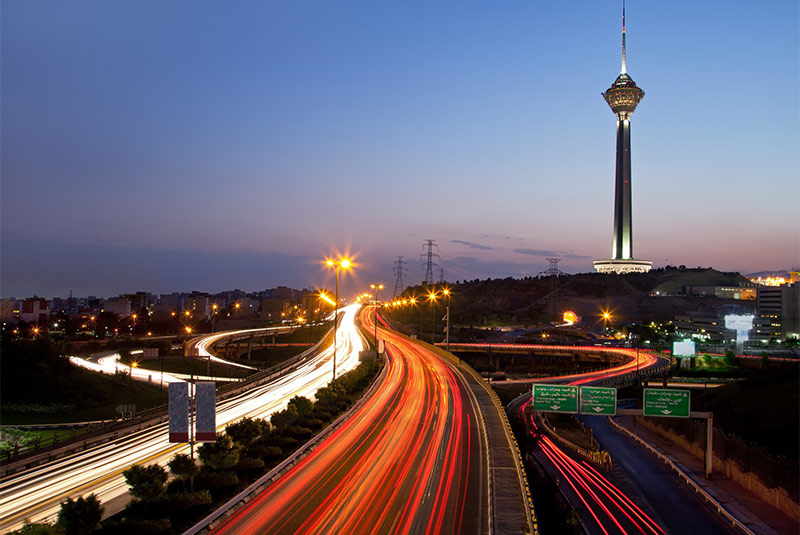 The Milad Tower is known as the symbol of Tehran. It is a radio and television tower, proudly standing in the northern part of Tehran and can be visualized from almost every aspect of the city. Milad tower is the world's sixth tallest telecommunication tower and the tallest one in Iran. It provides a bird's-eye view of the city and some trade activities and entertainment events.Milad Tower is 435 meters long and has five parts: the foundation, entrance lobby, shaft, head structure, and antenna. Milad Tower hosts various shows and events, a convention center, and a world trade center.
For regular tourists, the main attraction is the observation deck, located on the top of the head structure, which provides a panoramic 360-degree view of the city and mountains. Besides, you can also visit the art gallery and museum of the tower when you are at the top.The revolving restaurant is the first option that comes to mind when considering lunch next to Milad Tower. In this restaurant, you can have lunch and enjoy the spectacular view of the city under your feet.
11. Tajrish Bazaar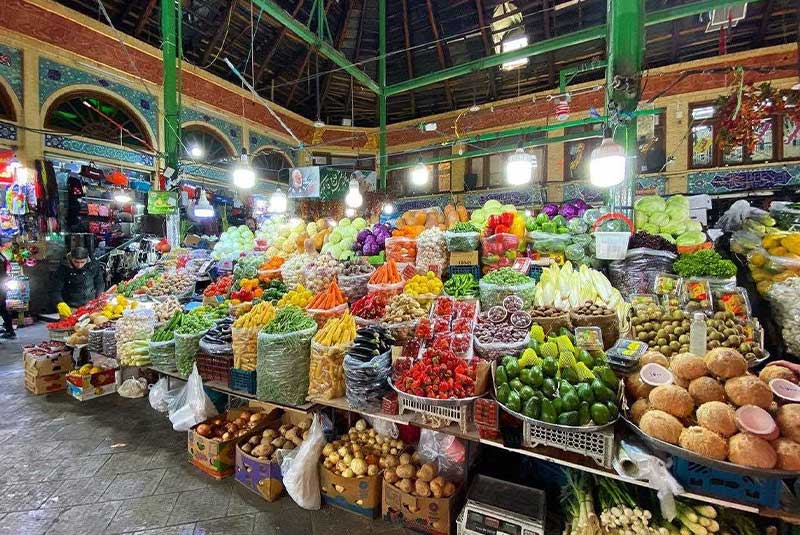 Many travel all over the world, from best-known spots to far-flung corners of the world, for different reasons, but one reason that can inspire you to travel is immersing yourself in the traditions of an original site. In the Tajrish bazaar, you have a chance to dive into one of the most ancient bazaars in the world. Moreover, walking through Tajrish Bazaar would be one of the highlights of your trip. The combination of the daylight creeping through skylights in the domed passageway of the bazaar, plus the calm breeze, will make you feel incredible.
Tajrish Bazaar is north of Tehran. Some of its parts were built more than 200 years ago, back in the Qajar dynasty. Tajrish bazaar has ancient architecture and structure. Once you get to the bazaar, you'll be welcomed by a long hallway lined with brown bricks, distinct turquoise signs, and vibrant aromas.Tajrish Bazaar is about 700 meters long and has over 400 stores with sensational arches with the names of stores carved on them above each store. This bazaar's traditional fretwork and tiling are marvelous and unignorable.
The roofed passageway of this bazaar is overwhelmed with a profusion of tantalizing aromas, and the chattering sound of merchants and customers bargaining heavily creates a vibrant atmosphere in this bazaar.You can find everything in this bazaar. If you are into shopping, you can satisfy your needs here because the bazaar is brimming with edible and functional odd assortments, from nuts and dairy dried to fruits, pickles, spices, and rock candy. In addition, the brand new sight of varying vivid colors, including fiery red, verdant, and glowing yellow of seasonal fruits and vegetables with their soft skins, intact stalks, and shiny leaves mingled with the glittery store lights, create a realistic fresco. Therefore, taking pictures as much as possible in Tajrish Bazaars is strongly recommended.You can also find beads, fabrics, tinware, electronic devices, perfumes, toys, gold and silver jewelry, copper plates, knitted slippers, silk and cotton scarves, and much more in Tajrish Bazaar. Furthermore, You can buy different Iranian street food to eat while shopping in the Tajrish bazaar.
12. Valiasr Street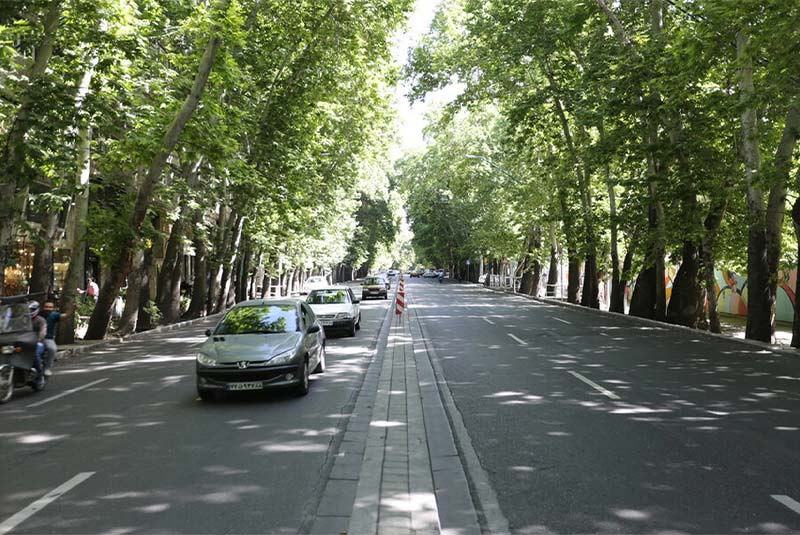 Valiasr Street is previously known as Pahlavi and Mossadeq Street. It is the "longest street in Tehran and West Asia," with 17.9 kilometers (11.1 miles). It divides Tehran into western and eastern parts. Valiasr street begins from the railway square (Rah Ahan Square) in the South of Tehran to Tajrish Square in the North of the capital.The street was built by Reza Shah Pahlavi's order and was called Pahlavi Street for its first few decades. After the 1979 Islamic Revolution, the street's name was changed initially to Mossadeq Street (the former nationalist prime minister Mohammad Mossadeq) and later to Valiasr (a reference to the 12th Shi'ite Imam). Vali asr street construction started in 1922 and ended in 1927.
The street is considered one of the most important thoroughfares in the country. Vali-e-Asr Street has become a tourist spot due to its unique features, such as the famous sycamore trees, large shopping malls, public parks, restaurants, museums, cultural centers, and national and international offices.The fastest and easiest way to get around Valiasr Street is by using the hop-on, hop-off Bus Rapid Transit (B.R.T.), which has a separate passage on the street. The buses are segregated into male and female sections, whizzing passengers up and down the length of the road for a set price as part of the citywide municipality integrated transport card.Alternatively, you can use the taxis that pass most sections of the street minute-by-minute; however, like most other private vehicles, you will be at the mercy of the heavy traffic.
13. Iran Mall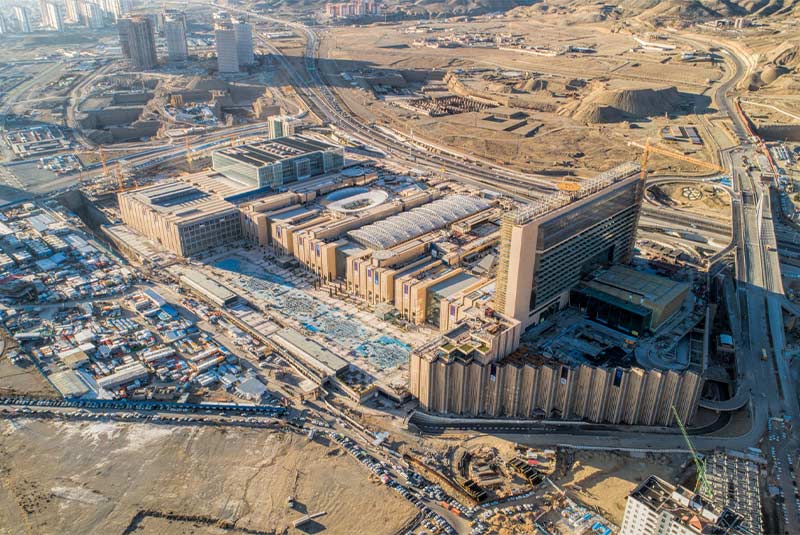 Iran-Mall is the fifth biggest mall in the world and the number one in the Middle East. The mall is located west of Chitgar Park in Tehran, with a total floor area of 1,700,000 square meters. The construction of the mall took about five years to complete.The mall is home to many retail outlets, including local and foreign products and styles. There are also more than 700 stores in the mall, a diamond atrium, a fashion avenue, and a "crystal atrium" with a water feature. And for those who like reading, there is a book garden with several bookstores containing around 67,000 titles.It doesn't stop there; the mall also has an on-site museum, art galleries, and a state-of-the-art 2,000-seat cinema and theatre space. Read more to find out more about its different touristic attractions and why you should visit this mall.
This garden is designed to create a space for reading and studying. The Jondishapour Library is named after Jondishapur University. The library's interior design is made of earthy tones and woods to convey a sense of authentic Middle Eastern hospitality and comfort. It is built on three floors and equipped with more than 45,000 volumes of books, manuscripts, and documents. There are also separate reading studios for those interested in reading books in a more secluded, private area.
The statues of three crucial figures in Persian history, Ibn Sina, commonly known as Avicenna, Abu Ali Hasan ibn Ali Tusi known by his honorific title of Nizam al-Mulk, and Abu Rayhan Muhammad ibn Ahmad al-Biruni commonly known as al-Biruni, are displayed in this library.There are other amusements in this mall, including a cinema and showroom showcasing the latest technology in the automotive industry of Iran. You can also participate in cycling, swimming, and rooftop tennis.
14. Azadi Tower( Freedom Tower)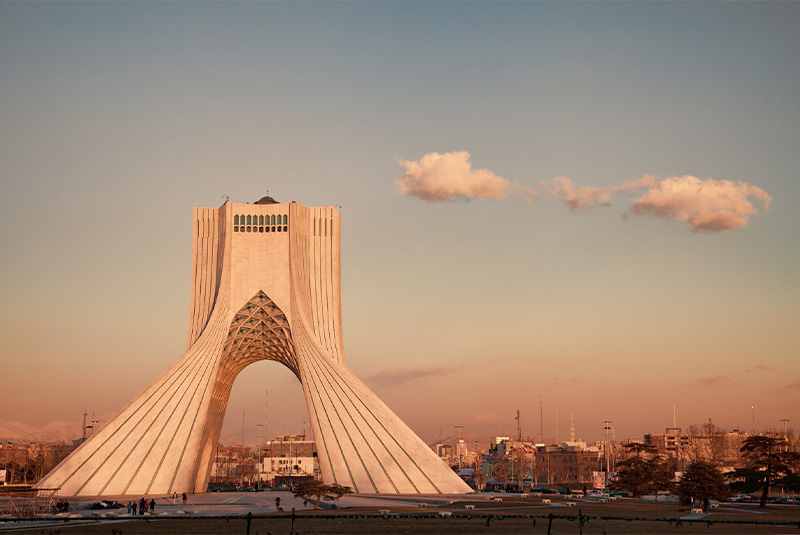 During Mehrabad's airport status as Tehran's international airport, Azadi Tower, the gatekeeper of the capital city, welcomed all visitors. This tower remains Tehran's most iconic landmark, a silent witness to some of Iran's major historical events. Visiting this beautiful tower will allow you to experience the contemporary history of Iran, artfully expressed through architecture. It will enable you to connect with Iran's rich culture and politics.Azadi tower stands on a 540,000sq ft Azadi Square, the second largest square in Iran.
This tower incorporates the principles of the traditional Persian Garden through its virtuously landscaped yard, fresh flowerbeds, and streaming fountains. All these elements make Azadi tower a favorite spot for tourists eager to post their arrival in Tehran on Instagram.This chef-d'oeuvre is one of the modern illustrations of Iranian architecture that achieves its cultural status through the artistic representation of Iranian civilization. Azadi Tower symbolizes the historical transition of Iran from the pre-Islamic period to the modern age.Azadi tower also displays the national inspiration of a nation for social greatness. Above all, it manifests the sincere aspiration of Iranians for freedom and unity.
It also represents their determination for the future and their pride in the past.Azadi tower was designed by Hossein Amanat, whose design was inspired by the interior design of the Sheikh Lotfollah Mosque in Isfahan.The basement of Azadi Tower consists of several interconnected galleries and other facilities. The main gallery, dubbed Azadi Museum, currently exhibits artifacts from the Sassanids, Achaemenids, and Arcasid periods, along with a wealth of Qajar jewelry transferred from the Saadabad Museum.
15. Moqadam House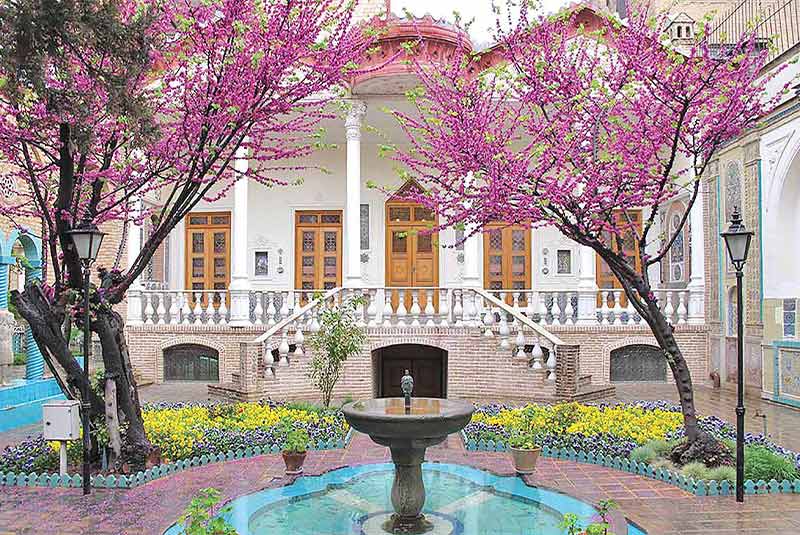 Moghadam house is known to be one of the most valuable houses in the world. It is a museum comprising a home and a beautiful garden, safely concealed from the public behind thick walls. Moghadam museum is fantastic and requires spending hours looking at all the beauty of the interior decor and the garden. Treat yourself and spend some quiet time inside this unique venue. The house is a luxurious example of Qajar-era buildings and perfectly illustrates traditional architecture reflecting Iranian culture. Initially, it belonged to one of the city authorities, Ehtesab-Ol-Molk. His son, Mohsen Moghadam, later inherited the house and owned it with his companion Salma.
Mohsen Moghadam was an archeologist and art professor. He and his wife Salma were passionate about culture and history, so they devoted their lives to collecting and gathering valuable objects from all over the world, keeping them inside the house, and taking care of them as their children to pass to the next generations. Moghadam bought some pieces from merchants, some from homes their owners intended to destroy, and some from abroad after detractors and foreign collectors smuggled them. Several items were a gift to Moghadam from foreign ambassadors and guests of his house.Moghadam Museum is precious due to its astonishing architecture and the rare, priceless collection of objects it exhibits.
The museum is located in the heart of Tehran, on Imam Khomeini street, and consists of two parts: interior and exterior wings. The museum is decorated with colorful tiles, columns, and arches that create a unique, authentic atmosphere. The peaceful garden is full of blooming trees, flowers, and bushes, decorated with turquoise fountains and sculptures. One of the house's rooms is decorated with precious and semi-precious stones and corals. Also, you can admire the unique golden tiles decorating one of the walls.The exhibition contains paintings, mosaics, sculptures, historical cloth, pottery, glass, images, coins, old documents, valuable crafts, such as magnificent tiles, carved stone pieces, and photos of Mohsen and Salma.
16. Tabiat bridge (Nature Bridge)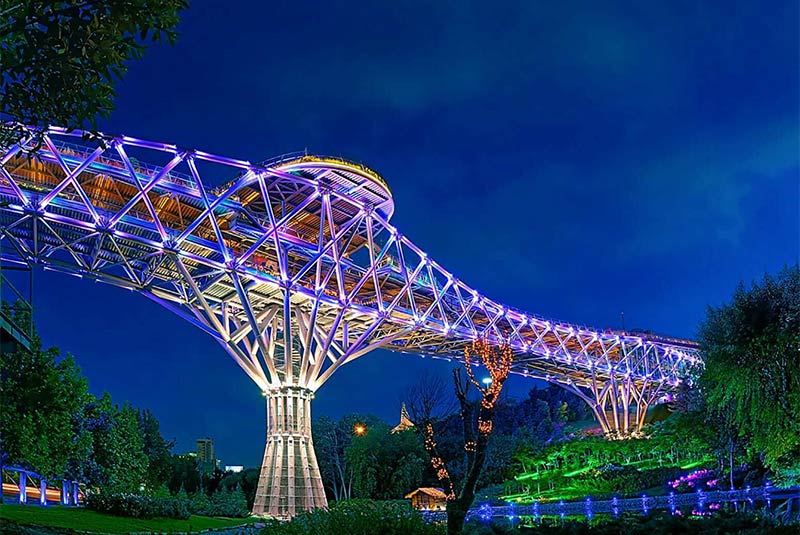 'Tabiat' means 'Nature' in the Persian language. The bridge is regarded as the largest pedestrian bridge in Iran. It is located in the northern part of Tehran. This bridge was designed to address the need to improve pedestrian access between the two parks, Abo Atash Park on the west and Taleghani Park on the east. The two parks are divided by Shahid Modarres highway, one of the city's major highways.The Tabiat Bridge is charming and beautiful, especially at night. The bridge is a space planned to be a place to lounge rather than pass through.
It is a modern bridge with perfect architecture and a good city view. It is an extension of the parks, so there are seating areas and green spaces on all parts of the bridge. There are also coffee shops and restaurants on the two sides to slow visitors and make them stay on the bridge.On the bridge's east side, numerous trails branch from both levels of the bridge and connect to other routes within Taleghani Park. On the west, where it connects to Abo Atash Park, the bridge becomes more expansive, forming a plaza; this makes it challenging to recognize where the park ends and where the bridge starts. The structure comprises three levels following a curved path.
It is connected by various ramps and stairs that provide numerous trails throughout the bridge to get from each class to another. The ramps and stairs also give countless unique ways to experience the bridge, encouraging pedestrians to wander and get lost on this bridge. In addition, there are many benches on all levels, which make it possible for the visitors to linger on the bridge for as long as they want to and enjoy the scenery they cannot see from any other place.The bridge also has a bulky, steel truss structure that gives it a weighty appearance on the skyline. It also has Multi-branch columns, designed to look like trees and to provide support. The wooden decks follow a gentle S-shaped path to create a sense of mystery about the destination.
17. Treasury of the National Jewels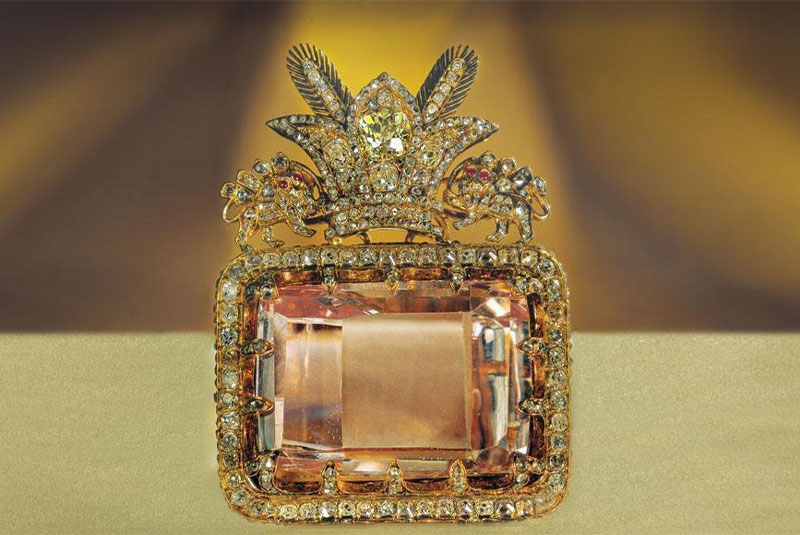 The Treasury of the National Jewels is an exhibition of the most expensive jewels of the world, collected over centuries.Every piece of this collection reminisces the fierce history of this great nation and the artistry of this land's residents. Each piece recalls memories of the pride and arrogance of powerful rulers.Regular visitors easily get overwhelmed by the glitter of this unique collection's excellent work and gems. The worth of the collections in the Treasury of National Jewels is not limited to their economic value. It also reflects the creativity and taste of Iranian artisans and artists over the different eras of history. Therefore, most of the collections cannot be priced and evaluated.
The jewels in this museum were ornaments for the monarchs during the past eras. They show their courts' glory and luxury and power and wealth. The essential items in the Treasury of the National Jewels include: Farah Pahlavi Crown Jewels Kiani Crown (traditional coronation crown worn by Qajar shahs) Nader Shah's Sword Sun Throne or Peacock throne; Throne of Fath Ali Shah Qajar Globe of Jewels Golden Belt (Shah's coronation belt)Daria-i-Noor is one of the largest cut diamonds in the world in pale pink.Samarian spinel (Spinel)Noor-ul-Ain ('the light of the eye') is one of the largest pink diamonds in the world.
18. Negarestan Garden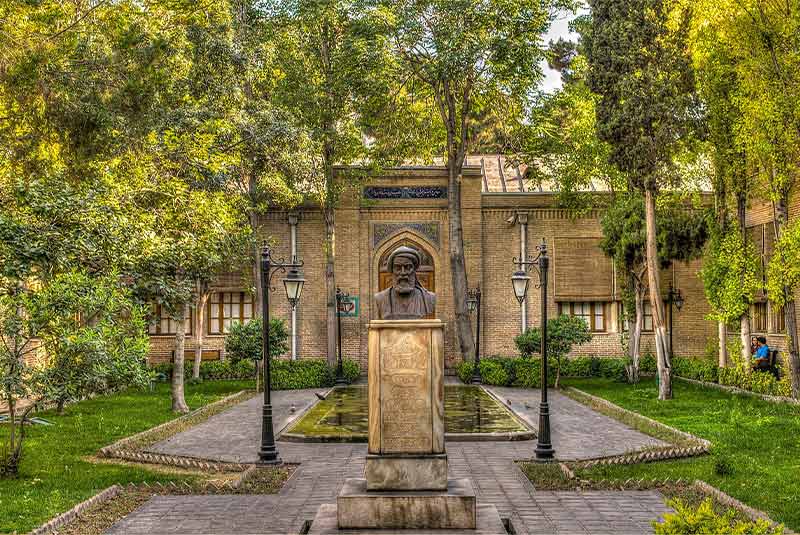 The negarestan garden is one of Tehran's significant historical and cultural sites. It is located in the city center and is a must-see place for tourists interested in the history of Iran's artistic development. Negarestan garden was built by the order of Fath Ali Shah Qajar in the early 18th century. Due to many paintings and murals from the Qajar dynasty, the Palace was named Negarestan, which means the place of paintings. Negarestan garden was the residence of the kings of the Qajar dynasty. Nowadays, the garden is a cultural-historical site where you can explore Persian architecture from the eighteenth to the nineteenth century.
Negarestan garden has noticed many documented and social events. In this museum, paintings of Kamal-ol Molk (Mohammad Qaffari) with the works of two generations of his students are displayed. The garden is a fantastic site, with beautifully aged trees all around the garden with a lovely pool in the center covered by Water lotus flowers. It also has open pavilions, canals, and an open-air cafeteria. The hallways of the pavilions are decorated with mirrors, chandeliers, and gilded works. There are two main buildings inside the garden: the hall of Delgosha and the hall of Ghalamdan. The coronation of the third king of Qajar took place in this garden.The Negarest garden is located in Baharestan Square in Tehran. It was the first Iranian academic center for teacher training and was a school for promulgating arts such as painting, sculpturing, and other crafts.
19. Chitgar Lake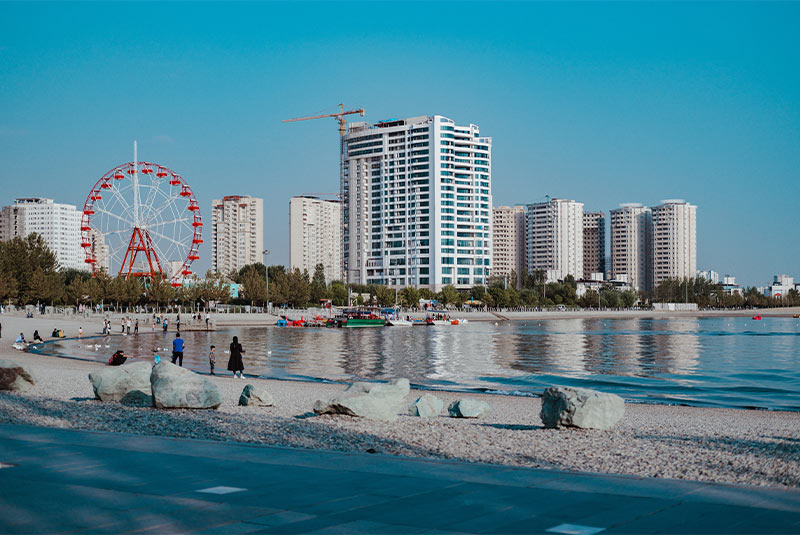 Chitgar Lake, or Lake of the Martyrs of the Persian Gulf, is an artificial and recreational lake in the western part of Tehran. It offers a lot of entertaining activities to its visitors. Moreover, Its nice fresh weather revitalizes both the body and soul. Chitgar lake is one of the best choices near Tehran for passing times because of its beautiful nature and remarkable design for aerobic exercises. There is a magnificent forest park in the western and southern parts of the lake. About 80% of the water from Chitgar lake runs from Kan Creek, and the remaining 20% comes from the district's central areas and surface runoffs.
The lakeshore landscape becomes fascinating at sunset and night, and the visual elements of the lake bring it a magnificent view. You can visit some entertaining facilities, including amusement islands, wildlife islands, educational islands, sailing docks, water parks, aqua clubs, recreational harbors, welfare facilities, amusement parks, and accommodation services. Chitgar Park is well known for its bicycle tracks, and You can also experience horse riding in Chitgar Park by going to a horse riding club. You can also enjoy the paintball.
If you have children, you can take them to the Woodlands to watch the birds and animals.If you like boating, you could take advantage of the boats on the lake and ride all around it. In addition, there is a shopping center beside Chitgar Lake for shopaholics. Many restaurants and coffee shops are also available, making the place a proper alternative to having a yummy meal. The restaurants serve delicious international and local foods, so do not miss them. Other amusements in chitgar lake include Jump in the Sky, The freefall Slide, Skydiving, Surfing, Sky Flyer, Kayak Riding, and 6D Cinema.
20. Masoudieh Mansion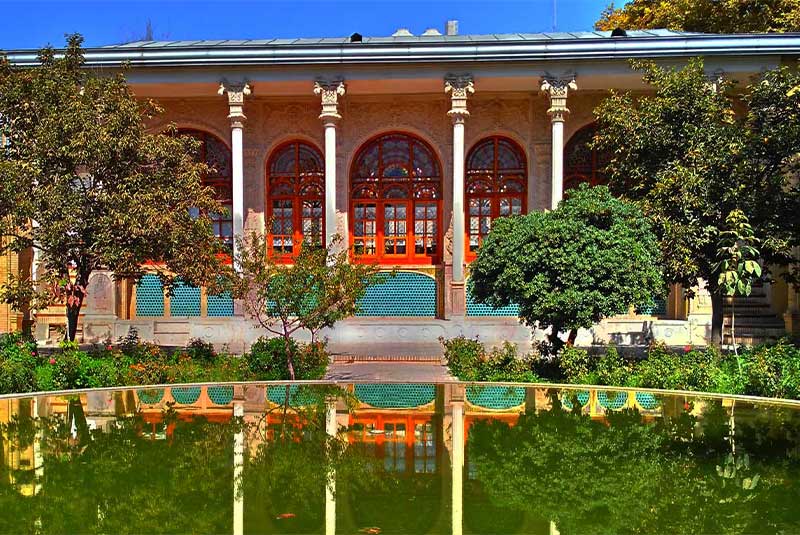 Masoudieh Mansion is located adjacent to Baharestan Square of Tehran and is among some of the most exquisite historical buildings in Tehran. The mansion was built by order of Masoud Mirza, one of Naser al-Din Shah Qajar's sons. Masoud Mirza was the governor of Isfahan, known as Zal al-Sultan. The name of this mansion was taken after Masoud Mirza and called Masoudieh.The construction of this mansion began in 1873 and ended in 1878. it has Two main structures: the courtroom and the sitting room. There are other buildings next to them, such as Miansaray-e Seyed Javadi, Seyed Javadi Building, Miansaray-e Moshiri, Moshir of-Doleh building, Miansaray-e Khalvat, walking path entrance gateway, the gateway for carriages, and the garden of the courtroom. These structures are decorated with stucco, woodworking, tiles, calligraphy, mural painting, and other techniques.
From the influential days of the Qajar era to events of the Iranian Islamic Revolution, this mansion has witnessed some of the most important days and events of Iran's contemporary history, resulting in its registration as a national heritage.Today Masoudieh Mansion has become a cultural center in the heart of Tehran. The fifteenth Iran Cinema Celebration was hosted in this monument on September 16, 2011. Occasionally, festivals and art exhibitions are held there, too. This Palace narrates Iran's modern history to those who pay a visit. Many ancient inscriptions and documents are kept at the site.