Iran Desert Tours
Iran desert tours and desert safaris explore some of the most isolated regions of this fascinating nation, from the spectacular Kalouts of the Shahdad to the Lut Desert's dunes.
Iran has breathtaking scenery, unending skies, desolate deserts, rough mountains, and fantastic wildlife. Iran is one of the few places where it is still possible to travel long miles in complete freedom, sleep in the wilderness or a formal camp, explore the middle desert and far-off dunes, and engage in pure relaxation or extreme adventure. Iran is a land of unending contrast where you may learn intriguing things about desert flora, fauna, geology, history, culture, and way of life via interactive displays and exhibitions that will make your trip come to life.
Unwind and marvel at Iran's central desert's breathtaking beauty—one of the earth's largest and most spectacular deserts. Drive a four-wheel vehicle into isolated locations to experience the beauty and tranquility of the desert.
Allow our expert local guide to give you a thorough understanding of the delicate balance of life in the desert environment as well as an introduction to the beauties of the desert's vegetation and animals. Imagine traveling through the desert like yore and coming upon a natural spring that emerges from the side of a dune.
We invite you to join one of our group Iran adventure tours, and see why desert tours are so enthusiastic about Iran.
You can contact us via incoming@eavar.com for more information and book one of our Iran Desert Tours.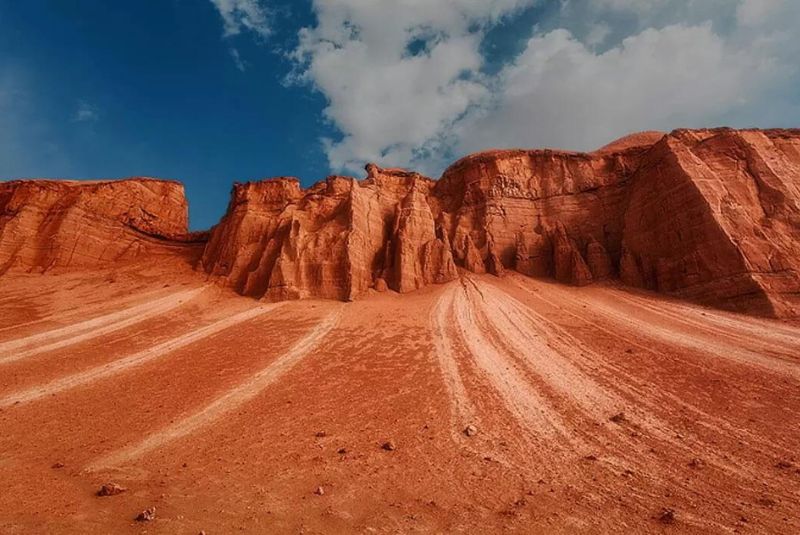 Famous Iran Deserts to Visit
Iran has a hot and arid climate for the most part. As a result, several arid plains are scattered throughout, particularly in its central regions. They occupy around 25% of Iran's land area. Iran's deserts cover a total area of 32,500,000 Hectares, divided among 18 states. Traveling to mysterious places might be one of the most thrilling experiences of your life.
Some individuals would not even consider visiting Iran when the chilly season approaches. Nonetheless, it is preferable to be aware that certain beautiful places, like the Iranian deserts, are best explored during winter.
You can go a few days' distance or spend a day exploring the desert close to the city you stay. Contrary to the desert's solitary aspect, it is best to avoid solo travel and always visit these places with a group.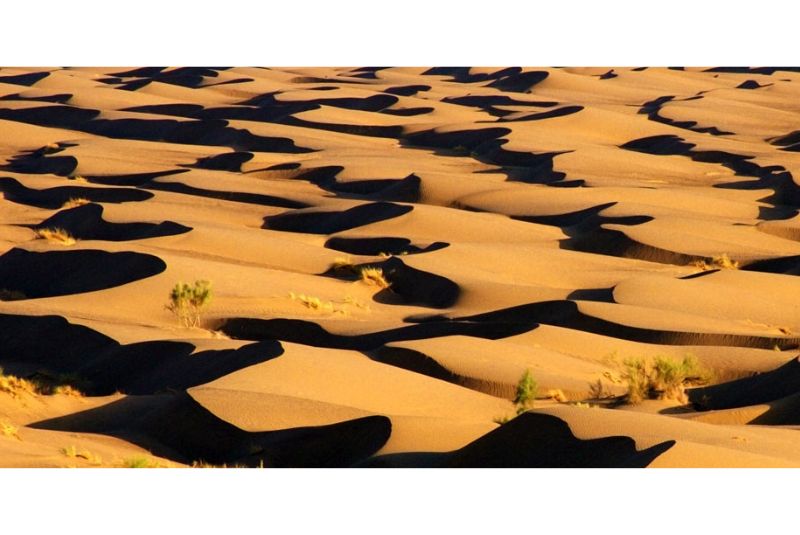 1. Kavir-e Lut (Lut Desert)
In 2016, UNESCO included the Lut Desert in its list of world heritage sites. One of the hottest regions on earth, this desert is also the hottest in Iran. In the southeast of Iran, there is a 51400 square kilometer stretch of barren, dead, yet tranquil land. The Lut Desert differs from all other Iranian deserts. Only travelers' eyes are able to see the mysteries inside.
2. Dasht-e Kavir (Kavir Desert)
North of the Lut Desert is where you will find Dasht-e Kavir. The combined size of these deserts is 360000 square kilometers. Iran's two greatest deserts are from the Alborz mountain range in the north and southeast, where the Lut Desert approaches the edge of the Zagros mountain range. The Big Salt Desert is another name for the Dasht-e Kavir. The desert is extensively coated in salt in certain places, as the name would imply. The salty soil dates back to when central Iran was part of an ocean or sea millions of years ago.
3. Maranjab Desert
Due to its relatively simple access and good security, the Maranjab desert is one of Iranians' favorite desert destinations for both domestic and international tourists. In the province of Isfahan, close to Iran's geographic center, lies the Mranjab Desert. One of Iran's most fascinating natural attractions is the Maranjab, which is blessed with various plants and animals.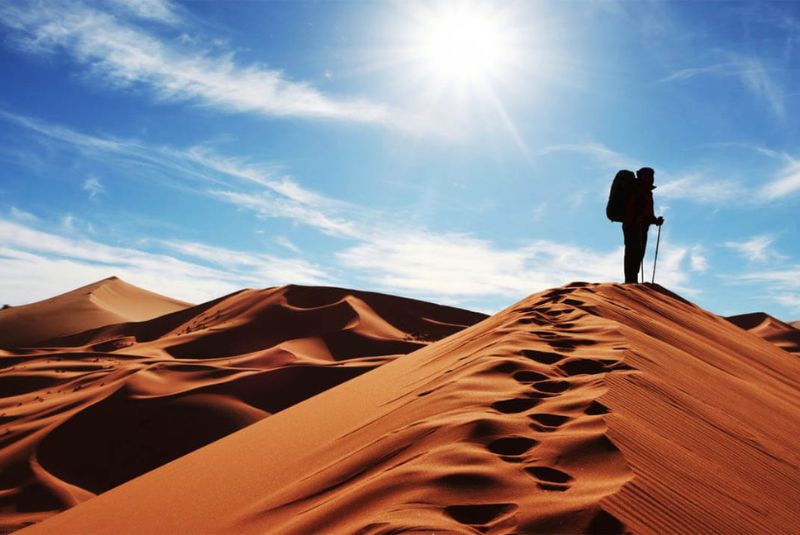 4. Shahdad Desert
The Shahdad desert is home to one of the rarest phenomena in Iran and the entire world. Shahdad is a portion of the Lut Desert and has highly unique features that go from the western to the center part of the Lut Desert. When travelers traverse over dunes to view Kalouts' magical land, the Shahdad desert feels like a razor's edge between reality and imagination.
5. Rig-e-Jen
Iran's Rig-e-Jen is arguably the country's most enigmatic location. It is a large area of the Dasht-e Kavir that has several dunes. Nobody dared enter the Rig-e-Jen desert since it was said to be inhabited by evil spirits (called Jen in Persian); hence those who did often perished due to the uncharted environment. Rig-e-Jen was unexplored for many years until the first man flew over it in 1997. The following year he was able to drive through one of Iran's most enigmatic deserts.
6. Bafgh Desert
Like other Iranian central deserts, the Bafgh desert features salty soil. It's hardly surprising that there aren't many plants there. Plants like tamarisk and Seidlitzia Rosmarinus may withstand harsh circumstances in areas with less saline soil. Visitors may enjoy camel rides, traditional Iranian tea shops, and the beauty of nature. Some essential services are also accessible, such as restaurants and public restrooms.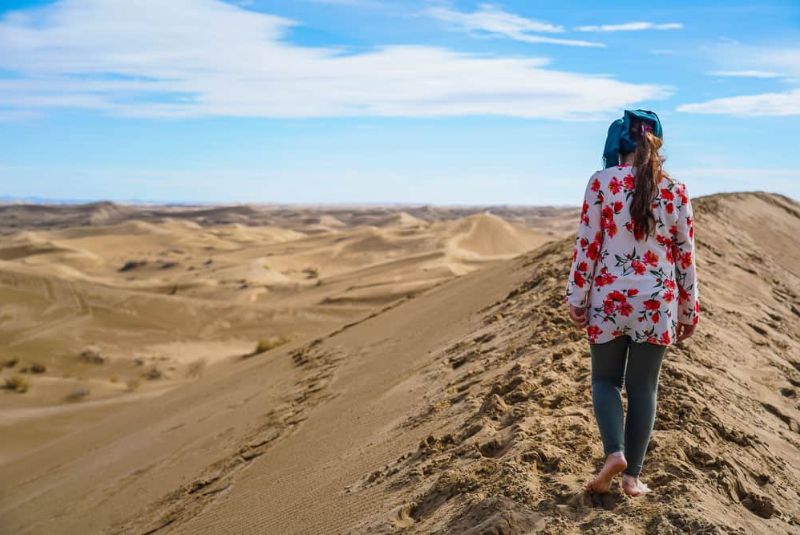 7. Tabas Desert
Between the Lut Desert and the Dasth-e Kavir is the Tabas Desert. For Iranians, Tabas is associated with the 1980 U.S. Eagle Claw mission, which failed. The desert offers visitors a variety of amenities. One of the most important sites to encounter indigenous cultures, palm groves, salt marshes, and the breathtaking Kal-Jenni or valley of Jen scenery is the Tabas Desert's natural environment. Nobody will leave Tabas Desert empty-handed thanks to Kal- Jenni's deep canyon, waterfalls, basins, tight tunnels, and eventually, an unexpected verdant village in the center of the desert.
8. Mesr Desert
Esfahan province is home to the Mesr desert, one of many in central Iran. Isfahan is bounded by the Maranjab desert in the north and the Mesr desert in the east. Visitors experience an unmatched environment, leaving them with an immovable memory thanks to the yellow sands under their feet during the day and the starry night sky. Traditionally going into the desert might make the visit more convenient and memorable because camel riding is an option.
9. Varzaneh Desert
Traveling 240 kilometers southeast of Esfahan will lead you to one of Iran's numerous deserts. Due to its accessibility, the Varzaneh desert is among the most well-liked deserts. It is simple for tourists to visit and take in the area's stunning scenery and outdoor activities, including camel, horse, paragliding, and biking. With barely 15 kilometers separating it from the city, the Varzaneh desert is one of the safest places for desert fans to go.
There are still many tiny and huge deserts spread out over the nation in addition to all these beautiful deserts that have already been mentioned. Iran is a part of the Tropical Belts' Desert Zones, which extend from West Africa to China's east. This has led to several deserts in the country's central, eastern, and southern regions, featuring various deserts and breathtaking scenery. Iran may be the best option if you want quiet and tranquility and enjoy mesmerizing sunsets in the distance.
---
You can contact us via incoming@eavar.com for more information and book one of our Iran Desert Tour Packages.