Tourist Attraction
13 Jun 2018
BY

The Authors Group
The Sa'dabad Complex
The historical and cultural complex of Sa'dabad is a collection of mansions and palaces which is located in refreshing and good weather foothills of Mount Tochal and the lush and green valley of Darband in Tajrish distinct, North of Tehran.
The complex has about 180 hectares of natural forest, springs, aqueducts (Persian Qanat), gardens, greenhouses, and streets. Sa'ad Abad was built during the Qajar period and the Qajar kings used this fresh garden and beautiful palaces as their country house in the summertime.
During the Pahlavi dynasty, there were some other constructions and each of all those 18 palaces were the residence of Pahlavi's family members. The newest palace in this complex is Leila Pahlavi Palace, owned by the youngest daughter of Mohammad Reza Pahlavi.
After Iran Islamic Revolution, the complex became a museum, but the current presidential palace is still located in the complex. The Mother Queen's Palace, which is owned by the presidential office, now used to reception of foreign diplomat guests.
There are 12 Persian Qanat (aqueduct) in the garden which was used to watering the green sites. (As you know Persian Qanat is inscribed in UNESCO World Heritage list.) This majestic royal garden has 12 entrances but they are not all using right now.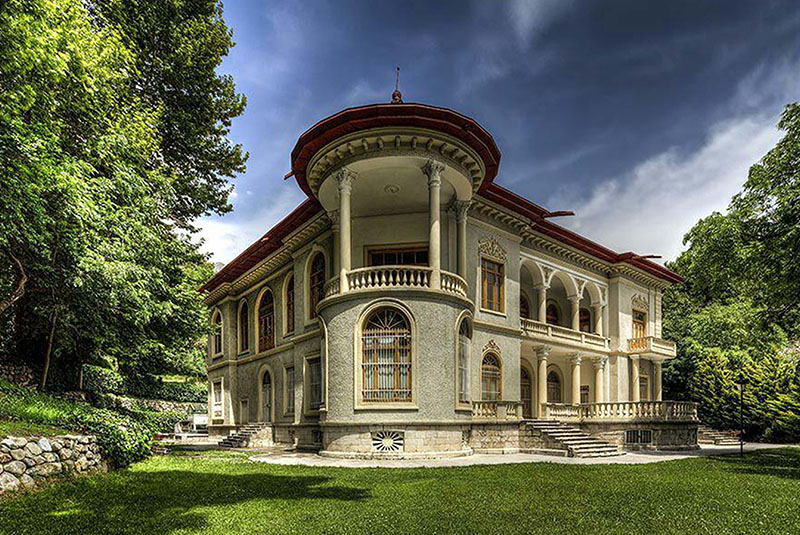 Among 18 palaces Ahmad Shahi's Palace is the oldest one, but it's not available to visit now. Green Palace (Palace of Reza Shah Pahlavi) is one of the most beautiful buildings in the garden which is constructed on a hill in the north-west of Sa'dabad complex.
The palace is also known as the Marble Palace, due to the use of rare green rocks and beautiful marble from Khamseh Zanjan and Khorasan marble mines, which are used to decorating the building frontage.
One of the most magnificent and beautiful parts of this palace is the Mirror Room where all mirrors on the wall are decorated with gypsum's flowers and covered with 70 meters beautiful handmade Mashhad carpet which is the artwork of Master Abdolmohammad Amuroghli.
This splendid and artistic room was Reza Shah Pahlavi's office. Other valuable items of the palace include sculptures and coaches from Louis XVI of France as well as two console tables from the Napoleonic era.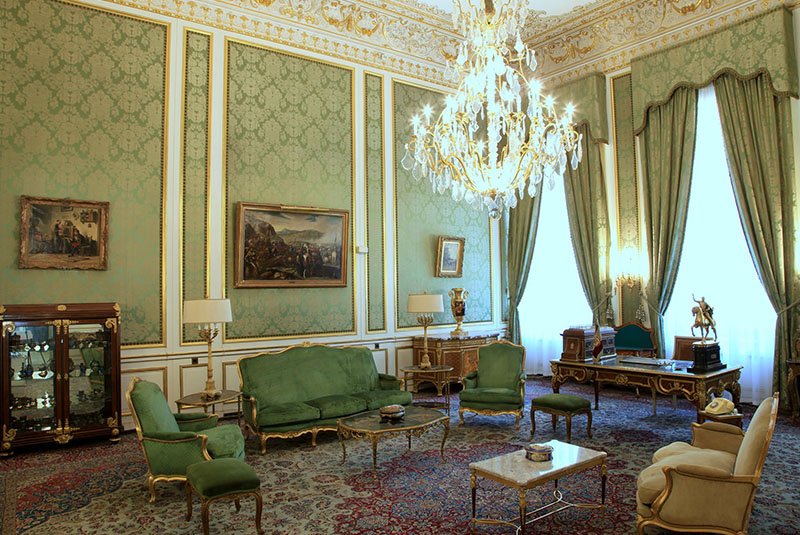 Most palaces and buildings become museums such as Museum of Miniatures of Master Hossein Behzad (Karbas Palace, Crown Palace), Museum of Omidvar Brothers (Ghajari Carriage House), Museum of immanent faces and famous Iranian people (Queen's Palace Turan Amirslomani, wife of Reza Shah Pahlavi), Museum of calligraphy of Miremad (Palace of Farahnaz and Alireza), Museum of Royal Dishes (Palace of Ashraf Pahlavi), The Museum of Miniature Master Abkar (Palace of Leila Pahlavi), The Museum of Miniature Master Farshchian (Queen's Palace, Esmat Dollahshahi, wife of Reza Shah Pahlavi), Museum of Fine Arts (Black Palace, Office of the Minister of the Imperial Court), Museum of the Arts of the Nations (White House Greenhouse, Farah Pahlavi Art Museum).