Iran Tourist Attractions
17 Nov 2018
BY

The Authors Group
A Tour of Iran's Most Famous Architectural Landmarks
Iran is full of landmarks whether they are cultural, historical, or natural. Architecturally speaking, though, it has been greatly influenced by both its various ruling dynasties and pre- and post-Islamic elements. Read on and take our tour of the most iconic architectural landmarks in the country.
Tehran: Azadi Tower
Azadi (Freedom) Tower is not the symbol of Tehran but one of the symbols of the entire country. Completed in 1971 by architecture student Hossein Amanat, this monument was built to pay tribute to the 2,500th anniversary of the Persian Empire and combines elements of pre- and post-Islamic architecture.
The 50-meter skeleton is clad in white marble from Esfahan and sits on a 50,000sq meter cultural complex which integrates principles of the traditional Persian garden. Since its completion, Azadi Tower has acted as a silent sentry to the capital city and has witnessed some of Iran's major historical events.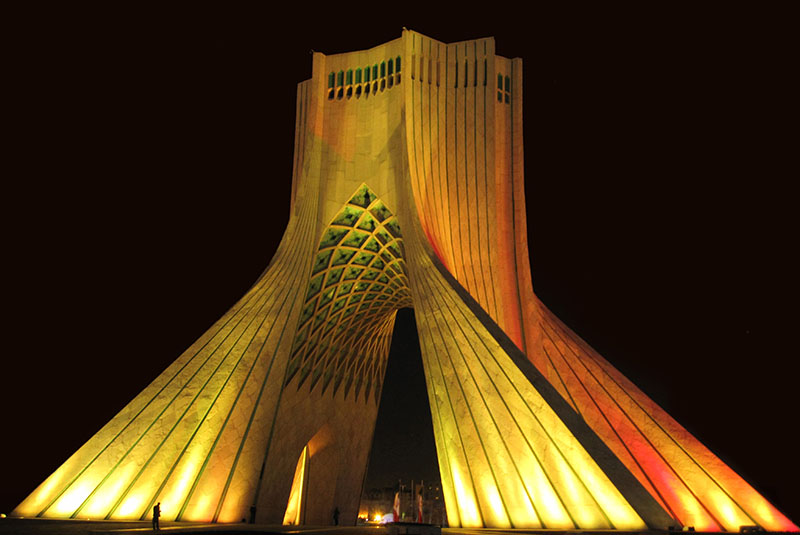 Kashan: Borujerdi Historical House
Kashan is known for its many historic houses, some of which have been converted into luxurious boutique hotels, but the most beautiful is arguably Borujerdi House whose grand dome steals Kashan's skyline.
Built-in 1857 by architect Ustad Ali Maryam for the wife of a wealthy merchant, it consists of the traditional andaruni-biruni [interior and exterior] yards. This masterpiece of the Qajar era is adorned with reliefs, carvings, and frescos painted by royal painter Kamal ol-Molk, and is said to have taken 18 years to complete.
| Discover: Tabriz Bazaar Complex | History, Shopping & Culture
Zanjan: Soltaniyeh Dome
Approaching the town of Soltaniyeh in Zanjan province, you can't help but notice a massive turquoise dome glistening in the distance. Constructed in the 14th century, the double-shell brick dome of Soltaniyeh is a UNESCO world heritage site and serves as an exemplar of Persian and Islamic architecture.
Eight slender minarets decorate the exterior of this octagon while the interior is brimming with intricate details of Islamic calligraphy. A.U. Pope, an American expert on Iranian art, is said to have described it as 'anticipating the Taj Mahal.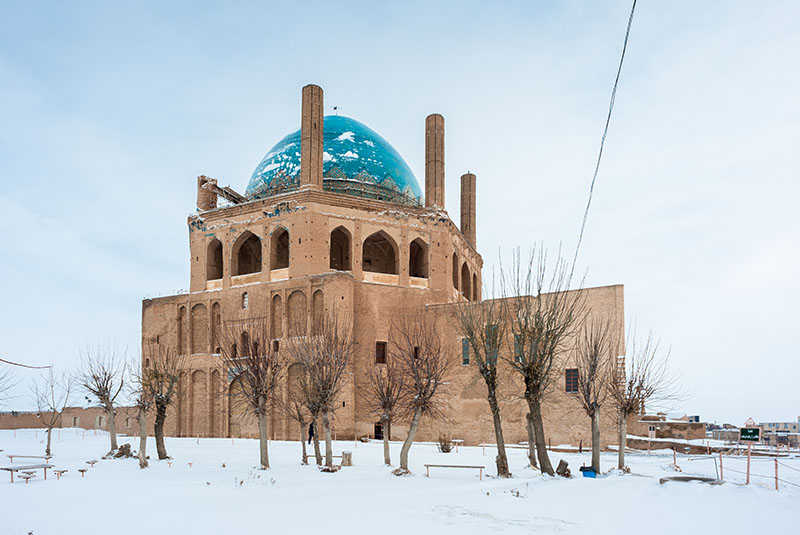 Yazd: Jameh Mosque
The twin minarets of Jameh Mosque in Yazd soar high over this desert city, and along with the mosaic domes, add a splash of turquoise to an otherwise beige skyline. At 48 meters high, these minarets stand on the shoulders of the towering portal adorned with exquisite calligraphy and complex geometric patterns.
Built over a former fire temple in the 15th century, this mosque is replete with honeycomb tiles (said to repel mosquitos), Kufic script, faience, and swastika symbols (symbolizing infinity, timelessness, birth, and death), all of which lead to a dreamy star-filled dome.
Shiraz: Nasir ol-Molk Mosque
Nasir ol-Molk Mosque is, quite simply, an architectural masterpiece. Commonly said to be the most beautiful mosque in Iran, it has been nicknamed 'The Pink Mosque' due to the many rosy-hued tiles.
Built from 1876 to 1888 under the order of Mirza Hasan Ali, a Qajar ruler, every nook and cranny is photogenic, and becomes especially picturesque in the morning when sunlight streams in through the stained glass windows to create a kaleidoscope of colors against the tiled walls and colorful Persian rugs.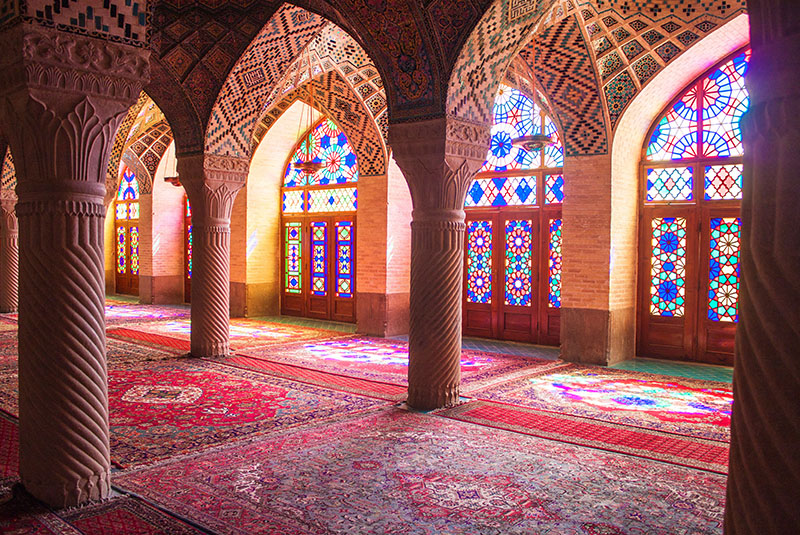 Tabriz: Historic Bazaar Complex
The city of Tabriz has long been an important center of trade due to its strategic location along the Silk Road, and its bazaar is one of the oldest in the Middle East. Although construction began over a millennium ago, much of it dates back to the 15th century.
Each part of this interconnected series of vaulted red brick buildings offers a different product, from gold and jewelry to rugs and spices. Also along the 7sq km labyrinth are caravanserais and domed hallways, making this bazaar a must-see.