Tehran Tourist Attractions
13 Aug 2023
BY

Arash Morshed
Niavaran Palace Complex: A Comprehensive Visitor's Guide
In the heart of Tehran lies a cultural haven that transcends time, inviting you to experience the magnificence of Iran's history, art, and architecture – the Niavaran Palace Complex.
This enchanting ensemble of palaces, gardens, and museums paints a vivid tapestry of Iran's past, offering a window into the lives of its rulers, the beauty of its craftsmanship, and the depth of its cultural heritage. This complex is an unmissable destination for those seeking to wander the captivating heritage of Iran.
From Then to Now: History of Niavaran Palace Complex
The history of the Niavaran Palace Complex is a fascinating journey that weaves through Iran's dynastic shifts and socio-political changes. Dating back to the 19th century, this complex has witnessed the rise and fall of empires and the evolution of a nation.
Qajar Era
The roots of the Niavaran Palace Complex reach back to the Qajar dynasty, where it served as a retreat for the Qajar monarchs during the sweltering Tehran summers. It was during this era that the foundations were laid for the complex's architectural and artistic fusion, capturing the essence of traditional Persian aesthetics.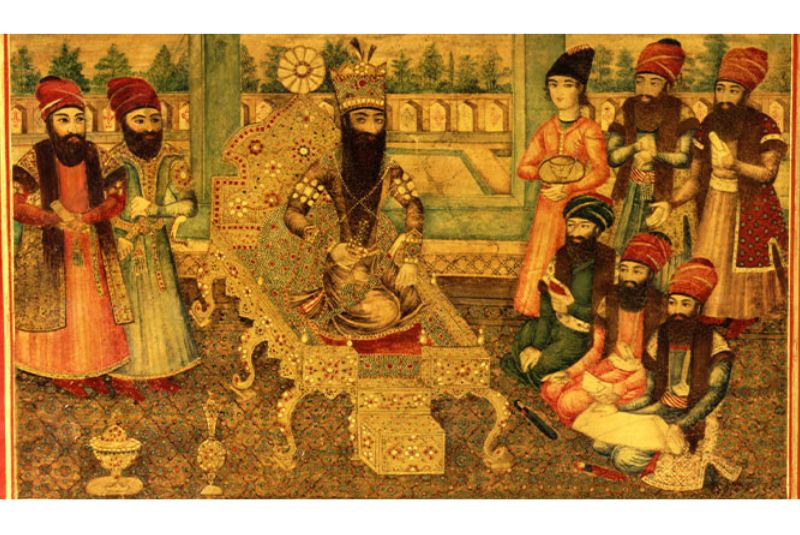 Pahlavi Era
The Pahlavi era brought a new chapter to the complex's history. The palace was revitalized as a residence for the Pahlavi family, reflecting the modernization and Western influences that defined the time. The architectural elements incorporated during this period harmonized traditional Iranian designs with contemporary concepts, showcasing the nation's transformation.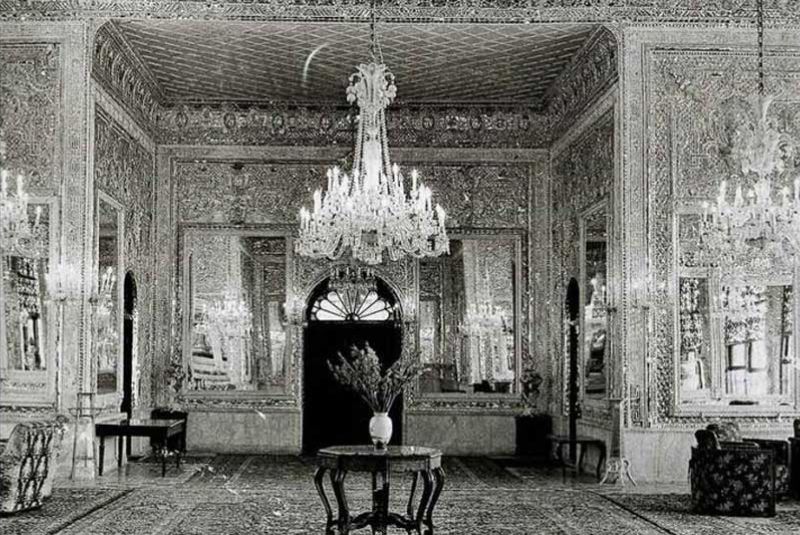 Significant Historical Events
Throughout its existence, the Niavaran Palace Complex has borne witness to pivotal moments in Iran's history. It served as a backdrop for important political gatherings, diplomatic negotiations, and social events that shaped the nation. From royal celebrations to diplomatic receptions, the complex played a role in shaping the course of the country's destiny.
| Suggestion: Discover the Beauty of Golestan Palace
Architecture and Materials Used
The architectural style of the Niavaran Palace Complex is a captivating blend of traditional Iranian motifs and modern architectural elements. This seamless fusion reflects the complex nature of Iran's history, where the past and present coexist in harmony. The architectural journey through the complex is a testament to the country's ability to evolve while preserving its cultural identity.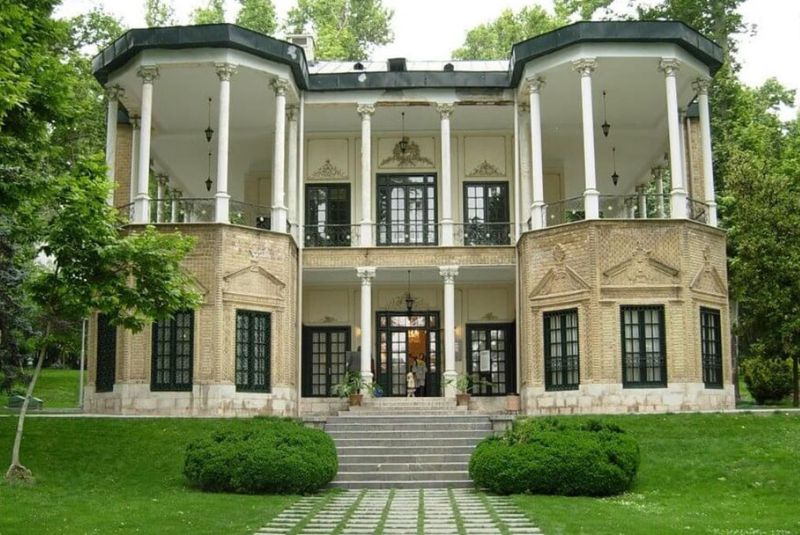 As you wander through the intricate corridors and grand chambers, you'll find evidence of the complex's dual nature. Ornate archways, mesmerizing tilework, and delicate woodcarvings pay homage to Iran's artistic heritage, while modern touches, such as innovative structural elements and contemporary furnishings, showcase the nation's openness to change and progress.
The Niavaran Palace Complex is a symphony of opulent materials meticulously sourced to create an ambiance of grandeur. Marble, revered for its timeless elegance, graces the floors and columns, while woodcarvings intricately adorn ceilings and panels. The intricate tilework, a hallmark of Persian artistry, tells stories through vibrant colors and intricate patterns.
| Suggestion: Abyaz Palace | The Ethnological Museum of Tehran
Discovering Every Corner of the Niavaran Palace
Exploring the Niavaran Palace Complex is similar to entering a special container that holds hundreds of years of Iran's amazing history. Every part of the complex shows a different side of the country's past, art, and way of life. People who visit get to completely experience and understand these things as if they're traveling through time.
Niavaran Historical Garden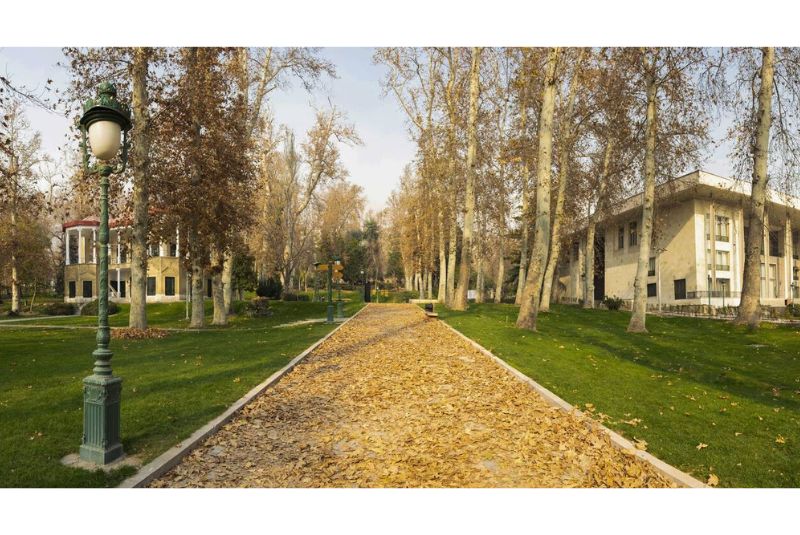 As the first chapter of your exploration, the Niavaran Historical Garden welcomes you with its enchanting natural and historical allure. Spanning around 11 hectares, this serene oasis offers respite within Tehran's bustling landscape. Originally established during the Qajar era, the garden evolved into a haven of tranquility with pavilions and flowing water channels. It was a place where Qajar kings sought refuge from the city's heat, providing a glimpse into their leisurely pursuits.
| Discover: Pasargadae | Legacy of Cyrus the Great & Ancient City
Inscriptions Garden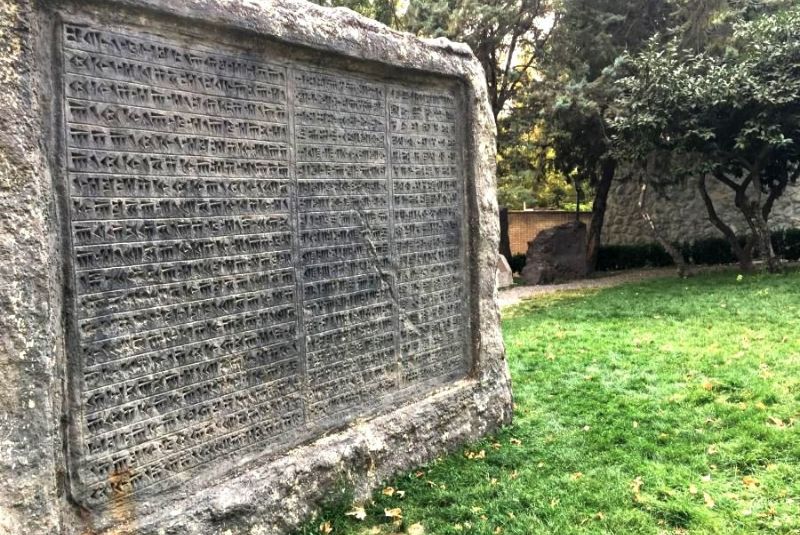 Continuing your journey, the Inscriptions Garden unveils a unique blend of art and history. Carved verses and poetic expressions adorn this garden, telling stories that span ancient cultures and languages. Moulages of rock inscriptions, ranging from the Median period to the end of the Sassanian dynasty, grace the exhibition. This garden is a testament to the cultural and linguistic diversity that has shaped Iran's heritage, as well as its connection to neighboring civilizations.
Ahmad Shahi Mansion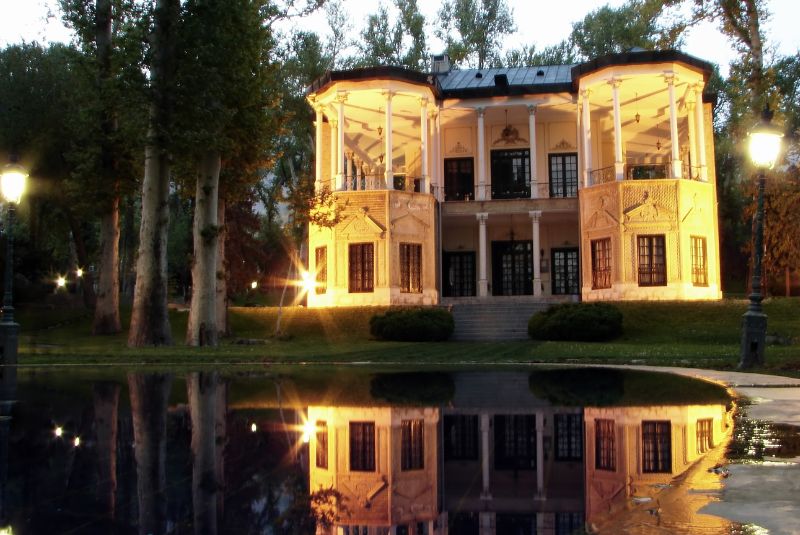 Step into the opulent world of the Ahmad Shahi Mansion, a Qajar gem that features intricate architecture and decorative elements. With its brick facade adorned with molded imprinted designs, the mansion exudes elegance. The interior layout includes a central hall with a marble basin and surrounding rooms that once witnessed the gatherings of royalty. Restored during the second Pahlavi period, this mansion preserves its historical grandeur, revealing the sophisticated tastes of its inhabitants.
| Read more: Cyrus The Great – The Most Powerful King in The World
Sahebqaranieh Palace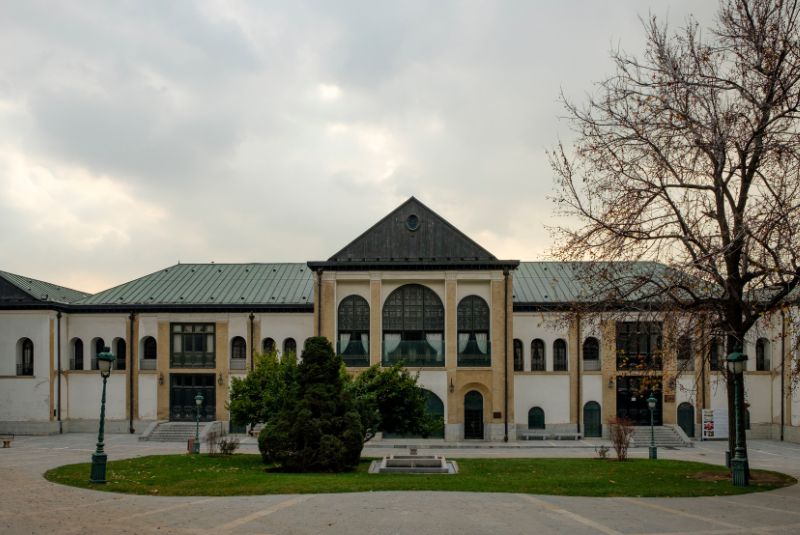 Walk through the Sahebqaranieh Palace, a creation of Naser al-Din Shah that bridges traditional and European architectural styles. The upper floor features diverse rooms such as the Military Talks Room, Mirror Hall, and Private Negotiations Chambers. The lower Hoz Khaneh (basement) encompasses the Hall of Hoz Khaneh and various attractive spaces. As you explore, you'll witness the evolution of the palace's purpose – from entertaining guests to becoming a hub of diplomacy during the reign of Mohammad Reza Pahlavi.
Private and Royal Library Museum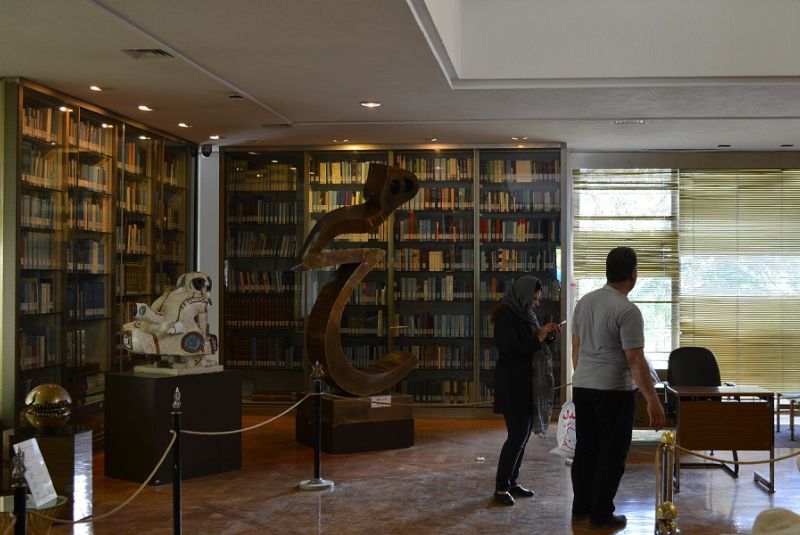 This hallowed repository, once the exclusive domain of Farah Pahlavi, safeguards an astonishing collection comprising over 23,000 volumes and spanning nearly 16,000 titles. The harmonious interplay of glass and mirror designs, envisioned by the gifted American artist Charles Sevigny, conjures an ambiance that is nothing short of artistic enchantment. Imbued within each book and manuscript is not only the spirit of intellectual curiosity but also the profound literary pursuits that have intricately woven Iran's historical narrative.
Niavaran Private Palace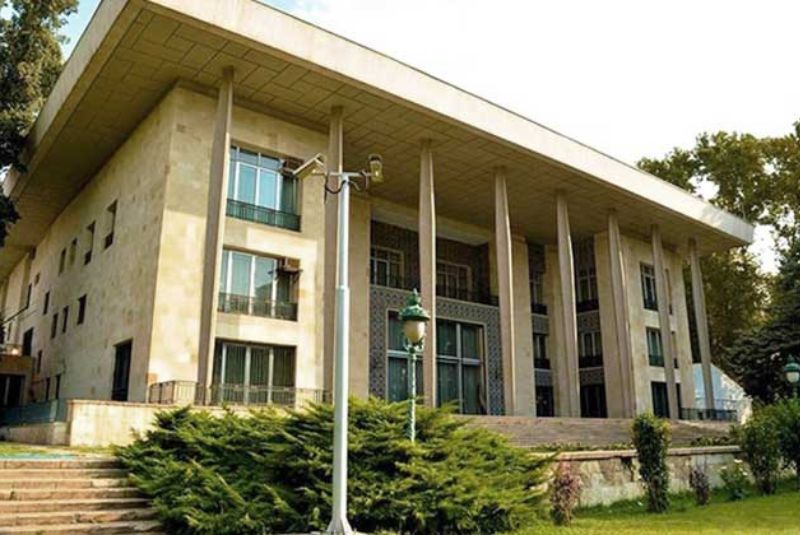 Step into the personal realm of Mohammad Reza Pahlavi and his family within the Niavaran Private Palace. Designed by Eng. Mohsen Foroughi, this architectural masterpiece showcases Iranian influences while integrating modern technology. The palace's quadrilateral plan hosts opulent rooms, from reception halls to Farah's makeover room. An invaluable collection of art, carpets, and ceramics adorn the interiors, offering a glimpse into the lifestyle of Iran's last monarch.
Jahan Nama Museum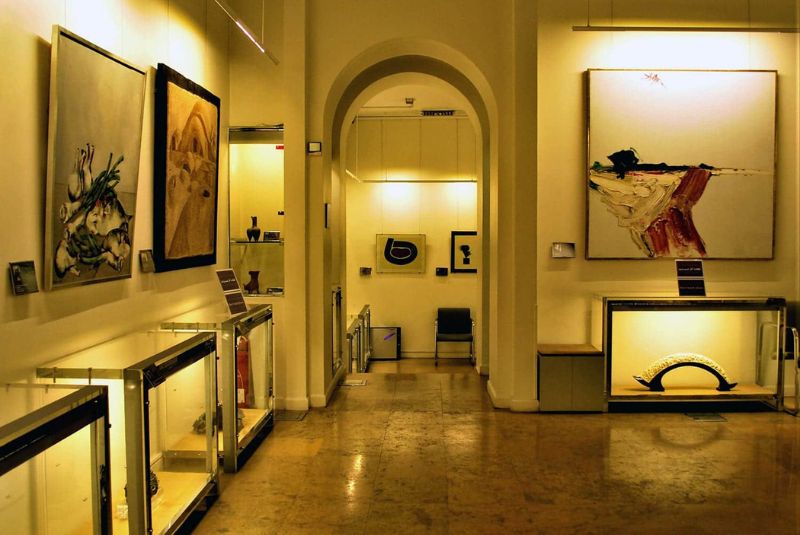 Located in the western section of the Sahebqaranieh Palace, this museum was designated in the 1970s to preserve and exhibit artworks from various civilizations unite, from ancient Egypt to renowned Iranian artists like Parviz Tanavoli and international luminaries like Picasso. This museum offers a tangible connection that spans the journey of craftsmanship excellence from ancient times to the present day. Despite its modest size, the museum encapsulates an entire world, providing insights into the evolution of human aesthetic preferences and sensibilities.
Royal Cars Museum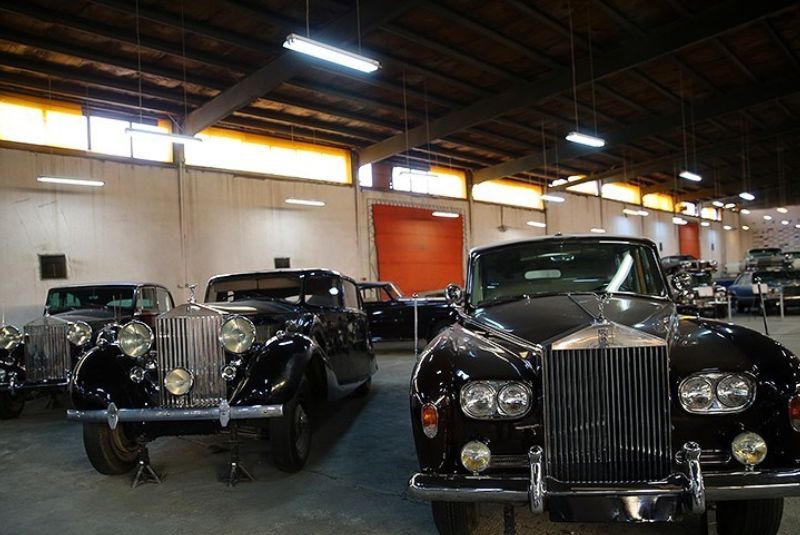 Engage with the past in the Royal Automobile Museum, where a collection of vintage cars tells a different narrative. Rolls Royce Phantom V and VI stand as icons of luxury, and Honda motorcycles evoke a sense of nostalgia. These vehicles were part of the Pahlavi family's interests, offering a tangible connection to their personal tastes and the era's automotive advancements.
| Related: Best Museums in Tehran | Definitive Guide
Niavaran Palace Visitors Guide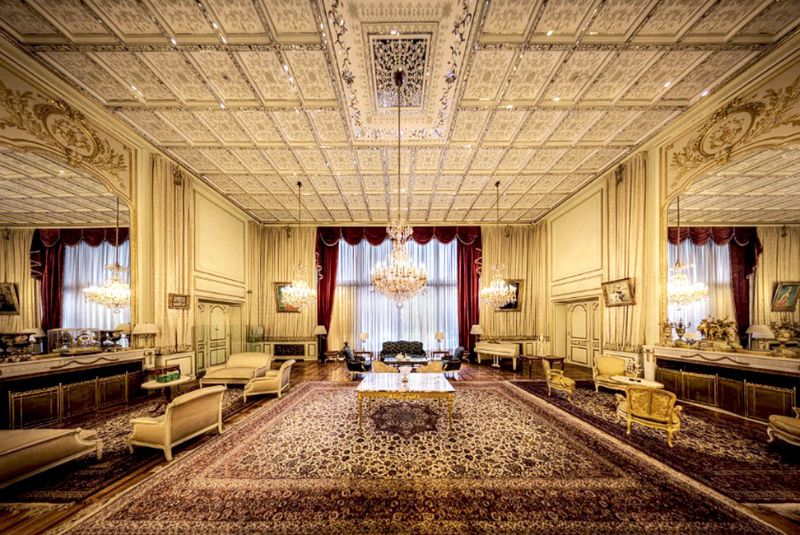 When visiting the complex, it is important to follow the guidelines below:
Days and Hours of Visit: Niavaran Palace Complex welcomes visitors from Saturday to Wednesday. The complex is open during the following hours:

Spring and Summer (March to September): 9:00 AM to 6:00 PM
Fall and Winter (October to February): 9:00 AM to 5:00 PM

Respect Dress Code: Modest attire is required. Both men and women should avoid wearing sleeveless tops, shorts, and revealing clothing. It's recommended to have a scarf handy for women to cover the head if necessary.
Photography: While photography is generally allowed, please ask for permission before taking pictures inside certain areas. Some exhibits and sensitive sections may have restrictions.
No Smoking: Smoking is prohibited within the complex premises, including indoor and outdoor areas.
Stay on Paths: To preserve the historical integrity of the complex, stay on designated paths and avoid stepping on lawns or flowerbeds.
Silence and Respect: The palace complex is a place of historical and cultural significance. Maintain a respectful demeanor, and keep noise levels to a minimum.
Guided Tours: Consider joining guided tours for a deeper understanding of the complex's history, architecture, and cultural context. These tours enrich your experience and provide valuable insights.
Tickets: Purchase your tickets at the entrance or through official channels. Be sure to keep your ticket handy throughout your visit.
Accessibility: The complex is equipped with facilities to accommodate visitors with limited mobility. Please inquire at the entrance for assistance.
How to Get to Niavaran Palace Complex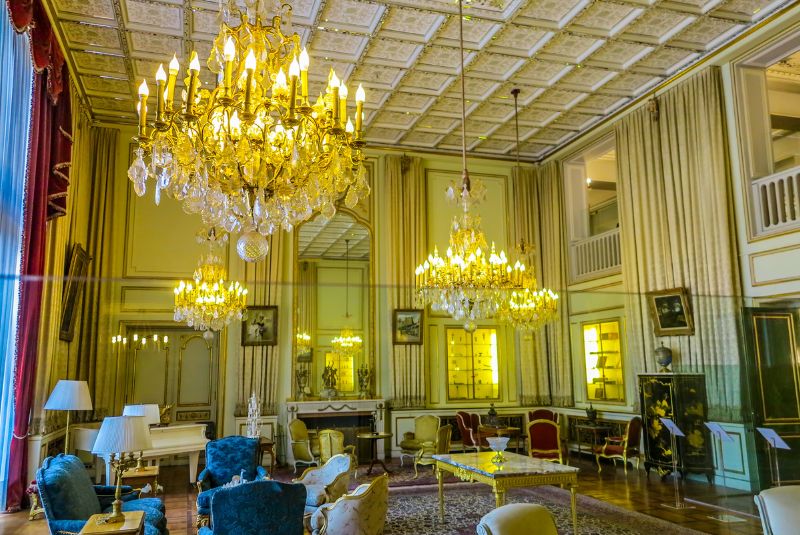 Reaching the mesmerizing Niavaran Palace Complex is a seamless journey, offering various transportation options that ensure easy access.
By Metro: For an efficient and convenient option, the nearest metro station is Tajrish Metro Station, located on Line 1 (Red Line) of Tehran's metro system. From there, you can opt for a short taxi ride or a leisurely stroll to the palace complex.
By Taxi: Taxis are readily available throughout Tehran, offering a comfortable and flexible means of reaching the palace complex. Inform the taxi driver that you're heading to the Niavaran Palace Complex, and they'll be happy to guide you there.
By Bus: Tehran's extensive bus network offers an affordable way to reach Niavaran Palace Complex. Research the bus routes that pass near the complex and choose the one that suits your location.
On Foot: For those staying in the vicinity or seeking a leisurely stroll, walking to Niavaran Palace Complex can be an enjoyable option. The palace complex is situated in the northern part of Tehran, making it easily accessible from nearby neighborhoods.
Where to Stay Near Niavaran Palace Complex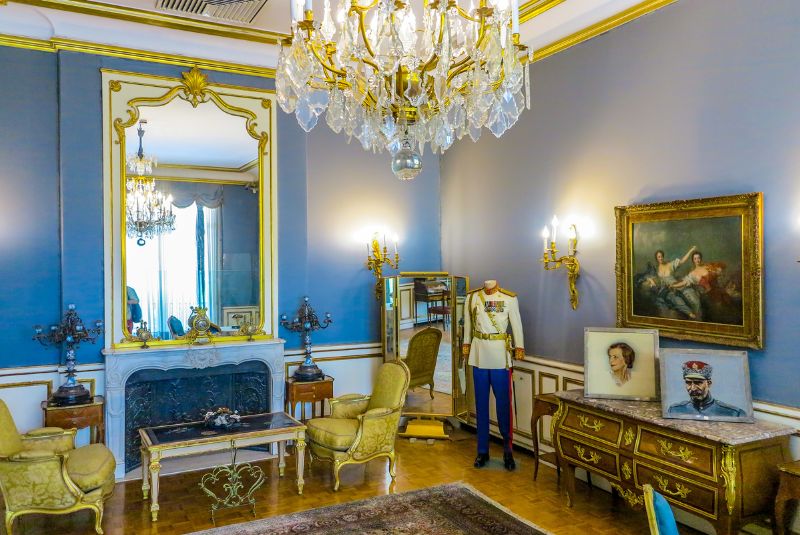 Here are some types of accommodation you might find near the Niavaran Palace Complex:
Hotels: There are various hotels in Tehran that cater to different budgets. Some options include:
Espinas Palace Hotel
Laleh International Hotel
Parsian Esteghlal International Hotel
Novotel Tehran Imam Khomeini International Airport
Guesthouses and Boutique Hotels: These smaller accommodations can offer a more personalized experience:
Golestan Garden Guesthouse
Niavaran Garden Boutique Hotel
Apartment Rentals: Websites like Airbnb might have apartment rentals available in the area, providing a more home-like atmosphere.
Hostels: If you're looking for budget-friendly options, there might be hostels in Tehran where you can stay. Some hostels offer dormitory-style accommodation and are often popular among younger travelers.
Online Booking Platforms: Websites like Booking.com, Agoda, and TripAdvisor can help you find and compare different accommodation options based on your preferences and budget.
| Also might be useful: Best 5 Star Hotels In Iran to Stay + Pics
Where to Eat Near Niavaran Palace Complex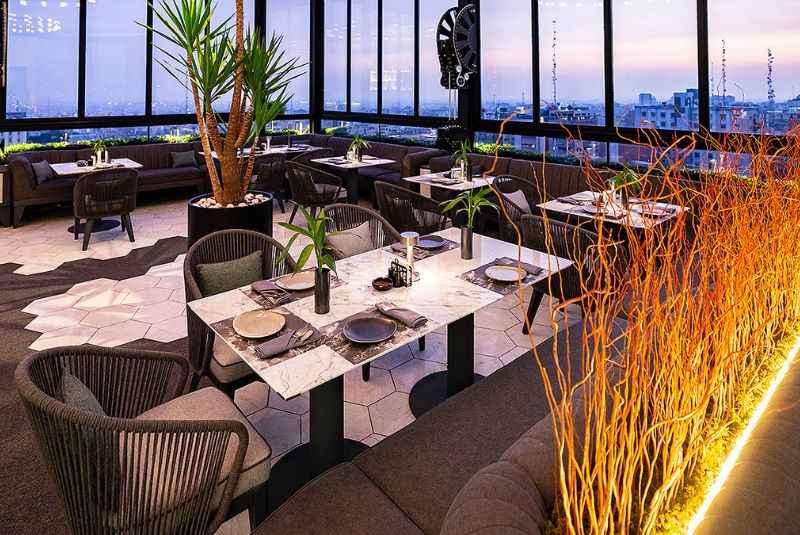 The Niavaran Palace Complex in Tehran, Iran, is surrounded by various eateries where you can enjoy a variety of Iranian and international cuisines. Here are some options to consider:
Niavaran Complex Cafes: Within or near the Niavaran Palace Complex itself, you might find cafes where you can enjoy light snacks, pastries, and beverages while taking in the beautiful surroundings.
Tajrish Bazaar: Tajrish is a nearby area with a bustling bazaar and plenty of food options. You can find traditional Persian dishes, kebabs, stews, and more in the local restaurants and food stalls.
Shandiz Niavaran: Offers traditional Iranian cuisine including kebabs and stews.
Gilaneh Restaurant: Known for its Persian seafood dishes.
Milano Restaurant: Offers Italian cuisine with a variety of pasta and pizza options.
Ostaad Traditional Restaurant: Features a mix of Persian and international dishes.
Cafe Naderi: A historic cafe known for its pastries and coffee.
Lavazza Cafe: Offers a range of coffee beverages and light bites.
Burgerland: If you're in the mood for burgers and fast food.
Sandwich shops: Look out for local sandwich shops offering a variety of fillings.
Local Food Stalls and Vendors: As you explore the area, you might come across street vendors selling traditional Iranian snacks, like saffron ice cream or falafel wraps.
| Read more: Best Restaurants in Tehran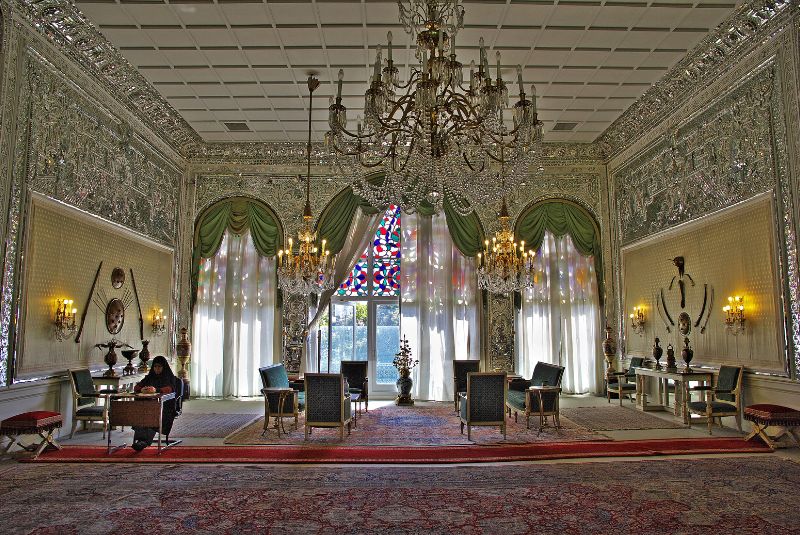 Bottom Line
The allure of the Niavaran Palace Complex is undeniable, and it beckons to those with a thirst for cultural discovery and an appreciation for architectural marvels. Every step you take within its walls is a step back in time, allowing you to breathe in the spirit of a bygone era.
Pack your bags and board on a journey that will leave you mesmerized. Contact EavarTravel today to explore the magic of Iran's most remarkable sites, including the captivating Niavaran Palace Complex. Your extraordinary adventure begins here.
---
Share your story!
Comment below and let us know about your Experience.
Your story inspires others!