Tehran Tourist Attractions
22 Nov 2022
BY

Batul Iddi
Best Museums in Tehran | Definitive Guide
Museums are the treasure house of the history and culture of every country or city.
In museums, people can view and examine their ancestors' artifacts, craftworks, and antiques to get a picture of how they lived, celebrated, mourned, entertained, etc.
Best Museums of Tehran
National Museum of Iran
Golestan Palace
Saadabad Palace Complex
Niavaran Palace
Tehran Museum of Contemporary Art
Time Museum (Hossein Khodadad House)
Treasury of National Jewels
Abgineh Museum of Glassware and Ceramics
Moghadam Museum
Reza Abbasi Museum
Tehran is a vast metropolitan city with fantastic diversity in terms of people and races that have lived in it. If you are considering traveling to Tehran, you should not fail to visit some of the best Tehran museums that will expose you to in-depth information on Iran's culture and civilization.
Tehran offers numerous entertainment, one of which is visiting excellent museums. Therefore, in the Tehran museums, you can find an extensive range of artifacts from all different epochs in history made by various cultures and languages. Read on to discover some of the famous museums in Tehran.
1. National Museum of Iran
Address: No 1, Henri Rolin St., 30 Tir Street, Imam Khomeini Avenue.
Opening Hours: Spring and summer (9:00 to 19:00), fall and winter (8:30 to 17)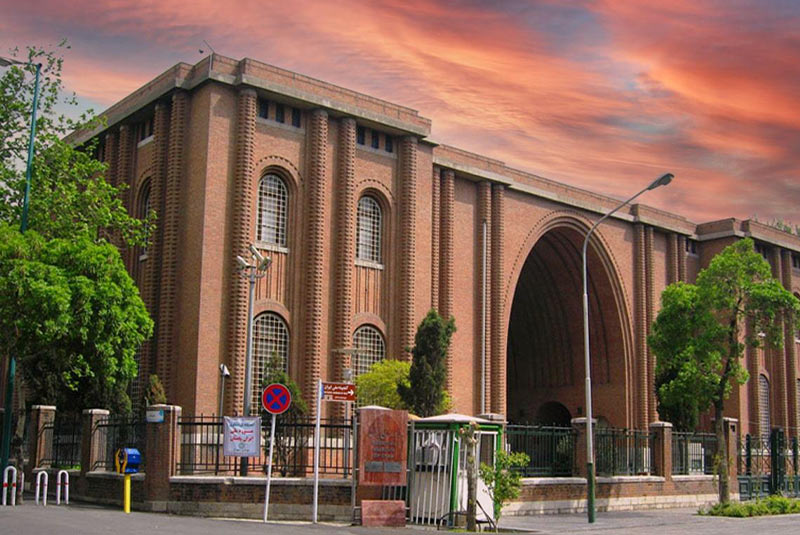 The national museum of Iran, or the so-called Tehran Met Museum, is one of the most prominent historical and archaeological museums Tehran offers. A French architect constructed the national museum more than 70 years ago. The design of the museum has a combination of the Sassanid architectural principles with art deco-style brickwork.
In the National Museum of Iran, you can find more than 300,000 rare objects from the Paleolithic to the Qajar period. The museum consists of two buildings: One of the buildings is the Museum of Ancient Iran, which exhibits ancient Iranian antiquities before the Islamic era. The other is The Museum of the Islamic Archaeology and Art of Iran, displaying Islamic objects, monuments, and artworks.
The national museum of Iran presents a diverse collection of artifacts tracing Iran's history from stone-age times to Cyrus, Darius, and the mighty Persian kingdoms.
The most incredible and exciting exhibition item in this museum is Salt Man from Zanjan. You can also find objects, including stunning collections of sculptures, carvings, pottery, ceramics, and stone figures dating back to the 4th and 5th centuries B.C.
Numerous notable Iranian heritages are also displayed, like the trilingual inscription from the time of Darius I, the human-headed capital from Persepolis and the four foundation tablets inscribed in cuneiform.
| Read the full guide: National Museum of Iran
2. Golestan Palace
Address: Panzdah-e Khordad Street, Arg Square.
Opening Hours: Spring and summer (9:30 to 18:30), fall and winter (9:00 to 17)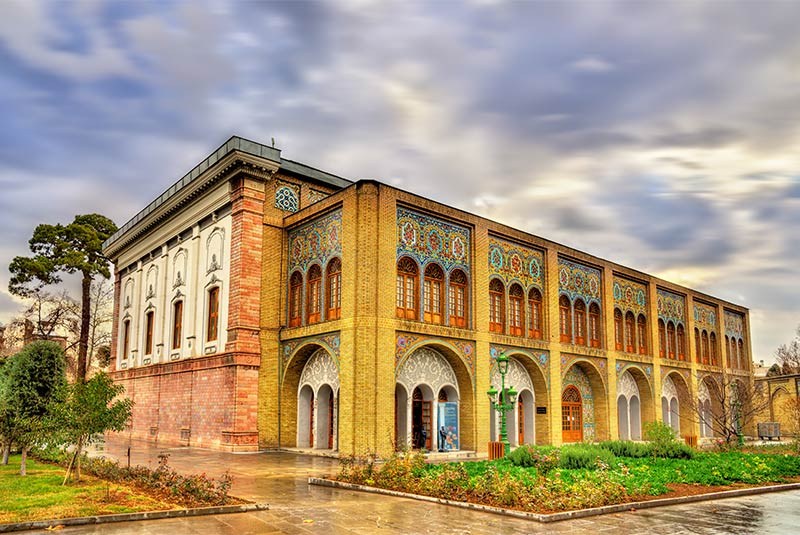 Golestan Palace is one of the oldest historic monuments in Tehran, attracting visitors' attention due to its beauty and glory. The palace was initially constructed in the Safavid era, and Nasser Al-Din Shah selected it as his royal residence.
The Golestan Palace has several halls and palaces. It displays numerous precious gifts from the European and Asian monarchs to the Qajar Kings. You can also see paintings, jewels, and other royal relics in the Museum Hall, built by Nasser Al-Din Shah, emulating the European museums.
| Full Guide: Golestan Palace
3. Saadabad Palace Complex
Address: Saadabad Street, Tajrish Square.
Opening Hours: Everyday 9:00 to 17:00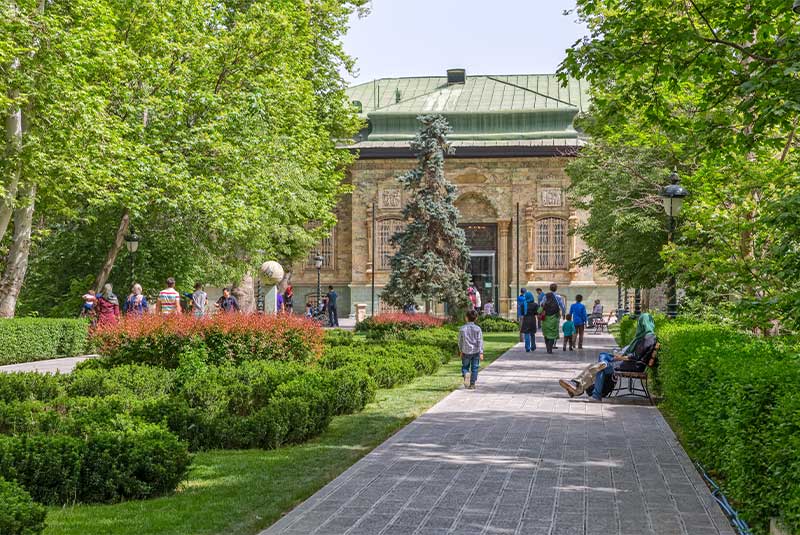 Saadabad Palace Complex was initially constructed and inhabited by the Qajar kings in the 19th century. Later on, It was developed by the Pahlavi family, who gathered many artworks from Iranian and non-Iranian artists.
The Saadabad palace complex has many museums, including Mellat Museum, Fine Art Museum, Master Behzad Museum, Abkar Museum, and Miremad Museum.
The complex exhibits Exquisite miniature paintings and eye-catching manuscripts dating back to the Safavid and Qajar dynasties.
| Full Guide: The Sa'dabad Complex
4. Niavaran Palace
Address: Bahonar Street, Tajrish Square.
Opening Hours: Everyday 8:00 to 14:30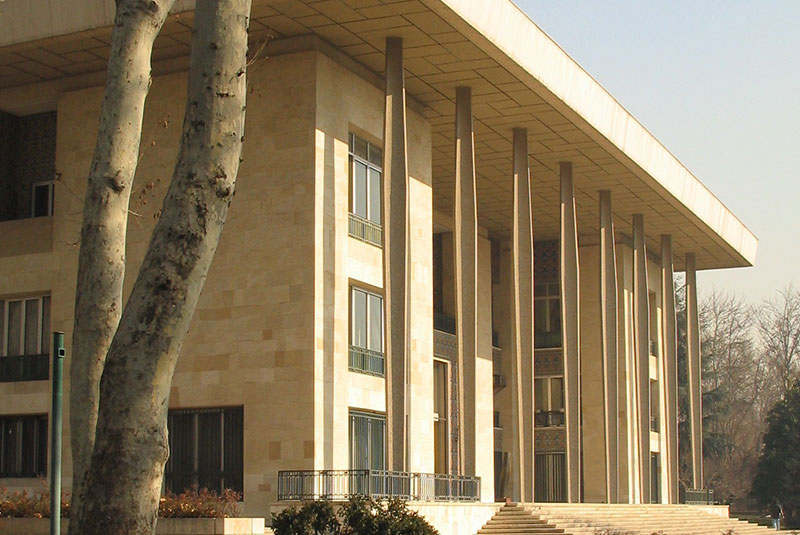 As the last residence of the royal family, Niavaran Palace offers the imperial furniture, chinaware, decorative items, private belongings, and queenly clothes of the Pahlavi family.
Although it was constructed in the Pahlavi era, it presents a more modern building in the middle of the fantastic Niavaran Garden. It also houses many halls, including The Mirror Hall or Jahan-Nama Hall museum, which exhibits artworks bought by or dedicated to the royal family.
The Mirror Hall also offers many precious paintings by the world's most famous painters, such as Pablo Picasso, Salvador Dali, Paul Gauguin, and Pierre Renoir. In this museum, you can also see a few excellent visual works by great Iranian artists like Parviz Tanavoli, Bahman Mohasses, and Sohrab Sepehri.
| Full Guide: Niavaran complex | Niavaran Palace
5. Tehran Museum of Contemporary Art
Address: Laleh Park, North Kargar Street, Keshavarz Blv.
Opening Hours: Sat. to Wed. (8:00 to 17:00), Thur. (8:00 to 12:00), Fri: Off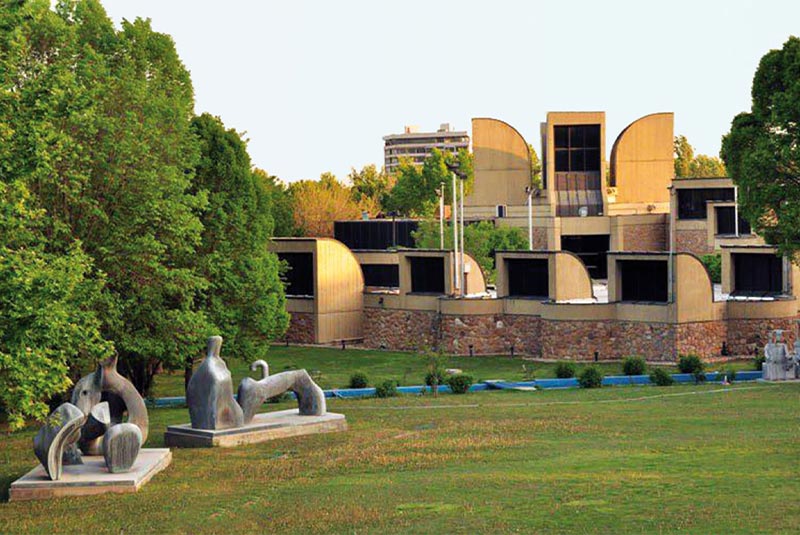 Iran's history, in general, is linked with art, and the new era will undoubtedly need contemporary art. Hence, masterpieces from great international artists and works of art from Iranian artists are gathered in the Tehran Museum of Contemporary Art.
Tehran's contemporary art museum lies on the east side of Laleh Park. It contains over 3,000 priceless items of European and American paintings from the 19th and 20th centuries.
Empress Farah Pahlavi established the museum in 1977, two years before the 1979 Revolution in Iran. The idea arose when she talked to an artist named Darroudi during a gallery opening. Darroudi said she wished there was a place to display work more permanently.
The Tehran Museum of Contemporary Art Garden exhibits Western sculptures and study works and paintings from Monet, Pollack, and Rothko, alongside a selection of contemporary Iranian artists such as Sohrab Sepehri and Parviz Tanavoli. Sculptures by Giacometti and Magritte are in the surrounding garden grounds. The imposing concrete building, designed by architect Kamran Diba, is admirable for its modern take on the traditional Persian Badgir (Wind Tower).
| Full Guide: Tehran Museum of Contemporary Art
6. Time Museum (Hossein Khodadad House)
Address: No. 12, Zafaranieh (Fallahi) Street, Valiasr Avenue.
Opening Hours: Everyday 9:00 to 18:30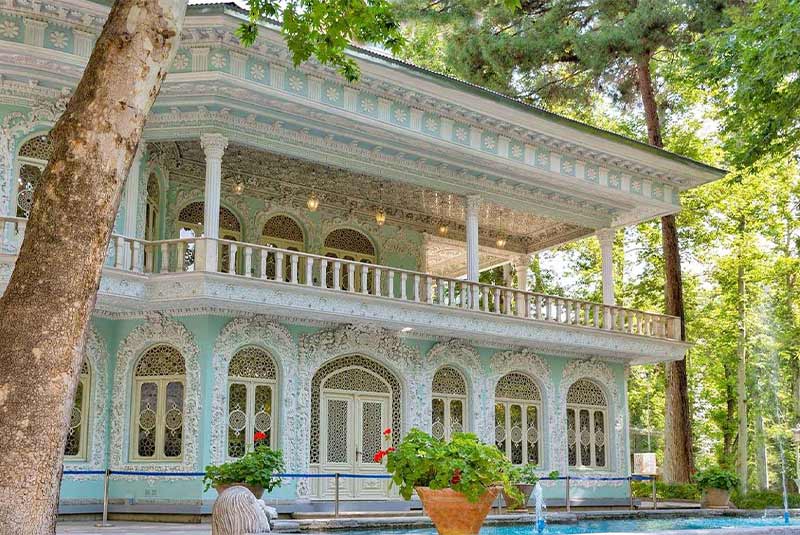 The Museum of Time is one of the famous tourist attractions of Tehran. It is the first clock museum in Iran that houses exciting and unique works on the subject of time. It contains many clocks, watches and other measuring devices, including water clocks, hourglasses, sundials, and various clocks that measure time by the progressive burning of an object, such as a candle or rope.
The museum also holds individual clocks and watches owned by notable historical figures. Among these valuable clocks, we can mention the clock of "Professor Mahmoud Hesabi," the sundial of "Nasser al-Din Shah," and the watches of Ahmad Shah Qajar and Muzaffar al-Din Shah.
Documents and tools related to the glorious chronology and its background in Iran are also displayed in this museum, including the astrolabe, one of the oldest astronomy tools. The celestial sphere; is a hypothetical, earth-centred sphere used to measure time.
In addition, you can find a replica of the oldest Iranian historical document (Biston inscription) and Iranian ethnic-religious calendars such as the Hebrew calendar of 5708 Hebrew (1326 AD), the Zoroastrian calendar of 3712 and the Kurdish ethnic calendar of 1987.
The time museum is located in a beautiful garden with a relaxing atmosphere that allows you to have an attractive and pleasant tour of history and time. The museum building is about 80 years old, but its garden history dates back to the reign of Naser al-Din Shah Qajar. It was later purchased by an Iranian industrialist Hossein Khodadad. At the same time, it had only a one-story mansion made of clay and mud where he lived for a year. Then after the Iranian revolution, the building was used as a time museum.
The Museum of Time also has facilities such as a restaurant, cafe, bathroom, prayer hall, and time gallery (to buy artists' works). You can also easily photograph the grounds and inside the museum.
7. Treasury of National Jewels
Address: The Central Bank of Iran, Ferdowsi Avenue.
Opening Hours: Saturday to Tuesday, 14:00 to 16:30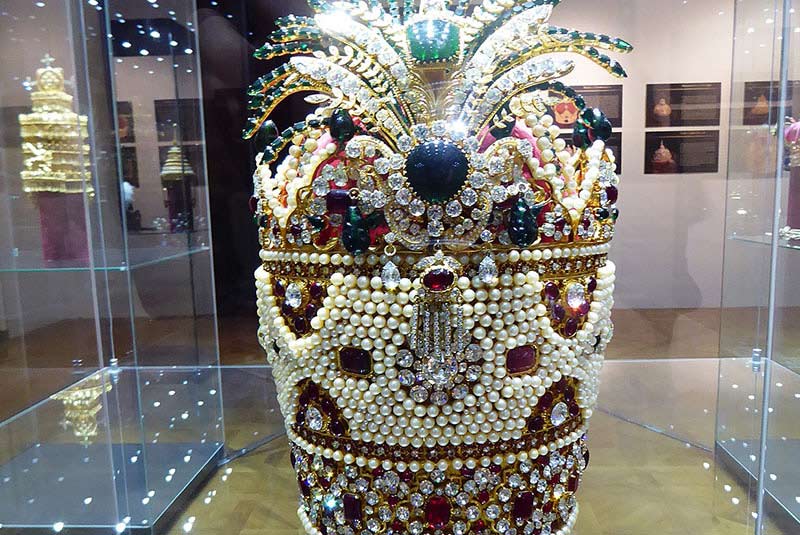 The unique collection of the Treasury of the national jewels shows how the Iranian majesties decorated themselves and their belongings with an extraordinary range of invaluable gems and precious metals. It also reflects the great history of Iran, reminding the visitor of the triumphs, defeats, honors, and dishonors this great country has gone through.
Treasury of National Jewels exhibits crowns, tiaras, numerous aigrettes, a dozen bejeweled swords and shields, and many unset precious gems. Multiple jewel plates and other dining services and items, such as a large golden globe with oceans made of emeralds collected by the Iranian monarchy from the 16th century (Safavid dynasty), are displayed in this museum.
Must-sees in the dizzying collection of the Treasury of National jewels include the Daria-i-Noor, one of the world's largest cut diamonds in pale pink, the Farah Pahlavi Crown, Kiani Crown which is a traditional coronation crown worn by Qajar shahs.
Nader Shah's Sword, the Throne of Fath Ali Shah Qajar, called the Sun Throne or Peacock Throne and Golden Belt, Shah's coronation belt, are also noteworthy.
Among the collections, you can also find the Samarian spinel (Spinel) and Noor-ul-Ain ('the light of the eye'), one of the world's largest pink diamonds.
You should note that cameras, phones, bags and guidebooks are not allowed. Also, be careful not to touch anything in the collections, or you'll set off ear-piercing alarms.
| Full Guide: National Jewelry Museum of Iran
8. Abgineh Museum of Glassware and Ceramics
Address: 30 Tir Street, Imam Khomeini Avenue, Tehran Museum of Glass and Ceramics.
Opening Hours: Everyday 8:00 to 16:30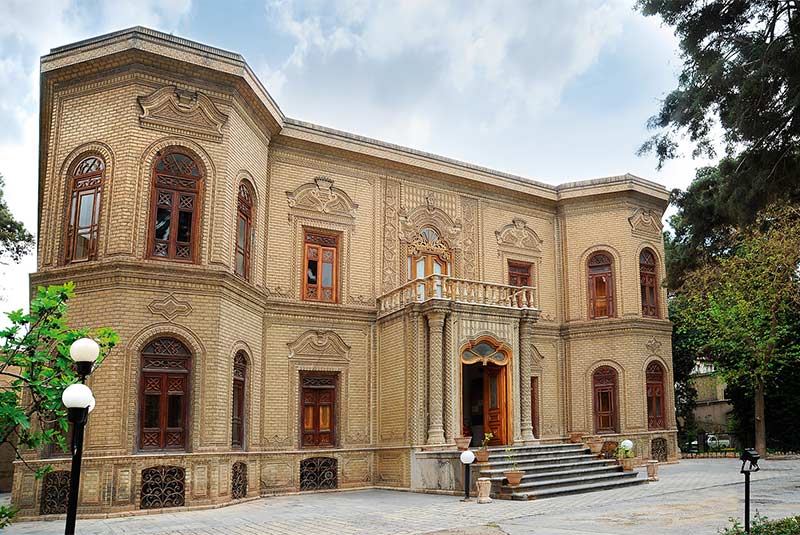 Abgineh Museum of Glassware and Ceramics was founded in the order of the former Queen, Farah, in 1980. It is decorated with intricate wooden windows, different kinds of brickwork, breathtaking stuccoes, mirror works, delicate carvings, plaster, and inlaid works.
The Glassware and Ceramic Museum is a two-story building with five halls located at 30-Tir Street. The museum was the house of Ahmad Qavam, an influential political figure of the Qajar and Pahlavi eras, for 30 years. It also used to be Egypt's embassy.
The objects exhibited in the Abgineh Museum belong to a period beginning from the pre-Islamic period up to contemporary Iran. In this museum, you can see glass works from the 12th—13th century (also known as the Golden Age of glass-making in Iran).
There is also lustreware from the Gorgan and other excavations, 14th-century pottery from Takht-e Soleyman and some later Safavid and Qajar ceramics. Finally, you can find the dramatic 'Nishapur' slip-painted ceramics of the early medieval period in the museum.
9. Moghadam Museum
Address: No. 249, Between Valiasr and Sheikh Hadi Str. Imam Khomeini Avenue.
Opening Hours: Everyday 9:00 to 17:00, Mon: Off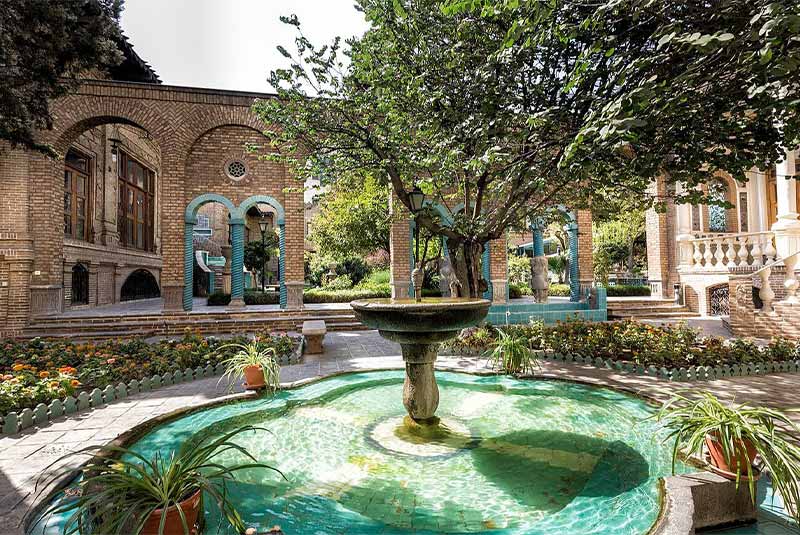 Moghadam Museum was the house of a well-reputed Iranian art professor, Mohsen Moghadam. It exhibits a fabulous art collection from Prof. Moghadam and his wife.
Moghadam Museum exhibits valuable crafts, historical objects, carved stone pieces, magnificent tiles, pottery, glass, paintings, coins, and some old documents.
| Full Guide: Moghadam Museum
10. Reza Abbasi Museum
Address: No. 972 Seyed Khandan District, Shariati Street.
Opening Hours: Spring and summer (9:00 to 19:00), fall and winter (9:00 to 17:00)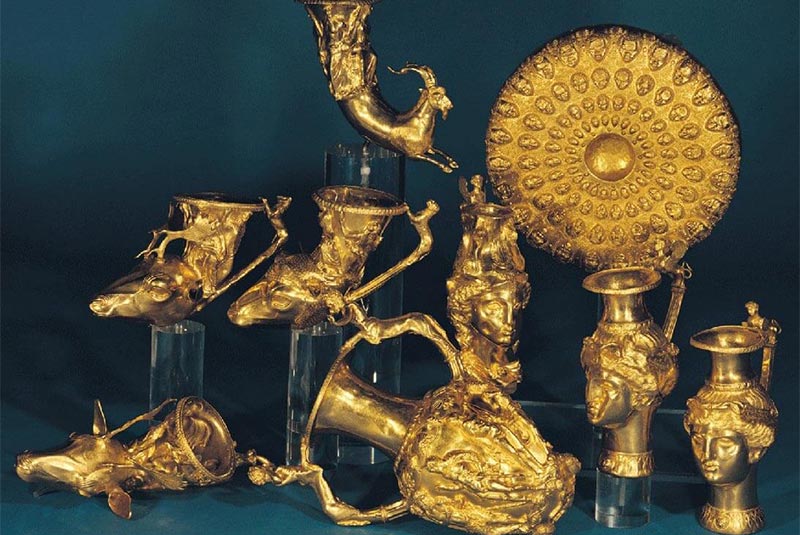 Reza Abbasi Museum of Tehran is one of the finest collections in Iran for those who wish to trace the history of Iranian art and civilization. Here you can observe how industry fuses more and more with art, how the influence of other cultures creates new motifs, and how the simple primitive designs give their place to more delicate and idealized figures.
This precious museum was opened to the public in 1977 through the efforts of the former queen, Farah Diba. The museum is named after the great Iranian artist of the Safavid era, Reza Abbasi. Reza Abbasi Museum contains various items from the second millennium B.C. until the middle of the 20th century. It comprises three galleries highlighting pre-Islamic and Islamic art and calligraphy and painting, all arranged chronologically. Paintings and miniatures by Reza Abbasi are on display alongside pottery, vessels, metal objects and jewelry from ancient times, making for some of the most exciting items in this museum.
Another famous object of the Reza Abbasi Museum is Ferdowsi's oldest copy of the Great Mongol Shahnameh. Moreover, while strolling through the museum, you have the chance to visit Lorestan Bronzes, one of the world's best bronze works.
Reza Abbasi Museum also has a library which has a valuable collection of books, magazines, and old sets of newspapers. This library is complementary to the museum's collection and provides appropriate resources for researchers and scholars in various fields of art.
| Full Guide: Reza Abbasi Museum
---
Share your story!
Comment below and let us know about your Experience.
Your story inspires others!