Iranian Food and Drink
23 Aug 2022
BY

Arash Morshed
Best Dishes in Isfahan You Must Try
In every Iranian city, visitors will encounter various cultures and customs, all of which will appeal to and please them.
Esfahan, or Isfahan as it is commonly called in English, is one of those cities whose beauty can be appreciated simply by entering.
When visiting Isfahan, you may enjoy breathtaking attractions of Isfahan, including mosques, bridges, and antique gardens that draw many travelers each year.
Esfahan is not lightweight either when it comes to cuisine; in addition to a variety of specialties that can be found across Iran, the city is also home to several cuisines. Don't forget to take a tasting tour while you are in Isfahan, and be sure to sample some of the city's traditional cuisines with new and exciting flavors. Continue reading this article to learn more about the best Isfahan food served in this city.
Here we go:
Must-Try Local Food in Isfahan
1. Biryani or Beryanee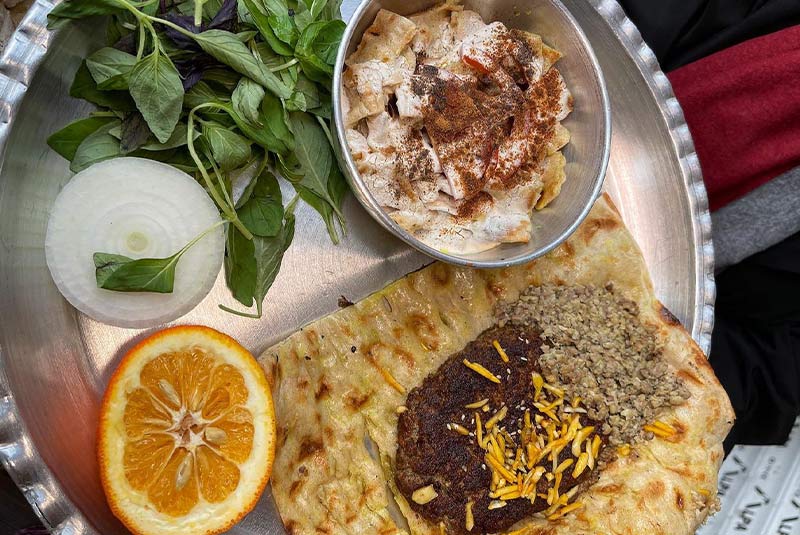 Esfahani people have been making biryani for centuries, even before it became popular in India. This Beryouni is without a doubt the dish that everyone recognizes as one of the Isfahan famous foods. Like a hamburger, biryani is made with lamb, spices, onion, salt, cinnamon, pepper, and turmeric. It also includes sheep's pluck. The flesh is soft, rich, and fatty, so it might not be to everyone's taste. Separately, the beef broth is provided in a dish with pieces of bread. Typically, they cook it with cinnamon, almonds, pecans, and sesame. The Sangak bread and a serving of fresh veggies are always included with the biryani. Ordinarily, the chef always provides a bowl of Ab-Goosht (meat soup) together with floating bread pieces (Telid in Farsi).
2. Halim Bademjan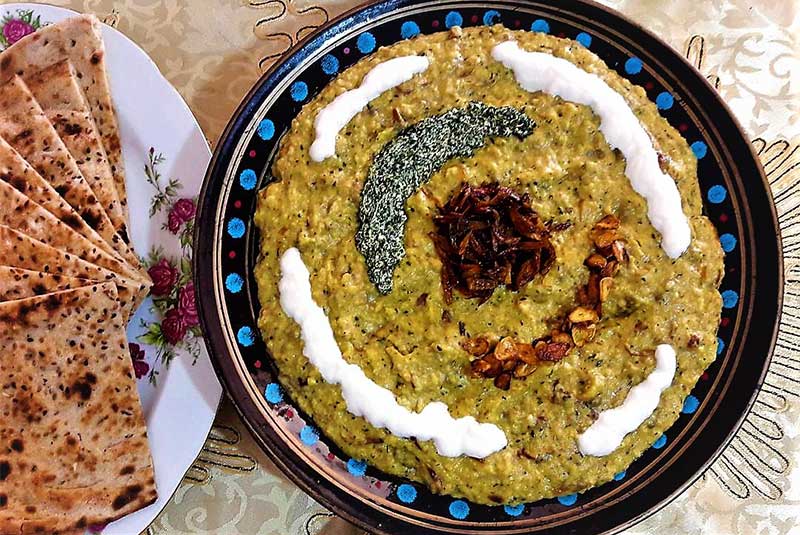 You just need to try Halim Bademjan once to become a loyal fan of this meal, which is among the most cherished and traditional Isfahan food. Meat, fried eggplant, garlic, hot mint, curd, fried onion, and saffron are all ingredients in this meal. There are hardly any people who eat Halim Bademjan and don't enjoy its flavor.
3. Kaleh Joosh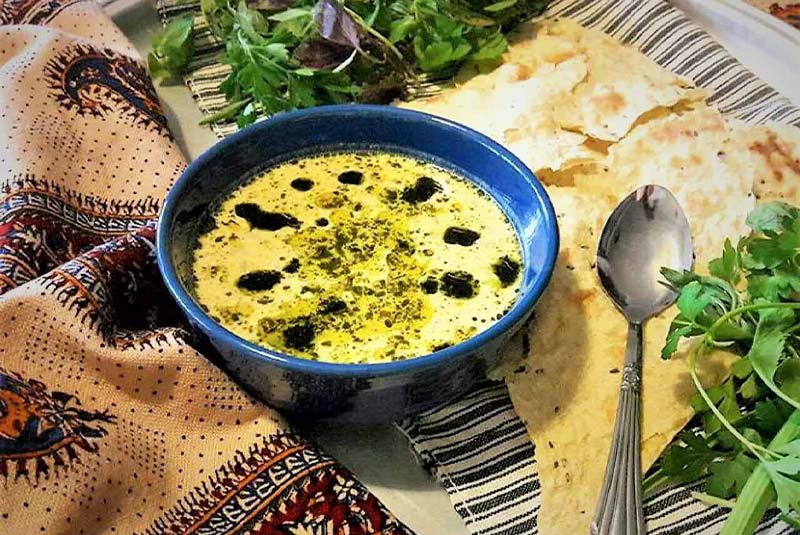 Kaleh Josh is a delicious and quick Isfahan food. You've probably heard the name of this dish a lot because it is prepared in various locations. However, it is believed that the Qashqai people of Isfahan are the source of its beginnings. This dish's components include onion, dried mint, walnuts, and curd. This easy and quick cuisine is typically prepared across the province of Isfahan.
4. Gheymehrize Nokhodchi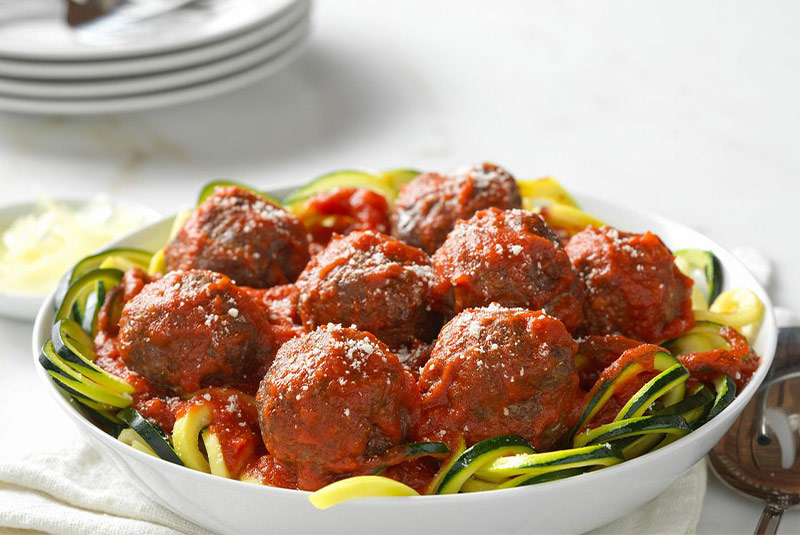 The Gheymehrize Nokhodchi is another of the best Isfahan foods. They cook pork, chickpeas, fried onions, dried mint, and other ingredients to prepare this dish. They formed them into little balls and then kneaded them before dropping them into the liquid that included the tomato paste and cooked onion to be thoroughly shredded. Gheymehrize offers bread or rice as a side.
5. Khoresht Mast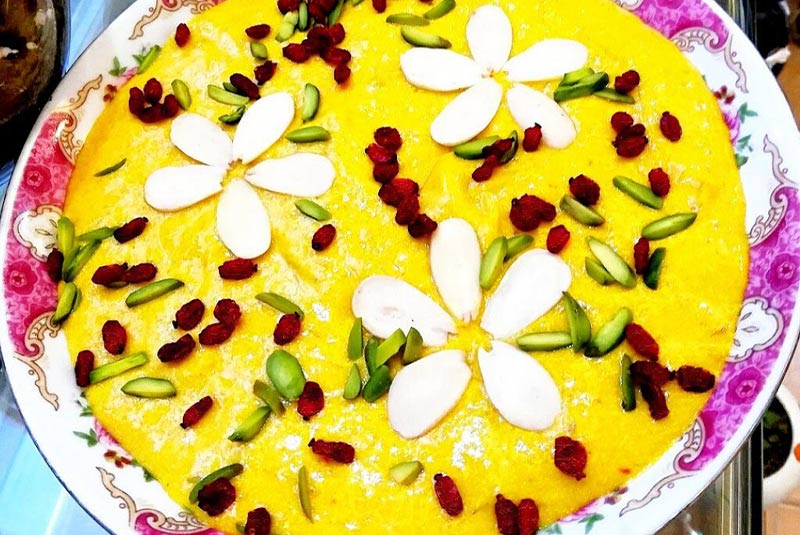 Khoresht Mast (Yogurt stew) is not a stew that is served with rice (Polo in Farsi) but rather as a dessert and served cold. Do not confuse it for another Iranian dessert like Sholeh Zard, though it may seem similar. Isfahan's Khoresht Mast is a delectable traditional food of Isfahan. All ingredients are mutton, yogurt, salt, sugar, rose water, turmeric, pistachio, almond, and barberry.
6. Taskabab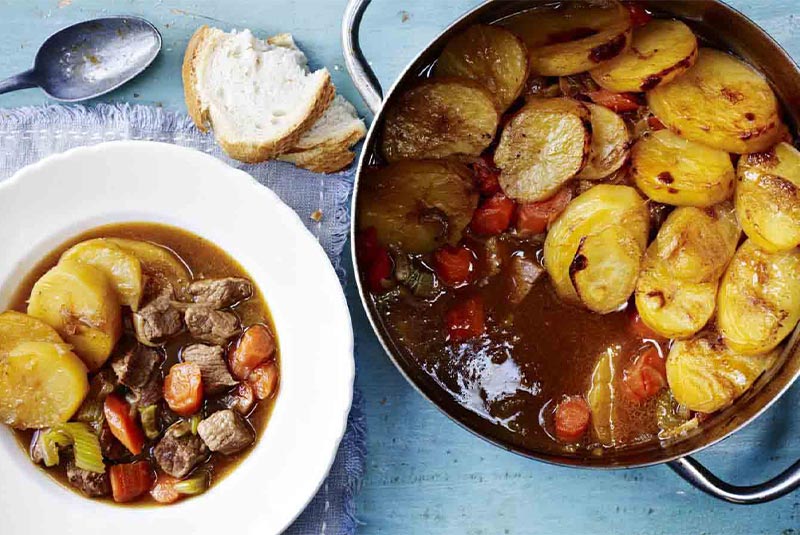 Tas Kebab is another top dish to try in Isfahan that is commonly served on Iranian tables all over the country. Both vegans and non-vegetarians can enjoy this traditional Isfahan food. Mutton, an onion, a carrot, a potato, a quince, oil, salt, and spices are used to prepare Tas Kabab. In addition to the aforementioned ingredients, Kabab is cooked with tomato paste and water. Tas Kabab can be eaten with rice or bread as well.
You can undoubtedly find various recipes if you search for the one for this dish. Though it might be a delectable lunch that you can find in numerous places in Isfahan, eating this wonderful dish in the city of Isfahan has a different flavor.
7. Ash-e-Shorba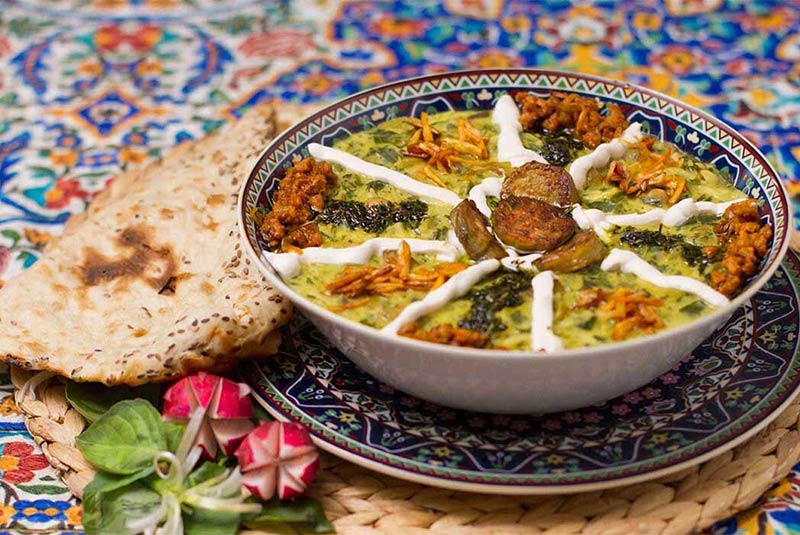 One of the local dishes you can find in any of the best restaurants in Isfahan is called Ash Shorba, which is somewhat similar to Ash Reshteh but uses rice rather than noodles (Reshteh in Farsi). This recipe combines a variety of veggies, beans, and meat with some regional spices for taste. The natural components of this Isfahan food are its most crucial component. Different types of soups or Ash are prepared in various regions of Iran. Every location has a distinctive soup. For vegetarians or vegans, these soups are a great option.
8. Ash-e-Somagh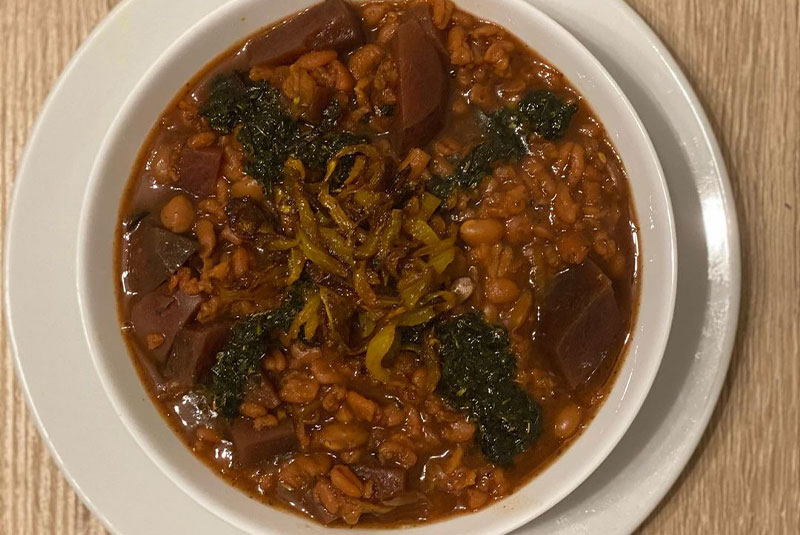 You shouldn't miss trying this traditional Ash from Isfahan if you enjoy Ash. This soup is made with vegetables, rice, flour, onions, and meat; adding dried sumac has given it a distinctive flavor. Nothing will be as pleasurable as eating this soup, especially if you are visiting Isfahan in the winter.
9. Kachi Haft Dokhtaroon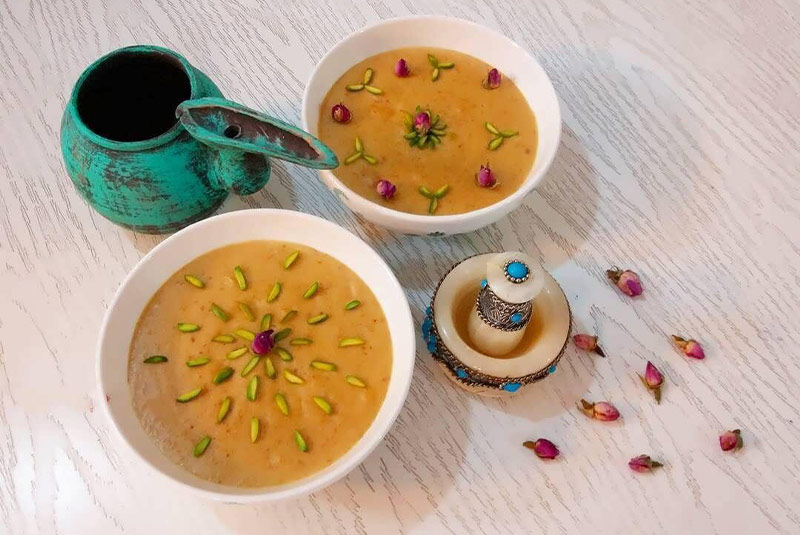 Kachi is a mouthwatering dessert that is prepared all throughout Iran and is so filling and substantial that it may even be regarded as a complete meal. But in Isfahan, it is known as Kachi Haft Dokhtron. This name was inspired by the name of an ancient Isfahan ceremony.
The king's son fell in love with this girl one day when she was being sent to the desert by her stepmother every day for some unknown reason. However, the boy's family forbade their marriage, so the girl planned to find the king's son, and as her vow to God (Nazr in Farsi), she prepared him kachi.
Women still prepare kachi on Tuesdays that may make their wishes come true. Flour, rosewater, almonds, and pistachios are used to prepare Kachi.
10. Yakhni Loubia (Gousht-o Loubia)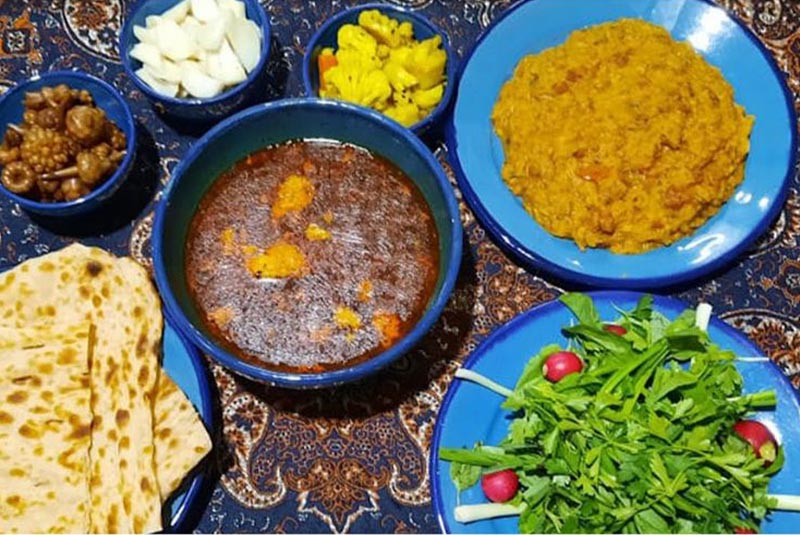 One of the most well-liked local Isfahan food is Yakhni Loubia. Lamb, leeks, parsley, fenugreek, white beans, rice, onions, and spices are used in this Halim-style dish. Meat and beans are typically prepared in copper pots and eaten with bread. Naturally, local Persian recipes may discover portions of meats and legumes, including beef, lentils, and chickpeas.
11. Polo Mush Ghomri (Mung bean rice and Kohlrabi)
In Isfahan, one of the most famous and delicious cooked rice recipes is Polo Mash Qomri. A kind of cabbage known as kohlrabi is wonderful when combined with rice and mung beans.
12. Kabab Moshti (Zardak)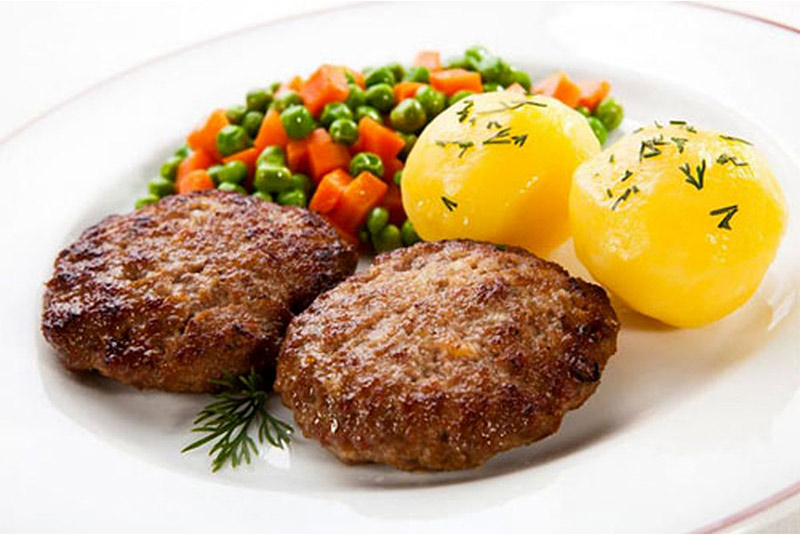 Zardak Kebab is one of the delectable foods prepared in Isfahan (also known as Kebab Moshti). This kebab is simmered in sauce rather than roasted over an open flame. The sweet-tasting, carrot-like root of the plant from which this dish gets its name is blended with minced beef, juice, vinegar, chickpea flour, onion, and spices before being cooked in a wonderful sauce. One of the delightful experiences that might make your vacation even more unforgettable is eating this traditional food of Isfahan in a street deli.
13. Yakhme Torsh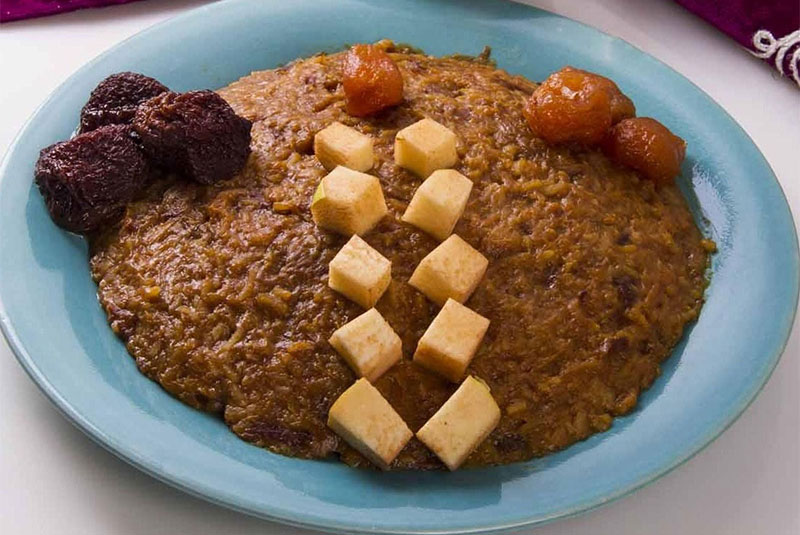 One of the Isfahan top dishes is Yakhme Torsh, which is sadly only available in a few locations. One of the most delicious options for a meal is Yakhme Torsh, a distinctive mixture of all types of summer fruits created with pork, rice, and sugar. In the end, all the components are carefully whipped, blended, and given with fresh bread.
14. Nokhod Ab (water peas)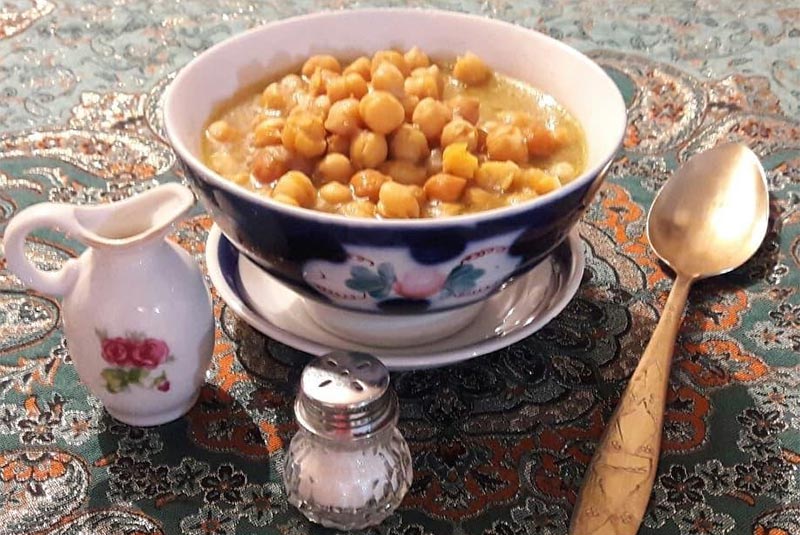 Nokhod Ab is one of the most simple traditional meals you can try in Isfahan. It has an effortless preparation but an incredibly wonderful flavor that will make you fall in love with it after just one bite. The people of Isfahan prepare Nokhod Ab by soaking the chickpeas in water for 24 hours, frying them with onions, and then adding flour and water to the mixture while they cook.
15. Shole Beryan Zireh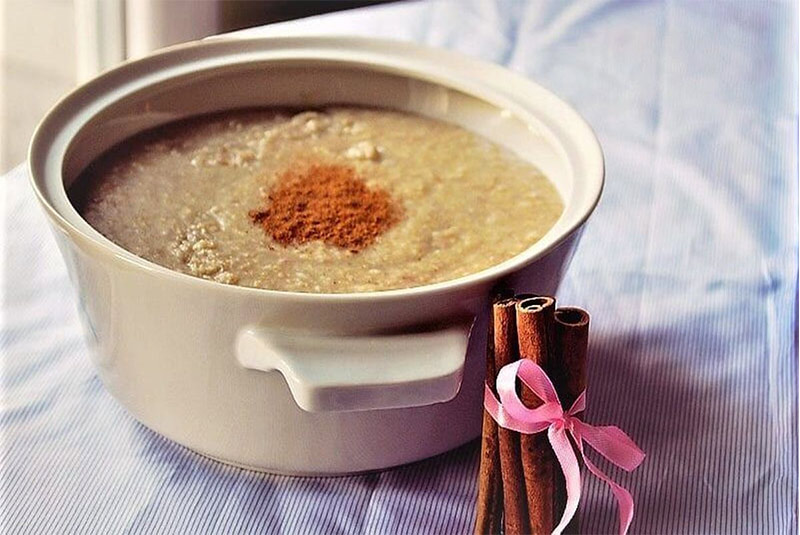 Another well-known Isfahan dish is sholeh briyan zire. In addition to being served in a soft, crushed shape, this meal also boasts a distinct flavor thanks to the fragrant aroma of black cumin.
In order to prepare this meal, lamb ribs are first cooked with onions, water, and seasonings before the rice is added. Black cumin is added at the end, and the mixture is then beaten. With warm bread, this dish's excellent flavor will be greatly appreciated.
16. Haleem Shir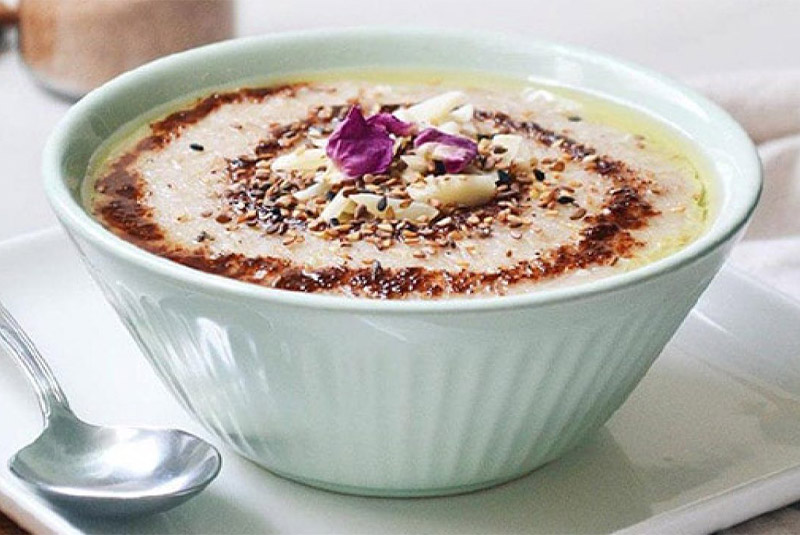 Haleem is one of the most well-liked food varieties in the city of Isfahan, as has been made abundantly obvious up to this point in the text. Another of Isfahan's most outstanding local and traditional foods is called Ash Haleem Shir; this Haleem tastes significantly different from all the others you've likely had. Haleem Shir is a morning food that often consists of meat, bread, and milk.
17. Eshkane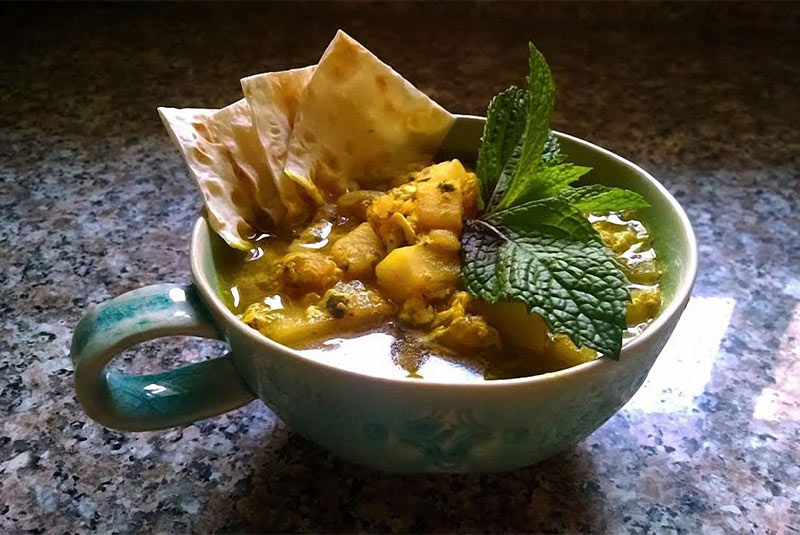 Eshkaneh has made its way into this city's traditional cuisine from Isfahan's neighboring cities. In the past, anyone who went to work on someone's farmland, or so-called "Tulki men" (Tulki in the local language means paddy field), was required to prepare their own breakfast. The landowner, though, paid for their lunch. In order to give cheap and quick food, the landowner treated them like guests by preparing Eshkaneh.
In several cities, this meal is prepared with butter, onion, flour, eggs, and dry salt. Some do it using tomato paste, and some don't.
18. Morasa Polo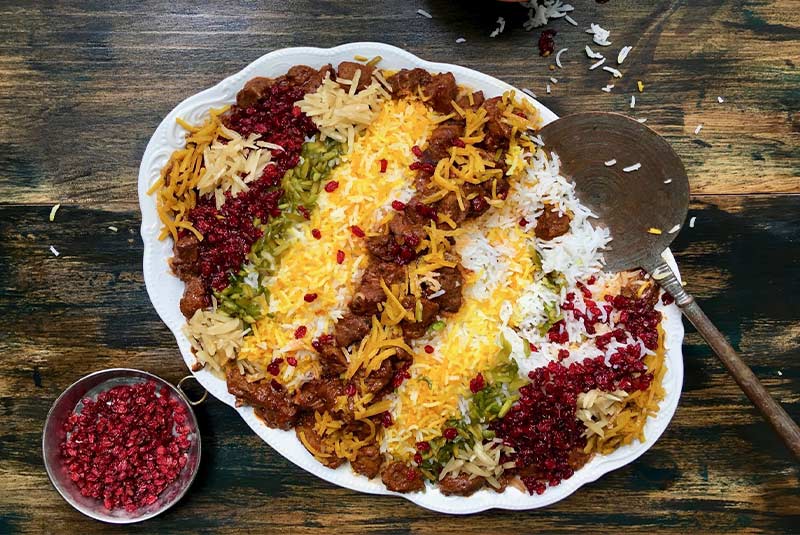 An appealing Persian rice dish called Morasa Polo (Jeweled Rice) has a delicious combination of sweet and sour flavors. It has been made using vegetable ingredients like raisins, almonds, and carrots. Bringing sweetness to the just-married couple, the sweet celebratory meal from Persian custom is frequently served at weddings. The Persian dish Morasa Polo, commonly described as "Javaher Polo" or "Jeweled Rice," is often said to as the monarch of all Persian cuisine.
Each component stands for a unique type of gemstone! Pistachios stand in for emeralds, while barberries stand in for rubies. This meal, which is a rare example of sweet-and-savory Persian cuisine, contains a ton of nuts and dried fruits, including pistachios, almonds, candied orange peel, barberries, carrots, and saffron. A small amount of sugar is added during preparation to counteract the tartness of the barberries. Basically, it is served with saffron-cooked chicken.
Some believe Morasa Polo is tied to Isfahan's food and culture, while others disagree. You can be sure that you won't regret it if you taste this meal in Isfahan.
19. Kebab Hosseini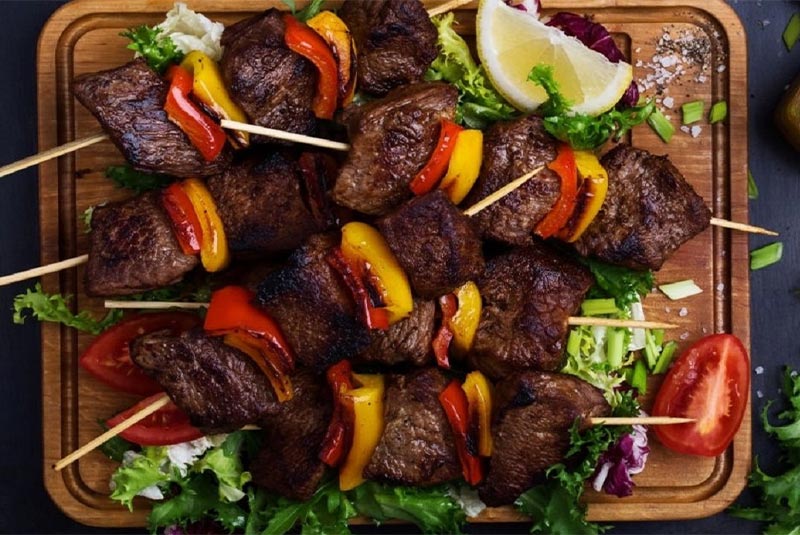 It won't hurt to try the Esfahani Hosseini kebab if you haven't had enough of eating kebabs in Iran. In contrast to the typical Iranian minced kebab, Kebab Hosseini consists of meat chunks roasted on skewers and served with green peppers and tomatoes.
20. Gooshfil and Doogh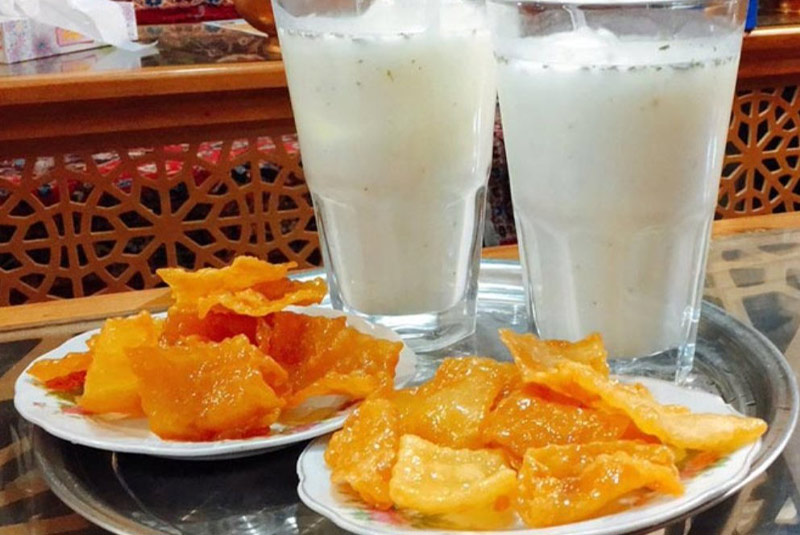 One of the best things to do in Isfahan? Discover new tastes!
It's possible to explore new flavors in Isfahan, some of which could even appear a little odd. Speaking of odd pairings, people in Esfahan enjoy combining the sweetness of gooshfil with a large glass of salty yogurt beverage. Doogh, a highly well-liked Iranian drink prepared with yogurt, water, salt, and dried mint, is typically served with kebabs. Not everyone will enjoy eating it with a particularly sweet, sugary Gooshfil. After each bite of Gooshfil, a sip of doogh would wash the sweetness, and before you know it, you will find yourself eating the whole plate of Gooshfil.
You can find Doogh and Gooshfil in most cafes and restaurants in Isfahan and enjoy this traditional Persian recipe's new and incredible taste.
21. Gaz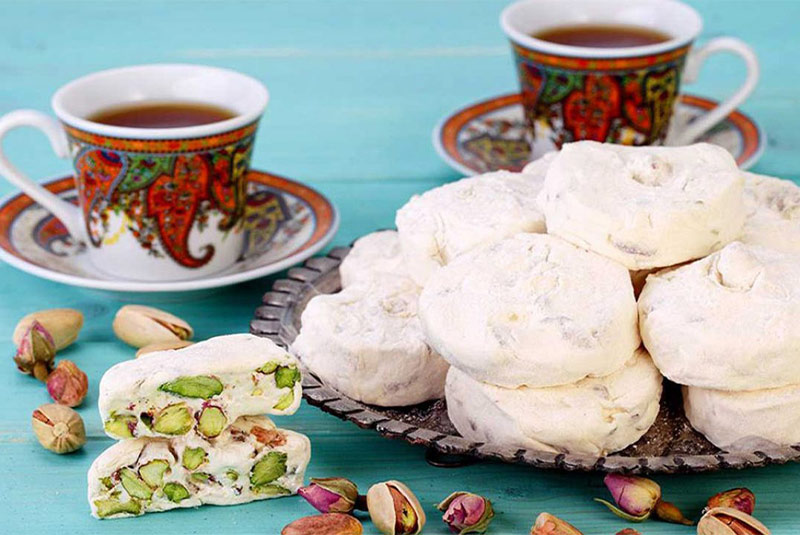 The most popular Iranian treat outside of Iran is definitely Gaz. Although cornstarch is typically used in its stead these days, the traditional Persian recipe called for the sap of the local Esfahan Angabin plant. This well-known confection is made with sap, rosewater, pistachios, and occasionally flour. Gaz is a reasonably inexpensive treat in Iran. However, the cost varies depending on the percentage of pistachios.
Bottom Line
Last but not least, each region's distinctive cuisine reveals a significant portion of its history and traditions. Every journey's substantial and delightful aspect is spent partaking in these delicacies. Therefore, anytime you want to visit the city's historic center, be sure to sample the best of Isfahan food this city offers and treat yourself to the flavors and aromas of these fresh cuisines.