Persian Food
24 Oct 2022
BY

Arash Morshed
Traditional Persian Breakfast You Should Try
The first meal of the day is breakfast. It is the most important meal since it gives you the nutrition and energy you need to start the day.
Any time in the morning, you are welcome to enjoy breakfast by yourself! This blog will look at a few distinct kinds of Iranian breakfasts.
Best Persian Breakfasts Platter
One of the most delicious breakfasts, Iranian breakfast is undoubtedly incredibly nutrient-dense and helps to boost the immune system. It is typically served with labneh, fresh white cheese, and bread. Eggs, yoghurt, feta cheese, olives, tomatoes, cucumbers, jam or honey (for toast), and several kinds of bread, such as lavash or other types of Persian bread (Naan), are typical morning dishes.
Iranians go beyond when it comes to eating breakfast. Every person with any taste may find a healthy and nourishing alternative to eat for breakfast to start a pleasant morning, thanks to the enormous range of breakfast options and cuisines available.
Persian Breakfast Ideas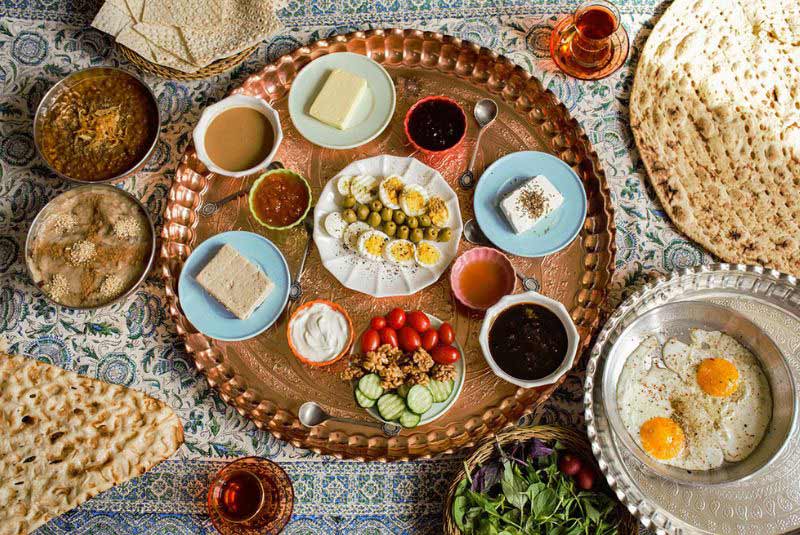 You may ask what a typical Iranian breakfast is. Some components of an Iranian breakfast must be included. They are the heart of this meal and have the power to enhance it a hundredfold. You may always choose only one or two dishes, but learning about each item and how to make it is a terrific way to diversify your morning routine and learn about various cultures.
| Suggestion: Best Restaurants in Tehran
Persian Bread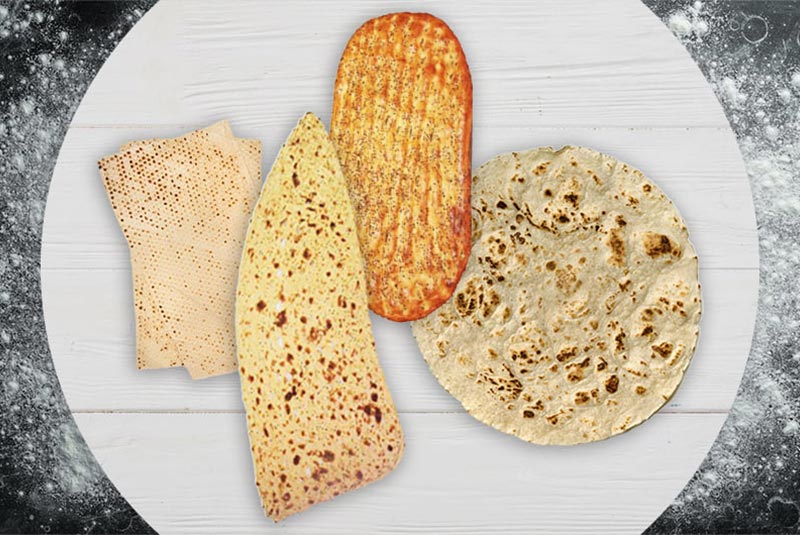 Persian bread is, without a doubt, the essential component of a Persian breakfast and the centrepiece of any Iranian table. Persian bread is a constant component of breakfast dishes in Iran, whether they are light nibbles with butter or cheese or the heartiest meat-filled meals. Typically, bread is purchased each morning. A hot loaf of freshly baked bread is the most enjoyable accompaniment to an Iranian breakfast.
In Iranian cities, there are nearly always bakeries (nanvaii) to be found. According to the type of bread they provide, each nanvaii is often committed to producing a specific variety of bread using a particular baking technique.
Iran's most popular bread varieties are as below:
Barbari: a thick flatbread with a doughy, airy structure
Sangak: a simple flatbread baked on hot stones made from whole wheat flour
Lavash: a thin, clay-oven-baked flatbread
Taftoon: a flatbread that is round and baked using all-purpose flour
You need these four great bread varieties in order to enjoy a fantastic breakfast. In Iran, you may get up early in the morning, visit a bakery, buy a few loaves of bread, and then return home to breathe in the scent of freshly baked bread filling the air.
Hot Iran Breakfast
The Iranian breakfast is diverse. To urge your family to have breakfast daily, you might select a tasty meal from the Iranian breakfast menu. Here, we would like to give you a taste of some hot Iranian breakfast options. A hot breakfast must be cooked, but it must be done quickly and easily.
Haleem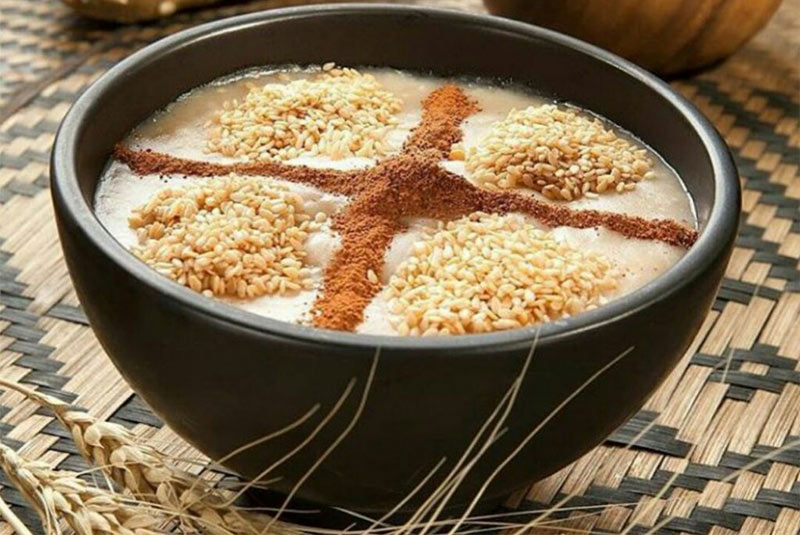 The most delectable and healthiest breakfast served in Iran is called haleem, which is highly well-liked by Iranians. Haleem is frequently served with sugar and cinnamon, while others like it with salt. This scrumptious and filling meal will keep you from feeling hungry for several hours.
Adasi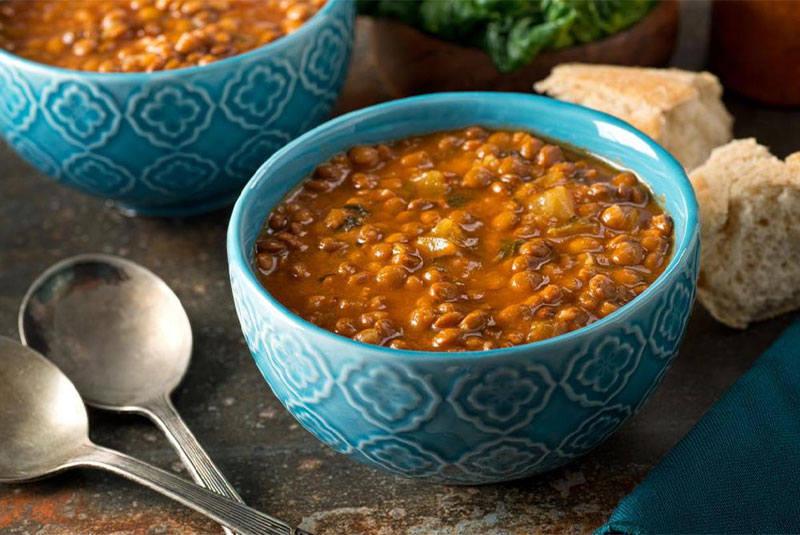 Adasi is one of the healthiest and tastiest Iranian morning dishes. You may cook some lentils the night before and make lentils in less than 30 minutes in the morning to cook this Iranian breakfast quickly. In general, beans offer numerous health benefits for the body, and eating these foods for breakfast will increase these health advantages.
This breakfast goes well with juice and angelica. Proteins, carbs, and vitamins are all abundant in lentils. As a result, they are excellent at supplying daily energy. Lentils provide many health benefits, including treating anaemia and iron deficiency and decreasing blood pressure and heart disease.
Kale Pache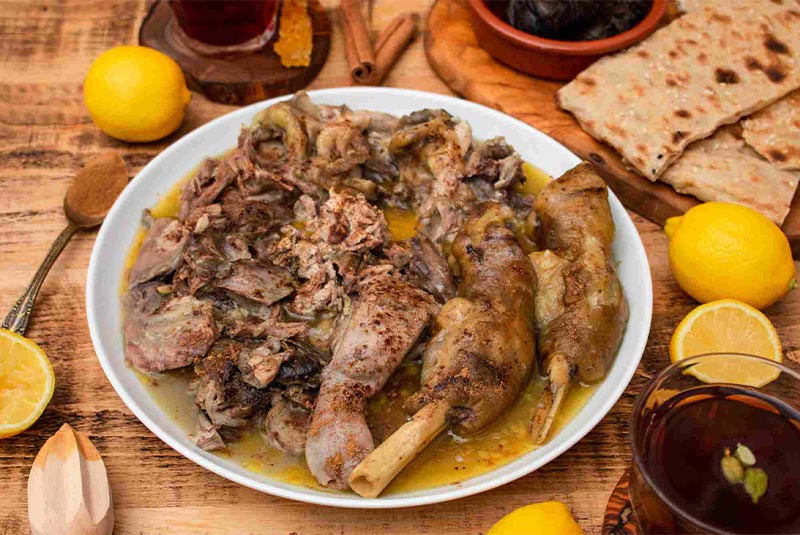 The name Kaleh Pacheh, which literally means "head and legs," belies the extraordinary deliciousness of the dish. It would be best if you had a sheep's head and legs to simmer for hours with fried onion, turmeric, salt, and pepper to prepare Kaleh Pacheh. If you wish to sample this meal, just look for a Persian restaurant close to your home because making it requires lots of patience and time.
This meal is often served in specific locations called "Kaleh pazi" or "Tabakhi" very early in the morning.
Kaleh pacheh is not a meal to consume every day since it contains much cholesterol, and since it is a heavy meal, we do not recommend serving it at night.
Do not pass up this Iranian breakfast if you are curious and enjoy trying different foods.
Persian Rice Pudding (Shir Berenj)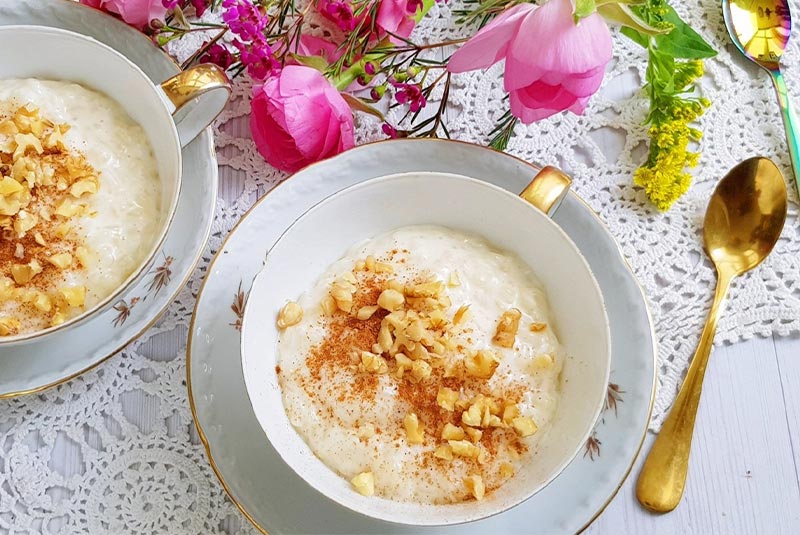 In Iran, rice pudding is typically offered as a dessert, but it also makes a fantastic breakfast. Rice pudding flavours include cinnamon, rose, chopped almonds and pistachios. The frigid winter days are better suited for this hot breakfast.
Persian Kheer (Firni)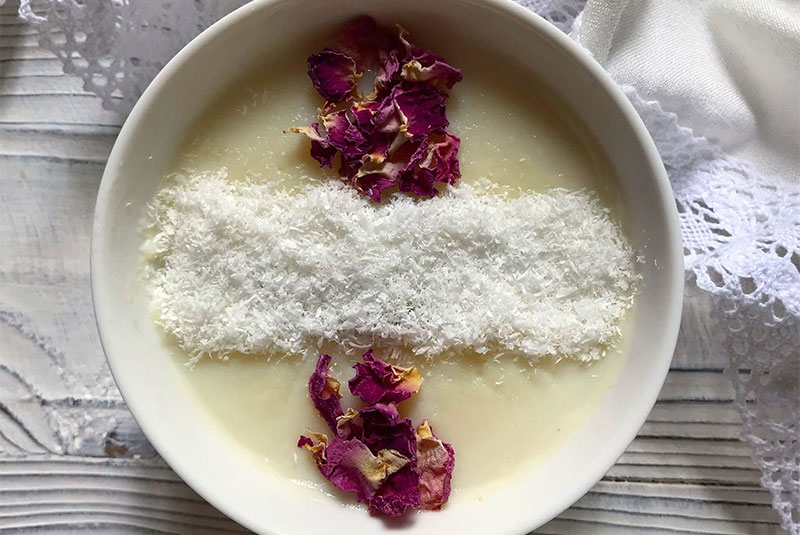 Persian Kheer, which is created in Iran from rice flour and milk, is another breakfast option that cooks more quickly. Some people blend it with grape milk or date juice to make it stronger.
Ash Reshteh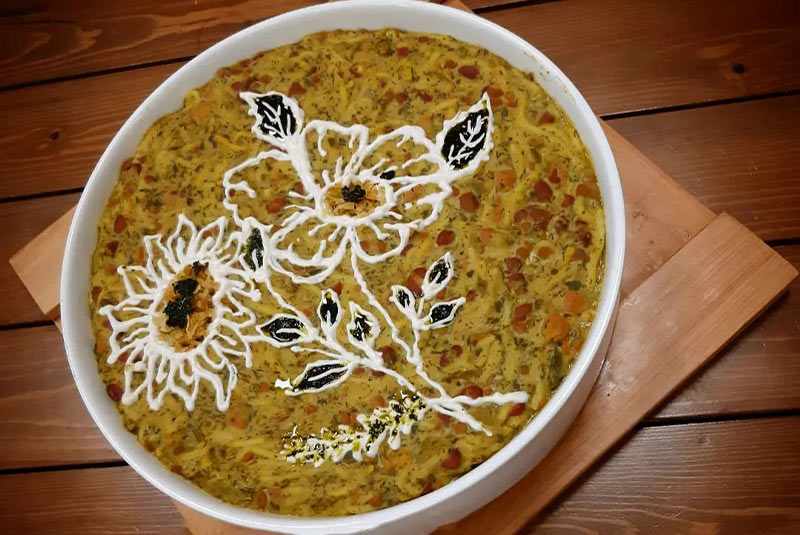 Ash Reshteh, a type of Persian noodle soup, is unlike any other noodle soup you have ever experienced. Ash Reshteh is one of the Persian Brunch Recipes. Persian fried onions, kashk, and reshteh give it a distinctive, acidic, and delicious flavour. Additionally, it is loaded with tasty and nutrient-dense vegetables, beans, and chickpeas.
Iranian Breakfast with Eggs
There are different recipes with eggs that you can enjoy in your Persian breakfast; here are some of the Persian Brunch Recipes with eggs:
Persian Omelette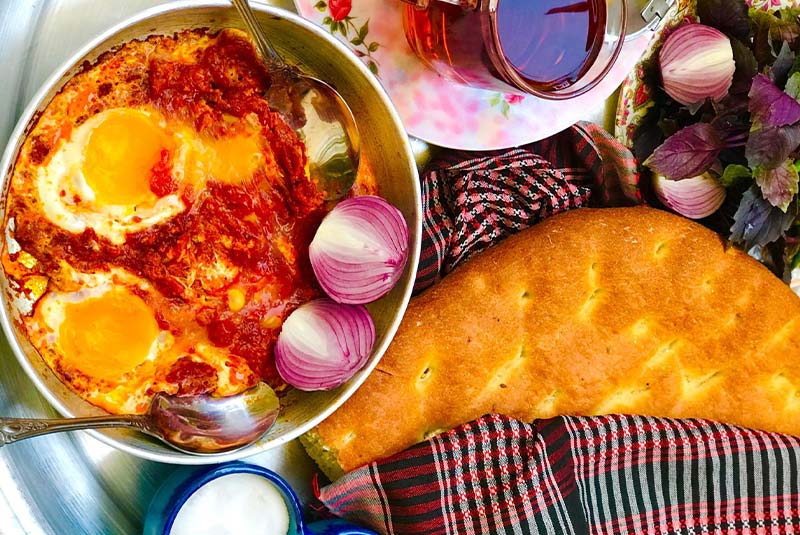 The omelette is one of the most popular breakfasts in Iran. You may prepare an omelette in various ways; for a tasty omelette, mix eggs with a variety of vegetables and tomatoes or use tomato paste to make a fantastic omelette. Your preference will dictate how you prepare the omelette. This Iranian breakfast will offer your body a ton of energy if it is provided with fresh veggies and lemons.
Nimroo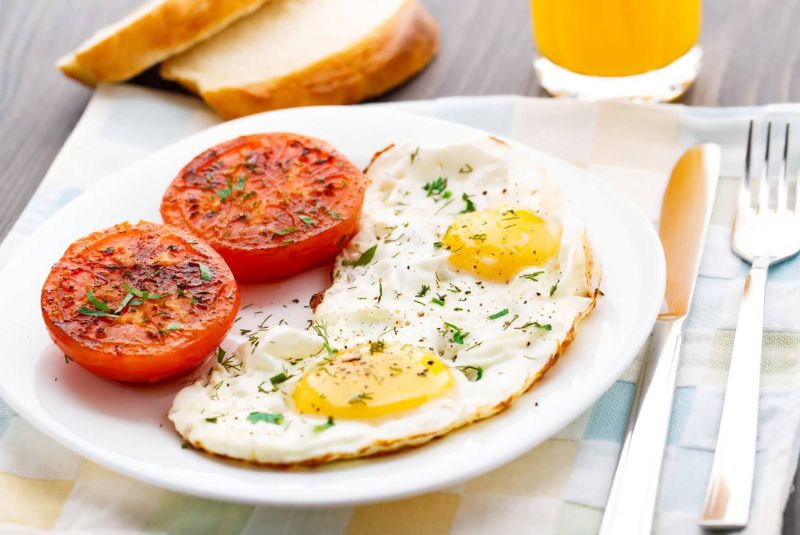 Nimroo is really simple to make. Simply add some oil to a small pan, and crack two eggs or more into the oil when it is hot enough. When you notice the egg is fried enough, season with salt and pepper and continue cooking.
Some individuals want their food well done, while others like the yolk to be runny. You may also mix the egg to include the yolk and whites when breaking the egg. Although it is no longer Nimroo, it is still so tasty.
Tip: The egg would have a stunning hue if you added some turmeric and covered it.
Khagineh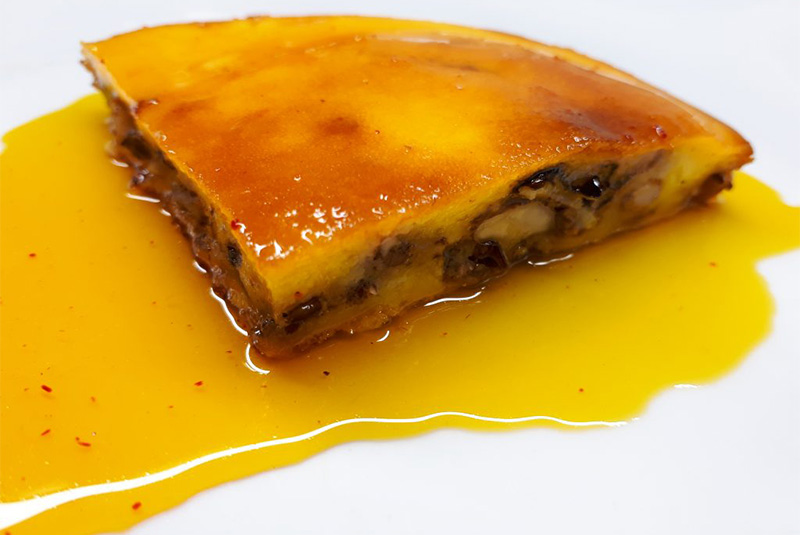 One of the most fantastic egg dishes you can make for breakfast is khagineh. The egg should be broken into a bowl and well mixed to create a homogeneous mixture. Add salt and black pepper to the eggs before putting them in the heated pan. Turn down the heat, and then cover the pan with a lid. Turn the egg over after the bottom has finished cooking so the other side may also finish cooking.
Spinach Omelette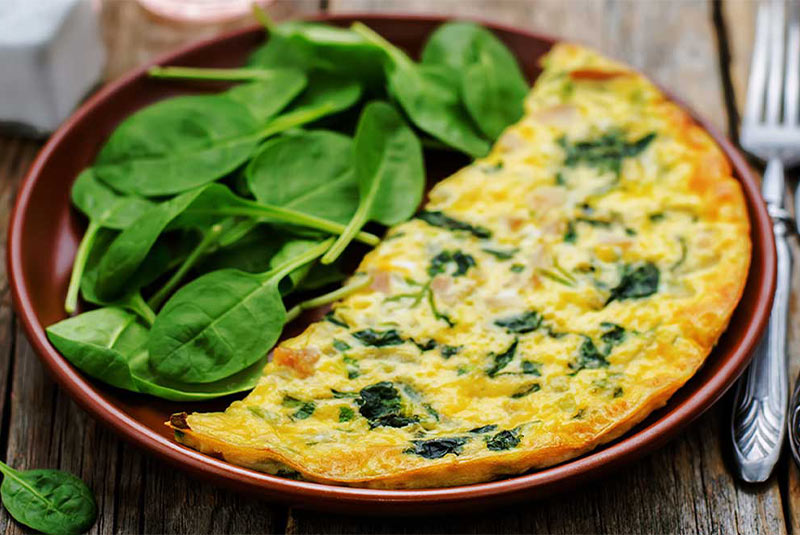 A spinach omelette is another straightforward and wholesome Iranian breakfast option. You can make this delectable, hot meal for your family with the fewest ingredients possible, increasing everyone's enjoyment of breakfast.
Boiled Egg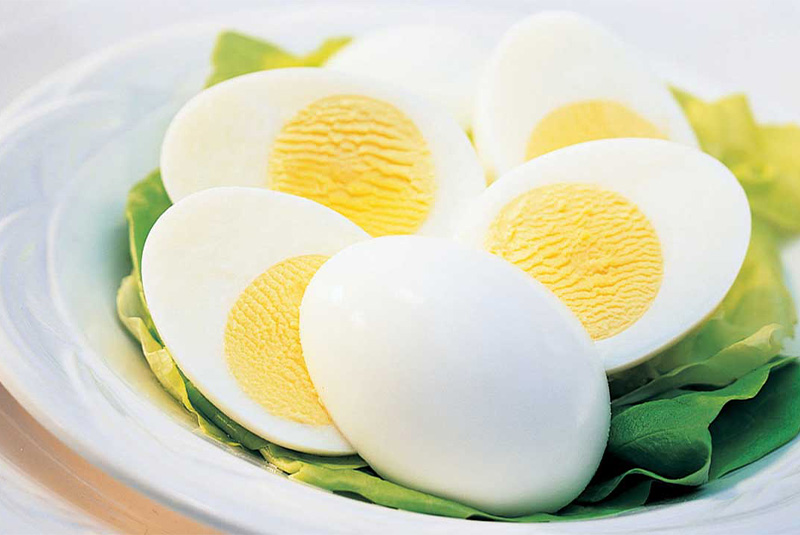 A hard-boiled egg is a fantastic choice for a nutritious Persian breakfast. You only need to put several eggs in a pot, cover them with water, and let them boil for ten minutes to make it. Once the egg is cracked, you may enjoy your delectable breakfast.
A helpful hint is to cook a small potato alongside the egg to prepare mashed potatoes, which you can then place next to the boiled egg.
Cold Iranian Breakfast
As we have already discussed, breakfast is an important meal. After presenting the widest selection of Cold Persian breakfast options, you will be urged to sleep early and make one of the Iranian breakfast options for your family the following morning. These Cold Persian breakfast recipes are delectable and filling without the need for cooking.
Bites of Cheese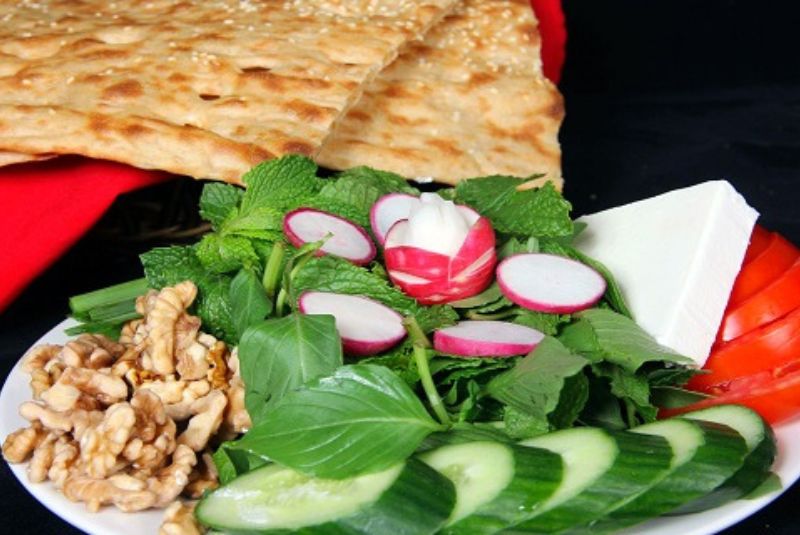 It is vital to remember that cheese, or panir, is always consumed with bread for breakfast in Iran. When you need a quick and full breakfast, choose Persian cheese and bread, which is simple to prepare. Iranians typically prepare small bite-sized meals using cheese and bread. On top of a little slice of bread that has been smeared with cheese, various toppings are placed. The following are the components that go most frequently with cheese and bread tiny bites:
Walnut
Pistachio
Sliced tomato
Sliced cucumber
Fruits (grapes and watermelon)
Fresh herbs (Sabzi khordan), including basil, flat-leaf parsley, dill, radish, and others, You can use any types of cheese that you want, but feta is the most often used cheese in Iranian breakfast.
Bread, Butter and Jam
Butter and jam is another typical Persian morning item. As you are aware, there are many different types of jam; you may select one of them based on your preferences, such as Persian peach jam or cherry jam. Additionally, you may try several kinds of molasses, syrup, and butter, including grape, berry, and date syrups.
As mentioned before, in Iran, there are several varieties of jam. Although you can buy almost all those varieties in stores, traditional Iranian families prefer making their own. Once you have tasted the heavenly aroma that emanates from the pot of ingredients that is turning into the jam, you will not be able to easily switch back to buying your jam from the store. Persian mothers can transform anything — from rose petals to ginger — into a delectable jam!
You may start the day with energy with this meal. Butter, honey, and sesame are a fantastic combo. With your family, you may eat this wholesome Iranian breakfast. Enjoy the special health benefits of honey and sesame as well.
Honey and Cream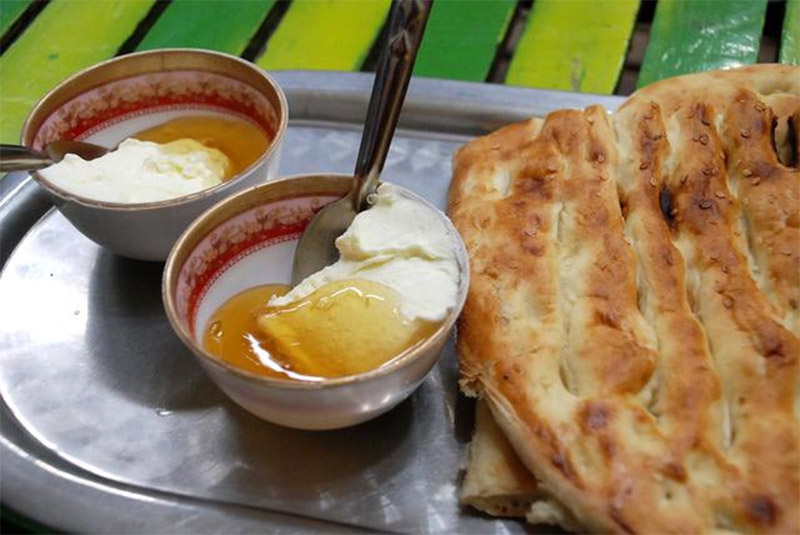 Honey and cream are one of the greatest and healthiest Iranian breakfast options. Those who dislike the flavour of butter will benefit more from this meal. You may combine the cream with chocolate cream and honey to get a truly unique flavour. This popular breakfast item from Iran is often served with bread and is popular among teens and young children.
Date Syrup and Tahini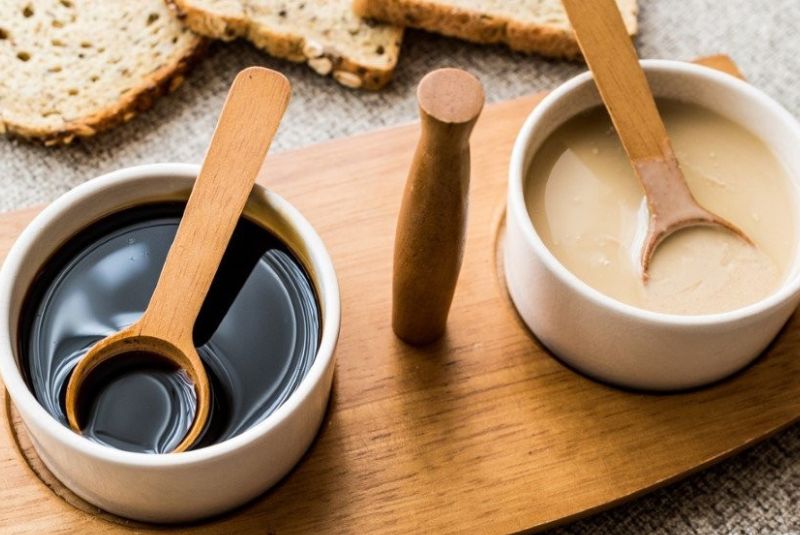 Date syrup with Tahini (Ardeh), which is extremely healthy and has many beneficial aspects for the body, is another delectable and filling Iranian breakfast option. Additionally, you may offer bread that has tahini's nutritional benefits with sesame tahini halva (halva Ardeh).
Sarsheer and Honey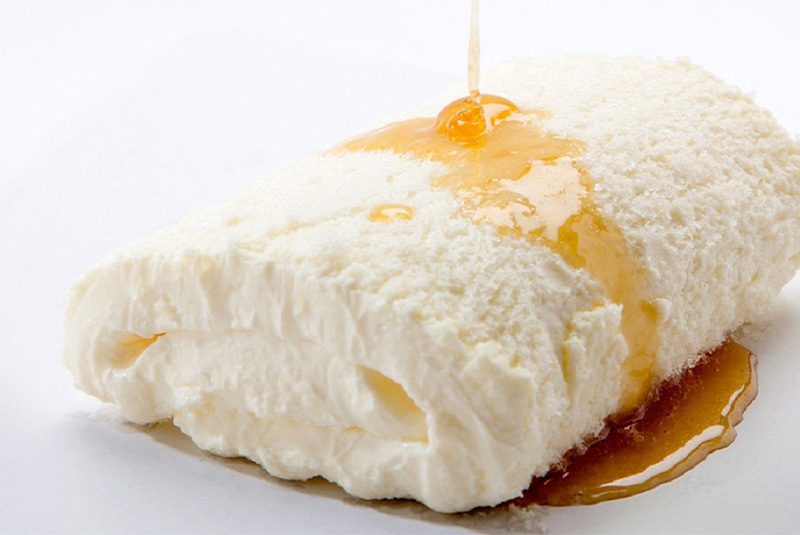 This Persian favourite is a thick, spreadable cream that is a bit challenging to make but well worth it. It tastes somewhat sweet and has a consistency akin to mascarpone or clotted cream.
There are parallels even if these more popular creams are not exactly created in the same manner. The thick cream produced when unpasteurized milk is heated for a long time and separated is what typically makes sarsheer.
Persian Tea with Breakfast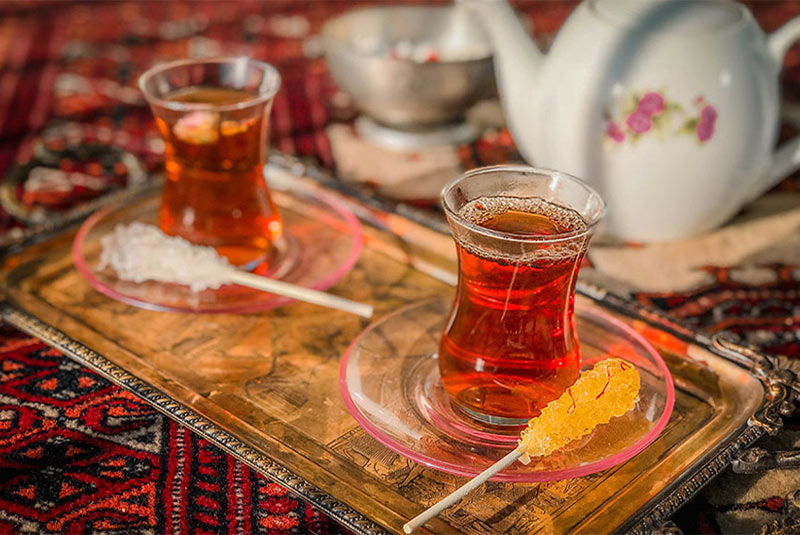 A cup of freshly made Persian tea (chai) is practically necessary for an Iranian breakfast. Without Persian tea, a Persian breakfast cannot be complete. Chai is the icing on the morning cake and pairs well with everything we will introduce to you. Persian black tea helps you finish your breakfast and gets you in the mood for a new day with its caffeine content. Iranians typically drink sweet tea without milk during the morning.
Is Persian Diet Healthy?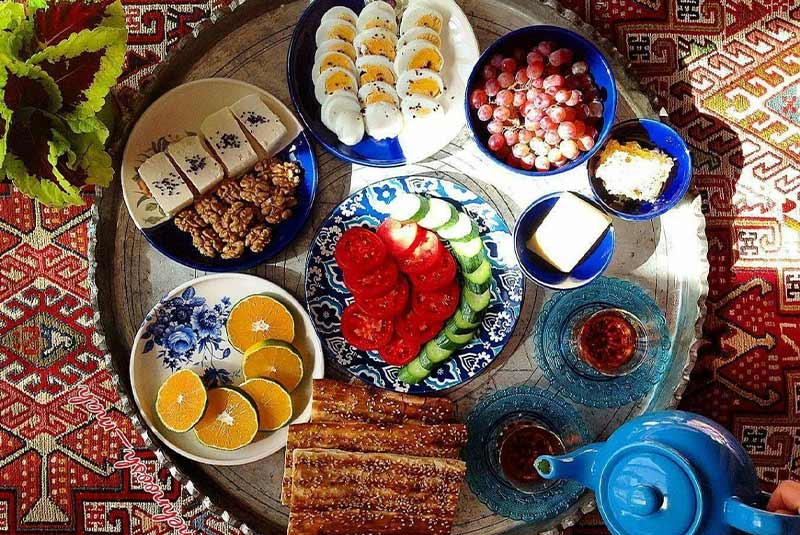 One of the oldest and most persistent customs and traditions in Iranian culture and civilization is eating Iranian food. In Iran, there is no ceremony without a place to serve food.
Many people believe Persian food is quite heavy and consists primarily of rice, oil and meat. That is not true, however! Contrarily, Persian foods contain a variety of seasonal and local vegetables as well as legumes. One of the healthiest foods out there could be Persian cuisine.
Bottom Line
For Iranians, family reunions are incredibly significant. Eating every day is the primary and most fundamental activity for a joyful gathering of family members. The day's first meal is breakfast, which sets the tone for the remainder of the day's eating. Persian breakfast tables may provide a variety of foods. However, black tea and flatbread are necessary components of Iranian breakfast.