Persian Food
26 Jul 2023
BY

Batul Iddi
Famous Iranian Desserts You Must Try
Are you looking for delicious desserts to serve at your next dinner party?
Or do you want an easy cake for a summer afternoon tea event? The mouthwatering Persian desserts break out the treats for any occasion and may make your guests drool and feel like their blood sugar is dropping!!
From Halva to Persian cotton candy, Persian desserts and sweets add the perfect sweetness to your meal's end. Although Iranian desserts vary regarding the region you are visiting. In every part of Iran, you will find a unique flavour and dessert specific to that area. However, most Iranian desserts feature four main ingredients: almonds, saffron, rosewater, and cardamoms.
List of Iranian Desserts
Check out some delicious and healthy Persian desserts you need to include in your dinner party or summer afternoon event to leave your guests wonderstruck. Although these desserts look like they just came out of your favourite patisserie, they are a doddle to whip up in the comfort of your kitchen for your family to enjoy at the end of a tasty meal. Read on to learn about the best Persian sweets, traditional ice creams and desserts you must try during your lifetime!
1. Ranginak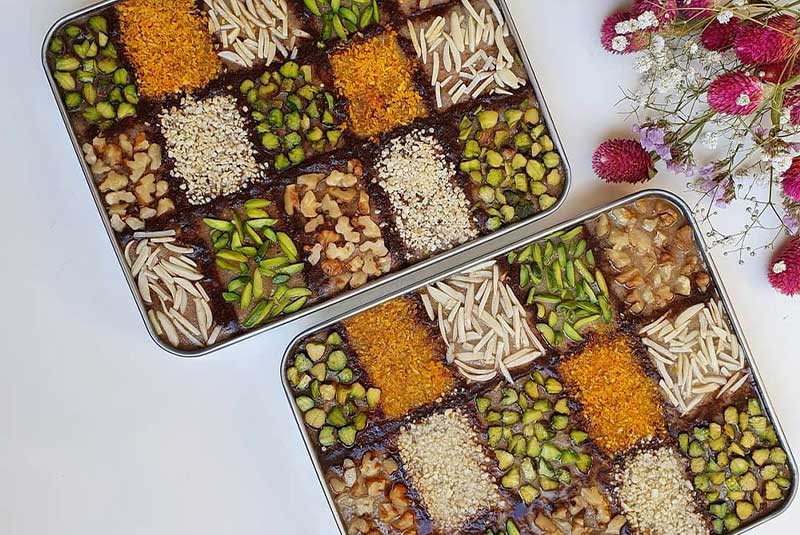 Saluting from Shiraz, Ranginak is an energy-rich and flavourful traditional Iranian dessert. It is the perfect dessert for cold days and when you need an energy boost. The dessert's aroma, colours and textures make it a feast for the eyes and taste buds.
Ranginak is prepared with soft, chewy dates, toasted wheat flour and walnut. The dates and toasted walnuts are stuffed and then soaked in a mixture of toasted flour that is usually enriched with cinnamon, sugar, and cardamom.
Ranginak is prepared in round cake pans and usually comes with ground pistachios. The cake is traditionally served chilled, usually accompanied by freshly brewed tea.
| Read more: Top 23 Iranian Kebab | A Delicious Culinary Exploration
2. Faloodeh Shirazi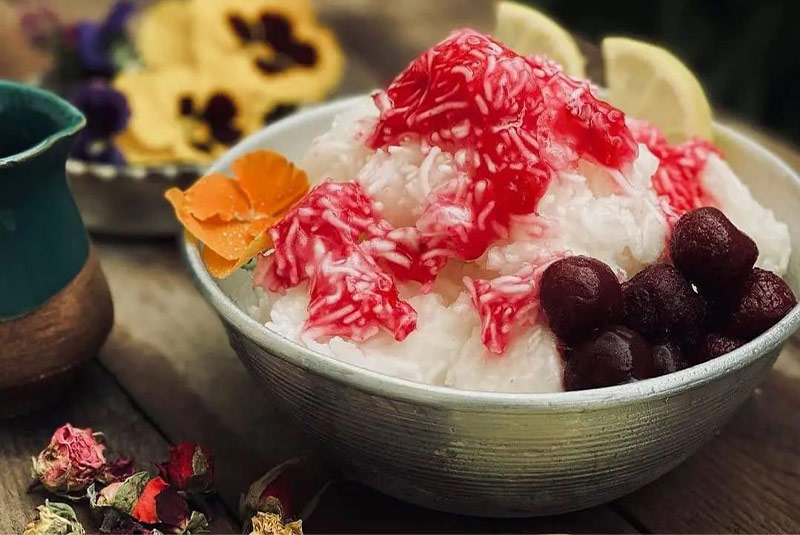 Faloodeh is a chewy, sweet, sour, and incredibly refreshing traditional Iranian sorbet that will blow your taste buds away from the first bite. This Persian rosewater granita is mainly consumed in the steamy days of summer.
Faloodeh is one of Iran's oldest frozen desserts prepared with vermicelli rice noodles and frozen sugar syrup infused with rose water and lime.
Many people believe that Faloodeh originated in Shiraz and is one of the first sorbets in the world, dating back to 400 BC. Faloodeh is usually served drizzled with fresh lime juice, sweet cherry syrup or chopped pistachios and enjoyed as a refreshing summer dessert.
3. Sholeh Zard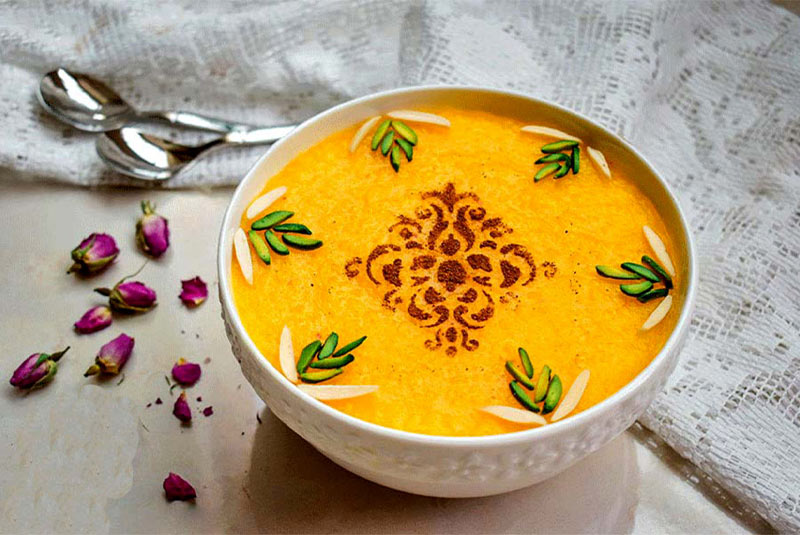 Sholeh Zard is a famous Iranian dessert with a lovely visual, alluring aroma, and delicious flavour; this Persian saffron rice pudding is bound to give your palate a royal taste and keep you craving more.
Sholeh Zard is an ancient Iranian dessert that was once served only on special occasions. To make Sholeh Zard, cook rice in water and then enrich it with saffron and sugar; you can also add slivered nuts and spices such as cardamom and cinnamon.
Sholeh Zard is typically served in individual-sized portions and comes garnished with ground cinnamon, slivered almonds, or pistachios.
| Suggestion: Best Persian Foods & Drinks
4. Saffron Ice Cream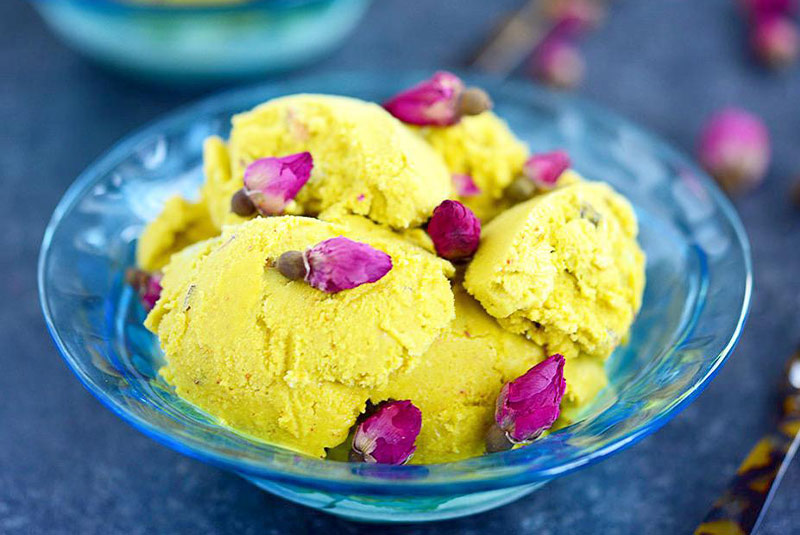 Bastani Sonnati means traditional ice cream. It is a unique freshening Saffron ice cream with an intense flavour of saffron and flakes of frozen cream.
Bastani Sonnati is made from milk, eggs, sugar, rose water, saffron, and pistachios crumbs. It is an ancient Iranian dessert first invented during the Achaemenid dynasty (500 BC).
5. Khagineh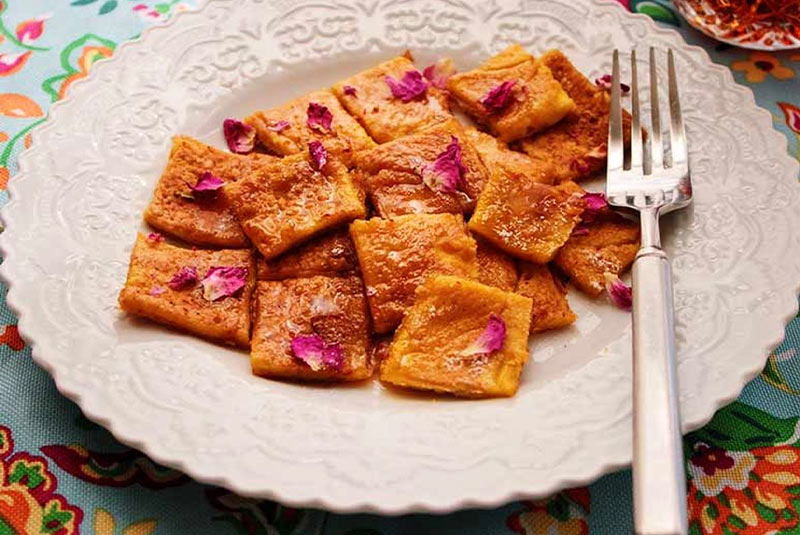 Khagineh is a simple yet tasty and delicious Azerbaijani sugar omelette popular among Iranian and Azari people that will leave you licking the plate. The word "Khagineh" comes from the Azari word Khagh, which means "egg," so the egg is undoubtedly the main ingredient.
This sweet dessert makes an excellent fix for breakfast or tea-time indulgence. You and your family will likely feel your taste buds exploding with these Persian sugar omelette's fluffy, light, and heavenly flavour.
The authentic recipe of Khagineh includes mixing sugar, saffron, ground, butter, cardamom, and egg. This mixture is fried to make an eye-catching golden-brown Persian sugar Omelette. Some people even stuff it with pistachios and nuts, while others pour a lovely layer of syrup.
| Also read: Best Restaurants in Tehran
6. Shir Berenj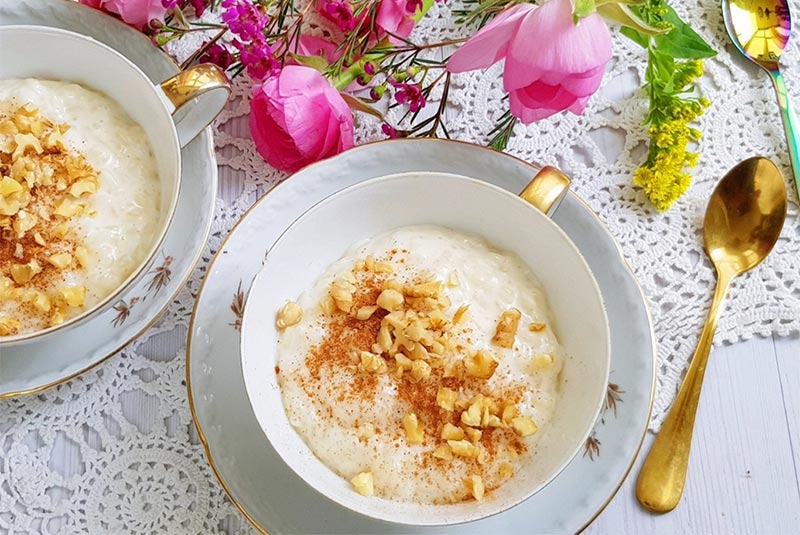 No trip to Iran is complete without Shir Berenj. Shir Berenj is a popular and much-appreciated dessert mainly served in Iftar, the evening meal of Ramadan. It is also served at special events like marriages.
Persian rice pudding is mainly cooked with rice and milk to create a creamy texture and is scented with pure rosewater. There are endless ways to enjoy Shir Berenj to the fullest. You can top it off with fruits, nuts, and melted chocolate or drizzle it with maple syrup. Depending on your taste, you can also cut the amount of milk or sugar.
| Suggestion: Traditional Persian Breakfast You Should Try!
7. Halva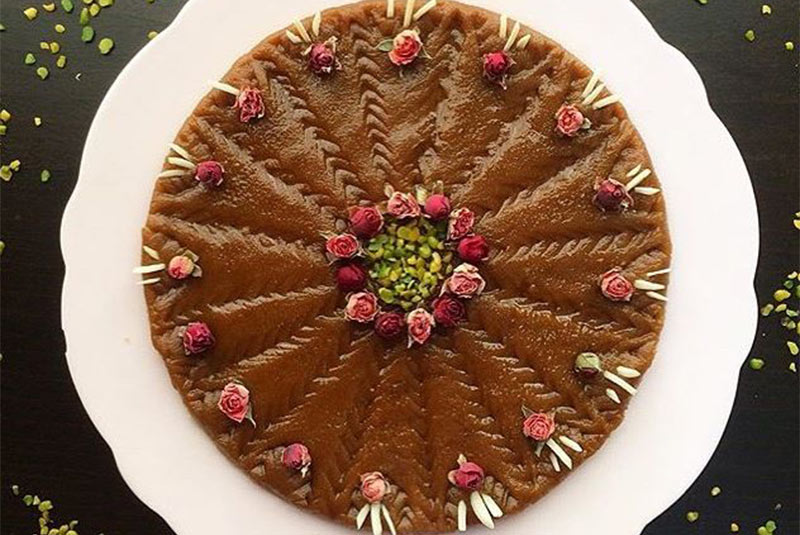 Halva is one of the oldest Persian desserts. Its name originated from old Persian stories and poems. However, It has become a constant basis for special ceremonies and traditional holidays and sometimes reminds us of bitter moments. It is also served women after childbirth and sick children to boost their energy for a speedy recovery.
Although this traditional and popular Iranian dessert is diverse, people from many cities have unique recipes. Halva is typically made of wheat flour, sugar, oil, saffron, rosewater, and cardamom.
To make Halva, Slowly toast wheat flour, rosewater, and saffron in oil or butter to create a thick and delicious paste. This thick and dense paste is then decorated with slivered almonds and pistachios. The tops and sides are then imprinted with the fingers of a fork or the edge of a spoon.
You can also make your unique Halva by adding new ingredients such as eggs, cornstarch, milk, white flour, almond kernels, rice flour, carrots, dates, etc.
| Read more: Fun Things to Do in Iran | A Fun Guide!
8. Khoresht Mast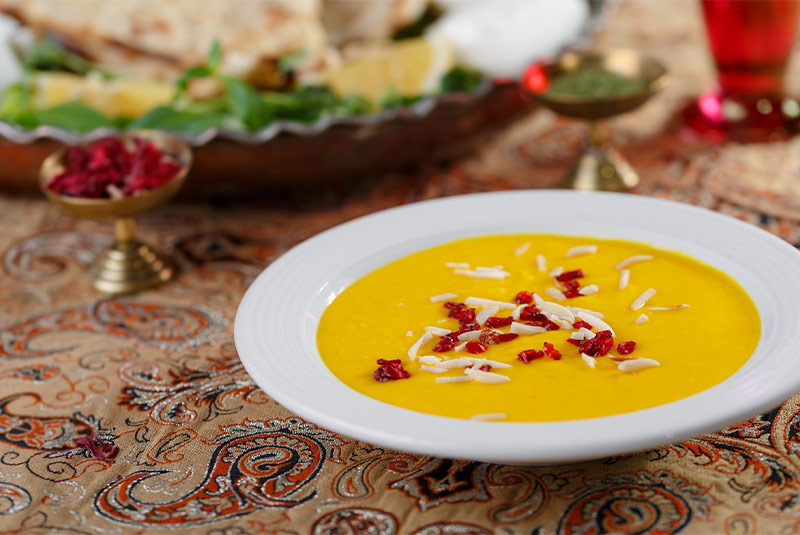 "Khoresht" means stew in Persian, but this dish is a dessert or appetizer. The original recipe contains rosewater, saffron, sugar, yoghurt, and crushed lamb neck meat. While this combination of sweet and savoury flavours seems unusual, it will still mesmerize you with its exotic, creamy taste.
To make Khoresht Mast, put the meat of the lamb's neck with onions and some turmeric inside a pot. Add a few glasses of water and allow the meat to be thoroughly cooked and soft. After the meat is thoroughly cooked, remove it from the pot, carefully remove the meat bones, and crush it until it is sticky. You should then mix the yoghurt with sugar and egg yolks and put them on the heat, and let it boil with a very gentle heat.
After boiling the yoghurt, add the crushed neck meat to the pot and some salt with walnut, rose water and brewed saffron. Let the stew simmer for a few minutes to be well-simmered, remove it from the heat, and put it aside. You can also give it a finishing touch by adding the shells of almonds and pistachios to decorate the yoghurt stew and give the yoghurt a crunchy texture.
After the stew is cooled, transfer it to the refrigerator and let it be in the fridge for a few hours until it cools well, and then serve it. The critical point about Khoresht Mast (yoghurt stew ) is that it is served cold.
| Read more: Persian Bread: Different Types of Bread in Iran
9. Kachi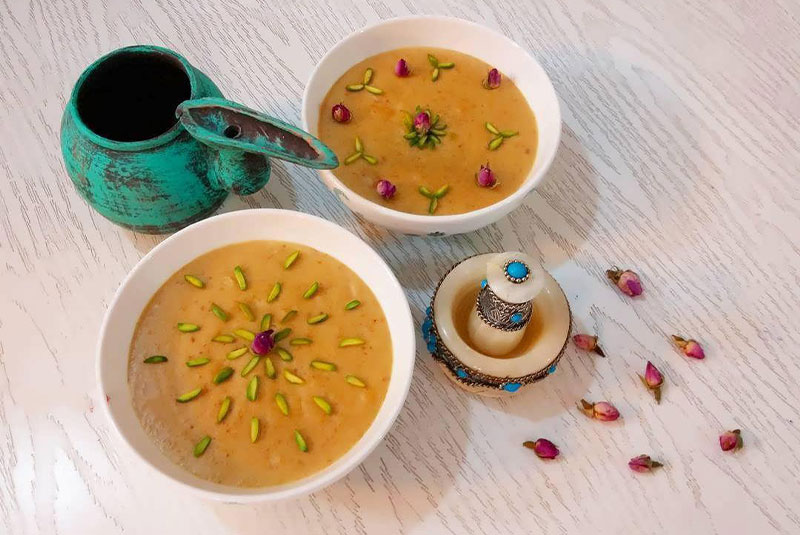 Kachi is an old Iranian pudding cooked in the southeastern city of Kerman before becoming popular nationwide. Kachi is known as an energy bomb.
It is a nutritious dessert full of nutrients and is particularly effective in curing anaemia, retrieving lost energy and many physical problems.
Most grandparents believe Kachi is a miraculous, homemade medicine. You can mostly find it in Persian grandmothers' kitchens because they believe it can improve any patient's health if made with animal oil, saffron, and nuts.
Kachi is made of wheat flour, Suger, butter, water, rose water, saffron, Almond shred, and Pistachio shred.
To make Kachi, all you have to do is grab a casserole and pour water into it. Put it on low heat and add sugar until it melts and you get a thick solution. Then remove it from the heat and add rosewater.
Add flour and butter to the thick solution and put it on low heat until it turns brown.
When it is ready, dish it up in a small bowl and garnish it with pistachio shreds and cinnamon powder.
| Also read: Things to Bring Back from Iran
10. Ferni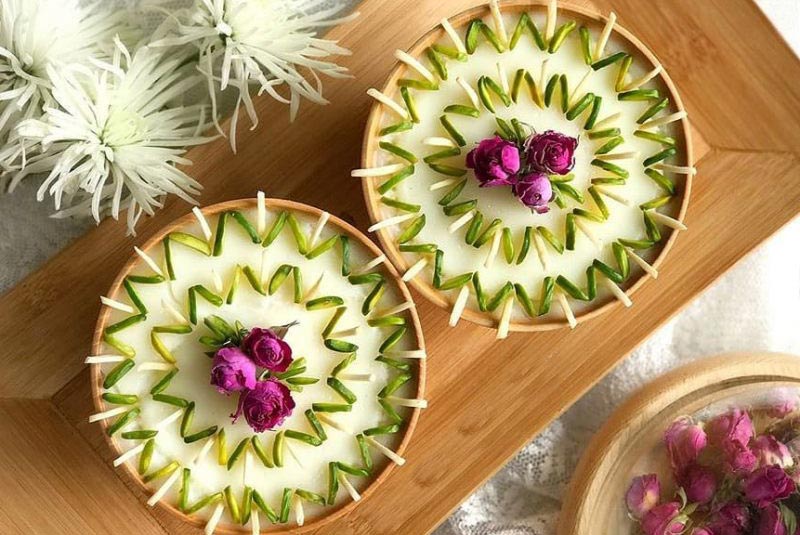 Ferni, one of the most comforting and familiar dishes in Persian cuisine; a smooth and creamy dessert that is loved by both the old and the young. Though to call it *just* a dessert really doesn't capture the essence and significance of this dish.
Ferni is so much more than a sweet rice pudding; it is a cultural phenomenon which requires more explanation. But first, let's talk about it as a culinary creation.
Though the ingredients list and method of assembly are simple, this pudding is not for the impatient. If you are looking for a quick microwavable pudding, you will no doubt be frustrated and disappointed!
---
Share your story!
Comment below and let us know about your Experience.
Your story inspires others!