Iranian Food and Drink
04 Jun 2018
BY

The Authors Group
Top 9 Iranian Kebab
Iranian pay a lot of attention to their food and that is the reason why you can find the different type of sole food in the menus of their restaurants.
As an example you can find at least five to six different types of Kebab or as Iranian pronounce Kabab in the menus of most restaurants.
In this article, we are going to introduce some of the most cooked ones in the country. Usually, you can find their names as listed in this article, however, some restaurants make some changes and offer them with a unique name of their own. So you need to check with them about the type of meat and marinated ingredients. Usually with all type of kebab one or two grilled tomatoes is served. You can order your dish with or without rice.
1) kebab Koobideh
Koobideh is the signature Iranian kebab and the most famous one for local and international tourists. It is cooked with ground lamb or beef with grated onions. Sometimes you can find it with ground chicken as well but it is not so common.
2) Joojeh kebab
Joojeh kebab is barbecued chicken marinated by olive oil and saffron. Different parts of chicken could be used, such as the breast, wings, and thighs. In the menus, you can find Joojeh kebab with bone or boneless. The boneless one is usually the chicken breast.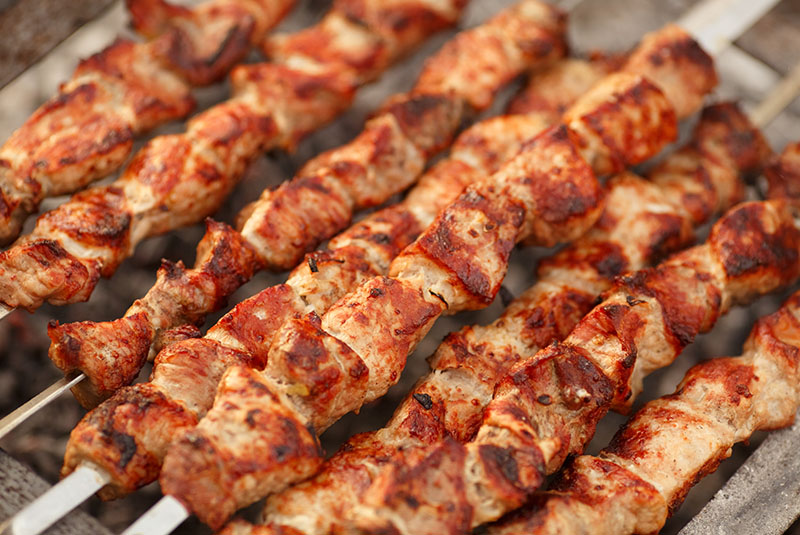 3) Kebab Barg
The main ingredient of Kebab-e Barg is fillets of beef, tenderloin or lamb shank. It is marinated in onions, saffron, olive oil and mild spices.
4) Shishlik or Shish Kebab
Shishlik or Shish Kebab with the same name is very popular in different countries of central Asia, eastern and southern Europe. However, the one you will find in Iranian restaurants is different from the ones that are cooked in other countries. In Iran, lamb ribs are marinated with Saffron, chopped onion and lemon to make it tender and are served mostly in six pieces per dish.
5) Kebab Torsh
Kebab torsh is a traditional kebab from Mazandaran and Gilan provinces in the north part of Iran. It is somehow the same as kebab Barg which is cooked from beef but marinated in a mixture of crushed walnuts and garlic, pomegranate juice and chopped parsley. Because of the pomegranate juice, it has a sour taste.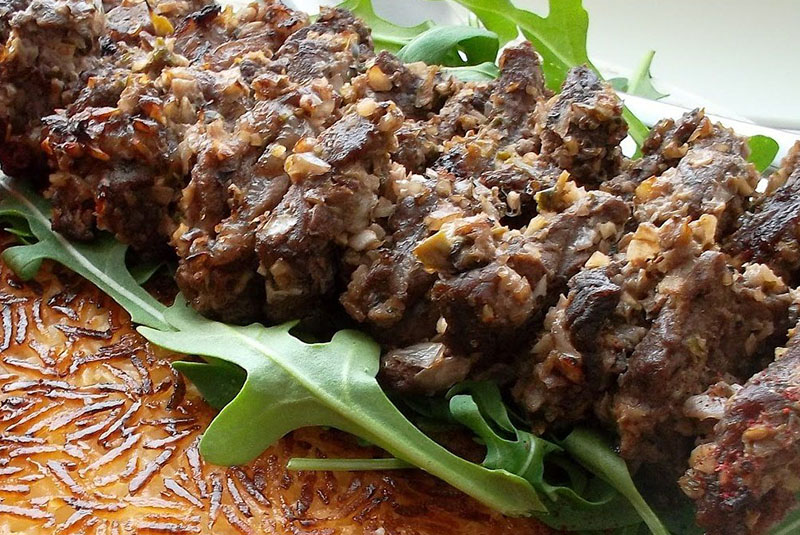 6) kebab Soltani
kebab Soltani (Soltani stand for Royal) is served with a combination of one skewer of Kebab Barg and one Kebab Koobideh.
7) Kabab Vaziri
Kebab Vaziri literally means minister and compared to Soltani it is a combination of one skewer of Joojeh and one Koobideh. So if you like to taste both chicken and meat this is a perfect choice.
8) Kabab Bakhtiari
Kebab Bakhtiari which is sometimes called Kebab Bolghari: is a combination of one piece of Joojeh Kabab and one piece of Kebab Barg.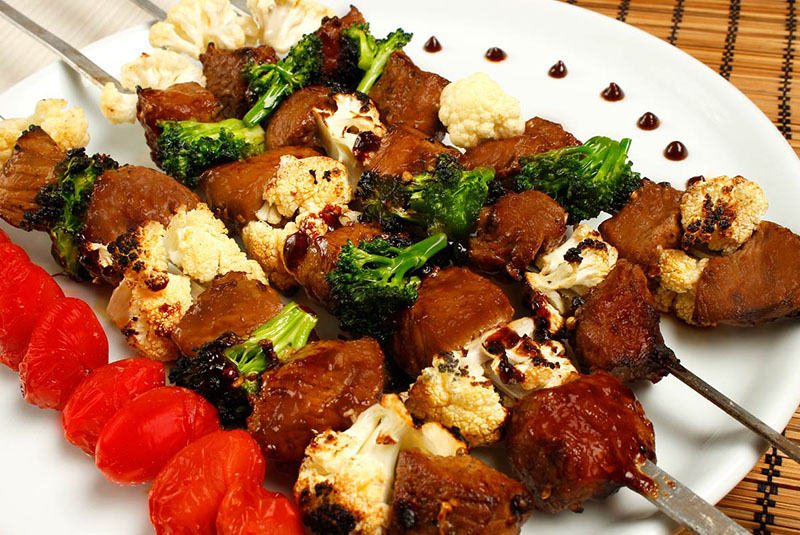 9) Kebab Chenjeh
If you are a meat lover and prefer the real taste of the meat this is what you most enjoy. Chenjeh is cooked from the fresh lamb meat cut in the square.