Isfahan Tourist Attractions
28 Aug 2022
BY

Arash Morshed
Best Restaurants in Isfahan
One of the most crucial aspects is where and what you eat on your trip.
Unsurprisingly, Esfahan is one of the most popular tourist sites in Iran, and eating is one of the best things to do in Isfahan. Along with the numerous attraction of Isfahan, mud-brick bridges, mosques with noteworthy architectural features, ancient houses that have been converted into hostels and guesthouses, and the historic stone pathways that crisscross the city; Isfahan is a stunning city that should be on the wish list of any tourist.
Top 15 Best Restaurants in Isfahan
After a long day visiting Isfahan attractions, you can sample some of Iran's most incredible cuisine. However, in order to enjoy the Isfahan food, you must identify the best restaurants in Isfahan, and we are aware of how challenging it may be for some visitors, particularly those who are here for the first time, to do so.
1. Shahrazad Restaurant
Service options: Dine-in, Takeaway, and Delivery
Address: Abbas Abad Street, Isfahan, Isfahan Province, Iran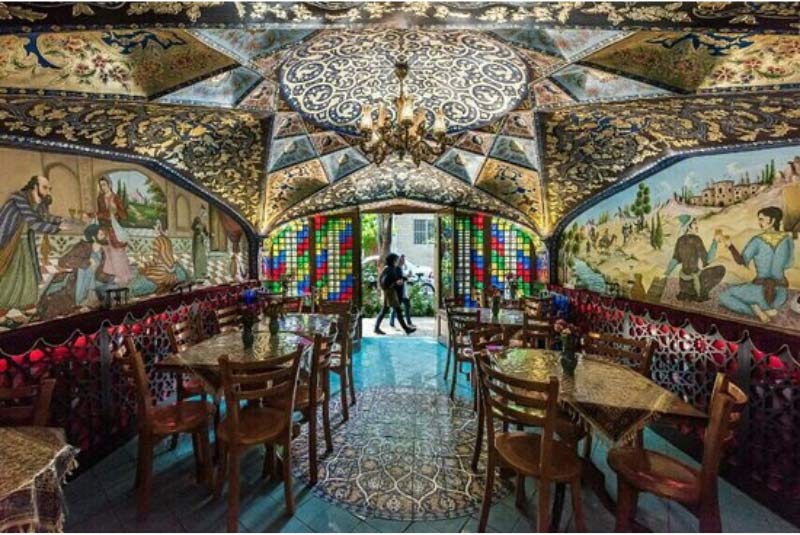 One of Isfahan's most well-known and established eateries, Shahrzad Restaurant, has a positive reputation among both locals and visitors. At a very affordable price, dine like a Safavid royal because of the exquisitely carved antique wooden furniture, lavish paintings that adorn the interior walls, colorful stained glass work on grand windows, and life-size mirrors that line the hall, and dim incandescent flares that create a romantic, laid-back atmosphere.
The flavor and scent of Tahchin and their signature "Shahrzad Mahiche Baghali Polo" have drawn many visitors to this restaurant, so if you're seeking a quiet spot to unwind for a while, choose other. This restaurant's menu has a few of the residents' favorite meals, including Khoresht Mast, a popular appetizer. If you haven't quite learned to enjoy the flavor of Iranian meat, entirely vegetarian cuisine is also offered.
Do not miss this location if you visit historical sites like the Khaju Bridge or Zayandeh Rud or if you stay at the Ali Qapu Hotel in Isfahan. You can reach there in under five minutes on foot.
| Discover: Chehel Sotoun Palace (Isfahan): A Comprehensive Guide
2. Azam Biryani
Service options: Dine-in, Takeaway, and Delivery
Address: Isfahan Province, Isfahan, Kamal Esmaeel St, Iran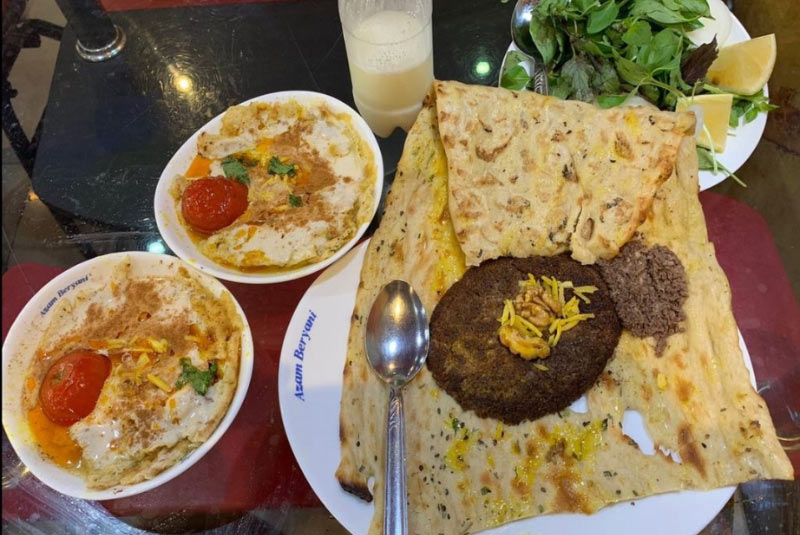 Isfahan's Azam Briyani is a renowned restaurant known for offering delectable Briyani. This meal is incredibly appealing and well-known among the locals of Isfahan and is significantly cherished and memorable for them. A traditional Esfahani dish called Biryani is made with minced mutton or lamb that is cooked over an open flame. Before you depart Esfahan, try the excellent Iranian flatbread known as Nan-e Taftoon, which is typically served with it. Drink a glass of Dough, a cool yogurt beverage with dried mint, to wash it all down.
Be sure to stop by Bryan Azam and sample delicious cuisine if you visit Isfahan. Even if crowded, the meal is delivered to you pretty fast.
Do not be misled by the restaurant's diminutive size; you won't regret coming here to dine.

3. Sofreh Khaneh Sonnati (Naghshe Jahan Restaurant)
Service options: Dine-in, and Takeaway
Address: Naqsh e Jahan Square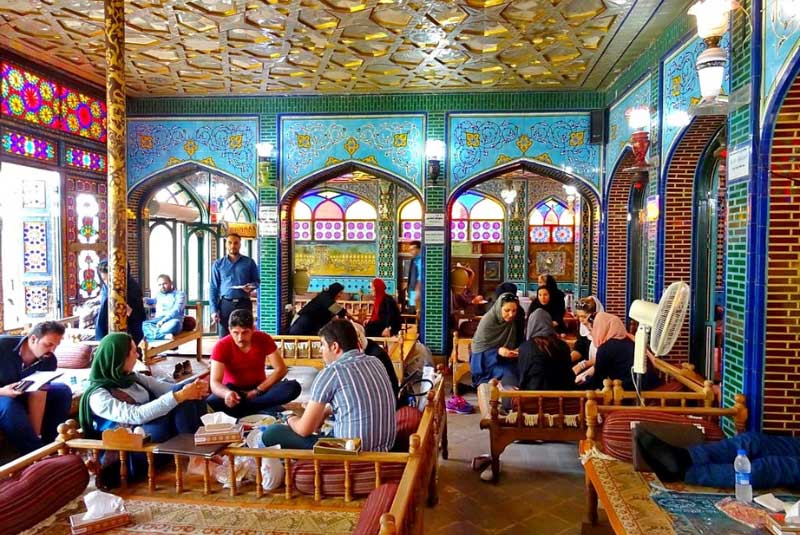 Eating at one of the best restaurants in Isfahan, Sofreh Khaneh Sonnati, has become even more enjoyable thanks to the colorful sash windows and old Islamic architecture style. You will have a good time in this dining room since it combines traditional and modern elements with traditional Persian music and beautiful wall paintings.
One of the busiest lunchtime eateries is Sofreh Khaneh Sonnati since it is a renowned restaurant near Naghsh-e Jahan Square. So if you want quiet and leisure, we advise you to come here for supper.
Even though it might be challenging to get a table here during the busy tourist season, you can tell by the enormous lines that it is worthwhile to eat here.
The tastiest dish in Isfahan is said to be Khoreshte Mast from the Sofreh Khaneh Sonata.
4. Ghasr Monshi Restaurant
Service options: Dine-in
Address: Isfahan Province, Neshat str West, Ghasr Monshi Alley, Iran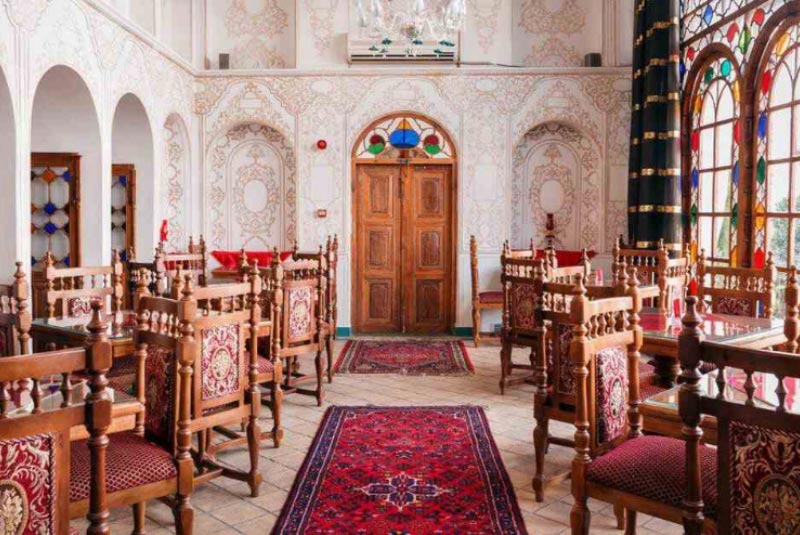 One of the Qajar monarchs' ministers once lived at the famous house of Ghasr Munshi. The medieval home has undergone extensive renovations in the present and has been partially transformed into the renowned Ghasr Moshi hotel in Isfahan.
There is a public café located in the courtyard of this building. By visiting this restaurant, you have the opportunity to have your meal in a stunning and novel setting, in addition to touring a historic structure.
In addition to Iranians, this restaurant has successfully drawn many foreign tourists, making it one of the best restaurants in Isfahan.
The menu features several mouthwatering options along with fantastic aromatic drinks. The sound of running water may be audible in the background as you enjoy your meal while live music is playing.
5. Toranj Food Complex (Hovanes House)
Service options: Dine-in, and Takeaway
Address: Khaghani St, Isfahan, Iran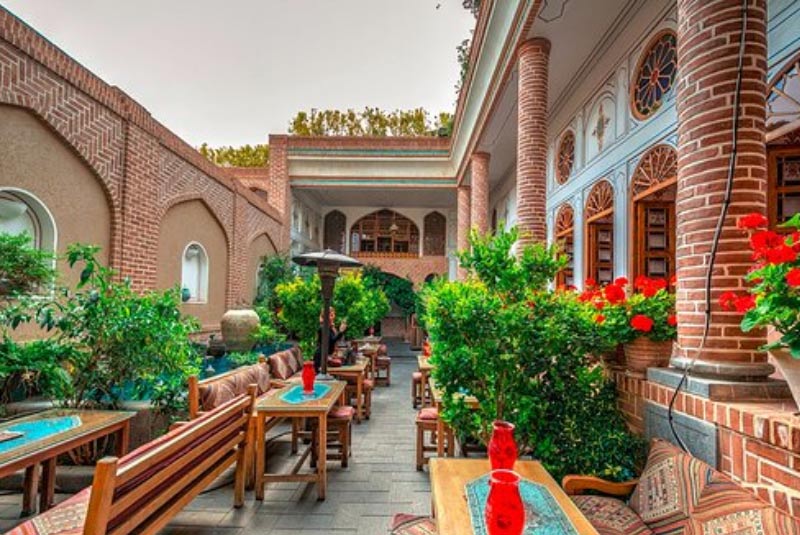 The Toranj historic mansion was built during the Qajar period, the early Nasser al-Din Shah reign, as per the evidence gathered during the rebuilding process.
After four years of work, the restoration process was successful. The Toranj food complex now features four distinct areas: a restaurant, a beverages and frozen desserts shop, a photographic studio, and a cafe. It offers a flavor of traditional Persian culture.
Isfahan's Toranj restaurant offers a wide selection of regional and foreign cuisine, herbal teas, and traditional beverages. You may make a priceless memory in the picture studio by dressing in the exquisite Qajar-era attire.
This eatery's first proprietor, Mardiros Davidian, was formerly the commander of the Cossack Brigade during the Qajar dynasty and was originally from Jolfa, Isfahan. It is situated near the Armenian Hovhannes church in the Charco area.
6. Houger Restaurant (Dehdashti House)
Service options: Dine-in
Address: Isfahan Province, Esfahan, Dehdashti Dead End, Iran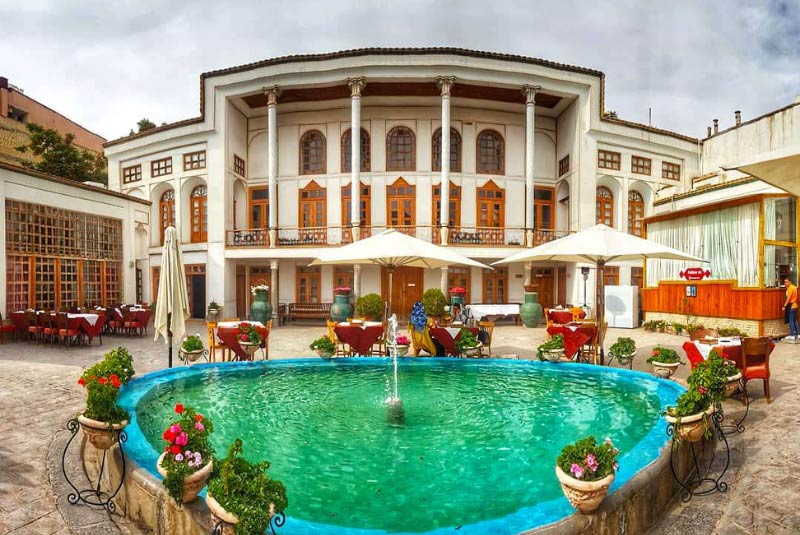 One of the best restaurants in Isfahan, Cougar Restaurant, is located in the old Dehdashti House, which dates back to the Qajar era. Many travelers have been drawn in by this lovely restaurant's inviting ambiance and comfortable cafes. The café has many followers since it has an open and covered area.
You may explore the 400-year-old ancient structure up close while ordering a choice of drinks, beverages, Persian specialty herbal teas, coffee, and Iranian and foreign cuisine at the Houger restaurant.
7. Hermes Restaurant & Café
Service options: Dine-in
Address: Isfahan Jolfa square avenue Vank church Street، E Nazar St, Iran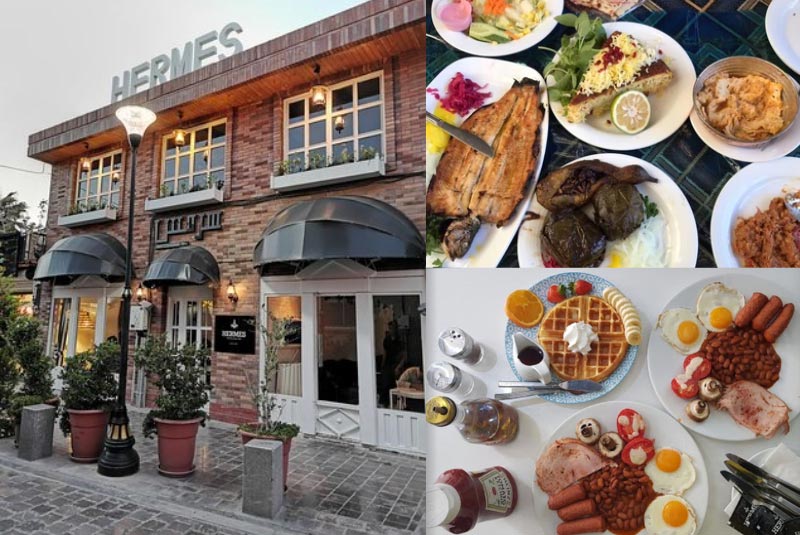 If you are craving fast food at one point, Hermes Restaurant in Isfahan serves the most excellent Italian pizza in the town (Julfa). This Italian café-restaurant, in addition to serving delectable pizzas, is also well-known for its tender steaks, contemporary design, and appealing interior.
Hermes Restaurant & Café is an excellent option for you if you're searching for somewhere to have a cup of fine coffee after a day of touring.
8. Sharbat Khaneh Firuz
Service options: Dine-in
Address: Julfa, Isfahan Province, Iran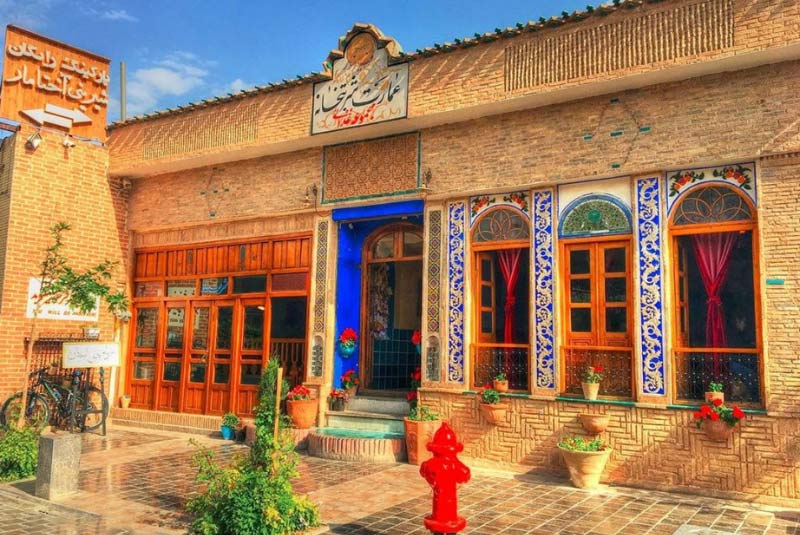 Sharbat Khaneh Firuz is a romantic, old-fashioned Isfahan restaurant with vintage furnishings that have given the space a unique warmth. Old menus with special meals whose names are obscure to many people and the presence of vases full of fresh flowers on the tables, and the dated décor have done much to enliven this establishment.
All customers have been drawn to the Sharbat Khaneh Firuzi's special offer because of its delicious ice creams.
9. Grandma's Table Restaurant
Service options: Dine-in, Takeaway, and Delivery
Address: Isfahan Province, Isfahan, Hakim St, Iran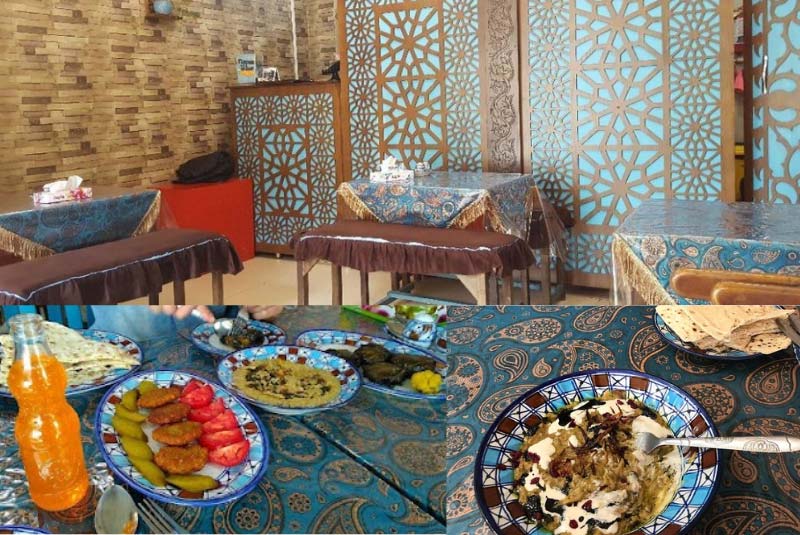 A reputable family in Isfahan with good taste owns and operates Grandma's Table Restaurant, a modest establishment with a cozy environment situated on Hakim Mosque Street. Less well-known traditional Isfahan meals are offered here, and the menu at Grandma's Table varies weekly.
Numerous foreign Instagram influencers have praised this quaint spot for its affordable and delectable meals in their evaluations. The food at Grandma's Table is outstanding, especially the Isfahan Koofteh Berenji(rice dumplings); however, you can be served a little late, and it might be challenging to find a lovely available table there.
Kashke Bademjan, wheat meatballs, Kookoo Sabzi, Shami, Dolma, Kebab, Gheimeh Rize Nokhodchi, Koofteh Tabrizi, Abgoosht Nokhodchi, and more than ten other varieties of wholesome, halal, high-quality foods are just a few of the traditional Persian dishes on Grandma's Table.
10. Jarchi Bashi Restaurant
Service options: Dine-in
Address: Isfahan, Hakim St, Iran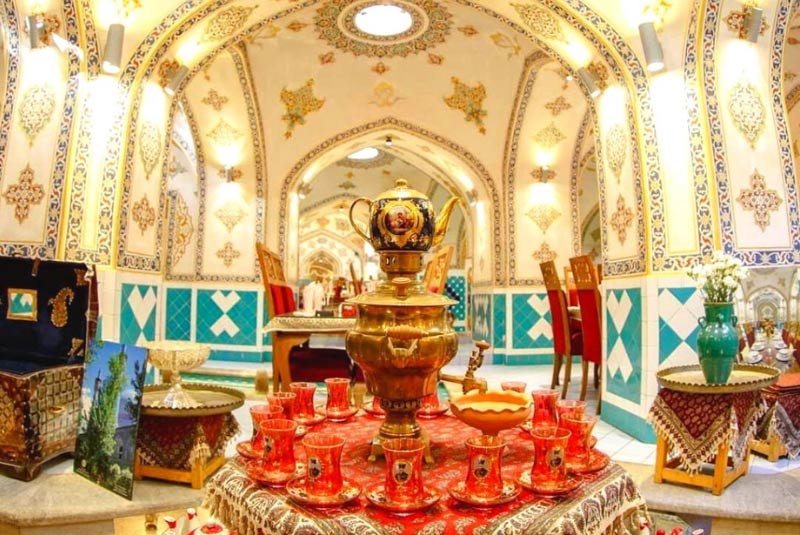 Despite its high-quality food and historical value, we included Jarchi Bashi on our list of the best restaurants in Isfahan because it is a Restbath or a former bath that has been converted into a beautiful subterranean restaurant. Iran is home to several restaurants inside historic spas, and you can find one in every major tourist destination there, like Kashan or Yazd. Isfahan also has Jarchi Bashi to show off so it won't fall behind in the race of exciting places that induce awe out of every beholder, like its desert-surrounded neighbors with their revered restbaths.
As visitors approach the entrance, the doorman welcomes them with a kind greeting that gives them confidence that their visit will be fantastic. Upon entering, visitors are welcomed with an otherworldly image. The wonders of Persian architecture, such as the large side-by-side arches supporting the weight of the plaster domes that are expertly embellished with old-style paintings to the turquoise tiles covering the floor of the low-depth pools, further enhance the emotions. Even the staff's everyday attire and the cups your tea would be served in at Jarchi Bashi are genuine, enjoyable, and exquisite.
A 400-year-old bathhouse that has been lavishly renovated is a romantic location for dining, especially on Wednesday and Saturday nights (or on Thursday and Friday at midday), when live music enhances the ambiance. Fountains and magnificent artwork have been skillfully restored for the domed interior. Even if the cuisine isn't excellent, it's still worth eating something to take in the atmosphere.
Additionally, due to the proximity of the sitting areas, which are crowded with visitors and residents during the peak tourist season, your privacy will be seriously jeopardized.
11. Nayeb Restaurant
Service options: Dine-in, Takeaway, and Delivery
Address: Isfahan Province, Fin A'lia, Iran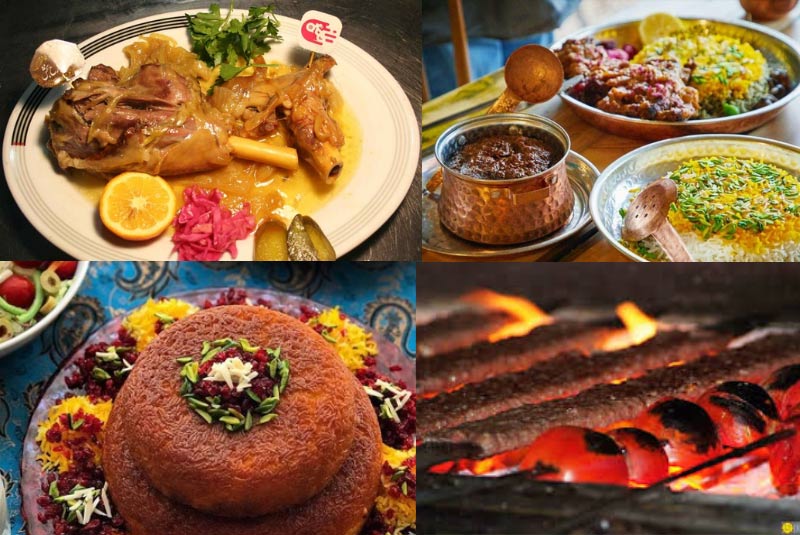 Locals love the Nayeb Restaurant on Ibne Sina Street even though it isn't listed in all travel guides. The dining area is on the upper level, while the order counter is on the ground floor (caution: the menu is in Farsi).
You can't go wrong with their selection of Kebabs, which range from Kabab Koobideh (ground beef with chopped onions) and Joojeh kebab (barbecued chicken parts) to Barg Kebab(barbecued lamb filet), which is soft chicken drizzled with tomato sauce and served with rice.
12. Chesham-Andaz
Service options: Dine-in
Address: Isfahan, Amadegah St, Abbasi Hotel, Iran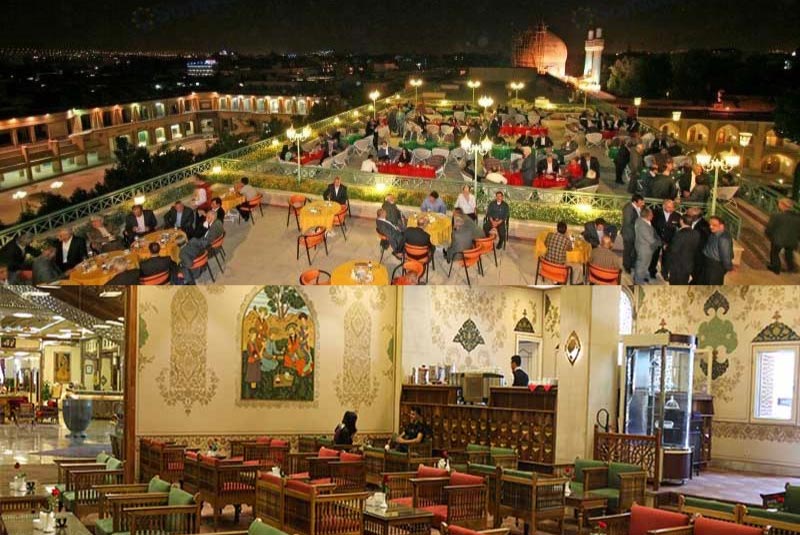 The Abbasi Hotel is housed amid the ruins of a 17th-century caravanserai, and even if the hotel's rooms are out of your price range, it's still worthwhile to check out one of its many eateries. Views of Imam Square and the mountains that encircle the city may be enjoyed from the rooftop restaurant Cheshm-Andaz. It offers both indoor and outdoor dining alternatives and cuisine with a good range of both Iranian and Western dishes.
13. Pasto
Service options: Dine-in
Address: Isfahan Province, Niasar, Sanaye Dead End, Iran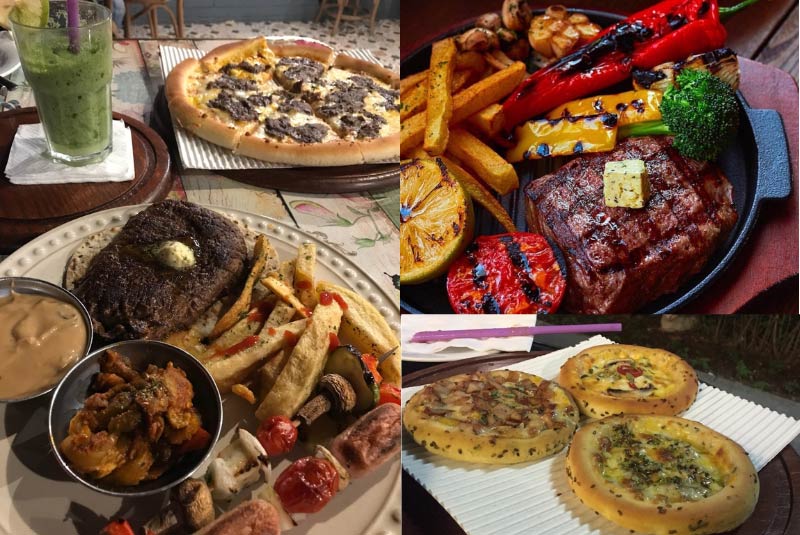 Pasto is one of the best restaurants in Isfahan to go to after visiting Si-o-se-pol Bridge and taking a long stroll alongside the Zayandeh-rud River. It is situated at Sanaye's dead end. You can appreciate its flawless exterior design from a distance. When you enter this café restaurant, the servers' wonderful greeting is the first thing you notice. They provide a warm welcome and invite you to have a seat anywhere you'd like. Speaking about this restaurant is difficult since it is so beautiful that words cannot do it justice. Visit the Pasto and take in the wonderful ambiance and delectable meals offered to you.
14. Bahar Narenj Café
Service options: Dine-in, and Takeaway
Address: Kalissa Street, Isfahan, Iran.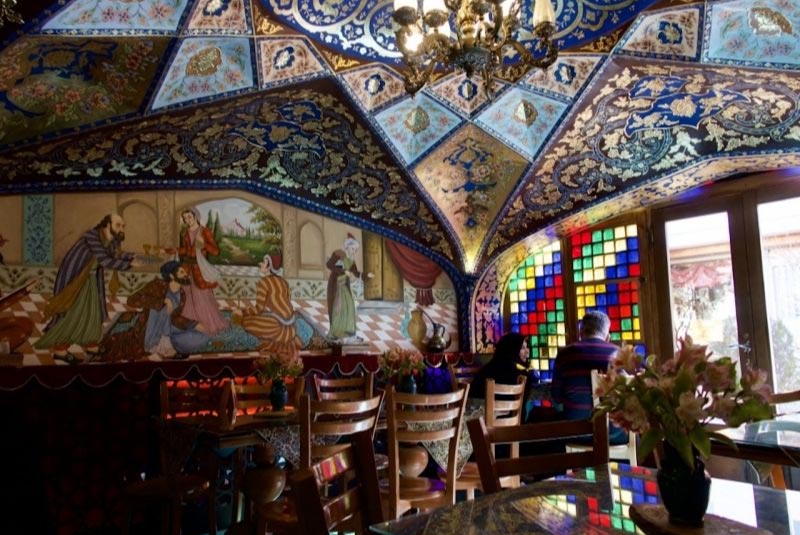 Bahar Narenj Cafe near the Vank Cathedral, which may be the most Amazingly beautiful cafe in all of Isfahan, has a remarkable classic aesthetic. The cozy tiny area is most prominently encased by an elaborate blue and gold ceiling that is capped with a chandelier.
They also provide meals such as sweet Armenian bread (Lavash), a green noodle soup with beans and herbs, in addition to a variety of milkshakes and beverages.
15. Saray Sultan Restaurant
Service options: Takeaway
Address: Kazeruni St, Isfahan, Iran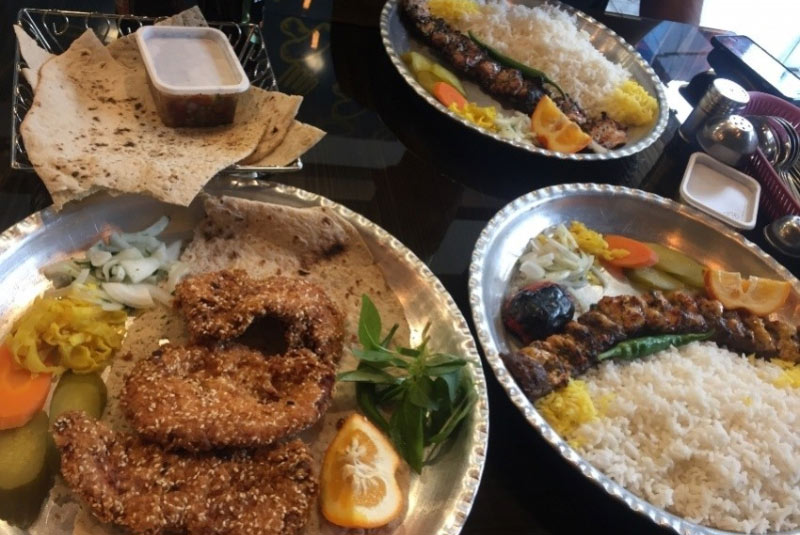 When you merely want delicious meals without the opulent ambiance, Saraye Soltan Restaurant is a plain-looking restaurant close to the Darvaze Dolat square that is perfect. They offer all the traditional Iranian cuisine, including Gheymeh, a stew made with split peas and chunks of beef, as well as some less common options like Loobia Polo (rice with beans and bits of meat) and Mahi (fried fish).
Bottom Line
Don't skip the restaurant tours while visiting the old city of Isfahan. One of the fascinating aspects of touring this city of history and authenticity is the enjoyable experience of various cuisines from halfway around the world. Visit the city's historic sites, streets, and marketplaces, and don't forget to eat at each of the best restaurants in Isfahan. We are interested in hearing your thoughts on the Foods and restaurants in Isfahan.