Persian Food
26 Dec 2022
BY

Batul Iddi
Popular Persian Sweets You Must Try
A handful of Persian Sweets hold a special place in the hearts of many foodies worldwide.
Top 15 Persian Sweets to Try
Just as Persian main courses vary from town to town, so too do Persian Sweets traditions and recipes. In every corner of Iran, you will find a unique flavor and dessert specific to that area. Below you can find a mouthwatering list of top 15 Persian Sweets that everyone should try.
1. Gaz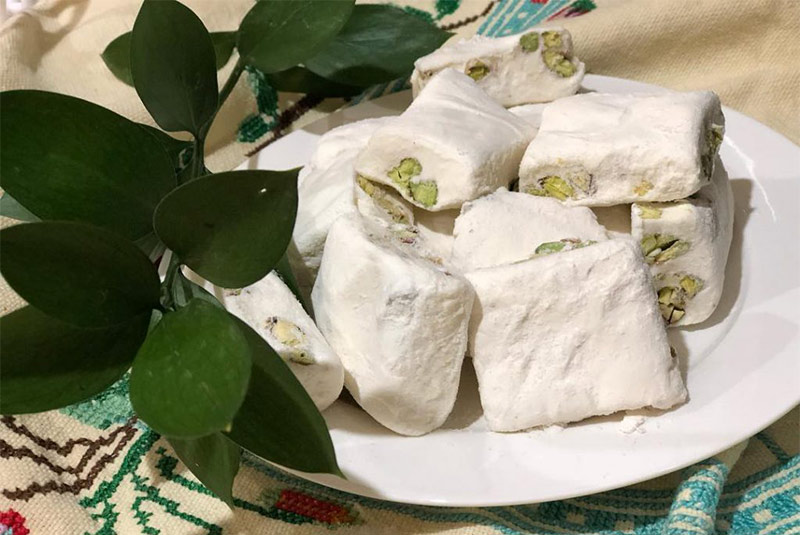 No trip to Isfahan is complete without gaz, Persian nougat with pistachios. Gaz is made with the sap of the Tamarisk tree, which is abundant in the Isfahan region.
Initially, The raw Persian Nougat was prepared with a unique exudate of an insect inhabiting wild tamarisk trees. The exudate was melted, sieved, mixed with nuts, and then flavoured with typical aromas such as rose water and saffron. Finally, the gaz is shaped into logs or rectangles and cut into smaller pieces.
Today, this method is replaced by a more available blend of sugar, nuts and beaten egg whites, which produces a product similar in texture and flavour to the original gaz.
2. Persian Love Cake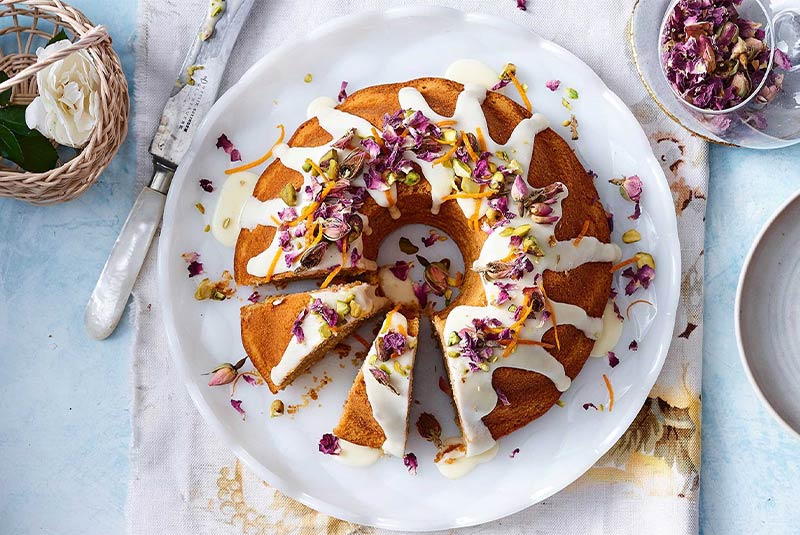 Are you interested in casting a spell on your crush, or do you want to spice up your relationship and bring back the spark you once had with your significant other?
Persian Love Cake is a delicious cake with the magical power to get your crush or partner head over heels for you.
Persian love cake is a mouthwatering and swoon-worthy dish for a romantic dinner. Aside from the enticing Middle Eastern aromas, Persian love cake has the ideal combination of fluffy and moist, with just the right spice.
The cake is mainly decorated with toppings like nuts or rose petals. The batter mixture of the almond makes the cake buttery and moist upon baking. It is also flavoured with cardamom, rosewater, and lemon, giving it a beautiful fragrance. And to make the cake even more attractive and romantic, a delightful layer of syrup is poured onto the cake as it's fresh out of the oven.
3. Noghl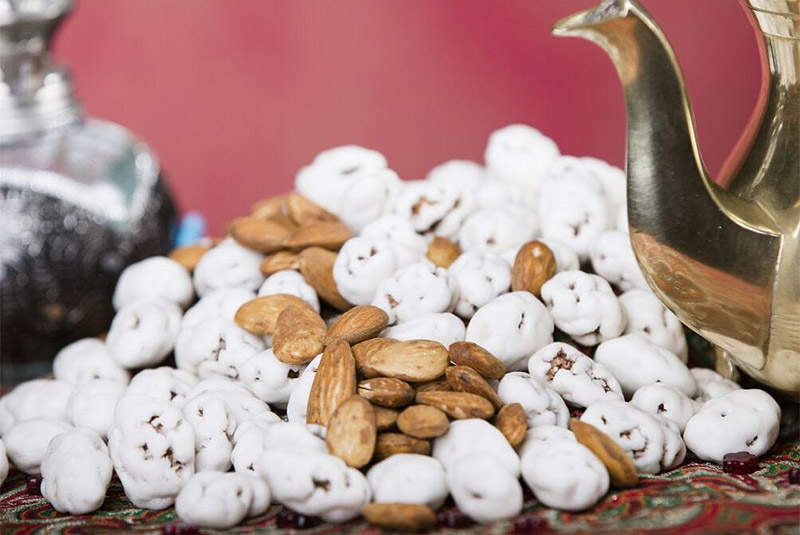 Noghl is a famous Iranian sugar-coated almond. Noghl symbolizes happiness and good luck; that's why it is an essential part of Iranian wedding traditions. It is served at the end of every Iranian wedding and is usually accompanied by tea. Besides weddings, noghl can also be consumed as an everyday dessert, alongside a hot cup of coffee or tea.
To make Noghl, rose water and sugar are boiled to create a homogenous liquid in which the roasted almonds are quickly submerged. When cooled, the coating solidifies, creating a sweet and crunchy white layer around the almonds.
4. Zoolbia and Bamieh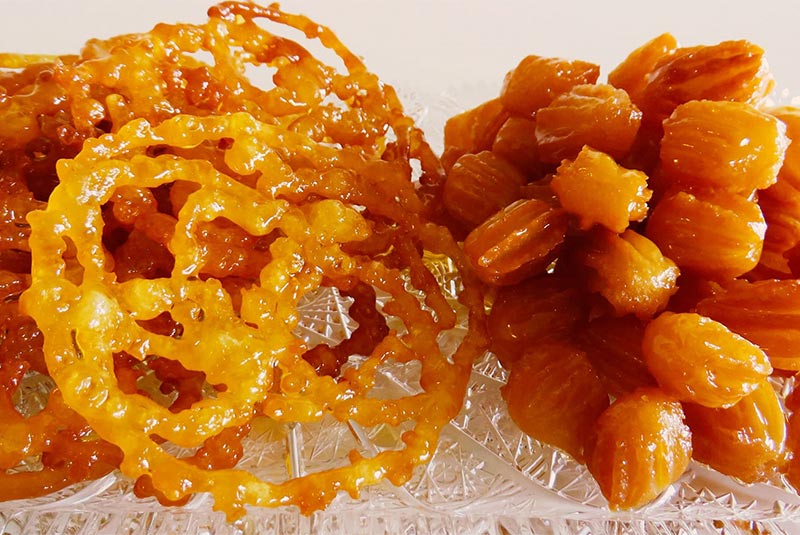 Zoolbia and Bamieh are an irresistible combo of Persian pastries. Traditionally, these deep-fried pastries are taken during Ramadan as an evening meal to provide an essential burst of sugar after a long blasting day.
Zoolbia is a crispy and sweet spiral-shaped pastry composed of mildly fermented flour. It looks like a tiny funnel fritter. On the other hand, Bamieh is a choux pastry-like dough similar to a churro in its star-tipped piping bag form. These combine to form this special treat for your taste buds.
Although it is believed to have origins in Persia, zoolbia and Bamieh are international desserts with variations that spread throughout the Middle East, India, and Asia.
In its basic form, this sweet dessert is created by combining flour with yoghurt or ghee and baking soda or yeast to make a batter that is then poured in circular patterns directly into the sizzling oil.
The final result is a crispy treat doused in a thick syrup, which can be flavoured with rosewater, saffron, honey, orange blossom water, or cardamom. In Iran and India, zoolbia is served on special occasions and is usually sprinkled with chopped pistachios or saffron threads.
5. Noon Khamei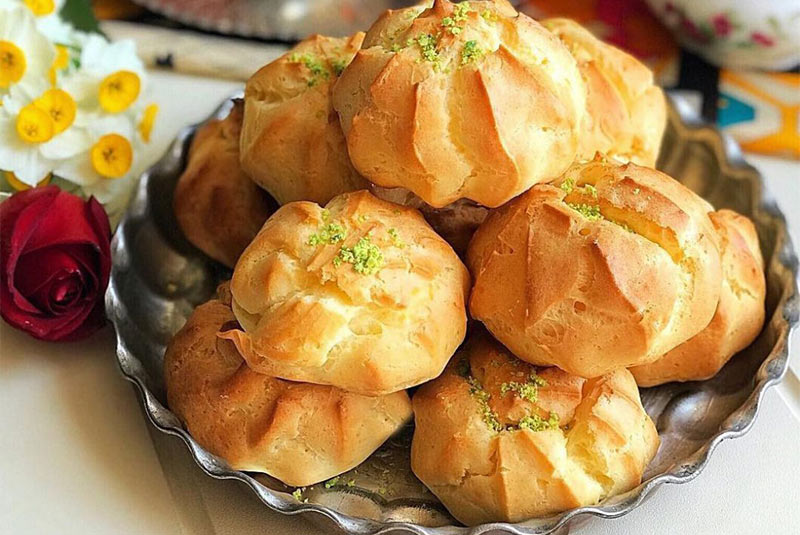 In Persian Language, Persian Cream Puffs are known as "Naan E Khamei," or "Noon E Khamei", which translates to "whipped cream bread. Persian rosewater cream puffs are the perfect way to round your next dinner party.
Persian rosewater cream puff is a delightful Iranian puff pastry. It's a delicious and heavenly dessert flavoured with vanilla and rosewater flavours.
The crispy, golden shells of the cream puff are filled with fluffy whipped cream. Most people lightly dust it with powdered sugar to enhance the stunning visual. Noon Khamei is usually eaten with a pipping cup of Persian tea.
6. Nan-e Berenji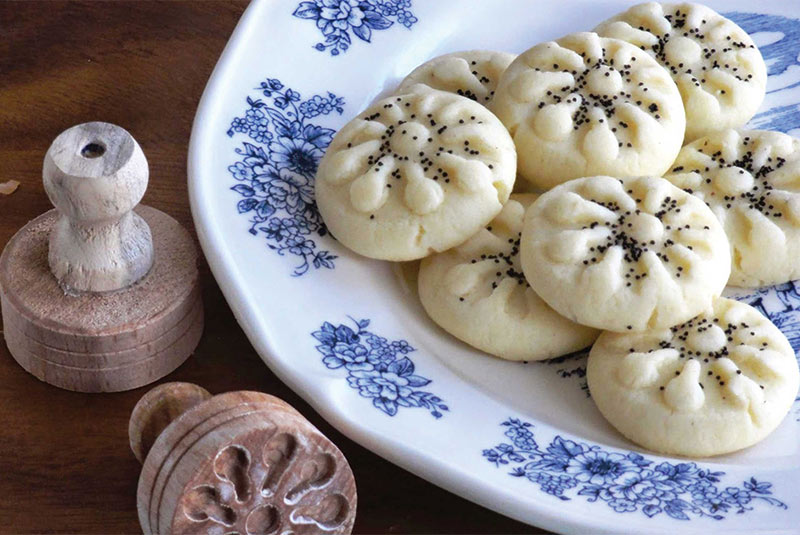 Nan-e Berenji is a famous pastry in the western regions of Iran (Kordestan and Kermanshah). Nan-e Berenji, or Persian rice biscuits, are gluten-free and vegan shortbread biscuits containing poppy seeds.
They are prepared with rice flour, egg yolk, saffron, cardamom, rose water, and sugar. To make Nan-e Berenji, Mix baking powder, salt, cardamom, and rice flour in a medium mixing bowl until they are incredibly smooth and creamy, then bake them together in an oven.
7. Sohan-e Qom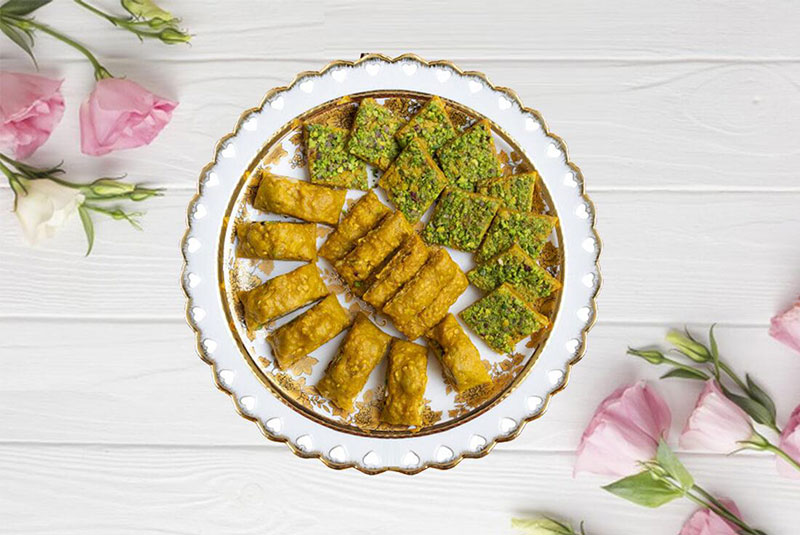 If you plan to visit the holy city of Qom, make sure you try the famous Persian Saffron brittle as you set foot in the city. Persian Saffron brittle is an incredible Persian dessert with a rich, sweet, delicious taste and a heavenly aroma that's simply irresistible.
Sohan is a saffron brittle made with wheat sprouts, eggs, rosewater, sugar, butter, and cardamom. The top of this snappy toffee-coloured goodness is studded with rose petals and pistachios, balancing the sweetness. In addition, it's intensely flavoured with saffron, giving it an earthy and divine aroma that complements its profoundly charming colour.
Each bite-sized piece is buttery and crunchy; you can't get enough of it, especially when Paired with a glass pipping hot tea.
Persian Saffron brittle can be stored at room temperature for around one week. So you can make a massive bunch of it and put it in the jar or container to easily have a quick pick-me-up snack the following week.
8. Ghorabieh Tabriz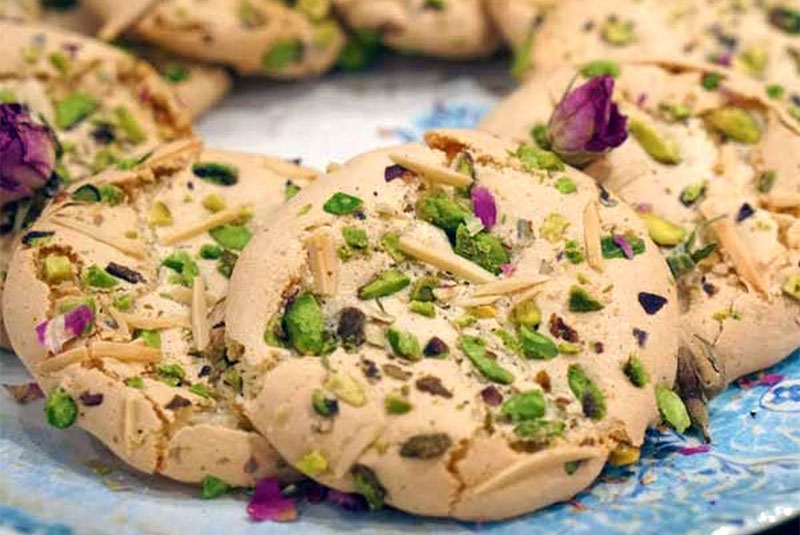 Ghorabieh is a shortbread cookie that originated in Tabriz, an Iranian town famous for its sweets and baked goods. If you happen to visit Tabriz during Iranian festive occasions like Nowruz or Chahar Shanbeh Suri, this unique almond cookie is something you won't want to miss.
This traditional recipe contains ground almonds, flour, sugar, and egg whites. It's a favourite dessert at weddings, engagement parties, and other occasions. For example, when a girl is engaged to be married in Tabriz, the groom's family would present her with big circular plates ("bloot") stacked high with piles of Persian almond cookies.
It's a ritual to serve this delightful winter pastry alongside a warm cup of coffee or tea after an evening meal.
9. Ghotab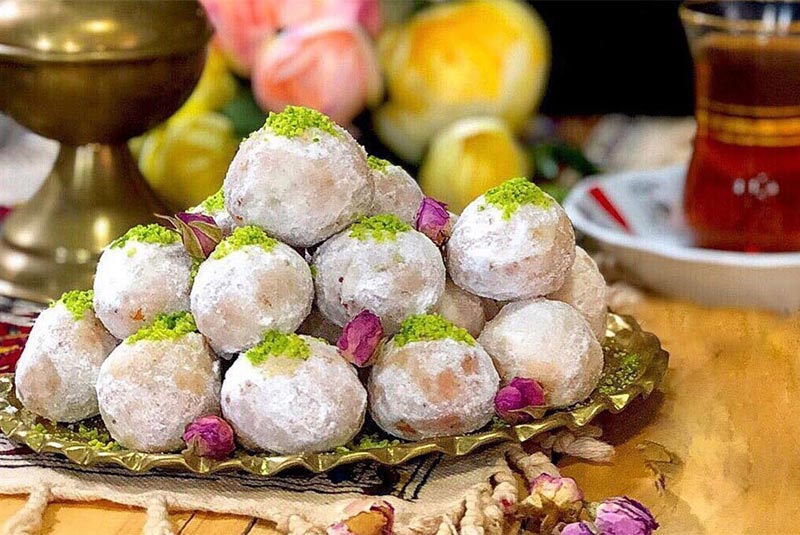 Ghotab is a famous Persian dessert dating a long way back to the Achaemenid period, and It is one of the oldest sweet treats in Iranian cuisine. Ghotab was initially a souvenir from the provinces of Yazd and Kerman, but it is popular nowadays across the country, especially during their new year's feast.
Although Ghotab is mostly served during festivities and events, it's also the perfect treat to have on hand whenever you want to impress your guests or treat yourself to a sweet indulgence.
Ghotab is made with flour, yoghurt, egg whites, butter, baking powder, walnuts, and pistachios and is flavoured with rosewater, cinnamon, and cardamom.
Ghotab is usually loaded with walnuts, and almonds and lightly infused with cardamom and cinnamon. Finally, each one of these Almond nuggets is fried deeply, giving them a crispy, crunchy shell while remaining chewy and soft on the inside. Some people often dust them with powdered sugar before presenting them on the table.
10. Koloocheh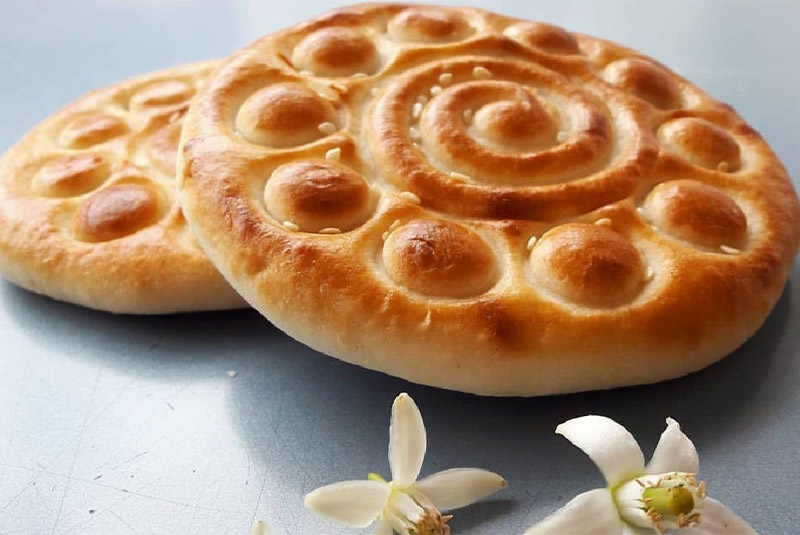 Koloocheh is the perfect Persian dessert to relish with your loved ones after an evening meal. It is a traditional Persian dessert made during many special occasions and festive holidays, including the Persian New Year (Nowruz).
Although these golden-coloured treats are made in many locations in Iran, each region has its unique style and approach. They are typically prepared with wheat flour, sugar, and rosewater and stuffed with generous dates and walnuts.
Koloocheh is golden and flaky on the outside yet mesmerizingly soft and smooth on the inside. Some people stamp the cookie with unique designs to give it a festive look.
One unique thing about Kolocheh is its softness and how it melts in your mouth the second you bite it.
11. Shirini Nokhodchi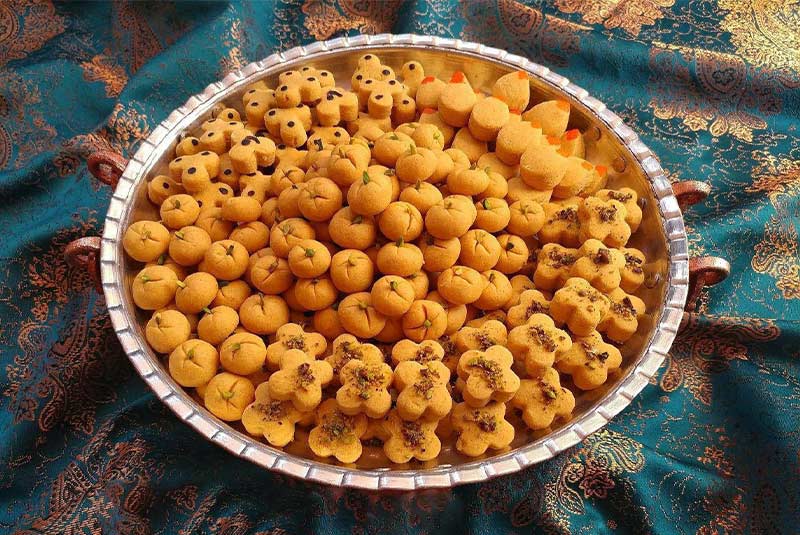 Nan-e Nokhodchi is one of Iran's most beloved sweet treats baked during festivities, including Nowruz. It is an age-old chickpea cookie recipe and a famous pastry seen in most Middle East countries.
The Persian chickpea cookies blend rosewater, pistachios, cardamom, and chickpea flour. This healthy recipe is a perfect option for everybody to have a share of a sweet indulgence, including vegans.
Locals often use a cloverleaf cutter when making these new year's treats. But you can use any miniature cookie cutter available. Make sure the Persian chickpea cookie is light, buttery and soft, and it can quickly melt in your mouth to make it a big hit for your guests and family.
12. Persian Mulberry Marzipan Candy (Toot)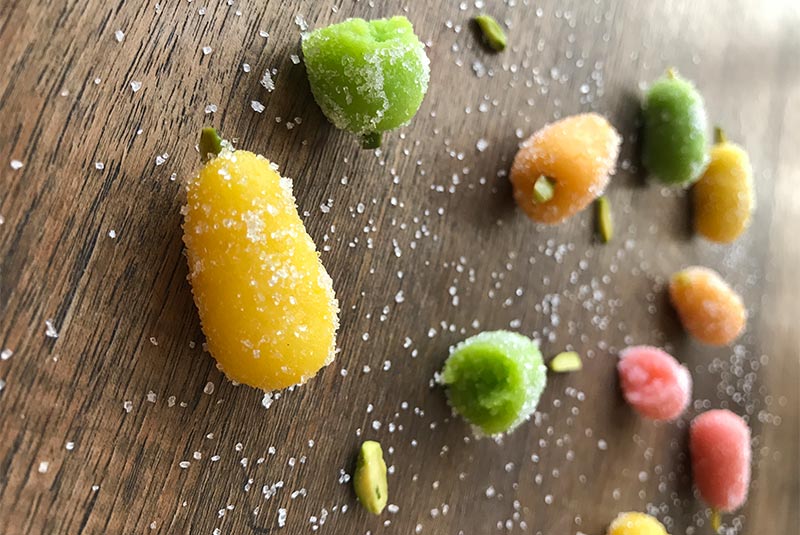 If you're looking for a no-bake Persian dessert that can win all of your guest's hearts, have a go at the Persian Mulberry Marzipan Candy, also called Toot.
The word "toot" means mulberry, and it's used to indicate the Mulberry-like marzipan candy.
This candy is made with ground almonds, rosewater, sugar, pistachios and cardamom. The mixture of these ingredients is shaped to resemble a mulberry.
In addition to the cute and pretty look of the Marzipan candy, it also yields a sweet and dainty taste. It's commonly served in special ceremonies like weddings and the new year's feast.
Persian Mulberry Marzipan Candy is made with slivered almonds, powdered sugar, rosewater and cardamom. To make this candy, Add almonds, powdered sugar and cardamom to your food processor. Blend the mixture for 2-3 minutes until it is all an even consistency.
Add in rosewater and blend for another minute. Repeat with the second tablespoon of rosewater until the mixture comes together as a dough.
After making the dough, fill a flat, shallow pan with granulated sugar to roll your formed Toot into a coat. Pinch a piece of dough and roll it between your palms into a ball about the size of a grape. Once you've made a ball, form it into a cone by pinching one end and flattening the other.
Roll your marzipan cone in the granulated sugar bath, and finally, insert a long almond sliver into the fatter end to make it look like the stem of the mulberry fruit. You can serve this dessert immediately or store it in an airtight container and enjoy it later!
It is noteworthy that these marzipan candies dry out quickly if not stored properly. But considering how delicious they are, there's a high chance you won't have to deal with any leftovers.
13. Cake Yazdi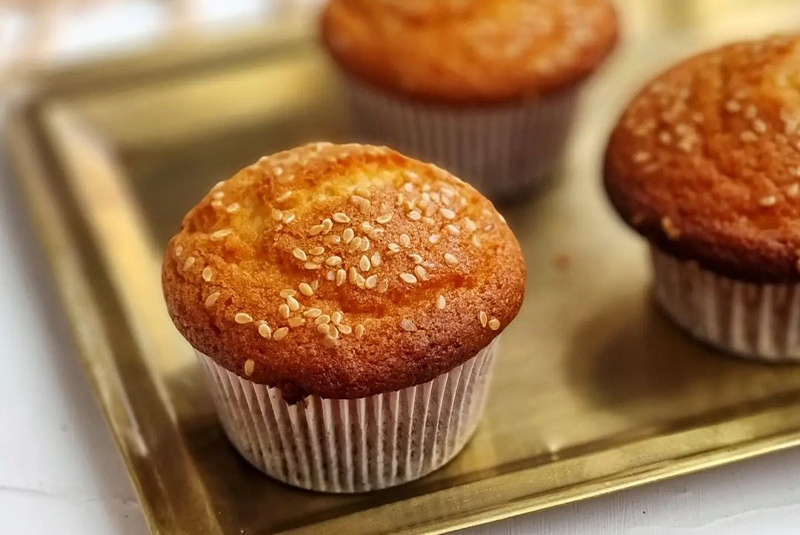 Cake Yazdi is a delicious sweet named after the ancient city of Yazd. These Persian cupcakes are flavoured with cardamom and rosewater, creating a heavenly scent that draws you to them.
Persian cupcakes' dough contains cornstarch, making them soft on the inside and crisp on the outside.
These Persian cupcakes feature all of the classic cake flavours in a bite-size version. The cupcake is delicious, delectable, mildly sweet, and light to make a pick-me-up snack any time of the day.
These lovely cupcakes are as wonderful as they are easy to create, with a hint of rose, a delicate sweet flavour, and a salty pistachio topping. They're usually served with a glass of cold milk.
14. Baslogh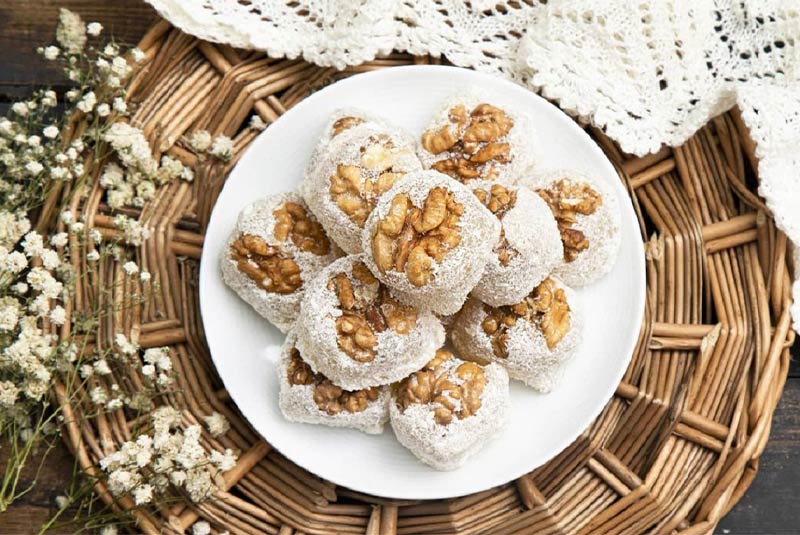 Baslogh is a simple homemade Iranian sweet that doesn't need an oven. Baslogh has Turkish origin, but it is served as a dessert among the Turkish-speaking Iranians in the cities of Ardabil and Tabriz.
Baslogh is made with corn starch, rose water, walnut, coconut grind, cold water and vegetable oil.
To make this Persian sweet, Mix cornstarch with water and stir them thoroughly until well dissolved. You can add rose water for flavour.
Heat the cornstarch mixture at low heat and keep stirring until it becomes thick. When the mixture starts to thicken, add butter and continue stirring; keep stirring until the mixture is thickened and shaped like soft dough or jello.
You can turn off the heat, let the mixture cool down, and garnish it with shredded coconuts. You can also decorate it by placing walnut on top of the baslogh.
Add flour and butter to the thick solution and put it on low heat until it turns brown.
When it is ready, dish it up in a small bowl and garnish it with pistachio shreds and cinnamon powder.
15. Masghati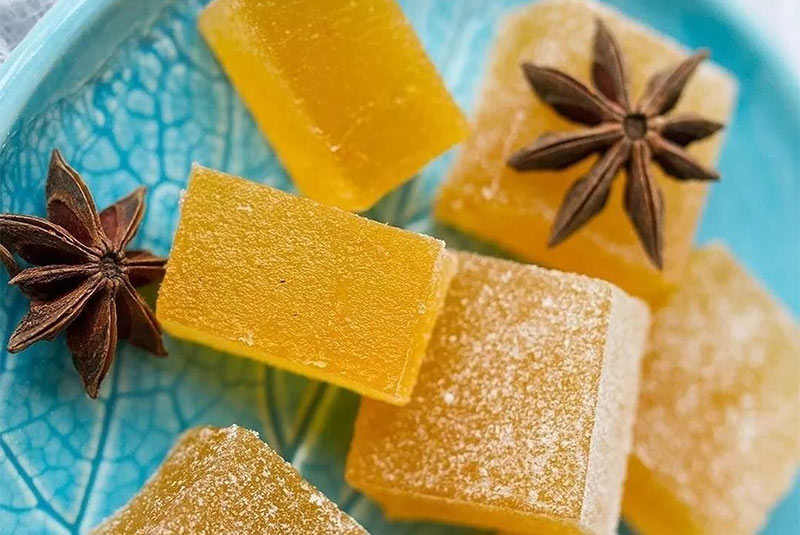 Masghati is one of the oldest and most famous Iranian desserts made for various religious occasions, celebrations, and mourning in the southern provinces of Iran, primarily Shiraz and Bushehr, and mainly in the Lar region.
Masghati is made with sugar, wheat, rosewater, and saffron. Its base is made by boiling water or milk with starch and sugar. When cooled, the starch solidifies the liquid and creates a delicate, firm, and almost jelly-like sweet treat.
The base is highly versatile and is usually incorporated with traditional Iranian spices and ingredients to provide different flavour combinations. Typical favours for Masghati include rose water, cardamom, saffron, pomegranate juice, pomegranate seeds, and crushed or chopped nuts.