Persian Art
11 Jul 2023
BY

Arash Morshed
Things to Bring Back From Iran
Regardless of what they are, souvenirs have exceptional quality.
Purchasing or keeping a souvenir is similar to bringing a portion of your trip home. Taking souvenirs home demonstrates how significant and priceless your experiences have been at a particular time or location. Souvenirs are similar to mementos. Often, souvenirs from your travels do a better job of retelling the tales than words and descriptions.
You may not know what to buy as souvenirs when wandering through an Iranian bazaar unless you already have some clues. Picking a few products out of the options in front of you might be challenging due to the rich diversity, particularly in Iranian handicrafts and confectionery.
This blog is for you if you are planning a trip to Iran or are currently there and are seeking the most fantastic presents and souvenirs to buy in Iran for your loved ones back home.
Iran Handicrafts
Crafts are windows into every culture, city, town, custom, rite, ceremony, ethnicity, language, and dialect, each of which has a distinct history and tells a distinct tale.
The dictionary's description of a souvenir as "something kept as a recall (as of a place one has been)" is precisely what a handcraft is. It represents the archetype of a souvenir. Thus, the most popular sort of souvenir in Iran is handicraft.
Handicrafts are one-way authentic Iranian art displayed. The vibrant Iranian handicrafts will undoubtedly attract your attention if you enjoy arts and crafts of any type. Here are the best Iranian handicrafts to pick up as gifts.
| Find related articles here: Persian Art
Persian Carpets and Kilims
The Persian carpet or rug is the most well-known Iranian souvenir in the world. Very skilled carpet weavers from various regions of the nation create these handwoven works of true art. Persian carpets are available in various sizes and designs, giving travelers who wish to purchase one for their house or purely for ornamental purposes a broad range of options.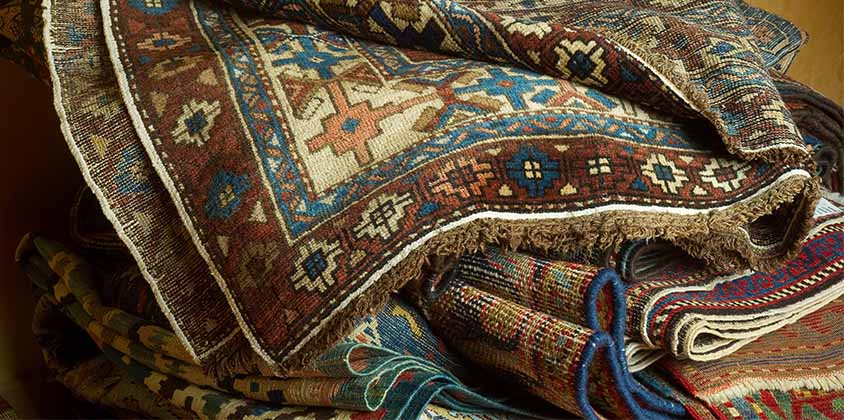 There are 19 subgroups of Persian carpets, including Shah-Abbasi, Paisley, and Hunting ground. Whether botanical or animal, the designs on these carpets set them apart. Hence, one needs to be an expert in this sector to distinguish between them.
Kilim, which often has a coarse texture and is less costly than Persian rugs, is one of the numerous hand-knotted carpets. From the beginning, tribeswomen have been weaving them using goat and sheep wool. Kilims can be put on the wall as a decoration or used to cover the flooring.
| Read more: Can I Travel to Iran from UK?
Minakari
Things are painted and decorated through the complicated process of Persian enameling known as Minakari. This classical art was created in 1500 BC and is still used today. It is applied to ceramics and objects made of gold, silver, and copper, such as vases, plates, and mugs.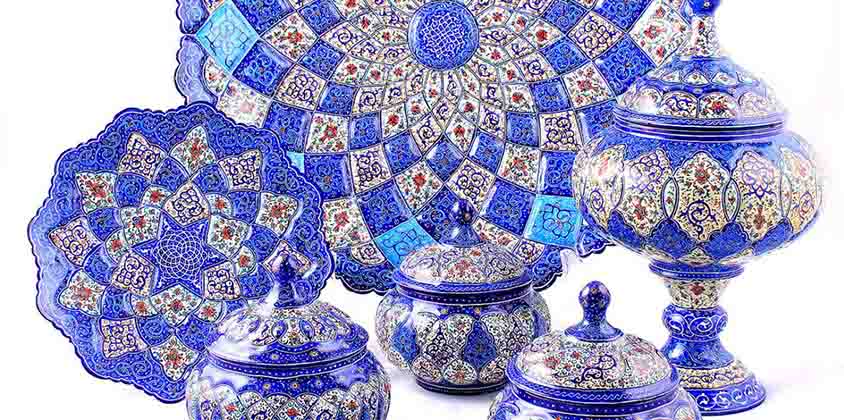 Esfahan is currently the center of Minakari, where the top artisans work to create high-quality handicrafts that are also shipped to other cities, including Tehran.
Ghalamzani
This metalworking technique, the Persian equivalent of "toreutics," engraves exquisite images and designs on metals, including brass, silver, and copper. A centuries-old Iranian custom, ghalamzani is a type of handicraft.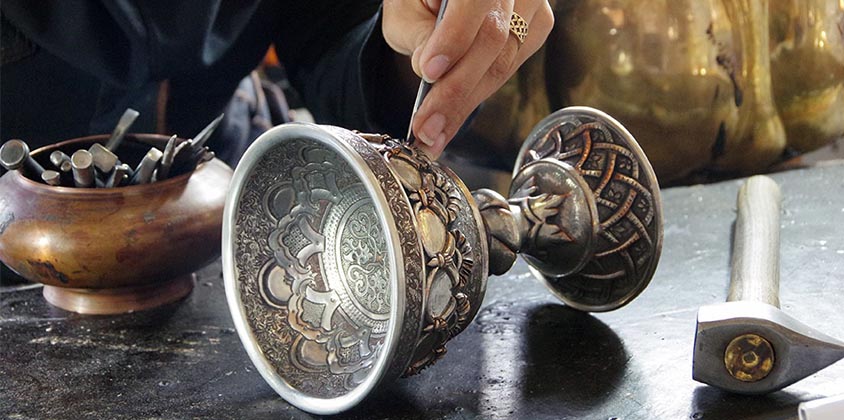 On various items, including vases, plates, sugar bowls, teaware, candlesticks, tablets, and other ornamental items, ghalamzani is created. Esfahan is the center of this craft, but you can also find stores selling these magnificent handmade items in Tehran, Tabriz, Mashhad, and other large cities.
| Read more: Can I Travel to Iran from USA?
Khatamkari
Small pieces of wood, bone (often camel bone), or metal is inlaid on the surface of various objects in this type of Persian "marquetry." Finely designed patterns are frequently made in geometric forms in this age-old craft and then glued onto the item's surface. Products made from khatamkari include jewelry boxes, candy bowls, chess boards, tissue boxes, clocks, and picture frames.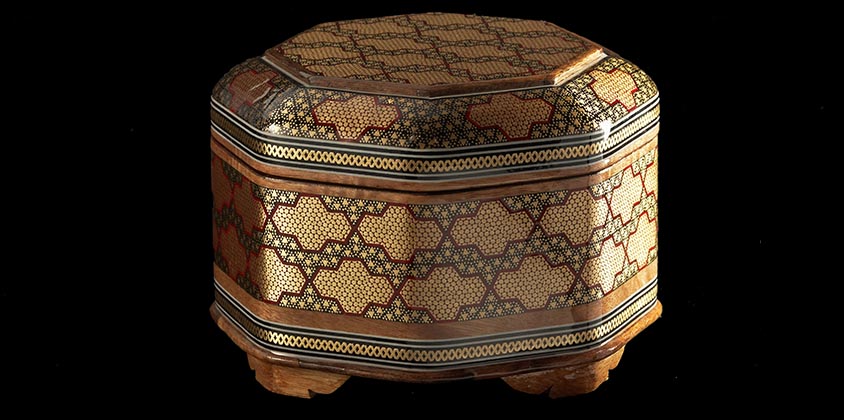 Rosary
Rosaries, which come in a wide range of shapes and hues and are made of glass or precious stones, are traditionally used for keeping track of prayers but are now often utilized as decorative items. Suppose you visit a traditional bazaar in Iran. If so, you could run into various knickknack shops where various rosaries are displayed for sale. Precious stones, including agate, amber, turquoise, and king stone, are used to make high-quality rosaries (a rosary made of this stone is called Shah Maqsoud).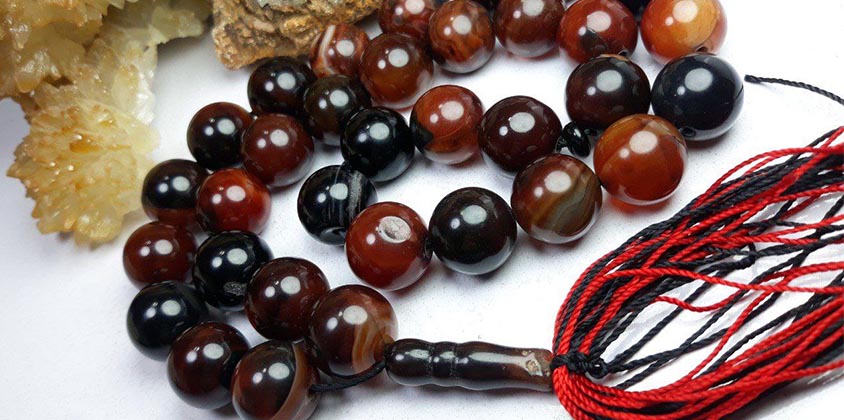 Pottery and Ceramics
Persian pottery is an old tradition going back more than 8و000 years ago. While it no longer has the same popularity as it once did, pottery has managed to thrive in several Iranian cities, notably Yazd, Natanz, and Lalejin (in the province of Hamedan), which is regarded as Iran's pottery capital. Ceramic mugs and bowls decorated with decorative patterns are excellent souvenirs from Iran.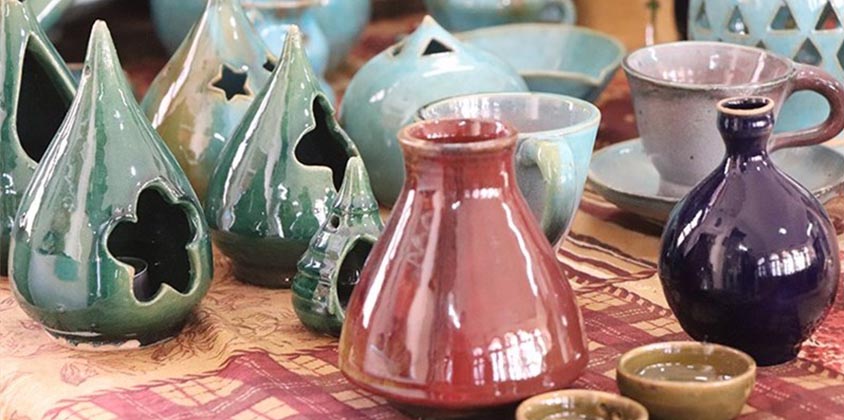 Tea Set
Iranians love drinking tea; thus, it is common to see many teapots and sets of glasses for various occasions in any given home. The so-called picture of Shah Abbas appears on a set of saucers, tea glasses, and a teapot that can be used or displayed for decoration. Get it in red if you want more authenticity. Even the samovar, used to boil tea in the traditional Iranian manner, might be brought back if you have enough room in your baggage.
| Suggestion: Fun Things to Do in Iran | A Fun Guide!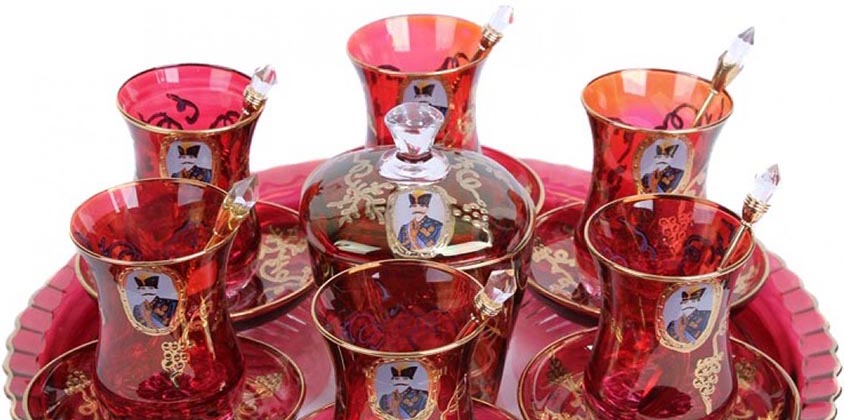 Embroidery and Handmade Clothes
Handwoven clothing styles, including Termeh, Pateh, and Ghalamkar are excellent choices for souvenirs among the items to buy in Iran. Iranian craftswomen who are skilled embroiderers continue an ancient art of needlework. A magnificent handwoven cloth known as Termeh (Isfahan and Yazd souvenir) is composed of wool and fine natural or synthetic silk and is adorned with stunning traditional designs. A traditional handcraft, Pateh (Kerman souvenir), is crafted of cotton and bright threads.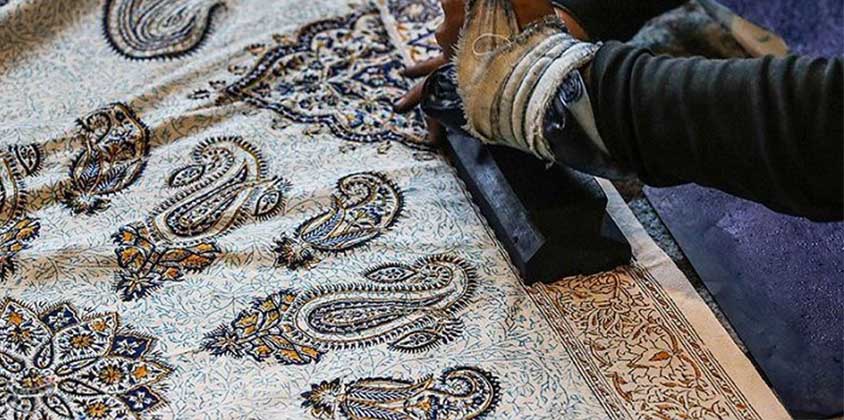 Ghalam Kari, the technique of painting exquisite designs on silk or cotton fabric, is another illustration of this kind of souvenir. Ghalam Kari was first sold as a souvenir in Tabriz and Isfahan. The best traditional Iranian souvenirs you may give your loved ones are handwoven garments.
| Suggestion: Best 5 Star Hotels In Iran to Stay in 2023 + Pics
Turquoise
This priceless gem is an inorganic rarity that can only be discovered in specific locations. The most outstanding examples of these greenish-blue jewels are from Nishapur in Iran and India. Turquoise, called Firouzeh in Persian, is used to create exquisite jewelry in Mashhad and Nishapur, including necklaces, bracelets, rings, and earrings.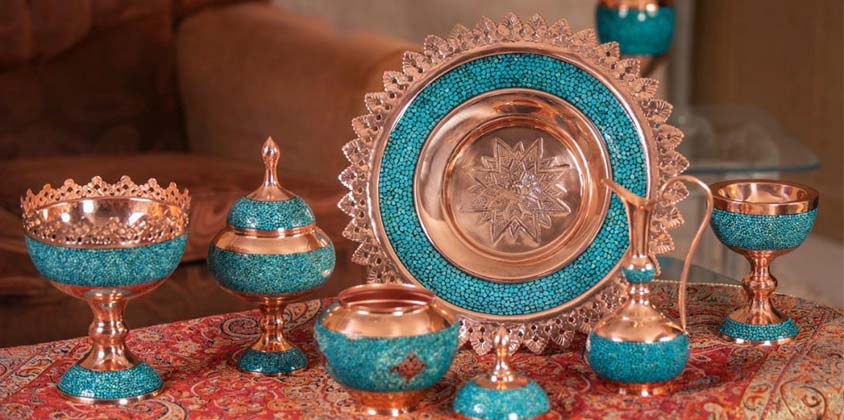 Turquoise is used for other purposes as well. Little pieces of turquoise are delicately incorporated into the surface of various items and utensils using a method known as "turquoise inlay" (Persian: Firouzehkoubi) to create beautiful things. The turquoise inlay resembles a mosaic design and makes for excellent Iran travel gifts on various metallic items, including trays, vases, mirrors, candelabra, jewelry boxes, and plates. Iranian traditional bazaar souvenir stores sell various turquoise trinkets at affordable costs.
Giveh
Givehs are lightweight shoes with leather soles entirely constructed of cotton or silk. These shoes are ideal for farmers and ranchers since they are lightweight, comfortable, long-lasting, and affordable. It is great to wear these cotton shoes during the hot summer days. Female and male workers meticulously weave them.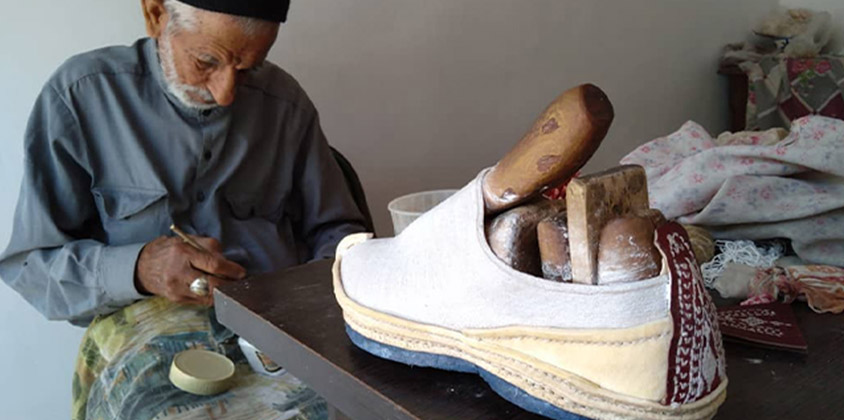 In the region of Kermanshah, five different varieties of Giveh are woven. The province's primary location for Giveh weaving, the Hewraman area, receives its raw materials locally or from Sanandaj, Tehran, Kermanshah (city), and Isfahan.
The provinces of Fars, Chaharmahal and Bakhtiari, Esfahan, Kermanshah, and Zanjan are where Giveh making is most common.
Iranian Food Souvenirs
Purchasing some of those delectable Iranian culinary souvenirs is a must if you have a sweet appetite or friends back home who enjoy trying new delicacies.
Here are some of the most delicious Iranian foods and sweets you can bring back from Iran.
Saffron
In the past, Iran's red diamond was traded with Greece, the Roman Empire, China, and Arab nations. Nowadays, Iran is the world's largest producer of this priceless spice, and 94% of the world's saffron is grown there, primarily in the eastern area of Khorasan. Yet, because of poor marketing and packaging, massive quantities of Iranian saffron are shipped to nations like Spain, where it is packed and reexported under the national labels of those nations!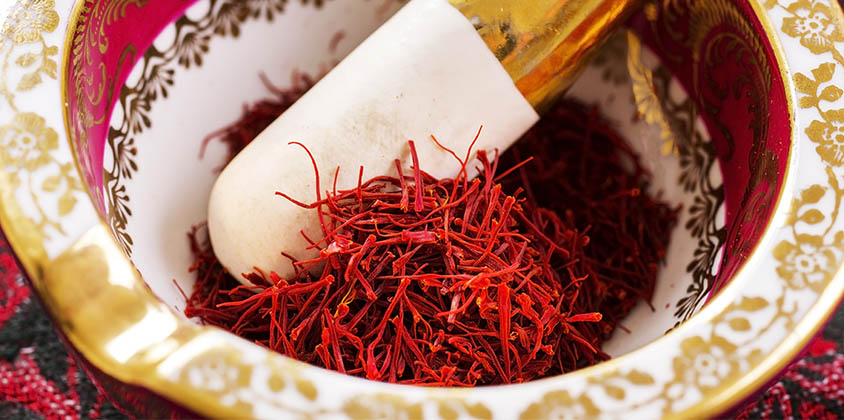 Saffron is a vital ingredient of Persian cuisine's seasonings and is a well-known Iranian souvenir for visitors from other countries. Saffron is mainly grown in the Khorasan province, of which Mashhad is the principal city; hence Mashhad is the ideal spot to purchase it as a souvenir from Iran.
Nuts (Pistachios, Almonds, Etc.)
The world's largest producer of pistachios is Iran, which is also well-recognized for them. These delicious nuts are particularly well-liked by travelers. The most common kind of pistachio in Iran is the very long "Akbari" variant. Pistachios can be either raw or roasted with salt. Pistachios are also utilized in various Iranian pastries, such as Gaz and Sohan.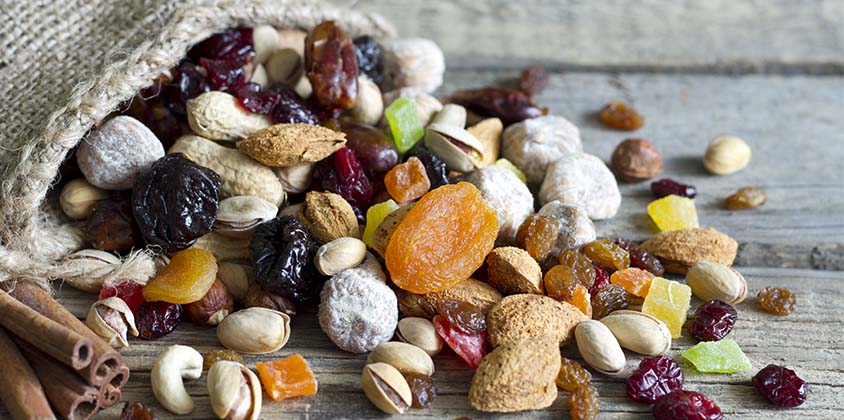 Pistachios aren't the only type of nut you can find in Iran; there are other varieties. In Iran, the production and sales of almonds, walnuts, and peanuts are also widespread.
Gaz
Gaz often referred to as Persian nougat in the West, is one of the most well-liked souvenirs from Esfahan and is also well-liked in Kerman, Yazd, Chaharmahal, and Hamedan. Its name, Gaz-Angebin, which translates to "sap of Angebin," refers to a type of wild tamarisk tree that originates in Iran's Zagros Mountains and is one of the ingredients in this chewy white nougat. Pistachios are typically used to garnish it.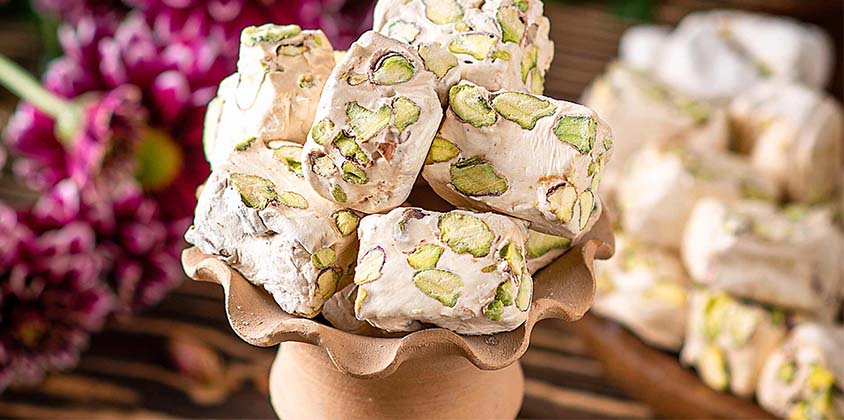 Sohan
This traditional saffron brittle toffee is mainly produced in the city of Qom, and that's why it is sometimes called Sohan-e Qom. Made from flour, sugar, wheat sprout, egg yolks, butter, rose water, saffron, cardamom, and slivered pistachios or almonds. Sohan-e Qom comes in different shapes, flavors, and qualities. It is distributed nationwide so you can find it in most cities, including Tehran. In large Sohan stores, free samples are offered to visitors so that you can get an idea of how it tastes before picking a box or two as a souvenir to take home from Iran.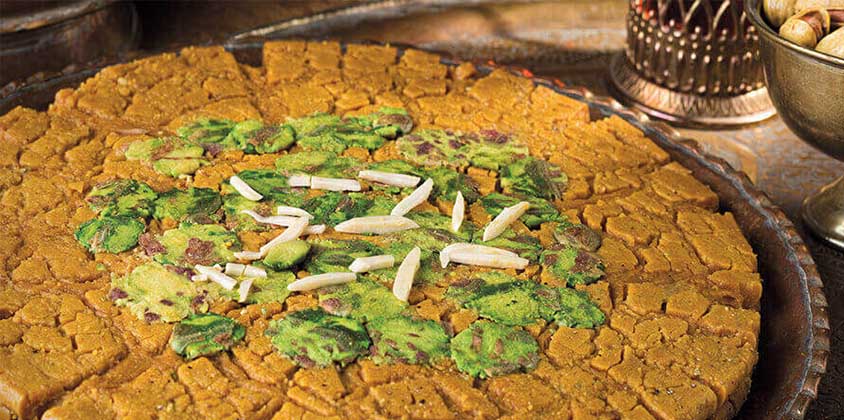 Lavashak
Fruit leather, or Lavashak, is a simple oven-baked snack prepared from dried fruit. Lavashaks are the ideal vegan, savory snack for both children and adults. Lavashaks are sour to sweet fruit rolls prepared from a variety of fruits. Lavashaks are available in all Iranian markets.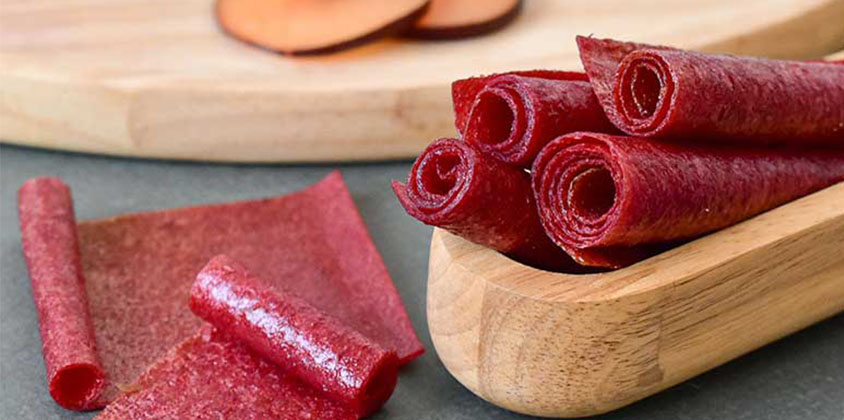 Pashmak Or Cotton Candy
The cotton candy that Iranians consume is sweeter, contains sesame, and is typically accompanied by the bitterness of Persian tea. Pashmak is Yazd and Kashan souvenir, but you can also find it in all major Iranian cities, such as Tehran.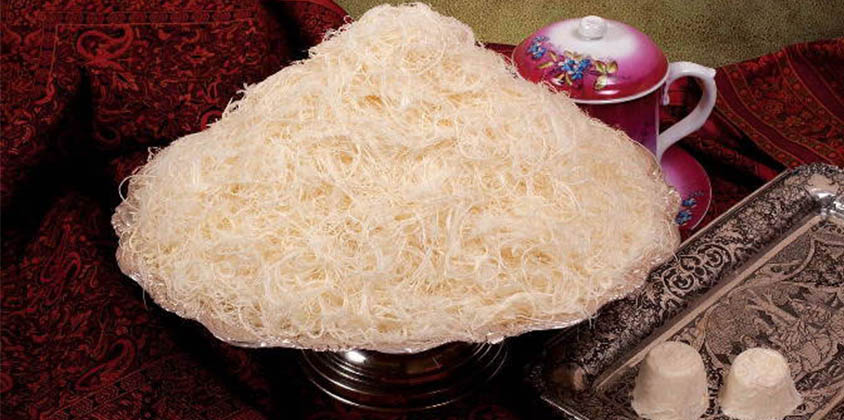 Poolaki And Rock Candy
Poolaki, a thin sugar disc typically consumed with tea, is another souvenir of Esfahan. Melted sugar makes poolaki in different flavors, including saffron, lemon, pistachio, coconut, dried lemon, mint, and honey. Rock candy is another popular sort of candy in Iran. Rock candy is widely common in Iran. Before consuming tea, rock candy is dissolved to serve as a sweetener.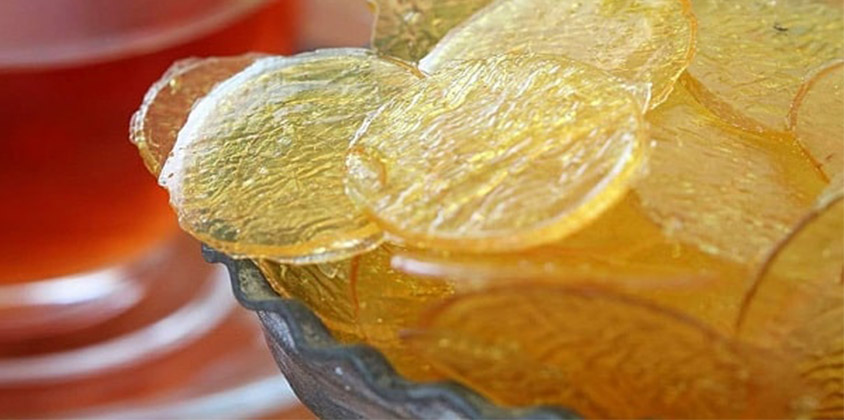 Baklava
While it originated in Turkey, baklava is also a favorite dessert in Iran, Azerbaijan, Central Asia, and certain Arab nations. Most baklava in Iran is produced at confectionary shops in the cities of Yazd, Tabriz, Qazvin, Ardabil, and Kashan; many foreign visitors also like this sweet.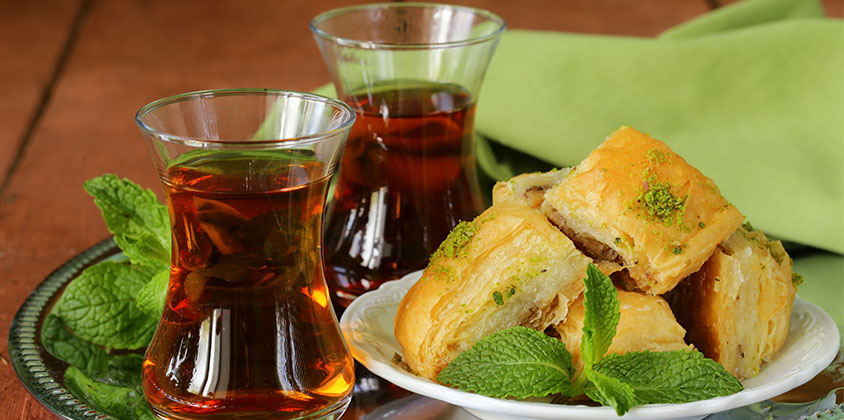 Koloucheh (Cookies)
The tasty Koloucheh cookie comes from the northern city of Lahijan. It is a classic cookie with a soft filling with different flavors, including hazelnut, coconut, and walnut. Several bakeries or candy shops, especially those in Tehran, sell hot and fresh Kolucheh. However, you should choose the professionally packaged varieties sold in convenience stores and supermarkets if you wish to purchase any to bring home. The greatest Kolouche Lahijan brands include Noosheen, Peyman, Naderi, and Nadi.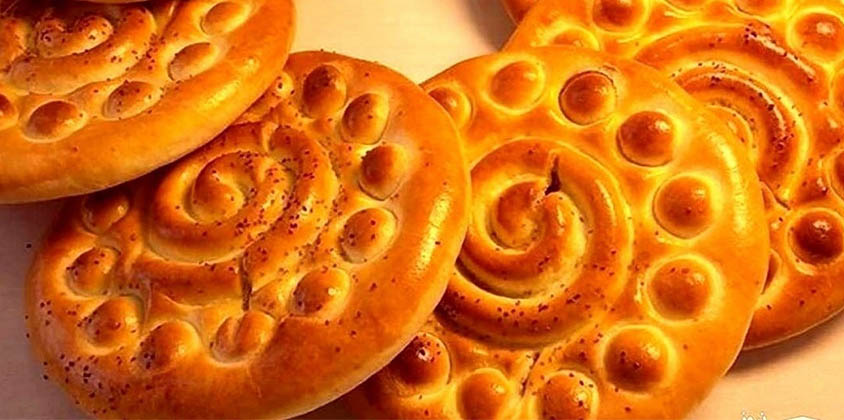 Qottab
Yazd is renowned for its wide variety of pastries and confections. Qottab, a delectable delicacy made from flour, powdered sugar, vegetable oil, and cardamom with almond or walnut fillings, is a well-liked sweet souvenir from Yazd. Qottab is one of the oldest Iranian sweets and is well-liked in Kerman and Yazd.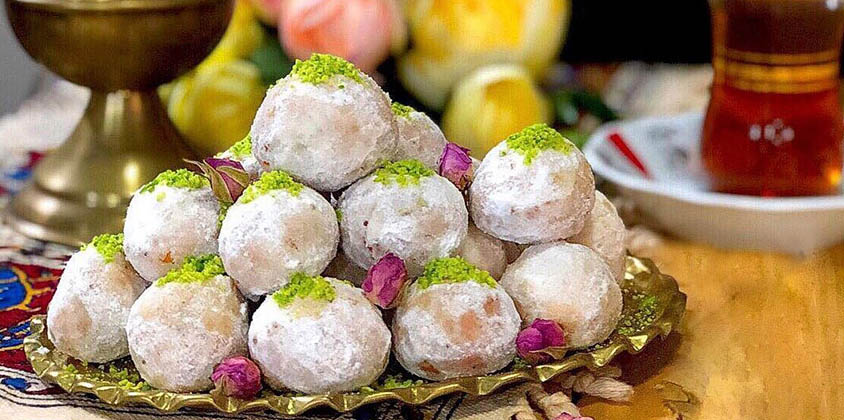 Iranian Dates
In the southern regions, dates are among the most well-known and widely consumed snack foods. Bam dates are the most significant national example regarding quality because of the southern environment, which is ideal for growing high-quality palms. Bam and other Southern towns are the most incredible places to get Iranian dates (It is also available in all Iranian bazaars).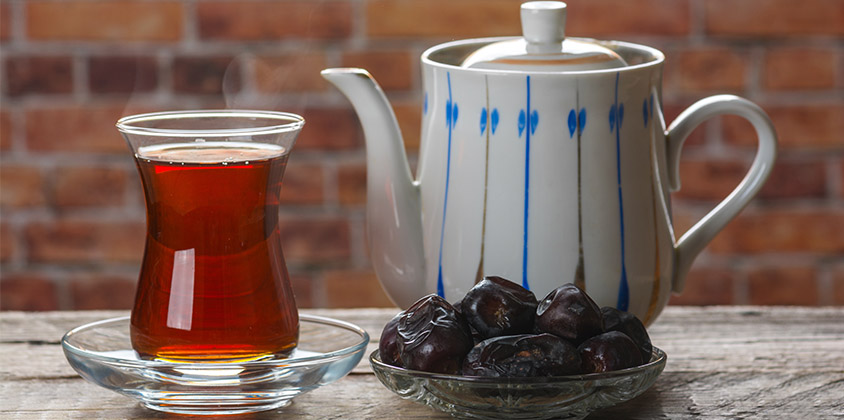 Rosewater
Rosewater from the aromatic Mohammadi roses is another crucial ingredient, especially for Iranian pastries. Ice cream, desserts, tea, and other traditional dishes all benefit from their delicate flavor and aroma. Be sure to attend the lovely Gulab Giri (rose water production) ceremony if you are in Kashan between mid-April and mid-May. Kashan is the ideal location to get rosewater.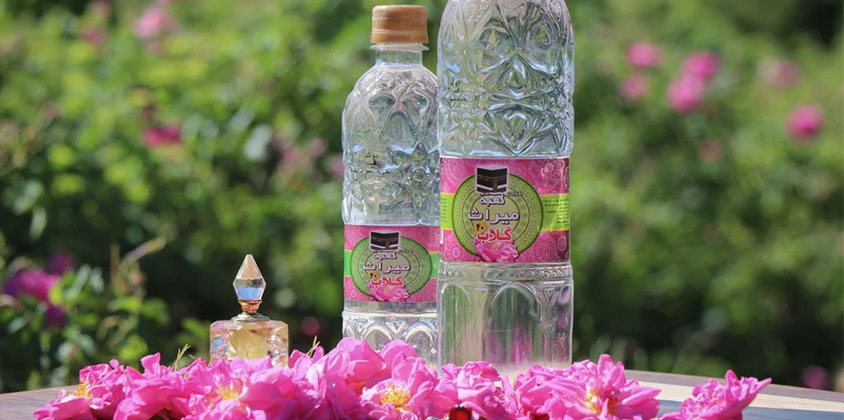 Herbal Distillates
Iranians use several unique herbal distillates, including thyme, orange flower, willow, fennel, and rosewater. Each of them is helpful for specific illnesses. For instance, thyme distillate is thought to have calming and anti-inflammatory properties. It can ease the symptoms of a head cold.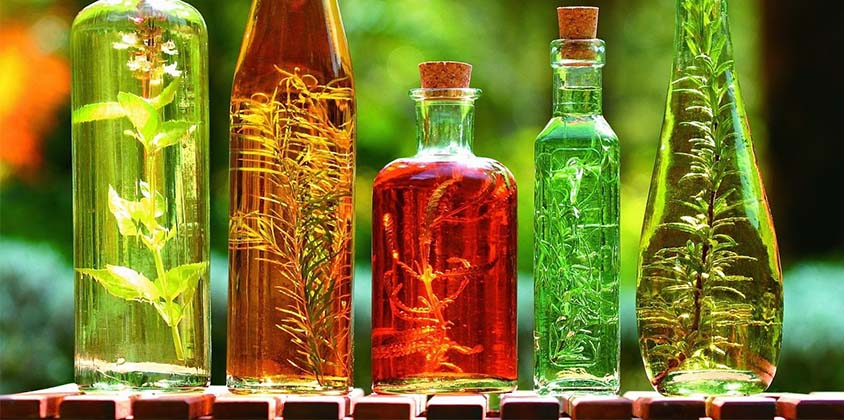 Persian Spices
The variety of spices and ingredients used to flavor Persian food will appeal to foodies. Turmeric (Zardchoobe), cinnamon (Darchin), sumac (Somagh), cardamom (Hel), angelica (Golpar), cumin (Zireh), and mixed Persian spices (Advieh) are the most often used spices in Iranian cuisine.
Pre-packaged versions of these Persian souvenirs are available in grocery shops, and bazaars in Iran also sell them.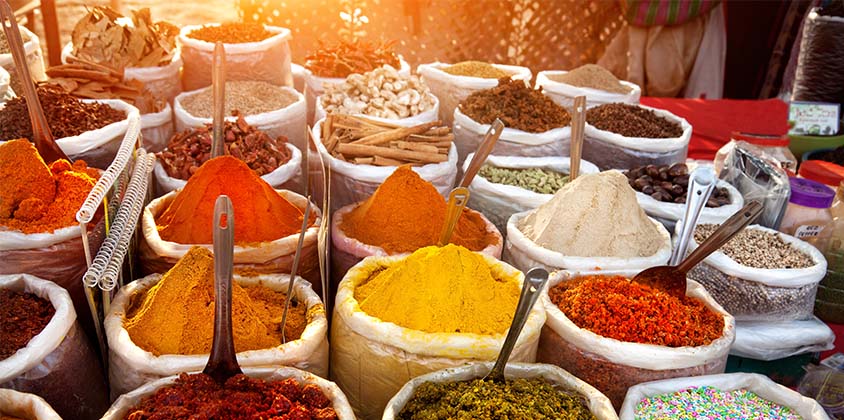 Barberries
Your rice will taste somewhat sour if you add a sprinkling of barberries. Barberries are a staple in Persian cooking and may be purchased fresh or dried, allowing for year-round use. The best place to buy barberries is Mashhad, but it is also available in all Iranian bazaars.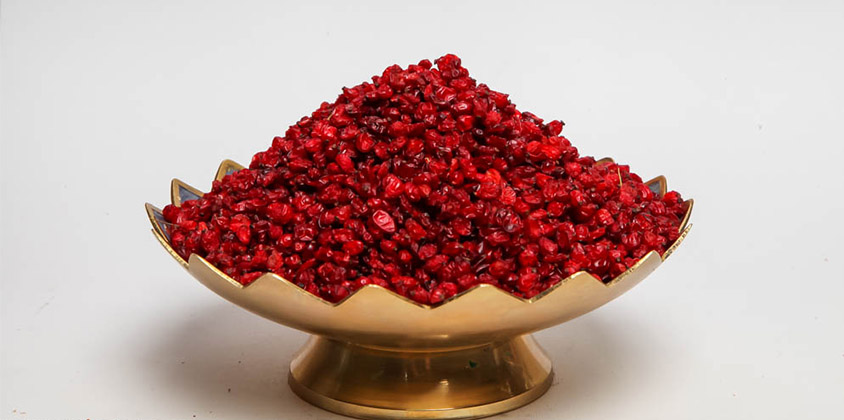 Herbs
Iranians adore herbal beverages. These can be found on restaurant and coffee shop menus. Among the most popular are lavender, chamomile, rose petal, and bitter orange blossom. All you need to do to prepare them is steam them in water. Not to mention that each of them has unique health advantages. Shiraz and Tehran are the most incredible places to purchase herbs (available in all Iranian bazaars).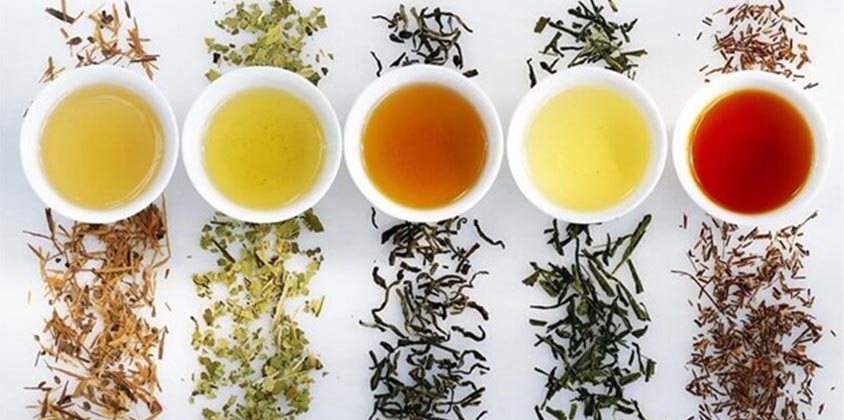 Bottom Line
Iran is a large country with a rich cultural diversity. Because of this, collecting a comprehensive list of Iranian souvenirs is almost impossible. Because each city and area has its own culture and customs, it may provide travelers with unique local handicrafts, goods, and pastries as souvenirs. Nonetheless, a vast range of goods made locally or imported from other regions may be found in Iran's major cities, including the capital Tehran.
Lastly, before visiting the bazaar to buy souvenirs, we advise you to learn a little about currency and shopping in Iran. Also, if you need help understanding the language, it's best to go shopping in Iran with a local guide. Ensure that you leave Iran with packed baggage and an unforgettable experience. Eavar Travel Agency can assist you with shopping and souvenir purchases.