Iran's Nature
26 Jul 2023
BY

Batul Iddi
Top Natural Attractions of Iran | Natural Wonders of Iran
For intrepid travelers seeking more than mosques and ruins, Iran's diverse and dramatic landscapes offer a treasure trove of breathtaking, unspoiled vistas to explore.
From the stunning Persian Gulf to the majestic Caspian Sea in the north, you'll find a range of deserts, forests, lakes, rivers, plains, caves, and mountains. Each region of Iran has breathtaking natural attractions, making it feel like a new country with every province you visit. Join us as we unveil Iran's top 20 most stunning natural attractions. Get ready to be dazzled!
Top 20 Natural Attractions in Iran
Mount Damavand
Pink Lake
Dasht-e Lut
Uraman (Hawraman) Village
Torkaman Sahra
Alisadr Cave
Maranjab Desert
Dasht-e Kavir
Latun Waterfall
Subatan Village
Darak Beach
Masal Forest
Asalem to Khalkhal Road
Namarestagh
Dom-e-Asb Gorge
Badab-e Surt
Raghaz Canyon
Cloud forest
Rainbow Mountains: Mahneshan
Qeshm Island
1. Mount Damavand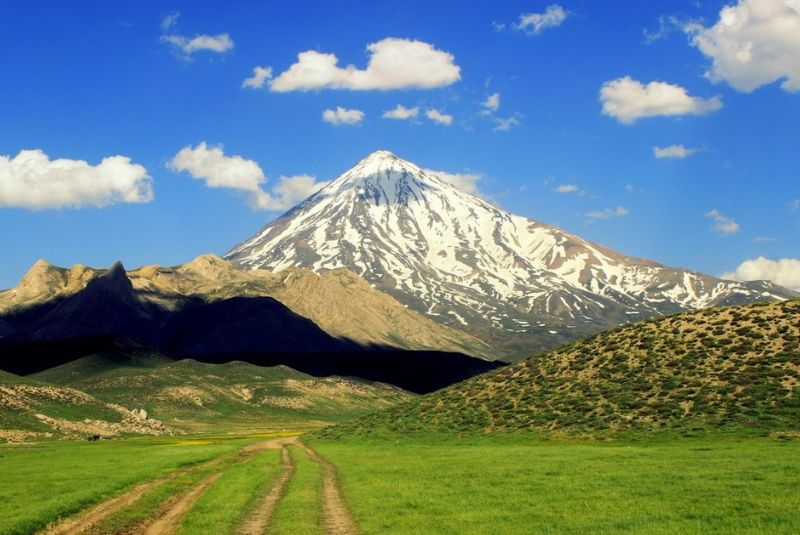 Standing tall at 5,610m in the Alborz Mountain range, this snow-capped beauty is the Middle East's tallest mountain. Its grandeur is so impressive that it can even be seen from Tehran on a clear day!
It is also a symbol of the Iranian people's resilience and a worthy challenge for any accomplished mountaineer, as reaching the peak of this towering giant will take the best part of two days, but the reward is priceless.
As you make your way up, you'll feel the exhilaration of the climb and the rush of adrenaline as you conquer each step. And when you finally reach the summit, the sense of accomplishment will be overwhelming.
But it's not just the physical challenge that makes Mount Damavand unique. It features prominently in Persian folklore and literature, adding a layer of cultural significance to your adventure. And once you've completed this epic journey, you'll earn the eternal respect of any Iranians in your life.
| Discover: Iran's Wildlife | A Nature Lover's Guide + Pics
2. Pink Lake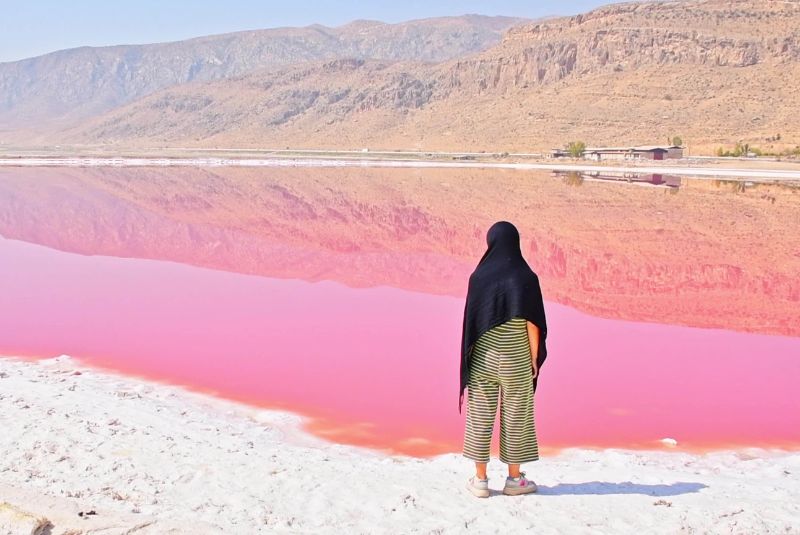 Located just 27 kilometers southeast of Shiraz, Pink Lake, also known as Maharloo Lake, is a seasonal lake in Fars province. The lake's unique pink color is due to a high percentage of pink-colored algae, making for a truly stunning sight.
The lake is also rich in potassium and other types of salt, making it an important habitat for migratory birds. In fact, more than 6000 bird species make their home at the lake during the winter months, creating a spectacular landscape that's hard to forget.
The best time to visit is during autumn and winter, when the lake is full, and the pink color on the land resembles a sacred child's fantasy painting.
3. Dasht-e Lut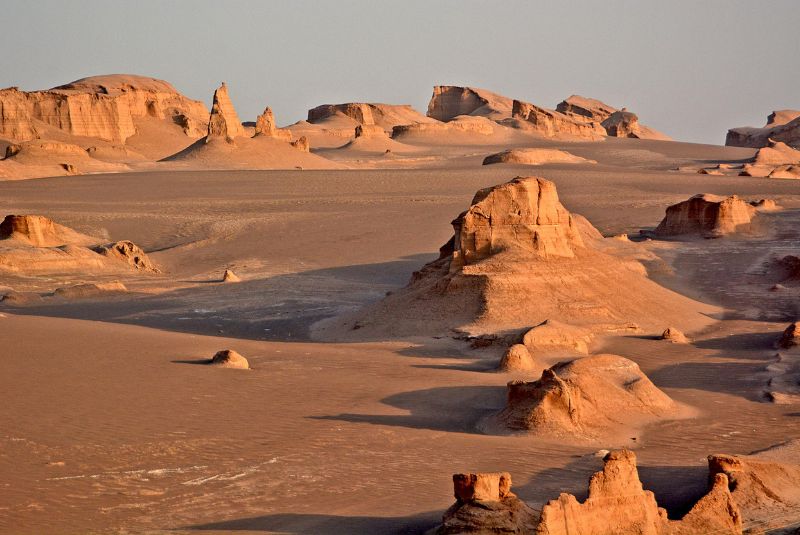 Covering over 50,000 square kilometers in the Kerman Province is the Lut Desert, a UNESCO heritage site and one of Iran's two great deserts! This mesmerizing landscape is a true testament to the power of nature.
While it may hold the record for the hottest land surface temperatures ever recorded at a scorching 70.7 degrees, don't let that deter you. The weather-beaten moonscapes of the Lut Desert offer an unforgettable venue for nighttime camping beneath a sky full of stars. And when dawn breaks, the views are simply breathtaking.
But that's not all; make sure to check out the mysterious Kaluts, the famed giant rock formations of the desert. These formations are a wonder to behold and add more intrigue to your adventure.
| Read the full article: Lut Desert; the Hottest Place on Earth
4. Uraman Village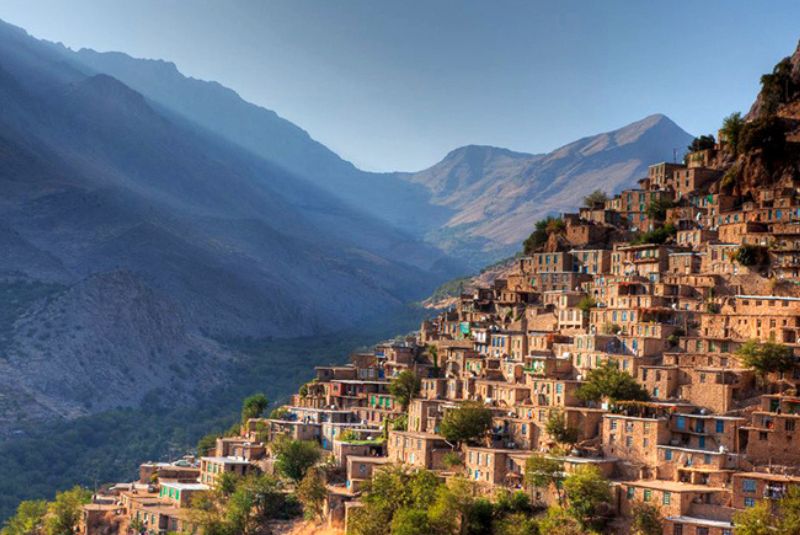 Uraman (Hawraman) village is a stunning mountainous area on the Iran-Iraq border. As you explore Uraman, you'll be enchanted by the beautiful valleys with lush rivers and exquisite landscapes. The interesting stair-stepped architecture of Uraman village is among the best draws of this stunning destination.
But that's only part of it - if you're traveling to Uraman, be sure to try the local bread of the area, which is famous for its unique flavors and textures. And remember to visit Marivan and Lake Zarivar, located nearby, and offer unique attractions and experiences.
| Discover the complete article: Hawraman - Cultural Landscape of the Kurdish Lands
5. Torkaman Sahra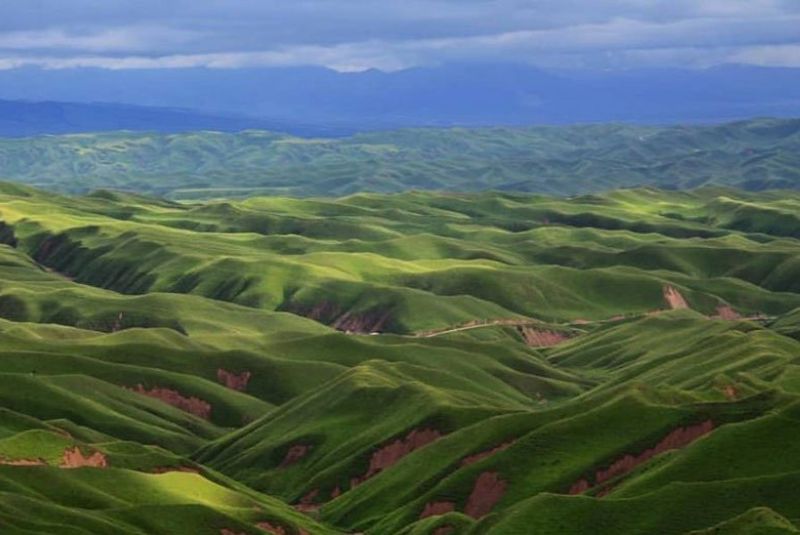 The Turkmen Plains, also known as the Torkaman Sahra, is a hidden gem in the northeastern region of Iran. These seemingly endless rolling green hills are bordered by Turkmenistan and the Caspian Sea.
While they may be tricky to access without a car, the views are spectacular. Imagine driving through fields of lush greenery, soaking up the fresh air, and taking in the breathtaking scenery.
One of the focal points of the Turkmen Plains is the Khaled Nabi cemetery, notable for its beautiful tombstones. As you wander through this serene resting place, you'll feel a sense of peace and tranquillity that's hard to find anywhere else.
Another nearby must-see attraction is the famous 11th-century tower structure, Gonbad-e Qabus. This awe-inspiring monument has been memorialized in the west in Robert Byron's travelogue, "The Road to Oxiana." You'll be amazed by the intricate details and the rich history surrounding this magnificent structure.
6. Alisadr Cave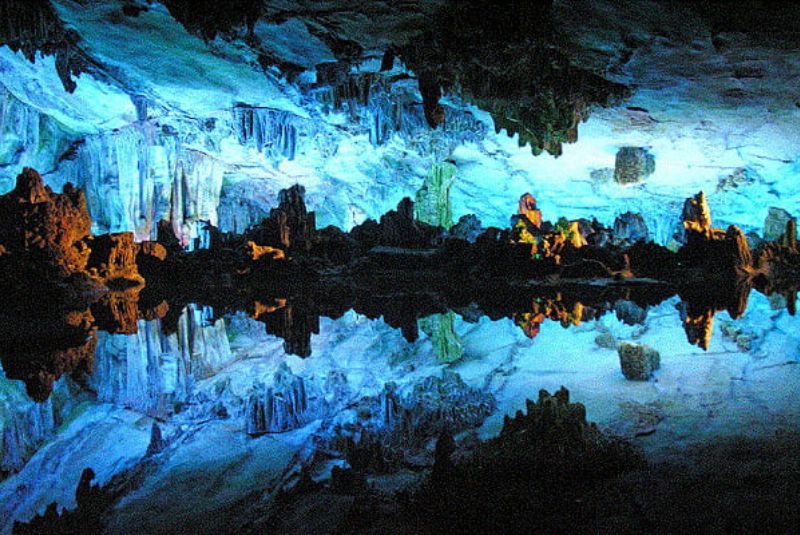 This stunning cave is the world's largest water cave and one of the most popular sites in Iran, drawing thousands of visitors year-round, especially in the spring and summer months.
Located in Kabood Ahang, a city 60 kilometers from Hamadan and 50 kilometers from Alisadr Village, this cave is situated on the elevated lands of Sari Qieh, meaning the yellow rock.
Alisadr is one of the few water caves in the world, boasting Jurassic Period rocks that take you back 190 million years to the second geological period. As you make your way through the entrance, you'll be greeted by an incredible atmosphere that will make you forget about the heat outside.
The clear lake in the cave allows you to see its floor, creating a truly magical experience. You'll need to wear a life jacket and get on a boat to explore the cave's natural labyrinth. At some point, you'll need to get off the boat and continue your journey on foot.
| Related: Discover the Most Famous Caves of Iran
7. Maranjab Desert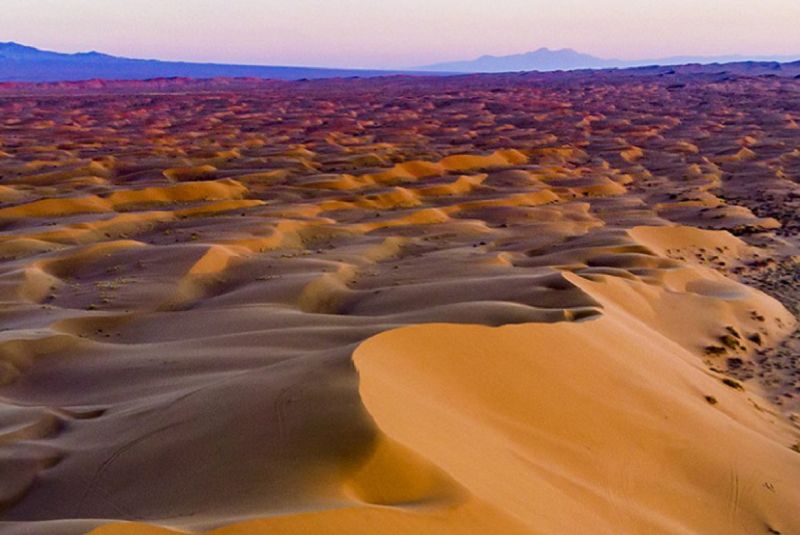 Just a two-hour drive from the beautiful city of Kashan in Isfahan province is the Maranjab Desert. This desert is unlike any other in Iran, boasting some of the sandiest dunes in the country, ideal for fulfilling all your stereotypical desert fantasies.
While most of Iran's deserts are salt, rocky, or scrubland, Maranjab is a true oasis in the middle of it all. As you wander through the soft sand and take in the breathtaking views, you'll feel like you've stepped into another world.
| Read the full article: Maranjab Desert
8. Dasht-e Kavir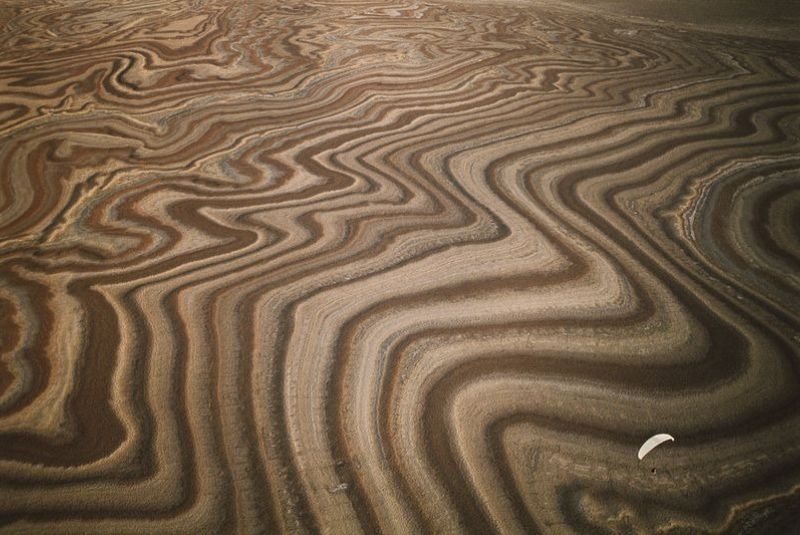 Dasht-e Kavir, or the Kavir-e Namak or the Great Salt Desert, is a massive desert in the center of the Iranian plateau, northwest of Isfahan and Yazd.
While it may seem barren and unfathomably hot, the Dasht-e Kavir remains outstanding. You'll feel a sense of awe as you take in the vast expanse before you, but be sure not to wander aimlessly or unaccompanied.
One of the most tourist-friendly features of the desert is the Namak (Salt) Lake, located 100 kilometers from Qom. As you walk on the white salt flats, you'll feel like you'll feel like you're walking on another planet.
Just be sure to keep an eye out for the desert's wild inhabitants, like the Asiatic cheetah and the goitered gazelle, and bring plenty of water and sunscreen because this desert is not for the faint of heart.
| Suggestion: Iran's Deserts | Ultimate Guide + Pics
9. Latun Waterfall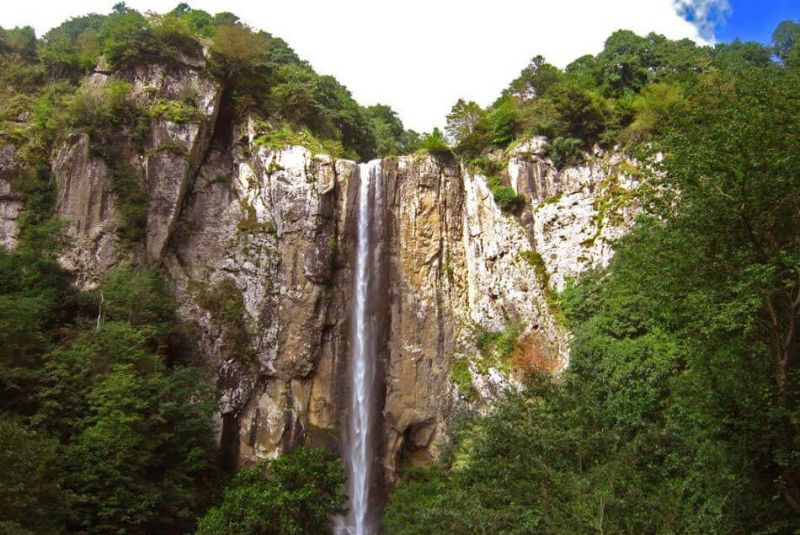 Get ready for an unforgettable adventure as you make your way to the northern county of Astara in Gilan province. Here, you'll discover Iran's highest waterfall, Latun Falls, set against a breathtaking backdrop of forested mountains.
The falls plummet from a height of 105 meters, creating a misty veil that shimmers in the sunlight. The surrounding waters offer the perfect lunchtime pit stop or even a refreshing swim if you're adventurous.
| Related: The Most Beautiful Waterfalls in Iran (2023)
10. Subatan Village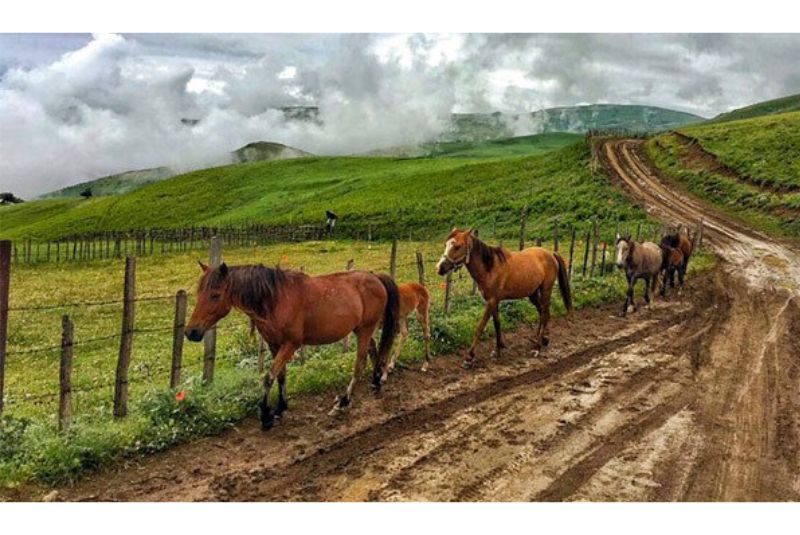 Subatan Villages is one of the most beautiful places in Iranian nature, yet it remains less known to the public due to the difficult access routes. But for adventure travelers, this only adds to the appeal.
Subatan is located at the height of Talesh, and visitors generally begin their hike from the southwestern side of the mountain, starting from Lake Neur and making their way to this unique village. As you journey through this stunning landscape, you'll be amazed by the natural beauty that surrounds you.
The best time to plan your trip to Subatan is in June, when fresh blossoms and fragrant flowers appear everywhere, creating a truly magical atmosphere.
| Suggestion: Persian Garden | A Piece of Paradise in Iran
11. Darak Beach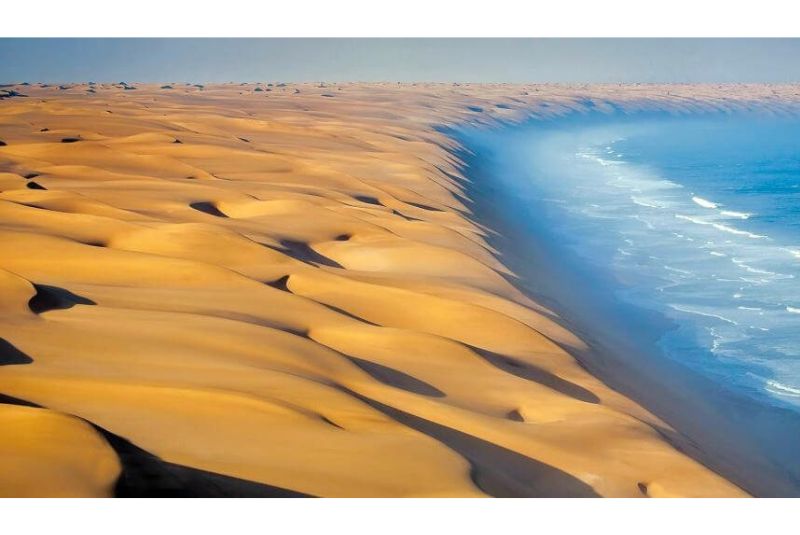 Darak Beach in Chabahar City, Sistan and Baluchestan Province is a pristine natural wonder that boasts crystal blue waters that meet the sands of the surrounding desert. The serene atmosphere is enhanced by palm trees that sway in the breeze. If you love taking photos, Darak Beach provides the perfect backdrop for your profile picture. Due to the hot and humid climate, it's best to visit in autumn or winter.
| Read the complete article: Darak Beach | The Intersection of Desert and Sea
12. Masal Forest
This area is a paradise for hikers and nature lovers, with some of the most beautiful hiking trails in the country.
Located just an eight-hour drive from Tehran, the mountainous Masal region is popular for its stunning waterfalls, crystal clear streams, colorful wildflowers, and walking routes.
As you make your way through the lush lowlands and mountain forests, you'll feel a sense of calm and excitement that's hard to find anywhere else. But be warned - lynxes, wolves, and bears are said to inhabit these territories.
13. Asalem to Khalkhal Road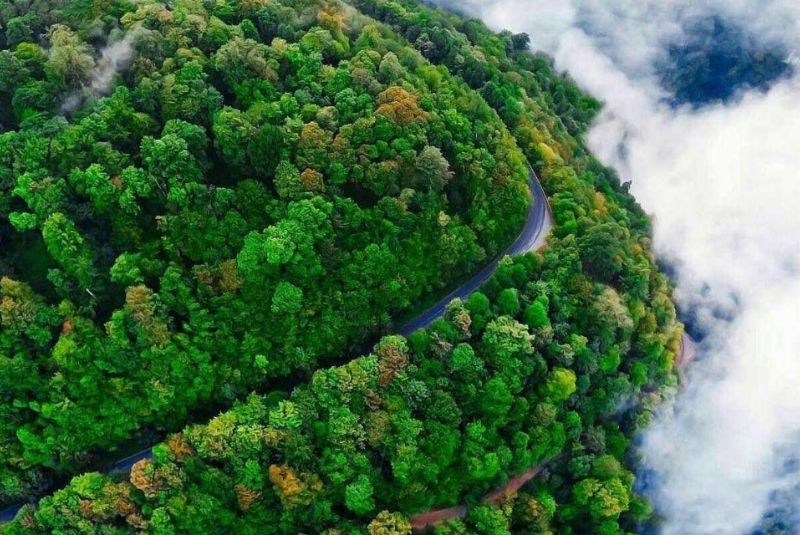 This is the winding road connecting the beautiful green provinces of Ardabil and Gilan. This 70-kilometer road will take you on a journey through pristine nature, wild beauties, waterfalls, lakes, vast plains of flowers, and rare plants.
From the beginning, you'll be enchanted by the stunning natural beauty surrounding you. Half of the road is a forest, while the other half is made up of plains and mountains, offering a diverse and ever-changing landscape.
As you near Khalkhal, be sure to check out the well-known hot water spring called "Kiwi," which is not very well known but offers a unique swimming experience without worrying about crowded parking lots or surrounding crowds.
| Read more: Top Forests and Jungles of Iran
14. Namarestagh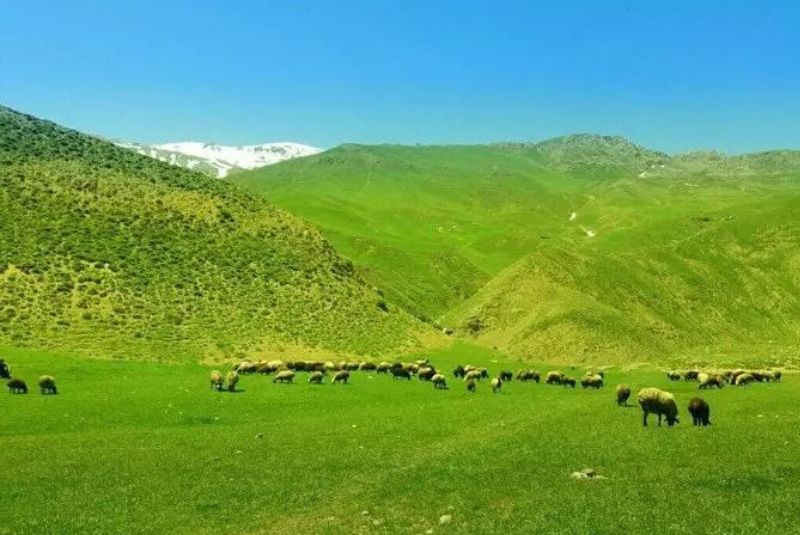 If you're looking for a place to quiet your mind and warm your soul, then Namarestagh, in the heart of Mazandaran province, is the perfect destination for you. This beautifully lush region in Amol County is a paradise for trekkers and nature lovers alike.
As you explore the verdant foothills in the shadow of snow-capped mountains, you'll feel a sense of wonder that's hard to describe. This region's beauty is breathtaking, and few can resist the enveloping sense of peace and tranquillity surrounding them.
The hospitable climate and welcoming locals add an extra layer of warmth to this rural utopia. You'll feel as though you've been transported to another world as you immerse yourself in the natural beauty of Namarestagh.
15. Dom-e-Asb Gorge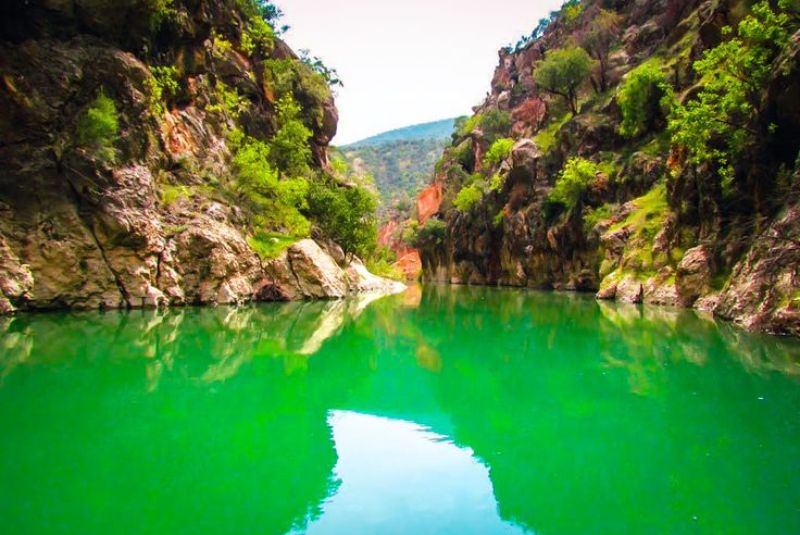 Dom-e-Asb Gorge is located in the "Kohmareh Sorkhi" region, just 50 kilometers south of Shiraz. This stunning area boasts rivers, steep cliffs, and attractive waterways, making it a must-visit destination for any nature lover.
To reach the gorge, you'll first need to reach the Koreh-Bas village from Shiraz. It's important to note that the lands along the trail, the spring, and the gorge itself are parts of some private lands belonging to the people of Kozarg village.
The clearly navigated path has many ups and downs, and in some places, you'll need to scramble, cross rifts, and chimneys individually. But as you progress along the path, you'll be rewarded with stunning views from the top of the mountain. You'll see a deep valley in the heart of the roaring river of Dom-e- Asb, which enters downstream villages after passing through a narrow gorge.
Further, along the path is a 200-meter-long lake that can be crossed by boats or swimming. And if you keep going, you'll eventually reach the waterfall - a breathtaking sight that's worth every step of the journey.
16. Badab-e Surt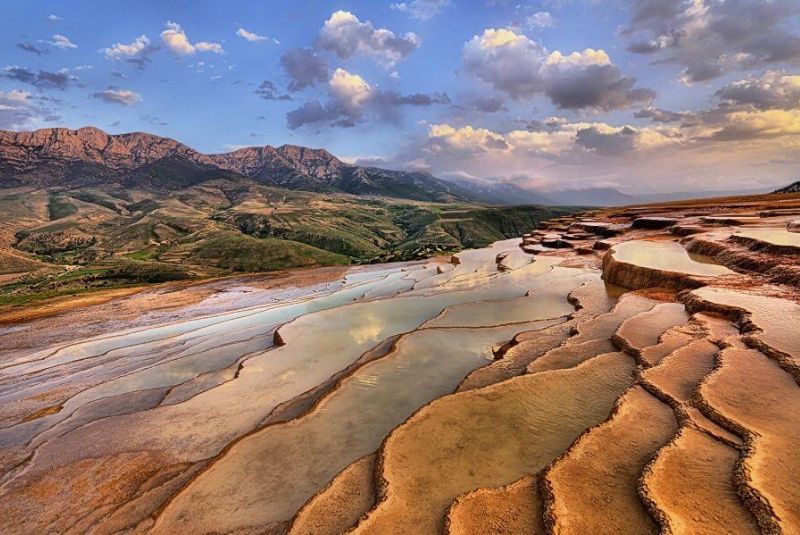 Located in Mazandaran province, about 100 kilometers south of the city of Sari, this area is a must-see destination for anyone interested in unique rock formations.
The Badab-e Surt boasts orange, golden, deep blue, green, yellow, and red stepped terraces of sedimentary rock formed over thousands of years by the flow of water and mineral deposits.
The hot springs of the travertine landscape are believed to have healing properties, adding an extra layer of intrigue to this fascinating destination. And if that's not enough, the Badab-e Surt's glistening flats are also among Iran's most photogenic sites. So take a dip in the warm, healing waters and let the beauty of Badab-e Surt wash over you.
17. Raghaz Canyon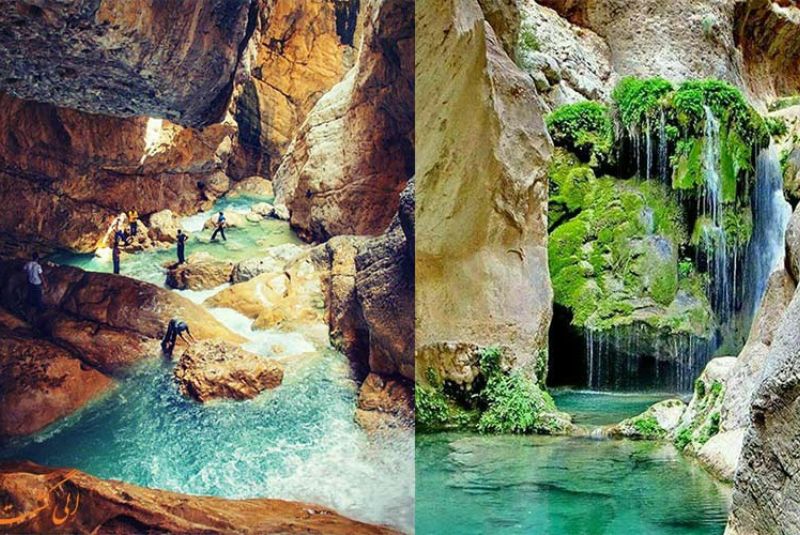 According to Iranian canyoneering experts, Raghaz is the best choice for those looking to embrace the challenge and excitement of canyoneering.
Located 30 kilometers northeast of Darab city, Raghaz Canyon is surrounded by high cliffs on both sides, creating a stunning natural landscape that will take your breath away. The four-kilometer-long canyon lies peacefully in the middle of the mountains, and locals know it as "Rud Khiz" Canyon due to its slippery nature.
While Raghaz is a pristine and spectacular place, it's important to note that going deep into this canyon is not easy for beginners. You need at least a basic familiarity with rock climbing, swimming, and canyoneering techniques, and professional equipment is also required. But for those who are up for the challenge, Raghaz offers an unforgettable adventure that will leave you with memories that will last a lifetime.
18. Cloud forest
Cloud forest or Abr forest is one of Iran's most impressive natural attractions! This cloud forest borders Semnan and Golestan provinces, where two communities with different climates integrate. The thick Alborz Mountain Range creates an incredible phenomenon where clouds flow through the valleys, creating breathtaking views.
The forest is home to various flora and fauna, including rare plants and diverse animal species. During your trek, you'll see impressive waterfalls like Shor-Shor and Aluchal and over thirty water springs providing fresh water for hikers. Walk along the incredible pathways through dense trees, where you'll be amazed by colorful flowers, butterflies, and birds. Remember to explore the small villages on the forest's edge and experience their amazing simple life.
19. Rainbow Mountains: Mahneshan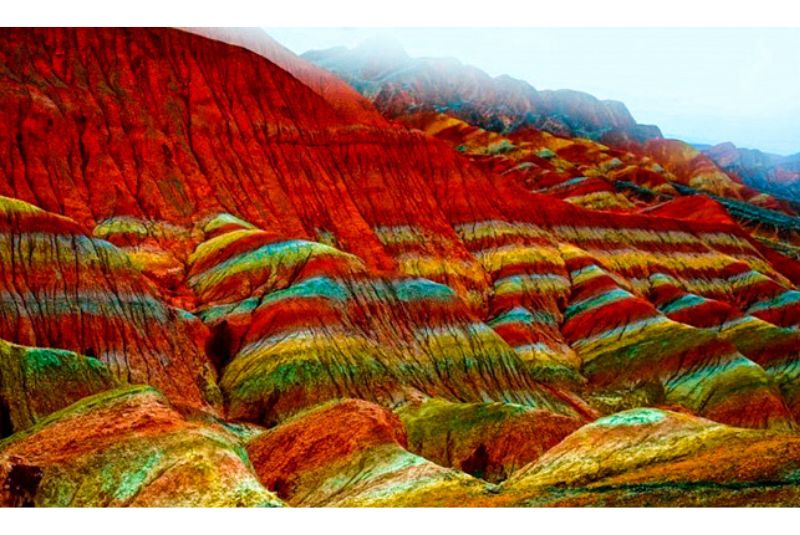 Located just 25 km from Tabriz in Mahneshan Town, Zanjan Province. These mountains are a natural wonder, colored by various minerals, creating a breathtaking rainbow effect. With colors ranging from yellow and white to orange, red, brown, and green, you'll feel like you're walking in a foreign galaxy. The locals even use the colorful soil to decorate their Nowrouz table - that's how vibrant and lively this place is! But the Rainbow Mountains are just one of the many natural attractions in Mahneshan. The area is filled with stunning water streams and other natural beauties, making it an exceptional destination.
| Discover the full article: Aladaglar Mountains in Iran | Beauty of Rainbow Mountains
20. Qeshm Island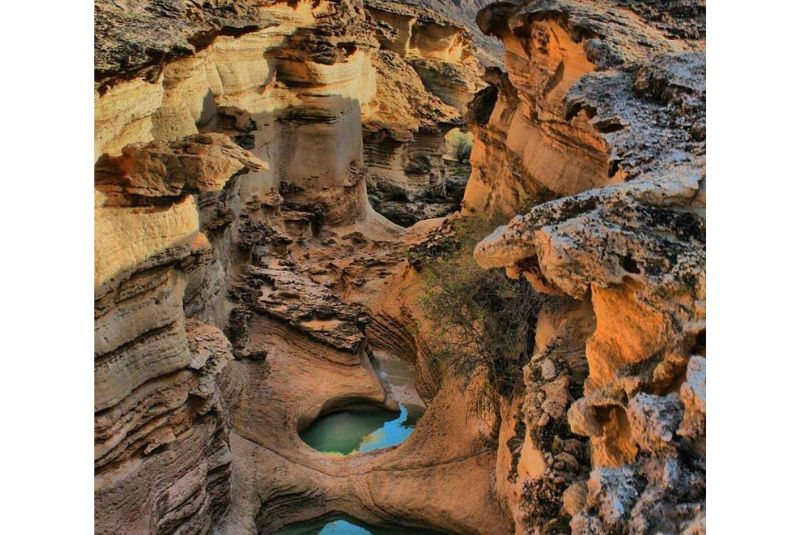 Qeshm Island is the largest island in the Persian Gulf, known for its unspoiled natural beauty and diversity. Located just south of the port city of Bandar Abbas, Qeshm is a paradise for nature lovers and adventure seekers alike.
One of the most impressive features of Qeshm is the Namakdan salt caves, reportedly the longest of their kind in the world. As you wander through this natural beauty, you can discover the Valley of Stars, Xorbas Cave, and Laft Village.
The island's romantic beaches and surrounding Persian Gulf add to its natural charm. But that's not all - the Chahkouh Valley is also worth a visit, with its intriguing erosions that provide an eerie, post-apocalyptic ambiance.
---
Share your story!
Comment below and let us know about your Experience.
Your story inspires others!