Iran's Nature
01 Aug 2023
BY

Batul Iddi
Iran's Wildlife: A Nature Lover's Guide + Pics
Iran is a land of wonders, rich in history and culture, and home to some of the most spectacular wildlife you'll ever encounter!
From the majestic Golden Eagle to the elusive Persian Cheetah, Iran boasts nearly 500 species of birds, 160 mammals, and countless native plants and invertebrates. And with many regions of Iran still waiting to be explored by botanists and wildlife enthusiasts alike, who knows what other treasures await discovery?
In this blog, we'll take a closer look at some of the unique wildlife of Iran that call the country home. We'll also explore some fascinating wildlife destinations in Iran.
Spectacular Wildlife in Iran
Iran's wild animals are a significant attraction for tourists and nature enthusiasts. It has a breathtaking array of wildlife, from majestic predators to delicate birds, from lumbering giants to nimble acrobats. In this section, we'll mention some spectacular wildlife in Iran you have never seen before.
Persian Fallow Deer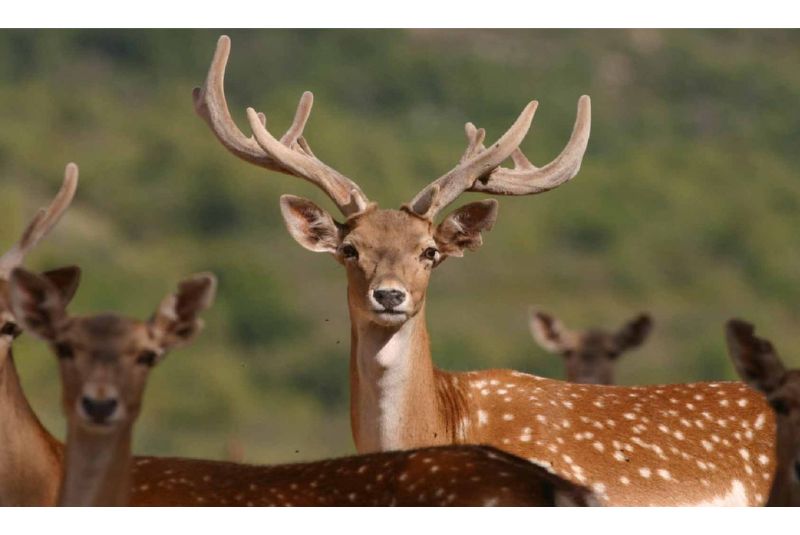 The Persian fallow deer is a rare ruminant mammal belonging to the family Cervidae found in Israel and Iran. It is one of the endangered species in Iran. This deer lives in woodlands and feeds on nuts and leaves, with its natural predator being the gray wolf.
Persian fallow deer are different from their European counterparts in one prominent characteristic - the European males have palmate antlers, while the Mesos have regular tines. Persian fallow deer are also bigger than other Fallow Deer.
| Related article: Top Natural Attractions of Iran
Asiatic Cheetah / Iranian cheetah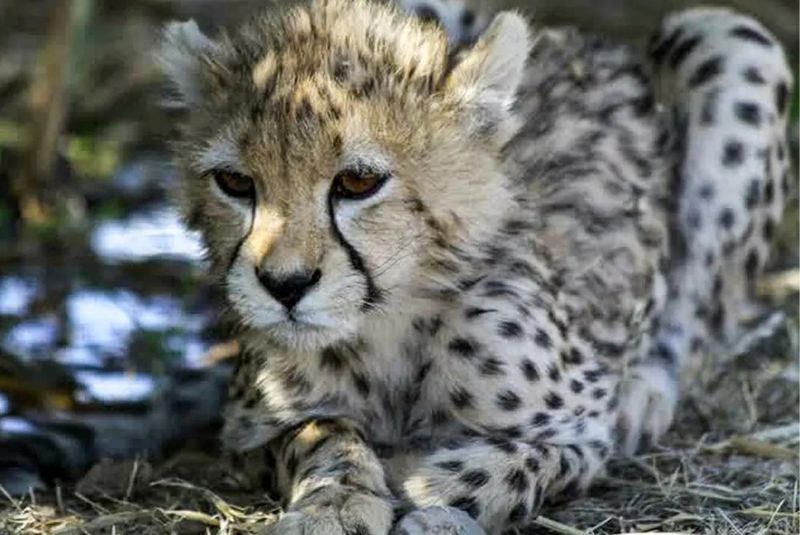 If you are looking for animals, you only find in Iran, this is one of them. Asiatic cheetahs are mostly found in the Kavir desert region of Iran.
The Asiatic cheetah has a unique and distinctive appearance. Its fur is buff-to-light fawn-colored, with small black spots arranged in lines on the head and nape but scattered irregularly on the body, legs, paws, and tail.
Caspian Seal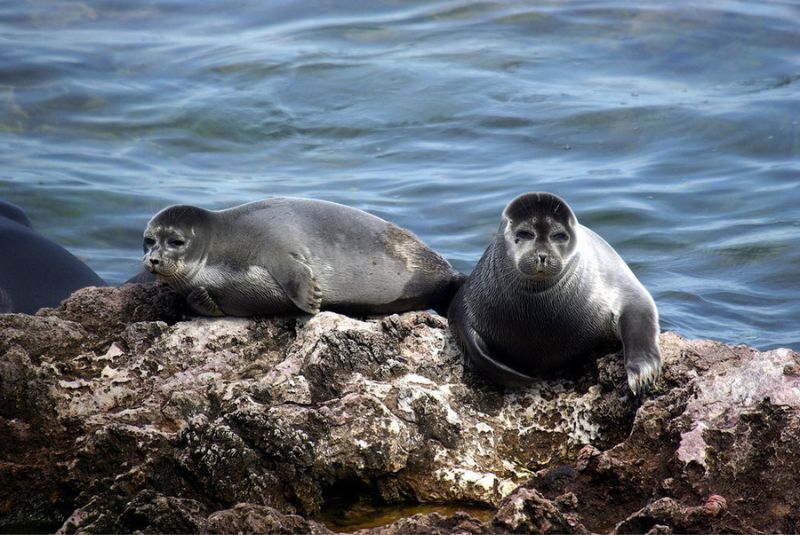 One of the most fascinating animals you can find in Iran is the Caspian seal. It is a small seal species endemic to the Caspian Sea. This seal lives on rocky islands and floating ice blocks outside of shorelines and mostly feeds on various fish.
| Suggestion: Persian Garden | A Piece of Paradise in Iran
Persian Leopard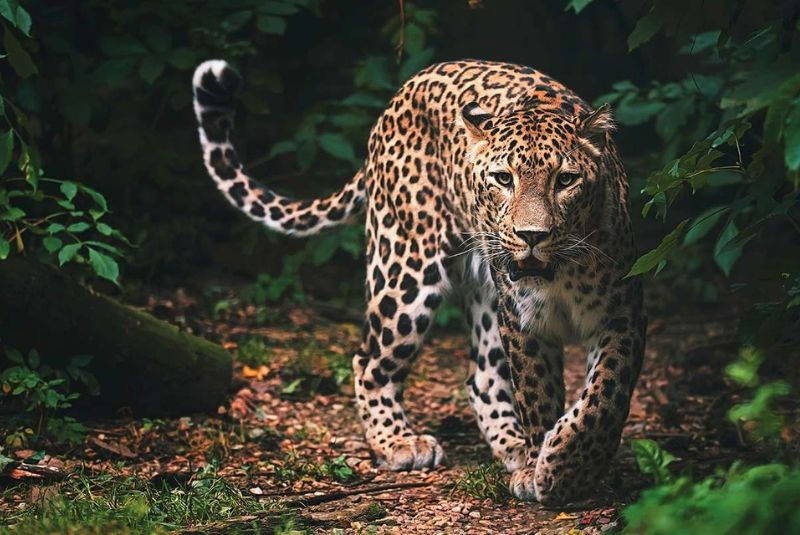 Persian Leopard is a fascinating species of leopard native to the Iranian Plateau. This gorgeous animal is one of the endangered wild animals in Iran known for its distinctive grayish and slightly reddish fur, which is adorned with stunning rosettes on its flanks and back. It also has smaller rosettes on its shoulders and upper legs, while its head and neck are adorned with eye-catching spots.
The Persian Ground Jay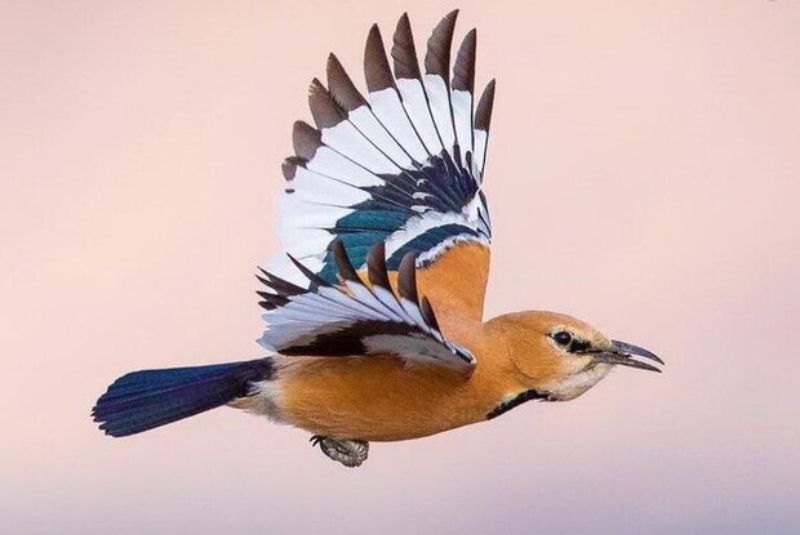 The Persian ground jay, also known as Pleske's ground jay, is a beautiful bird in the Corvidae family that is endemic to Iran. The ground jay has unique pinkish pea-colored feathers that make it easy to distinguish from other birds. It also has a boldly patterned and slightly curved slim bill that is well adapted for digging and probing and relatively short, glossy black upper tail coverts. It usually inhabits high-altitude semi-desert areas.
| Also might be interesting: Most Famous Caves of Iran
Baluchistan Black Bear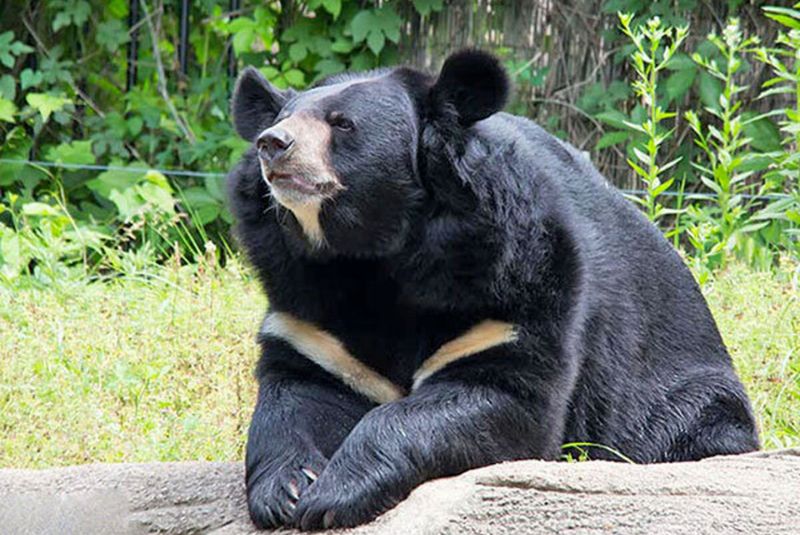 The Baluchistan black bear is a subspecies of Asian black bear found in Southeastern Iran. The bear is medium-sized and cloaked in lustrous black fur. One of its most distinguishing features is a unique whitish or creamy patch adorning its chest, often taking the form of a distinctive V-shape. It spends about half its life in trees and creates nests of branches to rest on.
Persian Onager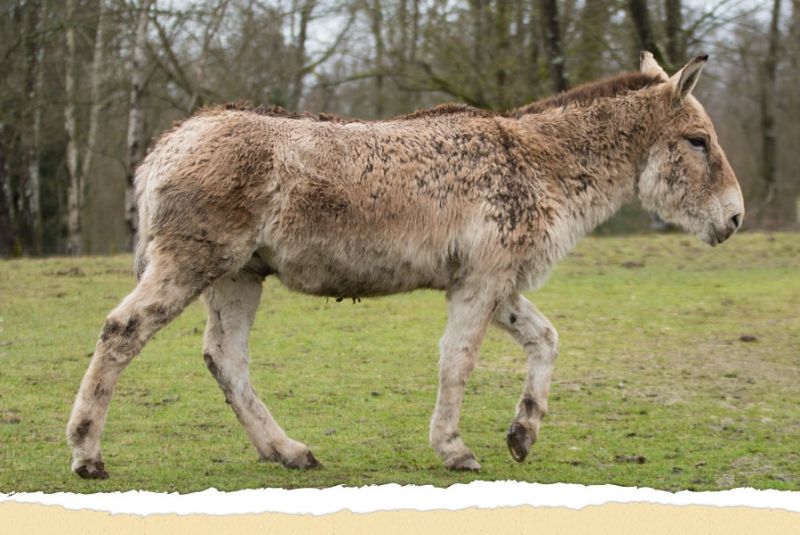 The Persian onager, also known as the Persian wild ass, is a subspecies of onager (Asiatic wild ass) and one of the animals you only find in Iran. Unfortunately, it is critically endangered, with only a few kept in protected areas such as Bahram-e Gur and Khar Touran National Park.
| Read more: Opert Ridge | A Majestic Natural and Cultural Haven
Mugger crocodile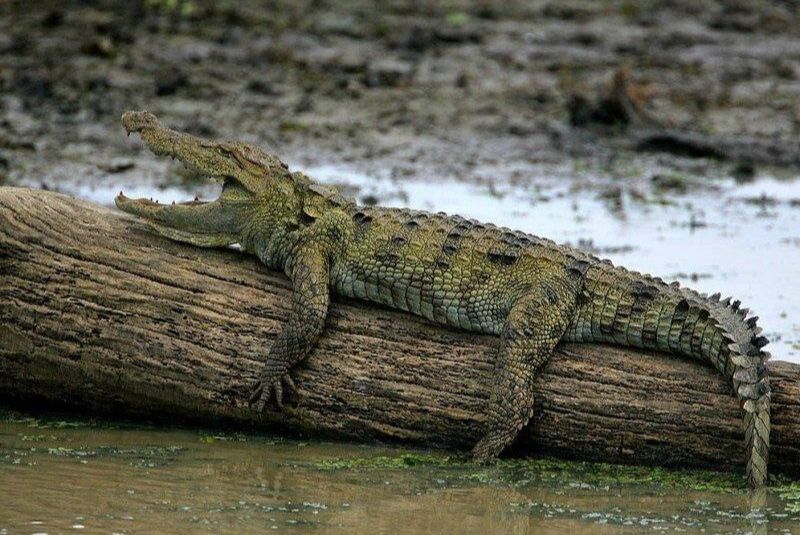 The Mugger crocodile, scientifically known as Crocodylus palustris, is a fascinating reptile called Gando in the Balochi language.
The name Gando means short or small, which fits this crocodile due to its relatively short snout. This species is the only crocodile that is native to both Iran and Pakistan, and it is also the largest reptile found in these two countries.
Its skin is rough and scaly, and it feeds on fish, crustaceans, birds, and mammals. One of the most interesting behaviors of the Mugger crocodile is its use of tools to catch birds. The crocodile keeps pieces of wood and branches on its head to lure birds looking for nest-building materials.
Syrian Brown Bear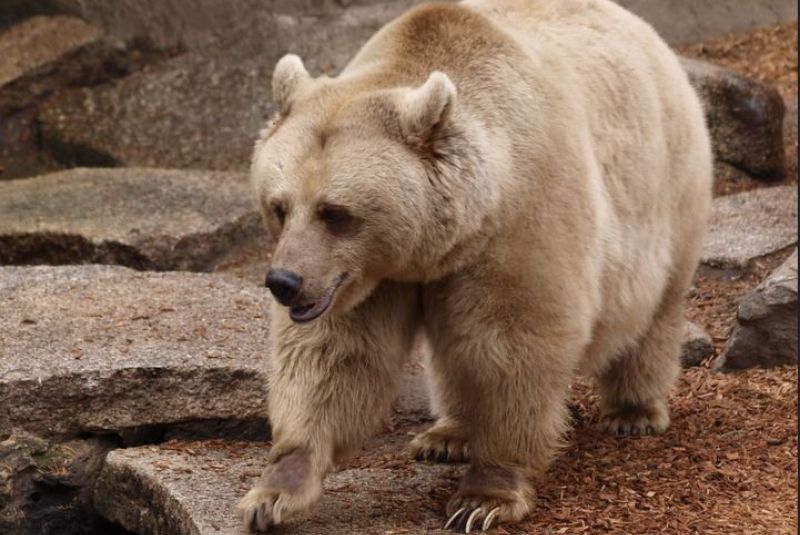 The Syrian brown bear is a subspecies of the brown bear that is relatively small for a bear. It is native to the Middle East and the Caucasus mountain range and only survives in Iran, Turkey, and Iraq.
Their fur typically ranges from a very light brown to a straw-colored shade, with longer hair on the withers that has a grey-brown base. One of the most striking features of the Syrian brown bear is its dark legs and white claws, which is the only known bear in the world to have them.
| Suggestion: Aladaglar | The Rainbow Mountains
Luristan Newt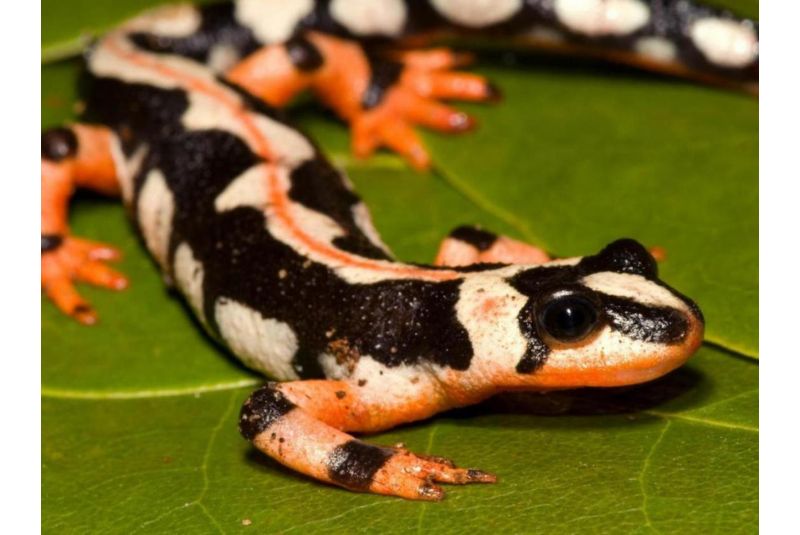 The Luristan newt, also known as Neurergus Kaiseri, is a small salamander native to a river region in the Zagros mountains of Iran. It is one of Iran's main animals, with an unusual and striking coloring of charcoal-black and flame-orange coloring that stuns every nature lover.
Pallas Cat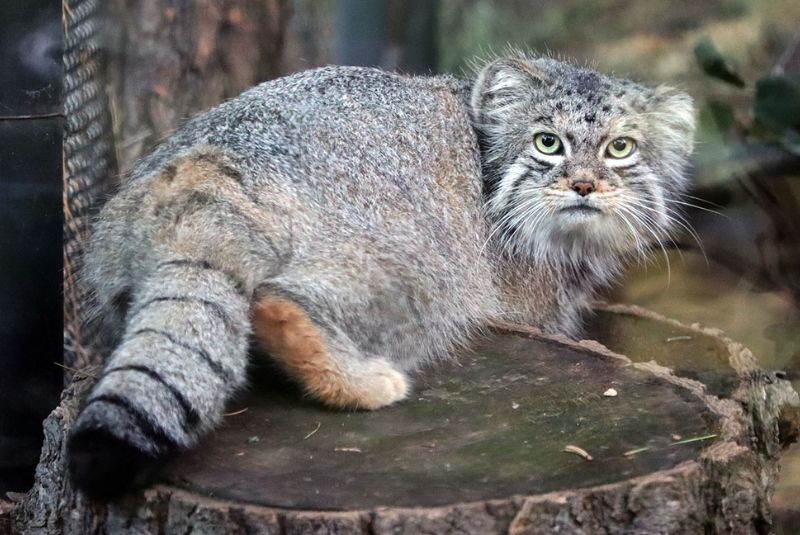 One of the endangered species in Iran is the Pallas cat. This small wild cat is native to Iran and is about the size of a domestic cat. Its distinctive round eyes and thick, dense coat make it a unique and fascinating animal. However, its habitat in Iran is under threat from human activity.
Caspian Red Deer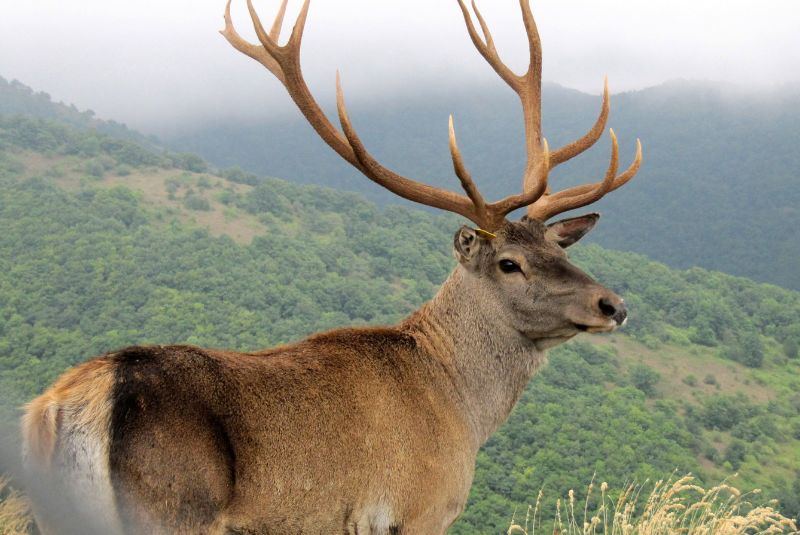 The Caspian red deer, also known as Hyrcanian Maral, is another endangered species in Iran. This subspecies of red deer is found in the Caspian Hyrcanian forests and along the Caspian Sea region of Iran. Its majestic size and impressive antlers make it a revered animal, but unfortunately, it is also one of the endangered animals in Iran due to habitat loss and other human activities.
Greater Flamingo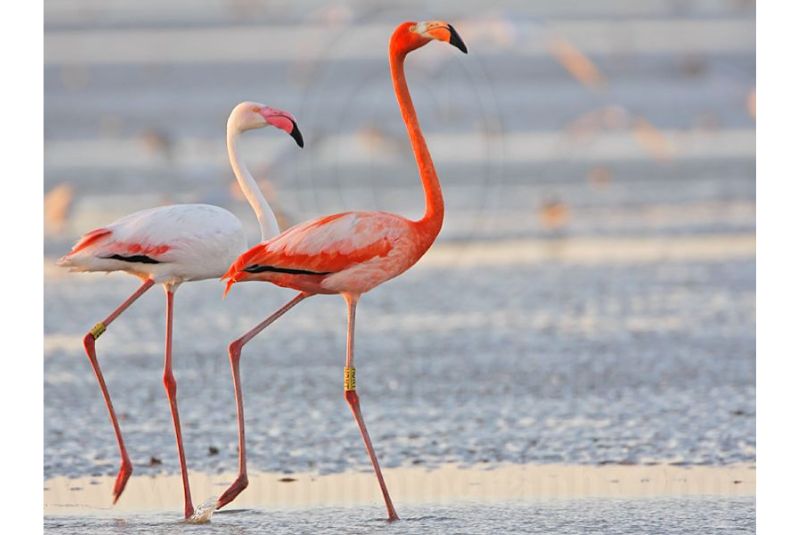 The greater flamingo is a fascinating and beautiful bird you can find in Iran. It is the largest species of the flamingo family. It has an average height of 110-150 cm, making it a true giant among flamingos. In fact, the largest male flamingos can reach an impressive height of 187 cm.
Most of the greater flamingo's plumage is pinkish-white, with red wing coverts and black flight feathers. Their bills are pink with a black tip, and their legs are entirely pink. Their call is similar to that of a goose, with a distinctive honking sound.
| Discover: The Most Beautiful Waterfalls in Iran
Siberian Crane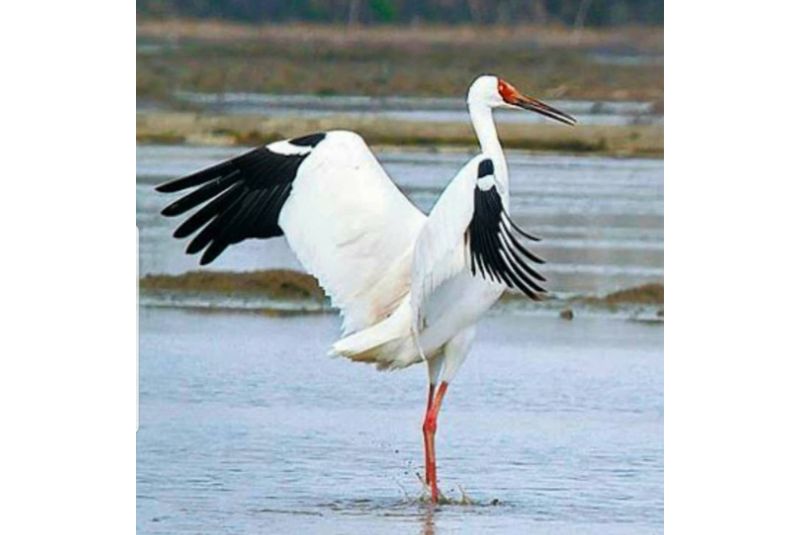 The Siberian crane is native to western, eastern, and northern Asia, with a distinguishing feature of pure white color and pinkish legs.
Although it is very rare, and only a few are left, you can find the male Siberian crane in northern Iran, in the Fereydunkenar wetland on the Caspian Sea.
The male Siberian crane usually spends winters in Iran. It is famous for its remarkable annual migration from its breeding grounds in Siberia to Fereydunkenar since 2006.
Caspian Cobra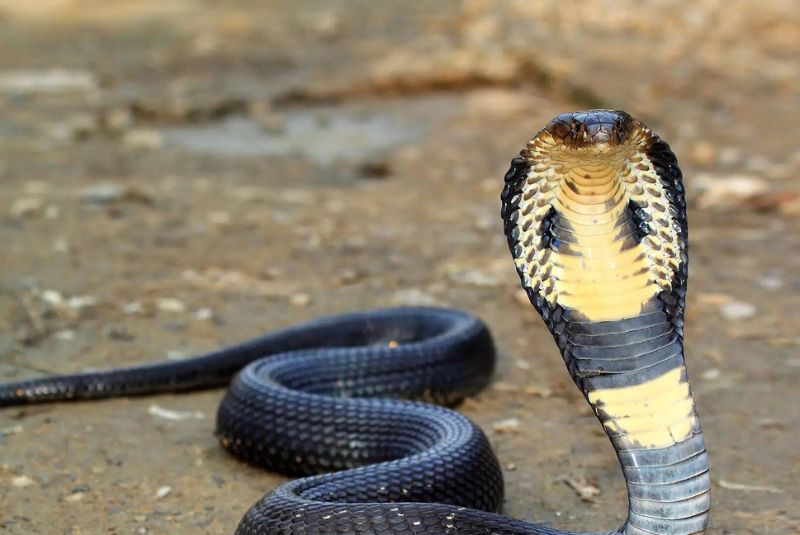 The Caspian cobra is a venomous snake endemic to Central Asia and the most dangerous in all of Central Asia. It is medium in length with a heavy body and long cervical ribs capable of expansion to form a hood. Its bite has a high mortality rate, and critical symptoms appear after only 15 minutes.
| Suggestion: Lut Desert | The Hottest Place on Earth
Latifi's Viper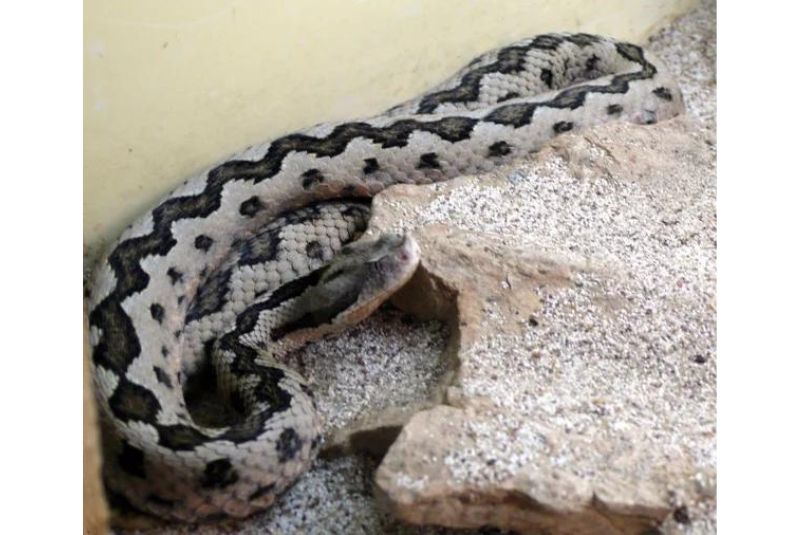 The Latifi's viper is another species of venomous snake in the subfamily Viperinae of the family Viperidae. This snake is one of the animals you can only find in Iran and is considered endangered due to its small population.
Hawksbill Sea Turtle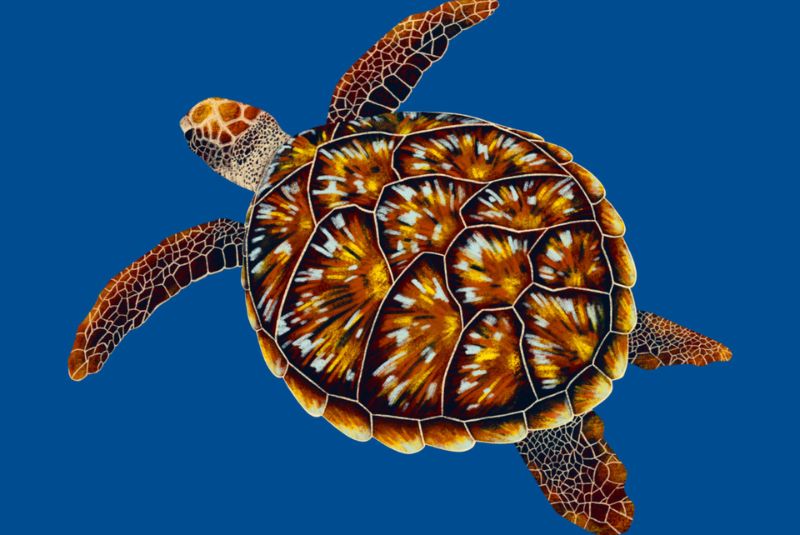 The hawksbill sea turtle is a species of the Cheloniidae family found in the Persian Gulf, Pacific Ocean, Indian Ocean, and Atlantic Ocean. It usually prefers to live in shallow lagoons and coral reefs but also spends part of its time in the open ocean.
It exhibits a flattened shape, accompanied by a protective carapace and limb-like flippers. It also has a distinctive, sharply curved beak with a pronounced tomium and saw-like edges of its shell. One of its unique features is the coloration of its shells can undergo subtle shifts depending on the temperature of the surrounding water.
| Related article: Why is the Persian Gulf Important?
Wildlife Destination in Iran
Iran is a wildlife lover's paradise, offering a unique opportunity to witness some of the world's most beautiful and rare creatures. Below are some of the famous wildlife destinations of Iran.
Nayband Wildlife Reserve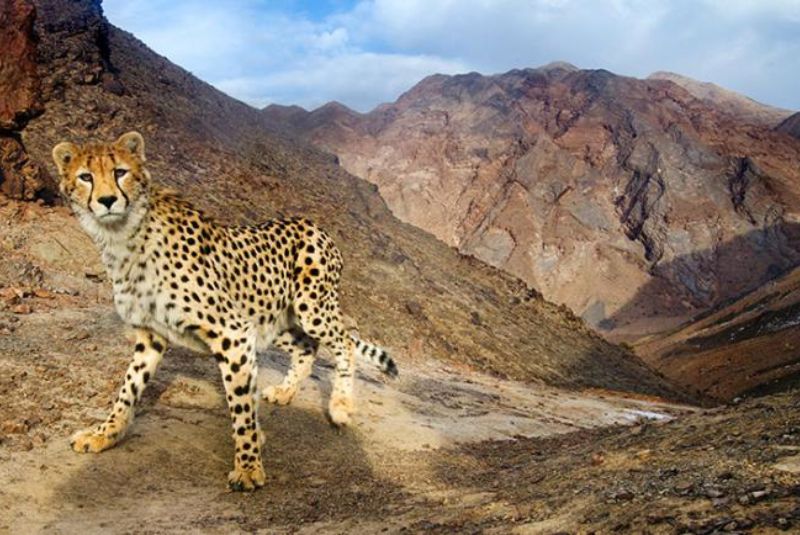 Nayband Wildlife Reserve is located in the South Khorasan Province, towards the eastern reaches of Iran. It covers an impressive 1,500,000 hectares making it the largest reserve in Iran.
It has a mesmerizing blend of mountains and desert plains within its borders that sets the stage for an extraordinary wildlife encounter.
Here, you can see the elusive Persian leopard prowling through its native habitat while graceful gazelles traverse the rugged terrain. You can also see other wildlife like wild goats, wild sheep, mouflon, and exotic and valuable birds like bustard, cuckoo, and Pleske's ground jay. And If you like reptiles, you can also see unique and beautiful reptiles such as the Jafari snake, viper, camel snake, asp, horned asp, rare geckos, and lizards.
| Discover: Top Iran Ski Resorts
Golestan National Park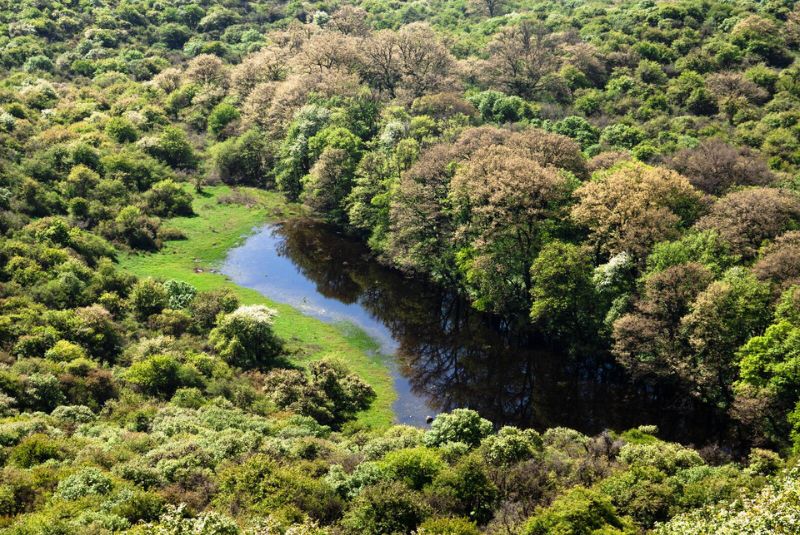 Golestan National Park is a breathtaking national park located in northeastern Iran's Golestan Province. It is home to a wide variety of wild animals, including wild boars, Persian leopards, brown bears, Caspian red deer, roe deer, goitered gazelles, Persian ibexes, and Urial sheep.
You might also see golden eagles, common buzzards, woodpeckers, see-see partridges, griffon vultures, Egyptian vultures, black vultures, and bearded vultures.
Khar Turan National Park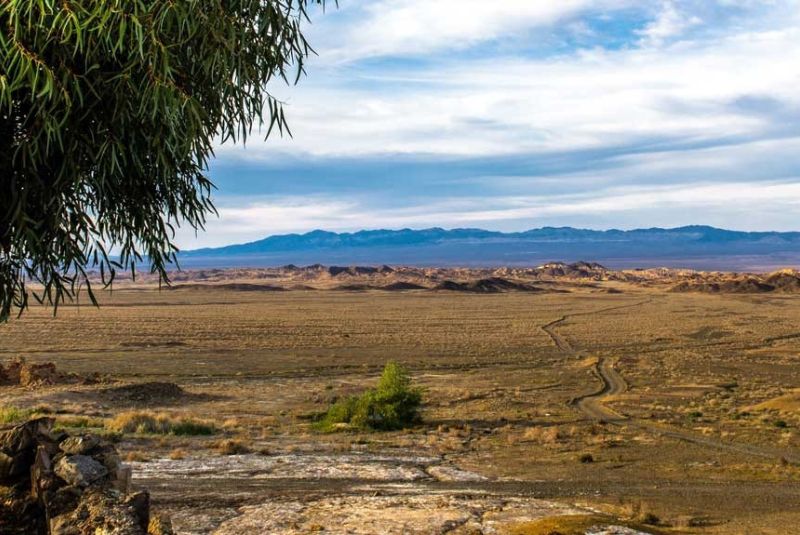 Khar Turan National Park is Iran's second-largest wildlife reserve located in the Semnan province, southeast of Shahrud. This breathtaking sanctuary forms a seamless connection with the neighboring Golestan National Park and the Miandasht Wildlife Refuge, creating an expansive corridor of protected land.
In this harmonious expanse, you can discover a myriad of species, from the majestic Persian onager to the critically endangered Asiatic cheetah.
| Suggestion: Best Islands of Iran You Should Visit
Kavir National Park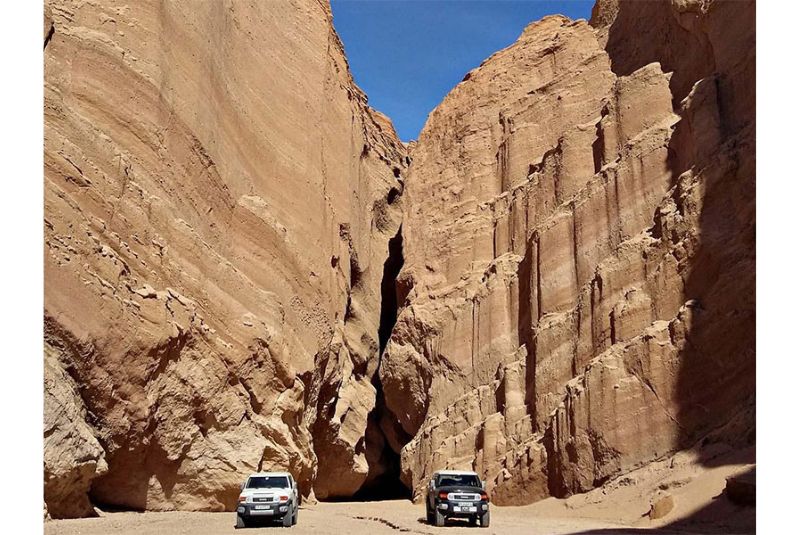 The vast desert lands of Kavir National Park are home to a diverse and thriving wildlife population. Among the many animals that call this place home are Jebeer Gazelles and Persian onagers, which can be seen in large numbers. You might catch a glimpse of a cute sand cat hiding among the thorny bushes.
You may also see other exciting animals, including caracals, grey wolves, striped hyenas, sand foxes, and regular foxes. If you're lucky, you can spot one of the few remaining Asiatic cheetahs that still roam this area.
Bird enthusiasts will be delighted to know that Kavir National Park is also home to a range of unique and beautiful birds like the Iranian ground jay, see-see partridge, and bustard, which can often be found perched atop shrubs in the area.
| Read more: Darak Beach | The Intersection of Desert and Sea
Hormozgan Province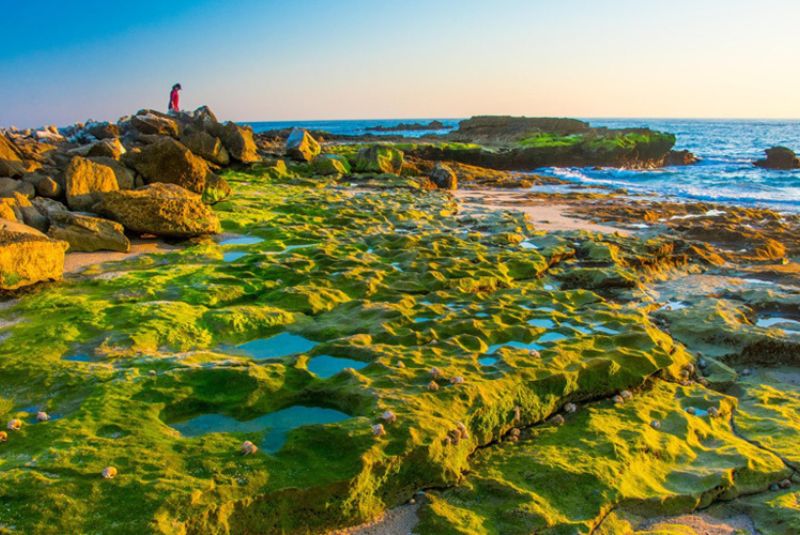 Hormozgan Province in Iran is a truly unique destination for bird enthusiasts. The province is home to many Mangrove forests, which cast their shadows over the wetlands and estuaries that dot the coastline. Within these forests, you'll find an incredible array of bird species that will amaze you.
Some of the most precious birds you might see on a birding tour in Hormozgan Province include Lichtenstein's sandgrouse, goliath heron, great stone plover, oriental white-eye, greater and lesser sand plover, great knots, crab-plovers, Sind woodpeckers, and swift terns.
| Related article: Lavan Island's Enchanting Beauty in Iran
Bottom Line
Iran is a wildlife enthusiast's paradise, offering a plethora of unique and beautiful species to discover and explore, from the majestic Asiatic cheetah and Baluchistan Black Bear to the rare and endangered Pallas Cat and Persian Ground Jay that call Iran's national parks and reserves home.
Whether you're a wildlife enthusiast, photographer, or simply seeking adventure in the great outdoors in the stunning wildlife destinations of Iran, this guide has mentioned everything you need to know about Iran's wildlife and where to find the best wild animals in Iran. So pack your bags and join us on a journey through the remarkable wildlife of Iran.
---
Share your story!
Comment below and let us know about your Experience.
Your story inspires others!