Iran Nature
12 Jun 2018
BY

The Authors Group
Top 5 Forests and Jungles of Iran
When you hear about Iran you may think it's all about desert, but actually, you can find various geographic conditions in the country.
Nearly 7% of the country is forested with various tree and shrub species. Forests and jungles of Iran are divided into the following regions: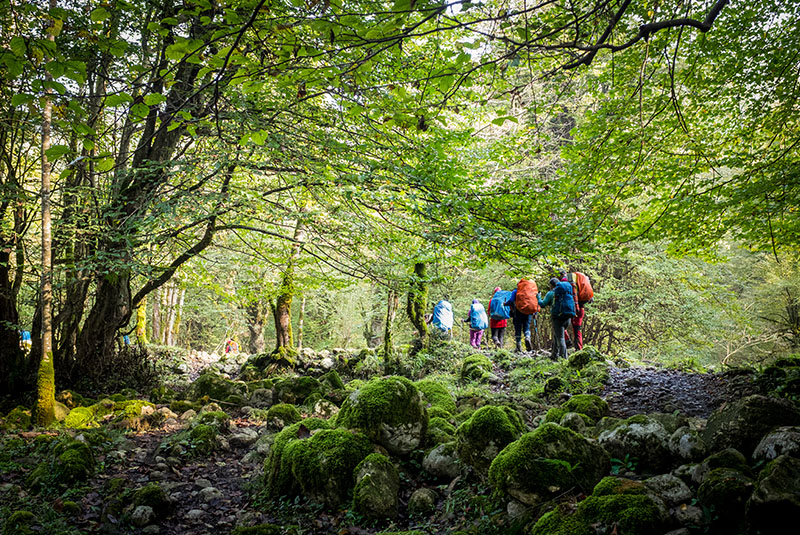 1.Caspian (Hyrcanian) forest
Hyrcanian forest is the area with a unique richness of biological diversity, endemic and endangered species. The region covers an area of 55,000 Km2 (21,000 mi2) near the southern shores of the Caspian Sea of Iran and Azerbaijan.
In Iran, this ecoregion is alongside the Caspian Sea and the northern slopes of Alborz Mountains for about 800 km in length. Due to the high humid climate and suitable soil, it has a high production capacity. The forest is home to 296 bird species and 98 mammals. The main trees and shrub species in the region are:
Fagus Orientalis - Buxus Hyrcania - Fagus Orientalis - Buxus Hyrcania - Carpinus betulus - Parrotia Persica - Quercus castaneifolia - Pterocarya fraxinifolia - Alnus subcordata - Zelkova carpinifolia - Alnus glutinosa - Diospyros - Fraxinus excelsior - Carpinus Orientalis - Tilia begonefolia - Carpinus schuschaensis
2. Arasbaran region
Arasbaran, also known as "Qaradagh" means "Black Mountain". The region has a great potential for ecotourism because of its significant diversity of flora and fauna. The region is home to 215 species of birds, 29 species of reptiles, 48 species of mammals, and 17 species of fish.
The amazing characteristic of Arasbaran forests is the ubiquity of edible wild trees. As an example, a patch of forest between Aghaweye and Oskolou includes hazelnut trees. The region is situated in the north-west of Iran and East Azarbaijan province and has a cold and semi-humid climate. Main tree and shrub species in the area are:
Quercus - Vornus - Carpinus betulus - Populus - Fraxtinus excelsior - Corylus - Ulmus - Taxus - Viburnum
3. Irano - Touranian region
The region covers an area of about 3,452,775 hectares with a dry and mainly cold climate in winter. About 1,464,992 hectares of the region is preserved by UNESCO with the variety of habitats.
The region is situated in North Khorasan, Azerbaijan, Markazi and western Provinces of Iran. Regarding topographical conditions and diversity of species, the region is divided into plain and mountainous sub-regions. The main tree and shrub species in the region are:
Tamarix - Amygdalus - Ulmus - Pistacia - Geltis - Grataegus - Salix
4. Zagrosian region
The region extends throughout the Zagros Mountain in the west and south of Iran, including West Azerbaijan, Kurdistan, Kermanshah, Lorestan, Fars, Charmahal & Bakhtiyari, and north of Khuzestan provinces.
The region has an area of 4,749,000 hectares with a semi-arid climate and temperate in winter. Some of the most important rivers in Iran such as Karun, Karkhe, and Zayandehroud are located in this area. The main tree and shrub species in the region are:
-Q.Persica, Q.Branti, Q.lnfectoria, Q.Lusitanica - Pistacia - Amygdalus - Celtis - Crataegus - Fraxinus excelsior
5. The Persian Gulf and Oman region
The region has an area of 2,130,000 hectares throughout the southern part of the country in Khuzestan, Boushehr, Hormozgan, and Sistan & Baluchistan provinces. This area is dominated by a sub-equatorial climate. The main tree and shrub species in the region are:
-Acacia - Prosopia - Ziziphus - Avicennia - Rhizophora - Populus euphatica - Prosois stephaniana