Tourist Attraction
27 May 2023
BY

Batul Eidi
Tomb of Hafez
There is no way a Persian will hear Shiraz's name and not immediately think about Hafiz.
Khaje Shams al-din Mohammad (Hafez) is the most celebrated Persian poet. He is held in high esteem among Iranians and literature enthusiasts worldwide.
He is nothing less than a prophet to Persians—he is considered the prophet of love, art, and beauty inside. The chances of not finding Diwani Hafiz in any Persian house are zero.
The 14th-century poet has profoundly influenced and continues influencing Persian poetry and invariably evokes the admiration of his readers. His words, masterfully mingled with mystical concepts, and embellished finely with oratory, have served as more than a collection of poems for Iranians over the centuries. They are an inseparable part of any Persian celebration and ceremony, such as Yalda night and Nowrouz.
Tomb of Hafiz, Hafezieh, Shiraz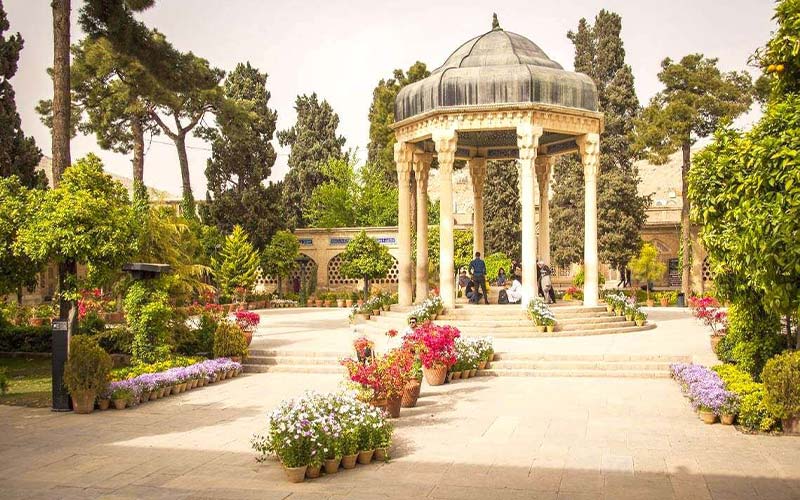 Hafez's tomb is in his native city of Shiraz, the capital of Fars Province in southwest Iran. His tomb has evolved with the world and the reputation of his poetry and has long been a popular tourist destination and an emotive pilgrimage for readers everywhere. Every year, on 22nd October, Iranians show their love and respect to him on national Hafez day by visiting his tomb, Hafezieh.
In this article, we will mention the history of Hafez's tomb, its location, and its architecture.
The History and Architecture of The Tomb of Hafez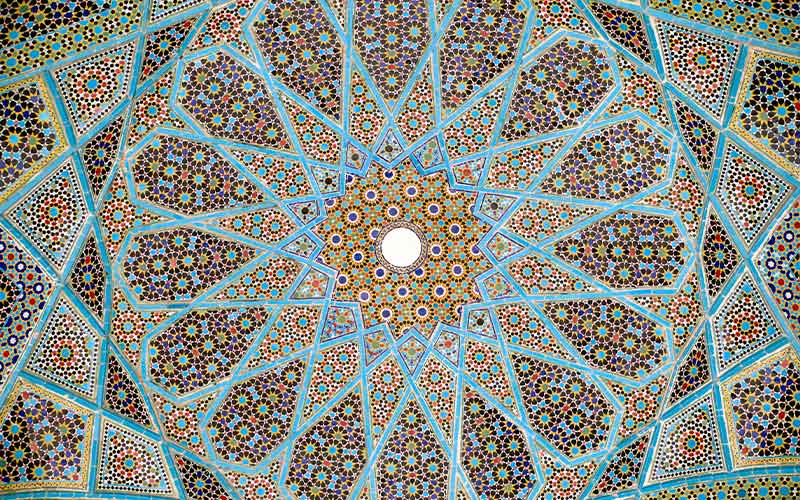 Hafez was born in 1326 A.D. and died in 1389 A.D. He was a gifted, prolific poet and religious scholar whose unique style of poetry was influenced by verses from the Quran, which he had wholly memorized as a child. Hence his pen name became Hafez, meaning "guardian." Hafez's mausoleum, locally called Hafeziyeh, is located on the northern edge of the Shiraz, in the middle of the pretty garden of Mossalla.
For over sixty years, his burial place was a plain tombstone. In 1452, 65 years after his death, a dome-like structure with a large pool was built near his grave by Babur Ibn-Baysunkur, a Timurid governor of Shiraz at Golgasht-e Mosalla. At that time, Golgasht-e Mosalla was one of the Shiraz cemeteries, and its garden is mentioned several times in Hafiz's poems.
In 1477, Shams al-Din Mohammad Yaghmai, the minister of the Gurkani court, built a domed vault with a pool in front of it. Much later, in the 18th century, Karim Khan-e Zand expanded the surrounding area and ordered a vaulted hall to be built in the center of the garden. The tomb of Hafez is covered with a marble gravestone surviving from Karim Khan's era (1751 to 1779). The current mausoleum was designed using Zandieh architecture elements in 1935 by Andre Godard, a French architect and archaeologist, with the help of some Iranian architects.
The tomb of Hafez is hidden from the main street in an octagonal pavilion: a symbol of prison for Hafez's mystical thoughts in the modern world. The inner part of the tomb is designed with beautiful tiles in different turquoise colors, each with a particular meaning. Blue is a symbol of paradise, dark brown (is a symbol of soil), black and white (is a symbol of night and day) and purple-red (is a symbol of eternal wine). There is also a large pool beside the tomb of Hafez where you will see Iranians making a wish and throwing a coin in it. The tomb consists of an octagonal pavilion structure topped with a hat-shaped dome. The outer portion of the dome symbolizes the sky and a Darwish's Turkish hat.
The vaulted hall in the middle of the garden, with two rooms on the east and west wings, was expanded by the additional 16 columns, turning it into a spacious 20-columned veranda. The interior layer of the dome is adorned artistically with colorful tiles. Every eight-monolithic column is surmounted by an azure-tiled inscription bearing a verse from Hafez's book.
The marble stone on Hafez's grave was inscribed in Nastaliq calligraphy in Karim Khan's era with two sonnets from Hafez's book starting with:
"I'll give up in the hope of union, my very life
I will hope as a bird of paradise in this worldly trap"
The northern side of the garden is regarded as the world of the hereafter. It houses a library and a bookshop. The northwestern part holds a cozy teahouse, and the west side contains a cistern from the Zand era, a Qavam family crypt and several graves of famous Shirazi residents.
Location of Hafezieh
Hafezieh is located south of the Quran gate in a peaceful and lovely garden setting that drips with a calm ambiance of love, poetry and romance. It is right in the heart of Shiraz, so you have many other attractions nearby.
From Hafezieh, you can reach Jahan Nama Garden on foot. Other nearby tourist attractions are Quran Gate, Karim Khan Citadel, Nasir Ol-Molk Mosque (the Pink Mosque), Vakil Mosque and Vakil Bazaar.