Shiraz Tourist Attractions
22 Jul 2023
BY

Batul Iddi
Best Restaurants in Shiraz You Shouldn't Miss!
Steeped in history and culture, Shiraz is a vibrant city where succulent kebabs, aromatic saffron rice, and fragrant spices fill the air and beckon you to indulge in the ultimate Persian dining experience.
If food were a language, the dishes of this city would speak volumes about Iran's rich culture and history. Shiraz's food will surely tickle your taste buds and satisfy your appetite.
So, join us as we explore the top fifteen Shiraz's restaurants and coffee spots, from traditional Persian restaurants to bohemian cafes that hark back to the city's golden days when poets, artists, and writers flocked to its streets.
Top 15 Best Restaurants in Shiraz
Baghe Raaz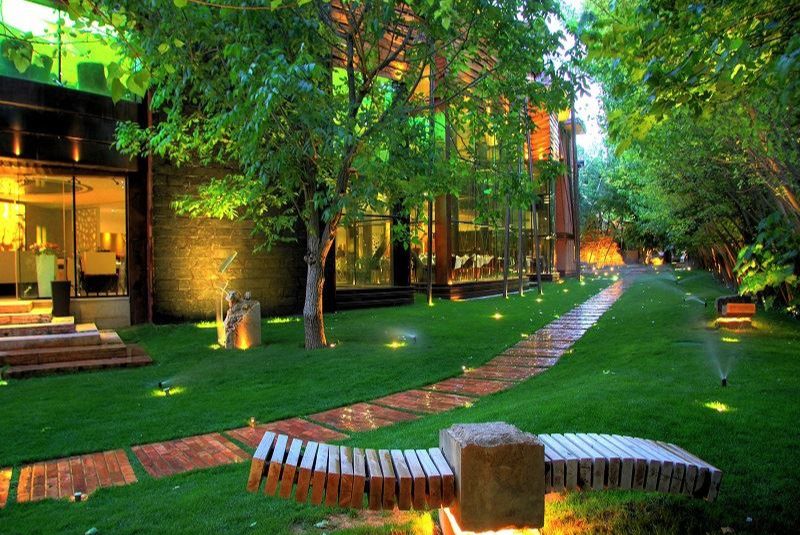 Baghe Raaz is a restaurant complex in the heart of a vast and stunning garden housed in a modern building in the charming Qasr al-Dasht neighborhood north of Shiraz. It is renowned as one of the city's most chic and upmarket restaurants, so it has garnered a loyal following of customers who come not only for the unique architecture and idyllic location but also for the scrumptious and well-presented food.
| Suggestion: Best Restaurants in Tehran
The restaurant is divided into three distinct dining areas, each with its ambiance and menu. The contemporary indoor space boasts huge windows that provide an inviting atmosphere to enjoy international cuisine, while the rooftop terrace offers a stunning panoramic view of the city and fast food options. And if you're seeking an authentic Persian dining experience, the garden eating area (Sepidar) is the perfect spot to savor the authentic flavors of Iranian and local cuisine, surrounded by lush greenery and fragrant flowers.
Address: Baghe Raaz, Ghasrdasht, Shahid Boulevard, Shiraz, Iran
Haft Khan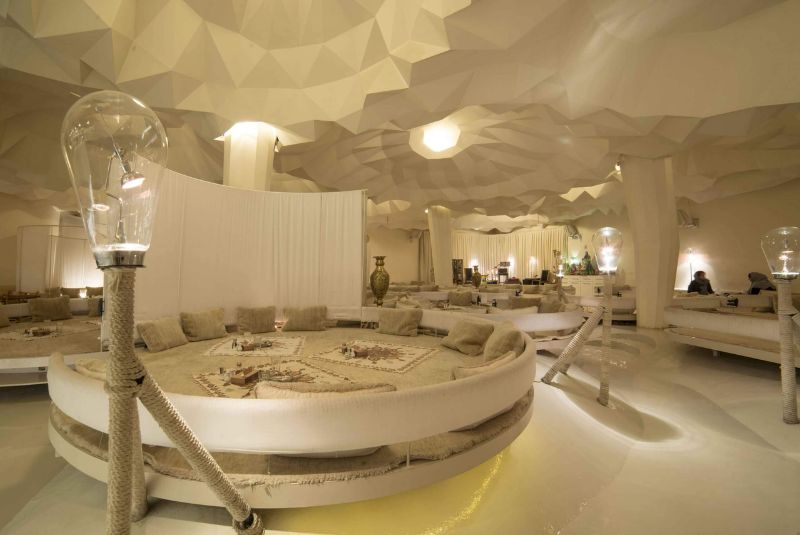 Haft Khan, which means "Seven Stages" in Persian, is more than just a restaurant - it's an authentic Persian restaurant in Shiraz that you cannot miss. It was named after the seven quests undertaken by Rostam in Persian poet Ferdowsi's epic poem Shahnameh.
The restaurant boasts seven dining options, including five restaurants and two coffee shops, each named after segments of Ferdowsi's poem.
Haft Khan is renowned for its steaks, which many visitors consider to be the best in the city. However, the restaurant's Persian cuisine, including Tahchin, Fesenjan, fish, and Lamb Kebab, is equally delicious and not to be missed. For those seeking lighter fare, mushroom soup, tomato soup, and pizza are popular choices.
The restaurant also offers live music to enhance the warm and intimate environment, and the staff is friendly and welcoming.
Address: Quran Boulevard, Shiraz, Iran
Shapouri Garden Traditional Restaurant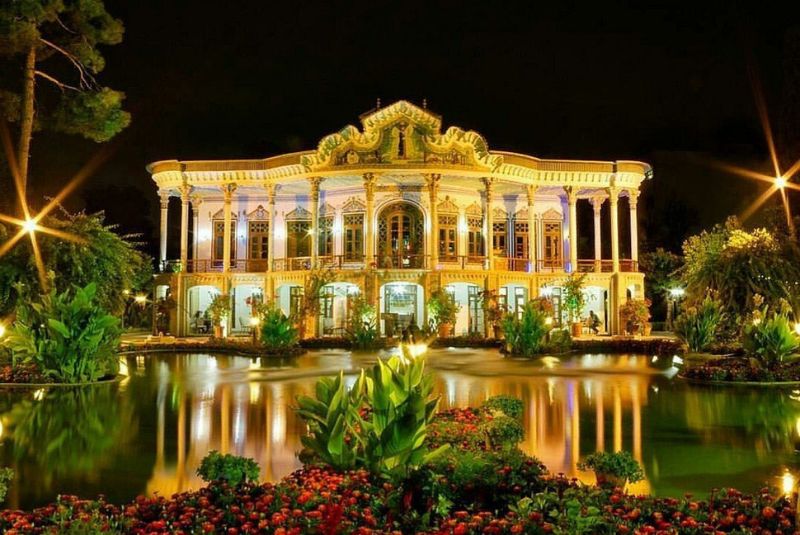 The Shapouri Garden Traditional Restaurant is a must-visit restaurant in Shiraz for anyone seeking authentic Iranian cuisine in a historic and picturesque setting.
Located in the iconic Shapouri House, the restaurant offers a glimpse into the city's rich and vibrant history, surrounded by a walled garden bursting with fragrant roses. This stunning house was designed by renowned architect Abolghasem Mohandesi and built between 1930 and 1935, blending art nouveau influences with traditional Qajar aesthetics. In 2000, it was registered as an Iranian national monument, cementing its status as a cultural treasure.
The restaurant's beautiful balcony offers panoramic views of the lush gardens, creating a serene and intimate atmosphere perfect for a romantic dinner or a gathering with friends and family.
The menu at Shapouri Garden Traditional Restaurant features an array of traditional Persian dishes. From succulent mutton meatballs to the layered dish of chicken and saffron rice flavored with turmeric, known as Tah-Chin.
Kalam Polow, a fragrant and flavorful rice dish cooked with cabbage and served with tender lamb, is another popular option that you won't want to miss.
Address: Anvari Street, Shiraz Iran
| Read more: 16 Most Beautiful Mosques You Should Visit
Soofi Traditional Restaurant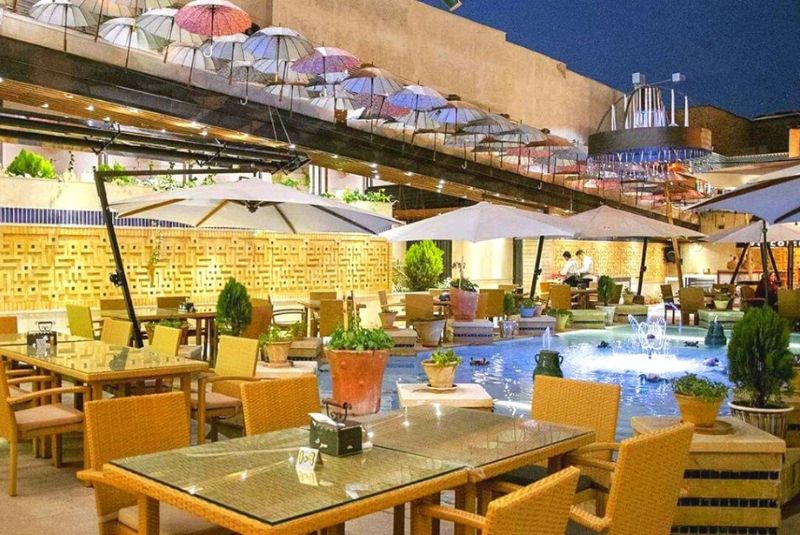 After a leisurely visit to Afif Abad Garden, Soofi Traditional Restaurant is the perfect place to complete your day. It is known as one of the oldest and most famous Persian restaurants in Shiraz.
Initially built in the Qajar architectural style, the restaurant underwent a major renovation in 2004, upgrading its decor to the Zandieh architectural style.
The quality of the food is exceptional, but the restaurant's atmosphere and architecture truly make it a standout destination. You'll be enchanted by the restaurant's ambiance, which will leave you longing to return every time you visit Shiraz.
The menu at Soofi Traditional Restaurant is diverse and offers a range of Persian dishes. However, the standout dish is undoubtedly the Shirazi Kalam Polo, a fragrant and flavorful rice dish cooked with cabbage and served with tender lamb. And don't forget to indulge in the restaurant's freshly baked bread, which is widely considered one of the most delicious parts of the meal.
It's worth noting that the restaurant can get very crowded during peak hours, so if you plan to dine a little later, be prepared to wait in line. But trust us; the wait is well worth it to experience the culinary and cultural delights of this Shirazi restaurant.
Address: 9th Street opposite Shahcheragh, Shiraz, Iran
Lotino Cafe Restaurant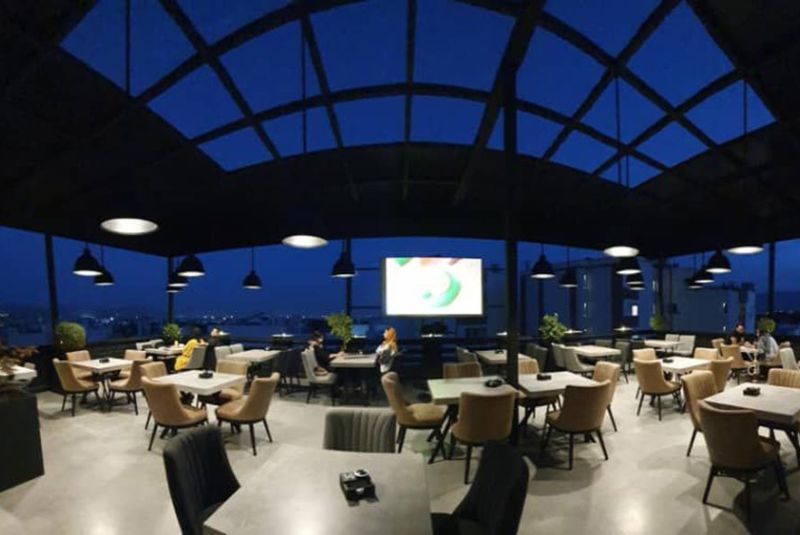 Lotino is a luxurious cafe restaurant that specializes in Italian cuisine. It is located in the heart of downtown Shiraz, and its unique Italian design is a standout feature of the restaurant, with both indoor and outdoor seating areas.
One of the most impressive aspects of Lotino is the stunning view that can be enjoyed from the open-air dining area, which offers a breathtaking panorama of the entire city.
But it's not just the ambiance that draws visitors to Lotino. The restaurant is renowned for its high-quality food, from classic Italian dishes like pizza and pasta to more unique offerings like risotto and seafood.
In short, Lotino is a must-visit destination for anyone looking to enjoy a luxurious dining experience in Shiraz. With its unique Italian design, stunning city views, and high-quality cuisine, Lotino is sure to delight even the most discerning of foodies and travelers.
Address: 5th Floor El Sayed Building, Afif Abad Street, Shiraz, Iran
Parhami Traditional House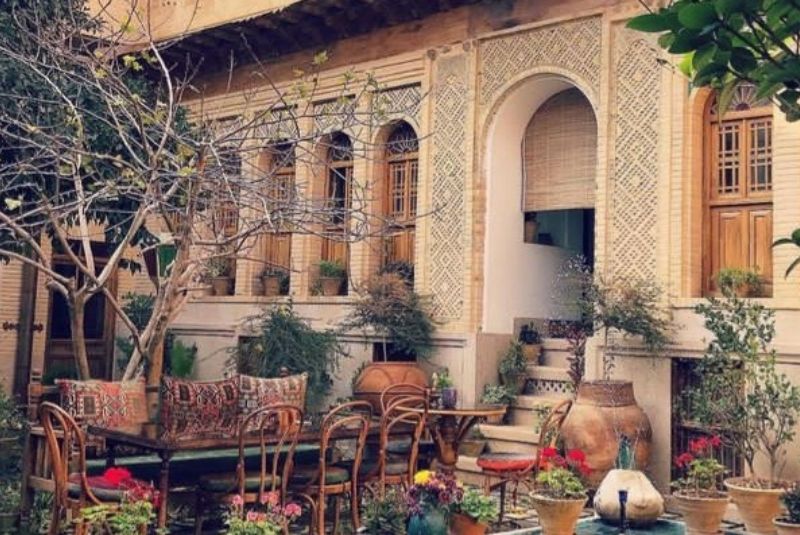 Parhami restaurant is a hidden gem tucked away in the back alleys of the old neighborhoods of Shiraz, making it an ideal starting point to explore the city's famous sights, such as Vakil Bazaar, Vakil Mosque, and Shah Cheragh.
This traditional house turned restaurant is a small mansion that has stood for over 200 years and is steeped in history and charm.
Unlike other Shiraz Iranian restaurants, Parhami's house exudes a cozy and welcoming atmosphere that makes you feel like you're visiting your grandmother's house.
As you enter the beautiful yard, you'll be greeted by the soothing sound of a small Persian turquoise pool, a fountain in the middle, and the delightful chirping of birds singing to the rhythm of traditional Persian music. The old windows, the fragrant scent of Shiraz foods, and the sweet aroma of orange blossoms create an enchanting and unforgettable ambiance.
Every day, Parhami restaurant serves four different dishes. So, to ensure that your dining experience is tailored to your tastes, it's a good idea to contact the restaurant beforehand and inquire about the dishes being served.
Address: No 10 Alley 34, pop side of Nasirolmolk Mosque, Lofalikhan Zand Street, Gode Araban, Shiraz Iran
Sharzeh Restaurant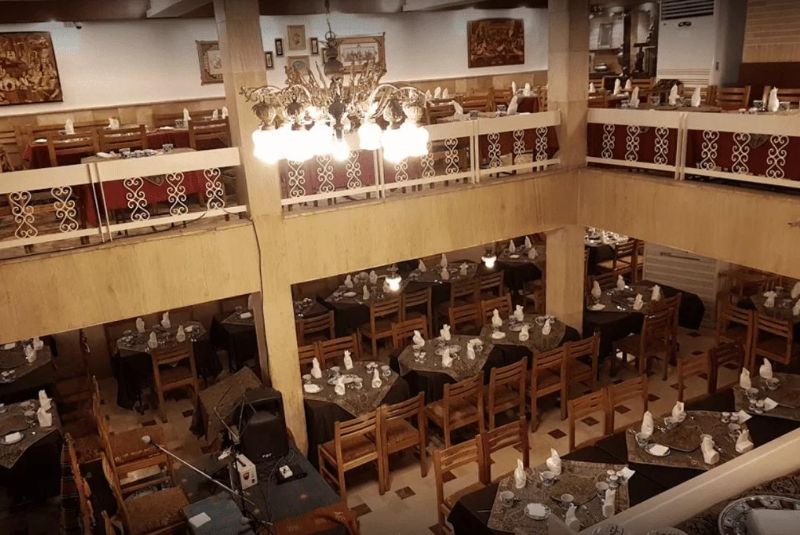 Sharzeh is one of the oldest and most famous Perisna restaurants in Shiraz and is a go-to destination for anyone looking to enjoy traditional Persian cuisine in a warm and welcoming atmosphere, accompanied by live traditional Persian music.
It is located near the entrance of the city's bustling Bazar-e-vakil market and Vakil Bath making it an ideal place to stop for a delicious meal after a day of exploring the city's famous sights.
Sharzeh is widely considered the best kebab restaurant in Shiraz and for a good reason. The menu features a range of delicious and varied dishes, including the popular kebab barg, succulent lamb marinated in lime juice, saffron, onions, and garlic, as well as kalam polow Shirazi, an aromatic, herb-filled rice dish with cabbage and meatballs.
For those looking to explore the menu further, the Lari Kebab, Baghali Polo, and fish Kebab are all highly recommended by customers, as well as the Kashk Bademjan and Shirazi salad.
One of Sharzeh's standout features is its live music, which mostly consists of old classic songs. Although prices at Sharzeh are not low, the quality of the food matches the money you spend, making it a worthwhile investment for foodies and culture seekers alike.
Address: Zand Underpass, Next to Vakil Complex, Shiraz, Iran
Café Forough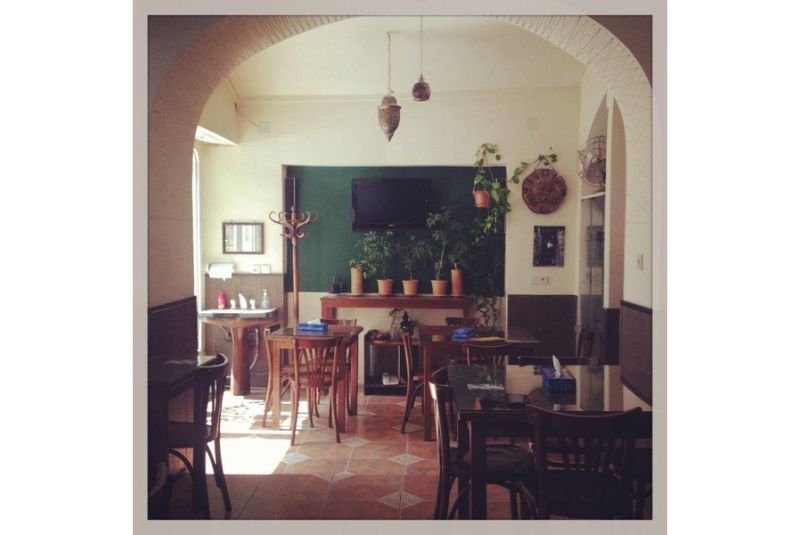 Situated between two of the city's most beautiful attractions, the Jahan Nama Garden and the Tomb of Hafez, Café Forough enjoys a prime location that makes it a popular destination for locals and tourists alike.
The café has a well-deserved reputation for attracting the city's intellectuals, artists, and activists, as well as being a meeting ground for arts and culture lovers of all ages.
Inside, the intimate and welcoming space is adorned with charming vintage decor that creates a cozy and inviting ambiance. The café offers a small menu of coffee, teas, sandwiches, snacks, and cakes, as well as a range of local specialties, including the staple Persian herbal tea, which is a must-try for any visitor to the city.
Address: Café Forough, In Front of Jahan-Nama Garden, Hafez Street, Shiraz, Iran
Shater Abbas Restaurant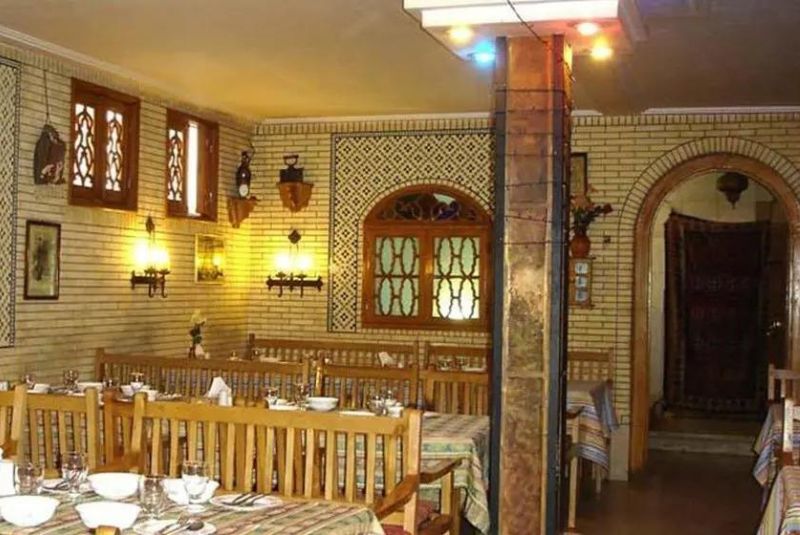 Shater Abbas is a basement-level restaurant renowned for its delicious Persian cuisine cooked in an open kitchen that sits directly in front of the dining area, providing an immersive dining experience as entertaining as it is delicious.
The cozy and traditional interior is defined by tiled walls, subdued lighting, and ornately decorated tablecloths, creating an ambiance that's warm and inviting. The restaurant's menu features a range of dishes that come highly recommended by locals, including the Halim Bademjan, an appetizer made from eggplant, ground meat, lentils, and yogurt; the Kebab Koobideh, a kebab of ground meat with parsley and onions; and the Sabzi Polow, a rice-based dish with dill, parsley, chives, and coriander.
One of the standout features of Shater Abbas is its specialty bread, Taftun, which is freshly baked in a clay oven. The bread is served hot and pairs perfectly with any of the restaurant's delicious dishes.
Address: Khakshenasi Street, Shiraz Iran
Kateh Mas Traditional Restaurant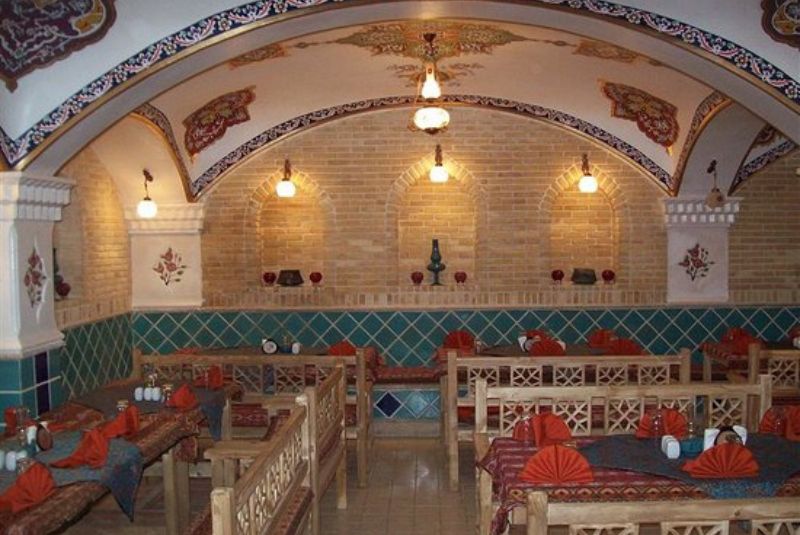 If you're a local looking to enjoy a taste of home or a tourist looking to explore the flavors of Iran, Kateh Mas is a must-visit destination in Shiraz.
Kateh Mas is a traditional Iranian restaurant in one of Shiraz's busiest tourist areas. Despite the crowds, Kateh Mas is conveniently located at the Namazi intersection, making it easily accessible from anywhere in the city.
As an all-Iranian restaurant, Kateh Mas is steeped in tradition, from its decor and menu to the clothing worn by its staff. Here, dishes are served on large steel trays and copper utensils.
When you enter the restaurant, you'll pass through a small wooden door before descending down a narrow and exciting staircase. At the bottom, you'll find yourself in a large hall filled with a happy and traditional atmosphere. Live music always performs at Kateh Mas, adding to the ambiance and creating a truly immersive dining experience.
Address: Lotf Ali Khan Zand Street District 8, Shiraz, Iran
Café Hedayat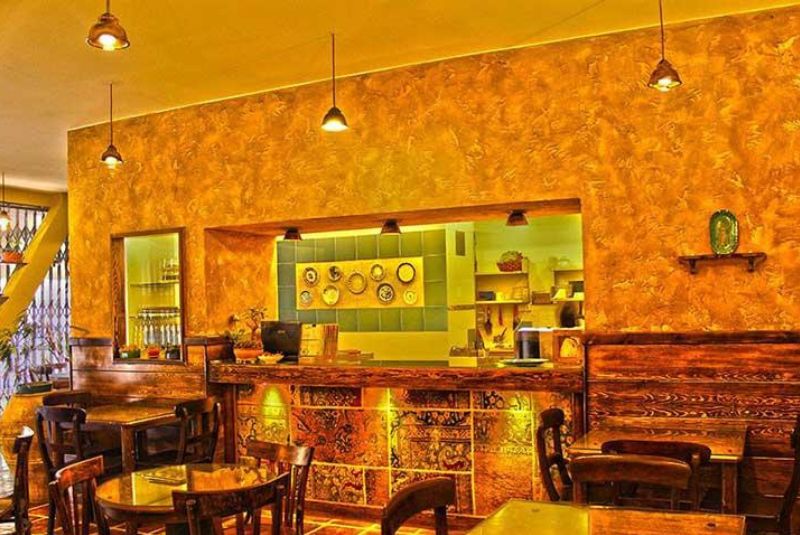 Café Hedayat is a small and cozy café and restaurant that's all about laid-back vibes and delicious food. This is the perfect spot for anyone looking for a fun-loving and relaxed atmosphere in Shiraz.
At Café Hedayat, you can indulge in a range of vegetarian and non-vegetarian dishes made with fresh and organic local ingredients. The café is well-known for its flavorful salads and pasta dishes. And if you're looking for something to quench your thirst, the establishment offers a range of drinks, including coffee, tea, herbal teas, and fresh fruit cocktails.
Once you step inside Café Hedayat, you'll be greeted by a warm and welcoming atmosphere perfect for a casual meal or a catch-up with friends. The earthy tiled floors, stylish wooden tables, and pared-back lighting create a cozy ambiance that will make you feel right at home.
Address: Bist Metri Cinema Saadi Street, Hedayat Qarbi Street, next to Alley No. 4, Shiraz Iran
Seray-e Mehr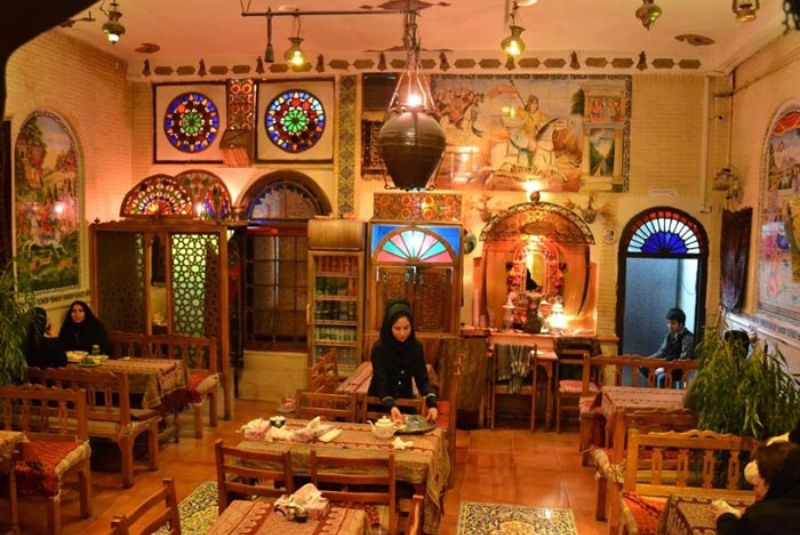 Nestled within the winding alleyways of Bazar-e-vakil, Seray-e Mehr is a split-level tea house and restaurant with a classic menu and an authentic, welcoming, and relaxing atmosphere.
The interior is filled with charming local touches and decorations, including beautiful wooden beams, traditional paintings, and carpets or kilims. It's the perfect contrast to the hustle and bustle of the surrounding bazaar, offering a peaceful respite after a day of traditional Iranian shopping.
At Seray-e Mehr, you can enjoy a range of traditional teas alongside other dishes. One of the highlights is the jujeh kebab, which features chicken marinated in minced onion, lemon juice, and saffron before being skewered and grilled to perfection. Another must-try dish is the much-talked-about dizi, a traditional stew of lamb and chickpeas.
Address: Seray-e Mehr, just off Rouhollah Bazaar, Bazar-e Vakil, Shiraz
Amiran Buffet Restaurant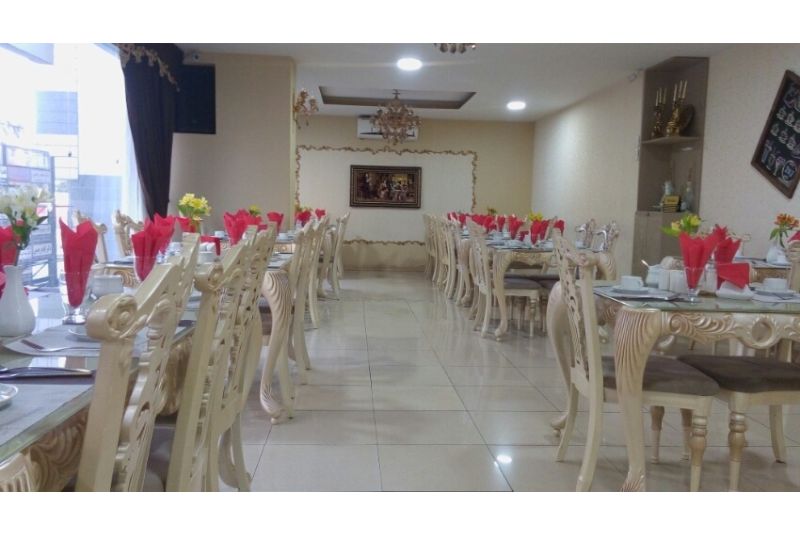 Amiran buffet restaurant is the epitome of luxury and grandeur in Shiraz with its regal design and experienced, customer-oriented staff.
What sets Amiran apart from other restaurants is its unique feature of having a child care room, making it the first buffet restaurant of its kind in the south of Iran. The restaurant offers both lunch and dinner menus.
One of the highlights of the restaurant is its amazing appetizer buffet, which features a wide range of hot and cold drinks, salads, desserts, pickles, snacks, and traditional dishes such as soups and Kashk Bademjan.
And what's a luxurious dining experience without some live music? At Amiran, you'll be treated to some amazing performances by talented singers.
Address: Block 314, Nasim Shahr, 20 Meters Kohpai Street - End of South Gulhai Street, Shiraz
Café Ferdowsi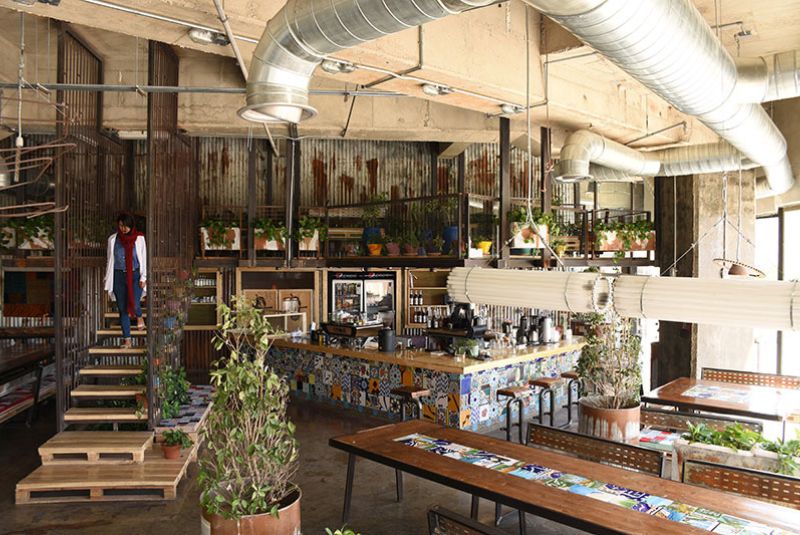 Café Ferdowsi is another cozy and charming café located in the heart of downtown Shiraz. It is named after the legendary Persian poet Hakim Abu ʾl-Qasim Ferdowsi.
At Café Ferdowsi, you can enjoy free WiFi while sipping on traditional teas and coffees and indulging in classic Persian dishes and excellent vegetarian fare. The café is a favorite among local artisans and cultural aficionados, who appreciate the beautiful interior design that blends contemporary aesthetics with traditional Persian influences, such as ornate wall tiles.
Need a break from sightseeing under the hot Shiraz sun? Try the café's refreshing Ab-Doogh-Khiar, a yogurt and cucumber-based soup that guests highly recommend.
Address: Café Ferdowsi, 194 Kashi Ferdowsi Street, Shiraz, Iran
Berentin Restaurant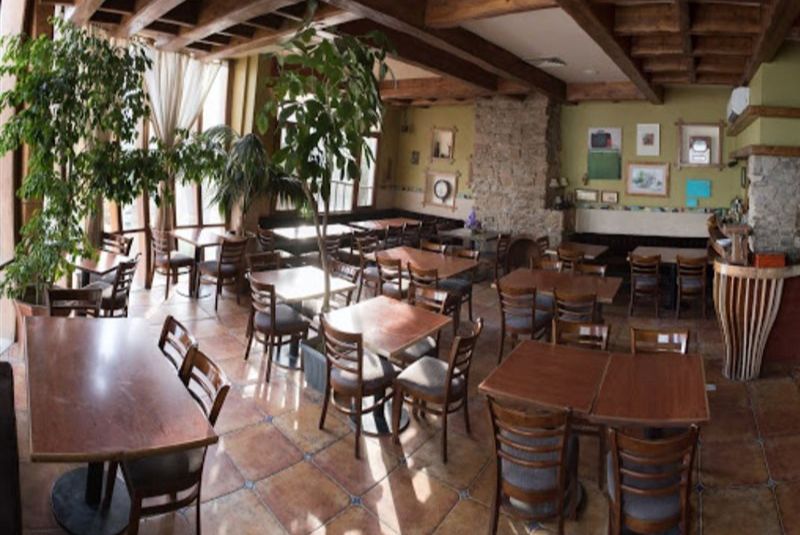 Brentin is another restaurant in Shiraz that has captured the hearts of countless travelers and tourists. It's stunning white exterior and lush terrace adorned with natural flowers make it a feast for the eyes as well as the taste buds.
If you're looking for a truly unforgettable meal, then you must try the Albaloo Polo (Cherry rice), Spicy Shrimp with rice, and Tahchin - these dishes are sure to create some of the most memorable moments of your trip. The French beef stroganoff is another must-try dish that's highly recommended by many. And if you're looking for a romantic dining experience, Brentin has got you covered - many people describe it as one of the most romantic restaurants in Shiraz.
It's worth noting that dining at Brentin comes with a higher price tag, but the experience is definitely worth it.
Address: Sattar Khan Blvd At the corner of 12th Avenue, Sattar khan street, between Afif Abaad Street & vali asr street, Shiraz Iran
Bottom Line
Shiraz is a food lover's paradise, with a tantalizing array of restaurants, From traditional Persian eateries to international dining destinations. So why not take a gastronomic journey through Shiraz's restaurants and discover the flavors that make this city so special? With every bite, you'll find a new facet of Shiraz's rich culture and history and create unforgettable memories that will last a lifetime.
---
Share your story!
Comment below and let us know about your Experience.
Your story inspires others!