Iran Travel Tips
27 Nov 2022
BY

Arash Morshed
Best 5 Star Hotels In Iran to Stay in 2023 + Pics
During your visit to the land of culture and civilization, you might be interested in staying in 5-star hotels in Iran.
Many adventurous travelers choose Iran as their destination each year, and Iran's 5-star hotels serve as a luxurious place for them to stay while visiting the country that is considered to be the cradle of human civilization and culture. Which of Iran's lovely cities have you selected for your visit You can find 5-star hotels in your desired city in this article.
5-Star Hotels in Iran
The greatest place to stay when visiting Iran may be one of the hotels there. Due to sanctions, Iran's national currency differs significantly from the dollar, making even the most luxurious hotels there affordable for travelers from across the world. You can stay in the best rooms for the least amount of money.
5-Star Hotels in Tehran
1. Espinas Palace Hotel
Price: $156 to $957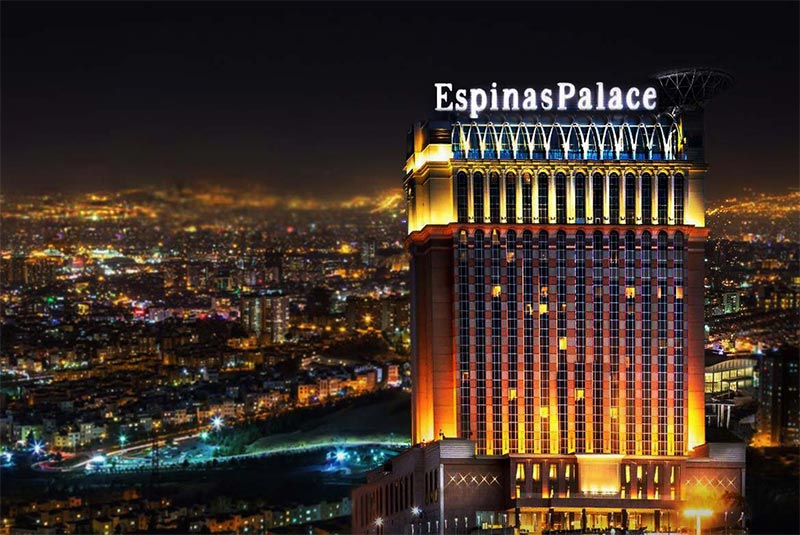 One of the best hotels in Tehran is Espinas Palace. For the convenience of VIP visitors who use helicopters, this 24-story tower also offers a landing area.
The Sky Suite at the Espinas Palace Hotel is one of the 400 rooms and suites at this Hotel where you may get a better view of the sky. By selecting this 250-meter-wide dream room, you will have access to a stunning view of the Alborz mountains and receive opulent amenities. The President's Suite and other suites at this Hotel, however, are examples of luxury. This Hotel is home to the Royal Hall, Tehran's largest and most elegant amphitheater hall, where the greatest concerts and events are hosted and which made a lot of buzz when it first opened. The Royal Hall has a capacity of 2500 people.
From Sky Lounge to Laton, the restaurants in the Espinas Palace Hotel are regarded as some of the finest and most luxurious eateries in Tehran. Diba restaurant also gives you a fantastic taste of classic Iran in a lavish setting with live music and traditional decor.
Espinas, which means settling in a summer residence, is taken from the name of a mountain peak in Iran's north. The 5-star Espinas Palace Hotel offers its guests a spectacular perspective of the city.
| Suggestion: Iran Essential Travel Tips
2. Parsian Azadi Hotel
Price:Price: $80 to $265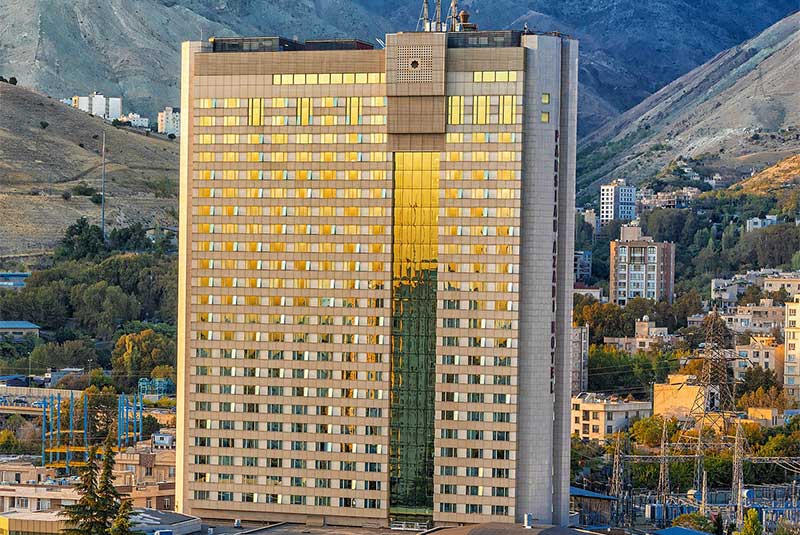 The Parsian Azadi Hotel, one of Iran's most luxurious 5 star hotels, is one of the biggest and tallest international hotels in the country and is situated in Tehran's north. According to current international standards, this Hotel is thought to be a member of the Parsian Hotels Group, which has a long history in the industry of hotel administration.
An international team of professionals from Switzerland, Italy, and China refurbished the Parsian Azadi Hotel in 2006. This work included stabilizing the building's façade, internal architecture, and all of the equipment and utilities.
A 50,000 square-meter plot of land was used to plan and construct this 28-story Hotel. This Hotel was a part of the Hyatt Hotels chain before the revolution of 1979 and went under the name Hyatt. However, it was renamed Azadi Hotel following the revolution.
It is located at the intersection of the two main highways of Tehran, Chamran Highway and Yadegar Highway, which allows guests easy and quick access to the north, west and center of Tehran.
This Hotel is still included in Iran's premium and 5 star hotel category after over 50 years of construction and design.
All of the luxurious rooms and suites of Tehran's Parsian Azadi Hotel provide either a view of Tehran's skyline or the Alborz Mountains.
| Read more: Can I Travel to Iran from USA?
3. Wisteria Hotel

Price: $98 to $233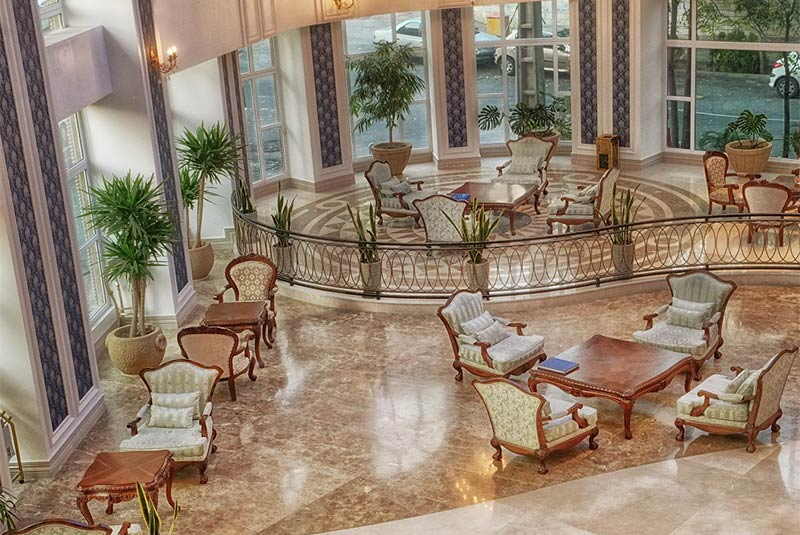 One of Tehran's most lovely neighborhoods, Darband, is where the Wisteria Hotel is situated. One of the newest 5 star hotels in Iran's capital city, this one was only created in 2016, yet it offers top-notch amenities.
The Hotel is located in one of Tehran's most scenic areas, near the Alborz mountains and at the city's highest point, with easy access to several lovely tourist destinations, significant business and entertainment centers, walking trails, and museums. Saadabad Palace, Niavaran Palace, Royal Library Museum, Ferdows Garden, Cinema Museum, Pahlavi Exclusive Car Museum, Doctor Hesabi Museum, Jahannama Museum, Tamashagah-e Zaman Museum, and others are among the nearby attractions. There are also shopping centers like Palladium, Arg, Tandis, Qa'em, Elahie, and Jordan, as well as resorts like Darband, Darakeh, and Shemshak ski resort.
Visitors may enjoy themselves at one of the Hotel's luxurious restaurants or coffee shops, utilize the conference room, multipurpose room, and business center, or host a special event in one of the two magnificent banquet halls. The Hotel's spa and wellness center has a number of amenities, including an indoor pool, sauna, and jacuzzi, as well as a fully-equipped gym, massage room, Turkish bath, and cafe, which gives visitors a nice and peaceful environment.
| Read more: Can I Travel to Iran from UK?
4. Parsian Esteghlal Hotel
Price: $73 to $266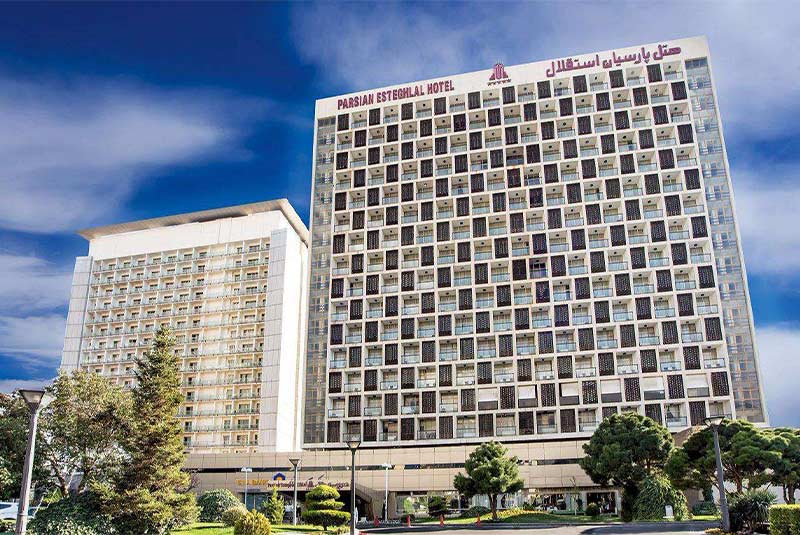 One of the Parsian International Hotels, which debuted in 1962 as the old Hilton Hotel, is the 5 star Parsian Esteghlal International Hotel. The Esteghlal Hotel has 15 stories and a land area of 70,000 square meters in Tehran's Baq-e Shahr neighborhood. The opening years for the Hotel's western and eastern towers were 1962 and 1972, respectively.
The Esteghlal Hotel's east tower underwent renovation in 1997, while the west tower underwent renovation in the 1980s.
There are 56 single rooms, 175 double rooms, 28 small suites, and two big suites in this Hotel's west tower, and it has 114 single rooms, 159 double rooms, 15 small suites, and three big suites in its eastern tower.
Tehran's northern mountains can be seen from suites in the eastern tower, and the city can be seen from the suites in the western tower. The west tower further offers extra double rooms and compact suites.
It goes without saying that the Esteghlal Hotel in Tehran's accessibility to key locations is one of its most significant qualities. While Tajrish Square and Valiasr Street are close by, the presence of multiple highways in the area has given this luxury hotel's guests the impression that they are just a short distance from the city's most significant landmarks.
| Read more: Best Hotels in Tehran + Price
5-Star Hotels in Isfahan
1. Shah Abbasi Hotel
Price: $80 to $210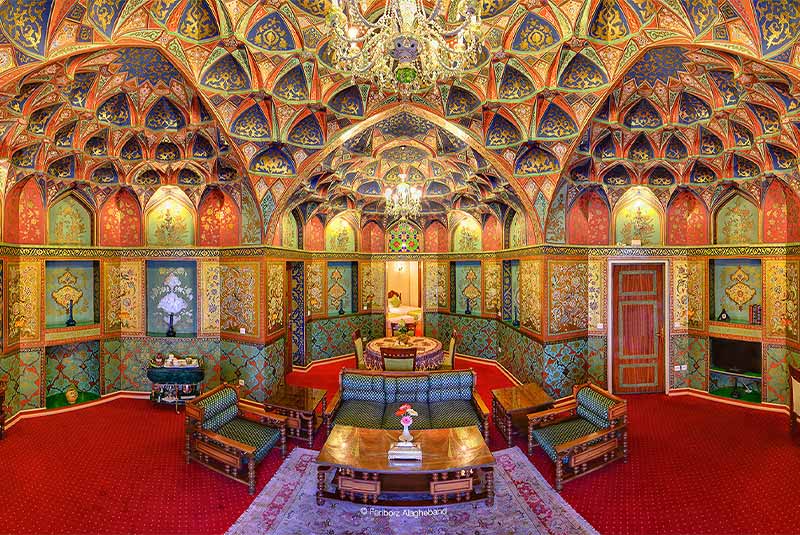 One of the oldest hotels in the world and one of the biggest hotels in Iran, the 5 star Abbasi Hotel in Isfahan has distinctive Isfahan architecture. The Hotel itself is regarded as one of Iran's top tourist destinations. By Shah Sultan Hossein Safavid's command, the Shah Abbasi Hotel was constructed in 1749 as a caravanserai during the Safavid era. Shah Abbasi Guest House was the new name for the refurbished and converted Abbasi Caravanserai in 1957.
This guest house was converted into the current Hotel in 1966. They made an effort to keep the building's caravanserai-like appearance in the modern Hotel. This Hotel's rooms each have distinctive architecture and characteristics. This Hotel can accommodate 1500 visitors at a time and has 14 reception halls, restaurants, traditional dining rooms, traditional tea houses, and cafés. The location of this Hotel in the center of the city, its accessibility to the majority of Isfahan's historical sites, its top-notch services, and its opportunity to stay in a historically significant tourist destination are all benefits. Numerous delegations of high-ranking political visitors and notable individuals from across the world, as well as thousands of domestic and international guests and tourists, are always welcome at this Hotel.
There are 225 rooms, suites, and apartments at the Abbasi Hotel, including standard single and double rooms, Cheshm Andaz rooms, Paradis (Paradise) rooms, standard suites, Qajar rooms, Safavi rooms, green rooms, and two- and three-bedroom apartments with patios and windows that look out onto the Hotel's courtyard and turquoise pool. The apartments with a view of the garden provide an outstanding and lovely view of the garden and the turquoise dome of Chaharbagh School. One of the interior design features of this Hotel is the architectural style of the Qajar and Safavid eras in specific suites.
| Learn more: Best Hotels in Isfahan to Stay
2. Kowsar Hotel
Price: $44 to $112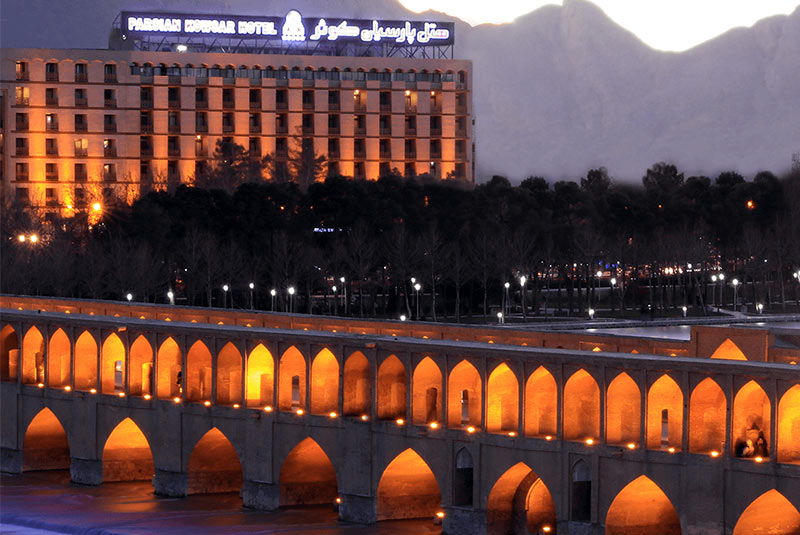 In 1969, the 5-star Parsian Kowsar International Hotel of Isfahan, also known as the old Sheraton, debuted in Isfahan near the historical bridge of Siosepol on the beautiful side of the Zayandeh River. Prior to the 1979 revolution, this Hotel operated under the management of Sheraton Hotels Group under the name Kurosh (Cyrus) Hotel. Since the 1979 revolution, it has been managed by Parsian International Hotels Group.
The Kowsar Hotel comprises a seven-story modern structure (Firouzeh) and an older building (the main building), both of which include 194 luxurious guest rooms with all the facilities and services. This Hotel offers amenities like the traditional Sarv dining room, the Italian restaurant, the Zarrin restaurant, a coffee shop, a lounge, a swimming pool, a sauna, a jacuzzi, a gym, covered multi-story parking, outdoor parking, dry cleaning, several shops, a men's barbershop, a 24-hour taxi service, and two meeting rooms that are ready to welcome your loved guests in a happy, peaceful environment.
| Suggestion: Isfahan Mosques You Should Visit
5-Star Hotels In Shiraz
1. Shiraz Grand Hotel
Price: $48 to $112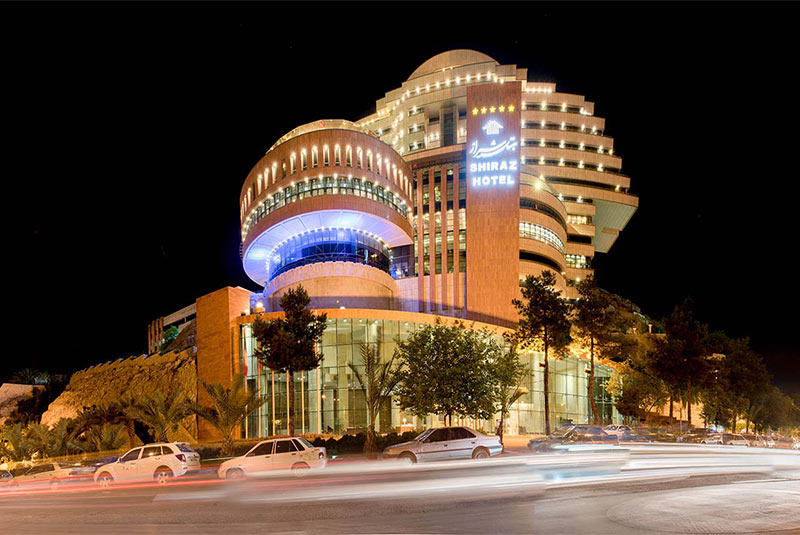 The Shiraz Grand Hotel was constructed in 2013 next to the Quran Gate, above the city of Shiraz, the cradle of Iranian art and culture. The 13-story Shiraz Grand Hotel is outfitted with amenities in line with global 5-star hotel standards. Three hundred fifty guests may stay in this Hotel's 158 rooms. Shiraz Grand Hotel's closeness to historical, religious, and recreational places is one of its distinctive advantages. This Hotel houses Iran's biggest revolving restaurant.
This Hotel's ship-like form draws attention from a distance, and because it is situated near Shiraz's northern entrance gate (Qur'an Gate), it is one of the first structures that visitors see when they arrive in Shiraz.
| Discover: Best Traditional Hotels in Shiraz
2. Oscru Boutique Hotel
Price: $94 to $125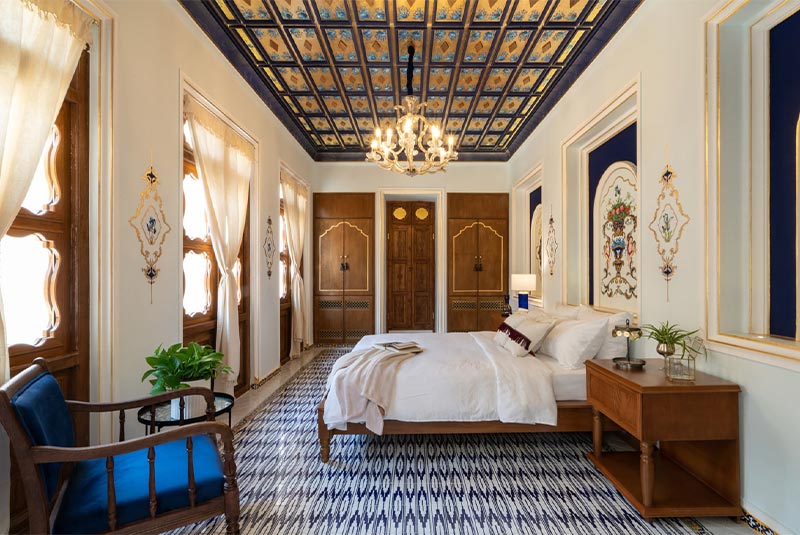 The Oscru Hotel in Shiraz is regarded as one of the most stunning hotels in the entire world. This Hotel's interior architecture is reminiscent of the most luxurious and majestic French and British palaces, but its interior design incorporates only the purest Iranian features.
The 504-square-meter Oscru boutique hotel in Shiraz opened its doors in 2021. Eight rooms make up the Oscru complex's two stories; each chamber has a distinctive look and a specific impact.
Toranj room In its lightest form, this room has combined the colors white and green, and with the help of sparse and delicate mirror work, it has successfully captured the essence of Shiraz's Toranj.
Mirror room Pink and white, two of the world's most subdued hues, are prevalent throughout the mirror room. The mirror room contains exquisite mirror works on the ceiling and walls, as the name would imply. At the same time, the ceiling's beautiful murals are difficult to miss.
Cascade Room Less mirror work than the mirror room, the Cascade Room at the Oscru Boutique Hotel has its own unique beauty and simplicity.
Brick room This room has brick walls, a bed that faces the sun, a plain white with a buff tint ceiling, and other features that promote calmness.
Shiraz room The Shiraz room is the most attractive and striking Oscru chamber. When you enter the Shiraz room for the first time, it is difficult to avoid becoming mesmerized by the intricate decorations of the ceiling. The Shiraz room's walls and ceiling are painted in a dark blue and gold palette that was influenced by Qajar-era artwork. Enjoy the soothing Shiraz light that enters the room by opening the windows.
Garden Room Similar to the Shiraz room, the garden room's roof is decorated in green and gold but with less intricacy. The most stunning green in the world is painted on the wall in the bedroom behind the bed, which is made even more stunning by the sunshine streaming in through the window.
Silk Room Only after you enter the Silk Room will you realize why it is named Harir (silk)! Nothing except the smoothness of silk comes to mind when you look at the sunshine streaming into the room and its reflection in the mirrors, which is a shimmering shade of green.
Muqarnas room The muqarnas is one of the most significant features of Iranian architecture and the mark of a great builder on every spectacular structure. Using fragments of mirror, the Oscru Hotel's restorer created muqarnas on the four corners of the wall behind the bed.
3. Homa Hotel
Price: $130 to $330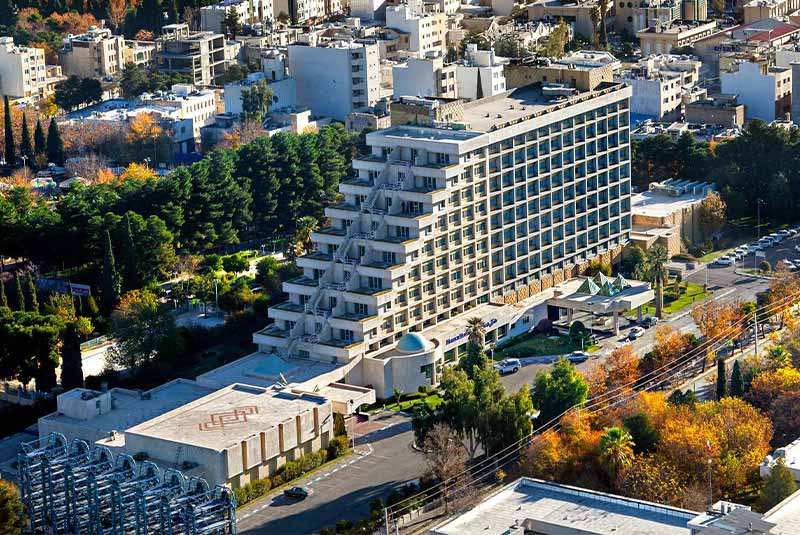 One of the city's oldest hotels is Shiraz's five-star Homa Hotel. This Hotel, which is close to the lovely Azadi Park, underwent renovation in 2014. Eight stories and 232 rooms and suites make up the Homa Shiraz Hotel. Every hotel room has a view of the garden or mountain. The Homa Hotel group includes this establishment.
5-Star Hotels on Kish Island
1. Toranj Sea Hotel
Price: $257 to $685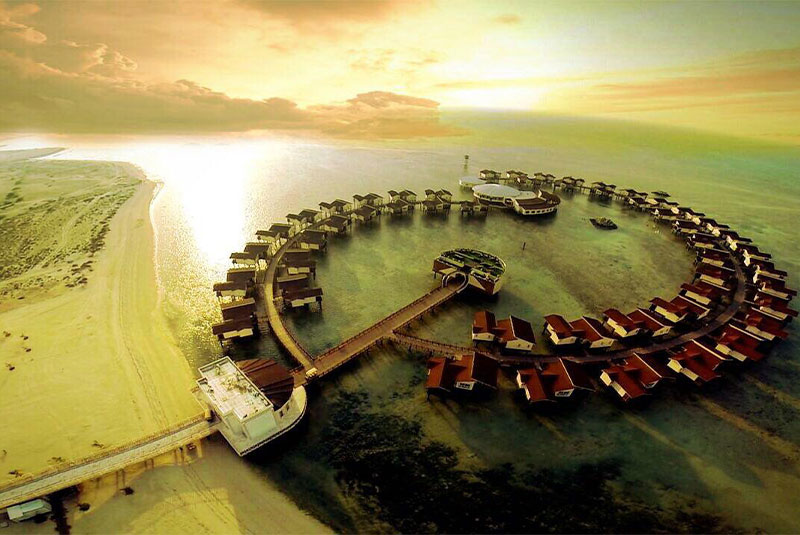 The construction of the Toranj Kish Hotel began in 2012, and it opened its doors in 2014. The first sea hotel in the Middle East that gleams like an actual Iranian jewel on the Persian Gulf is the five-star Toranj Hotel, which is constructed on the water in the shape of a Paisley.
You could be reminded of the stunning hotels in Bali by the Toranj Hotel.
The Hotel's accommodations include a private balcony, a glass floor that looks out over the ocean, and a romantic sea view. One kilometer-long walkway connects the 100 cottages and five suites that make up Kish's Toranj Sea Hotel.
2. Dariush Grand Hotel
Price: $120 to $360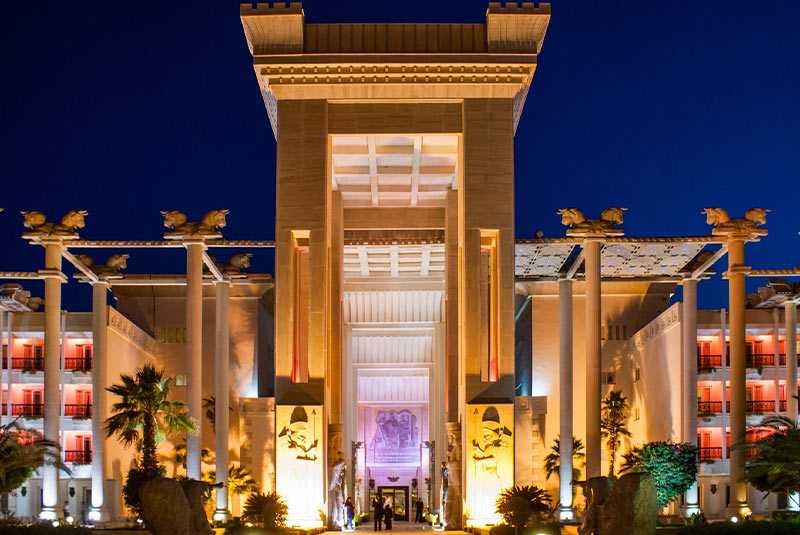 The northeastern portion of Kish Island is home to the five-star Dariush Kish Hotel, which was designed with Persepolis in mind. Due to the fact that it showcases the civilization and culture of ancient Iran, this Hotel, which opened for business in 2003, is also known as the Kish Museum Hotel. It is impossible to adequately describe the breathtaking views, opulence, and peace this Hotel bestows; you must experience them for yourself.
The Dariush Grand Hotel dazzles guests' eyes and conjures up images of the greatness and valor of bygone eras, with its capitals modeled after those of Persepolis. One of the most costly architectural projects in Iran, this lovely Hotel was constructed with a capital of 125 million dollars.
As previously noted, Persepolis and Apadana palaces served as the design inspiration for this Hotel; therefore, many of the key features of these ancient structures can be seen throughout the Hotel. The Hotel's interior and the surrounding area's sculptures, stone carvings, and columns were all influenced by the Persepolis structure, which has given it a unique grandeur. In fact, one of the tourist attractions of the Dariush Hotel is the building's architectural design. You get the impression that a gateway to Iran's ancient civilization has opened as you enter the Hotel's foyer and open area.
In addition to being extremely luxurious due to the distinctive architectural design utilized in it, Dariush Grand Hotel is well-known across the world and many travelers like this Hotel due to its distinctive design and, of course, the first-class services.
Many entertainment venues and significant commercial areas in Kish, including Pardis, Morvarid, and Marjan, are conveniently accessible from this Hotel.
3. AmirKabir Hotel
Price: $94 to $180
One of the Iranian classic-looking hotels that recently opened on Kish Island is the 5-star Amirkabir hotel. This Hotel's magnificent, traditional style was influenced by Safavid-era structures.
The six-story Amirkabir Hotel features 54 guest rooms and suites. The amazing interior architecture of this Hotel, together with the stunning Plastering and woodcarvings on the ceiling and walls, double the joy of staying there.
The wonderful restaurant at this Hotel, which serves a range of Iranian and seafood dishes along with live music, is one of its most notable characteristics. Many guests from neighboring hotels also opt to eat there.
5-Star Hotels in Mashhad
1. Darvishi Hotel
Price: Prices may vary depending on dates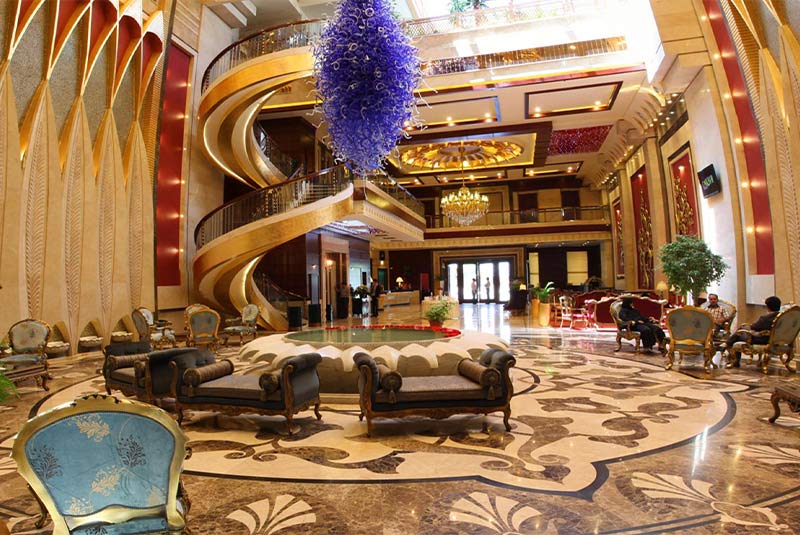 Unquestionably a slice of heaven on earth, the Darvishi Hotel in Mashhad provides visitors with a dream stay. This Hotel offers the greatest and most opulent lodging options, as well as dining establishments, coffee shops, conference halls, retail stores, and welfare and entertainment amenities.
Despite its amenities, the 5-star Darvishi Hotel Mashhad deserving of more stars. With 23 stories and 223 rooms, this Hotel, which began operations formally in 2011, is among the most exquisite and deserving lodgings available to affluent travelers.
One of Mashhad's highest residential structures, the Darvishi Hotel is also the biggest glass-topped atrium hotel in the country. This Hotel offers its guests a variety of lodging options, including Royal, Season, Penthouse, Nations, and VIP rooms.
A wonderful stay is determined by the visitors' comfort and security, their ease of access to the amenities they require, and the diversity of services and lodging options available at Mashhad's opulent and fashionable Darvishi Hotel. The water park offers services like a swimming pool, sauna, jacuzzi, Turkish bath, private showers, massage salon, gym, and all kinds of spa services in a stylish setting. Other amenities of the Darvishi Hotel Mashhad include a number of Iranian and foreign restaurants, a roof garden with a spectacular view, a market in the style of traditional architecture with reputable brands, fast food and coffee shop, 24-hour room service, IPTV, currency exchange, taxi service, and reception hall.
| Read more: Best Hotels in Mashhad
2. Ghasr Hotel
Price: $80 to $219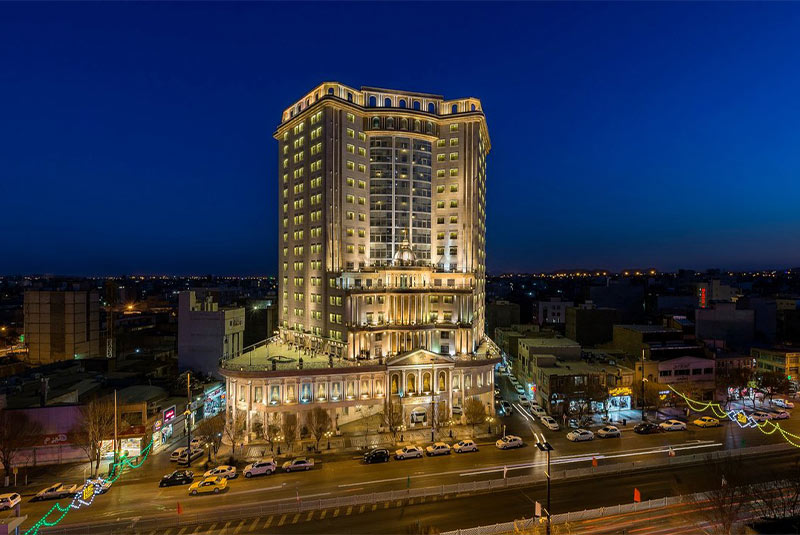 One of the most exquisite hotels in the entire world is the Ghasr Hotel. You will have a pleasant stay at this Hotel since it has contemporary rooms and suites with all contemporary conveniences and standards.
The Ghasr Hotel opened in 1977 and underwent renovation in 2014.
Because they are designed in the most opulent manner imaginable, the Hotel's rooms and suites' interior architecture awes every visitor. The Achaemenid room, Royal luxury room, Qajar room, Classic room, Royal apartment, Imperial apartment, Honeymoon room, Princess room, and President rooms are just a few of the Hotel's luxurious accommodations.
Along with possessing all services (restaurants, halls, varied stores, etc. this Hotel also has the advantage of being close to the city's major shopping malls and tourist attractions.
3. Sinoor Hotel
Price: $49 to $199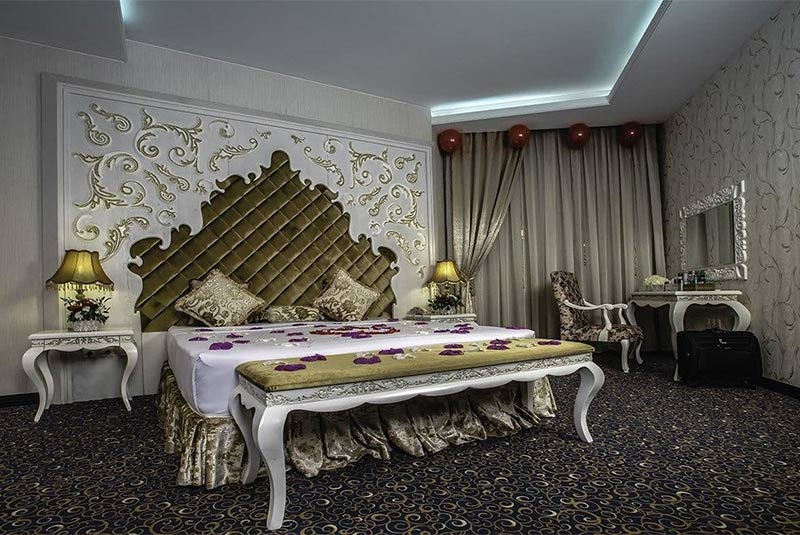 2014 saw the opening of the Sinoor Hotel in Mashhad. The development of this Hotel, which comprises two buildings connected to one another, began in 2004. There are unique features in this apartment building, which has 22 stories and 286 well-appointed rooms and suites. The Sinoor Hotel is in a unique and special situation because of its location on Hefdah-e Shahrivar Street, close access to local commercial and shopping areas, and vicinity to the Imam Reza Shrine.
The Sinoor Hotel is prepared to greet you with amenities for your comfort and amusement, as well as friendly service. The five-star Sinoor Hotel in Mashhad has amenities like shopping centers, restaurants, an amphitheater, and conference halls.
5-Star Hotels In Tabriz
1. Laleh Park Hotel
Price: $72 to $399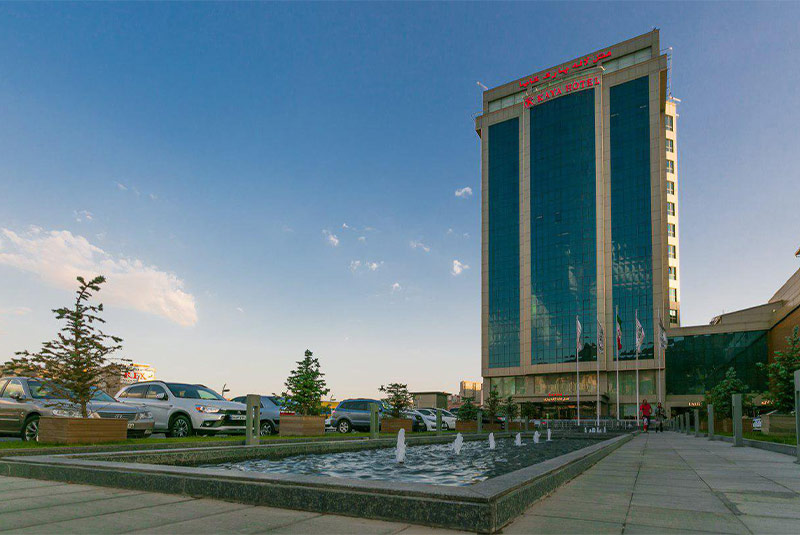 The 5-star Laleh Park Hotel, the biggest and most elegant 5-star Hotel in northwest Iran, is situated in Roshdieh, a pleasant neighborhood of Tabriz, next to Einali Mountain. This place offers visitors an alluring, lovely, and distinctive perspective.
This Hotel, which opened in 2016, has 220 rooms and suites, including 153 deluxe rooms, 40 connecting rooms, 16 executive suites, ten junior suites, and a royal suite on 17 floors. It was designed and built in accordance with international standards, and guests can easily access the Tabriz International Airport. The indoor pool, dry & steam sauna, jacuzzi, and Turkish bath, as well as the well-equipped gym and complimentary high-speed Wi-Fi internet, are all offered to guests of this opulent Hotel in addition to the diverse breakfast buffet.
The Laleh Park Hotel is the ideal location for organizing concerts, conferences, grand events, and family get-togethers thanks to its exquisitely designed restaurant, coffee shop, and café terrace, as well as its seven conference halls with various layouts.
A modern leisure and entertainment complex called Laleh Park is just adjacent to the Hotel and is accessible from the foyer. A children's indoor amusement park, a cinema with the newest audio and video technology for visitors, and a range of the top Iranian and worldwide brands can all be found at Laleh Park's leisure and entertainment complex.
2. Laleh Kandovan Hotel
Price: $47 to $121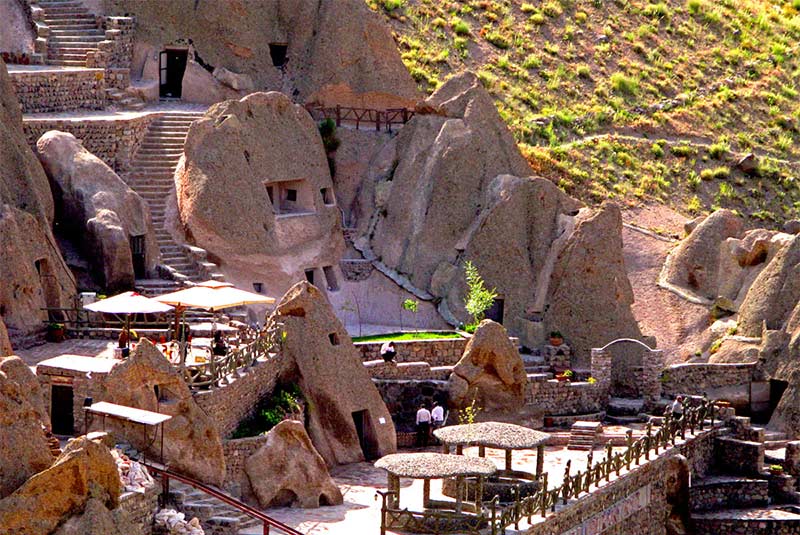 You must be drawn to the idea of staying at one of the world's most exquisite and famous hotels. The third rock hotel in the world, the five-star Laleh Kandovan Hotel in Tabriz, was really carved out of a mountain. You will undoubtedly be amazed by the Hotel's oddly lovely architecture. Ten thousand people travel to Tabriz each year to stay at the Kandovan Hotel. This wonderful Hotel opened its doors in 2007 and is a member of the Laleh Hotels Group.
The first part of the building of the Kandovan Hotel took ten years to complete, and it produced ten exquisite rock rooms known as Karaneh. The second phase of the construction of the Kandovan Hotel was also finished in the summer of 2014. The number of hotel rooms was increased in this project by six more rock rooms. The Laleh Kandovan Hotel in Tabriz does not have a lobby because of its exquisite design; instead, visitors can hold meetings and social gatherings under the nearby gazebos.
When reserving a room at the Laleh Kandovan Hotel in Tabriz, guests have access to amenities like airport transportation, parking, television channels, a tour desk, air conditioning, a 24-hour front desk, a tea room, a sauna, a taxi service, a laundry facility, a convenience store, and a hot tub. Some accommodations come with a baggage room, housekeeping, safe deposit, room service, and a garden. Overall, it can be claimed that the Laleh Kandovan Hotel in Tabriz has made it easy for guests to enjoy themselves.
Because the rooms are carved into the mountain rocks, the Hotel's construction may give the impression that it lacks quality facilities. You really stay in this Hotel inside the rocks of the mountain. Contrary to what you may assume from the pictures, the Laleh Kandovan Hotel in Tabriz features state-of-the-art amenities. In addition, this stunning Hotel includes a restaurant serving a range of Iranian and international dishes. The Laleh Kandovan Hotel also features an outdoor parking lot, an artisan shop, and city tours.
3. Shahryar Hotel
Price: $53 to $283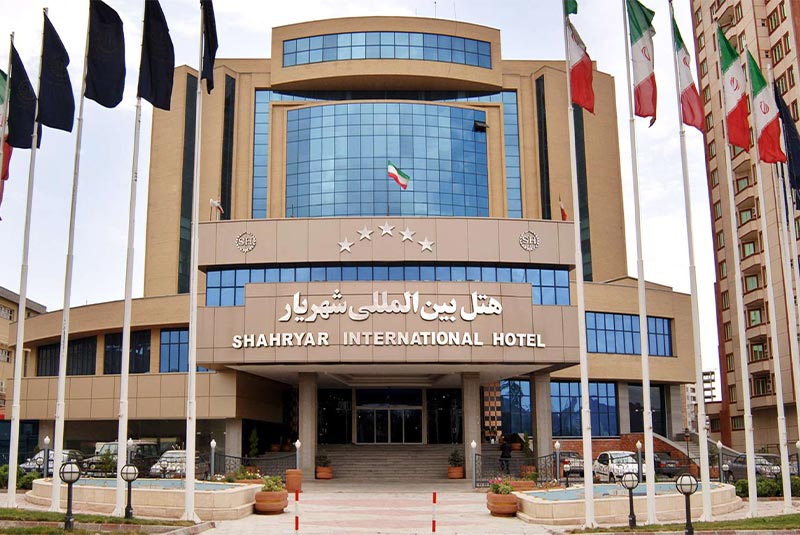 The 202 rooms in the ten-story Shahryar Hotel Tabriz date from 2008. Additionally, there are six conference halls available for business and social gatherings. The amphitheater hall, another building in the Shahryar Hotel complex, has a capacity of 580 people and serves a number of purposes. The centrally located Shahryar Tabriz International Hotel features two large restaurants, Cactus and Cheshm Andaz, as well as halls, meeting rooms, boutiques and stores selling fashionable and trendy items, and a sports complex. One of the most well-liked locations for gatherings and friendly meetings in Tabriz is the coffee shop inside the Shahryar Hotel.
5-Star Hotel in Rasht
1. Kadus Hotel
Price: $52 to $137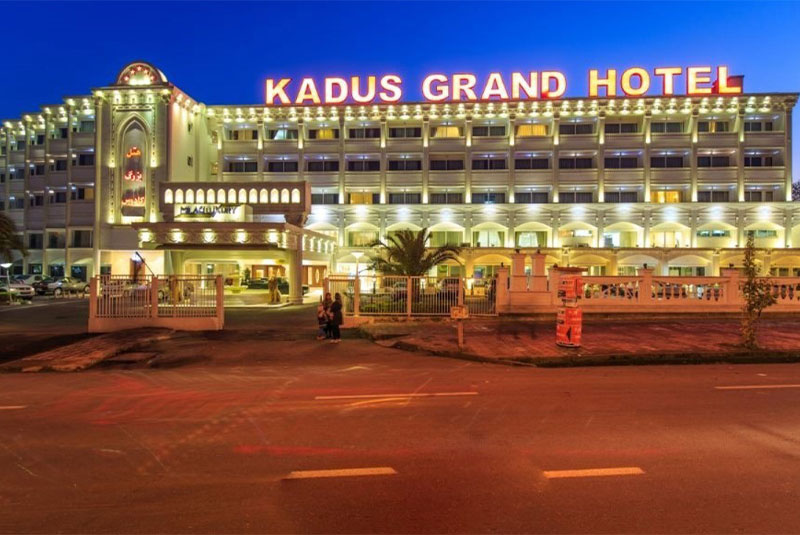 One of the biggest and most upscale hotels in Gilan province is the 5-star Kadus Hotel, which is situated in the nicest part of Rasht. Opening in 1983, this Hotel underwent renovation in 2012. The Hotel is close to the cities of Astara, Bandar Anzali, Lahijan, and Zibakanar and offers easy access to the airport, tourist attractions, and historical sites. It is also situated near the city's main highways.
Kadus Hotel features four levels and 96 opulent guestrooms furnished with all modern conveniences. This Hotel also offers a variety of dining options, a coffee shop, four tennis courts, an outdoor pool, multiple meeting spaces outfitted with the most cutting-edge technology available, and a wedding venue.
By offering modern, practical amenities and services in a tranquil, welcoming setting, Kadus Hotel ensures that its visitors have an unforgettable stay in Rasht, a city known for its frequent downpours.
| Suggestion: Top 7 Distinct Hotels in Iran
Bottom Line
Iran is a historic nation with a wide variety of tourist attractions. Iran is one of the few countries in the world where you may experience all four seasons of weather at once, in addition to the country's rich history and culture.
Additionally, travelers who have been to Iran concur that Iranians are among the world's friendliest and most welcoming people. As a result, Iran is regarded as one of the top destinations.
Sometimes, you could prefer to spend the night at a posh hotel and make use of first-rate amenities. In order for you to experience the wonderful country of Iran, top-notch services, and stay in the most opulent hotels of this country, we introduced the best and most magnificent 5-star hotels in Iran in the article you just read. We really hope you liked and learned from this post.
---
Share your story!
Comment below and let us know about your Experience.
Your story inspires others!