Isfahan Tourist Attractions
05 Dec 2022
BY

Batul Iddi
Best Hotels in Isfahan to Stay
Isfahan is a famous Iranian city known by many titles, such as "the gem of the Islamic world".
Iranians call it Esfahān nesf-e- jahān meaning (Isfahan is half the world).
Isfahan is like a piece of jewellery that retains its lustre and glory throughout the centuries despite the historical fluctuations in the area. The city is also so vibrant that it seems as if it is born today, yet it is so original that it looks like it has always existed.
Isfahan's rich culture and beautiful nature are in such perfect harmony that one seems to be a reflection of the other. Isfahan is the ultimate expression of the Iranian-Islamic Culture. Isfahan is also known as the city of Iranian handicrafts and traditional arts. Its works of art comprise a significant portion of Iran's exports, particularly to Europe.
This historic city is in the centre of Iran, and it is the third most populated city of Iran after Tehran and Mashhad. Isfahan was the capital of Iran during the Safavid dynasty, and most of the spectacular historic buildings belong to the dynasty.
Best Hotels in Isfahan to Stay
Isfahan is a MUST-SEE city for those who travel to Iran or are interested in visiting Iran. Travellers visiting Isfahan will experience the best of everything the Middle East offers, including beautiful gardens, bazaars (market), traditional restaurants, splendid architecture, and an array of magnificent palaces and religious places. After exploring these sites all day, you will need a comfortable place to stay. Here's a rundown of some luxury and budget Isfahan hotels.
1. Abbasi Hotel
Address: Amadegah Street. Chaharbagh-e-Abbasi Avenue, Isfahan
Price: $55 - $130
Star: 5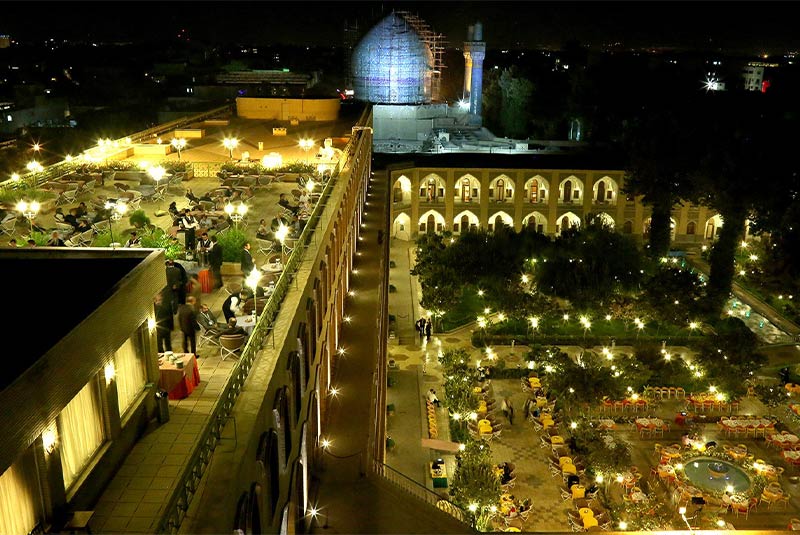 Abbasi Hotel is the one for you if you're looking for a traditional hotel in Isfahan with a modern feel. Abbasi hotel is known as one of the oldest hotels in the world. It is also among the largest hotels in Iran. The hotel was Built in 1106A by Sultan Hussein Safavi. Abbasi hotel offers standard, Cheshmandaz, Pardis rooms, Qajar and Safavi suites. The suites have a heating and cooling system, air conditioner, safety box, satellite television, bathtub and shower bath, buffet breakfast, and refrigerator with various minibars.
The hotel also helps you stay updated with business emails with its high-speed wireless internet. Guests also enjoy complimentary breakfast. The best thing Abbasi hotel offers guests is a stunning garden view. Guests marvel at the fantastic garden of the hotel. If you want to eat Persian or international cuisines while absorbing the hotel's beauty, dine at Cheshmandaz Restaurant on the hotel's top floor. The hotel is close to Isfahan's recreation and shopping centres and entertainment areas.
Other facilities of the Abbasi hotel include a Swimming Pool, Fitness Centre, Sauna, Restaurant, Shopping Centre, Auditorium, Coffee Shop, Private Parking, and Conference Hall.
| Discover: Chehel Sotoun Palace (Isfahan): A Comprehensive Guide
2. Parsian Kowsar Hotel
Address: Blvd Mellat, Isfahan
Price: $40-$100
Star: 5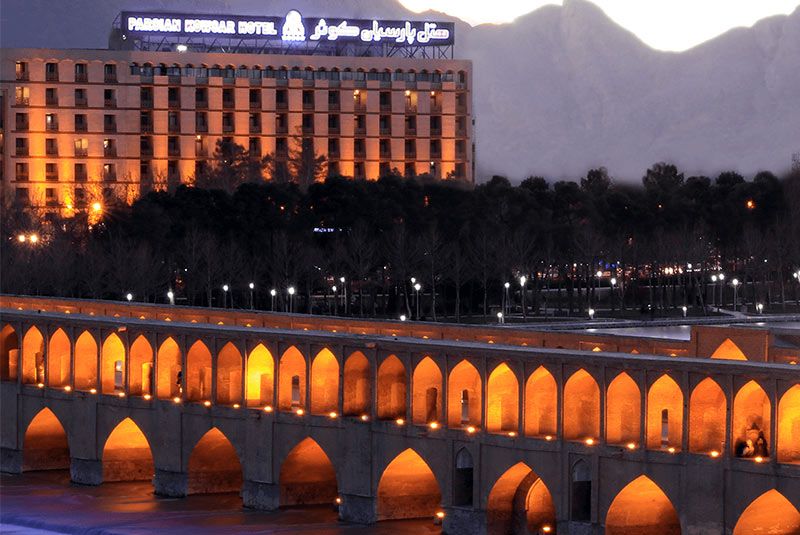 Parsian Kowsar hotel is one of the finest hotels in Isfahan. It is a 5 star luxury hotel located in the city centre. It has 192 fully equipped rooms, including five royal and 12 junior suites. Each room has a safe, minibar, tea and coffee-making facilities, satellite TV, telephone, hairdryer, bathroom, heating, and cooling. The rooms with a balcony enjoy an eye-catching view of the city.
The hotel is near some of the best tourist attractions in Isfahan, including the famous Bridges of the Khajeh, Zayandeh River, Chaharbagh Ave., and the Si-o-se-pol. The hotel has four halls which attract entrepreneurs who want to organise a meeting or corporate event for business. The hotel's on-site restaurant is perfect for enjoying different Iranian dishes and having an adventurous culinary experience. The hotel also offers guests other amenities, including an Outdoor Pool, Free Parking, Spa, a Fitness Club, Family Rooms, a Business Centre, and Airport Taxis.
| Discover: Best 5 Star Hotels In Iran to Stay in 2023 + Pics
3. Ghasr Monshi Hotel
Address: West Ghasr Monshi Alley, Neshat Street, Isfahan
Price: $55-$170
Star: 4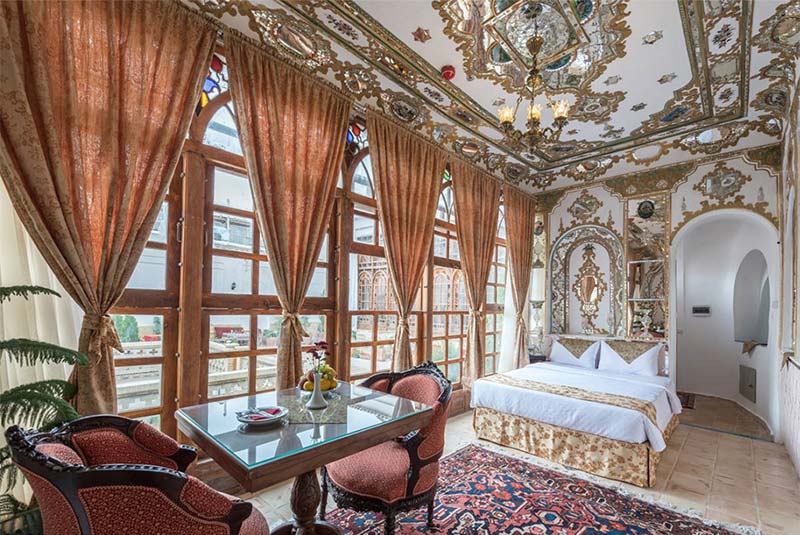 The hotel once served as one of the palaces belonging to King Fathali from the Qajar dynasty. The hotel has five rooms: single, twin, double, trip or VIP room (twin and double). If you want to eat Persian cuisine, the on-site restaurant is at your service, with expert chefs to make the best meals you have ever tasted. The hotel is near many incredible tourist attractions, including the Isfahan Bazaar, Gheysarieh Gate, Naghsh e-Jahan Square, and Shiekh Lotfollah Mosque. The hotel also offers free WiFi, Multilingual staff, a restaurant, a Coffee Shop, and a 24-hour front desk.
4. Safir Hotel
Address: Amadegah Ave., Isfahan
Price: $25-$85
Star: 4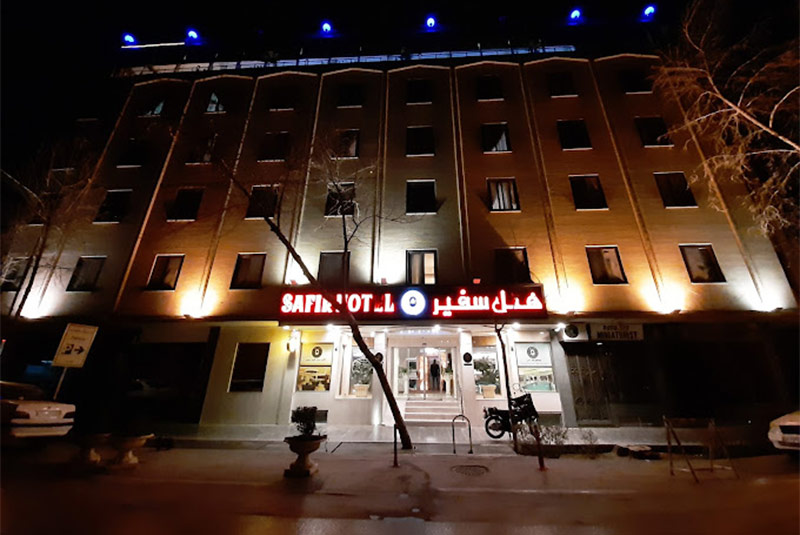 Safir Hotel is located in the centre of Isfahan. It is only a few steps from Naghshe Jahan square and many other attractions. Safir hotel accommodates all guests in comfortable rooms fully equipped with air conditioning, a TV with a variety of satellite channels, safety deposit boxes, 24-hour room service, and all necessary amenities. Safir hotel has a restaurant that serves various Persian and international food to suit every taste. The restaurant also offers a self-service buffet breakfast. It also has a cosy, welcoming coffee shop in the hotel lobby, providing light snacks, cakes, and hot and cold drinks 24/7. Guests can also enjoy free WiFi throughout the property.
The property offers its taxi services, ready to provide a means of better transport for the guests. The hotel also features an excellent Conference Hall, Swimming Pool, Sauna, Traditional Iranian Bath, and attractive design, adding to the hotel's luxurious atmosphere.
5. Tolou-e Khorshid Hotel
Address: Lane 37, Ibn Sina St., Isfahan
Price: $15-$55
Star: 3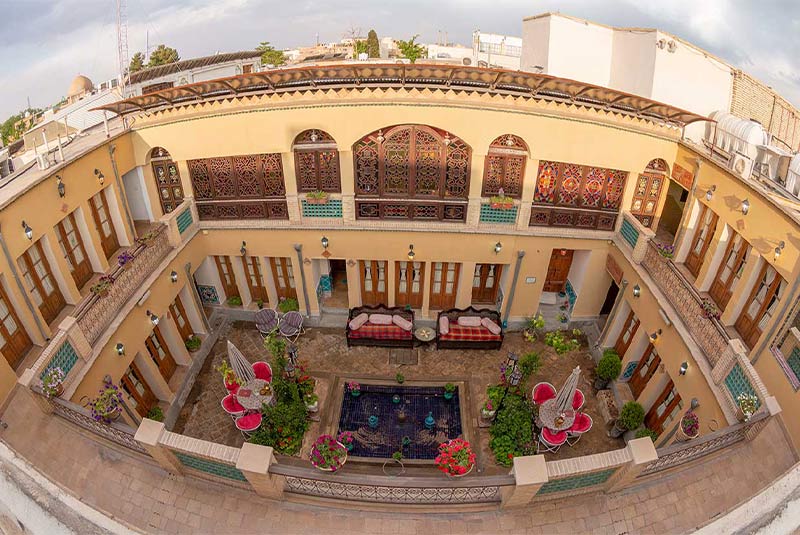 Tolou-e Khorshid hotel, near the famed Jameh Mosque, is a perfect choice if you want to experience an authentic Iranian atmosphere. Tolou-e Khorshid is a three-star hotel featuring a friendly and welcoming atmosphere. It is located in the oldest neighbourhood in the heart of Isfahan. Tolou-e Khorshid hotel has 12 traditional rooms. The hotel's calm ambience and grand setting with small grasslands and ponds will sweeten your stay here and refresh your soul after a full day of exploration in Isfahan.
In Tolou-e Khorshid hotel, guests have many food options in the self-service restaurant. If you want to take a bit of Iran back home, shop for Iranian souvenirs from the handicraft store in the hotel. The hotel's free WiFi helps you stay updated with the latest happening worldwide. Staff at Tolou-e Khorshid hotel speak English, Arabic and other languages. So Communication is easy. The hotel offers other facilities such as Parking, Restaurant, Family Rooms, a Fitness Centre, Sauna, and Facilities for disabled guests.
6. Setareh Hotel
Address: Hafez Street., Naghseh-Jahan Square, Naghseh-Jahan Square, Isfahan
Price: $15-$55
Star: 3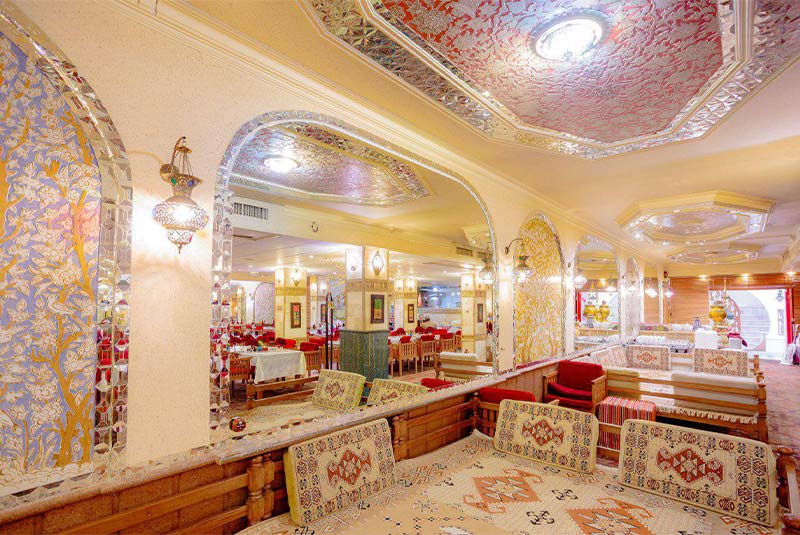 It has a calm and pleasant environment, combining traditional and modern architecture and exquisite decoration in the historical context of the city of Isfahan. Setareh hotel is a three-star hotel located close to the city's top attractions, including Chetel Sotun Palace, Naghsh-e-Jahan Square, and Ali Qapu Palace. Setareh hotel has six floors with 52 rooms and suites. The hotel rooms come with excellent amenities to guarantee a comfortable stay.
Other hotel facilities include free WiFi, Conference Hall, Restaurant, Café, a Fitness Club, Business Centre.
7. Isfahan Traditional Hotel
Address: Ostandari st, Hakim st Bagh Ghalandarha Ally, Isfahan
Price: $10-$70
Star: 3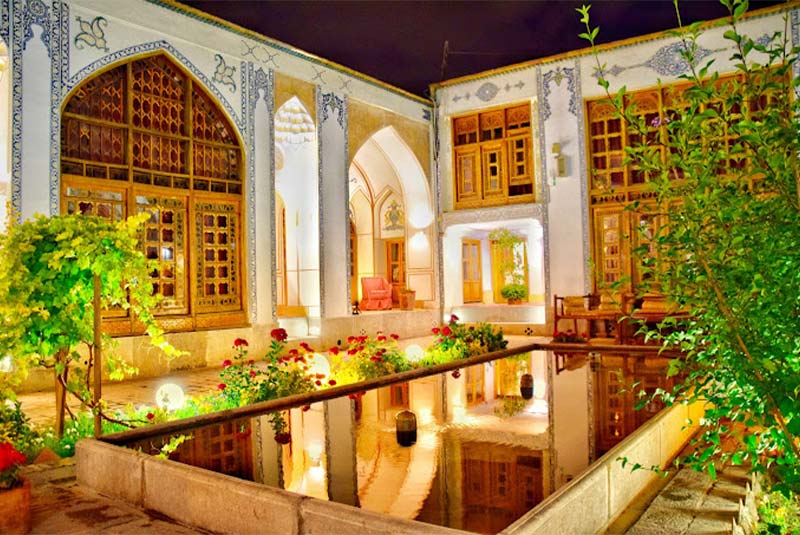 Isfahan Traditional Hotel is a few steps away from Naqsh Jahan historical square. It belongs to the Safavid period, which is nearly 450 years old. Isfahan Traditional hotel building is similar to the noble houses of the Safavid period, which has an inner and outer courtyard. One of the most important distinctions of the Isfahan traditional hotel is the originality of the building and the authentic conventional atmosphere that has been left from the old days. More importantly, peace can be found everywhere in this hotel, especially in the inner courtyard, which is reserved only for the dear guests of the hotel.
This complex's friendly and young staff are proficient in the world's knowledge. And finally, the reasonable price of the rooms has made Isfahan Traditional Hotel a completely affordable hotel to experience a peaceful stay with appropriate services and excellent quality in Isfahan. The hotel also provides Free private parking nearby, High-Speed Internet (WiFi), Free Breakfast, Walking Tours, Kids stay free, Airport Transportation, 24-hour security, Baggage Storage, Complimentary Tea, Complimentary Welcome Drink, Kids Meals, Outdoor Dining Area, Snack Bar, Taxi Service, Concierge, Currency Exchange, Non-smoking Hotel, Outdoor Fireplace.
8. Keryas Hotel
Address: Shahid Omrani Alley, Isfahan
Price: $45-$85
Star: 3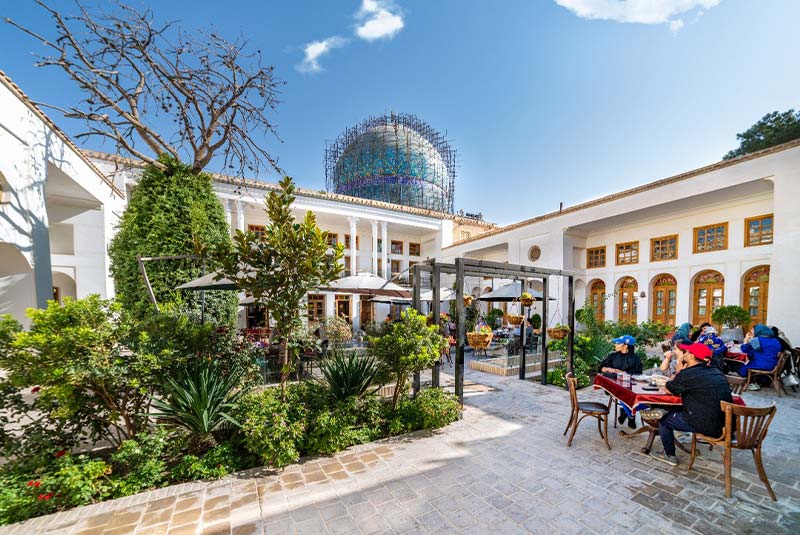 Keryas Hotel is located near Naqsh-e Jahan Square and is also situated precisely at the foot of the turquoise dome of the Shah mosque. Keryas has only 15 rooms, making it a private space that offers guests a peaceful atmosphere. Each room in the hotel is unique and narrates its own story.
Each room is equipped with modern facilities offering maximum comfort to guests' satisfaction.
9. Darbkooshk Saray B&B Hotel
Address: No 32, Darbkooshk Alley 8, Chaharbagh Paeen Avenue, Isfahan
Price: $25-$60
Star: 1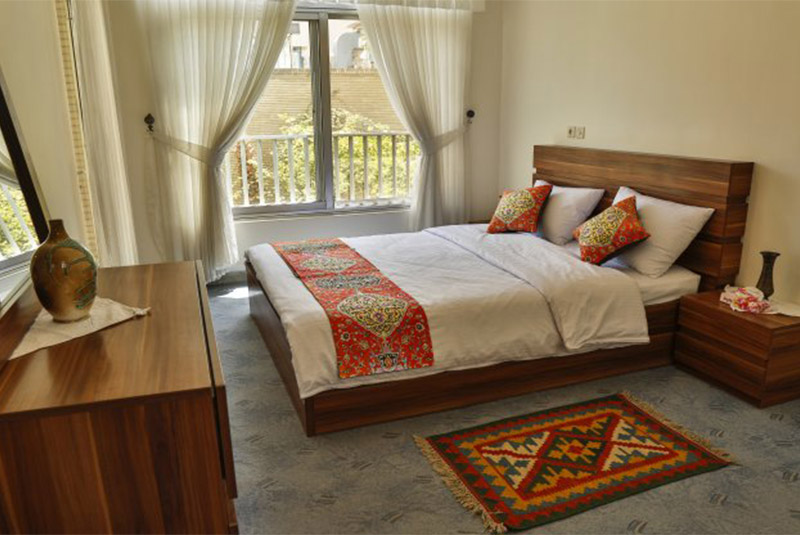 Darbkooshk Saray is located in the centre of Isfahan in the ancient district of Darbkooshk. The hotel is within walking distance of Isfahan's major tourist attractions and is only 3 minutes from the Metro station. The property has five rooms (14 beds in total) with a private bathroom, a breakfast hall, a private garden, and standard rooms, all decorated with traditional Persian art. Darbkooshk Saray also provides free airport transfer service upon arrival and can connect you with third-party guides in various languages.
You can also refresh your soul and rest after a full day of exploration in Isfahan in the hotel's beautiful garden while enjoying a complimentary breakfast.
Best Isfahan Traditional Hotels
1. Isfahan Heritage Hostel
Address: No. 9, Seyed-ol-Araghein Alley, Neshat Street, Isfahan
Price: $-$
Star: Hostel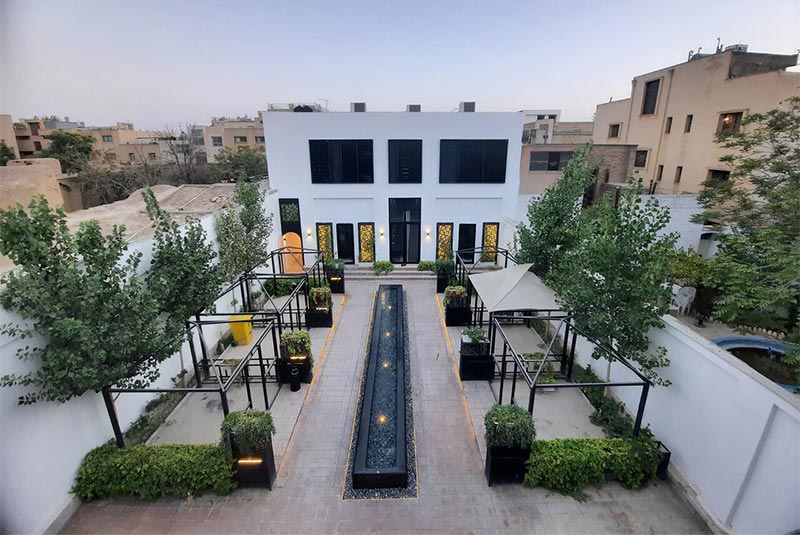 Isfahan Heritage Hostel is the largest Hostel in Isfahan, offering private and dormitory rooms of the highest class. Isfahan Heritage Hostel offers an unbeatable service, including a 24-hour reception, complimentary breakfast, Free High-Speed Internet (WiFi), and Bicycle rental. Isfahan Heritage hostel is located in the heart of Isfahan and near top historical places and tourist attractions.
Tourist attractions nearby include Naqsh-e Jahan Square, Chehel Sotoon Palace, Aali Qapu Palace, Sheikh Lotfollah Mosque, Musem of Decorative Arts, Sheikh Lotfollah Mosque, Mashrouteh House of Isfahan, Abbasi Great Mosque, Angoorestan-e Malekotojar Mollabashi Historical House, Grand Bazaar of Isfahan, Si o Se Pol Bridge, Khajoo Bridge, Vank Church, Hasht Behesh Palace and Garden, Imam Ali Square and Khajeh Nezam ol Molk Tomb. In addition, Both Isfahan International Airport and Isfahan Railway Station are within 30-minute driving distance from Isfahan heritage hostel.
Other facilities include Free public parking, an Indoor Play Area for Children, Taxi Service, 24-hour Security, BBQ Facilities, Baggage Storage, a Convenience Store, Currency Exchange, Executive Lounge access, Outdoor Furniture, a Picnic Area, Shared Bathroom, Shared Kitchen.
2. Howzak House (Boutique Hostel)
Address: No 31, Arabha DE, Emamzadeh Shora Alley, Masjed Jame Alley OR, Ebn-e-Sina tr, 37th Street, Baba Sangaki St., Next to Gahzi-al-Hajat Mosque, Arab-ha alley., Isfahan
Price: $15-$20
Star: Hostel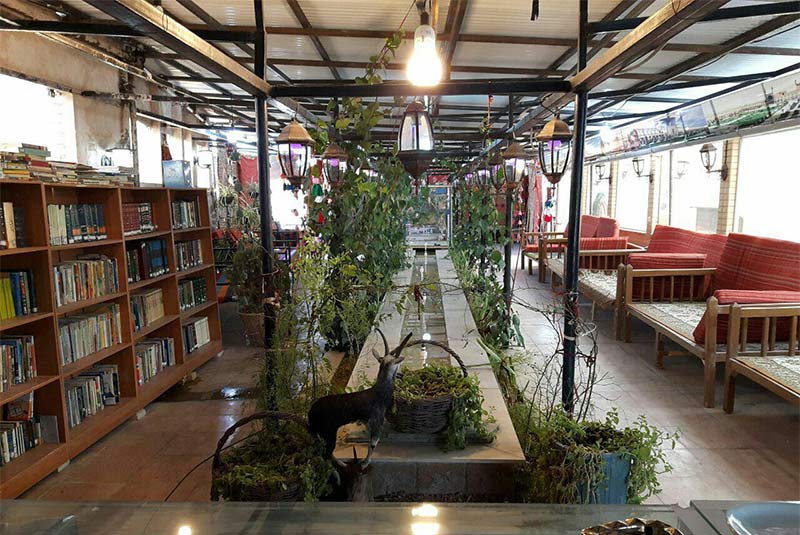 Howzak house is a traditional family-run guesthouse in Isfahan's historic city. Howzak house invites cultural and adventurous travellers to experience the authentic lifestyle inside conventional Iranian architecture from 90 years ago. Howzak House belongs to the late Qajar period (1796–1925). It has a simple architectural style and ornaments but exudes traditional Iranian architecture's charm and magic. Also, it has preserved the cordial spirit of a family house over many decades.
Howzak has five rooms: one double, one twin, one single, and two triples. They are all laid around the green courtyard, where a complimentary fresh breakfast is served. There is also a kitchen where guests can order homemade veggie Persian and Isfahani dishes and two shared bathrooms. The house is designed to accommodate a maximum of 11 guests, which means tranquillity and cosiness are one of the most admirable qualities of this hostel.
Facilities include Free Public Parking nearby, Free High-Speed Internet (WiFi), Free Breakfast, a Kids Pool, Airport Transportation, Outdoor Furniture, 24-hour Check-in, Street Parking, Restaurant, Complimentary Tea, Complimentary Welcome Drink, Outdoor Dining area, Taxi Service, Shared Bathroom, First Aid Kit, and Laundry Service.
3. Tak Taku Guest House
Address: Jalali St Toudeshk-Toudeshkcho, Isfahan
Price: $30-$50
Star: Hostel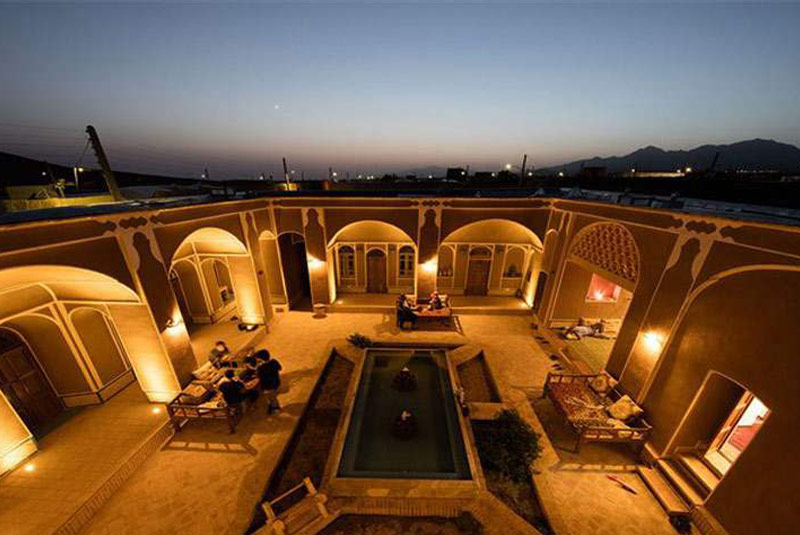 Tak Taku guest house is a beautiful family-run guest house located in Toudeshk. Toudeshk has a perfect climate due to its position above sea level, which means in the hot summer months, when the rest of the country swelters at 45 degrees, the village is still comfortably cool. Tak Taku guesthouse offers complimentary breakfast, lunch and dinner in traditional home-cooked Iranian style. Rooms are available with their own or shared bathrooms. The Tak Taku Guesthouse is nestled in mud-built single-storey houses surrounding the beautiful mosque and traditional Hamam (bathroom) in the oldest part of Toudeskh, known as Toudeskh Cho.
The guest house's large central and picturesque courtyard provides plenty of relaxing opportunities, such as a library, board games and seating areas. Other facilities provided by Tak Taku guest house include Free parking, Free High-Speed Internet (WiFi), a Local Tour Guide, Campfire, Separate non-smoking Rooms, and a Family-Friendly Environment.
4. Joybar Boutique Hotel
Address: Neshat Street No 31, Ale Yassin Dead End, Talaie Pour Dead End, Mirza Kouchak Khan Alley, Moghzi Alley, Isfahan
Price:
Star: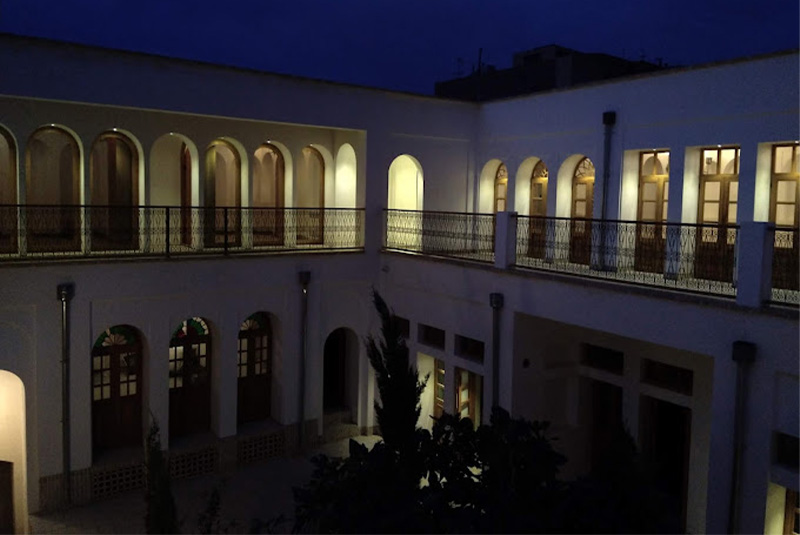 Joybar Boutique Hotel is located in the heart of the Isfahan historical district. It is a 10-minute walk to the World Heritage UNESCO site, Naqsh-e-Jahan square. Joybar boutique hotel is not just a hotel to sleep in! It's your destination to explore, relax and enjoy. Joybar boutique hotel welcomes guests with a delicate and elegant atmosphere, an imprint of the magic of the past. Joybar boutique hotel is a traditional house of the 19th-century Qajar dynasty that has been restored and transformed into a small cosy boutique hotel with modern, comfortable decoration.
Joybar boutique hotel believes it is everyone's responsibility to help the environment in every way possible and stop destroying it. That's why this hotel avoids using plastic and instead uses biodegradable materials. For example, you will only find Organic Handmade Soap for the body and hair instead of chemical shampoos in plastic bottles and Natural Handmade Bamboo slippers. Each room in this hotel has unique characteristics and style; once you experience one, you cannot wait to return. Joybar boutique hotel has seven suites with private bathrooms inside, five double rooms, one triple room and one suite with two double beds and two bathrooms with a small living room.
Hotel facilities include Free WiFi, Free Breakfast, Airport Transportation, 24-hour Security, Baggage Storage, 24-hour Check-in, Private Check-in / Check-out, Restaurant, Breakfast available, and Taxi service.
5. Taak House
Address: No 35, Mikhak/Olfat Alley, Mirdamad Street, Isfahan
Price: $-$
Star: Hostel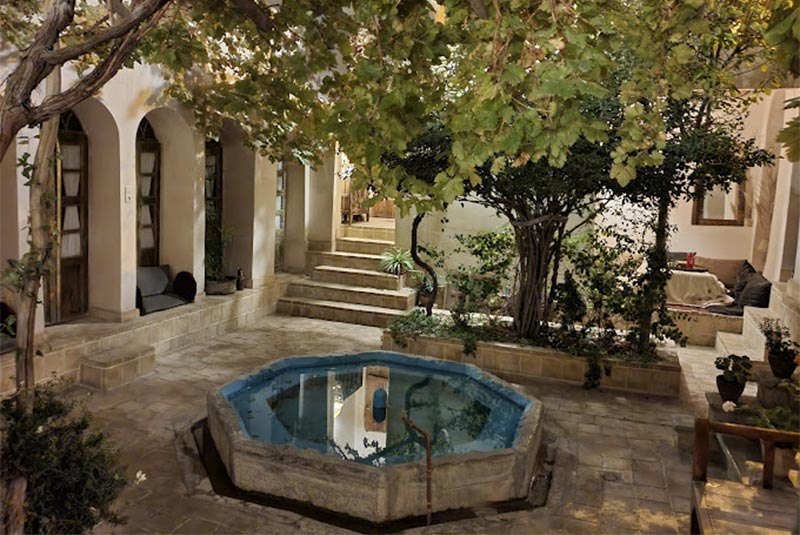 Taak house is a historical house located in the centre of Isfahan. The house features five rooms; the first one has two single beds, the second and third have three single beds, and the fourth and last contain two queen size beds, which is recommended for couples. Taak house has a small garden around a little fountain that allows you to sit back and enjoy your coffee. This guest house has two shared bathrooms with unique designs and a cosy shared kitchen that guests can enjoy using as they please.
---
Share your story!
Comment below and let us know about your Experience.
Your story inspires others!