Kish Island Tourist Attractions
Kish Island Tourist Attractions
Kish Island life is for you if you hate winter and are always trying to escape the cold and seek the sun. The temperature is warm all year, and even winter is like spring. Also, If you love the ocean and marine animals, you will love spending your weekend looking for turtles, sharks, and rays. You can also skydive above lagoons, kitesurf, paddle, and admire beautiful beaches.
Kish Island, also referred to as the Pearl of the Persian Gulf, is a must-visit for any traveler. The Island is located in the Persian Gulf waters, southwest of Bandar Abbas, and is part of the Hormozgān Province of Iran.
This vibrant and dynamic coastal Island is truly a cosmopolitan city owing to its separate visa policy from the Iranian mainland. It is also a free-trade zone touted as a consumer's paradise, with numerous malls, shopping centers, tourist attractions, and resort hotels, so expect to see modern skyscrapers surrounded by breathtaking nature.
Kish Island is one of the most-visited vacation destinations in the Middle East. This Island, called "Qis" in the past, has a beautiful and unique nature, quiet beaches with coral sand, and clear water with unparalleled transparency that enables the view of aquatics at a depth of a few meters.
Most primary sailing ships of ancient times coming to the Persian Gulf from the Susa and Karun Rivers used this Island as the main stopover for the preparation and exchange of goods and commercial needs of the naval bases. From the Persian Gulf, they moved to the northern coast.
The local costume for men in Kish is the Dishdasha dress (long-sleeved tunic). The traditional jobs of the people were fishing, animal husbandry, navigation, and commerce.
Kish local cuisine includes a variety of "Qelyeh," "Mazroubeh," and "Harish." The natives of the Island are of the races Dravidian, Nordic, Sami, and Black, and they speak Arabic and Persian languages.
Top Attraction on Kish Island
Legendary nightlife, exotic landscapes, and idyllic beaches aren't the only treasures on Kish Island. You can also enjoy activities like snorkeling and diving. Read on to discover some tourist spots and hidden gems throughout Kish Island.
1. Harireh Ancient City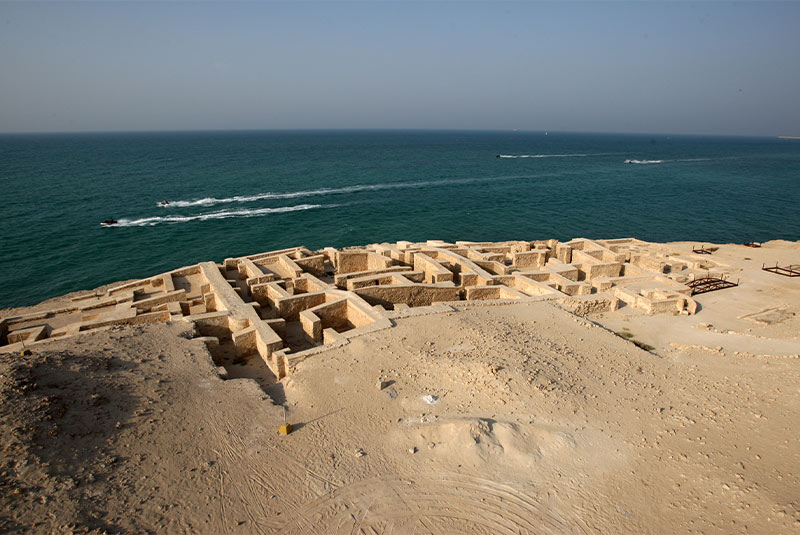 Harireh ancient city lies north of the Island and dates from the 10th to 5th century AH. This ancient city consists of ruins of wealthy houses, congregational mosques, and public bathhouses.
This city's golden age, or prosperity era, was from the fourth century until the early tenth century AH. This ancient city covers an area of 120 hectares and is one of the rare attractions on the Island.
The ancient town of Harireh ruins is said to be 800 years old. Some say Harireh was built sometime between the late Sassanid period and the early Islamic era. Harish was quite popular during the Seljuks and Atavakan of Fars and was once an important port and connection between India, North Africa, China, Europe, and Iran.
2. Kariz Underground City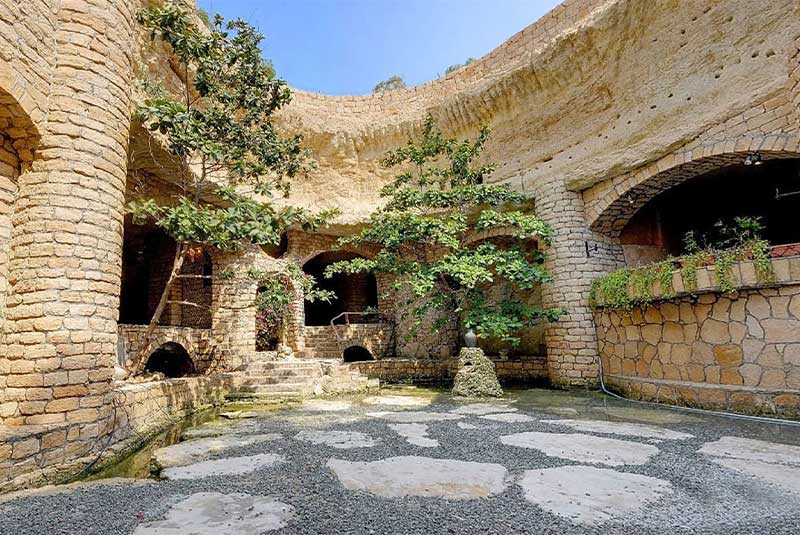 Kariz aqueduct is a tourist and historical area in Kish built 2500 years ago to collect, purify, and store water for the inhabitants of Harireh. This aqueduct is about 16 meters deep underground, and its roof is covered with clams and corals to protect it against heat.
Kariz Aqueduct is an excellent example of ancient technology and provides visitors with an opportunity to get face-to-face with the infrastructure of this fantastic hydraulic system. The aqueduct covers an area of 10 000 square meters. It is one of the most important monuments in the world due to its unique characteristics, such as fresh water, cool air in the basement, and its coral ceiling filled with ancient fossils.
Kariz Underground City consists of three aqueducts and 274 water wells. Some of these wells are wholly intact, and some are changed to form a cone for better air conditioning and lighting. A part of this underground city is allocated to craft booths, art galleries, restaurants, and museums.
3. Jenny Kish Castle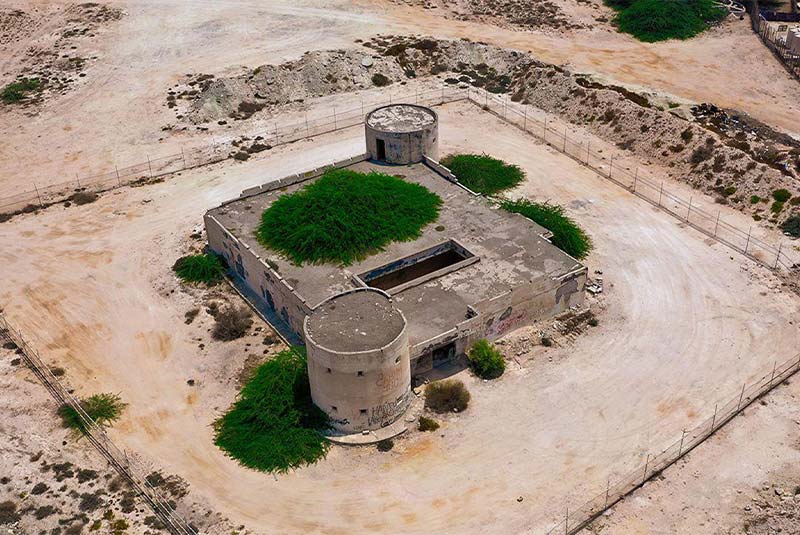 If you are high in excitement and want to experience horror in your entire body, visit Jenny Kish Castle. Jenny Kish castle is the first horror castle in Iran, located near the Greek ship. It is a mysterious and scary place, formerly a checkpoint of the Border Regiment and the place of service for soldiers and gendarmerie officers. The castle is known as the "Jenny Castle" because the locals believe it is haunted by Jinnis(demons).
The jenny kish castle building is rectangular and has two fortifications. It has two floors and a small courtyard with a garden in the middle. In the hours when sunset is approaching, and the sky is getting dark, this castle becomes a place of trepidation and horror. In addition, there is a well near the castle whose water makes a rumbling noise, plus the howling of the wind, which makes the fear of this area very intense.
4. The Greek Ship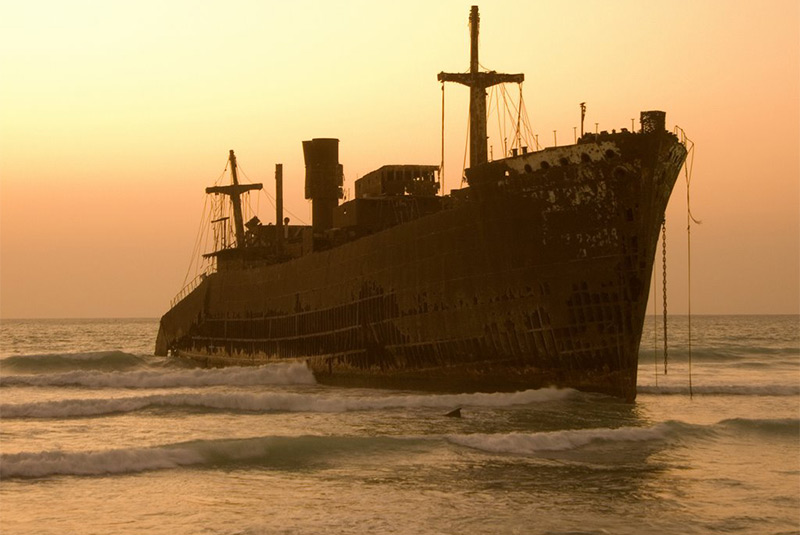 In the southwest of the Island, a colossal ship sits in the shallow waters off the coast, known as a "Greek ship." The Greek Ship is the nickname of a cargo steamship, Khoula F, with an area of 673 square meters and more than 7000 tons of weight that ran aground in 1966.
The ship was built in 1943 by the British shipyard of William Hamilton and Company in Port Glasgow, Scotland. No one knows the exact cause of its wreck, but some say it was beached intentionally by its captain because of its large amount of insurance from the British Company.
The most impressive feature of the giant old ship is its position. During the sunset, it allows the last rays of sunshine to create yellow, red, and orange colors across the sky, and the cloud's shadow creates a beautiful and romantic panel on the back of the Greek ship. Therefore, the best time to visit this ship is at sunset when the view is perfect for taking pictures and watching this beautiful and fantastic scenery. Other fun things you can do while there are camel riding and horse riding by the beach. Also, there is a coastal park where you can buy snacks and food.
4. The Grand Recreational Pier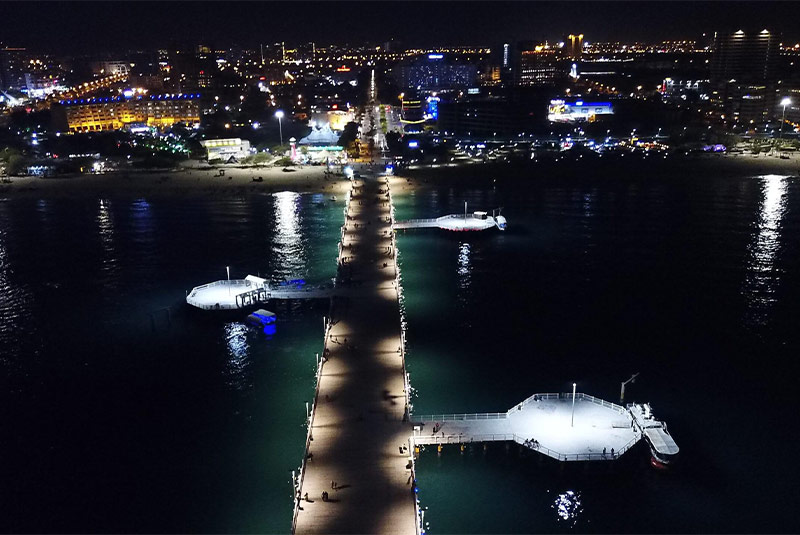 Kish Grand Recreational is one of the spectacular tourist attractions in Kish, which is 437 meters in length and 18 meters in width. The pier has water sports facilities and glass-bottom boats that allow tourists to penetrate the sea creatures' private world and watch fish, turtles, and seabirds swim.
If you love boating, you can rent a glass-bottom boat and create one of the most memorable trips to the Island. You can also try a Pedal boat, rowing boat, or water bike. If you are not into boating, you can try fishing or watching professional fishermen catch some unique and alluring fish.
You can also experience life underwater by diving and swimming at Kish grand recreational pier. Make sure you try other exciting experiences like jet skiing or flyboarding. You can also take beautiful pictures of nature while watching the sunrise or sunset next to the recreational pier of Kish.
5. Dolphin Park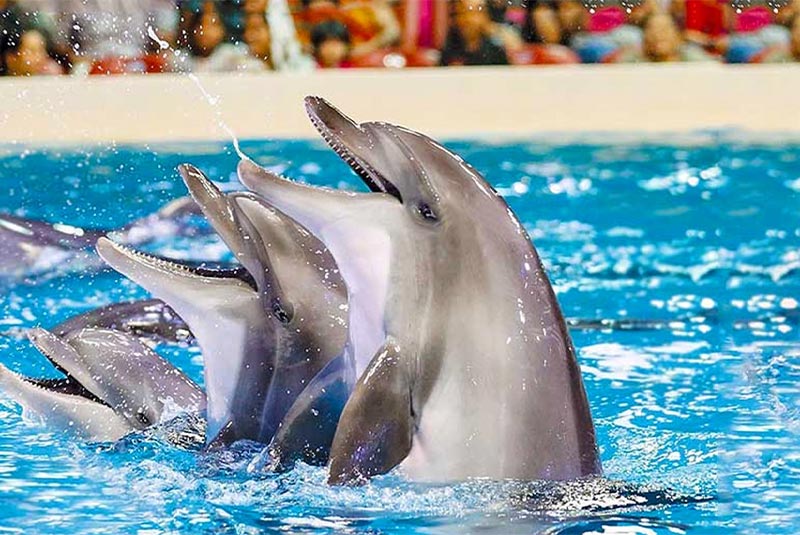 The recreational complex of Dolphin Park is located in the southeast of Kish Island and covers an area of 100 hectares. It is the first dolphin park in Iran, and many shows are held there.
The complex consists of green spaces with various species of plants and a bird garden. The dolphins here are very charming animals, and they put on exciting shows with the help of their coaches, so watching them swim around, and dive can be a very memorable experience.
Other animals live in the complex, including sea lions, walruses, and penguins. In addition, 21 marine mammals are kept in the pools with a volume of 18,000 cubic meters filled with seawater. The park also contains a circus, a laser show, a saltwater aquarium, and a landscape area.
The green spaces of Dolphin Park have many plant species, including palm trees, banyan, eucalyptus, acacia, mesquite, marshmallow, and different varieties of cactus and other plants that are unique in their kinds.
The bird garden has two parts. One of them is where the birds are kept in cages; in the other, they live and fly in an area of two hectares. In the bird garden, more than 50 species gathered from different countries worldwide of birds like pelicans, ostriches, parrots of Macau, peacocks, storks, toucan, touraco, swans, and other types of aquatic animals like crocodiles are kept. If you are lucky enough, you may see a peacock spread out its tail or take a photo with a trained hawk on your shoulder.
6. Kish Aquarium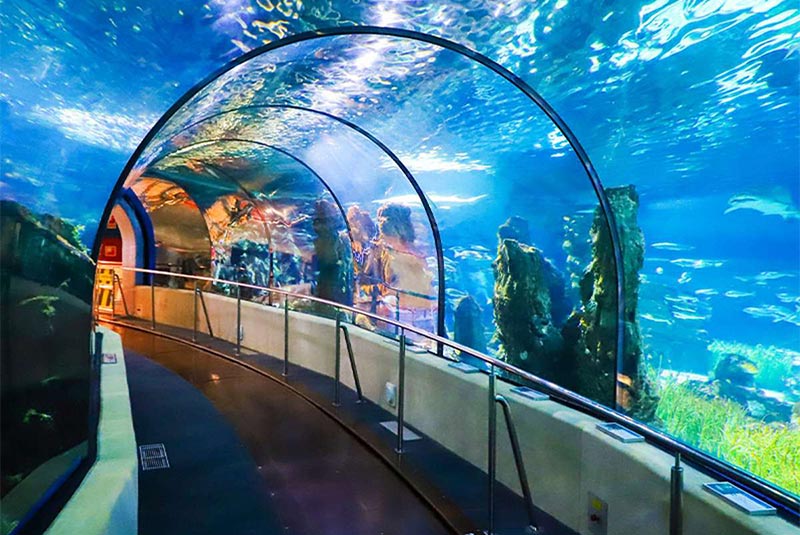 Kish Aquarium is located next to Dolphin Park and consists of two main parts. One part of the Aquarium, with a volume of 50,000 liters, contains sharks, crocodiles, and snakes; the other, with a volume of 20,000 liters, has 70 rare and interesting fish. You can see colorful corals, fish, turtles, and many other creatures in this Aquarium.
7. Anthropology House of Kish Island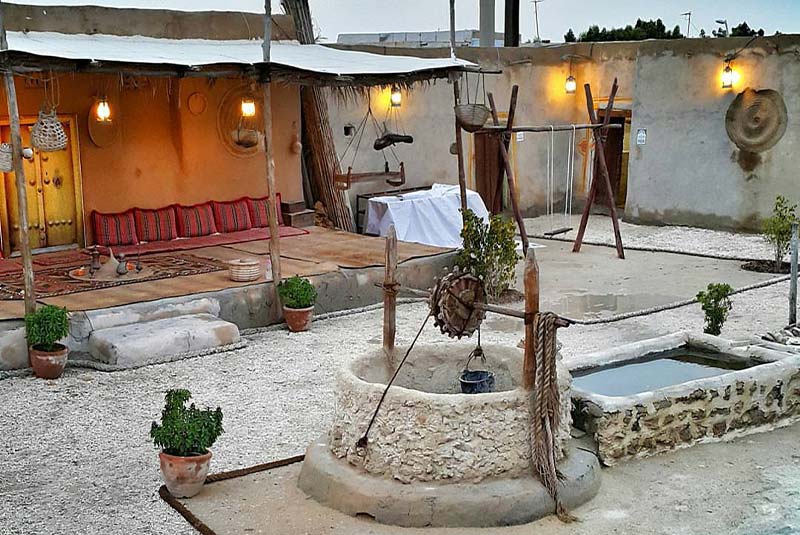 The anthropology house is located in a building dating back to 200 years in the old district of Safin. The house covers an area of one thousand and two hundred square meters with 15 rooms, two courtyards, a chamber, and one family courtyard.
Its architecture is entirely native, and the house is built to introduce the unique history, culture, customs, lifestyle, and crafts of the natives. You can see the old way of life and jobs of the natives, and a large number of old cooking tools, pearling, and fishing in the anthropological house.
The house symbolizes the authenticity and hospitality of the people of Kish Island. The prominent owner of this house is Haj Abdollah Bin Shahin (RIP), a popular and famous trader who was the owner of one of the big sailing yards. The Chamber yard of the house has a unique door, winter room, summer room, and storehouse.
8. Arab Bazaar in Kish (Bazaar Arabia)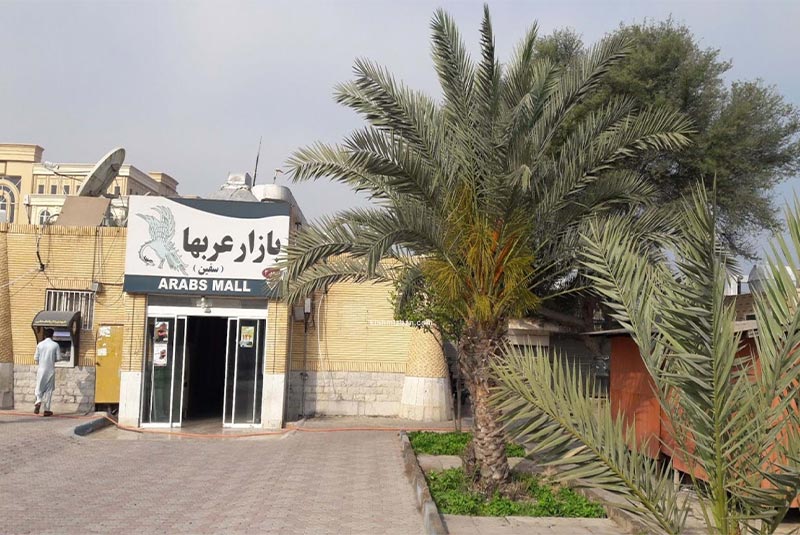 Arab Market is the oldest market on Kish Island. It has been a shopping center for indigenous people and travelers. The Arab Market in Kish consists of one floor and is very small. Most of its dealers can speak Arabic and Persian.
Arab Market in Kish is located near Pars Khalij Shopping Center. Tourists usually love visiting this market due to its history, Arabic architecture, traditional shops, and cheapness. Shopping from this market favors the budget-minded because it is much cheaper than the other Kish shopping centers with almost the same variety of goods. Also, one of the most exclusive beaches is in the vicinity.
9. Ocean Water Park ( Also known as Parke Alabi )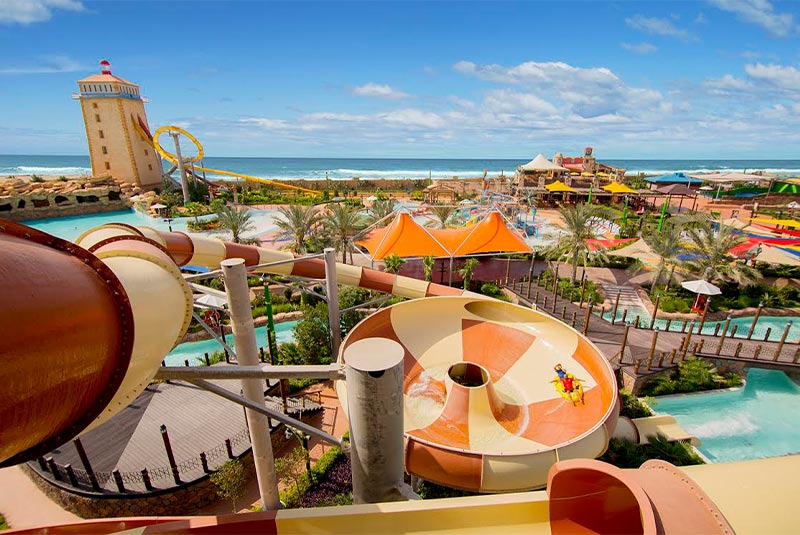 Ocean Water Park is a 5.6-hectare outdoor water park located on Kish Island. It is the first Iranian-themed outdoor water park based on the story of the Mystery of the Sun Castle, which was about a group of pirates attacking an island in the Persian Gulf. Pirates, headed by Captain Sayan, raid and capture the Sun Castle to obtain the Sun Orb and rule the ocean. Three brothers named Pullad, Mahan, and Bashoo, the residents of Sun Castle, decide to fight against the pirates and reclaim Sun Castle.
The ocean water park has several localized features, including unique rides, swimming pools, a spa, restaurants, beverage stops, coffee shops, and shopping areas.
This park has other things, such as Dingo Jacuzzi, slides, pools, and special play tools for children. If you want some adrenaline surge, you should experience the Pichaloop ride in free fall. It would be nice if you also experienced surfing in the Mojab section with the latest technology. There is also a whirlpool where you can enjoy its artificial beach and wave in a great atmosphere with clean and clear water in Tsunami Lake.
10. Shopping Malls in Kish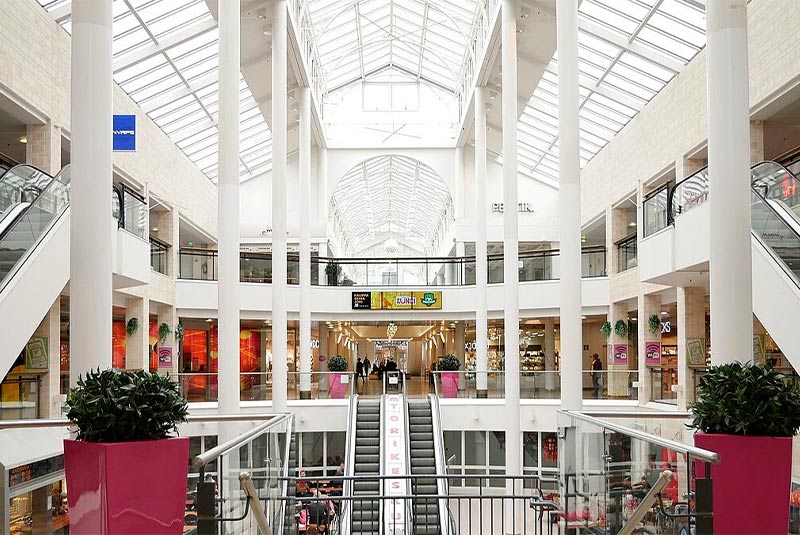 If you are a shopaholic, you are at the right place because this Island is a consumer's paradise with numerous malls and shopping centers. In addition, the Island is a free trade zone making products unbelievably cheap. Therefore, even if you don't intend to buy anything, you will likely fail to return empty-handed. Here are some of the famous and popular shopping malls on Kish Island.
Damon Shopping Mall
Damon Shopping Mall is located on Vesal Street. It has live piano and music, making the atmosphere pleasing and relaxing. It also contains over 100 shops selling different kinds of clothes, quality bags, shoes, beauty products, gold, jewelry, and digital goods. In addition, it has an ice skating rink on its second floor where you can ice skate and play winter sports.
Sarina Mall
Sarina Mall is a 10-floor luxurious commercial complex located on Khayyam Boulevard. It is one of the most beautiful and unique buildings on the Island. You can get any product in this mall, and all of its business units are of reliable brands.
Marjan Mall
If your hotel is near Marjan Beach, You can find whatever you might need in the famous Marjan Mall, which has a modern luxury design and architecture. It also has a great Aquarium with over 800 species. In addition, It has many fountains and projectors that make it magical.
Morvarid Shopping Center
If you want to purchase clothing and kitchen utensils, Morvarid shopping center is the perfect place. This mall also has restaurants and cafés beside it where you can eat.
Maryam International Mall is the perfect place for those who like shopping outdoors. It is located on Santee street, and you can find Clothing, bags, shoes, beauty products, hygiene products, and groceries here.
Pardis Mall 1
Pardis 1 Mall is a two-floor building with 200 stores located on Ferdowsi Street. It is considered one of the largest department stores on Kish Island. You can find clothes, shoes, bags, and amenities like restaurants, traditional tea houses, cafés, travel agencies, and banks.
Pardis Mall 2
Pardis 2 Mall is the twin sister of Pardis 1 Mall. You can also find Clothing, bags, shoes, suitcases, artificial flowers, sports equipment, groceries, electrical devices, and home products here.
Pars Khalij Mall
Pars Khalij Mall is another famous mall located on Mir Mohana Street, and It is one of the greatest regarding the diversity of its goods.
11. The Coast of Kish Island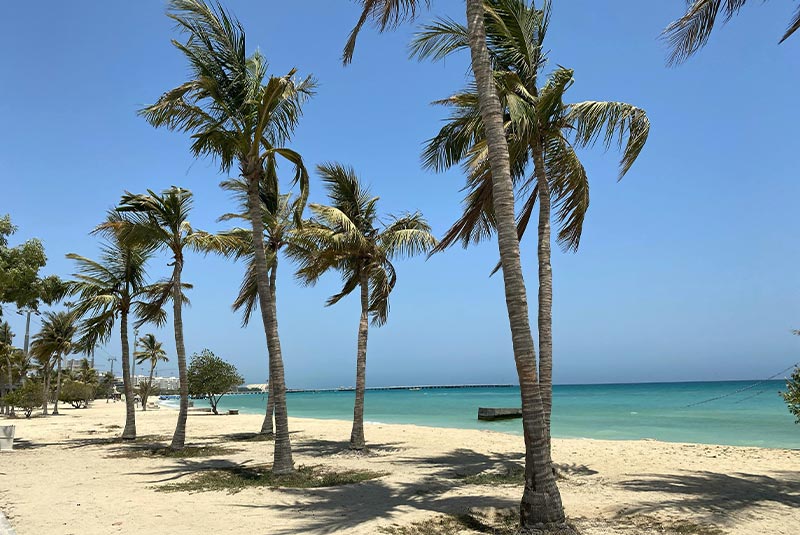 The coasts of the Kish islands are beaches you'll also want to explore. The sand beaches of Kish have coral ground that shines like silver under the sun and a blue, transparent sea that makes the bottom of the sea visible. The beautiful corals and the tranquil coasts provide shelter for pretty colorful fish. Fishing enthusiasts can catch fish on the Island's southern and western beaches.
Stunning ornamental fish in the marginal water do not hide their existence from the audience and can entertain travelers for hours. Apart from enjoying these natural beauties, there is a wide range of coastal activities you can do on Kish beaches to round off your trip. One of the activities you can do is scuba diving, where you will have a quick lesson and receive the necessary equipment. Then, when you are ready, they will take you to the diving site by motorboat, where you will dive with the professionals around you. There are also unique cameras prepared for you to take pictures underwater. If you haven't experienced a fly board, you can also try it and enjoy your view of the sea beneath your feet. Lastly, you can parasail over the sea with your friends or family to leave an exciting memory on Kish Island.
Some famous beaches on this Island are Mir Mahna Beach Park, Simorgh Beach Park, Fisherman Beach Park, and Marjan Beach Park.
MirMahna Beach Park
Mir Mahna Beach Park is the largest coastal park on the Island, located on Darya Boulevard. It has many restaurants, shopping malls, and hotels around it. In this park, you can do many things, for example, fishing with your family or seeing the turtles move freely in the blue waters of Kish. Also, walking inside the park and its beautiful pier is another fun thing to do. You can also listen to birds and watch the fantastic sunset.
Another relaxing thing you can do is meditate while listening to the soothing sound of the waves. If you want to do some coastal activities, you can rent a boat and enjoy being on the water. In addition, delicious Persian food in Mirmahna Restaurant.
Simorgh Beach Park
Simorgh Beach Park is a top-rated touristic site on the Island's southeastern side. This park has a large playground, a badminton court, a ping pong court, a skating rink, and a walking trail. The most amusing part of this beach park is that Kish Dolphin Complex and Kish Aquarium are located on it. If you want to try some of the best Persian dishes, there are many restaurants nearby, like Simorgh Restaurant, Foodland Restaurant, and Pars Restaurant.
Marde Mahigir Coastal Park
Fisherman Beach Park or Marde Mahigir coastal park is another famous beach to spend a lovely day in Kish. It is located on the eastern side of the Island and has a unique 12-meter statue of a fisherman holding a fishing net and facing the sea. This statue is the second tallest figurative sculpture in Iran. There are also two large fountains and native plants such as Iranian Ghaf, Ziziphus, Oriental hornbeam, Tamarix, gum arabic tree, and date palm in this park. You can also ride a horse or camel by the sea.
Marjan Coastal Park
The Marjan Coastal Park is located near Marjan Mall. It is one of the most beautiful places in Kish. Many travelers are attracted to this place because of its blue and clean water that allows any moving creature to be seen under the water and for the existence of various colorful oyster shells and different snails and sea stones frequently brought to the coast by the water.
Also, a long bicycle route passes through this park, where you can ride your bicycle or motorbike. You can also try a lot of water sports activities here. You can do scuba diving, jet skiing, banana riding, parasailing, fly board, and shuttle.
If you are hungry, there are several good restaurants around you. Hafezieh Restaurant and Foodland are some of them. Also, if you prefer to stay in a hotel near this fascinating beach, Marina Park Hotel, Dariush Grand Hotel, and Parmis Hotel are some of your options for luxury hotels.