Tabriz Tourist Attractions
Tabriz Bazaar Complex | The Largest Covered Bazaar in Iran
One of the most important cities in Iran which is known for a cultural exchange since antiquity is Tabriz which is located in the northwest part of Iran. The city is one of the most important commercial centers on the Silk Road and therefore one of the most historical bazaar in the country is located at the heart of Tabriz.
Read more
Tabriz Tourist Attractions
Tabriz is one of the largest cities in Iran, the capital of East Azerbaijan province, located in the northwest of Iran. This city is rich in culture and history as it has been one of the most important cities since a long time ago. The people of Tabriz speak Azeri and Persian is their second language. Suppose you are interested in traveling to Iran. In that case, it is highly recommended to visit Tabriz as one of your destinations, due to its many attractions, including spectacular sites, exceptional food, and various ceremonies. Moreover, Tabriz is attractive to those who like to get to know Azeri society and culture because Tabriz is one of its centers. In the following, we will briefly introduce the historical and cultural, and also natural attractions of Tabriz.
Tabriz Attractions: Where to Visit Inside the City
Tabriz has many attractions within the city that are easily accessible and also interesting for tourists; you can start traveling around Tabriz by visiting:
1. Tabriz Bazaar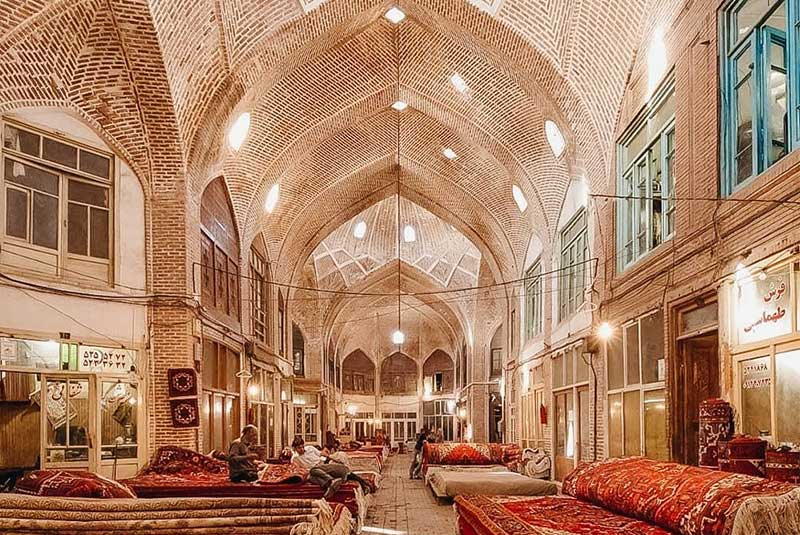 This bazaar is the strong point of Tabriz attractions and is a must-see. So it is better to start your trip by visiting this fabulous place in the city's center. Bazaars of Iran developed in cities along the ancient caravan routes and formed networks linking centers of culture and commerce. Most Iranian Bazaars are ensembles gradually created by constructing and connecting commercial and public buildings such as caravanserais, Timchas (covered caravanserai inside the bazaar), and Dokkans (shops). In addition to commercial buildings, many spaces with sociocultural and religious functions are allocated to mosques, Madrasas (traditional, religious schools), tea houses, Hammams, and in some cases, ZurKhanas (gymnasiums).
The most significant attribute of Bazaars has always been their social and cultural role in the everyday life of citizens. [1]. Tabriz Bazaar is the oldest and most beautiful shopping center in Tabriz, which has extraordinary architecture. You can go shopping there while visiting one of the UNESCO World Heritage Sites along the Silk Road, which flourished during the Safavid era in the 16th century.
Under high domed ceilings, there are caravanserais and a maze of alleyways. Also, everything such as spices, jewelry, pots and pans, traditional papakh (Azeri hats) made of tight-curled astrakhan wool, qualified leather goods, copper artifacts, and on top of that, rugs and carpets are being sold in the Dokkans of the bazaar. Furthermore, this bazaar is a suitable place to buy souvenirs such as sweets like "Nougat" or "Luka", "Rahat al-Halgom" as well as carpet and leather. You can also find traditional restaurants in and around the Tabriz Bazaar to experience the traditional delicacies of Tabriz. There are teahouses in the bazaar that are worth visiting as well.
2. Tabriz Jame Mosque (Masjid-e-Jame)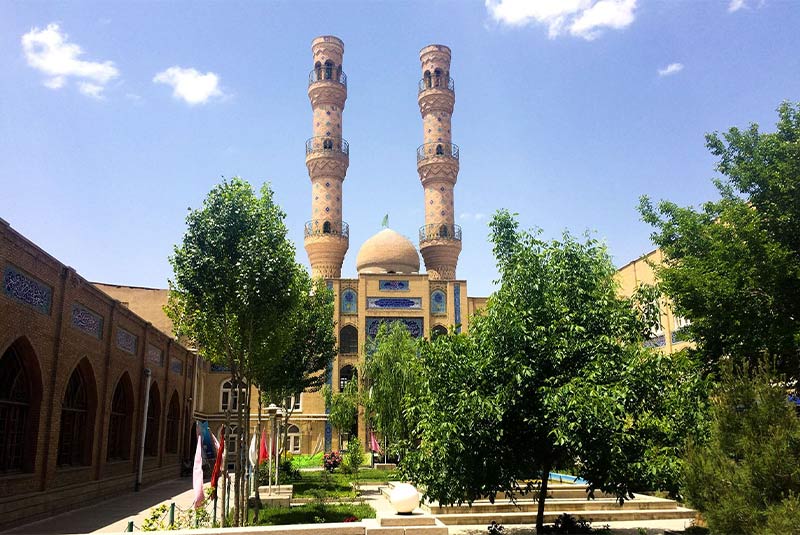 You can look at an old but renovated mosque near the Tabriz Bazaar. Jame Mosque of Tabriz (Masjed Jom'a) was built during the Seljuk period (11th and 12th centuries AD), and since the early days of its construction, its function has been as a comprehensive mosque. Unfortunately, parts of it were destroyed by the earthquake of 1779, although it was renovated in the Qajar era and turned into its present-day form.
3. Constitution House of Tabriz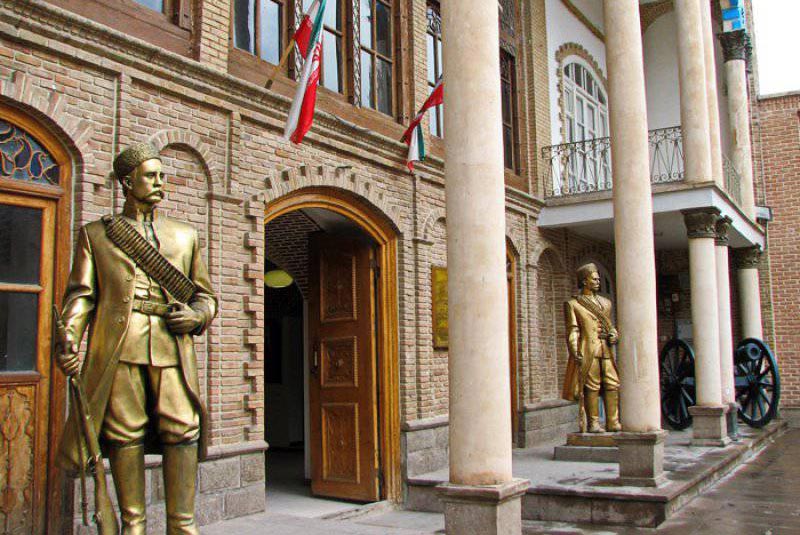 If you continue your way, you will reach a different museum near the Jame Mosque. The Constitution House of Tabriz is a historical house and Constitution Museum as well. This museum was established because of the significant role of Azerbaijan, especially the people of Tabriz, in the constitutional revolution. Moreover, the museum presents the works and monuments left by the great leaders of that revolution, as well as the collection of documents and documentary photos related to the events of the Constitutional Revolution.
4. Arg-e-Alishah (Ark-e-Alishah)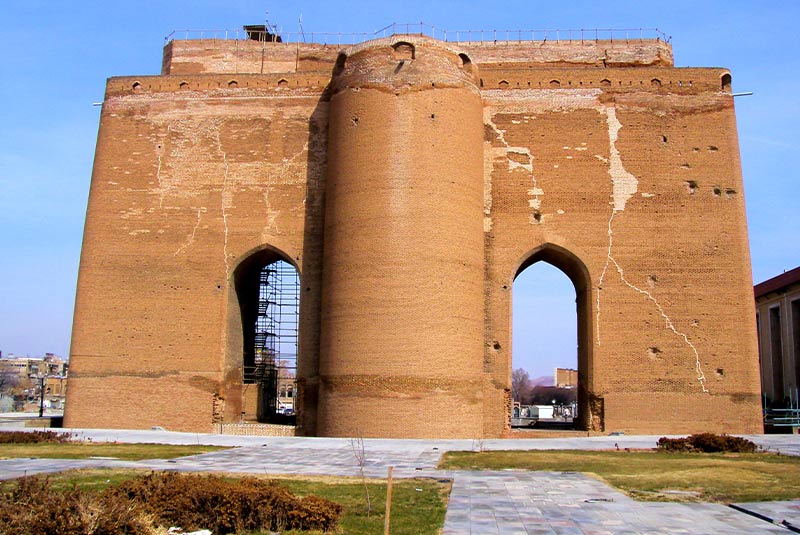 Going south from where the Constitution Museum is located, you will see a magnificent citadel, and by extending your path to the southwest of the museum to reach the citadel, you can see the Gajil Gateway on your way, which is better not to miss. The Alisha Citadel of Tabriz, whose initial construction dates back to the end of the early 14th century, has been renovated and expanded in several periods. From this point of view, this valuable complex can be called the historical memory of the ancient city of Tabriz.
This seven-hundred-year-old building includes a school, a mosque, and a monastery, which was built during the reign of Tajuddin Alishah Jilani, one of the Gorkan rulers. Alisha Citadel and its complex was the most prominent building in Tabriz City at the time of its construction. According to historical travelers, this building is the only building in Tabriz that has been seen from afar. It is worth mentioning that Ali Baba Tabriz Kebab is located behind Ark, the intersection of South Shariati Street (South Shahnaz) and Imam Khomeini Street, which is famous because of its "Tawa Kebab" and it is highly recommended to try it.
5. El Goli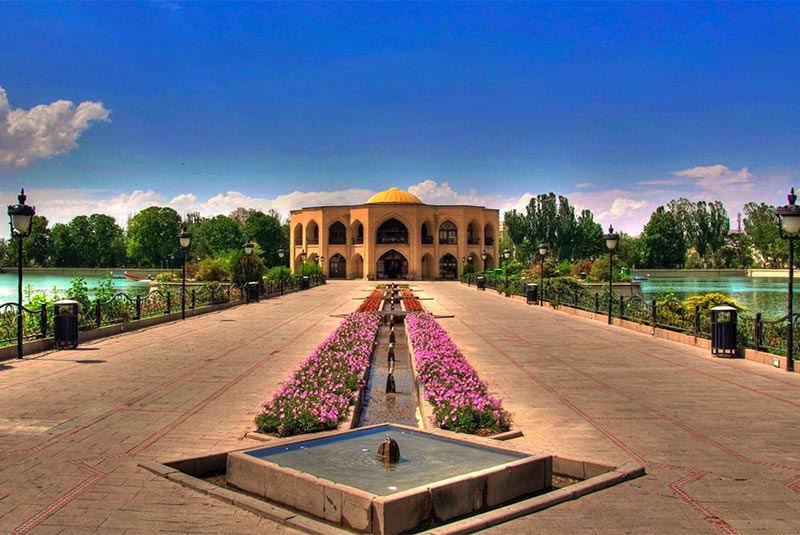 El Goli Park is the best choice to spend leisure time among Iranian families in Tabriz in a spectacular and historical place. El Goli is a park and garden where families spend time together in an organic space. In this garden, the building is in the middle of the pool, located on the hillside, and the city of Tabriz is spectacular from its point of view as the garden is at the highest part of the city. In the past, its name was Shah Goli. It is worth mentioning that in the Turkish language, "Gol" means pool, and "Shah" means big, which after the revolution, was changed to "El Goli" meaning "people's lake".
6. Blue Mosque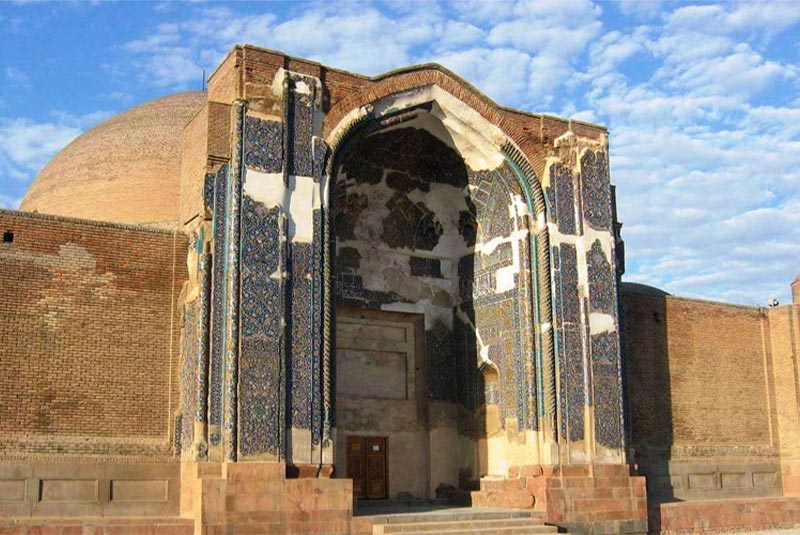 Muzaffariyah Mosque, known as the Blue or Turquoise Mosque of Islam, which dates back to the 15th century, is one of the outstanding works of Iranian architecture and tiling. The mosque is known as blue because of its blue tiles. Originally this building was part of a complex called Muzaffariyya, which is called after its creator, Abul Muzaffar Jahanshah. The mosque was probably multi-purpose, mainly since it contains the tomb of Emir Qaraquyonlu Jahanshah and his family members. As a result of the 18th-century earthquake, the mosque was severely destroyed. Unfortunately, these days the remains of the mosque are nothing but a portal and some pillars, though the wonders of this mosque still exist.
7. Azerbaijan Museum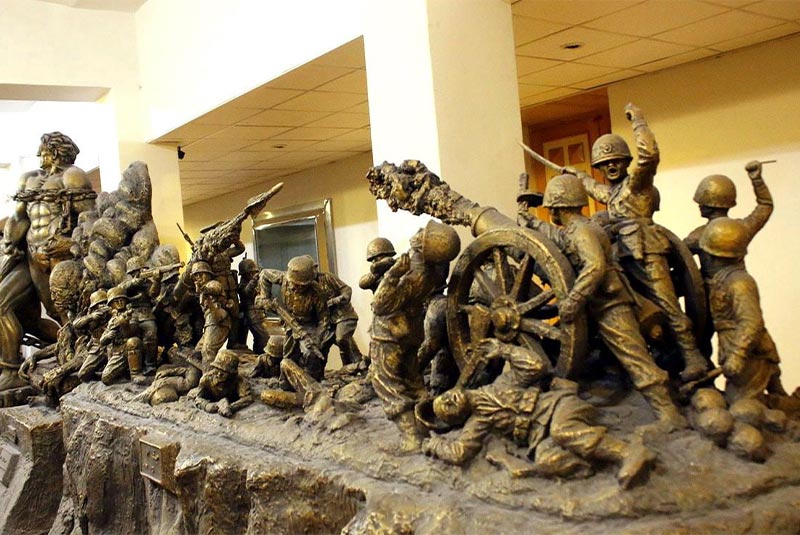 There are two attractive museums next to the Blue Mosque. One of them is Azerbaijan Museum. The plan to establish the Azerbaijan Museum dates back to 1927. Construction of the present building began in 1958, and in 1962 it opened. The museum was designed by André Godard, the Director of the National Museum in Tehran, and constructed by Ismail Dibaj.[2].
The Azerbaijan Museum is one of the oldest museums in Iran. The exhibition includes objects from different archaeological sites throughout the country and covers the entire chronological span of its history. With an area of 3000 square meters, about 11,000 pieces of exquisite ancient objects have been registered in this museum. This museum consists of the following sections:
The pre-historic and early historic periods
Exhibits from the Islamic period
The numismatic collection
Sculpture and epigraphy
8. Sa'at Tower, Municipality of Tabriz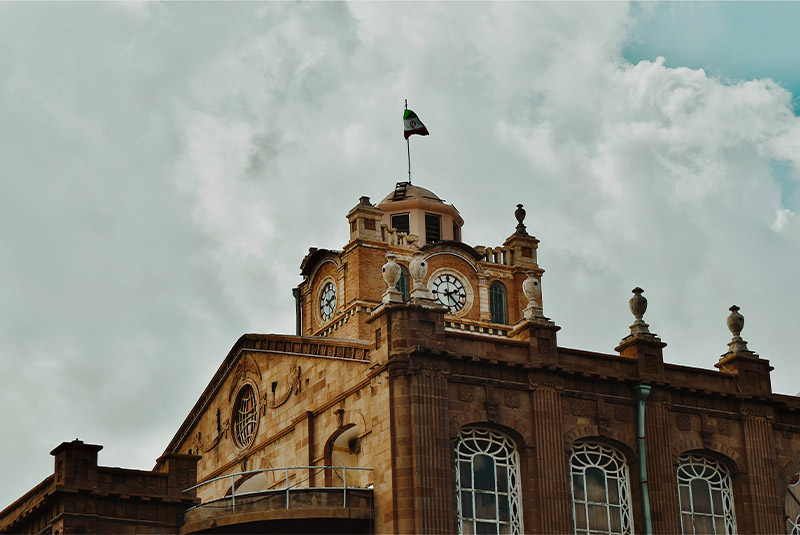 The Museum of Municipality has a clock that chimes every 15 minutes, and the name of the square in front of it is Municipality or Sa'at (clock). The plan of the building is the shape of a flying eagle. The museum consists of various halls such as old cameras, carpets, contemporary art, calligraphy, etc.
By passing by the Tabriz Firefighting Tower and crossing along the Qari Bridge, which is located north of the previous sites, you will reach the Maqbaratoshoara.
9. Poets' Mausoleum (Maqbarat-o-Shoara)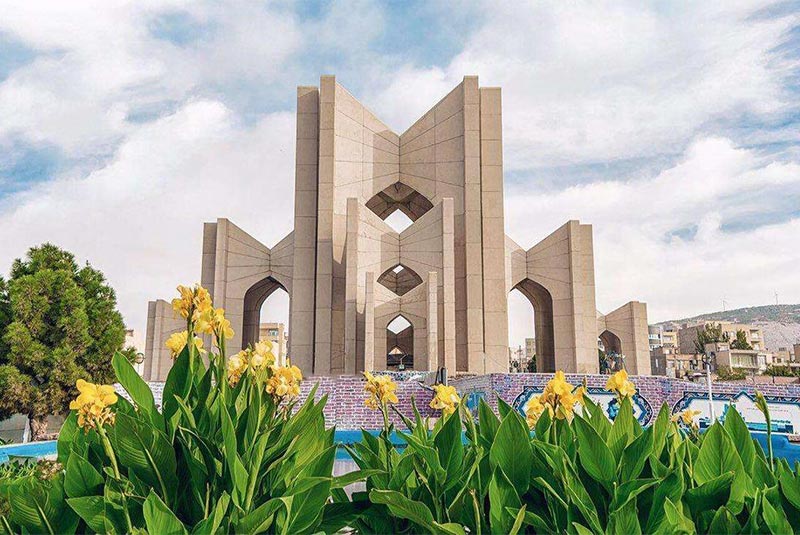 Since a long time ago, poetry has been very important for Iranians; therefore, Iran has many poets. Maqbarat-o-Shoara in Tabriz is a cemetery of great poets and thinkers of the past. More than 400 notables of the arts and letters from between the 19th and 20th centuries are buried here.
10. Iron Age Museum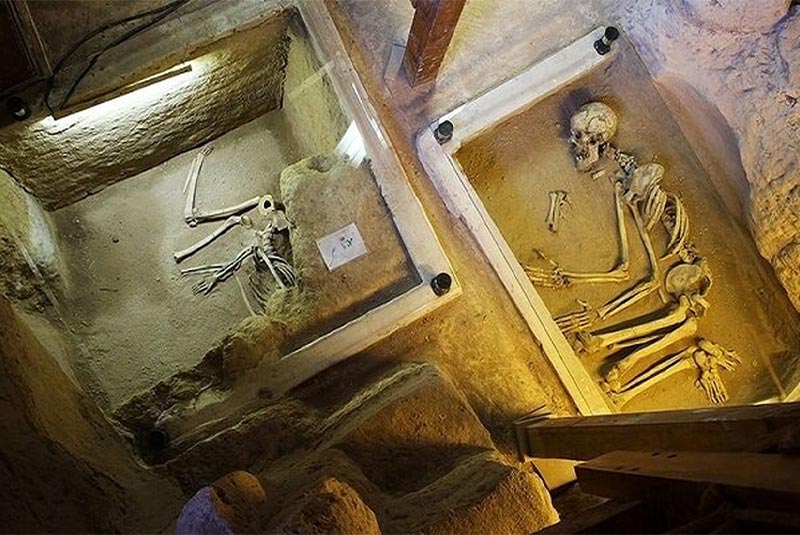 The second museum is Iron Age Museum. The Museum of the Iron Age, which is related to the second and third Iron Periods, the end of the second millennium and the beginning of the first millennium BC, contains several skeletons, jewels, ornaments, work tools, etc., which are buried next to these skeletons. This cemetery indicates a mass grave dating back to 4000 years ago. The graves belong to people of different genders and ages; infants' graves are simple, while juvenile graves have square structures and two clay pots; women were buried with jewelry and men with their weapons.
11. Qajar Museum (Amir Nezam House)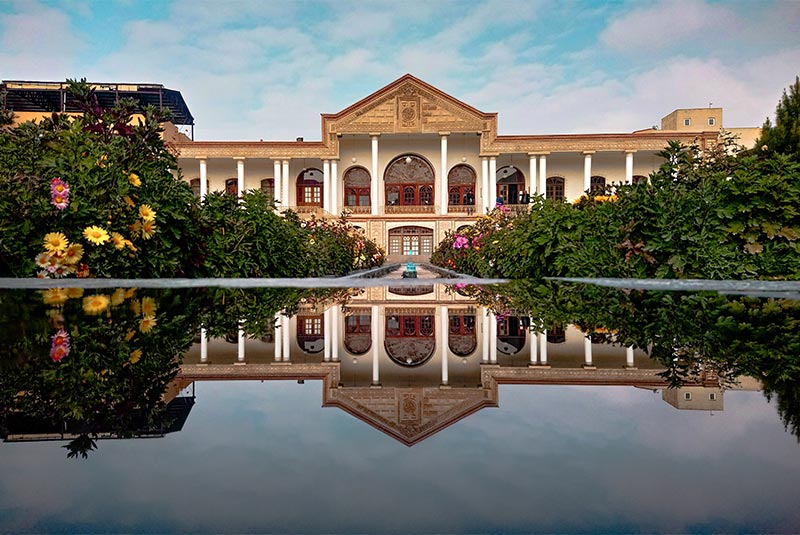 Next to the Maqbaratoshoara, you can visit a historical museum in a lovely house. The Qajar Museum is located in the Sheshghelan neighborhood, one of the old neighborhoods of Tabriz, in a beautiful old house belonging to Hasan Ali Khan, Amir Nizam Gross, and its construction dates back to the middle of the Qajar period. Amir Nizam's mansion is built in an introverted architectural style and on two floors with an area of 1500 square meters. This museum has various exhibition halls such as money and coins of Qajar era hall, dishes hall, colorful tiles hall, gun and weapons hall, musical instruments hall, and so on.
12. St. Sarkis Church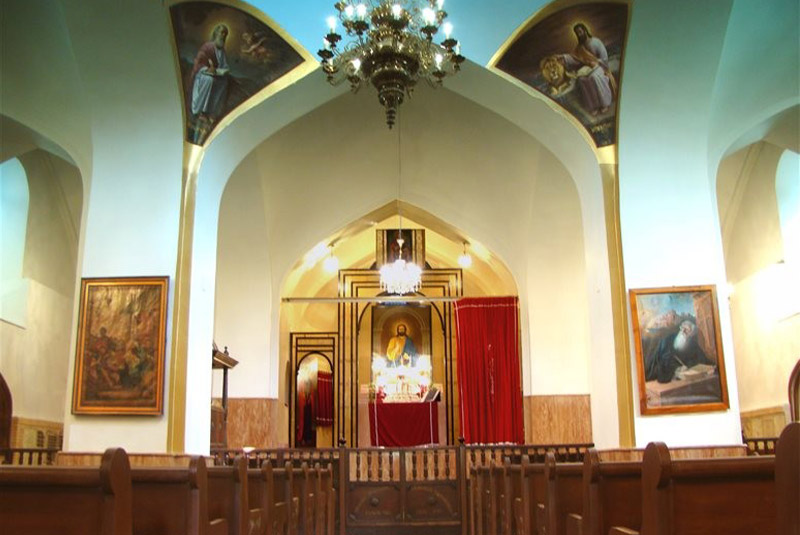 You can find St. Sarkis Church near the Arg-e-Alishah, which was built in 1821 by Petrossian and has Armenian architecture so it may be interesting for tourists. On your way to the Blue Mosque, which is a must-see by all tourists due to its old age and fantastic architecture, you can visit some historical houses of Tabriz such as Nikdel House, Behnam House, Hariri House, Heidarzade House, Ordubadi House, Sadekiani House, Blurchian House, Ghadaki House, Nafisi- Far House, Lale'ie House a little further, which most of them date back to Qajar era, and also Ostad Shahriar Museum, which is the house of the contemporary poet Shahriar.
13. Historical houses of Tabriz
Following is a list of famous historical houses of Tabriz:
Nikdel House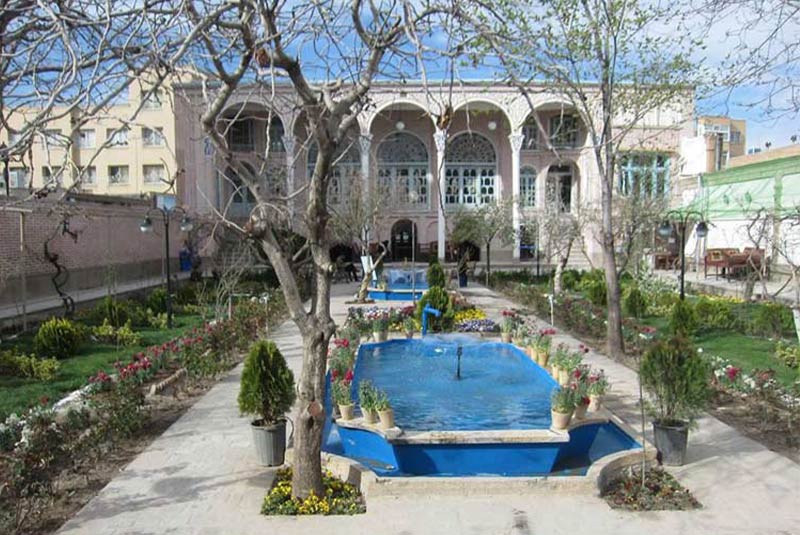 This house dates back to the Qajar era, and you will surely enjoy its architecture and pleasant atmosphere.
Behnam House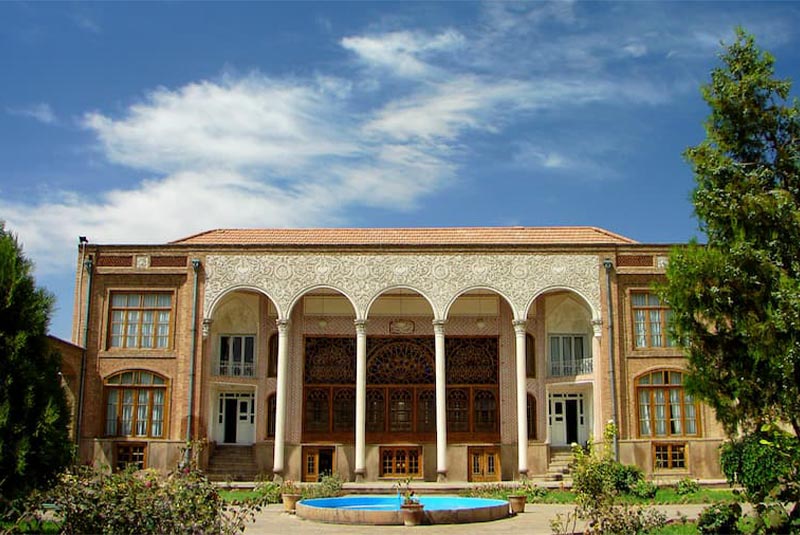 This house is located in the historic neighborhood of Maqsoodiyeh, it belongs to the Zandiyeh period, which was renovated, and probably painted decorations were added during the period of Naser al-Din Shah. The building is a complete set of inner and outer courtyards, like many traditional houses in Iran. This house includes an entrance complex (entrance, vestibule, and corridor), a large outer courtyard, an inner courtyard, a pillared porch for summer living in the south, etc.
Hariri House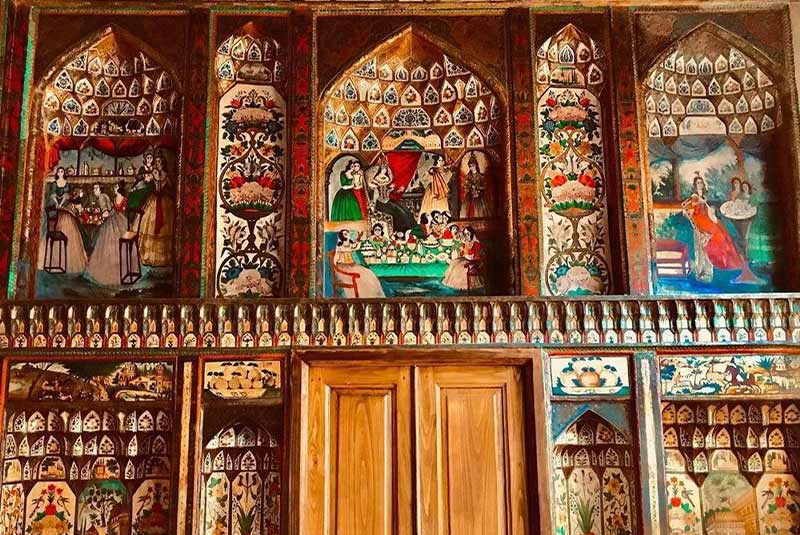 The Hariri House is so famous for its outstanding architectural features, and it has been added to the list of national heritage. This house belonged to Dr. Heriri and was built in the early Qajar period.
Sattar Khan Historical House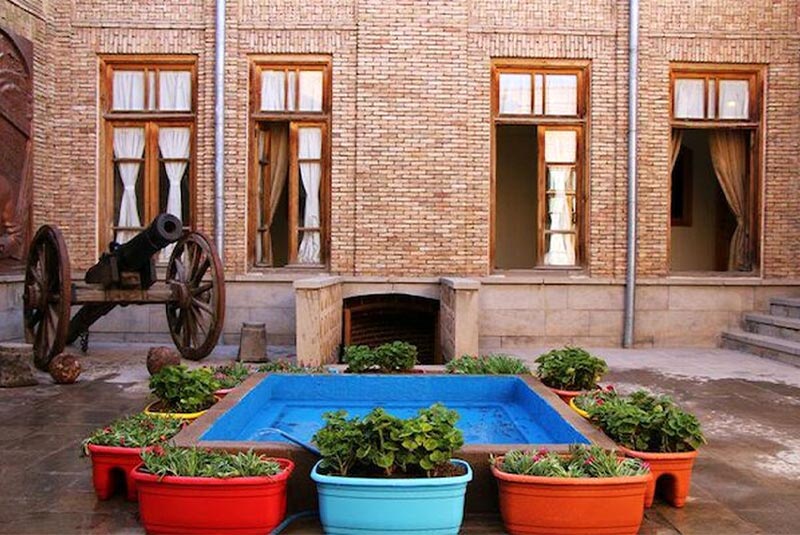 If you continue your way to the west, you can visit the historical house of a hero in Tabriz, Sattar Khan. His honorary title Sardār-e Melli means National Commander (from 1866 to 1914).
Parvin Etesami's House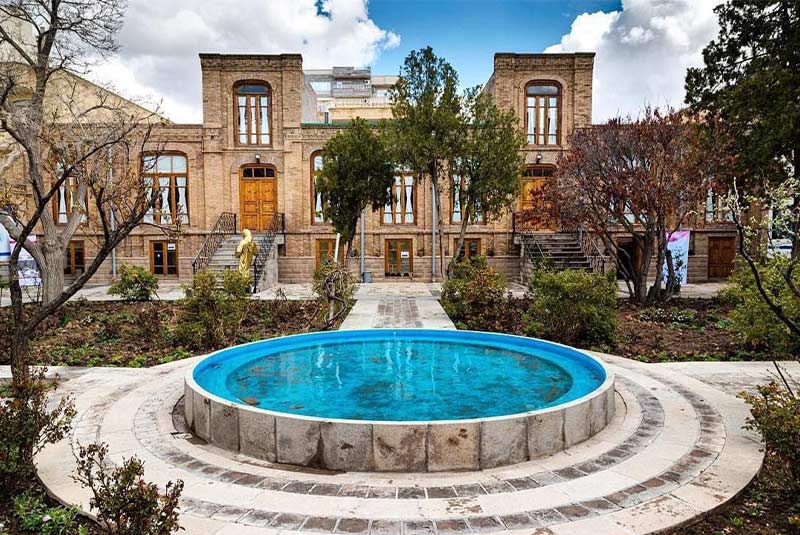 To the south of the Maqbaratoshoara and the Qajar Museum, you can visit Parvin Etesami's House, a famous Persian poet of the 20th century. It is also better to visit the Measure Museum, Sa'at Tower, Municipality of Tabriz, and Sound and Music Museum before reaching the Blue Mosque.
14. Measure Museum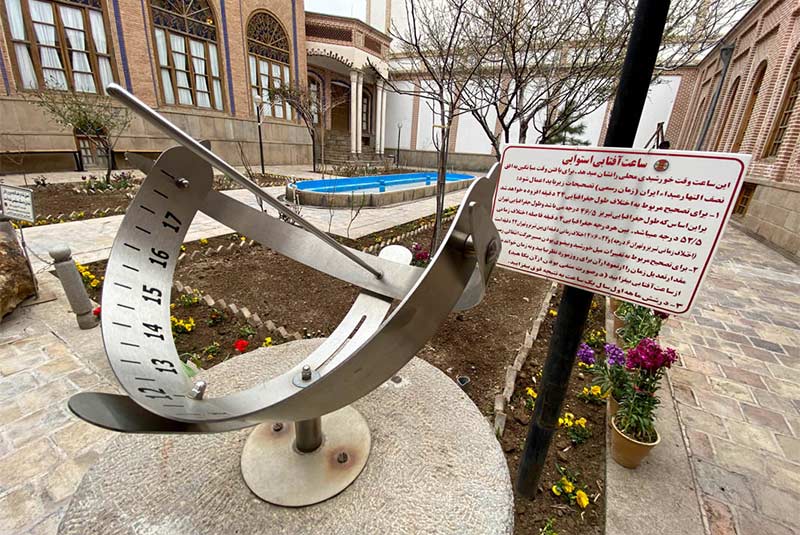 In this museum, all kinds of tools and instruments related to measuring time, such as all kinds of old and artistic clocks made by different countries, all types of weight measuring tools, from fine scales to large scales for measuring, length measuring devices, and other scales are displayed. This museum is built in the heartwarming atmosphere of an old Salmasi house. This house belonged to the early Qajar period and was built by the Salmasi family, one of the old families of Tabriz.
15. Sound and Music Museum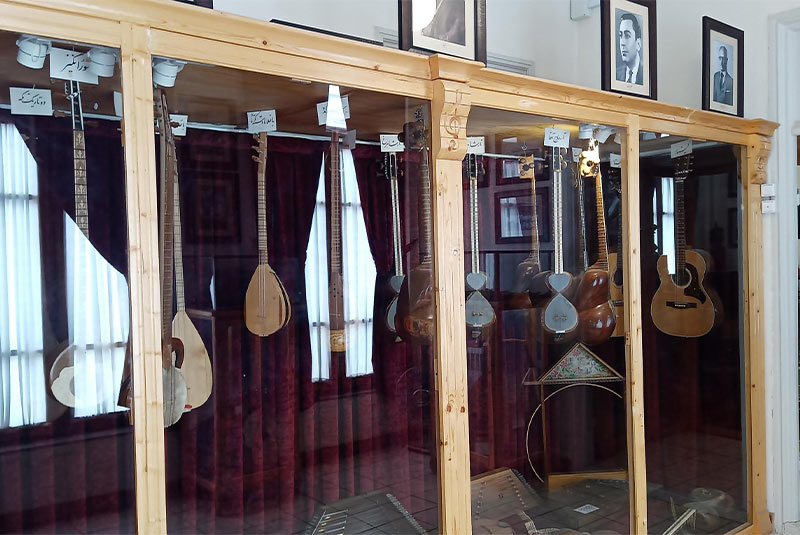 This museum is in one of the historical houses of Tabriz and was built in the Qajar era. Nowadays, many different kinds of musical instruments have been shown in this attractive space.
16. Pottery Museum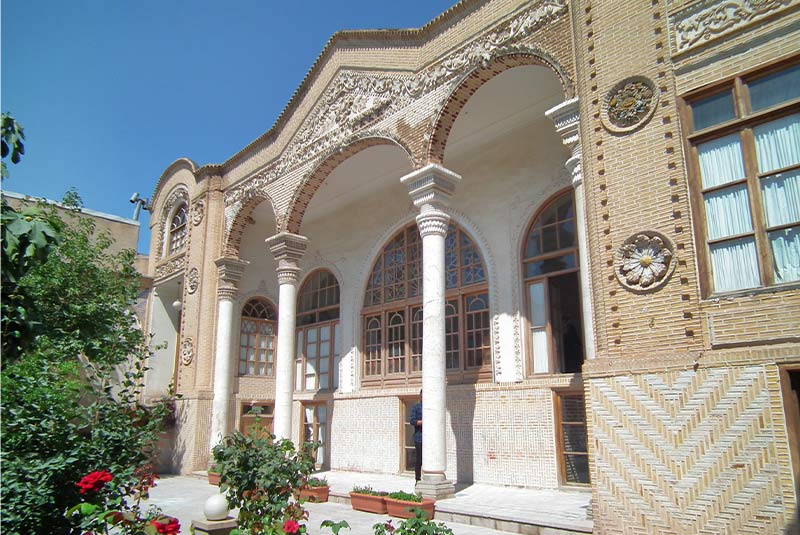 To the north of the Maqbaratoshoara and the Qajar Museum, you can reach Pottery Museum. Pottery is one of the handicrafts of Tabriz. Therefore, there is a Pottery Museum in one of the historical houses of Tabriz, which belongs to the Qajar and Pahlavi eras. The museum not only presents pots and various pottery crafts but also has live potters working there, so you can watch the steps of these beautiful handicrafts.
17. Saheb-ol-Amr Mosque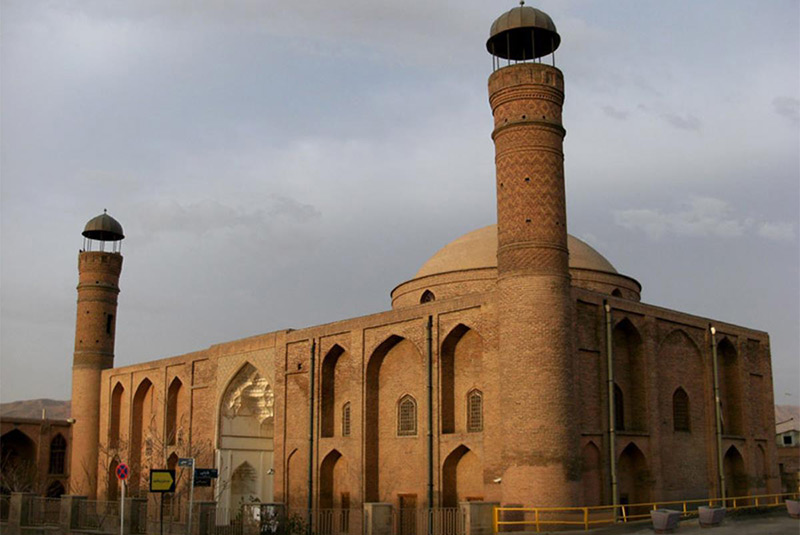 Saheb-ol-Amr Mosque is located near the Pottery Museum, which is a beautiful construction with a fascinating history. Also, there are other Museums, Historical Sights and Houses around Tabriz that you can visit if you have time and are interested in.
18. Tabriz Museum of Natural History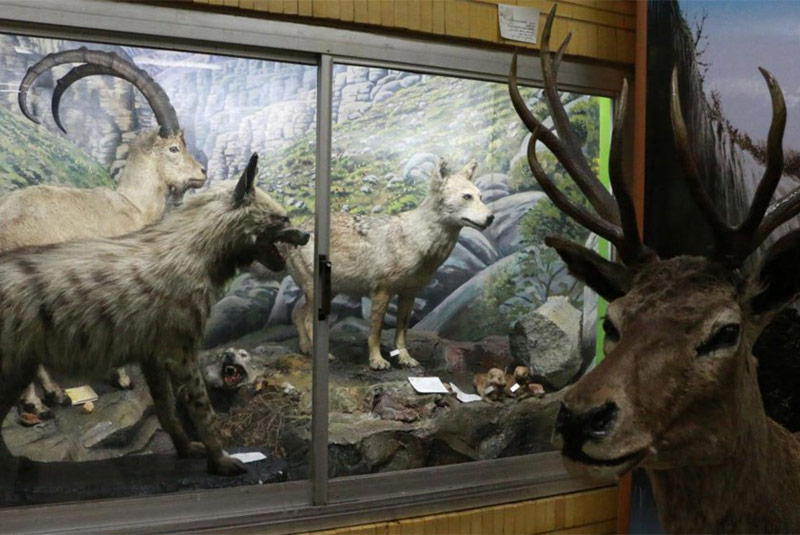 In this museum, the taxidermy of different kinds of birds, grazers, reptiles, insects, and other types of animals, as well as their habitats, are presented.
Tabriz Attractions: Where to See Around the City
Now it's time to have a trip around the city of Tabriz to visit spectacular sites in the East Azerbaijan province, which visiting will be an unforgettable experience. If you are interested in visiting an incredible monastery, it is highly recommended to extend your route and go to Jolfa.
1. Saint Stepanos Monastery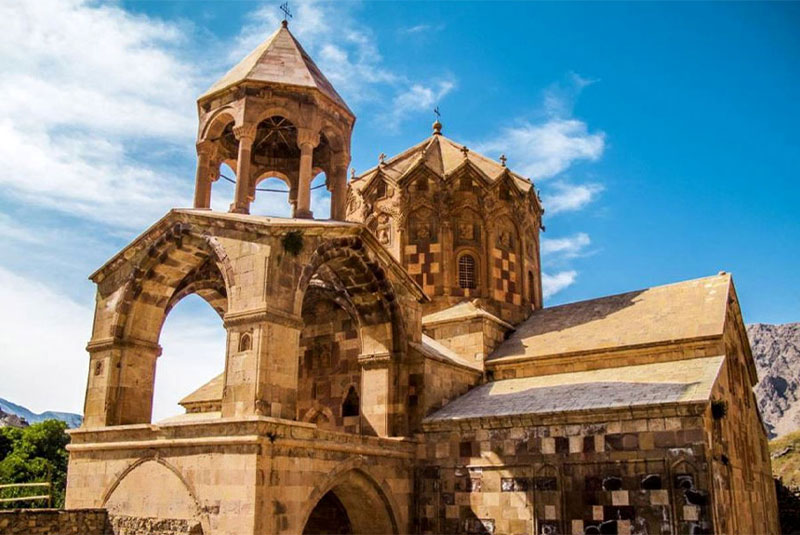 Saint Stepanos Monastery is an Armenian artistic building close to the Aras River, the border of Iran, and Nakhchivan, with a spectacular view. This monastery is known as Saint Stefan, and based on the architectural style; experts attributed it to the 10th or 12th century; also, due to its artistic importance is on the World Heritage List of UNESCO. Moreover, Saint Stepanos Monastery and other Armenian Monasteries located in East Azerbaijan and West Azerbaijan have all been registered by UNESCO as a collection of Armenian Monastic Ensembles of Iran, this collection includes the Chapel of Dzordzor, St. Thaddeus Monastery, and Saint Stepanos Monastery.
2. Colorful Mountains of Tabriz (Ala DaghLar)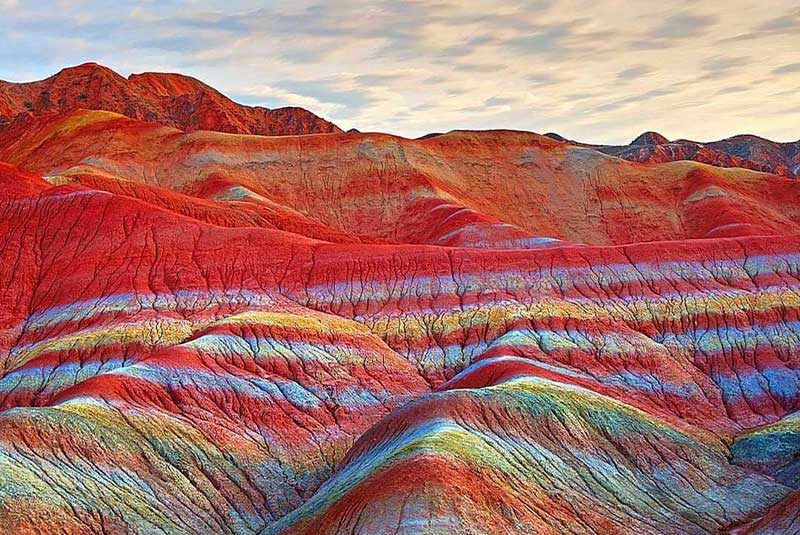 Near Tabriz, you see an eye-catching view. What is known in this area is the existence of magnificent colorful mountains. These mountains start 25 kilometers northeast of Tabriz near Khajah city, extend to Ahar city, and stand out on the Tabriz-Ahar route. The proximity of this area to the city of Tabriz has caused the name of this area to be Ala DaghLar. Ala means colorful and hot in Turkish. According to geologists, the formation of these mountains dates back to about 15 million years ago; the existence of different pools of iron deposits and the change of solutes for various reasons such as rusting, reaction with oxygen, etc., during the formation of these mountains have caused the appearance of various colors in their bed. Of course, the presence of some minerals in the hills of Ala DaghLar has also caused the emergence of specific colors such as red, blue, green, etc. For example, the green color is caused by the carbonation of copper metal.
3. Kandovan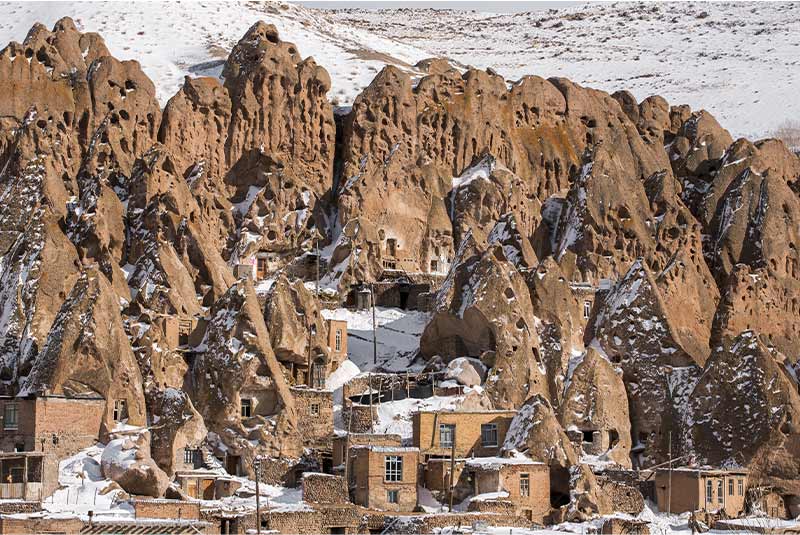 Let's go to the south of Tabriz, near Osku city. Kandovan is a unique and attractive village located near Tabriz City. It dates back 850 years ago and is similar to Cappadocia in Turkey. Although today, about 700 people live there, which makes it different from Turkey, which is deserted. In Kandovan, the material of the structures is entirely natural and compatible with nature because the houses are built inside the rocks. As a result, its name is Kandovan, meaning "the home on its own". The lava of the Sahand Volcano created these large empty rocks many years ago, then people who intended to hide from the Mongols at the time of their invasion used this place, and this is the beginning of the formation of Kandovan. You can buy local goods from local people that are organic and delicious.
4. Sahand Mountain
Near Kandovan, a 3707 meters (12,162 ft) mountain exists. Sahand Mountain is one of the most important dormant volcanoes in the country. Since its hillside is covered with grass and plants, It is known as the bride of Iran's mountains. At the mountain's peak, inside its crater, there is a lake where boating is a pleasure.
5. Ligvan Valley
It is interesting to know that there is a valley with unique nature in the east of Sefide Khan village that attracts many tourists to this area every year. Due to its location, it has excellent and pleasant weather even in summer. In addition, what makes this area attractive is its scenic nature, numerous hot springs, and pleasant climate. Plains full of flowers, rivers, and green fields are only part of the beauty of this valley that should not be missed. It is located on the foothills of Sahand mountain and has cold weather; thus, it is suitable for camping on hot summer days. Also, the cheese of Ligvan is so famous and delicious.
Finally!
In addition to many attractions, Tabriz has other exciting things that are so attractive to tourists, including its special foods such as "Kufte" or meatballs and "Bob", a famous kebab that originates from the Bonab region in the South of the Sahand Mountains. Furthermore, many special ceremonies are held in Tabriz, one of the most attractive of which is the days of Muharram and Ashura, which can be an unforgettable experience for those who are interested.