Mashhad Tourist Attractions
07 Nov 2022
BY

Batul Iddi
Best Hotels in Mashhad
For many Muslims, a trip to Mashhad is a once-in-a-lifetime event.
Mashhad is the holiest city in Iran, and every year, visitors flock to the Imam Ali Ridha shrine. With the sheer numbers involved, getting top hotels that will ensure a fulfilling pilgrimage to the holy city can be challenging.
Top 15 Hotels in Mashhad City
However, that should not be a concern as any accommodation operated by Iranians is undoubtedly worth reserving because hospitality runs deep in Iranian blood. Persians are crazy about hosting guests and ensuring they enjoy their stay. The same can be said about the Hotels in Mashhad, the pilgrimage center of Iran, and their managers.
For Persians, pouring guests with ever-lasting gestures, making the "Taarof" gesture to them and stacking dozens of plates loaded with mountains of rice with multiple pieces of juicy meat underneath and appealing to them to stay for a night even if they are total strangers, is a crucial part of social life. That is why when you are planning on travelling to Mashhad, you hardly find a single tourist who complains about Iranian food or hospitality. They might even tell you they had the best time travelling to Mashhad. If you are planning a trip to Mashhad, here are some top-rated excellent hotels you can book to stay in Mashhad and experience their never-ending hospitality:
1. Darvishi Hotel Mashhad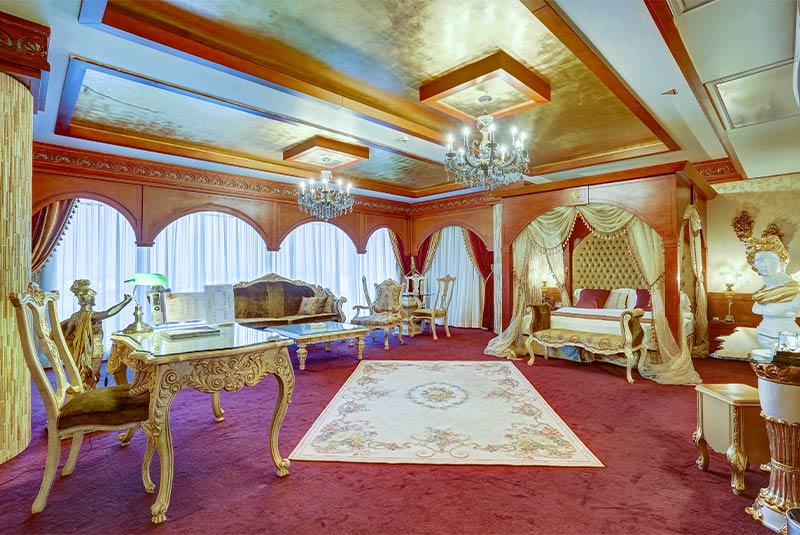 Darvish hotel is situated near the Holy Shrine of Imam Reza. Darvishi Hotel is a 5- star property in the magnificent city of Mashhad. All 230 apartments have satellite television, AC, internet access, and an in-suite restroom with amenities. Some of the apartments also have a sauna and Jacuzzi pool. Fine dining awaits you at the restaurants serving local and foreign dishes to your taste. Some recreational facilities include a sauna, steam room, indoor Jacuzzi pool, fitness centre and a health spa where guests can get the pampering of their lives. The nearby tourist attractions include Gombade Sabz Mausoleum, Kooh Sangi Park, Ferdowsi Park, and more. Darvishi Royal Hotel is just 15 minutes drive from Mashhad Airport.
| Read more: Can I Travel to Iran from UK?
2. Ghasr Talaee Hotel Mashhad
Price: $ 50- $250
Stars: 5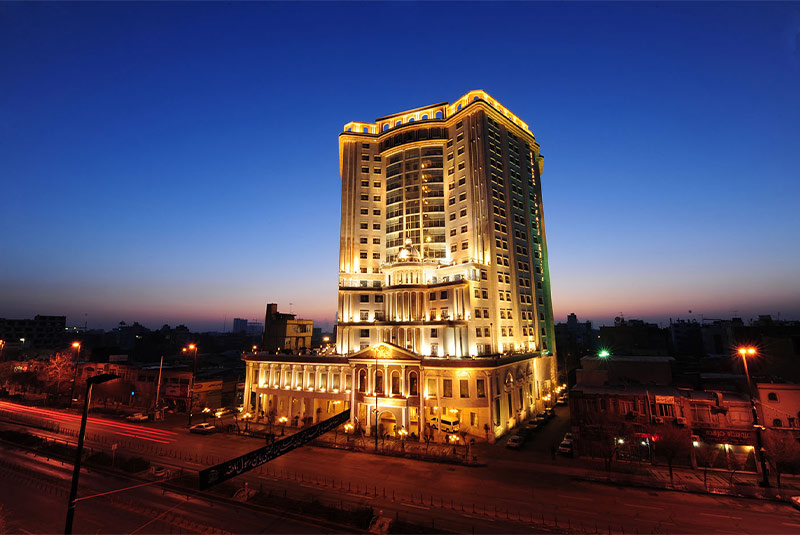 Mashhad Ghasr Talaee Hotel is a 5- star hotel situated on the street of Imam Reza. The hotel will satisfy every guest, thanks to its fantastic facilities. Covering 6 hectares, the hotel features 20 levels and 600 rooms. You can choose from the rooms, including single, double, royal, suite and queen rooms. The hotel also features three restaurants serving delicious cuisines. Recreational facilities include a kid's playground, sports hall, computer games and much more. Ghasr Talaee Hotel is accessibly and located near several stunning attractions, including Kohsangi Park, Nader Tomb, the holy shrine of Imam Reza etc.
3. Homa 2 Hotel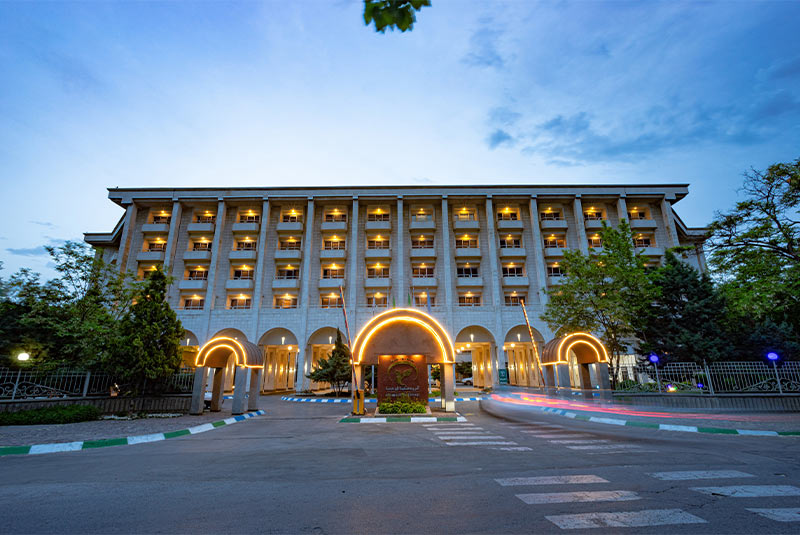 Located just a few kilometres from Nadir Shah Afshar's Tomb, the Homa 2 Hotel is among the luxury hotels in Mashhad retreat constructed on a park. Located in the northwest district of Mashhad, the hotel is near some of the best shopping malls in Mashhad, which includes Sajad Boulevard and Proma Shopping Center. Homa 2 Hotel also features an outdoor pool area and a shared lounge, and it was reconditioned in 2010 to give it a befitting look. The 202 apartments are equipped with a minibar, tea and coffee-making installations, TV satellite, dressing table, internet access and in-suite restroom with bathtub, shower and a hairdryer.
| Read more: Can I Travel to Iran from USA?
4. Pars International Hotel
Price: $ 50 - $150
Stars: 5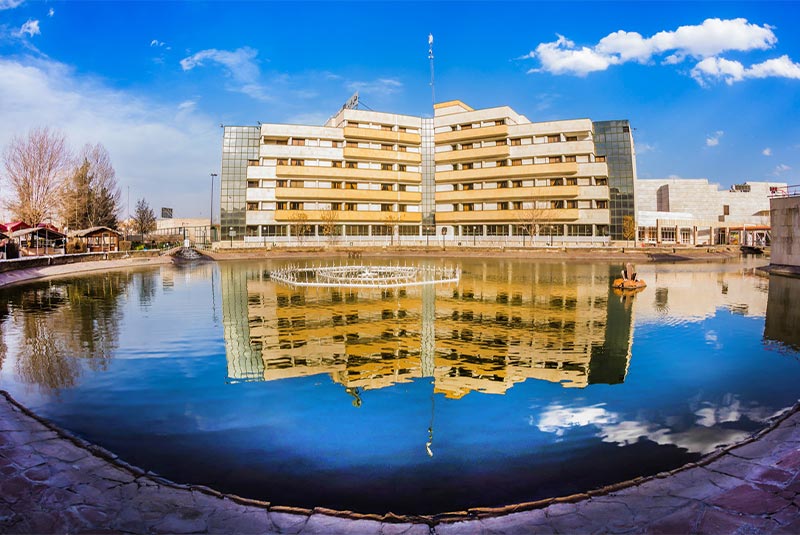 Pars International Hotel is one of the vastly recommended hotels, and it will be worth your time if you decide to stay here. Pars international hotel is suitable for families and business tourists as well. Thanks to its peaceful location, guests can enjoy a lovely stay at the hostel. The 227-room hotel is located near the Mashhad International Trade fair. Each room has air conditioning, a hairdryer, and a refrigerator. 24- hour room service means you can enjoy a meal and other services any time of day. The hotel also offers smooth access to Metro Station. The on-site diner serves both native and foreign cuisines. Conference halls are ideal for conducting perfect events and business meetings.
5. Sinoor Hotel Mashhad
Price: $ 30 - $180
Stars: 5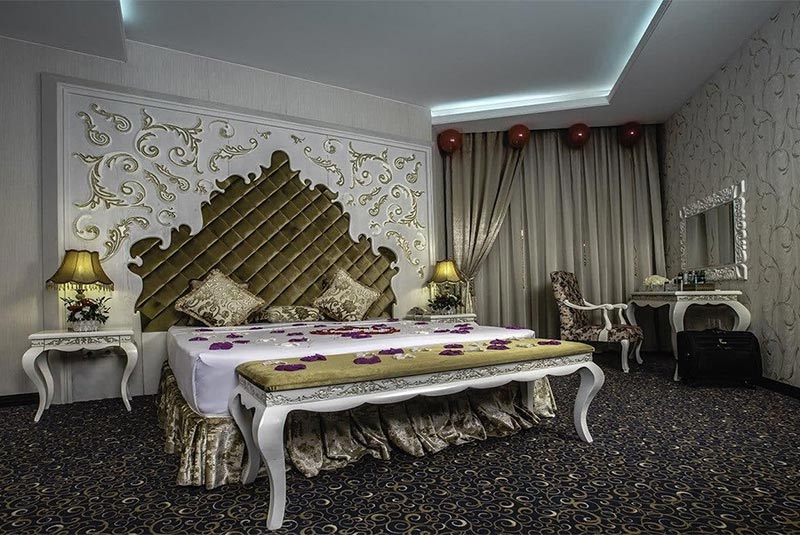 Sinoor Hotel Mashhad is a luxury 5- star hotel located in the city's soul. Its interiors are beautifully drafted and quiet. If you are planning a family trip to Mashhad, Sinoor Hotel is the place for you. The hotel offers quick and handy access to many attractions in the town. Most notably, it is close to popular shopping centres, including the boutiques on Sajad Boulevard and the Proma Shopping Center. Tourist attractions close by including the Holy Shrine of Imam Reza (AS), the Tomb of Nader Shah Afshar, and not forgetting to mention Koohsangi Park.
Enjoy a relaxing time in your room or suite. Pick your choice from the different types of rooms, including single, double, and twin beds and suites. Regardless of your room type, there is always an option for a spare bed. Each room features a wardrobe, a laptop-compatible safe to secure your devices from theft, and soundproofed windows. The restroom features a spa bathtub, shower and dressing gowns.
6. Madinah al Reza Hotel
Price: $ 60 - $150
Stars: 5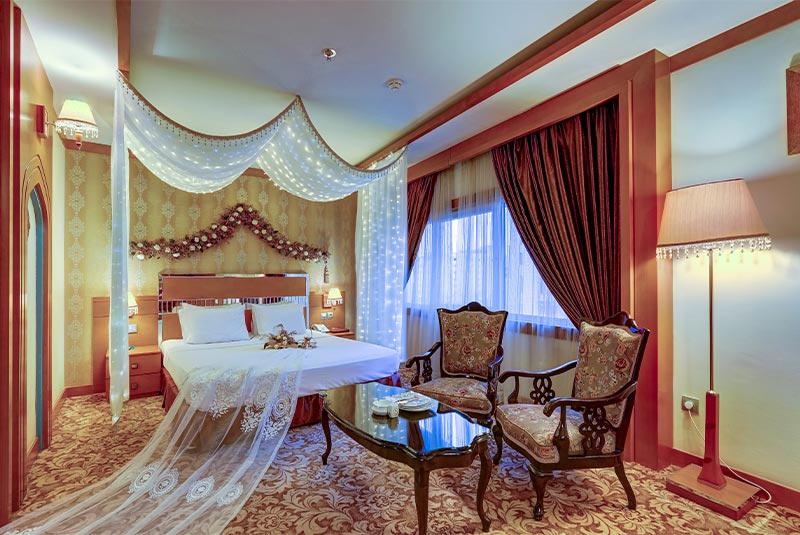 Strategically positioned in the heart of the city, Madinah al Reza Hotel is a 5- star luxury hotel with traditional infrastructure. It is indeed a splendid and cosy environment with spiritual culture. The hotel's 24- hour front office guarantees that you can get whatever you need any time of the day. Do you have a baby and want quality time with your partner? Use the babysitting service available just for you. There is also a dry-cleaning service and valet parking. Check out the conference room for business meetings and conferences with your comrades.
| Discover: Best 5 Star Hotels In Iran to Stay in 2023 + Pics
7. Parsis Hotel
Price: $ 50 - $100
Stars: 5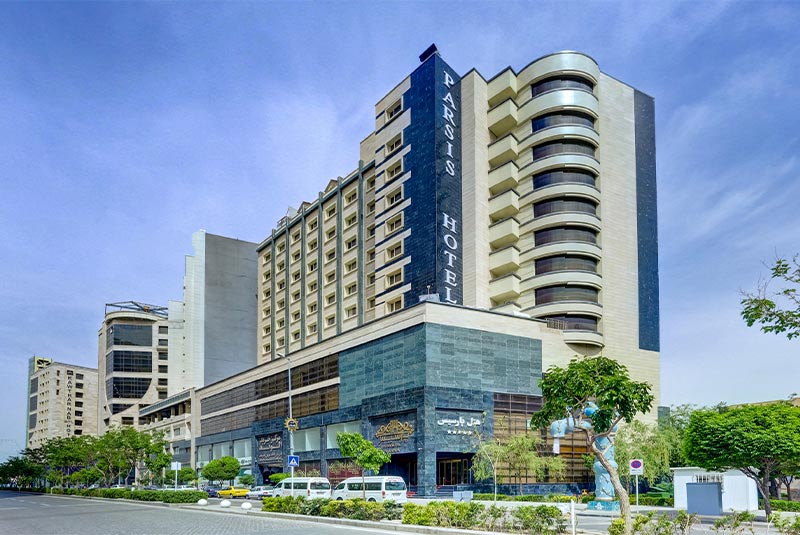 Constructed in 2016, Parsis Hotel is one of the finest five-star hotels in Mashhad. The beautiful interior décor, state-of-the-art installations and luxury theme are why many tourists who have a thing for luxury choose to stay here. The hotel comprises 16 levels with 112 luxurious apartments, suites and rooms. The staff are friendly and pleasant to guests. Spend quality time in the coffee shop while enjoying your freshly brewed coffee. While staying in the hotel, you can enjoy its spa, pool, sauna, Turkish bath-house and Jacuzzi facilities.
In addition, the location of the hotel provides easy access to the Holy Shrine, which makes the pilgrimage pleasurable for their beloved guests. With skilled, trained and experienced staff members, this hotel is ready to host the guests and pilgrims of Imam Reza (AS).
8. Pardisan Hotel
Price: $ 50 - $100
Stars: 5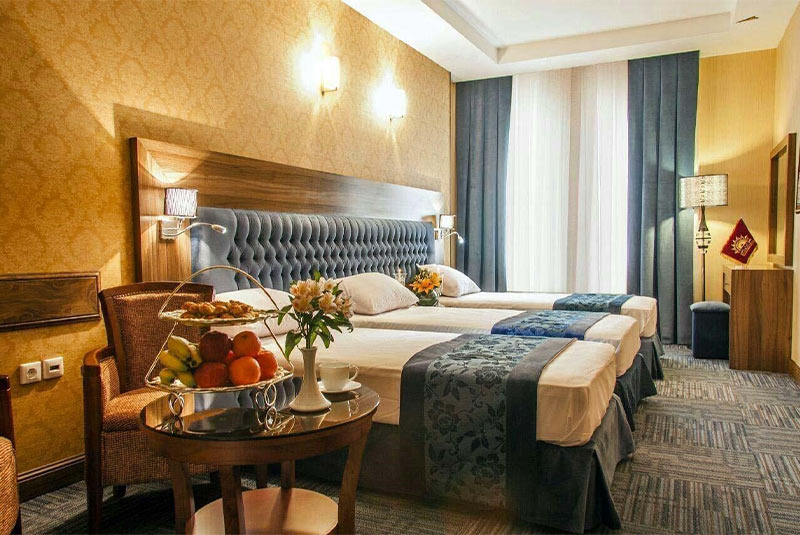 This is yet another 5- luxurious star hotel located on the southwestern side of Mashhad. Great Pardisan Hotel is one of the most well-known luxury hotels in the best climate region of the country's spiritual capital. This hotel, which has unique green spaces free from air and noise pollution and traffic, was built in 2001. Acknowledging that guests have exceptional value in Iranian national and religious culture, Pardisan Hotel has been capable of producing joyful days for travelling to Mashhad by trying hard to present expert services to the guests.
This hotel is a five-story five-story structure with a total area of 33000 square meters and infrastructure of 24000 square meters, with advanced facilities. One of the unique attributes of the hotel is having a diverse green space which fills the environment with joy, refreshment and relaxation. This hotel will remind you of 160 lodging units, imperial, royal, and connected rooms, duplexes, and double and single suites with beautiful interior designs.
Pardisan Hotel tries to follow hospitality principles and considers the guest by using many different restaurants, coffee shops, fast food and traditional dining spots, other traditional menus, and various kinds of Iranian and international foods.
The conference and seminar hall and luxurious theatre of the Pardisan Hotel can become a centre for holding great indoor and international meetings and commercial and university conferences by having different decorations and the most advanced audio and video recording system.
Great Pardisan Hotel has been able to generate a peaceful and delighted environment for the guests by delivering facilities such as pools, sauna, Jacuzzi, Turkish bathrooms, different kinds of massage, a billiard saloon, a health/fitness centre, a kid's playground, travel agency, cab service, laundry services, parking, airport and railroad transfer, etc. Direct bus services are also available from the hotel to the Shrine of Imam Reza.
Pardisan Hotel could become an excellent pitstop for travelling to Mashhad by having a great environment and supreme quality in various portions. When you are in the Pardisan Hotel, you are part of Paradise.
9. Javad Hotel
Price: $30 - $200
Stars: 4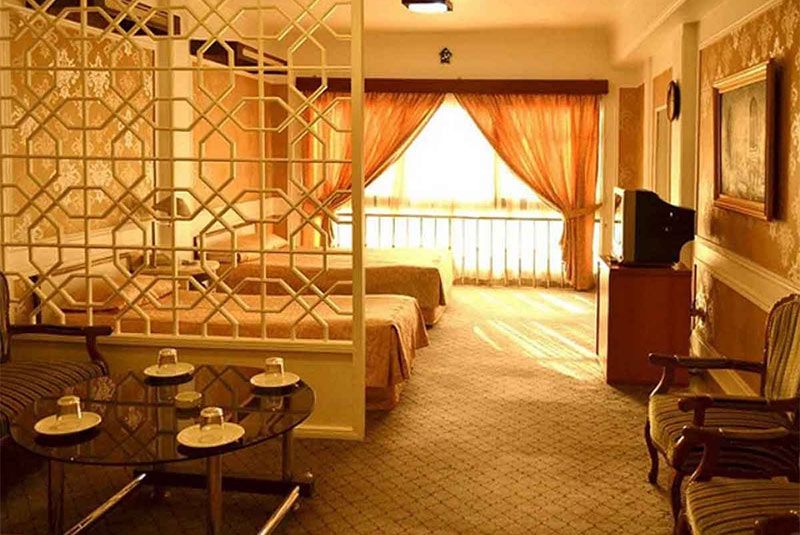 The recently- built four-star Javad hotel is located near the holy shrine of Imam Reza for a calm and comforting atmosphere that guests can enjoy and spend their late-night time in. Javad hotel is the closest four-star resort to the Holy Shrine of Imam Reza, approximately a 10-minute walk from the hotel's door to the gates of Haram.
If you want to enjoy quality time in the town, you should reserve a room in this hostel before starting your trip to Mashhad. It offers an outstanding accommodation experience with elegantly designed and artistically furnished apartments and suites with all the necessary appliances and facilities. Every well-furnished room at Javad The hotel includes 24- hour room service and separate bathrooms stuffed with sanitized necessities, a huge sink, and a shower. If you are a big television fan, good news for you. Each room has a twenty-six-inch plasma TV with satellite channels programmed into the receiver. This lodge feels overwhelming to sightseers and pilgrims with conventional facilities, a superb setting, an eye-catching view of the Imam Reza Shrine, and a luxurious restaurant serving delicious cuisines.
Other facilities of Javad hotel in Mashhad include a complimentary breakfast buffet, a restaurant with packed lunch and dinner menu, a coffee shop, and a speedy internet connection. Spa and other recreational facilities like a gym are also set up in the hotel for a more enjoyable and accessible stay.
10. Almas 2 Hotel
Price: $30 - $150
Stars: 4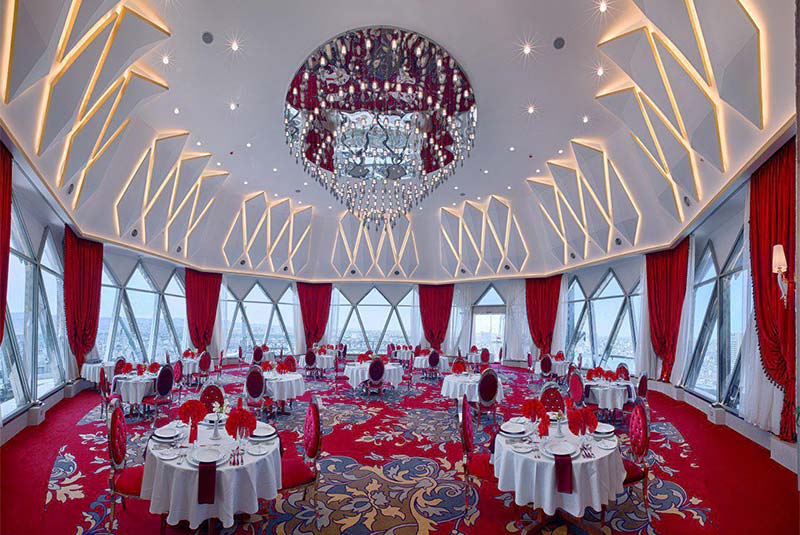 Almas 2 Hotel is one of the elegant and luxurious hotels that call Mashhad home. If you do like to stay in a place close to the Holy Shrine of Imam Reza, this is the right place for you. Featuring a majestic armature, the 25- story hotel offers you an opportunity of a lifetime with its state-of-the-art amenities. One of its unique features is its impeccable infrastructure and architectural design. The hotel consists of Arabic, Greek, Russian, African, and traditional Iranian figures, framing it to look like a gallery. They are very famous for ornamental suites like presidential suites and honeymoon suites. By choosing glorious Presidential suites, you can enjoy the pleasure of staying with full-service breakfast- lunch- dinner as a free meal(buffet) in the restaurant, unlimited use of coffee shops, minibars, and daily greetings with seasonal fruits and confections. Enjoy a memorable stay in the Honeymoon suite with your soulmate and experience the luxury life along with a customary welcome with fruits, desserts and much more. Almas 2 Hotel boasts a magnificent hall suited for any event and conference. Other hotel facilities include a gym, playground for children, pool, billiard, and fitness centre.
11. Misagh Hotel
Price: $ 30 - $150
Stars: 4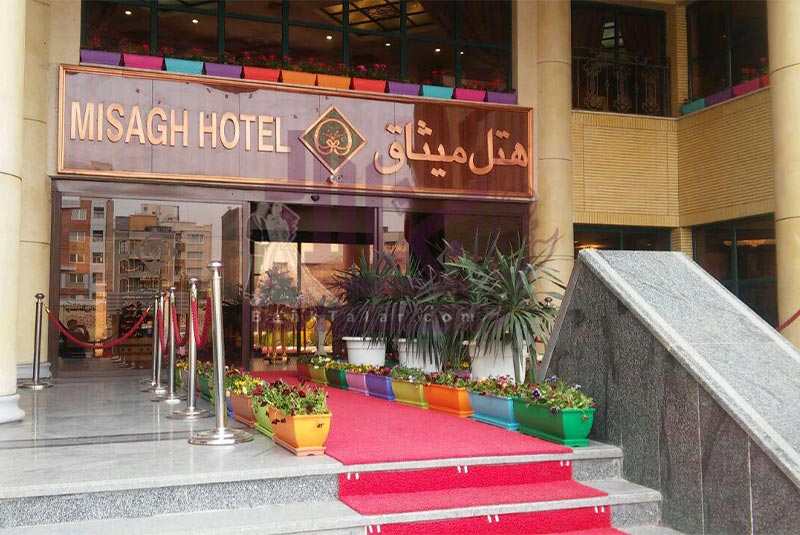 This hotel ranks among the top 20 hotels in Mashhad. With an area of nearly 26,000 square meters, it is located on the path of villas and natural attractions, a short distance from the Khorasan International Exhibition. It has an evergreen atmosphere, beautiful views and a convenient geographical location. This complex has occupied a unique position in hosting and holding the most important conferences and seminars of circles and factories. The presence of various accommodation structures and cultural facilities, such as a theatre and side halls, formation of commissions and exhibitions have been influential factors in attracting guests. Some popular facilities include an on-site restaurant, a hot tub, and kids' activities.
12. Jam Hotel
Price: $ 20 - $150
Stars: 3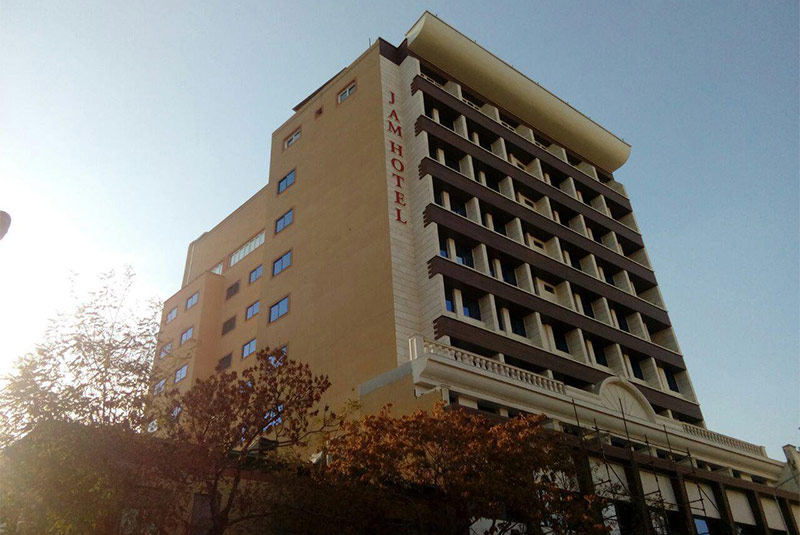 Set three kilometres from the 15th- century Goharshad Mosque and the Anthropology Museum of Mashhad, the moderate Jam Hotel provides its guests vast access to any part of the town since it's just a 15- minutes walk to the nearest metro station, the Shariati station. Also, this hotel is only 20 minutes down from Mashhad International Airport.
The hotel has 12 levels, nine accommodation floors, and 154 rooms, including single rooms, double rooms, and various larger ones for more prominent families and sightseer groups. Each room of this 3-star hotel, which recently received a renovation, has a western and Iranian washroom, a fridge, a television, and breakfast, which is also included in the price. Rooms are artistically furnished, and the free Wi-Fi connection makes getting a Snapp, an online cab service like Uber but in Persian style, veritably easy and fast. Some apartments have a clear view of the Shrine of Imam Reza, which is costly. Other installations inside the hotel are three different types of modernistic and traditional restaurants: Morvarid, ChashmAndaz, and AbShar.
The massive conference hall can host 300 people simultaneously with good internet connectivity. A two-story parking lot is ready to accommodate their vehicles for sightseers travelling to Iran and Mashhad by automobile. As part of one of the elegant budget hotels in Mashhad, the excellent staff members are immensely welcoming and friendly and speak English.
13. Reza Hotel
Price: $ 20 - $40
Stars: 3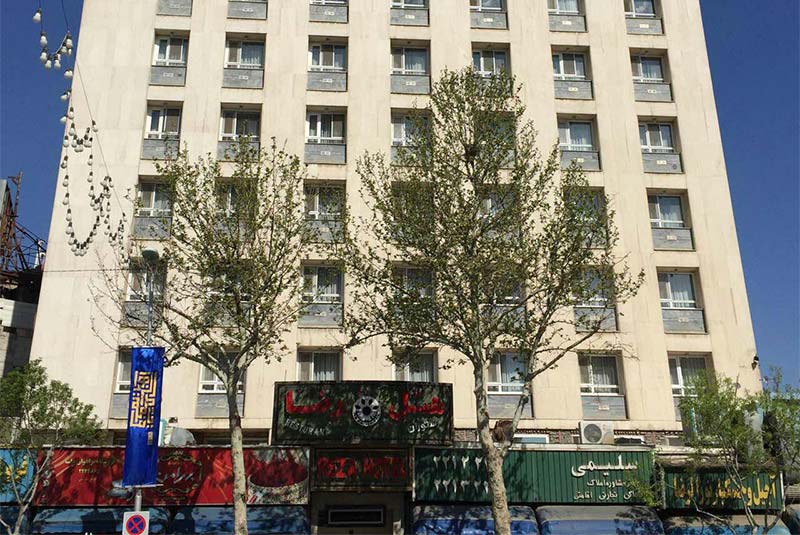 Having the same name as the eighth Imam of Shia, Reza Hotel is also incredibly close to the holy Haram of Imam Reza (AS), only 150 meters from the shrine. It is considered the closest lodge to the sacred place. Staying a short distance from the shrine gives you straightforward access to the most remarkable sight in all of Mashhad. Here you can embrace the spiritual and holy atmosphere taking over you and the stylish apartments, ready for all travellers, add to the sweet experience.
This five-star recently established hotel is a suitable choice for pilgrims to stay close to the Imam during their stay in Mashhad and for travellers wanting to stay in a hotel with a tranquil, peaceful environment and with modern facilities. The 100 fully-equipped rooms of the hotel, alongside its complete services, big halls, four restaurants serving delicious local and foreign foods, a traditional teahouse, and a sports centre, make up a pleasant and comforting stay for guests.
Reza hotel's unique Iranian ethical and Islamic architecture, fine interior decor, and lighting are notable features.
14. Canaan Hotel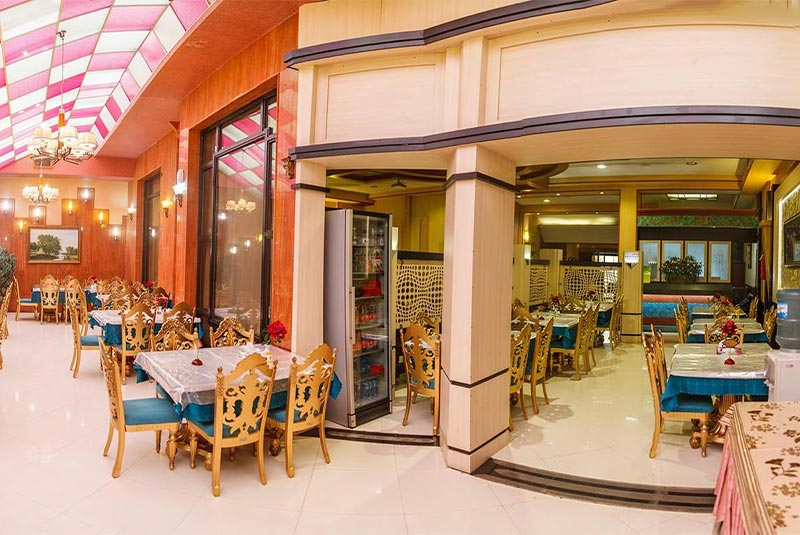 Do not let the only star of this hotel ruin your plans or cloud your judgment; Canaan hotel is one of the stylish budget hotels in Mashhad. Located next to Imam Reza Shrine, all the 28 suites constructed on four floors of the hotel include air conditioning, a refrigerator, and a television, making this spot economically affordable for pilgrims and travellers travelling on a shoestring. Most apartments come with kitchens and cooking utensils, allowing the guests to cook according to their diets.
The Canaan Apartment Hotel serves Iranian delicacies with mouth-watering flavours, treats, and hot and cold drinks. The comfy coffee shop of the Canaan Apartment hostel is an excellent place for spending quality time with family/friends or getting to know some locals or pilgrims and talking about the holy vibe of the town.
The luxurious lobby of the Canaan Hotel, harmonizing with everyone's taste and beautifully decorated, creates a serene atmosphere for all people of all ages. Private parking space, cab service, elevator, and free internet access are other excellent facilities of Canaan Hotel. Lastly, this hotel's responsible and kind staff in Mashhad makes it stand out and for sure makes up for its only star.
15. Espino Hotel
Price: $ 10 - $30
Stars: 3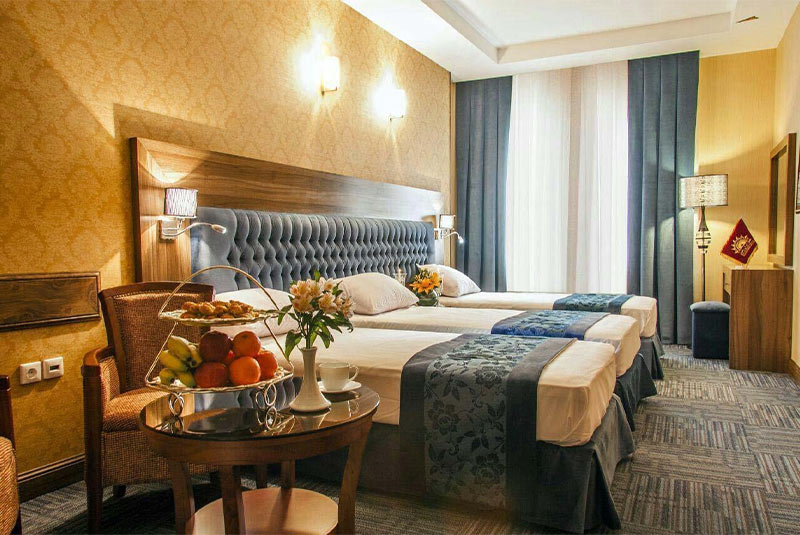 This is a three-star recently- constructed hotel in Mashhad that aims at creating a memorable and thrilling stay for its guests and travellers with excellent facilities. This residential complex has eight levels and 37 apartments equipped with a complimentary breakfast included in the room price, TVs, free Wi-FiWi-Fi, private bathrooms, and refrigerators. As one of the best budget-friendly hotels in Mashhad, Espino Hotel may not be close to the Holy Shrine of Imam Reza like Reza Hotel, but it still only costs you a taxi and 10 minutes of tolerance to get to it. To mend that, Espino Hotel sits on one of the busy economic streets of the town, giving its guests immediate and smooth access to some of the town's most popular shopping centres.
The hotel's rooms are furnished based on the latest standard and designed with illustrative colours to bring a peaceful ambience for those staying there. A restaurant at this hotel delivers the guests good tasty dishes while the cosy coffee shop is a good place for spending a good time. At the end of the day, when you are exhausted from a stress-filled life, the sauna and Jacuzzi of the hotel are just right for you. A traditional bath is a perfect place where the guest could get relaxed. The skilled, helpful staff of the hotel is constantly trying their best to satisfy the demands of every desire.