Iranian Food and Drink
30 Jul 2018
BY

The Authors Group
Date palms in Iran
Travel to Iran, especially to the southern part of the country is not completed without enjoying the cool shadow of palm trees in the area.
Even though the neighbor area is covered by sand and desert, the date palm gardens are very green and beautiful. So, if you travel to Kerman, Bam, and other cities in Iran where dates are cultivated there, don't forget to have a look at these gardens.
The same as every tropical and semi-tropical region in the world, date palm is also one of the most popular trees in Iran in the southern part of the country.
Historical evidence reveals that palm-tree gardens back to about 5,000 years ago, and in Iran, they have been planted since ancient times, even before the Achaemenid dynasty. According to Chinese reference books, Iran is known as the land of date palm, and the date palms were taken and planted in China from Iran.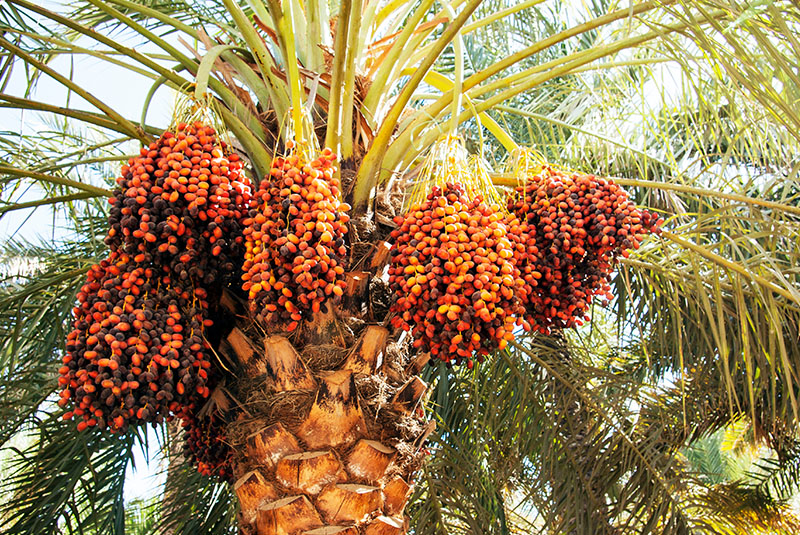 Dates are very nutritious, compared to other fruits. Dates give more than 3,000 calories per kilogram, while apricot has 520 calories per kilogram, banana 970, and orange 480. Furthermore, dates are a good source of vitamins A, B1 (thiamine), B2 (riboflavin), and B7 (nicotinic acid also called niacin).
During the past few years, Iran has become the leading country in producing dates, with annual production of about 900,000 tons. According to the Ministry of Agriculture, more than 400 species of date cultivated all over the country but only a few of them are commercially valued.
Dates are classified according to three groups according to the level of moisture they have: Dry, Semi-Dry, and Wet. Every corner of Iran is suitable for a type of date. For instance, Kerman province is the center of three types of dates as Mazafati, Klute, and Farehkon. While Piarom, Sayer, Kebkab, and Zahedi are cultivated in other provinces like Hormozgan, Khuzestan, and Bushehr. Among all these types of dates, Mazafati is the most popular among local people.