Tourist Attraction
10 Dec 2022
BY

Batul Eidi
Persian Hammams, Top Traditional Persian Bathhouses
Cleanliness and hygiene are essential aspects of many religions and cultures.
Some religions consider washing the body half of faith, while others believe it is a beautiful festivity and ritual purification such as baptism. So bathing for many is not just to carefully take care of all the body parts; it is also a form of spiritual cleansing and serves to respect their religion and culture.
Hammam and water have long been sacred in Iranian culture. The ancient religions of Iran, such as Zoroastrianism and Mithraism, considered water a symbol of purity. Hence, they consider water as a divine element. The ancient Iranians believed that water was the embodiment of the goddess Mithra. Thus, polluting and wasting water was considered one of the greatest sins.
Hammam was also traditionally one of the main elements of almost every city in Iran. It was a place to clean, groom, shave, and get massaged and a hotspot for social activities like political discussions, idle gossip, matchmaking, and fascinating customs. That's why visiting one of the traditional Iranian hammams isn't only a pleasure to your eyes. It is also a door that opens up exciting aspects of the Iranian culture before you!
Traditional Iranian Bathhouse
A Persian Bathhouse consists of four main sections, each with a specific use. Upon entering the bathhouse, you have to pass a hallway or a corridor called 'Sar Dar', a tiny octagonal room where the owner of the Hammam or the caretaker welcomes the clients. Clients can pay for the entry and leave their valuable belongings in this room.
Passing through the entrance, you will enter the second section, called Sarbineh. Sarbineh is the cloakroom where clients can take off their clothes and wear unique red clothes called 'loong'. It is room to prepare and wait before entering the caldarium or drying after bathing. The third part section is called the 'Mian Dar, a connecting corridor connecting Sarbineh to the caldarium; this space is like a winding vestibule that one can go to the cloakroom from the caldarium without delay – without feeling cold.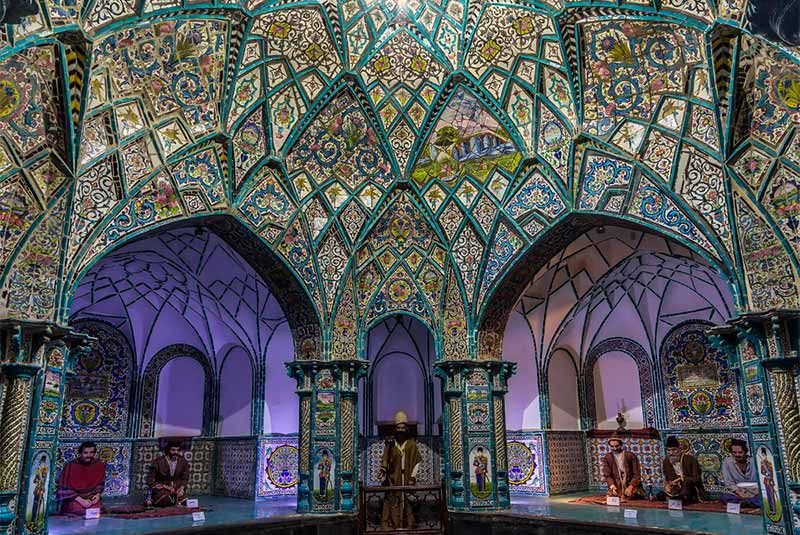 Also, the Mian Dar vestibule does not readily permit air exchange between the air outside and inside, preventing accumulated heat in the caldarium from being wasted. The last part is the Caldarium (Washing Place), this is the hottest and central part of the Hammam, where bathing takes place. This part of a Persian Bathhouse is a steamy and sweltering room heated by a unique underground heating system using tunnels with hot air from the furnace.
In addition, there used to be a pool in the caldarium centre and some cold water basins around it. Several service spaces, such as toilets and unique hair removal booths, are usually present in most Persian Hammams. Most bathhouses are located in densely populated areas near local bazaars. Although Public bathhouses are an ancient tradition in Iran, it is still part of people's daily lives in many areas. However, time and changing lifestyles have caused this tradition to fade.
Although many bathhouses are still used today in Iran, most have been converted into picturesque sights and museums or teahouses. Here we have a glimpse at some of the top bathhouses in IRAN:
1. Fin Bathhouse
Address: Amir Kabir Street, Kashan.

Fin Bathhouse is a famous hammam located in Kashan Fin Garden. This old bath is renowned for the murder of the Prime Minister of Nasser al-Din Shah Qajar, Mirza Taghikhan Amir Kabir, on January 10, 1852. The Fin garden contains two bathhouses located in the southern part, known as the Small and Large Baths. The small bathhouse dates back to the Safavid period. It was constructed at the same time as the original building of the Fin Garden.
The large bathhouse was built during the Qajar period during the rule of Fath Ali Shah. The large bathhouse is solely for the rulers and ministers, and servants use the small bathhouse. Both bathhouses have an entrance, fountain, treasure, cleaning, and dressing place. The corridors of the bathhouses are numerous and give a memorable atmosphere to the architecture of the bathhouses. It is interesting to know that Fin bathhouse is registered in the national index of Iran and the UNESCO World Heritage List.
2. Ganj Ali Khan Bathhouse
Address: Ganjali Khan Square, Ganjali Khan T-junction, Kerman.

Ganj Ali Khan Bathhouse is one of Iran's most famous bathhouses. Ganj Ali Khan Hammam is one of the main parts of the Ganj Ali Khan complex located in Kerman and was constructed in 1611 AD. Ganj Ali Khan was one of Kerman's rulers during Shah Abbas I's reign. He performed critical civil works in Kerman, including constructing a large square in the city's heart to host public promenades.
The Ganj Ali Khan square is 100 meters long and fifty meters wide. It is surrounded on four sides by monuments such as a caravanserai, a school (madrasa), a water reservoir, a public bath and the city mint. The Ganj Ali Khan bathhouse is located in the southern part of Ganj Ali Khan Square. The Ganj Ali Khan Hammam has unique architectural works, exquisite tile works, paintings, stuccos, and arches. It is created in a welcoming manner that appeals to all tourists.
The bathhouse is divided into several sections, including Shah Neshin, Khazine, and others. It has three entry points: Khan Square, Kashigari Bazaar, and the city's residential area. The bathhouse's main yard and Sabineh section are decorated with many life-size statues. At the entrance of this bathhouse, tourists can admire Persian miniatures and frescoes. Once you enter the Ganj Ali Hammam, the beautiful design of the ceiling will keep your head up. It has simple patterned domes and wax figures depicting the use of each area. It also has pools filled with coins and goldfish.
Khan Bathhouse is now a traditional restaurant and one of Yazd's most popular tourist attractions.
3. Qajar Bathhouse
Address: Obeyd Zakani Alley, Qazvin.

One of the spectacular attractions of Qazvin recommended to any first-time visitor is the Qajar bathhouse. Qajar bathhouse is a beautiful small old Hammam located in a small alley at the centre of Qazvin. It is now converted into an anthropology museum to beautifully display the charming customs and the tribal and cultural variety in Qazvin. Qajar bathhouse was built in 1647 by order of the renowned Safavid king Shah Abbas II. People from different walks of life used to come to this lovely place to groom, clean, chat and hold special ceremonies.
The Qajar bathhouse's hexagonal central chamber, the blue tilework, and the dome-like ceiling give it the extraordinary beauty and appearance which attracts many tourists. The total area of the Qajar bathhouse is about 1045 square meters and consists of two different parts for men and women and three main components, including Sarbineh (Cloak Room), Mian-dar and Garmabeh.
4. Hammam-e Vakil
Address: Taleghani Street, Lotf Ali Khan Zand Street, Shiraz.

Shiraz is one of the best places in Iran that welcomes you warmly to visit stunning gardens, traditional bathrooms and various prodigious sites in the whole city, such as old bazaars, colourful mosques, historical buildings and so on. If you are in Shiraz and want to experience a unique architectural design with candy twist columns and plasterwork, Vakil Bathhouse is a perfect choice. Hammam vakil is considered one of Iran's most remarkable historical bathhouses, with an admirable and eye-catching design that perfectly conveys the rich culture of Iranian custom.
Vakil Hammam is an ancient public Hammam in Shiraz dating back to the Zand era. This beautiful bathhouse was a component of the royal district built during Karim Khan Zand's rule, including the Arg of Karim Khan, Vakil Mosque, Vakil Bazaar, and many administrative buildings. The name "Vakil" Bathhouse is "originated from the "Vakil ol Roaya ", the nickname of Zandiyeh's famous king. Vakil bathhouse is situated on the west flank of the Vakil Mosque. It has an area of 11,000 square meters. It is precious in terms of aesthetics and architecture in Iran. The Cultural Heritage Organization of Fars Province has now converted the bathhouse into a carpet museum.
5. Hammam-e Sultan Amir Ahmad
Address: Sultan Amir Ahmad Bathhouse, Alavi Street, Kashan

Sultan Amir Ahmad's Hammam is a perfect example of a traditional Iranian bathhouse. It was Constructed during the Safavid Dynasty in the 16th century. Sultan Amir Ahmad hammam is one of the essential historical Persian Hammams located in the heart of Kashan, registered in 1976 as one of Iran's National Heritage. The bathhouse features richly coloured tiles, delicate paintings, and a fantastic panorama of the city's minarets and wind towers.
Sultan Amir Ahmad bathhouse has an area of 1102 square meters. Its interior is decorated with turquoise and gold tiles, bricks, plasterwork, and frescoes. The roof features multiple gilded glass domes that provide light to the bathhouse. If you visit Sultan Amir Ahmad's bathhouse, go to the rooftop where the sky, glass openings, and domes have created a photogenic background.
Today, this beautiful Hammam Serves is one of Kashan's most visited tourist attractions. The Hammam has two sections called Garmkhaneh and Sarbineh. Sarbineh is an octagonal dressing hall, and Garmkhaneh is the hot bathing hall. Some famous Kashan tourist attractions, like Agha Bozorg Mosque, and Kashan Traditional houses, surround Samir Ahmad Bathhouse.
6. Hammam-e Kordasht
Address: Hammam-e Kordasht, East Azerbaijan Province, Jolfa

Hammam-e Kordasht is Situated on the southern banks of the Aras River in East Azerbaijan Province, on the border with Armenia. It once served as an exclusive Hammam for royals of the Safavid Dynasty. This Hammam eventually became a public bathhouse under the order of the Qajar ruler, Agha Mohammad Khan.
It is set in a large garden with astonishing views of the surrounding mountains, which is why the monarchs chose this spot for their spa time.
7. Sheikh Baha'i Iranian Bathhouse
Address: Sheikh Bahai Street, Isfahan

Sheikh Bahai bathhouse is a famous historical bath in Isfahan. It was built during the Safavid period and in the 17th century by order of Shah Abbas I. Sheikh Baha'i Bathhouse of Isfahan is said to be designed by the famous scientist "Sheikh Baha'i" and is known as a mysterious monument due to its unique features; it was heated with only one single candle! The heating system of this bathhouse is one of the engineering masterpieces using the laws of physics and chemistry. The water boiler of this bath operated with a methane gas system originated from Grand Mosque's sewage canals.
The most realistic theory about the heater's fuel source is an underground ceramic piping system discovered between the public toilets of the grand congregational mosque (Jame Mosque) and the Sheikh Bahai hammam. Probably flammable gases like methane and sulfur oxides led to the torch of the heated pool by the natural suction method, and methane and sulfur oxides burned directly as the heating source in the torch, or these gases were used from the wastes of Hammam. Old residents in the neighbourhood said there was an artificial marsh behind the Garmkhaneh, and wastewater flew into the marsh and the gas needed was obtained from this marsh.
8. Haj Dadash Hammam
Address: Zanjan Bazaar Complex, Zanjan.

Haj Dadash Hammam is one of the historical bathhouses of Zanjan. It is among the oldest buildings in Zanjan. It is located in the Zanjan Bazaar complex. This century-old Hammam has a dome on four stone pillars carved by master stonemasons from Hamadan. Haj Dadash bathhouse is the only stone pillar bathhouse in Zanjan. Its main roof is located on four stone pillars. The Hammam building is estimated to be approximately 150 to 200 years old. With the preservation of the bathhouse texture and a few changes and renovations, this bathhouse is used as a traditional restaurant and is an excellent spot to visit in Zanjan.
9. Qazi Persian Bathhouse
Address: Ibn Sina Street, Isfahan

Qazi Persian bathhouse is another active bathhouse located in Isfahan. This 300-year-old restored bathhouse has preserved its original character to leave you with an unforgettable and unique memory of Iran. In this Hammam, you will be soaped, scrubbed and massaged in the way ancient Persians used to be. During visiting this Hammam, you will start by getting the long history behind the bathhouse culture and its rituals while seeing the aesthetic beauty of the historical bathhouse with all its unique elements. After that, you will be taken to get dressed. When you change, you will be offered a cloth to cover up with, so you won't be entirely in the buff.
The masseur will give you a vigorous scrub leaving you delighted (and mildly horrified) at the dead skin sloughing off. After sudsing up with some natural handcrafted soaps to get your skin squeaky clean and enjoying a massage to release any lingering tension, you can relax in the khazineh or pool. Hygiene is of the utmost importance here, so you can be at ease knowing that the supplies used will be new for each individual. The khazineh and pool have been renovated with the latest technology, including water purification and a disinfection system.
10. Bab Homayoun Traditional Bathhouse
Address: Qanat Alley, District 12, Tehran.

Photo by: IRNA
Bab Homayoun traditional bathhouse is another beautiful and active bathhouse located in one of the old neighbourhoods near Tehran Bazaar. It is one of the few active bathhouses with the same old shape and appearance. The traditional bath was one of the Qajar baths in Tehran, more than 300 years old. It was once the location of some famous and old Iranian films and has witnessed the presence of the greats of the Iranian film industry.
Bab Homayoun bathhouse has an area of over one thousand square meters, and it receives its water supply from a traditional well called Qanat Haj Alireza. Bab Homayoun's traditional bathhouse consists of two main parts: the bathing hall and the dressing hall. As you enter the bathhouse, you will be welcomed by one of the bathhouse workers. They will direct you to the dressing hall and give you a special bathing cloth called "Loong". A masseur will help you wash your body and give you an Iranian-style massage. The type of massage you get here is not the ordinary soft one you might get in other places. It is somehow tough and aggressive but also very good.
11. Hammam-e Ali Gholi Agha
Address: Hammam-e Ali Gholi Agha, Bid Abadi St., Esfahan.

Hammam-e Ali Gholi Agha is another superb bathhouse in Iran. Ali Gholi Agha Bathhouse combines Persian tradition, art and architecture. The design and decorating of Ali Gholi Agha's historical bathhouse are in the style of Isfahan architecture adapted from the late Safavid era. The historical Ali Gholi Agha bathhouse was built by Ali Gholi Agha, one of the Safavid courtiers in the 17th century.
The bathhouse is now a Museum, and it has a bazaar, mosque, Chahar Souk, and caravanserai, which all together make up the historical complex of Ali Gholi Agha. Since the decor of the bathhouse is in keeping with Esfahan's attention to colourful mosaics and symmetrical detail, the tiles used for decorating the lower half of the walls are typical of Esfahan's grand mosques. In contrast, the upper half is decorated mainly with miniature Persian frescoes.
In addition, the Hammam's walls are decorated with turquoise tiles with symbols of authentic Iranian architecture like epic or mythical paintings, murals, polychrome tiles, and mosaics reflecting the rich culture of Persia. Other enchanting features of the Ali Gholi Agha Bathhouse are its lovely marble flooring, the hunting scene depicted on the wall, and a duck-heated water spout above the central bathtub, which gives the water desirable temperatures.