When you travel to Iran, you will understand that Iranian people make some of the best desserts out there, they flavored their desserts with saffron, rosewater, pistachio, and some more delicious flavors you will love.
Iranians don't eat sweets as desserts at the end of their meal but they eat those often as a break during the day with tea or sometimes coffee. Here we are going to introduce some of the most popular Iranian desserts.
1. Gaz
This white delicious sweet is originated in Isfahan. The main ingredients are sap of Angabin (a plant), rosewater, and egg whites while almonds, pistachios, and walnuts could be added to it as well. In a modern way, you can find it with a chocolate cover.
2. Sohan
No trip to Qom is completed without trying Sohan. Sohan is a saffron brittle made with wheat sprout, eggs, rosewater, sugar, butter, and cardamom. Usually, there is a layer of pistachios on the top to balance the taste of sweet.
3. Baklava
Baklava is a very common and popular sweet in different countries of the world, especially in the Middle-east. However, the one cooked in Qazvin has a different story to tell, the three colored Baklava is very dry and consists of chopped almonds, pistachios, and cardamom.
Read more: Best dishes in Iran for vegetarians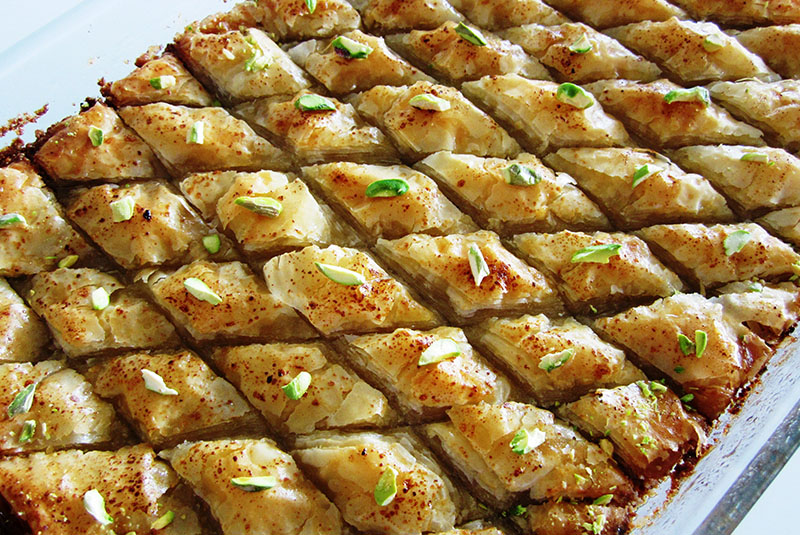 4. Zoolbia and Bamieh
Zoolbia is a deep-fried round sweet with rosewater-saffron syrup. Bamieh is small round pieces of syrup-soaked fried dough. They are very crunchy outside and soft inside. During the holy month of Ramadan, Zoolbia and Bamieh are very popular sweets for Iftar.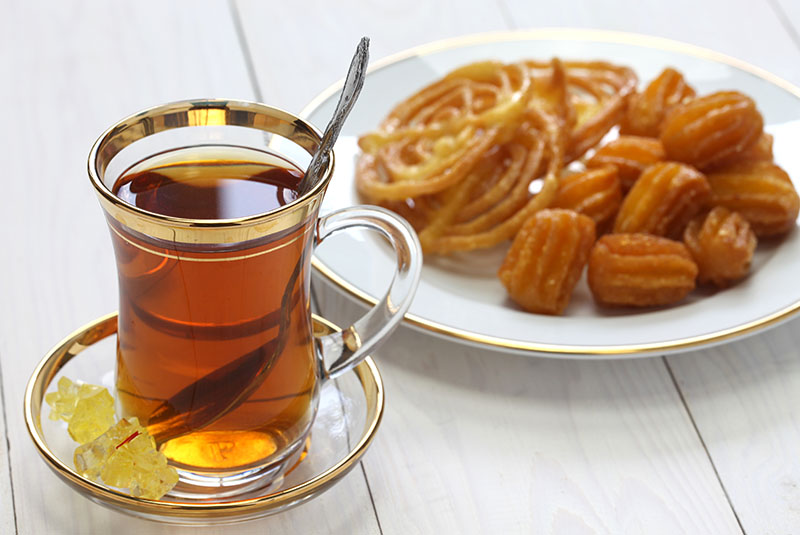 5. Halva
Traditionally Halva is served during religious holidays and funerals. To bake Halva, first wheat flour is slowly toasted in oil and butter, then syrup contain of sugar, rosewater, and saffron added to the flour and mixed it till it comes to a dense paste. Usually the sweet is decorated with almonds and pistachios.
Read more: The most delicious food in Iran
6. Sholeh-Zard
Sholeh-Zard is very delicate and light in texture, the same as rice pudding with extra flavor of saffron to give it the perfect shade of yellow. Sholeh-Zard is a typical "Nazri" during religious ceremonies and Iftar for the month of Ramadan.
7. Shir Berenj
Shir Berenj is also rice pudding with an extra ingredient; milk but without saffron. Shir Berenj is cooked without any sugar and usually eat by nuts, honey, or fruit syrup.
8. Ranginak
The main ingredient of Ranginak is the date, and since palm trees are raised in the southern part of Iran, Ranginak is more popular in those areas. It consists of layers toasted walnuts, fried flour with butter, cinnamon and cardamom.
9. Faloodeh Shirazi
Faloodeh is one of the earliest known frozen desserts, dating back to 400 BCE. It is a frozen noodles served with frozen syrup like lime or cherry. Having a bowl of Faloodeh is the best way to cool you down in hot summers.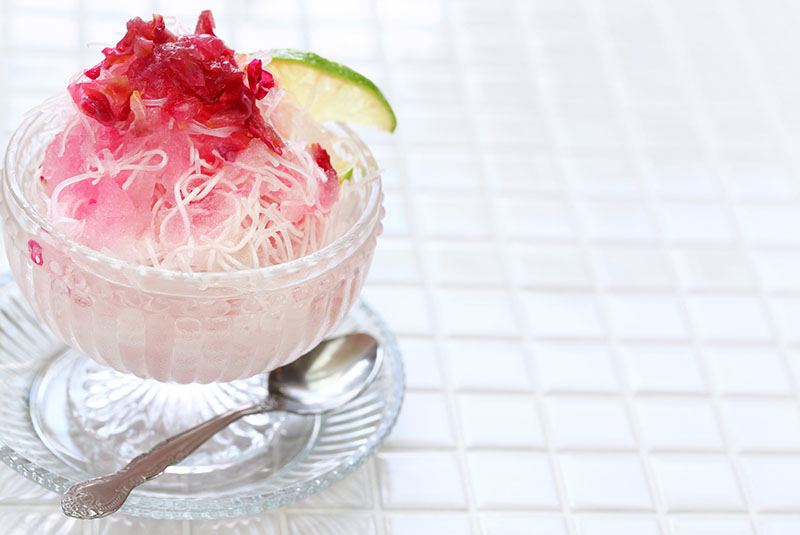 10. Bastani Akbar Mashti
Ice cream with saffron as the main flavor gives this Iranian ice cream a great taste. Small pieces of frozen cream, a hint of rosewater, and pistachios for a crunchy taste make this dessert different to other ice creams.
As a tip, you can have Bastani Akbar Mashti in a bowl itself, or with a half bowl of Faloodeh, or between two thin layers of wafers.
Read more: Top 20 Persian food that you should try when traveling to Iran