Shiraz Tourist Attractions
05 Jul 2019
BY

The Authors Group
Top 10 Hotels in Shiraz
Shiraz is absolutely one of the most popular and visited cities in Iran due to a number of amazing and historical places in the city. The city is almost included in all tourists' itineraries, and people who travel to Iran for the first time, never go back to their homes, without visiting Shiraz,
the city of art and poems. Not only in the city center but also all around the city there are places to visit. Here, we are going to introduce the top 10 hotels in Shiraz.
Zandiyeh Hotel
The Zandiyeh Hotel is a 5-star luxury hotel, which is situated just by Karimkhan Citadel in Hejrat Street. Built with a unique appearance and deeply inspired by Shiraz historical architecture, the hotel presents an eye-catching and most relaxing atmosphere for the guests.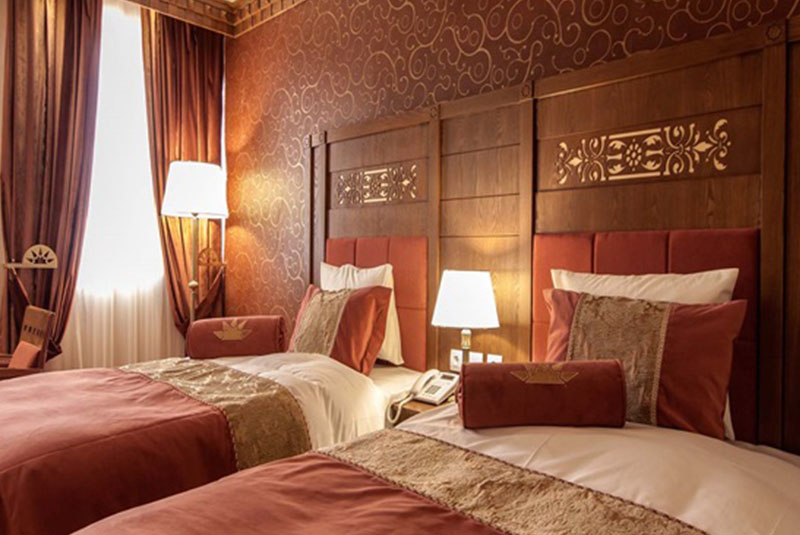 One of the most special services provided by this hotel is its traditional bathrooms that introduce Iranian culture and its fabulous architecture to you which is famous for being clean and cheerful.
It has superb lighting and marvelous Iranian water fountain to cool its environment during the hot seasons like Persian gardens. Its quiet area inspires your senses with the nice weather of Shiraz.
Chamran Grand Hotel 5*
Chamran Grand hotel is a 5-star hotel, which is the tallest hotel in Shiraz; Iran's capital of culture and history. The hotel is located in the beautiful Ghasroldasht with a breathtaking view of the city of Shiraz and the vast gardens in the vicinity.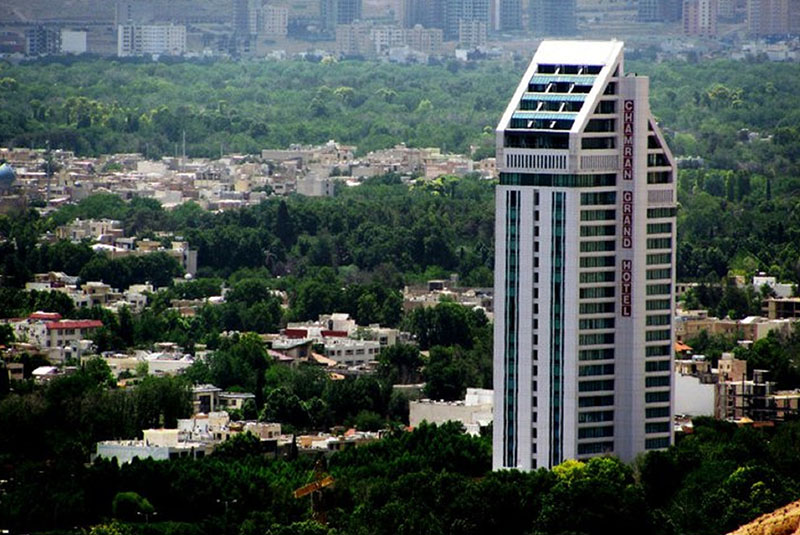 An elegant interior, Iranian hospitality, and a warm ambiance await you at this luxurious city hotel. Go on a culinary journey around the world! The hotel features Italian, Iranian and Shirazi cuisine. A coffee shop on the 24th floor promises a unique view. Relax in the Moroccan bath or work out in the gym!
Shiraz Grand Hotel
The luxurious Shiraz Grand Hotel is decorated and equipped with some of the most modern and modest furniture. According to its location near Quran Gate, this nice hotel is the first edifice catching the eyes of visitors who enter this beautiful city. The hotel is close to most of the attractions of Shiraz, which allows the guest to have easy access to all these places.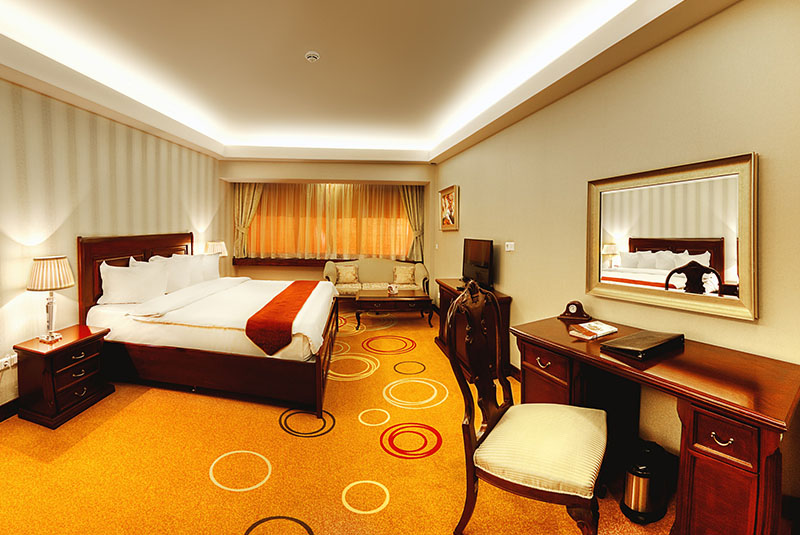 When it comes to the building, the hotel covers an area of 40,000 m2 with 14 floors and 170 rooms and suites equipped with modern facilities to bring comfort and convenience to its guests.
There are international and local restaurants in the hotel, the revolving restaurant has brought it fame due to the panoramic views it gives to its guests and its nice location in the midst of mountain rocks.
Elysee Hotel Shiraz
Elysee Hotel Shiraz is a modern hotel in the northern district of Shiraz, near modern shopping centers, restaurants and coffee shops. By booking the VIP business rooms which are located at the corner of every floor, you will be given even a greater level of personalized space and privacy. This sports center is equipped with swimming pool, steam and dry sauna, Jacuzzi, massage room, and gym.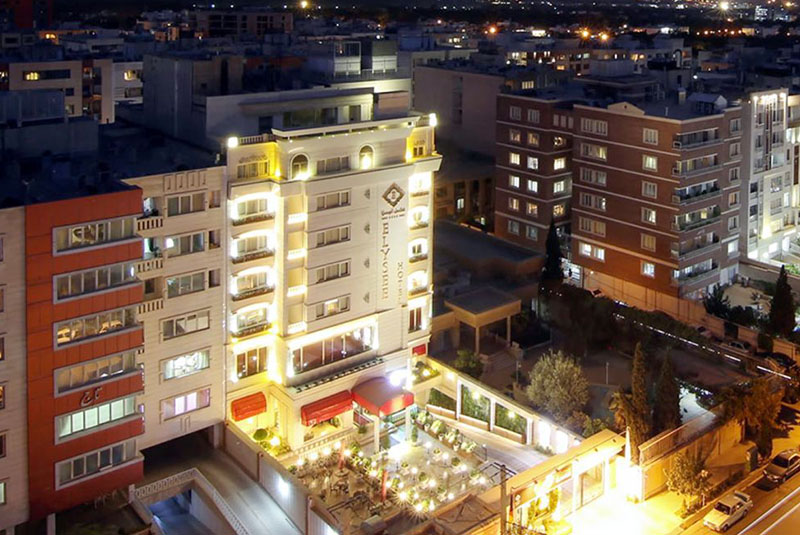 The hotel is equipped with 68 rooms in a calm and quiet environment with modern facilities and 24-hour room service. Almost all the rooms have a bathtub and full functional guest amenities such as high-speed Internet, satellite LCD TVs, and digital radios.
Shiraz Homa Hotel
Shiraz Homa Hotel is just beside the Azadi Park, the largest park in Shiraz, which gives eye-catching view to the guests. The impressive decorative facade of Shiraz Homa Hotel gives way to a cordially inviting lobby ornamented with fresh flowers and comfortable seats. All the amenities are tailored to suit guests whether they are on business or leisure.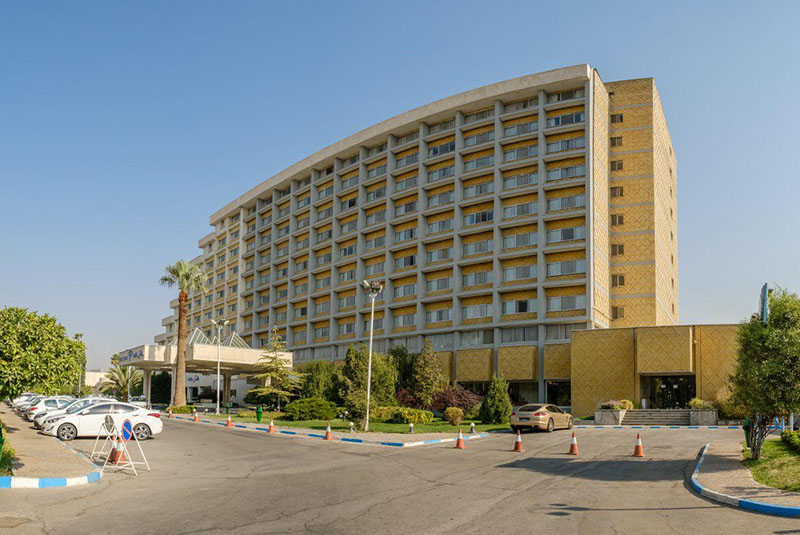 There are more than 230 rooms and suites in this hotel, along with restaurants, the venue for conferences, conventions and social occasions. Fitness center boasts a wide variety of equipment and amenities.
Karimkhan Hotel
Traditional Karimkhan hotel is situated at the heart of Shiraz on Roodaki Street. The hotel has 51 rooms constructed under the influence of Persian architecture, which enables all the guests to feel relaxed and comfortable during their stay at this beautiful and luxurious hotel.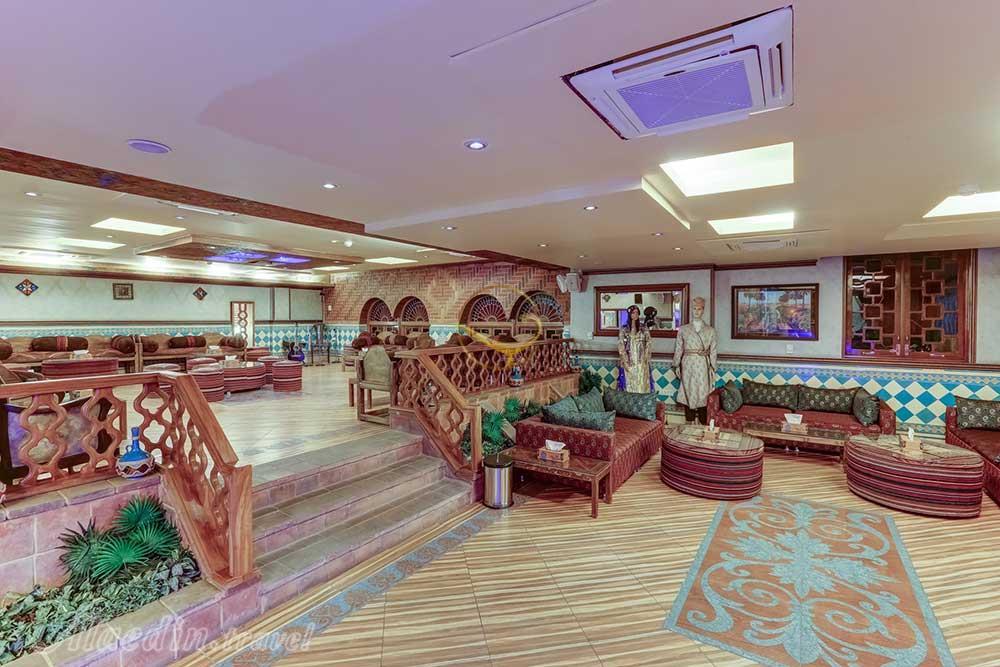 There are single, double rooms and suites accommodations, which are all equipped with telephone, central antenna system, Wi-Fi, safety box, minibar, electronic card system of doors, TV set, heating, and cooling systems, bathroom, and fridge.
Among the facilities of this hotel, one can name is its tea house where traditional tea, herbal tea, ice cream, and Faloudeh as Iranian desserts can be served to make your stay more enjoyable.
Aryo Barzan Hotel
Having received both local and international certificates and letters of acknowledgment such as ISO 9001 of England and Holiday Check-in 2016, Aryo Barzan Hotel is one of the greatest 4-star hotels in Shiraz.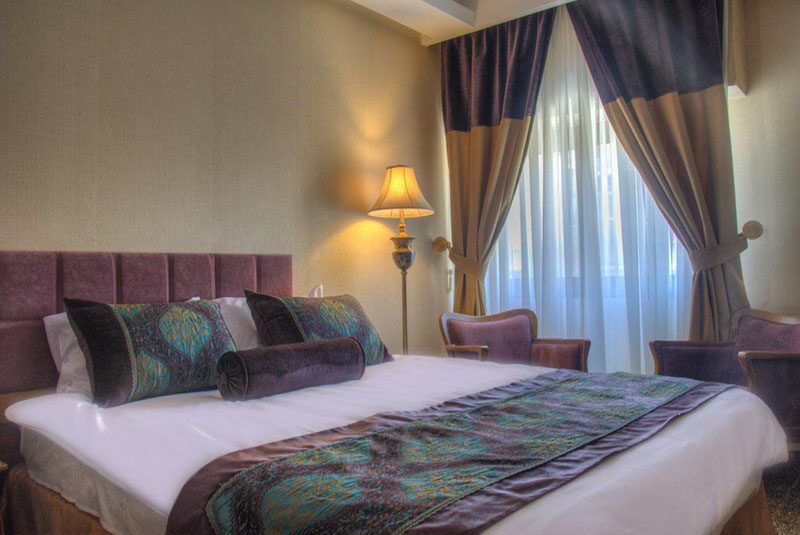 Due to its location on Roodaki Street, the hotel is so close to the main historical monuments and major attractions of the city of Shiraz such as Zandiyeh Complex, Shah Cheragh Holy Shrine Mosque, Pars Museum, Qavam House, Zinatolmolk House, and Nasir-al-Molk Mosque.
The hotel offers single, double, twin and royal suites. Aryo Restaurant, Apadana Restaurant, fast food, coffee shop, 24/7 room service and the office of touristic services are among the facilities of this hotel.
Parseh Hotel
Parseh Hotel a 4-star hotel which is located on the corner of Shahrdari Square behind Karim Khan Citadel on 22 Bahman Street. As a result, the guests have easy access to the main attractions of the city. There is a restaurant with great Persian cuisine, a cozy coffee shop, a billiard hall for playing billiard and having fun, roofed parking space for your cars, and a spacious hall for holding meetings and ceremonies.
Parseh Hotel has 85 large rooms and luxury suites which offer 24-hour room service. The rooms are very well and very beautifully decorated to give you a sense of relaxation and composure when staying inside. All the staff at this hotel are truly professional who will take care of all your problems and guide you with almost every question and request you may have.
Forough Boutique Hotel
Forough Boutique Hotel is a 3-star mansion with 18 beautifully decorated rooms. The hotel is located at the center of Shiraz city. While this boutique hotel is very small, it is very cozy and convenient, and more importantly, the quiet environment inside its rooms invite everybody to stay at least a couple of nights. In addition, the well-designed courtyard with nice terraces, beautiful fountains and skillfully constructed artful tile works can be considered as the advantage of this place.
Moreover, Forough Boutique Hotel is close to major tourist attractions in Shiraz such as Shah Cheragh Mosque and the Vakil Bazaar.
Darbe Shazdeh Boutique Hotel
The traditional boutique hotel of Darb-e Shazdeh is located at the central part of Shiraz. This accommodation has nine rooms and also has easy access to Zandieh Complex and downtown. What is making this boutique hotel very unique is how they name the rooms. Each room is named in the Persian language. All rooms have facilities such as air conditioning and heating systems, minibars, TVs with satellite channels, and safe boxes.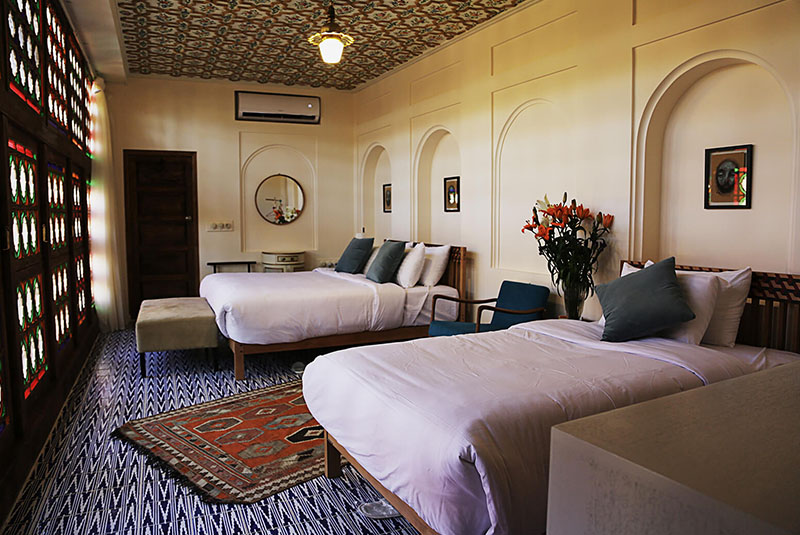 There is a nice and peaceful yard with a cozy coffee shop where you can have a relaxing stay, and spend some of the most memorable moments of your trip.
If you are looking to book a hotel in Shiraz, fill free to contact us at incoming@eavartravel.com . Our experts will check your request as send you the best offers as soon as possible.