Nowruz is One of the suitable times for travel to Iran is, Spring. In this season you can acquaint some of the Iranian cultures. One of the Iranian ancient cultures is Nowruz.
Nowruz is the beginning of the Persian New Year and is celebrated in Iran on the first day of Farvardin (the first month of spring in Persian Calendar which is coincided with March in Christian calendar).
Attention, for travel to Iran in spring, you must reserve the hotels so older. That way, you can contact a travel agency in Iran and use Iran tour packages. The moment the sun crosses the celestial equator and equalizes night and day is calculated exactly every year and If that moment is before noon and at the first half of the day, the same day is Nowruz and if that moment is at the second half of the day, the next day is Nowruz which is celebrated all over Iran.
Since the time of Persian New Year has coincided with the beginning of spring season in Northern Hemisphere, nature also celebrates its birth with the Iranians and that is the unique feature of Nowruz.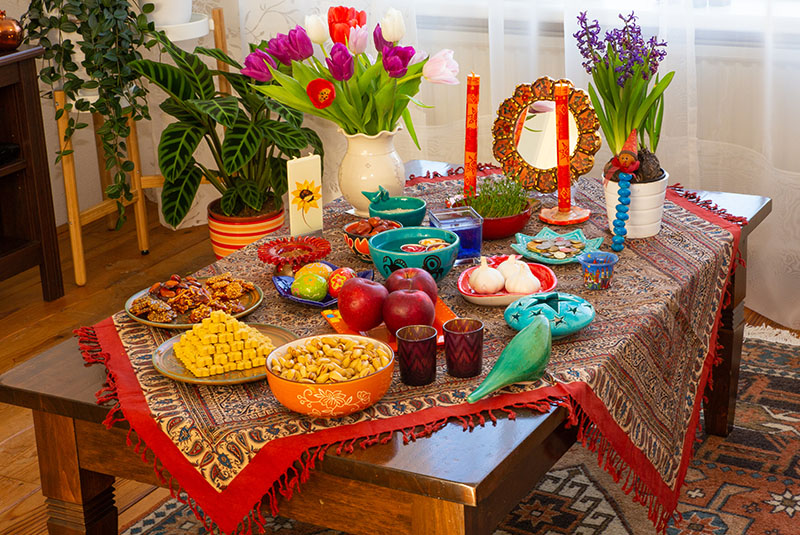 There are many rituals related to Nowruz in Iran. Before Nowruz, the people clean their house (khane tekani), buy new clothes, and since they are going to meet their relatives and friends during the holidays, they buy a lot of sweets, nuts, and fruits for the guests and some families, especially in the villages, bake the local sweets themselves.
In fact, wandering in the bazaar is one of the most amazing works before Nowruz because it is changed into an interesting, joyful and attractive atmosphere.
One of the most favorite and usual customs of Nowruz is to prepare "Haft Sin". "Haft Sin" is consisted of seven things which have vegetable roots (it means that all of them are planted and they symbolize growth and birth) and their name is begun with the alphabetical letter of "س "that has the same sound with "s" in English.
They are Sabze (wheatgrass), Sib (apple), Serke (vinegar), Sir (garlic), Somaq (sumac), Samanoo and Senjed.
The holidays of Nowruz is 13 days. During the holidays the people meet each other in their houses and it is very common to meet the older members of the family first like the grandparents. Giving gifts or money to each other is a very usual custom which is the happiest part of Nowruz especially for the children.
One of the main functions of Nowruz is to unite the people that we see in all the rituals related to it. The people try to get together until the beginning time of the New Year. They read the Quran and the poems of Hafiz and pray for having a prosperous and peaceful year.