Kashan Tourist Attraction
Kashan Tourist Attractions
Famous for its rosewater, handmade carpets, and rich history, this oasis city is the tip of the iceberg when it comes to the ancient civilization and culture of Iran.
Archaeologists believe that Kashan is one of the oldest cities created by humankind, and the traditional and historical texture of the city is still preserved to this day. You'll see traces of antiquity that transport you back in time everywhere you look.
With its stunning old houses, historical gardens, traditional bazaars, museums, and bathhouses, there's no shortage of things to see and do in this incredible destination about 200 kilometers from Isfahan and 250 kilometers from Tehran. And if you're lucky enough to visit between mid-May and mid-June, you won't want to miss the Golabgiri rose festival; this is when the city comes alive with a traditional rosewater-making ceremony that draws visitors worldwide. Check out our comprehensive guide to the top tourist attractions in Kashan and start planning your trip today!
Top 10 Tourist Attractions to Visit in Kashan
Fin Garden
Fin Garden is a UNESCO World Heritage Site located in the heart of Kashan. This stunning garden spans over 33,700 square meters and is often called Shah "Garden" because it was designed during the rule of Shah Abbas I in the late 16th century. The garden was completed by 1590, making it the oldest extant garden in Iran.
One of the most significant features of Fin Garden is the high walls that conceal the garden, providing a sense of safety and privacy for its occupants. Unfortunately, the garden is also known for a tragic historical event - the murder of Amir Kabir, a prominent minister of the Qajar dynasty, in the Fin Bath.
Despite this dark event, Fin Garden remains a popular attraction for tourists and locals. The garden's towering trees, cobblestone floors, and tranquil fountains create a peaceful atmosphere that provides a much-needed respite from the hustle and bustle of the city.
As you wander through the garden, you'll also be struck by the beauty of the manmade fountains, pools, and canals powered by the Suleimanieh Spring without mechanical pumps and the ancient trees that have been standing for hundreds of years. In fact, Fin Garden is home to 579 cypresses and 11 sycamores, some of which are over 100-470 years old.
Sultan Amir Ahmad Bathhouse
The Sultan Amir Ahmad Bathhouse, also known as the Qasemi Bathhouse, is one of Iran's most beautifully preserved historic bathhouses.
It dates back to the Safavid period in the 16th century. It is famous for its exceptional architecture and ornamentation, featuring vaulted ceilings, exquisite mosaics, magnificent plasterwork, and blue-and-gold tilework that will leave any visitor in awe.
As you stroll around the structure, you can ascend to the roof to take in the surreal scenery of Kashan's old quarter, where you can capture some incredible pictures.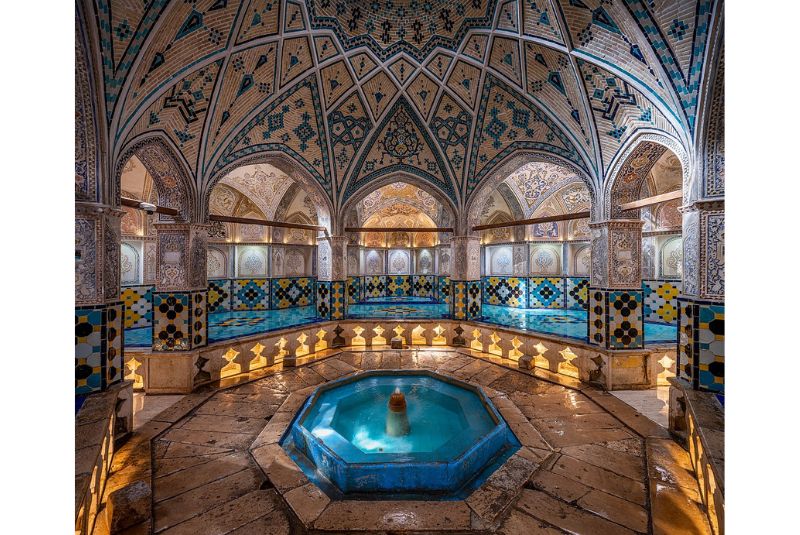 Tabatabaei Historical House
Located in the Sultan Amira Ahmad neighborhood, Tabatabai House is a historic house museum that exhibits the way of life of the Kashan royal family in the 19th century. The house is also known as "the Bride of Iran" and was built by the famous carpet merchant Seyed Jafar Tabatabai in 1835.
With an area of 4700 square meters, it boasts 40 rooms, four courtyards, four cellars (basement), three windcatchers, and 2 Qanats, making it one of the most distinctive buildings in Kashan.
One of the most stunning parts of the house is the exterior which is decorated with stucco ornaments and exquisitely carved wooden doors and windows. Inside, you'll find multi-colored mosaic windows and paintings featuring the legendary bird Homa, or Sphinx, dedicated to the merchant's wife, whose name was Homa.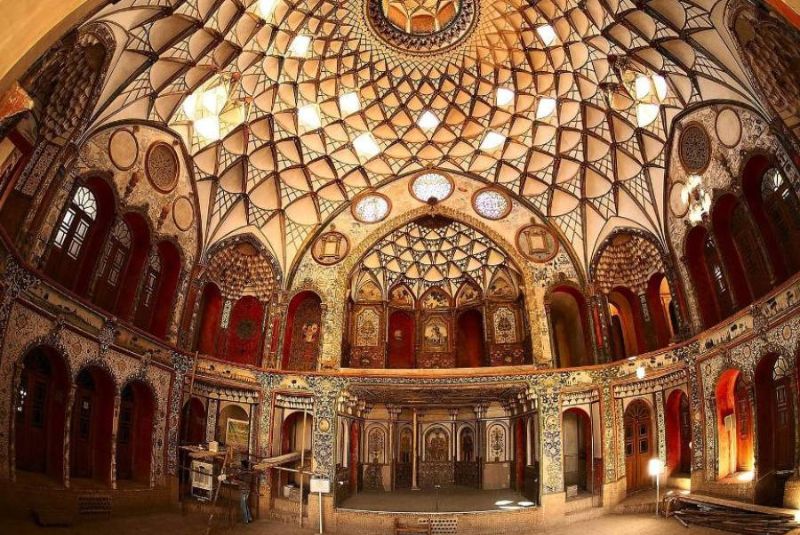 Borujerdi Historical House
If you're looking for a relaxing and historical atmosphere in Kashan, visit Borujerdi's house in the Sultan Mirahmad neighborhood of Kashan.
The house features two outer and inner courtyards, a main hall, a summer hall, a porch, a large pool, a beautiful portal, wooden doors, and decorated walls, making it a feast for the eyes.
One of the house's best features is its interior, which is decorated with the legendary Iranian painter and founder of Iran's first painting school, Kamal ol-Molk priceless paintings.
However, what truly sets Borujerdi's house apart are the 40 meters windcatchers and the fairytale-like castle exterior, which has been compared to Gaudi's buildings in Barcelona.
It's interesting to note that Seyyed Mehdi Borujerdi built the house in 1857 to impress a girl from the affluent Tabatabaei family. Because he used to trade goods from the city of Borujerd, people call it the house of the Borujerdi.
Kashan Bazaar
Kashan Bazaar is one of the most popular tourist attractions in the city and for good reason. Not only is it a great place to shop, but it's also a treasure trove of history and culture.
The bazaar is believed to have been built under the Seljuq dynasty and was reconstructed and restored during the Safavid era. After 800 years, this trade center still operates, with some parts renovated and others retaining the original spirit. As a result, the Kashan Bazaar showcases Iranian architecture over seven centuries, making it a must-visit for architecture enthusiasts and history buffs alike.
It is also home to over 40 ancient landmarks, including Mianchal Bazaar, Warehouse, the 800-year-old Emad Mosque, School, and many more, dating back to the Seljuk and Al-e Buyeh eras.
One of the most impressive sections of the bazaar is the Timiche Amin-o-Dowleh, which boasts unrivaled architecture and décor. From the intricate tile work to the beautifully carved wooden doors, every detail is a work of art in and of itself.
Kashan Bazaar is also a great place to shop for souvenirs and gifts. So, don't forget to check out the delicious sweets and pastries, some of the best souvenirs you can bring back from Kashan.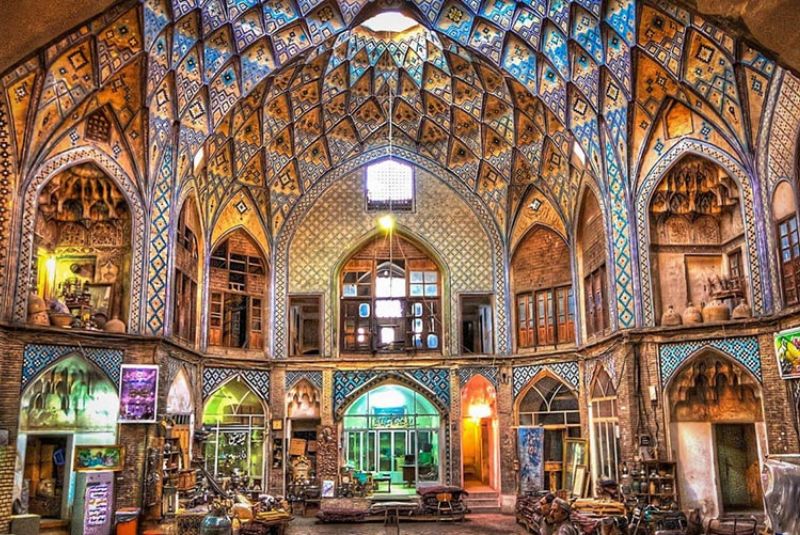 Ameri House
Ameri House is one of the most remarkable traditional hotels in Kashan. This large historical house boasts stunning architecture, with the highest windcatcher among the houses in the city, making it a must-see destination for anyone visiting the area.
Originally built during the Qajar period as a residence for the Amiri family, the building has 85 rooms, seven courtyards, and two bathhouses. Additionally, the home includes several three-door chambers and a Shahneshins-style seven-door hall.
It spans approximately 9,000 square meters of total space and features thin wooden doors, gypsum reliefs on the façade and ceilings, mirrors, tiles, and paintings.
The house is divided into two sections, the public (or "Birooni"), which is used for visitors and males, and the private (or "Andarooni"), which is used by women and servants.
One of the house's most stunning sections is the courtyards which are adored with ponds, porches, gardens, and various flora and shrubs, making it a truly enchanting experience for visitors.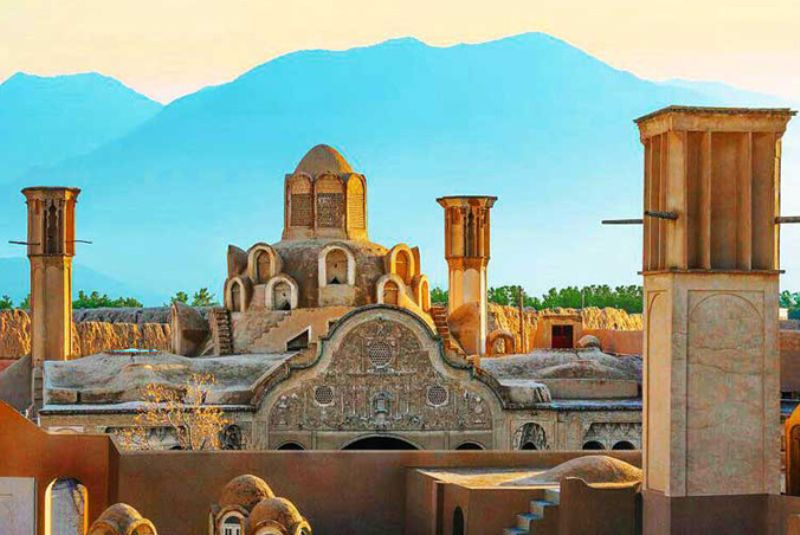 Abyaneh Village
Abyaneh Village is one of the most captivating and unique tourist destinations in Kashan. As soon as you enter the village, you'll be struck by the sight of the clay buildings and stair-shaped houses coated in red dirt, earning it the nickname "Red Village." But that's just the beginning of what makes Abyaneh so special.
For starters, Abyaneh is located at an elevation of 2222 meters above sea level, making it one of the highest residential areas in Iran.
One of the main draws of Abyaneh is its architecture, which is a beautiful blend of traditional and modern styles. But it's not just the buildings themselves that are so captivating. The locals also dress in traditional clothing that's unique to the village. Women wear a colorful garment over a Shaliteh, flowery scarves, long stockings, and shoes, while men dress in long, loose black pants.
As you explore the village, you'll come across artwork from the Sassanid, Seljuk, Safavid, and Qajar eras, all of which attest to its antiquity. In addition to its historical significance, Abyaneh is also known for its spiritual nature and pristine landscape, making it the perfect destination for anyone looking to escape the hustle and bustle of everyday life.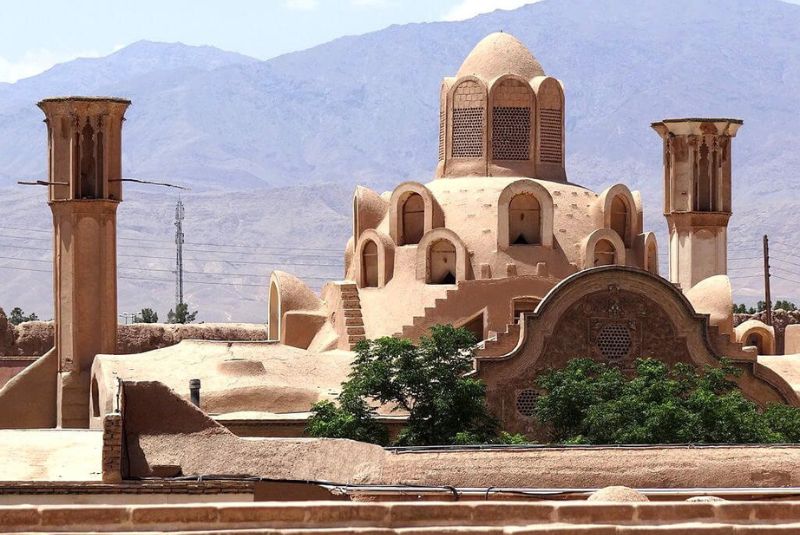 Sialk Hills
Sialk Hills, or "Tappeh Sialk" in Persian, is a 7500-year-old Ziggurat hidden beneath farmlands in Kashan.
Once called "The Cursed City," this ancient site remained unknown until a flood revealed its treasures. Though it may seem ruined at first glance, Sialk Hills is a rich archaeological treasure trove with artifacts and pottery from six unique eras.
Evidence suggests that these hills are remnants of the ancient ziggurat of Iran and were home to one of Iran's earliest ancient human settlements.
Archaeologists have also found human bones, ceramics, and metal utensils on this site, demonstrating Iran's tens of thousands of years of civilization which are now kept in the National Museum of Iran.
Niasar Cave and Waterfall
Niasar Cave and Waterfall are unique and fascinating destinations close to Niasar village. The cave is about 2000 years old and is manmade. Archaeologists believe that this mysterious cave was dedicated to religious ceremonies, specifically the "Mithraism" ritual, in which water played a significant role.
One of the rituals of Mithraism involved bathing and washing in a special way that lasted for several days, and there were water wells or boiling springs in the place of bathing. Due to the proximity of Niasar cave to Niasar waterfall, it is almost certain that followers of Mithraism owned this cave.
Niasar Waterfall starts from a water spring near a fire temple dating back to the Sassanid era and is frequently visited by nature lovers, especially during spring. This waterfall is as high as 25 meters and is surrounded by lush lands watered by the ancient spring. The bedrock that made the water passage of Niasar Waterfall is usually made of lime and has created a delightful shape over the ages.
In addition to the waterfall, there were about thirteen gristmills in line with the waterfall, with only one now working. These mills were used for grinding grains and provided a vital food source for the people of Niasar village.
Underground City of Nushabad
The underground city of Nushabad, located near Kashan, is the world's biggest historical underground city, with a complex ventilation system, rooms, corridors, canals, several entrances and exits, and preparation for all defensive requirements across three floors. It is an underground metropolis used as a refuge for women, children, and the elderly during war and invasion.
The underground city is believed to have been developed over 1500 years ago when a Sassanid monarch drank some water while traveling and gave the order to build a city there because he liked how cold and clear the water was. He named the city Noushabad, which translates to "the town of drinking water."