Golestan
12 Aug 2023
BY

Batul Iddi
Gonbad-e Kavus Tower: A Jewel Amidst Iran's Beauty
Situated in a picturesque location, Gonbad Kavous is the largest township in Golestan province, Iran.
This township shares its borders with Turkmenistan to the north and Khorasan Province to the east. To the south, you'll find the captivating landscapes of Minoo Dasht and Ali Abad, while Gorgan and Bandar Turkaman grace its western boundaries.
Gonbad Kavoos holds a rich history, with its name tracing back to Qabous Ebne Voshmgir, one of the Ziyarid rulers. It is also brimming with captivating historical attractions, including Golestam Dam 1 and 2, three beautiful wetlands, a large Russian market, the Shrine of Yahya bin Zaid, and the Alghadir tourist park.
One of the important highlights of this town is the "Divar-i Gorgan," the largest defensive wall in the world after the Great Wall of China. The wall begins from the Caspian Sea coast and winds its way north of Gonbade Kavous, continuing northeastward until it disappears into the majestic Pishkamar Mountains.
Another true marvel that stands tall is the UNESCO heritage site Gonbade Kavous Tower. In this blog, we will delve into the allure of this enchanting structure as we unravel the secrets and stories that make it an unforgettable tourist destination.
Gonbade Kavous Tower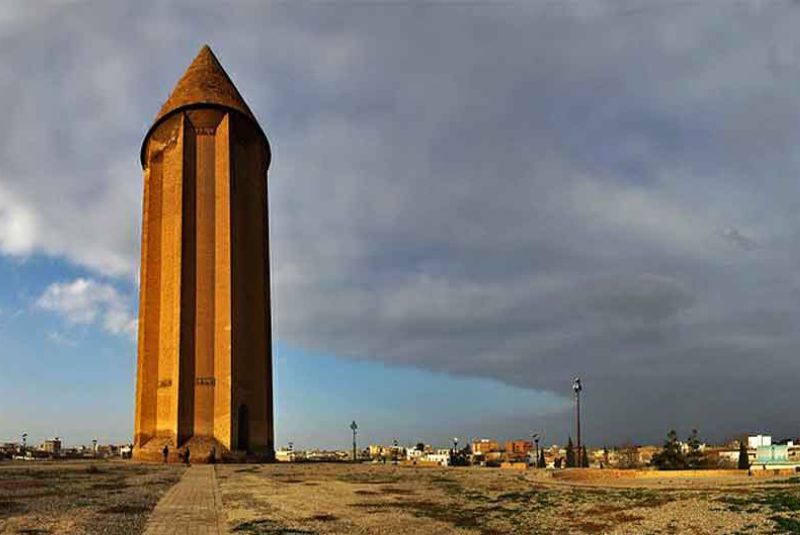 The Gonbade Kavous Tower is a majestic masterpiece of Iranian architecture built during the lifetime of Ziyarid ruler Qabus Ebne Voshmgir Ziyari.
It was designated as a UNESCO World Heritage Site in 2012 and was registered as an Iranian national cultural heritage site in 1931. It has been described in numerous publications as an exemplar of perfection, achieving a harmonious balance between its purpose, form, and material.
Gondabe Qabous Tower History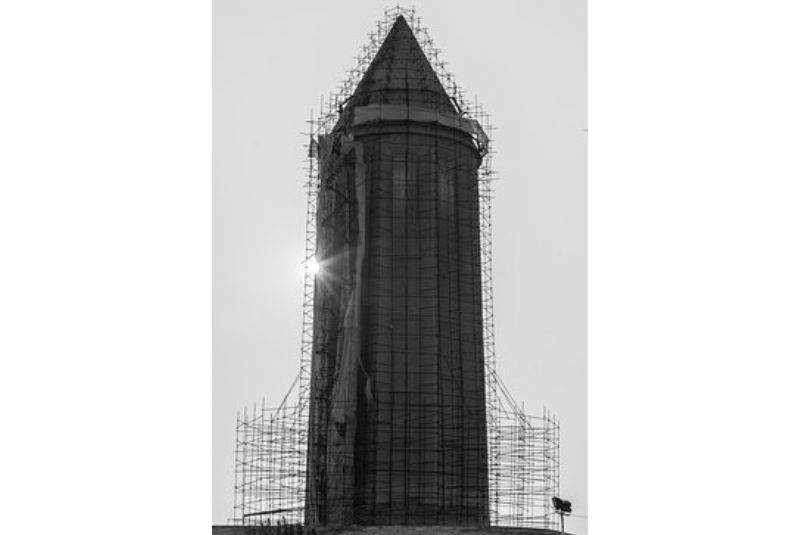 As a remarkable architectural marvel revered for its engineering prowess and stability, the Gondabe Kavous Tower dates back to the 4th century Hijri.
It was commissioned by the visionary Ziyarid King Shams ol Maali Qabus Ibn Voshmgir in the vibrant city of Jorjan, now known as Gonbad Gabus town.
While the precise purpose of the tower remains a subject of debate, some historians suggest it may have served as the tomb tower of Qabus Ibn Vashmgir. However, no conclusive evidence of human remains has been discovered within its walls.
Another captivating theory points to the tower being an observatory, fulfilling the king's fascination with Persian literature and his desire to engage with renowned astrologers of the time. It is believed that the esteemed astronomer Kooshyar Gilani may have been involved in its construction.
| Learn more: Top Iranian Handicrafts You Should Know
The Architecture of the Gonbade Kavous Tower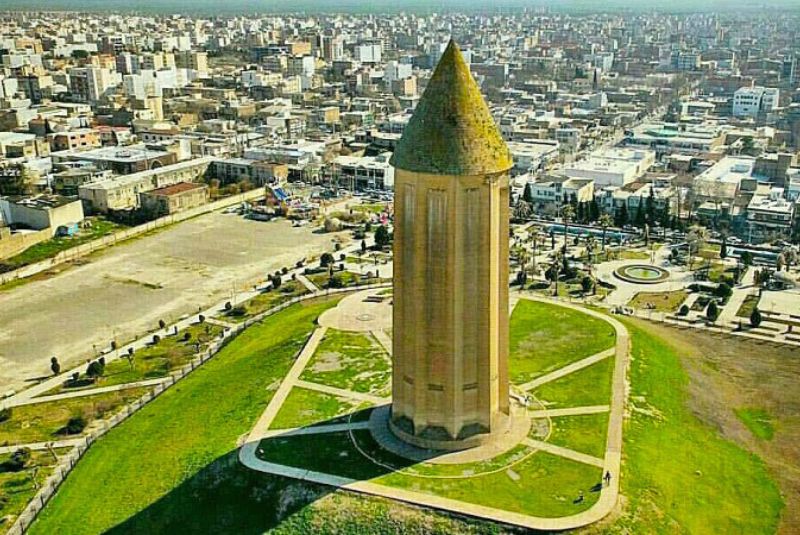 The architecture of Gonbad-e Kavous Tower is a marvel that stands as a testament to the ingenuity and skill of its builders.
While it may not claim the title of the world's tallest brick tower, it proudly holds the distinction of being the tallest pure-brick tower on the planet.
One of the impressive features of this tower is despite standing for over a millennium and enduring two powerful earthquakes; it remains resolute and stable. But what truly sets this structure apart is its remarkable construction, entirely crafted from bricks and mortar.
| Discover: Vank Cathedral | Persian & Armenian Cultural Masterpiece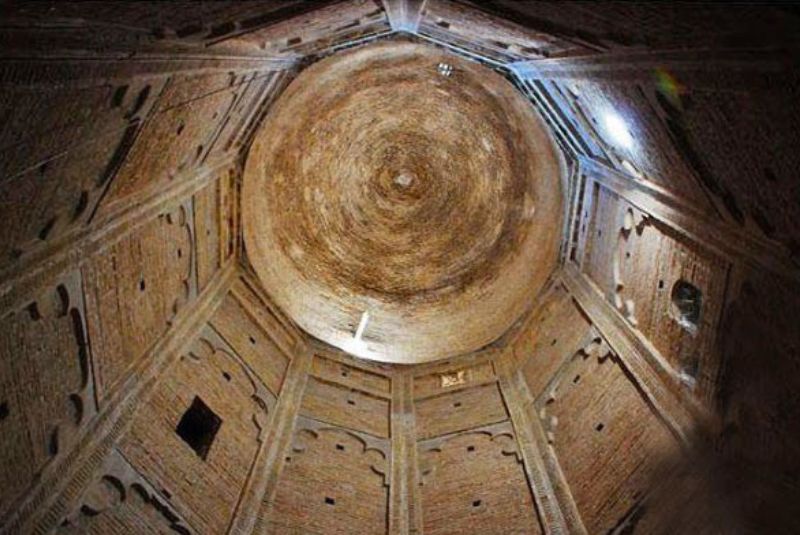 Another impressive feature is the tower's scientific and mathematical design. As you approach the front of the tower, an external circle reveals an intriguing phenomenon—a whispered word turns into an echoed reflection, captivating visitors with its acoustic marvel.
The Gondabe Kavous tower is divided into three parts—the foundation, the main building, and the conical dome—reaching a staggering height of 55 meters, with the dome soaring to 18 meters.
This massive cylinder brick tower, crowned by a majestic conical roof, rises proudly to a height of 73 meters. Its foundation is circular and rests upon a 15-meter-high cellar nestled upon a hill. Its body, or stem, stretches 37 meters in length, gradually tapering in diameter as it ascends.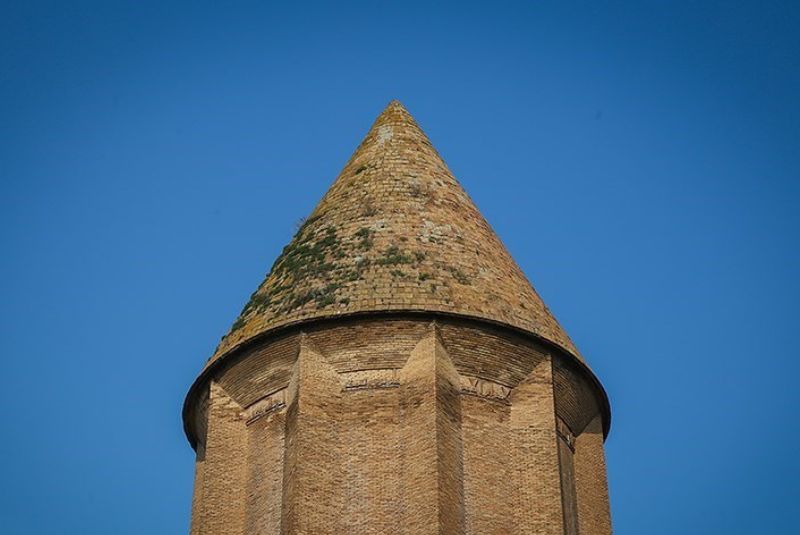 The dome itself is a marvel, a double-shelled structure soaring 18 meters high, lavishly adorned with intricate brickwork. And once you enter the tower, you'll be greeted by the enchanting sight of vaulted arches at the entrance and the earliest examples of Muqarnas decorative styles within the interiors.
The tower's exterior is adorned with ten beautifully designed triangular patterns, adding a touch of elegance to its grandeur.
The walls are constructed of red brick and have been kissed by the sun's rays, transforming their color into a mesmerizing golden yellow.
The tower also features two inscriptions in Kufic script, meticulously integrated into the brickwork, bearing the following phrases:
"This great monument was built for Amir Shams al-Ma'ali, Amir Qabus ibn Voshmgir, by his command, during his life, in the year 397 of the lunar calendar and year 375 of the solar calendar." The inscription verifies that the tower was built as a tomb for the named Ziyarid ruler.
Today, the restoration works of its dome are of utmost importance, as humidity threatens its delicate structure. Recent efforts have focused on preserving its grandeur, including a thorough cleaning to remove natural moss and bird waste, ensuring that its magnificence endures for generations to come.
| Read more: Iranian Traditional Houses
When is the best time to go?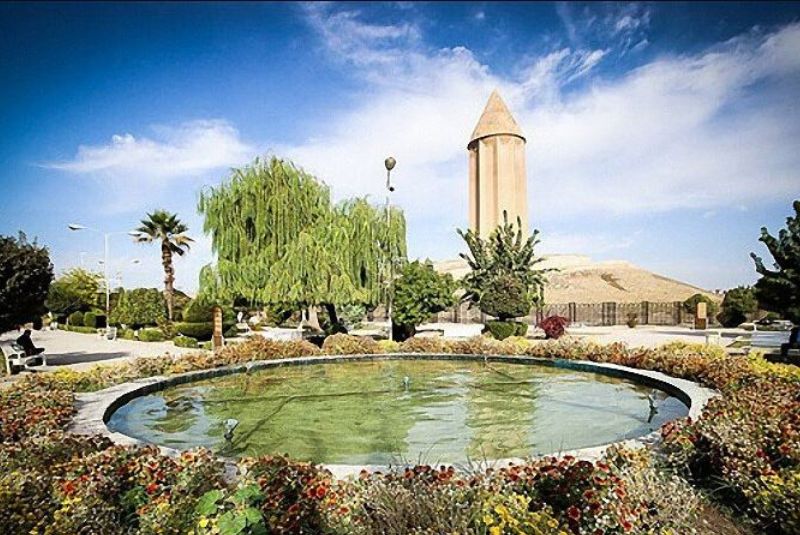 If you're planning a visit to the enchanting Gonbad-e Qabus Tower in Kavous, there's no better time to visit than spring. With nature in full bloom and the mild temperature and gentle breeze of spring, you will have a pleasant atmosphere to fully immerse yourself in the beauty and serenity of this architectural marvel.
How to Get There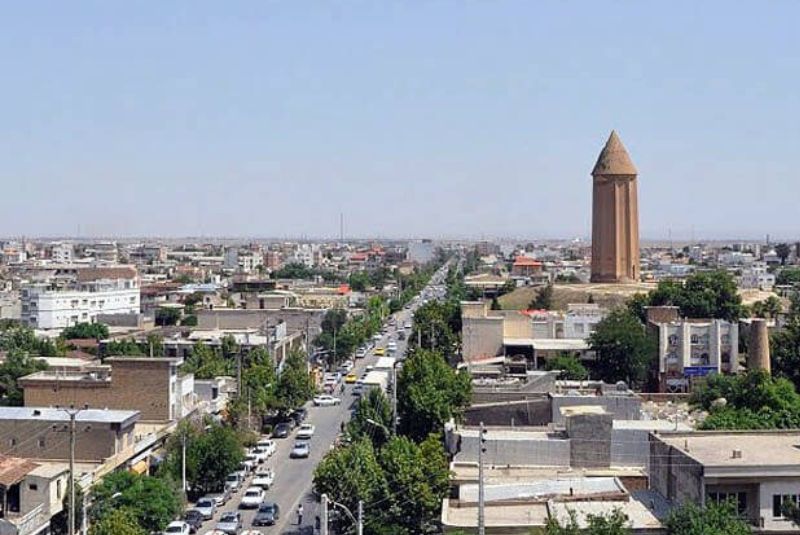 To reach the magnificent Gonbad Kavous Tower, there are multiple directions you can follow, but the quickest route is via the Gorgan – Bojnord road. This route typically takes around 1.5 hours, spanning a distance of approximately 94 kilometers. Once you arrive in Gonbad Kavus city, you'll find yourself just a short 10-minute drive away from the tower when taking Emam Khomeini Blvd. Follow this path, and you'll soon be standing in awe of the architectural marvel that awaits you at Gonbad-e Qabus Tower.
| Suggestion: Persian Griffin Meaning & Statue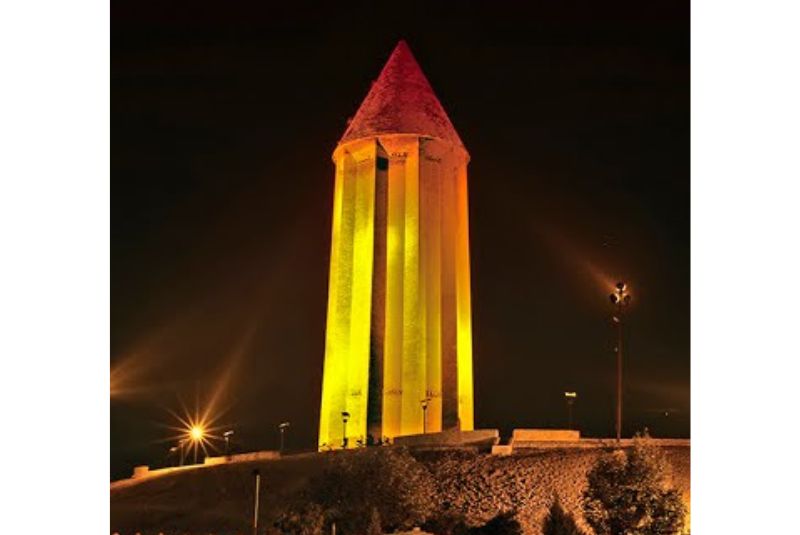 Bottom Line
Situated in a picturesque location in Gonbad Kavous, the largest township in Golestan province, lies the captivating Gonbade Kavous Tower. With a rich history and stunning architecture, this UNESCO World Heritage Site beckons travelers to delve into its allure.
---
Share your story!
Comment below and let us know about your Experience.
Your story inspires others!