Tourist Attraction
23 Dec 2018
BY

The Authors Group
Ilam tarvel guide and top tourist attractions
Being a large country, there are different types of climate and geographical conditions in Iran. For instance, the mountains of Iran contain about one-third of the country. The most important of them are Alborz Mountain in the northern part and the Zagros Mountain in the western part of the country. One of the most amazing cities at the foot of Zagros Mountain is Ilam, which has magnificent scenery, especially during spring. If you are a nature lover, Ilam; which is known as the paradise for eco-tourists, would be a perfect place for you to spend some days.
Here, we are going to introduce the city and the most beautiful sightseeing of it.
Location of Ilam
Ilam is located on the western side of Iran, near to Iran-Iraq border, to be specific, lies among the Zagros and Kabir Kuh mountain ranges, 1,319 meters (4,330 ft.) above the sea level.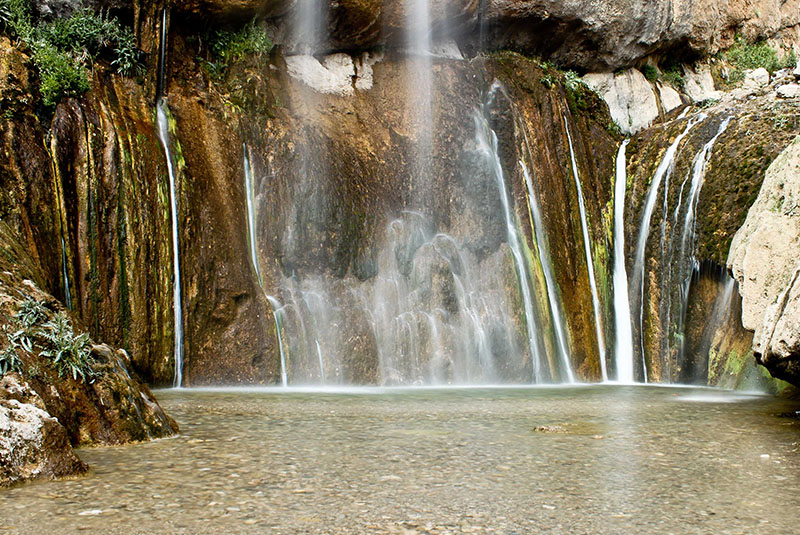 Climate of Ilam
In contrast to its location, and considering it is surrounded by mountains, the climate in Ilam is affected by deserts in the western and southern sides of the city. The region displays a highly variable weather profile on an annual basis. Usually, there are heavy showers or snow during the winter and dusty, hot, dry weather during the summer. Average precipitation days in Ilam is 55 days, the coldest temperature recorded in February, and the highest in August. The best time to visit Ilam is during spring, especially March, and April, and later in autumn, in October and November.
Population of Ilam
Ilam is the third largest Kurdish city in Iran, therefore, the majority of people living in Ilam are Kurdish and speak southern Kurdish. According to the 2016 census, its population was 194,030 people.
Sightseeing of Ilam
Among all beautiful and magnificent places to visit in Ilam, there are some of them which can be considered as a must-see.
The Vali Castle is one of the important monuments from Qajar Dynasty, which was built by Gholam Reza Khan Vali on Choghamirg Hill in 1908 AD. The castle has been functioning as a museum of anthropology for many years exhibits the great culture and civilization of the province, which attracts numerous visitors every year, especially during Norooz.
Falahati Palace is another monument built by Gholam Reza Khan Vali. There are five rooms around a massive hall at the palace, with a beautiful balcony in front of the structure. The palace has a brick floor and is decorated with human and floral stucco reliefs. The palace was once located in a garden, which is currently the Agriculture Museum of Ilam.
The Chahar Taqi structure, which literally means four arches, is believed to be the ruins of a Sassanid Fire Temple. The domed sanctuary is where the fire-altar of the temple once stood.
Assyrian (Gol Gol) Inscription, is a carved inscription in Gol Gol Village, which is 25 kilometers from Ilam. According to the historical evidence, the inscriptions on the wall of a mountain has approximately 3000 years old and there is engraving of an Assyrian soldier with a helmet, holding an arrow, a moon and a star above his head. In the lower part of this inscription, there are some sentences in cuneiform script.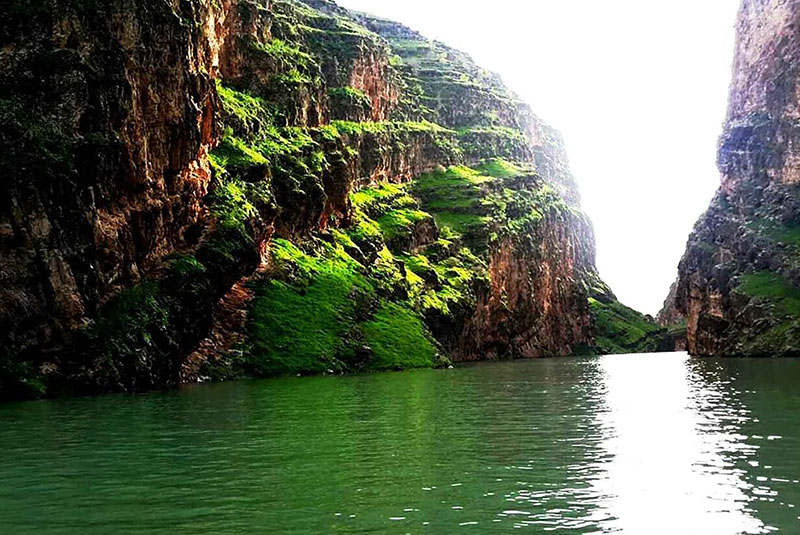 After driving 25 kilometers on the road to Islam Abad, you will be amazed by watching the beautiful Dallav Canyon. The region is fully filled with natural springs and forests, and different types of trees, such as baneh (wild pistachio), thorn apple and oak trees. Due to the vastness of this area, it's a popular destination for nature lovers during the spring and summer.
Chamava Waterfall which is situated at the foot of Mount Bar Aseman and along Chamava River is 18 kilometers far from Ilam city. This 6-meter waterfall brings you a magnificent view, peace of mind, and time to relax next to it, especially in summer.
There are ruins of a fortress built by stone and gypsum and military towers in Bahram Choobin Ravine which was used to be a stronghold by 6th century Sassanid commander Bahram who overthrew Khosrau II, and therefore ruled for a year before Khosrau II took back his throne. There are four water reservoirs at the fortes.
Sheshdar Forest Park located near Mount Qalaqiran on the road to Kermanshah in about 5 kilometers from Ilam. This forest park is extremely popular during the spring and summer because of its lush landscape and a number of natural springs.
Zinegan Cave with more than thousand-meter length is located 52 kilometers from Ilam city. There are many corridors, waterways, and caverns as well as its stalagmites and stalactites ceiling formations at the cave.