Tabriz is one of the most important cities of Iran, not only from the historical and cultural aspect but also from the economic, industrial and political point of view it has a very special place among the cities of Iran.
With a population of 1,558,693 Tabriz being located in the north-west of Iran and the capital of East Azerbaijan, is the fifth most populous city in Iran.
The city lies in a valley surrounded by hills and mountains from the north, and long ridges of volcanic cones of Sahand peak in south and east. All these have made the city to have a continental climate, very hot and dry in summer and extremely cold in winter.
The language spoken in the whole province is Azeri, though Persian is spoken as a second and official language.
The city of Tabriz has a long and chaotic history. The first civilization signs discovered date back to 1500 BC. Lots of its historical monuments destroyed during wars and earthquakes and most of Tabriz's preserved historical sites belong to Ilkhanid and Safavid era when the city was the capitals of these dynasties and also few of them are related to Qajar era.
Among these historical sites, the Grand Bazaar of Tabriz, inscribed as a World Heritage Site by UNESCO, is the oldest bazaar in the Middle East and the largest covered bazaar in the world. Marco Polo the famous world traveler mentioned this bazaar in his book when he was passing the famous Silk Road.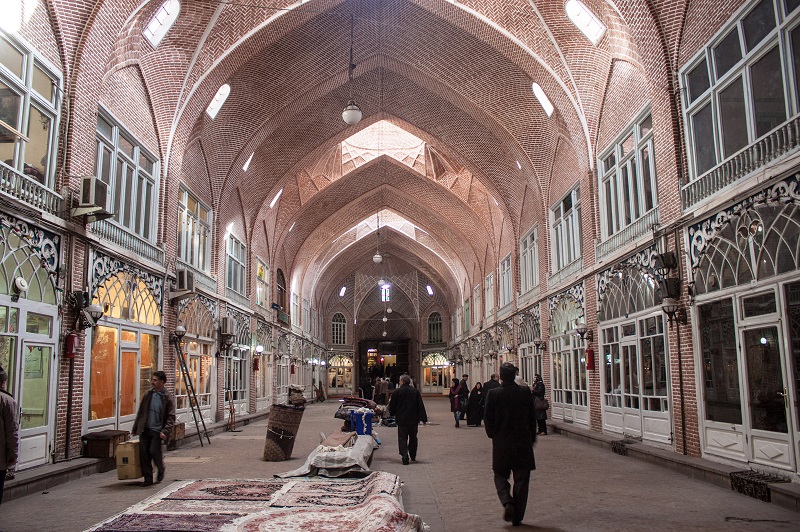 Tabriz people and bazaar played a very important role in the formation and victory of the Constitutional Revolution of Iran.
There are lots of historical and natural attractions in this beautiful city, such as Blue Mosque, Constitutional Revolution House of Tabriz (Mashrouteh museum), Shahryar literature museum (house of Shahryar), Saat Tower, Municipality Museum and former municipality office, Shah-golf park, Saint Mary Church of Tabriz and the volcanic mount of Sahand.
Not very far from the city center, with just hours' drive, there is an amazing historical stone village named "Kandovan" in which people are still living in dug holes in the rocks and live in stone houses.
Tabriz is the main center for the production of the famous Iranian Rugs and carpets. Also, it is famous for its leathers and several other handicrafts including silverware, wood engraving, ceramics and pottery and Ghalamzani.
In every trip, one of the most important parts is food and eating. Don't forget to eat Tabriz delicious cuisines such as Koofteh Tabrizi, Abgoosht, Dolma and Chelow kabab, also do not lose Tabriz famous sweets and confectionaries such as Ghorabie, Loz, Baklava, Nougha or Louka, Eris or Ris.