Yazd Tourist Attractions
07 Jun 2023
BY

Arash Morshed
Sarv-e Abarkuh (Cypress of Abarkuh)
The Sarv-e Abarkuh (Cypress tree of Abarkuh), one of the most intriguing living things in the world, attracts both the sight and the soul with its stunning, regal appearance.
It's among the oldest living things on the planet, having lived for nearly 4,500 years. This cypress tree remained tall and steadfast in Iran's heart after passing through so many years of history. The remarkable living thing, the Zoroastrian Sarv, has peculiar qualities that have gained an international reputation among visitors and botanists. As you stand close to the tree, its majesty and beauty will profoundly affect you.
Sarv-e Abarkuh At One Glance
Yazd province is home to Sarv-e Abarkuh.
With a 4,500-year age, this tree may be the second-oldest living thing on the planet, according to some sources.
Legend has it that either Zoroaster or Noah's son planted this tree.
The Sarv-e Abarkoh has been designated as a natural and national treasure.
The renowned explorer Marco Polo commended the Sarv-e Abarkoh in his account of his journey to Persia.
Every day from 8:00 AM to 7:00 PM, visitors can visit the Sarv-e Abarkoh.
The Mythology of Sarv-e Abarkuh
Persian mythology holds a unique place for this enigmatic cypress tree. This unique tree is said to have been planted by the prophet Zoroaster. So it is also widely recognized as the Tree of Zoroaster.
This tree is also linked to Japheth, the prophet Noah's son in another mythology. After that enormous storm, Japheth is reported to have planted the cypress tree.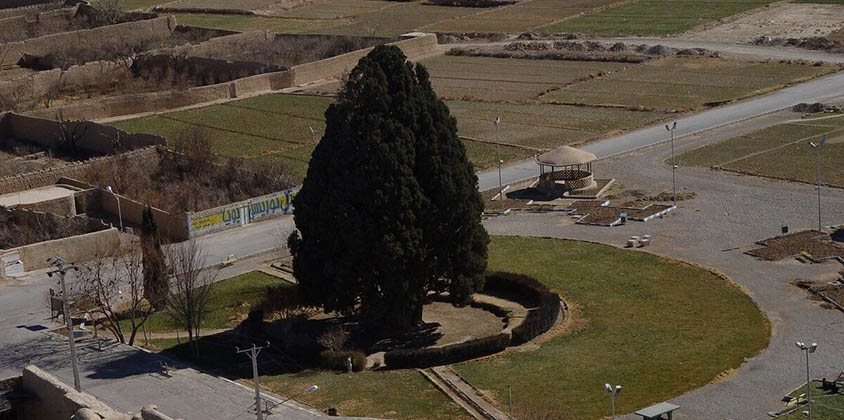 These fascinating tales claim that this cypress is possessed by eternity and will live very long. They revere Sarv-e Abarkuh and sincerely believe that this tree fulfills their wishes. Thus, they used to attach bright ribbons to the tree's branches, hoping their wishes would be granted when the ferries and good spirits untied the ribbon.
Exciting Facts About Sarv-e Abarkuh
Undoubtedly, Abarkuh cedar has a long history and a long life. This issue can be understood at first glance from the awesomeness of this tree and its difference from other trees. For the first time in 740 AH and in the book "Nuzhat al-Qulub," Hamdullah Mostofi mentioned the Abarkuh cypress and described it as follows: In Abarkuh, there is a cypress that has a worldwide reputation; If the cedar of Kashmir and Balkh had a reputation, now this one is taller and more significant than that.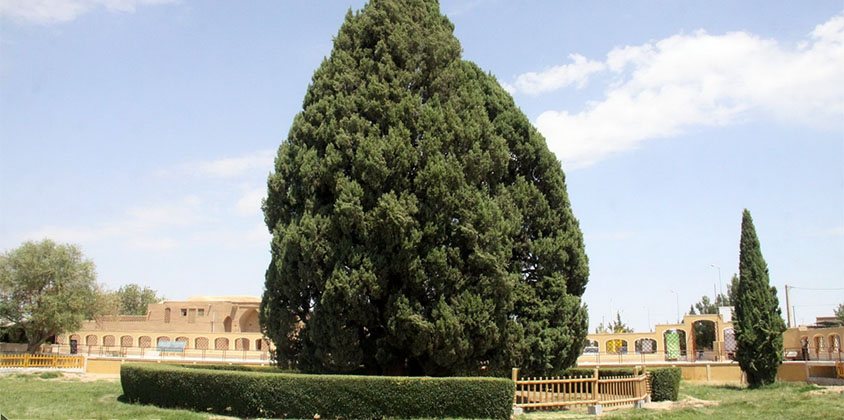 Russian scientists estimated its age to be 4000 to 4500 years. Of course, it is said that this cedar was introduced by a Japanese scientist seven to eight thousand years ago, but there is no reliable source for this review. However, today and according to the 2012 report, the cypress of Abarkuh is considered the oldest living plant organism in the world, after "Methuselah" in the White Mountains of California.
Sarv-e Abarkuh Location
Sarv-e Abarkuh is situated in Abarkuh, Yazd province of Iran. The city of Abarkuh has unique historical and natural attractions, and due to its location on the Silk Road and Al-Reza Road, it is considered one of the 14 tourist cities of the country. Seeing each of the attractions of this city has its merit. Indeed, even if you have not heard the name of Abarkuh, you have heard the name of "Sarv-e Kohen" of this city.
This tree stands out from a distance. Up close, it has excellent grandeur, and the combination of the old smell of history and the freshness of its leaves delights people. In the past, when there was not much fence and protection around it, you could see pieces of cloth and colored threads that people hung on it to answer their vows and prayers. This cedar has seen and heard many heartaches, tears and smiles and has an unwritten history of thousands of years in its heart.
Abarkuh is a desirable city due to its urban attractions and cypress of Abarkuh. Due to its location on the Silk Road, a historic trade route, this city once enjoyed prosperity.
This city has a good deal of elegant adobe architecture with striking wind catchers. The wind catchers at Aghazadeh Historical House are among the most renowned. Iranian banknotes were made more beautiful by the illustration of this fabulous pair of wind catchers.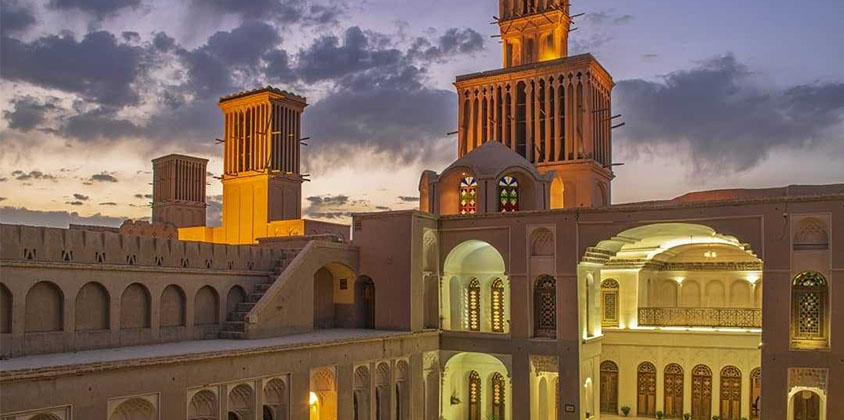 Abarkoh's enormous adobe Ice-house is another draw. This 12-meter tall spherical building was a magnificent invention to store ice. Before refrigerators were created, people used this building to keep snow and ice for the long summer days since the Qajar period.
Characteristics of Sarv-e Abarkuh
Sarv-e Abarkoh is renowned for its distinctive qualities. The tree is well-known all over the world and is ranked second among its contemporaries. Scientists and horticulturalists worldwide are eager to see, investigate, and study a magnificent tree that astounds all visitors and tourists.
The tree's long life has been attributed to the area's ideal natural circumstances. It is obvious that the tree's surroundings have changed through time; for example, there used to be many pomegranate trees around it. With the growth of towns and increased tourist and automobile traffic, there is a greater need to protect the tree's natural environment.
This marvel of nature is of the Mediterranean kind. Cypress of Abarkuh stuns every visitor with its 25-meter height, 11.5-meter trunk width, and 18-meter diameter of branches.
Growing up in the center of a desolate environment, Sarv-e Abarkoh lives nearby in a Qanat, an underground water canal. This slow-growing evergreen tree flowers during spring.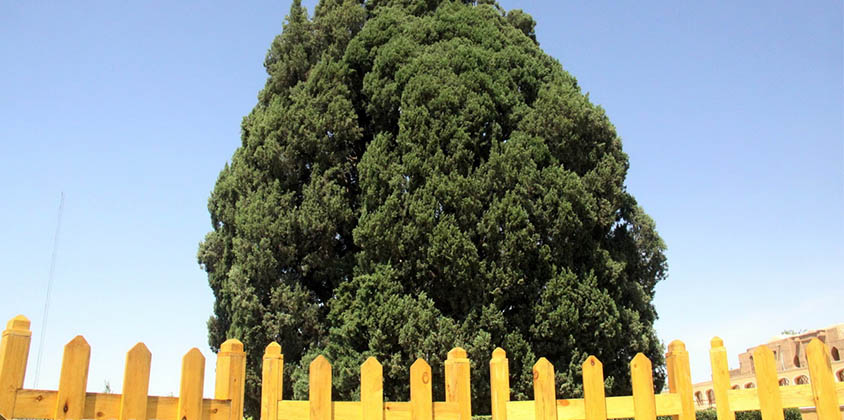 Sarv-e Abarkuh Roots In Iranian Culture, Art And Literature
The cypress has a prominent place in Persian culture as an evergreen plant. The cypress is a distinctive and peculiar emblem in Persian culture, as seen in the Persepolis and Termeh textiles of Yazd, among other places. Above all, the cypress is regarded as Iran's national tree and represents Persia's tenacity and pride. In several Persian bas-reliefs, including the sculptures from the Achaemenid era in Persepolis, it may be recognized as a sign of vitality and beauty.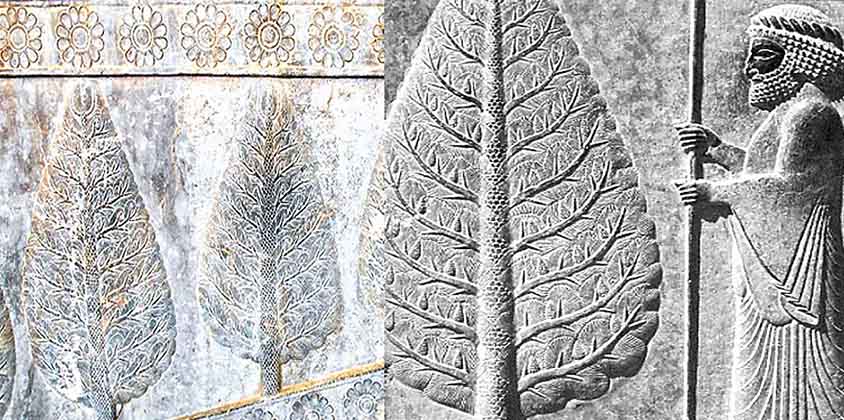 Persian poets frequently reference cypress as well. Hafez, Molana (Rumi) employed the term "Sarv-e Abarkuh" and Saadi as a metaphor to compare their lover to a cypress because of her loftiness, perfect symmetry, and compassion.
On Termeh, the most expensive handwoven fabric in Iran, you can observe its symbol in addition to carvings and poems. It serves as the primary emblem in the creation of this exquisite piece of artwork. In Zoroastrian folklore, the figure of Botteh (Paisley) signifies the cypress as the tree of life.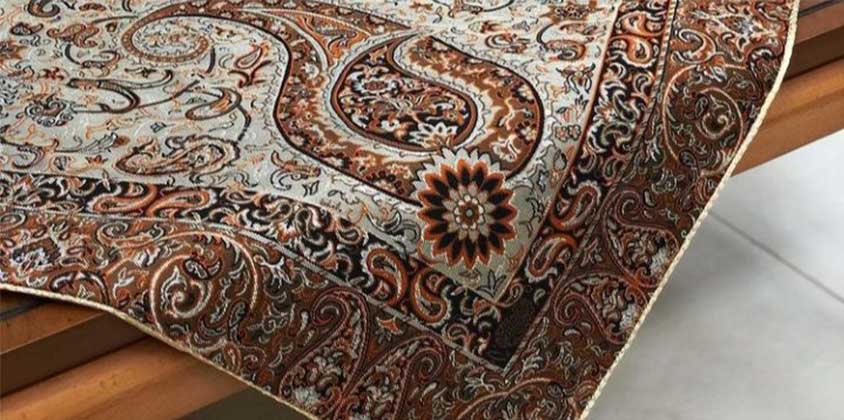 Iranian artists have also used the Sarv-e Abarkoh in other works. This old tree, which has emerged distinctively in the works of local artists, is best recognized in Iranian miniature.
In Iranian gardens, cypress trees are also significant features. To define the area, they were positioned all around the garden. The prettiest variety of cypress may be found at Shiraz's Eram Garden. Because of their perfect and soaring shape, they are known as Sarv-e Naz.
Best Time To Visit Sarv-e Abarkuh
The best time to visit Abarkuh and its famous cypress tree, alongside all other attractions, is from late September to March because the city is in a desert with hot, dry weather.
Preservation Of The Sarv-e Abarkuh
As with Sarv-e Abarkuh, all old and historical sites require care and conservation; hence many initiatives have been taken to save the straight and hefty cypress.Fences on all sides surround the tree. People shouldn't approach or touch it since their footfall may cause the soil to condense, disrupting the microorganisms and preventing the soil from absorbing water. Unfortunately, some tourists had already burned several of the tree's sections; thus, the closest we can go to it now is 2.5 meters.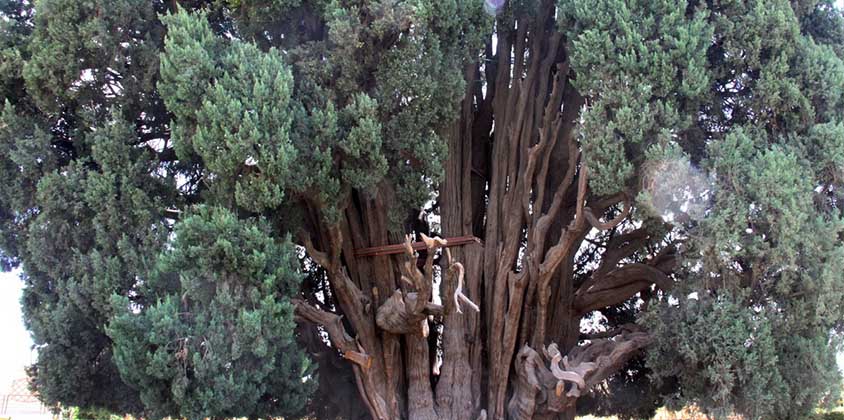 To ensure that the tree would live for many years, the Cultural Heritage and Tourism Organization of Yazd has performed specific actions, such as eliminating vermin.
Other steps have been taken to protect the tree, such as preventing pests and insects from harming it, examining issues relating to visitor and tourism needs, addressing the tree's challenges of withering due to dust on its foliage, obstructing branches that have become damaged due to age, creating natural enclosures around the tree under present circumstances to lessen tree's damage, employing trained staff to preserve this national monument, and shielding against lightning.
Despite this tree's beauty and ubiquity worldwide, the cypress of Abarkuh still needs to be included as a UNESCO world heritage site.
Bottom Line
In the heart of a desolate landscape, this majestic, enigmatic tree remains still and calmly invites visitors to come and take in its beauty. It would be a wonderful experience to visit Sarv-e Abarkuh; therefore, try to make it on your trip to Yazd.