Iran Tourist Attractions
19 Feb 2019
BY

The Authors Group
The Largest Aquarium Tunnel in Iran Opens in Bandar-e Anzali
Iran is well-known for being home to a number of historical monuments, magnificent palaces, local bazaars, and also majestic landscapes. However, in addition to these attractions, there are some other places worth visiting. For instance, the new built largest aquarium tunnel opens in Iran in Bandar-e Anzali recently. It already attracted many visitors who mostly have an interest in marine.
The city is one of the major ports in the northern country on the coast of the Caspian Sea. The port officially became a Free Zone in 2005 to develop tourism, recreation infrastructures and offering a variety of services and facilities to keep tourist in the region and provide more vacancies in the tourism industry for younger generations.
Managing Director of Anzali free zone announced starting the construction of the country's largest Aquarium project by foreign investment and reptile gardens with a 30-million-euro investment in 2017. At the same time, the development of recreation and tourism infrastructure in Anzali Free Zone started to keep more than 3 million annual tourists in the region.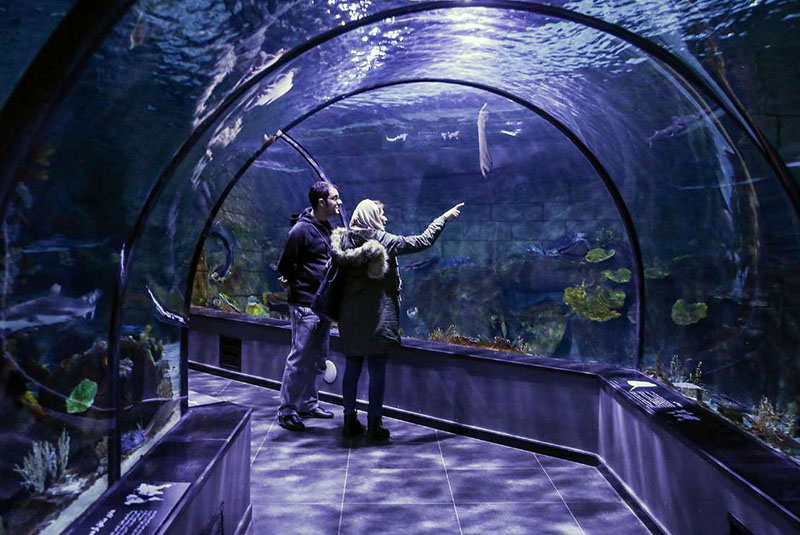 According to Bilge Pakis, Polin Waterparks' Design Manager, the Anzali Aquarium is one of the most unique projects the company has ever undertaken:
"Polin is handling all aspects, from the design and installation to the operation," explains Cüneyt Alpgüven, a Polin Aquariums partner. "That kind of oversight allows Polin to consider how to best integrate each aspect of the facility with all others to ensure visitors enjoy themselves in every regard."
The three-story Anzali Aquarium recreational complex, which has attracted a huge number of tourists since its opening, has the largest aquarium tunnel in the country with a length of 40 meters. There are also other parts in the aquarium such as a reptile garden, an indoor amusement park, multi-dimensional cinema, residential suites, tunnel and business, and service sectors.
If you have an interest in watching different types of fish, and other underwater creatures, this is the place. It is a great place to go especially with children to spend a few hours.