Isfahan Tourist Attractions
26 Jan 2019
BY

The Authors Group
Menar Jonban | The Historical Shaking Minaret
Isfahan is one of the oldest and most visited cities in Iran by both locals and international tourists. In addition to a number of beautiful sightseeing and historical monuments, you can always treat yourself with some of the best local food, and mouthwatering desserts.
Among all the magnificent places to visit in Isfahan, there is a monument with great architecture, which is not that much famous in compare with other places. Menar Jonban, the historical shaking minaret is a place that should be included in every travel plan due to its history, design, and mysterious architecture. Here, we are going to introduce this monument and talk about its location, history, and architecture.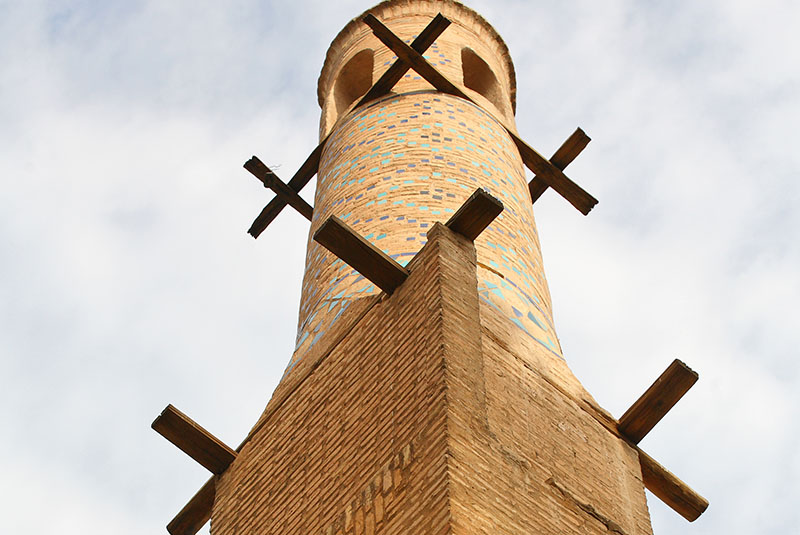 About Menar Jonban
Menar Jonban literary means "shaking minaret", is actually a burial monument surmounted by two brick minarets that can be swung with little pressure. The notable feature of this monument is that when one minaret is shaken by the human force, the other starts to vibrate automatically.
Basically, this place is a shrine belonging to a mystic and famous man of the 8th century named Amo Abdollah Ibn Mohammad Ibn Mahmoud. This monument was built at the same time as the reign of Ilkhanate dynasty. This monument is very valuable because of its architecture.
Menar Jonbal is located on the west side of Isfahan, almost on the edge of the city, in Atashgah Boulevard. The closest tourist attractions to this place would be Nazhvan Forest Park, Birds Garden, Fire Temple, Isfahan Aquarium, and Vank Cathedral.
History of Menar Jonban
Menar Jonban was originally built some 700 years ago as a mausoleum for "Amu Abdullah" who was a mystic figure in the Ilkhanid era. To be more precise, the monument was built in 1316 AD, during the reign of Iljaito of Ilkhanian dynasty. In those times, this building was the best example of architectural arts. It is also worth to know that all Shaking Minarets from all over the world were built in a 30-year era during Teimorian dynasty.
Archeological studies suggest that the dual brick minarets were constructed and added to the mausoleum later during the Safavid era (1501–1736).
The architecture of Menar Jonban
The iwan and porch were probably erected shortly after 1316 as a shrine for Amu Abdollah Soqla, a hermit buried here. The iwan is 10 meters (33 foot) high and 10 meters (33 foot) in width, the minarets are 7 meters (23 foot) taller and are 4 meters (13 foot) in circumference. The roof above the shrine contains some skilled brickwork.
Such dynamic behavior has become a puzzle to architects and structural engineers for many years as there is no crack running on it due to centuries of shaking. Some believe that its considerable flexibility comes from a special type of mortar which has been utilized in its masonry.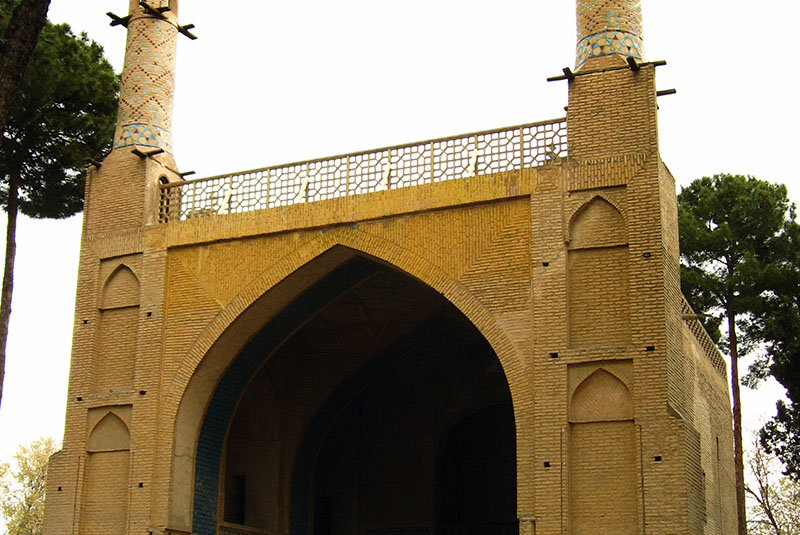 Each minaret is 7.5 meters high and they are linked to the roof by a spiral staircase. The building is built in Mongolian style and only has one Iwan (a rectangular hall or space, usually vaulted, walled on three sides, with one end entirely open).
The two minarets have not been added to the building until the end of the Safavid era. The most interesting fact about these minarets is not their simultaneously shake, but the mystery behind these shakes. So far, no one exactly has exactly known why these minarets shake in the way they do, but the closest guess is that these movements are due to the Doppler Effect.
Since the minarets are identical in every way, the movement of one will cause the same effect on the other. Also, In terms of decorations, Menar Jonban has a beautiful blue and turquoise tiles with four-star and multilateral shapes. The minarets are elegantly ornamented with lovely but unpretentious brickwork. Narrow spiral staircases lead to the summits of the minarets, which are pierced by open arches.
What is most remarkable about the minarets is that a strong push given to the top of one of them makes it oscillate.
Address and Opening hours of Menar Jonban
Address: Atashgah Blvd, Isfahan, Iran
Phone: (+98 31) 3771 6066
Visiting days and hours: Every day, from 09:00 to 18:00 during Spring and Summer, and 9:00 to 16:00 during Fall and Winter
Shaking minarets time: 10:30, 12:00, 13:30, 15:00, 16:00
*** The time of shaking is subject to change, please check before visiting the monument.