Persian Food
08 Jul 2023
BY

The Authors Group
Top 9 delicious Persian food in Iran
Iran is well-known for its wide range of delicious food. While Kebab may be considered one of the most popular Persian food, there are other types of foods in the country which in this article we are going to introduce the most delicious cuisines in Iran.
1) Abgoosht & Dizi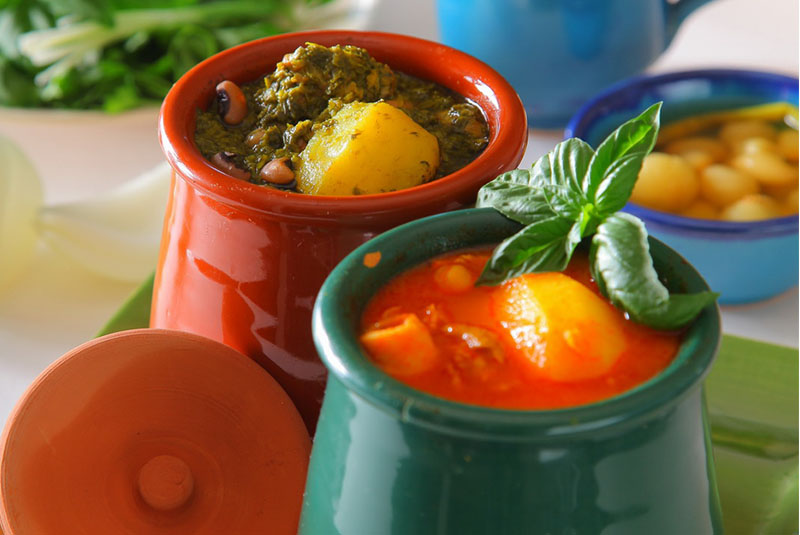 Abgoosht (Ab stands for water and goosht for meat) is one of the most traditional Iranian stew in Iran. When Abgoosht cooked and served in stone crock pots it's called Dizi. Whether the name is Abgoosht or Dizi, you should absolutely try this local cuisine when you travel to Iran.
This Iranian food has been cooked for so many years and therefore ingredients and recipe of it has been changed in different part of Iran. It used to be cooked by lamb, onion and chickpeas only, but nowadays tomatoes and potatoes also added to the stew. However, the way it's served is still remained the same in all over the country.
2) Tahchin (Layered Saffron Rice & Chicken)
Tahchin is one of the most delicious Iranian dishes which is mostly cooked in Tehran. It is cooked with different layers of rice and cooked chicken or eggplant. To prepare the food, first, the rice cooked and mixed with saffron, yogurt, and egg. Then layers of rice and cooked chicken, meat, or eggplant put in the stockpot and cooked.
3) Kabab Koobideh
There are different types of Kebab in Iran and the world, however, the Koobideh is the signature of Iranian Kabab and the most famous one between local and international tourists. It is cooked from ground lamb or beef with chopped onions. Sometimes you can find it with chicken but it is not very common and popular.
4) Dolmeh Barg-e Mo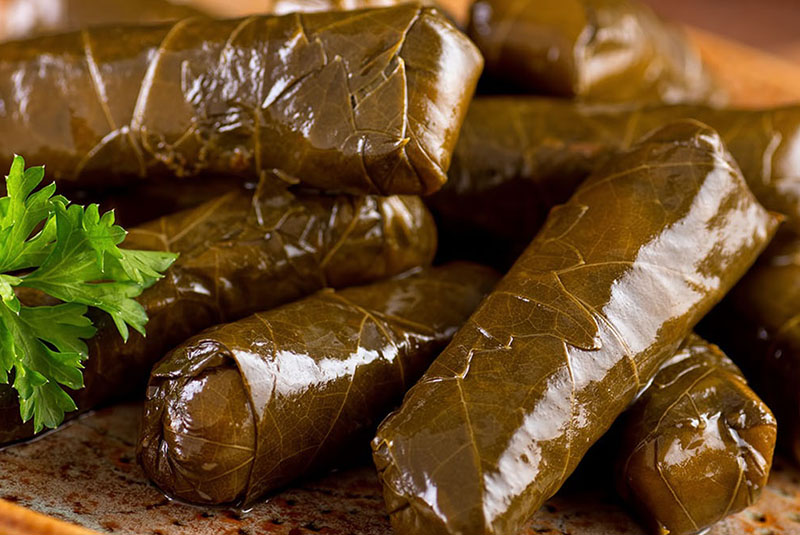 One of the most types of Dolma which is cooked in Iran is the Dolmeh Barg-e Mo (Barg stands for leaves and Mo stands for grape tree). In Azeri, it is called Yarpakh Dolmasi.
To cook the Dolma, grape leaves should be chosen with attention. The best leaves are the ones with light green color. The ingredients are fresh herbs, grains, legumes, and spices. Some people also add meat to the stuffing.
| Read more: Best dishes in Iran for vegetarians
5) Kufteh Tabrizi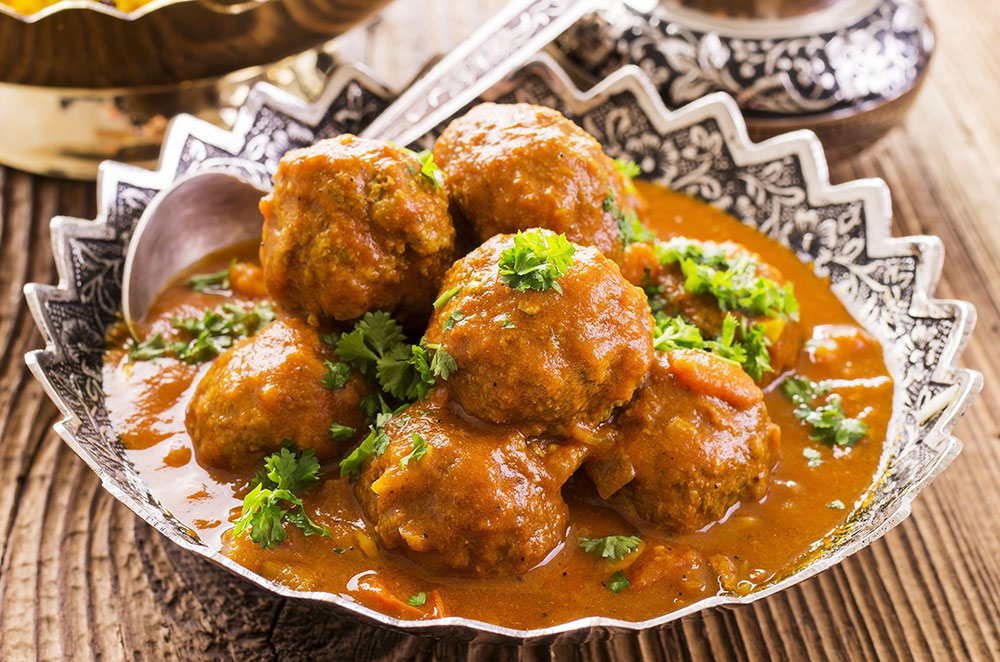 This delicious Iranian cuisine has different types of ingredients and recipes. Some people cook it sweet and some sour, in some you can find berries and nuts and the others without these ingredients.
However, the main ingredients are beef, yellow split peas, rice, onion, and egg. Tomato, cinnamon, and savory are added to the sauce.
| Read more: Top 20 Persian food you should try when traveling to Iran
6) Khoresht-e Ghormeh Sabzi (Herb Stew)
Ghormeh Sabzi is the most beloved Persian stew among Iranian and international tourists and you can find it almost in any menu of the restaurants. The main ingredients of the stew are meat (lamb or veal), fresh herbs (parsley, coriander, and spinach) and kidney beans. To cook the stew, onion and some spices are used and people have it with Iranian rice.
7) Khoresht-e Fesenjan (Walnut Stew)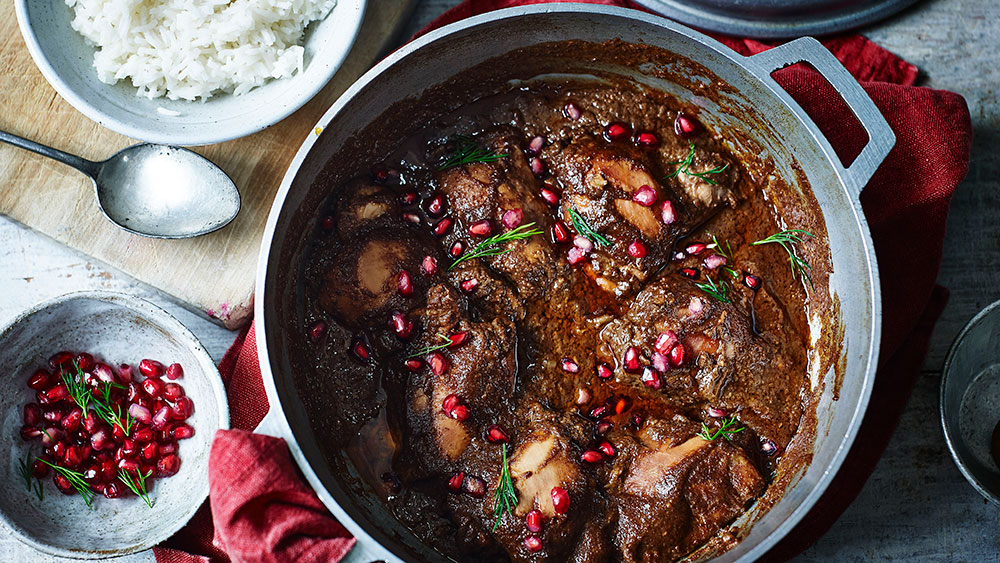 Fesenjan is the kind of stew that has different recipe among Iranian. in Persian recipe, Some people cook Fesenjan with chicken and some with meatballs. Some cook it sweet and some sour. Whatever you choose as meat the major ingredient is crushed walnut with pomegranate taste.
| Related Tour: Persian food tour
8) Sabzi Polow Mahi (Fresh herbs with rice and fried fish)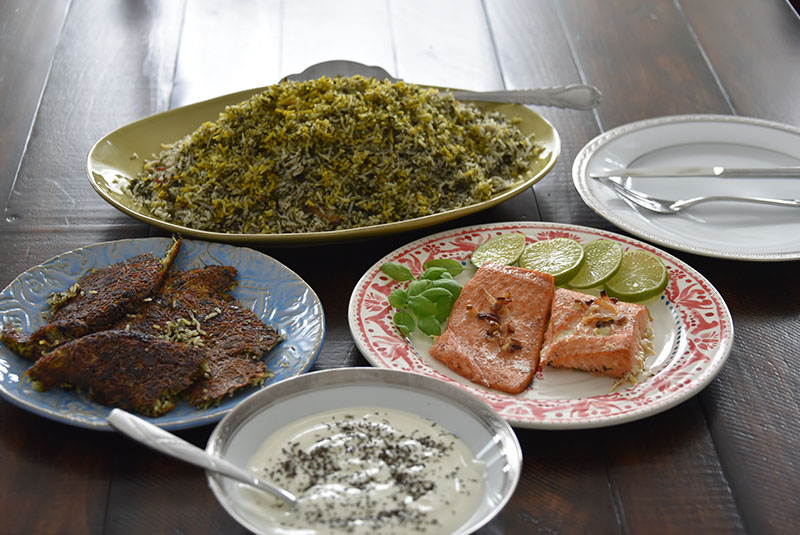 This cuisine is the most popular one all over the country. The rice is cooked with a mixture of fresh herbs and usually served with fried fish (usually Caspian kutum or Rutilus kutum or Caspian white fish).
It is the custom in Iran that people have Sabzi Polow Mahi for lunch or dinner on the first day of the Persian new year, however, you can find it also in most Iranian restaurants.
9) Ghalieh Mahi (Spicy Fish with fresh herbs)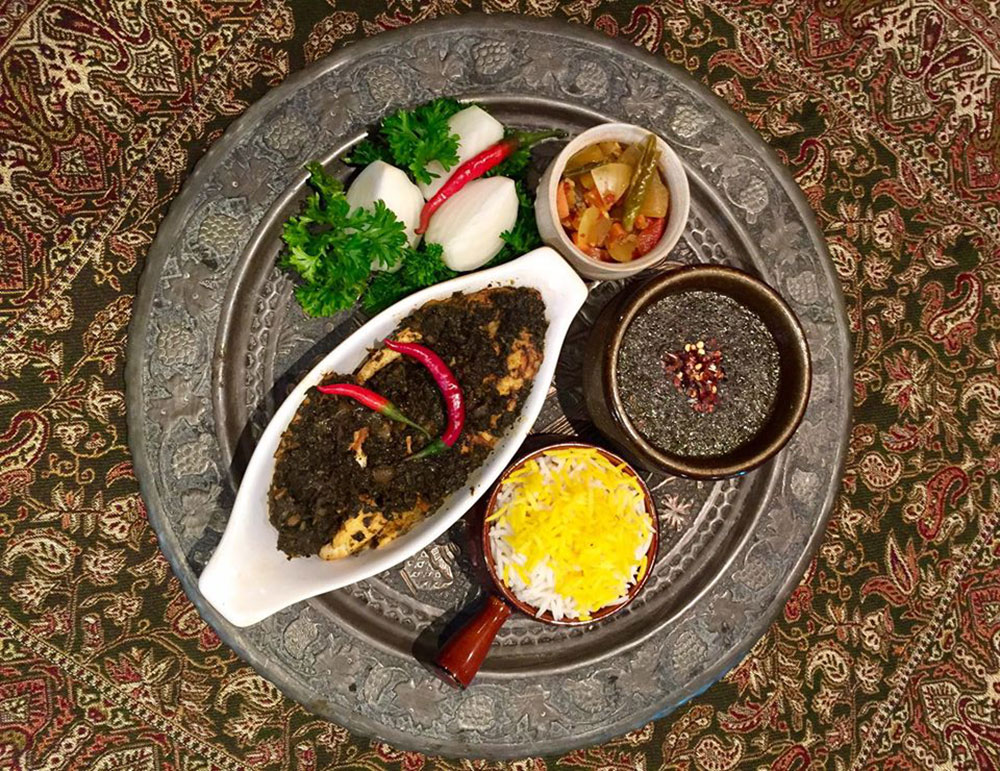 This Persian cuisine is mostly cooked in the southern part of the country, especially in Khuzestan province. The main ingredients to marinate the fish are cilantro, fenugreek, tamarind pulp or tamarind paste. Traditionally, this stew-like cuisine is cooked with Sangsar (Trumpeter), Hamoor (Rankin cod), Shooride (long tooth Salmon).