Tourist Attraction
06 Aug 2018
BY

The Authors Group
Sheikh Safi al-Din Khanegah and Shrine Ensemble
The Shrine and Khanegah of Sheikh Safi al-Din in Ardabil is one of the magnificent monuments in Iran which was built from the beginning of the 16th century till the end of the 18th century.
It was inscribed on the UNESCO World Heritage List in 2010. If you have a plan to travel to Iran, and visiting the northwestern part of the country is in your itinerary, be sure to consider visiting the Sheikh Safi al-Din Khanegah and Shrine Ensemble.
Sheikh Safi-ad-din Ardabili (1252–1334) was the ancestor of Shah Ismail I, the founder of Safavid Dynasty. Sheikh was the eminent leader of an Islamic Sufi order established by the Safavids. He was a great Sufi master who built this complex to teach and raise his students at the place. As he was a very knowledgeable person, he becomes a respected figure among people. Therefore, after he passed away, this complex turned into a sacred place for his descendants.
This complex which is the biggest and most completed Khanegah in Iran includes a library, a mosque, a school, mausoleum, a cistern, a hospital, kitchens, a bakery, and some offices. The main usage of the complex is for a spiritual retreat in the Sufi traditions.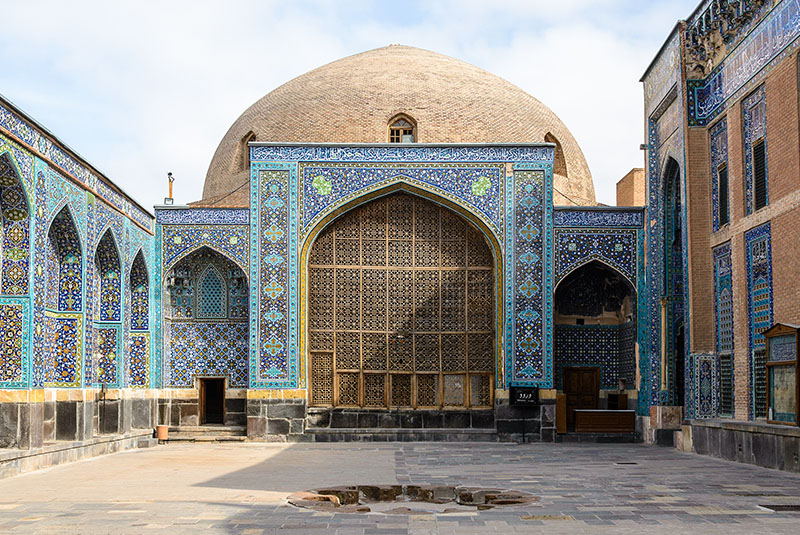 When you go through the entrance, there is a route to reach the shrine of the Sheikh, which is divided into seven segments. The number seven represents the seven stages of Sufi mysticism. The stages are separated by eight gates, which can be considered as eight attitudes of Sufism. The ensemble includes well-preserved and richly ornamented facades and interiors. There are also some remarkable collections of antique artifacts.
The Mausoleum of Sheikh Safi was built by his son for the first time during the time he was alive. Later the mausoleum, a tall, domed circular tower decorated with blue tiles. Several parts of the complex were gradually added to the main structure later, mainly during the Safavid dynasty.
The most famous part of the complex is Chini Khana, which means the house of Chinese ceramics that exhibits the ceramic dishes which were given to the Sheikh as gifts by Safavid kings.
The same as the Music Room in Ali Qapu Palace in Isfahan, the ceiling and walls of a room consists of plasterwork in different shapes of potteries.