West Azerbaijan
02 Aug 2018
BY

The Authors Group
Qara Kelisa, The Armenian Monastic Ensembles of Iran
When you travel to Iran, one of the World Heritage Sites of UNESCO that you must visit is St. Thaddeus Monastery.
Qara Kelisa (Black Church), or as it's known as St. Thaddeus Monastery, or the Armenian Monastic Ensembles of Iran, is located in the north-west of Iran. There are three monastic ensembles of the Armenian Christian faith consists of St Thaddeus, St Stepanos and the Chapel of Dzordzor.
The oldest one which is the St. Thaddeus, dates back to the 7th century which is an outstanding universal value of the Armenian architecture. The monument which is located about 20 kilometers from the town of Chaldiran was designated as World Heritage Site of UNESCO in 2008.
History and architecture
According to the evidence from the Armenian Apostolic Church, Saint Thaddeus, or as named Saint Jude, evangelized the region of Armenia and Persia. He was martyred while spreading the Gospel during strong Zoroastrian influence in the region.
The church which was dedicated to him, built on the present site in 68 AD. However, after an earthquake in 1319, only a small part of the monastery's original structure remains.
Most part of the current structure dates back to 1811, during the Qajar dynasty when Abbas Mirza ordered for development and renovations of the site. At the same time, the western extension to the church was added which duplicates the design of Etchmiadzin Cathedral.
| Discover: Vank Cathedral | Persian & Armenian Cultural Masterpiece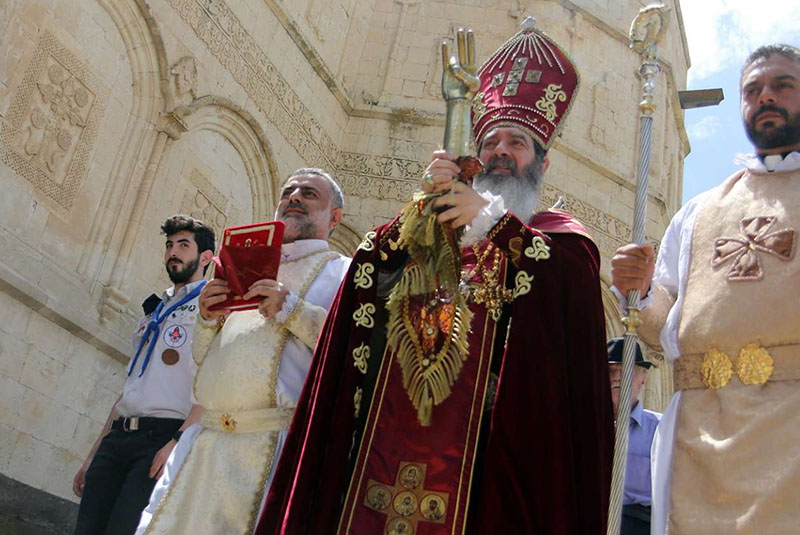 Annual Event (Mid-July)
Qara Kelisa is one of the oldest and most notable surviving Christian monuments in Iran. Due to this reason, a special three-day pilgrimage event holds for the baptism of Armenian children annually.
Many people including Armenians, Assyrians, and Catholics attend this event from Iran and other countries. Armenians believe that the Qara Kelisa ceremony is a combination of theological, racial, traditional, family, emotional, and entertainment motives in addition to traveling in the summer holiday and visiting friends and relatives.
Public entertainment, eating and drinking in groups with family and friends is part of this event.
During the two first days (19th and 20th of July) of the festival church services are held twice a day in the morning and evening. However, on the third day, the service holds only once, within a special festival.
| Suggestion: Iran UNESCO World Heritage Sites