UNESCO World Heritage Site
03 Jun 2018
BY

The Authors Group
Takht-e Soleyman, the holy Shrine of Zoroastrianism
The archaeological site of Takht-e Soleyman is listed as a World Heritage site by UNESCO in 2003.
The monument is located at the north-western part of Iran, in West Azerbaijan province, between Urmia and Hamadan cities. It is about 2000 meters (6500 ft.) above sea level, with the area of 124,000 m2 and is surrounded by mountains.
Takht-e-Soleyman literally means 'The Throne of Solomon', is also known as Azar Goshnasp (Azar stands for fire and Goshnasp the Warrior Kings).
The site with a volcano at one side and a lake at the other side displays two major symbolic and spiritual items for Zoroastrian; fire and water. That is the reason why this monument was important to them.
The site includes the principal Zoroastrian fire temple which was built during the Sassanid period and rebuilt during the Ilkhanid (Mongol) period around 13th and 14th centuries. This temple used to house one of the three "Great Fires" or "Royal Fires" that Sassanid kings humbled themselves before the throne.
Around the main site, there is a round platform. There is an artesian lake, a Zoroastrian fire temple, and an Anahita Temple on the platform. In this article, we are going to introduce all these three items.
The artesian lake
The lake used to be a small spring, however, over the years, sediments from its water raised and now the result is a lake with 60 meters' depth.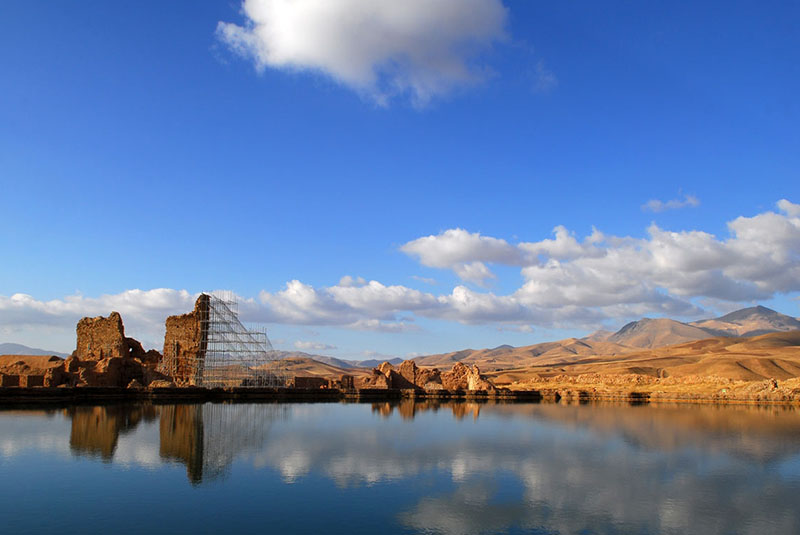 The Zoroastrian fire temple
This fire temple was the third most important one during Sassanid era and is located at the northern side of the lake. Only the royal family and military commanders had the right to worship at this temple. It was highly respected by the government and public.
Anahita Temple
This temple was attributed to the goddess of water; Anahita. It is located in the northeastern part of the lake. It was a holy place for public and during wars, people threw valuable and precious items to the lake and believed that Anahita would protect them.