Iranian Food and Drink
24 Jun 2018
BY

The Authors Group
Top 7 Stews in Iran; the Persian cuisine in Iran
When checking a menu of an Iranian restaurant you will definitely witness some foods called Khoresh (some say Khoresht).
This term is a generic word for stew dishes in Persian cuisine. You will find a wide range of khoresh in Iran, there are some of those like Ghormeh Sabzi, Gheimeh, and Fesenjan that cooked in all cities and also some like Khoresht Mast which only cooked in Isfahan.
In this article we are going to introduce you some type of Khoresh to make you familiar with those, so, don't forget to take a note or memorize names of the ones you liked most to order it when you are at a restaurant in different cities in Iran!
Read more: Top 20 Persian food that you should try when traveling to Iran
1) Khoresht-e Ghormeh Sabzi (Herb Stew)
Ghomeh Sabzi is the most beloved Persian stew among Iranian and international tourists and you can find it almost in any menu of the restaurants. The main ingredients of the stew are meat (lamb or veal), fresh herbs (parsley, coriander, and spinach) and kidney beans. To cook the stew, onion and some spices are used.
2) Khoresht-e Karafs (Celery Stew)
The main ingredient of Khoresht-e Karafs is celery, therefore, the stew is very healthy. In addition to celery, other herbs are mint and parsley. It is cooked with lamb or veal. Some people also add kidney beans and pomegranate paste which is not that much popular. Usually, the taste of Khoresht-e Karafs is a little bit sour.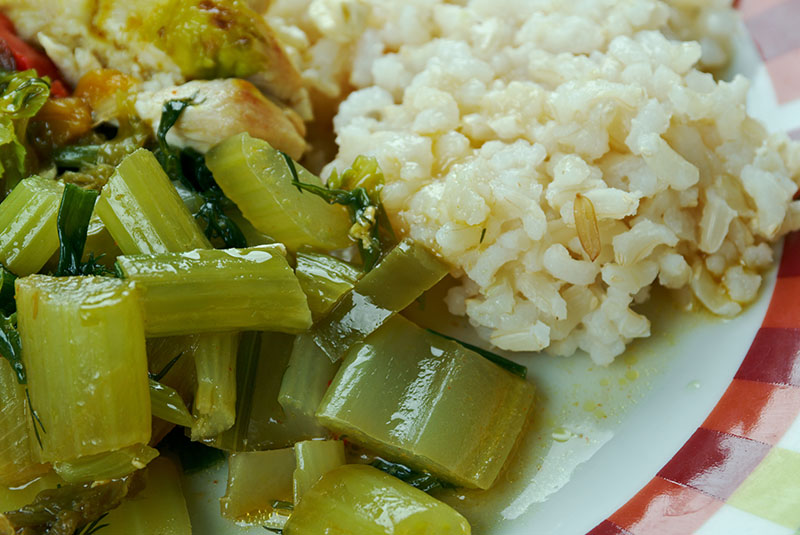 3) Khoresht-Badenjan (Eggplant Stew)
Badenjan (Eggplant) used in many different dishes in Iranian dishes, however, the one which is most popular is Khoresht-e Badenjan. The main ingredient of the stew is meat and eggplant with onion and spice. Tomato sauce is also added to the stew.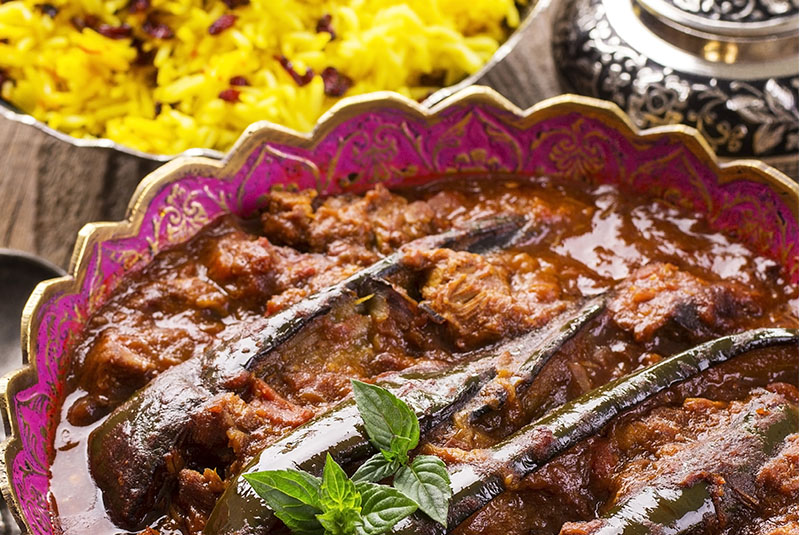 4) Khoresht-e Fesenjan (Walnut Stew)
Fesenjan is the kind of stew that has different recipe among Iranian. Some people cook Fesenjan with chicken and some with meatballs. Some cook it sweet and some sour. Whatever you choose as meat the major ingredient is crushed walnut with pomegranate taste.
Read more: Best dishes in Iran for vegetarians
5) Khoresht-e Gheimeh (Yellow split peas Stew)
Meat and yellow split peas are the basic ingredients of the stew. Tomato paste, onion and spices are also added while cooking. The stew is served with French fries in small and thin slices.
If you ever heard the word "Nazri" you may know that Iranian distribute food for free on some religious occasions. Khoresht-e Gheimeh is the most popular stew for Nazri.
6) Khoresht-e Mast (Beef yogurt stew)
This stew is mostly cooked in Isfahan, it is a little bit strange by the name, however, it is very delicious. People eat it as a main dish or even as dessert because of its sweet taste.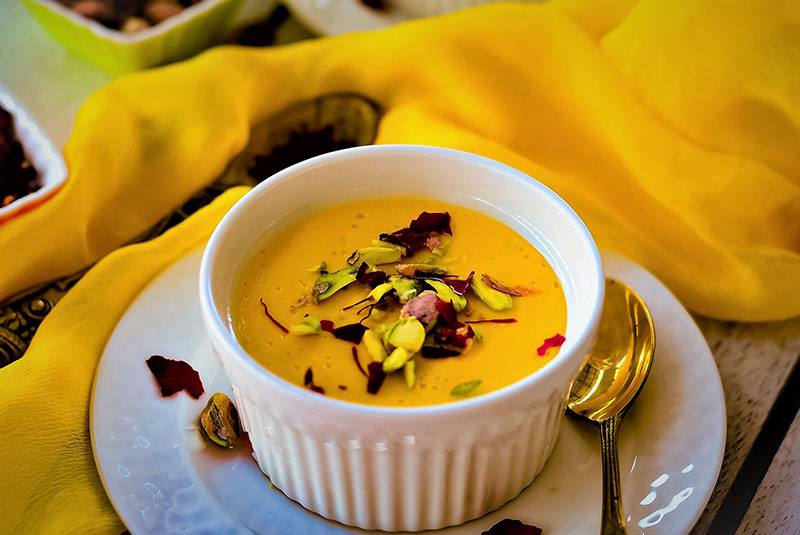 Beef, plain yogurt, and saffron are the main ingredients in addition to onion, turmeric egg, and sugar. The stew is a mixture of all the ingredients and it's not possible to identify the components.
7) Boz Ghormeh (Beef Stew)
The same as Khoresht-e Mast this stew is not that popular in Iran and only cooked in Kerman province. The mixture contains beef, beans, whey kashk and onion. Garlic, saffron, turmeric, salt, and pepper are also added to the stew as spices.