Tourist Attraction
31 Oct 2018
BY

The Authors Group
Top 8 Places to visit in Kermanshah
Kermanshah is a great city for both types of visitors who enjoy cultural trip and ecotourism. Not only there are some historical sights but you can also find beautiful nature around the city.
The city is located at the foot of Zagros Mountain with an elevation of 1,350 above sea level. As a result, it has a moderate and mountainous climate, with hot and rainless summers and cold winters.
The most important sight in Kermanshah is Bisotun Inscription which listed as World Heritage Site of UNESCO in 2006. In addition to that, Taq-e Bostan, Anahita Temple in Kangavar, Ishaqvand Rock Tomb (Dakhma), Dokan-e Davoud Rock Tomb (Dakhma), Tekyeh Moaven al-Molk Tekyeh, the Museum of Anthropology, Tekyeh Biglar Beigi, and Zagros Paleolithic Museum are places worth visiting when you are in Kermanshah.
Natural attractions of Kermanshah include Quri Qale Cave, Parau Cave, Hashilan Wetland, Sarab-e Niloofar (a lagoon), Kuhestan Park, and flower garden.
In this article, we are going to briefly introduce the best places to visit in Kermanshah.
1) Bisotun Inscription
Bisotun inscription features remain from Median, Achaemenid, Parthian, Sassanid, Ilkhanid, Timurid, and Safavid dynasties.
An inscription written in three languages of Elamite, Babylonian and Old Persian which is attributed to Darius the Great, is the most important feature of Bisotun. It contains a brief autobiography of Darius I and recounts the events after the death of Cyrus the Great.
There is a Faravahar symbol floating above the heads of the captives in the relief. Bisotun also includes several other works belonging to different eras including the ruins of a Sassanid palace, a bridge with Sassanid foundations, Ilkhanid and Safavid Caravansaries and Timurid era clay ovens. The Statute of Hercules near Bisotun Mountain dates back to 153 BC.
2) Taq-e Bostan
Taq Bostan literally means the 'Arch of the Garden' in the Persian language. The site includes series of rock reliefs from Sassanid era, which is located five kilometers from Kermanshah. The rock reliefs illustrate the investiture ceremonies of the kings Ardashir II, Shapur II, Shapur III, Iwan of Khusrow II, and Scene of boar and deer hunting.
3) Anahita Temple in Kangavar
Anahita is the name of the goddess of the planet Venus, who seems to have been worshipped by the Medes and Persians before they adopted Zoroastrianism. The remains of Anahita Temple at Kangavar display Persian architectural designs. Shapes and carvings of the columns in the temple are similar to those found in Persepolis and palace of Darius in Susa.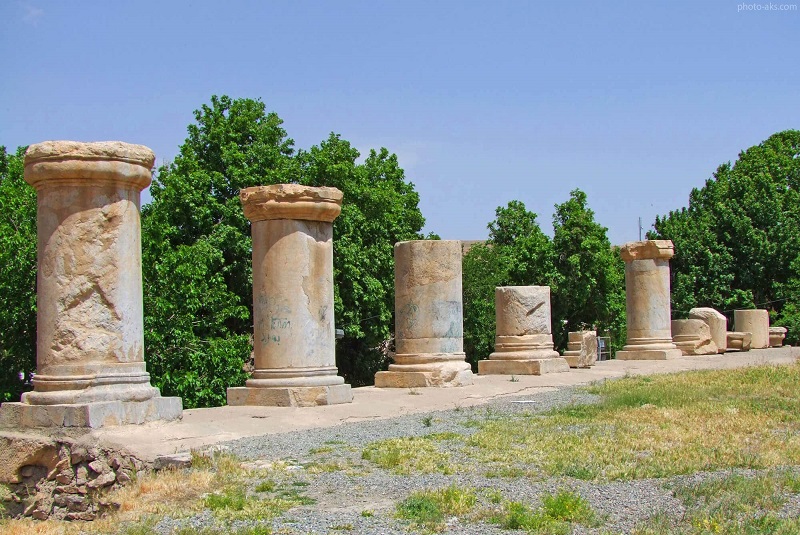 4) Moaven al-Molk Tekyeh
Moaven al-Molk Tekyeh is one of the elegant and magnificent monuments which has been retained from the Qajar dynasty. It was built around 100 years ago to be used as a place for holding religious ceremonies and solving ethnic and tribal controversies.
The architecture of the building is magnificent, include carved pictures on the tiles from wars of Mohammad against infidels, Ali's battles, Karbala events, and pictures of ancient Iranian kings.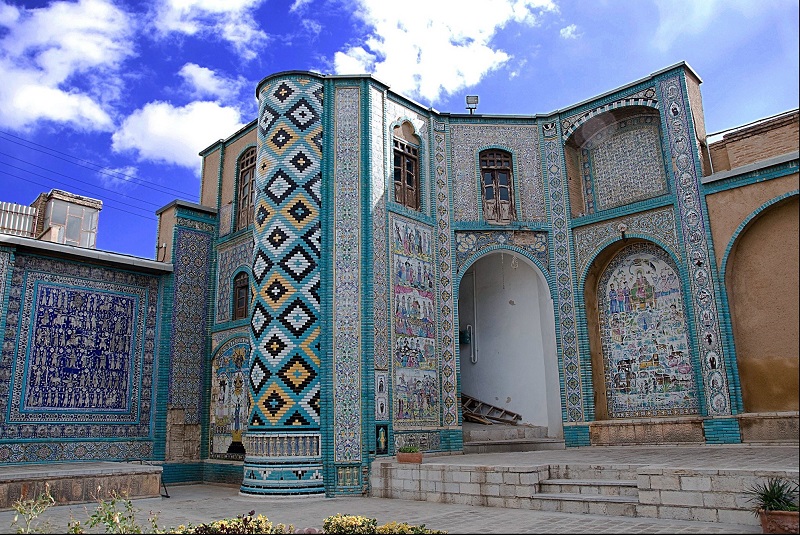 5) The Museum of Anthropology
The Museum of Anthropology in Kermanshah opened in 1990 with 30 different halls showcasing items of agricultural and anthropological significance. Items such as musical instruments, wax figures, writing equipment, hunting gear, and traditional Kurdish costumes are also exhibited at the place.
6) Tekyeh Biglar Beigi
Tekyeh Biglar Beigi is used during the rituals to commemorate the death of Imam Hossein. The building worth visiting due to its dazzling mirror-tiled central dome room. The hall is covered with perfect decorations and numbers of inscriptions from Mozaffar al-Din Shah's reign. There are guestrooms at both sides of the building.
7) Zagros Paleolithic Museum
The museum which is unique in its kind in Iran, established in 2007 with a collection of stone tools and animal fossil bones from various Paleolithic sites in Iran. There are four halls at the building which exhibit numerous items from 100,000 to 8,000 years ago. The oldest item on display at the museum is a million-year-old stone tool.
8) Quri Qale Cave
Quri-Qale Cave is one of the exceptional tourist attractions in the west part of Iran. It is located in about 90 Kilometers from Kermanshah on the slopes of Shahou Mountain. Archeologists believed that the cave is 65 million years old. Ghoori Ghaleh comprises many halls, which are inspired from the naturally-formed stalactites and stalagmites that decorate them.