Iran Festival
25 Nov 2022
BY

Batul Eidi
Do Iranians Celebrate Christmas?
Christmas, the most beautiful festival of the year for many people, is on its way.
Excitement and joy spread around people while they prepare for the new year. Christmas in Iran might not be as huge as in other countries because of being an Islamic country. Still, the concept of a Persian Christmas in Iran is not bizarre, as Christianity in Iran goes way back to the beginning years of the faith. The onset of Christianity coincided with Parthian Empire when the dominant religion of Persia was Zoroastrianism and Mithraism. While Islam has been Iran's principal and official religion, Christianity is the second religious' majority.
Do Iranians Celebrate Christmas?
The minority religions in Iran, Christians, Jews and Zoroastrians, are officially recognized and represented in parliament. They can enjoy the freedom of practising their religion and performing their religious rituals. Muslims recognize Jesus Christ as one of the holy messengers, and Iranian authorities acknowledge the day of his birth; they send out messages on this occasion to Christians in Iran and worldwide. Hence, Christmas in Iran is freely and widely celebrated by Christians and even other Iranians.
At least 600 churches and 300,000 to 380,000 Christians in Iran today believe that Jesus Christ is the world's saviour and that his father is God.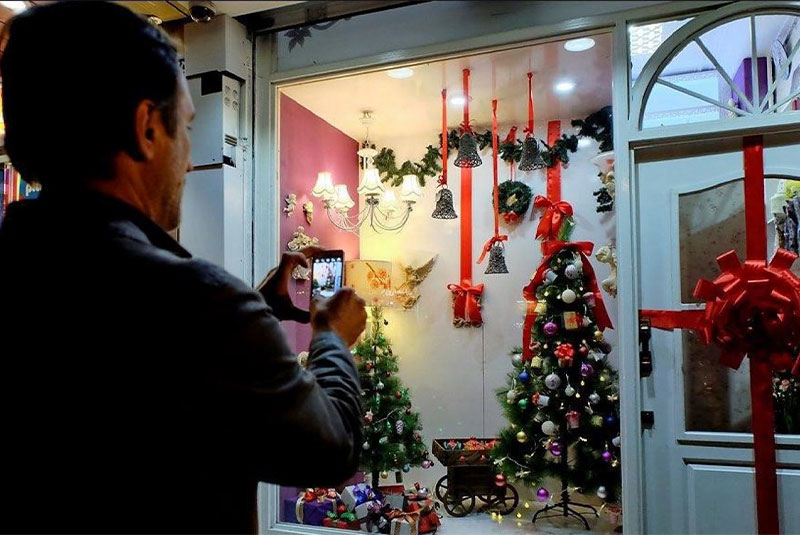 Most Christians in Iran have ancestors from Armenia, a country north of Iran, or Assyria, an ancient land that once stood to the west. Armenians are Iran's most prominent ethnic Christian population, mainly practising the Orthodox branch, followed by the Assyrian community. Other sects of Christianity exist, too but as a minority. Armenians celebrate Christmas on the 6th of January, when they also honour Epiphany, while other Christians celebrate the festival on the 25th of December. However, the warmth of this festive event breaks through the cold breeze of winter and absorbs almost everyone during the last month of the year.
During Christmas, hotels and public centres such as shopping malls and markets set up Christmas trees and decorations for the Iranian Christian community. There are also many shops and pastries every year, making everything colourful and shiny for a Christmas theme. Some shopkeepers decorate their shops to spread the Christmas vibe for their fellow Iranian Christians and brighten their day even more.
Although not all Iranians celebrate this day, they pray for a merry Christmas for the ones who do. But how do they say Merry Christmas in Iran? It goes like this: "Christmas Mobarak!". Hence, the joyous spirit of Christmas in Iran can be felt across the country, with each region celebrating the occasion following their deep-rooted local traditions.
The atmosphere during December is full of joy, cheers, and kindness. Indeed, generosity and love make the celebration more fulfilling than ever.
Christian Neighborhood in Iran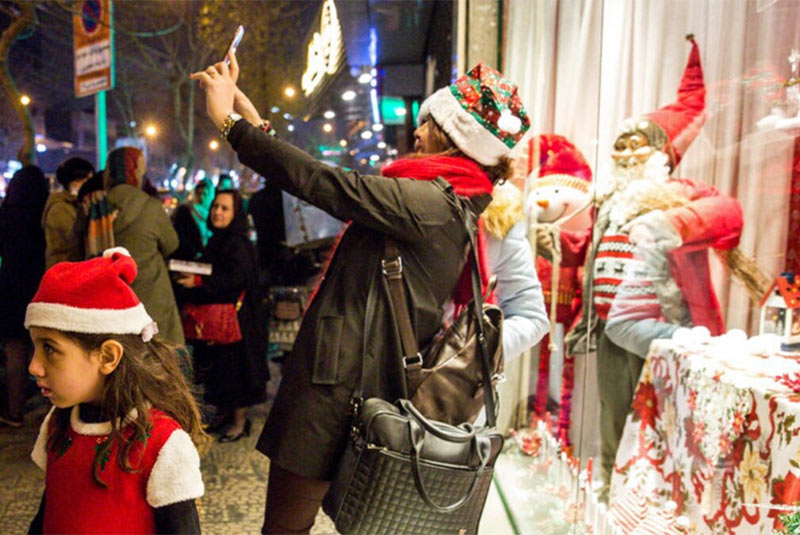 While inhabiting various parts of Iran, the Christian community is denser in the Northwestern side of Iran, in the East and west Azerbaijan provinces, in Isfahan (New Jolfa neighbourhood) and Tehran.
Although Christmas is not a national holiday, it is officially recognized and celebrated even by non-Christian Iranians, especially by the youth, as an opportunity for bliss and merriment.
Christmas in Different Cities of Iran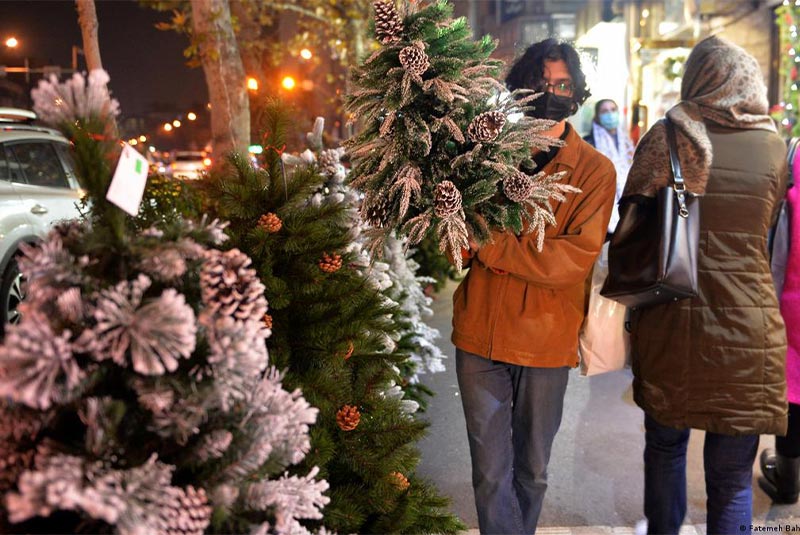 Unlike other middle-east countries in the surrounding region where public celebration of Christmas is only limited to hotels visited mainly by foreigners, there is no such restriction in Iran during Christmas. There are many places where people can come together under the rope lights in the streets and take a deep breath of a cheerful New Year in Iran.
Walk all around the capital city, Tehran, and you'd be charmed by the casting lights behind the small showcases of the shops and decorated Christmas trees with red and green ribbons and tiny golden balls twinkling in every spectre's eyes. In more prominent shopping centres, especially those on the northern side of Tehran, Santa Claus or Bābā Noel (as Iranian people call him) welcomes you at the entrance.
Ararat Club in Tehran is one of these centres holding special Christmas parties yearly. There is also a Charity Bazaar with delicious foods and some music bands visitors can enjoy. Armenian families often have "Kukupolo" for dinner on Christmas night, and then they go to the churchyard to meet friends and families; priests pray in the light of the candles in the church. The church bell rings at midnight while everyone stops chatting, looks at the sky and prays at this particular moment.
Although in other cities of Iran, their celebrations for Christmas might not be as colourful or eye-catching as what you get to witness in Tehran, a significant number of Armenian emigrants live in Tabriz and Jolfa neighbourhoods of Isfahan with their exceptional joyful festivities worth experiencing.
The Christmas atmosphere is fascinating in the Jolfa district of Isfahan in Iran; all across the Jolfa district is decorated with string lights and ornamented pine trees, and there is a special ceremony at Vank Cathedral, the most significant Armenian church in Iran. The shops are crowded, and people are busy shopping, walking around and taking photos. Walking through Jolfa is incredibly fascinating for those interested in cross-cultural differences.
Iran Christmas Traditions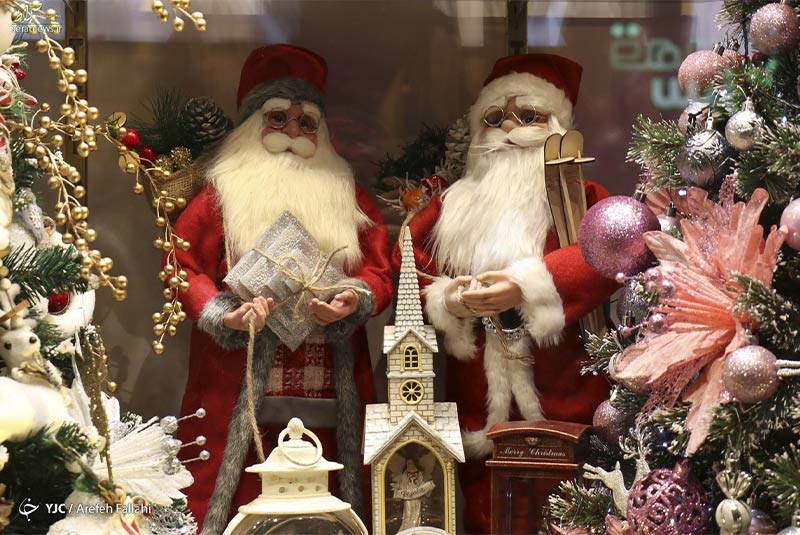 Christian neighborhoods are decorated with the colour of Christmas in the early days of December, and people obey their traditions to prepare their hearts and spirits to commemorate Christ's birth.
Christmas is also called the "Little Feast" among the Persian Christians, celebrating on the 25th of December. Why? Because of the ritual of refraining from animal products like meat and dairy for 25 days starting from the 1st of December, fasting with the intention to purify one's soul in contemplation of Jesus Christ. Christmas Eve is on the last day of the Little Feast, and before the dawn of Christmas eve, people attend Mass to receive Communion and then break their fast, and so begins the preparations of the great Christmas feast.
The celebration features a sumptuous dinner, including a traditional dish for Christmas in Iran called "Harissa", which is chicken and barley stew cooked in large quantities so that it can be enjoyed for several days, along with the roasted turkey.
Iranian-Armenians are buzzing in the Bazar in the second half of December to prepare everything. They clean their houses, wreaths, ornaments, and golden balls are fastened just as kids wanted, making sure that the little star shines on the top of the Christmas tree while little angels hover above the place where gifts are going to be put on Christmas Eve.
All this glamour and charm of decorations will have to wait till the 6th of January to reach its climax because the orthodox Armenians believe in the birth and christening of Jesus Christ on that auspicious day, which is also the Epiphany. Armenians fast the week before this event; and have special rituals held in the churchyard for the New Year on the 31st of December, just before the feast they call Matzo. Visiting Vank Cathedral during these rituals is considered one of the best experiences during this festivity season. Armenian Christians' celebration starts from the 5th to the 6th of January when church attendees receive sacred oil that they believe to have healing power. And finally, they spend Christmas Eve with all the family gathered in one house and enjoy their time together cheerfully.