Tourist Attraction
07 Jan 2019
BY

The Authors Group
Meybod travel guide and top tourist attractions
During the past few years, many historical houses have been changes to eco-lodges in different parts of Iran, which widely help local and international tourists who want to travel to Iran to explore some new destinations in Iran.
Among all of these places is the historical, and deserted city of Meybod, in which buildings are made from mud-brick. Here, we are going to write all about the city of Meybod and best places to visit.
Location of Meybod
Meybod is located at the heart of the desert, having borders with Yazd city in the southeast, Aqda foothills in the west, Ashkezar in the south and Ardakan in the north. Meybod is only 55 kilometers from Yazd and resembles Yazd city in many aspects.
It is located 32.25 latitudes and 54.02 longitudes and it is situated at elevation 1071 meters above sea level.
Population of Meybod
According to the 2016 census, the city has a population of 80,000 people, making it the second major city in Yazd Province.
Climate of Meybod
In Meybod, the summers are sweltering, arid, and clear and the winters are cold, dry, and mostly clear. Over the course of the year, the temperature typically varies from 34°F to 104°F and is rarely below 27°F or above 110°F.
The best times of year to visit Meybod for hot-weather activities are from mid-May to late June and from mid-August to early October.
History of Meybod
Meybod is an ancient city and its history goes back to the pre-Islamic era. Some believe the city was founded by Meybodar, a Sassanid commander, who named the city after himself. On the other hand, some historians say that the city was founded by Keyumars, who was the First Man in Avestan accounts and the first of the Pishdadi Kings in Ferdowsi's Shahnameh.
The coins minted in Meybod at the time of Pouran Dokht of the Sassanid Dynasty are indeed manifestations of the magnificent history of older civilizations.
By the 10th century CE, Meybod had become a notable settlement. It was mentioned by geographers and appeared on maps as a part of Fars Province. The major growth and expansion of the city took place in the 14th century, during the reigns of the Moẓaffarids, particularly under Saraf-al-Din Moẓaffar and his son Mobarez-al-Din Moḥammad, who expanded the city's fortification and infrastructure, including new gates.
Three of the old Meybod city gates remained operational up to the 20th century and were located in the southern, western, and northeastern sections of the city.
The older section of the city has largely maintained its morphological structure; however, the construction of a road connecting Meybod to Ardakan has interrupted the urban pattern in the old section and destroyed portions of the Nārin Qal'a. Recent urban growth has translated to gradual spatial continuity between Meybod and its surrounding settlements, such as Bafruya and Surak.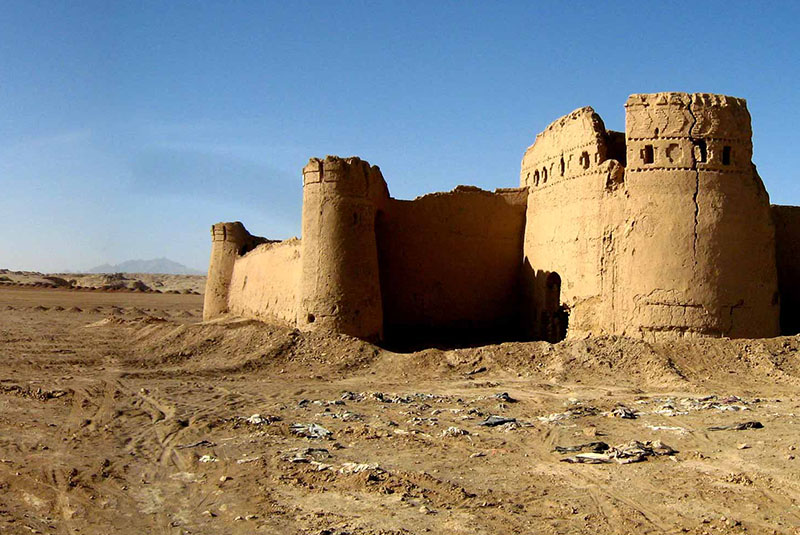 Not unlike other cities in Iran (including Yazd), recently built houses and neighborhoods have abandoned local vernacular architecture and urban forms that fully incorporated and adapted to the local climatic conditions.
Today the city of Meybod and its vicinity house a number of historical landmarks that include shrines, mosques, tombs, fortresses, and water reservoirs.
Sightseeing of Meybod
Meybod is rich in historical sites that are scattered in and around the city such as Narin Castle, Kelar Ab-Anbar (cistern), Ice House, pigeon tower (dovecote), and Shah Abbasi Caravanserai.
Narin Ghaleh (Narin Castle) is one of the major attractions of the city. This mud brick Parthian (247 BC–224 CE) structure, which has been built in five stories on a hill overlooking Meybod, was used as a military fortress for most of its life but there is an expert who says that the castle was originally an Elamite Ziggurat (temple) built over 4,000 years ago.
Kelar Ab-Anbar is a cistern built in 1659 to provide travelers with drinking water. The Ab-Anbar has been designed so that travelers only needed to climb down a few short steps before reaching the water valve. This Ab-Anbar has a brick dome and four wind towers and can still be used today.
The only remaining earthen ice house in Yazd Province is situated by a caravan road in Meybod. This building has remained intact and is considered a perfect example of the architectural style of its time. It is believed to date back to the Safavid era. The Ice House is a mud brick structure consisting of an ice pool, tank, and a yellow-colored conical dome. The Ice House is one of the traditional structures that enabled human adaptation to desert life.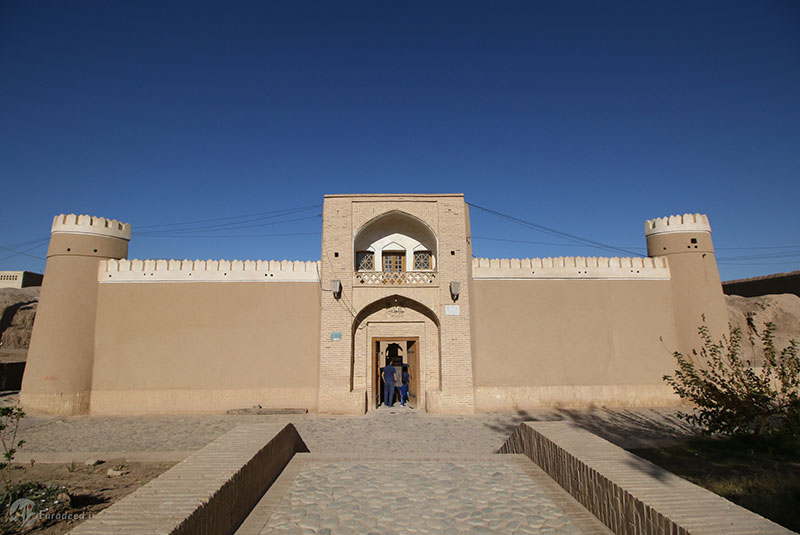 Dovecote in Meybod is a Qajar era (1785-1925) structure built in three stories and has thousands of pigeonholes for birds to nest. It is said that the tower that once hosted 14,000 pigeons. This cylindrical dovecote has brickwork and stucco decorations and has been designed to prevent snakes from entering the structure. The Meybod Dovecote has been registered as a National Heritage Site.
The Shah Abbasi Caravanserai in Meybod is a Safavid era (1501-1722) structure with a square plan. The caravanserai has a total of 100 rooms, 24 of which are built around a central courtyard. There is a pool inside the courtyard and its entrance is located in a Sabat (vaulted alley). The caravanserai includes an Ab-Anbar (cistern), a Chapar Khaneh (courier House) and an Ice House. Parts of the caravanserai have been turned into a traditional restaurant. The caravanserai was registered as a National Heritage Site in 1979.
Handicrafts and Souvenir of Meybod
Handicrafts are both art and industry, and the most important handicrafts of the Yazd Province are rug, Kilim, Kashmir, curtain, Zilu, bathing-flannel glove, saddle-bag, blanket, earthenware, ceramic, mat, tile, and Giveh.
Zilu weaving dates back to the Pre-Islamic period, production of ceramic, belongs to 6th or 7th century B.C. and tile making, with 700 years background, are specifically for Meybod.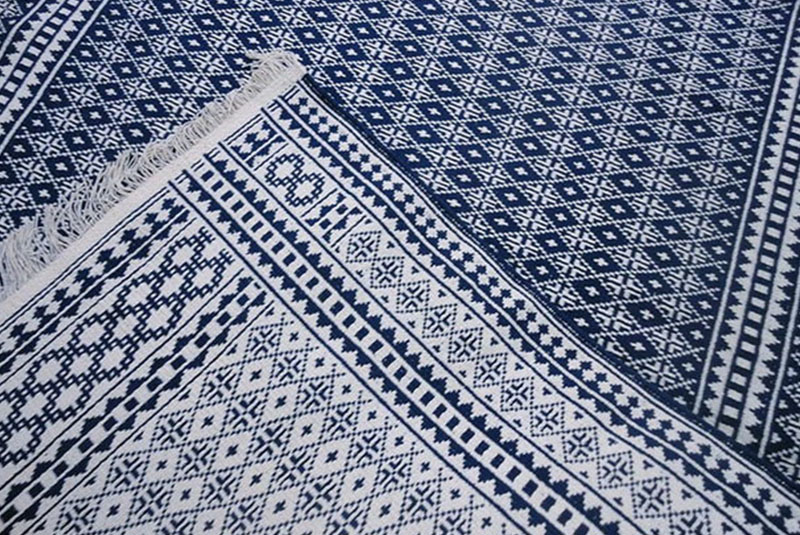 To become more familiar with Zilu, you can visit the Zilu Museum at Shah Abbasi Caravanserai, which is dedicated to the hand-woven prayer mats and is the first and the only museum of its kind. Some fine examples date back to the 16th century.
Pottery, the oldest handmade artwork, has a 6,000-year-old history in Iran. Local people call the earthenware 'Kevareh', which is made of clay. The earthenware is world famous for its designs, especially "fish", "the lady sun" and "the hen". Meybod is a prominent pottery-producing center in Yazd province.