Famous Iranians
11 Jul 2023
BY

The Authors Group
Hossein Behzad; Master of Iranian Miniature
Iranian art and painting are linked with numerous artists. When it comes to miniature, the name of Master Hossein Behzad comes to mind. He is definitely one of the greatest Iranian miniaturists in the 20th century.
Hossein Behzad was born in 1894 in Tehran. His father, Mirza Lotfollah Esfahani, was a pen holder designer, who encouraged his son to learn miniature painting skills under the care of Molla Ali. Behzad once said I was always thirsty for painting and an unknown feeling inside me pulled me towards it.
His father and teacher passed away when he was a teenager and therefore he started working at Mirza Hassan's portray gallery. He started his own workshop at the age of 18. His firsts independent paintings were a reproduction of Safavid and Timurid miniature upon a request.
These paintings helped him to become the master of rules and styles of Kamalolmolk, and Reza Abbasi paintings.
He went to Paris in 1934 and stayed there for thirteen months. At that time, he learned various Eastern and Western painting styles at the Louvre, Guimet Museum, and Palace of Versailles. He developed a new style of miniature painting by combining some aspects of Persian painting and few elements of contemporary painting from the West.
| Find related articles here: Persian Art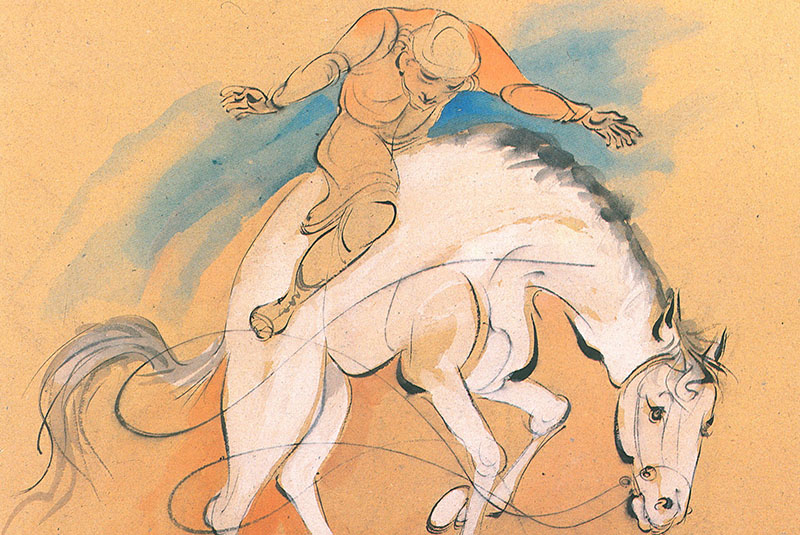 He was well-known internationally and won many awards including the 'first-class medal of the ministry of culture' from Iran in 1949. In 1958, he won the 'first-class medal of international painting' from Minneapolis, USA. Behzad received an honorary professorship from the College of Ornamental Arts in 1968.
| Suggestion: Molla Sadra | Persian Philosopher and Theologian
In the honor of Avicenna, there was an exhibition in Iran Bastan Museum 1953 in which Behzad exhibited some of his best paintings which were seen by many international visitors. There were some paintings at the exhibition which took him ten years to completed. This exhibition led to another one in Paris at the Museum of Modern Art with the sponsorship of the French government. Later, he held exhibitions across the world in London, Prague, New York, Boston, and Brussels.
He passed away at the age of 74 in 1968 and buried in Ibn Bavieh in Rey, Iran.
| Also might be interesting: Famous Iranians