Iran Nature
13 Jul 2018
BY

The Authors Group
Top 7 White Water Rafting in Iran; enjoy an exciting experience
If you are interested in challenging yourself by experiencing adventurous activities, maybe rafting would be suitable for you, while, traveling around Iran to have an exciting memory.
sport Although rafting is not an old sport in Iran it has attracted many enthusiasts in recent years.
Since about half of Iran is a mountain with lots of rivers, the geographical condition provides the possibility of rafting in Iran especially during April, May, and June. More interestingly, many of the rivers with the possibility of rafting are in or near a historical city, so while you can enjoy the nature, you can visit the historical monuments the other day. As an example, Zayandeh-Rood is in Isfahan.
In the following we are going to introduce the rivers in different parts of Iran with the possibility of white water rafting:
1) Zayandeh-Rood River
The river is in the center of Iran, near the city of Isfahan. It has the most water during spring. There are three branches of the river with the shortest of which is three kilometers.
2) Haraz River
This river is located in Mazandaran province with about four kilometers length which takes about two hours to raft from Mirza Kuchak Khan Park to Amol city.
3) Sefid Rood River
The river is in Gilan province which is the second longest river in the country. There are beautiful mountains, plains, and landscapes all around the river, so you will enjoy nature while rafting in the river.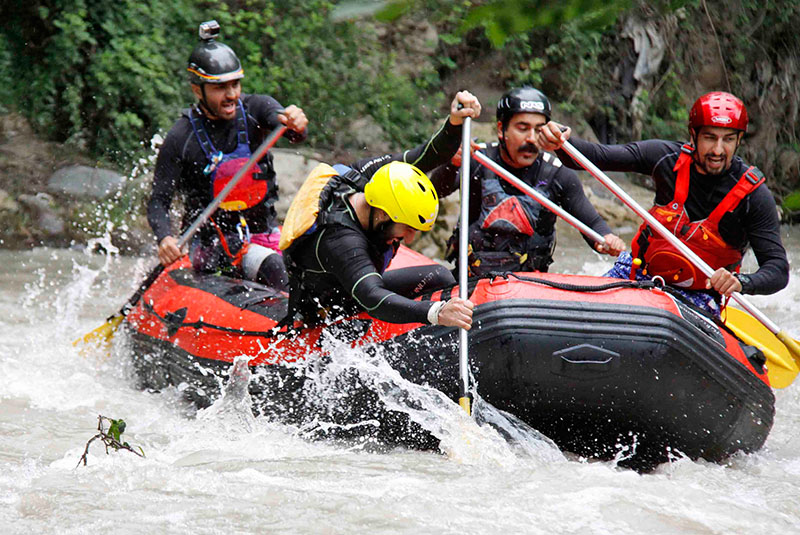 4) Caesar River
The river is almost in the south part of the country in Lorestan province. The river is a branch of Dez River.
5) Arvand Rood River
One of the longest possible routes for rafting is the Arvand Rood river with about 20 kilometers long. It is situated in the southwest of Iran, in Khuzestan province.
6) Karaj River
This river is not very long but has big waves which make it perfect for professional sailing and kayaking.
7) Armand River
Armand River is the main source of the Karun river in the middle of Zagros Mountain in Chaharmahal va Bakhtiari province. While rafting, you will enjoy the beautiful landscapes on both sides of the river.
If you need more information about exact time to go rafting in Iran, or need to organize your trip, just let us know by sending an email to incomintour@eavar.com, we will be in touch with you to make sure the best experience will happen for you.