Tourist Attraction
09 Jun 2018
BY

The Authors Group
Dome of Soltaniyeh; the oldest double-shell dome in Iran
The reason for the importance of Soltaniyeh is the Mausoleum of Il-khan Öljeitü also known as Muhammad Khodabandeh; the eighth Ilkhanid ruler.
The word Soltan refers to the Islamic ruler which is almost the same as "the Regal", and therefore the Soltaniyeh means the city of Soltan. The importance of the monument can be compared to the Brunelleschi's cupola for Christian. The monument listed as one of the World Heritage Site of UNESCO in 2005.
Dome of Soltaniyeh or as it said in Farsi "Gonbad-e Soltaniyeh" is the oldest double-shell dome in Iran, and one of the third largest dome in the world after the dome of Florence Cathedral in Italy, and Hagia Sophia dome in Turkey. The double-shell is formed by separate layers of brick that run parallel to one another and that are joined through buttresses.
The Soltaniyeh Dome is located in the north-western part of Iran in the city of Soltaniyeh, which was the capital of Persia during the Ilkhanid dynasty (a branch of Mongol dynasty) in the 14th century. The city is located about 240 KM (150 mi) to the north-west of Tehran.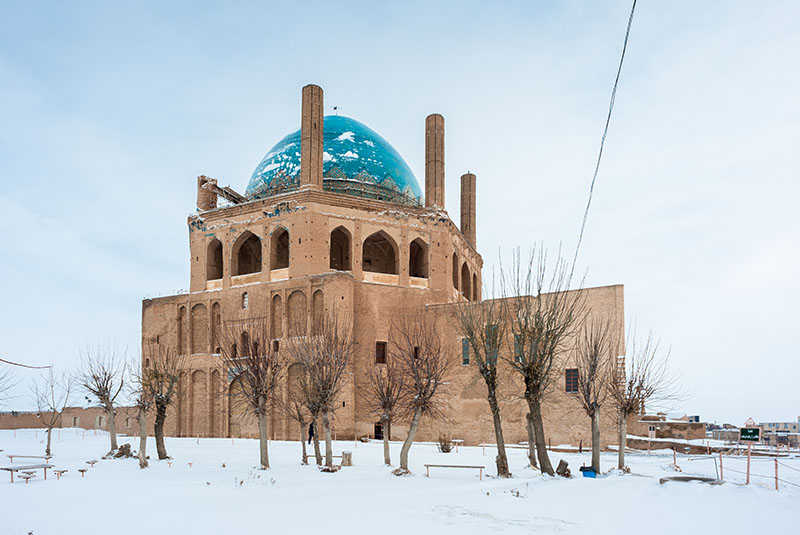 The structure built from 1302 to 1312 AD, with a stunning cover of turquoise-blue faience tiles. Unfortunately, most of the exterior decoration has been ruined, but the interior retains superb mosaics, faience, and murals.
It is estimated that the dome has 200 tons' weight and 49 meters tall from its base. Actually, the Mausoleum is considered as a masterpiece of its period and an outstanding achievement in the development of Persian and Islamic architecture in central and western Asia.
People who have traveled to Soltaniyeh and have an experience of traveling to India described the architecture of the building as "anticipating the Taj Mahal."
So, if you are planning to travel to Iran and have an idea of visiting Zanjan, or travel to Tabriz from Tehran, don't forget to spend some hours to visit the Dome of Soltaniyeh.