According to a report published in the New York Times by KEVIN DRAPER: By any statistical measure, Spain dominated Iran in Kazan Wednesday night.
Spain controlled 78 percent of possession. Spain took 18 shots to Iran's seven, five on target to Iran's zero. Spain took three times as many corner kicks as Iran.
Yet when the referee blew his whistle to end a 1-0 Spain victory, the all-world Spanish players must have breathed an enormous sigh of relief. Iranian players collapsed onto the turf all around them, disconsolate at not having earned at least a draw.
The teams' game plans were unsurprising to anybody who had watched Spain this decade or had seen Iran's dreadful and undeserved victory over Morocco in their first game. Iran sat back, frequently putting all 11 men behind the ball, and Spain continually probed for a breakthrough.
It would not come in the first half, a credit to Iran's defense. There were frantic clearances on balls into the burly Spanish forward Diego Costa, but mostly Iran's defense was compact and organized, snuffing out attacks before they began. Manchester City midfielder David Silva had Spain's best chances, as he was able to wriggle free and unleash a few shots. Spain had just one shot on frame in the first half.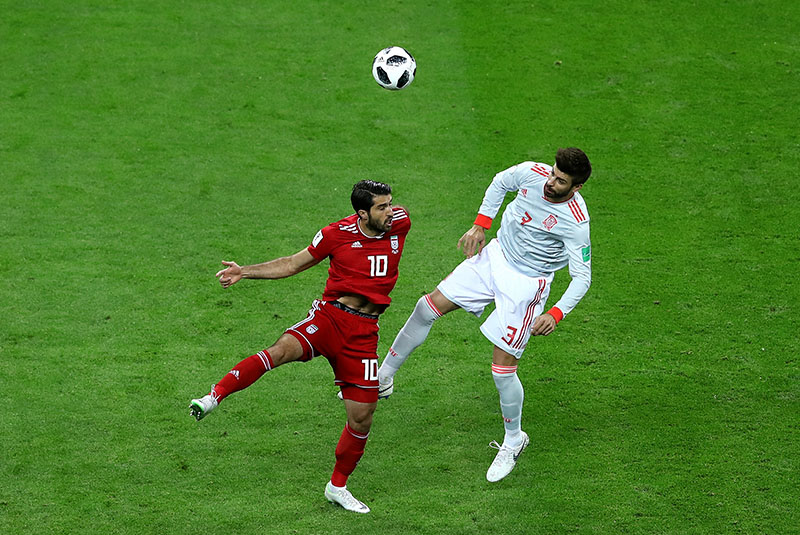 But the dam couldn't hold forever, and cruelly, Iran was the author of its own demise. In the 54th minute, Andres Iniesta slotted a ball through to Costa in the box, who tried to turn and get a shot off. Iranian center back Majid Hosseini got to the ball first, but his attempted clearance ricocheted off Costa's knee and past a helpless Alireza Beiranvand.
Iran manager Carlos Queiroz, who led Real Madrid in the early 2000s, had a choice to make. Iran could open up and chase the game, hoping to find an equalizer against a Spanish defense it had barely troubled all game. Or Iran could sit back, avoid the goal differential killer of a blowout, maybe fluke their way into a goal, and hope for fortune on the final day of group stage play.
Queiroz made the brave choice, and the final half-hour of the game was an open, back-and-forth affair. Spain had plenty of opportunities for a second — at one point Costa and Gerard Pique repeatedly kicked a ball on the Iranian goal line but were foiled by two Iranian defenders who all but fell on top of the ball — but were unable to convert.
For a brief moment, as Kazan Arena erupted all around them, it seemed that Iran had scored. An Iranian free-kick was headed off Saeid Ezatolahi, who corralled the loose ball and dispatched it into the back of the net. But after a review by the video assistant referee, it was confirmed that Ezatolahi was offside.
Another near equalizer would have been one of the goals of the tournament. Skipping along parallel to the touchline, Vahid Amiri nutmegged Pique before floating a perfect cross toward the back post. Mehdi Taremi flew in and thumped the ball with his head, but it went over.
After two matches, it's hard to know what to think of either team. Iran has a stout defense, but the attack that had looked moribund against Morocco was dangerous when they finally went forward against Spain. Meanwhile, Spain would've soundly beaten Portugal if it weren't for Ronaldo's heroics, yet the Spaniards struggled to break down Iran.
Then again, that is how it has been for Spain since they won the European Championship in 2008. All but the strongest teams are afraid to commit attackers forward against them, and so Spanish matches are an exercise in waiting for them to unlock a defense.
On Wednesday night it wasn't tiki-taka, brilliant interplay or a satisfying one-two that won it for Spain — though at times all of those were on display — but Diego Costa's knee and a lucky bounce. Sometimes that's what you need.
Here's how Spain beat Iran:
94': Spain Wins!
It's all over in Kazan! Iran fought valiantly, but couldn't score the equalizer. Their players are down on the field, distraught. But their World Cup is far from over thanks to their win against Morocco.
92': Yellow Card for Iran
An ugly tackle by Omid Ebrahimi gets him in the referee's book and earns Spain a free kick from a good position. It fails to beat the first man.
88': Late Heroics?
With added time, we have about five minutes for Iran to find an equalizer.
82': Inches From Equalizing!
Iran nearly scores one of the goals of the tournament. Vahid Amiri nutmegged Pique and teed up a header for Mehdi Taremi at the edge of the six-yard box, but it goes just over.
79': We Have a Booking
Vahid Amiri with the first yellow card of the match, for a late challenge on Dani Carvajal.
75': Far From Over
Iran is looking lively here! Maybe they will manage an equalizer.
71': Change for Spain
Andres Iniesta, who is still almost as good as he's always been but rarely has the stamina for a full game anymore, goes off for Koke.
70': Chaos at the Iranian Goal
63': Iran Goal Called Back!
Iran puts a free-kick into the box, and after a scramble Saeid Ezatolahi scores. But he is ruled offside, and the video assistant referee concurs with the assistant referee's call. Ezatolahi wasn't offside on the initial free-kick, but when a teammate met the ball in the air and headed it off Ezatolahi, he had strayed a yard offside.
60': Not Going Away Completely
Vahid Amiri gets a good head on a cross, but his shot goes wide. Iran still hasn't had a shot on goal.
56': Momentum Swing? Doubtful
After a team that is parking the bus gets scored on, they usually open up in the hunt for an equalizer. But it seems unlikely that Iran is really going to chase this game, and will instead hope they can convert the one or two chances they'll get instead.
54': GOAL FOR SPAIN
Majid Hosseini kicks the ball off Diego Costa and into his own goal. Though he didn't know about it, Fox is calling the goal for Costa.
Andrew Das: As soccer supervillain feats go, Diego Costa scoring on a deflection off his knee to break Iran's hearts is right up there near the top.
49': Close!
Spain with three great chances to score but are denied! A corner kick dribbles by the goal line but isn't put it, a Busquets shot from outside the box is blocked, and Iranian keeper Alireza Beiranvand parries the rebound away just before Lucas Vázquez gets there.
46': Coming Up: Goals or Cards?
The second half is underway. With 16 fouls in the first half, right now a yellow card looks more likely than a goal.
Halftime: Iran's Strategy Is Working
pain gets about six kicks at a ball on the Iranian goal line, but two Iranian defenders go down in the scrum (and on top of the ball), and the Iranian 'keeper is able to corral it. The opportunity came off a neat little corner kick move.
68': The Fans Are Ready
The teams go into the break tied, 0-0. Spain has had 82 percent of possession and has taken 10 shots, but, crucially, only one was on target. The Iranian defense has been doing a really good job, though they don't look likely at all to score on the counter-attack.
47': Silva Again, Blocked Again
David Silva gets another half-step free and unleashes a shot from the top of the box, but it is blocked out.
Andrew Das: Almost halftime. I hope Iran brought a second trainer to rub all the feet and ankles that got stepped on in the first half.
42': The Bunker Holds
David Silva gets a half second free in the six-yard box, but his shot is blocked by an Iranian defender.
39': Some Testiness!
Diego Costa and Iranian keeper Alireza Beiranvand get into it. Uruguayan referee Cunha Andres is very emphatic, as he is about everything, in telling them to cut it out.
36': A Chance, Technically
Iran's best chance of the match is a corner, but they can't convert.
35': Statistical Analysis: Kinda One-Sided
According to ESPN, Spain has had 82 percent of possession so far. That's incredible!
32': If It Works, It Works
I've been dismissive of Iran, but they are defending extremely well. They're not hanging on by the skin of their teeth, but credibly shutting down every Spanish attack.
28': Well There's This...
Iran controlled the ball for about two minutes, which seems like a big accomplishment.
Andrew Das: You have to wonder if Iran can keep this up for 90 minutes. Possession is three to one for Spain, and it's one acrobatic or frantic clearance after another in front of the Iran goal. It's exciting — Iranians might call it heroic defending — but it's hard to sustain over 90 minutes. And we're only at the half-hour now.
25': Free Kick Is No Trouble for Beiranvand
After another Iranian foul in their own half, David Silva lined up for a 30-yard free-kick. His deflected shot was on target, but right into the arms of Alireza Beiranvand, the Iranian 'keeper.
18': It's Spain 2.0
Spain obviously has a number of incredible passers and dribblers, but this isn't the tiki-taka team of 2010. They have big Diego Costa upfront to put passes into and are looking more for one killer ball than a serious of intricate passes.
13': An Early Theme
More of the same, as Spain looks to unlock the compact Iranian defense. We might be repeating this one a fair bit tonight ...
Spain has managed two free kicks near the Iranian goal but weren't able to connect with the subsequent cross either time.
6': Iran Breaks Out
Iran with a good break forward and they eventually earn a free kick near the corner flag, but Spain heads away out of danger.
3': Bus Parked? Bus Parked.
We're just a few minutes in, and Iran already has 10 men behind the ball as Spain passes it around among themselves. It might be a long night for the Iranian defense.
01': We Are Underway!
Spain is in white, Iran is in red.