Iran Nature
20 Oct 2019
BY

The Authors Group
Most important Deserts of Iran
You may only have heard about two major deserts of Iran, Dasht-e-Kavir, and Kavir-e-Lut. While these are the major Iran deserts, there are a number of touristic deserts in Iran.
Here is the list of top Iran desert destinations to see.
The Dasht-e Kavir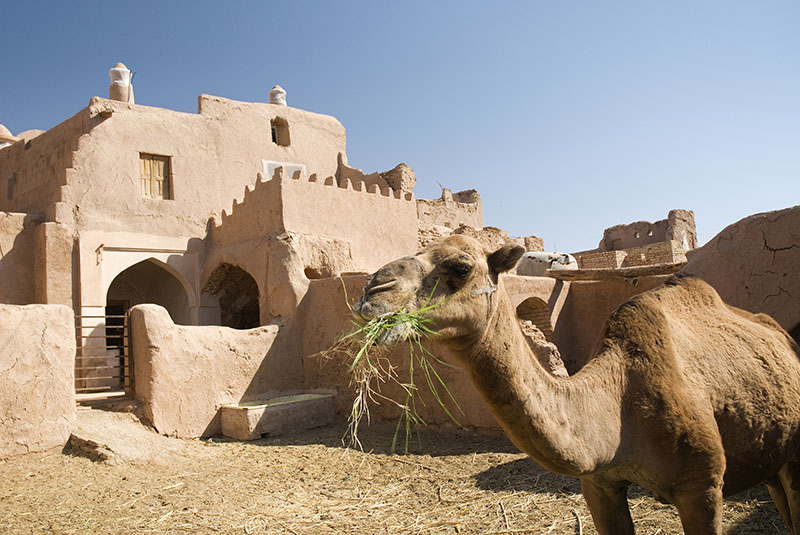 Also known as Kavire Namak and the Great Salt Desert, is the largest salted desert in the central plateau of Iran. The desert is located in the southeast of the Alborz Mountain, about 800 km (500 mi) by 320 km (200 mi) with a total surface area of about 77,600 km2 (30,000 mile2).
There are almost no rain and snow in the area, however, enough runoff from surrounded mountains provide plenty of water to create seasonal lakes. The temperature varies from 22 °C (72 °F) in January to 70 °C (130 °F) in the Summer.
The only plants could be adapted to the hot and arid climate of the desert are species like shrubs and grasses on mountain tops and Mugwort which is the most widespread plant.
There are also a few animals living in Dasht-e Kavir. Persian gazelles live in parts of steppe and desert areas of the central plateau, while wild sheep, camels, goats, and Persian leopards are common in the mountainous areas.
Kavir-e Lūt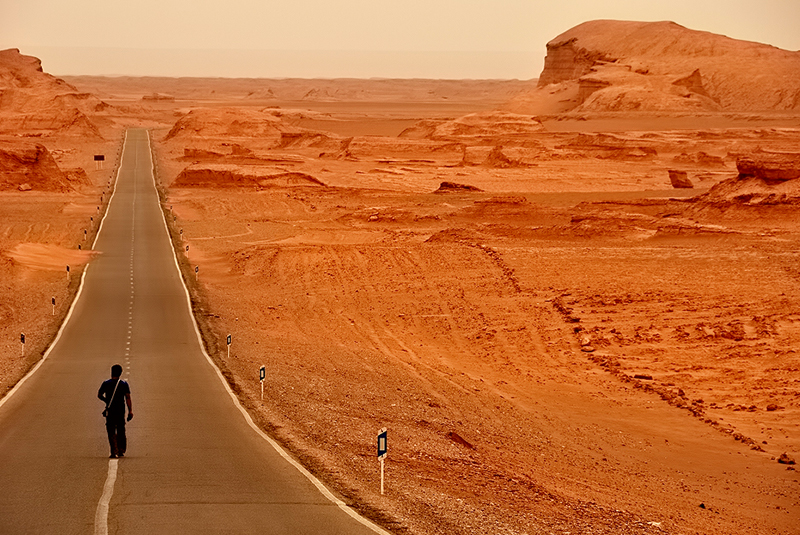 Also known as Dasht-e Lut is situated in the eastern part of Iran. The desert was the first natural item from Iran which was inscribed on UNESCO's World Heritage List since the surface of its sand has been measured as high as 70 °C (159 °F), making it the driest and hottest place in the world.
It is about 320 km (200 miles) from northwest to southeast and about 160 km (100 miles) wide with an area of 51,800 km2 (20,000 mile2). The eastern part is a low plateau covered with salt flats. While central part has been sculpted by the wind into a series of parallel ridges and furrows.
Besides to these deserts, there are some small ones in different parts of the country; the most important ones are Maranjab desert (Located in 50 Km north-east of Aran and Bidgol), Abouzeidabad Desert (25 Km in the eastern part of Kashan), Rige-jen Desert (Located between Semnan and Garmsar), Mesr Desert (located in 60 Km northern part of Khor) and Shahdad desert (Situated in the eastern part of Kerman city).
The Maranjab Desert in Isfahan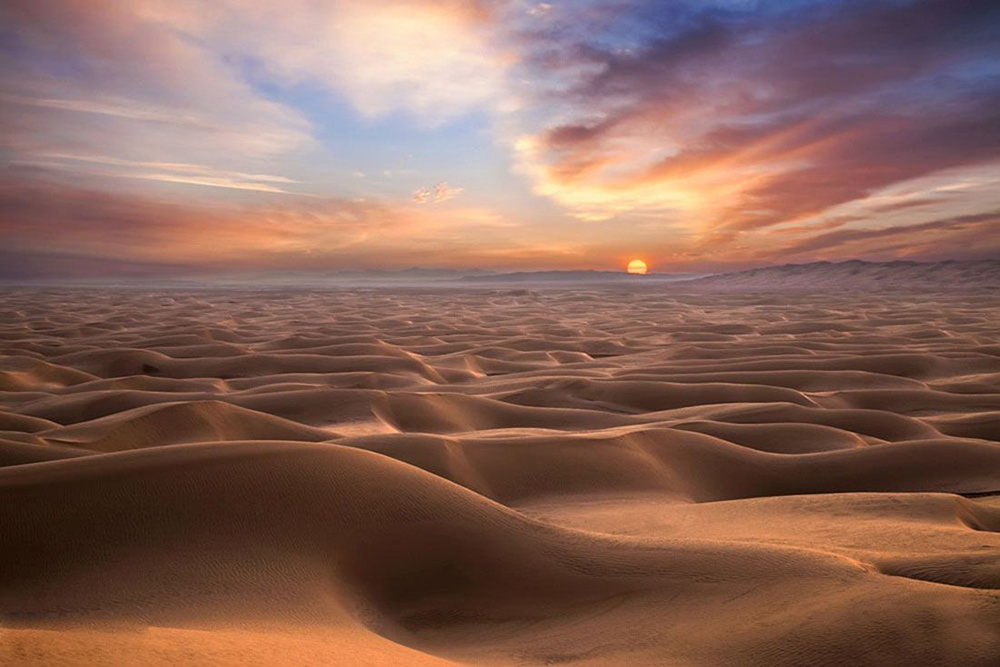 Isfahan is one of the most popular cities in Iran for its historical sites. However, there are lots of natural attractions around the city as well. For instance, the Maranjab Desert which is in close proximity to Aran Va Bidgol city of Isfahan Province.
You can enjoy visiting Shah Abbasi Caravanserai and Dastkan pit at this desert in Iran. You will defiantly enjoy walking on the golden sands, or just laying down and gazing at the crystal clear sky of the desert.
By the way, you can stay at the Shah Abbasi Caravanserai or eco-camp in the desert at night.
Read more: Best Time to Visit Iran: A Season-by-Season Guide
Mesr Desert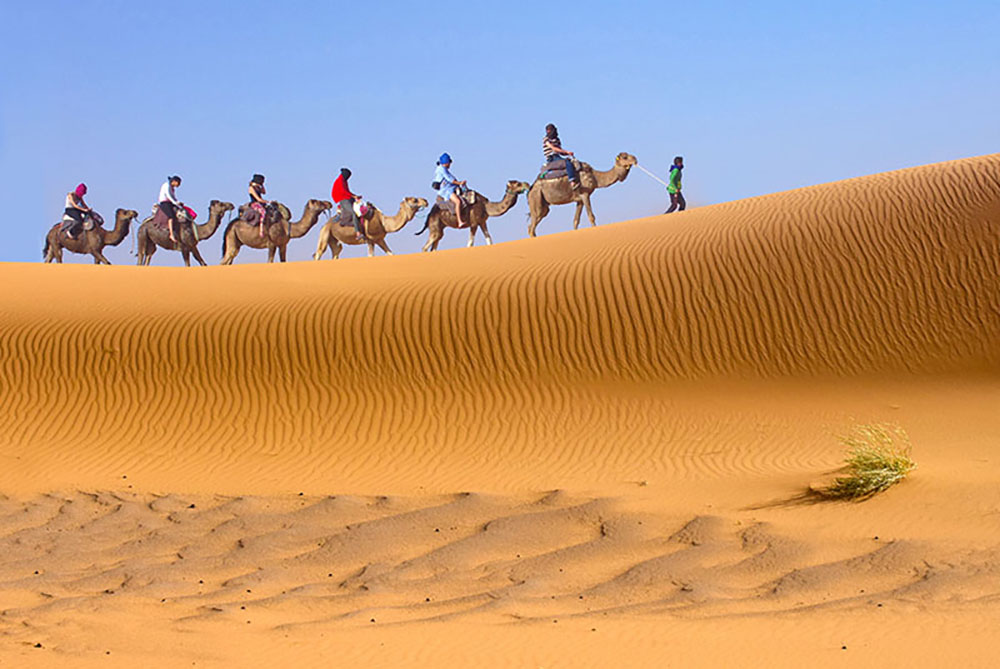 This charming desert is located near the village 'Mesr' in Isfahan Province. Known as the Sand Sea of the Desert, it is one of the most popular deserts in Iran. There are lots of things to do in Mesr Desert, including biking, camel riding, and desert hiking of course.
At nights, you can stare at the shiny stars in the wide and gorgeous sky. Do not worry about finding accommodation, since there are suitable places in the villages near the desert for overnight stays.

Kalut Shahdad Desert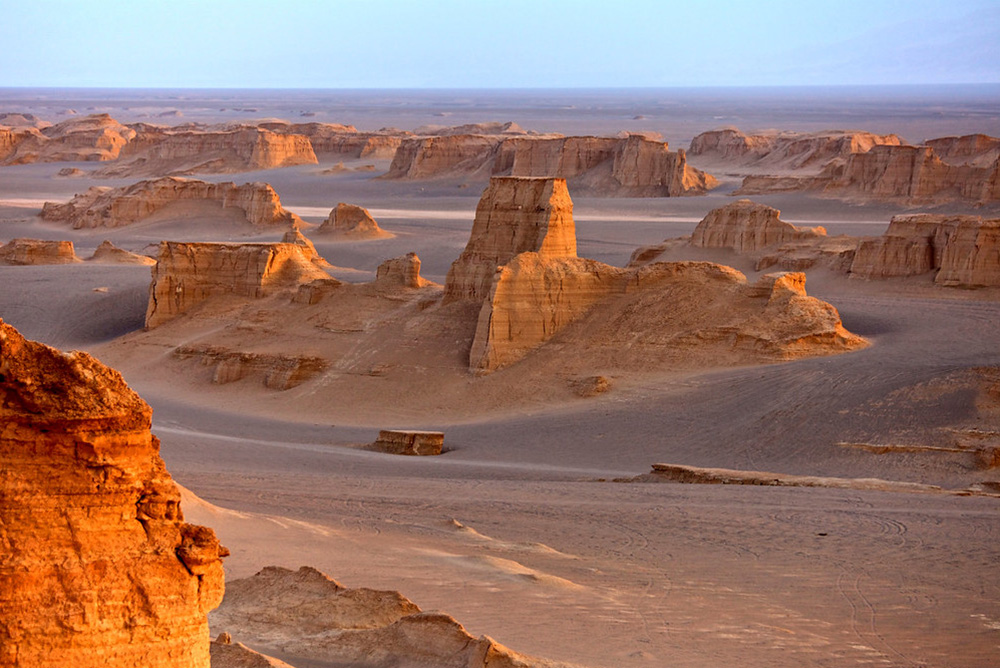 Kerman is another city for touring during fall and winter in Iran. It is also home to lots of Iran's national attractions. The outstanding attraction of Kerman is, however, its Kalut Shahdad Desert.
These spectacular Kaluts, which are scientifically known as yardangs, are the beautiful strange shapes resulting from water and wind erosion of sands more than 20 thousand years ago in the heart of the Loot Desert.
You can enjoy staying overnight in one of the camps in Shahdad.
Read more: 7 Best Autumn Destinations in Iran
Bafgh Desert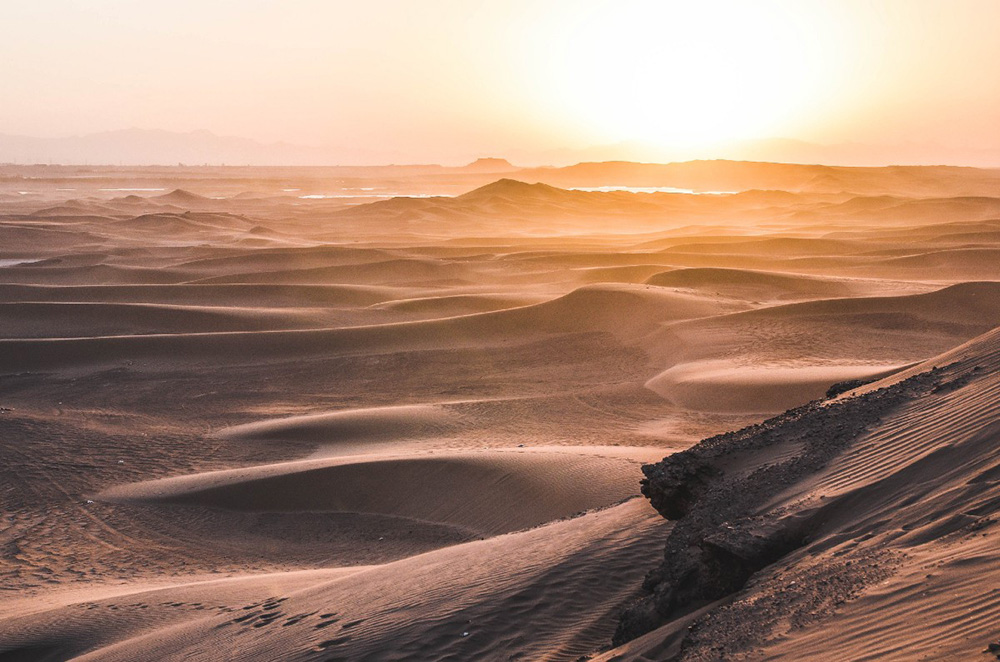 Bafgh desert in Yazd Province is one of the most beautiful deserts in Iran. You can go Camel riding, trekking, and overnight in a traditional mansion.
A one-day desert tour of Bafgh Desert will give you the chance of watching the sunset in the amazing golden desert of Bafgh.
Varzaneh Desert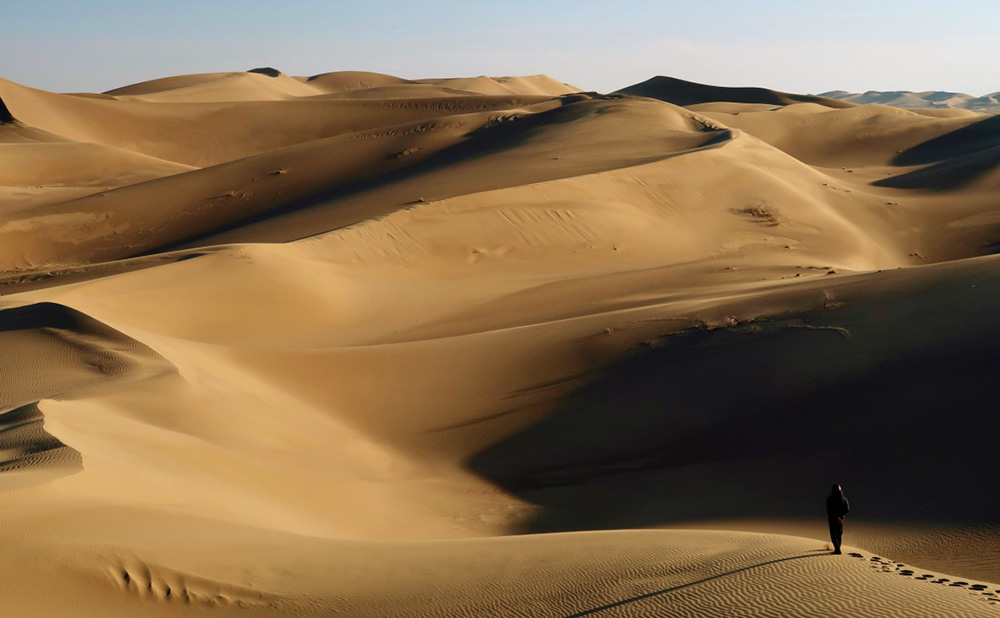 There is another must-see desert in Isfahan Province, which is located 100 kilometers away from Isfahan City. The Varzaneh Desert is mostly famous for its golden high sands. Besides, the blowing of the wind creates fantastic heels in various eye-catching shapes.
Some of the national historical attractions of Iran, including Varzaneh Bridge and Ghurtan Citadel, which trace back to more than 1100 years ago, are also located in this desert. Moreover, Iran's largest desert entertainment complex, with lots of services, is in Varzaneh desert.
Read more: Best places to visit in Kashan
Matinabad Desert Camp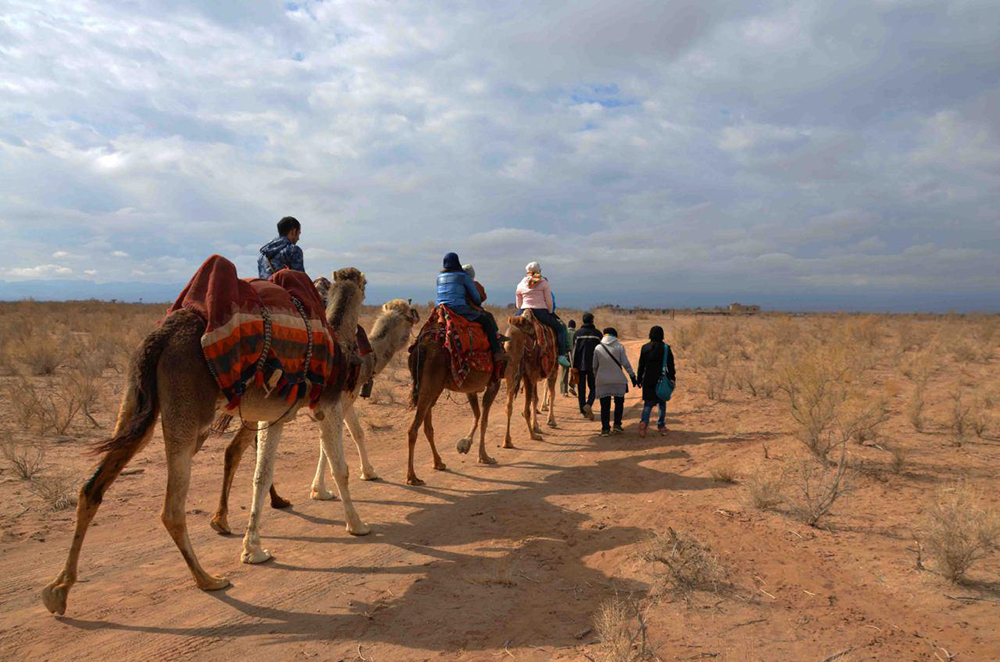 Matin Abad Desert Camp is one of the firsts eco-tourism camps for nature lovers in Iran. It is located 45 Kilometers away from the southeast of Kashan.
In the heart of the desert, you can do different types of activities, including Iran desert trekking, camel riding, and so on. The main building was constructed by bricks which is the same material that Iranian used at their traditional houses.
The accommodation type at Matinabad desert camp os so special and unique, which is a combination of a modern facility with traditional architecture.
Read more: Best places to visit in Kashan
Halvan Desert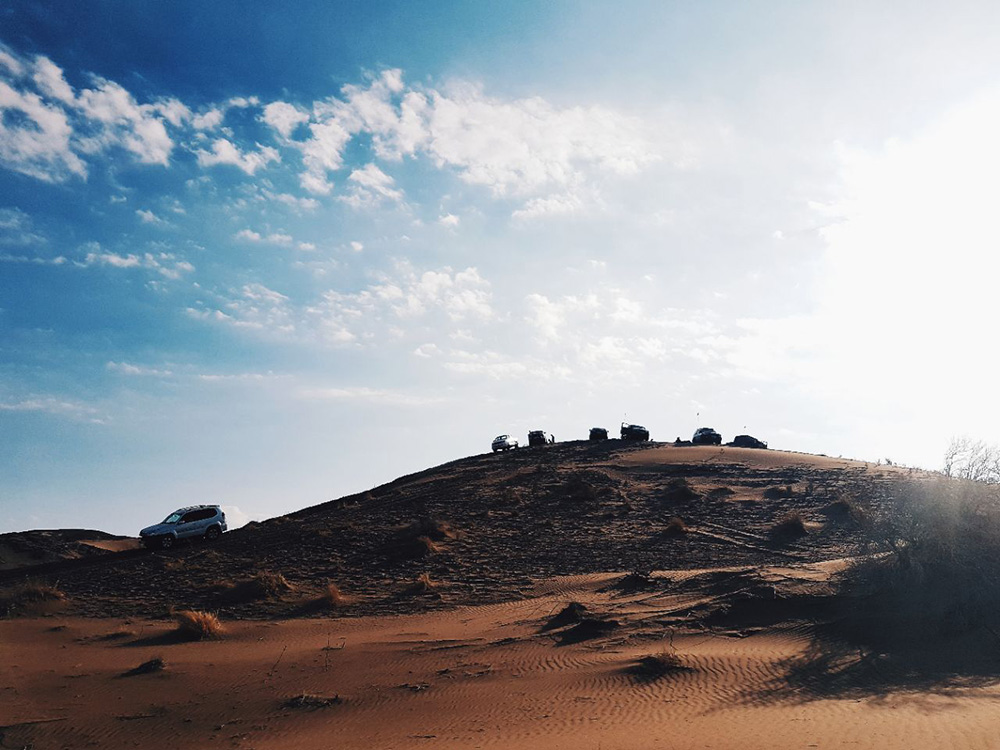 The Halvan desert is located near the village 'Halvan' and is another destination for those travelers who are interested in Iran desert tours. Photography, camping, hiking, rock climbing, and ATV safaris are just a few top activities you can do in the Halvan Desert.
If you are not interested in camping alone, you can utilize the accommodation facilities around the desert.
Related tour: Iran desert tours
Khar Turan National Park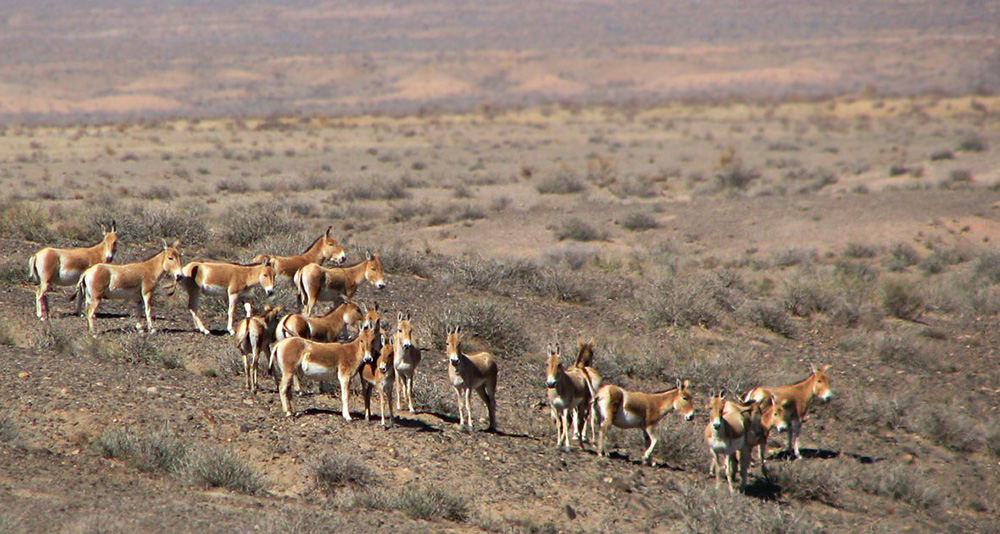 Khar Turan National Park, located southeast of the Iranian city of Shahrud, is considered to be the Africa of Iran.
From its low fields to its mountains, there are habitats of diverse and rare wildlife including mammals such as deer and Pallas's cats, birds such as Houbara, Pleske's ground jay, and White-eyed buzzard, and reptiles such as Desert Monitors, Ja'afari snakes, and Iranian horned snakes, etc.
Still, Khar Turan's wildlife is not important just because of the aforementioned rare species, but for its Asiatic cheetah and Iranian zebra.
Qom Salt Lake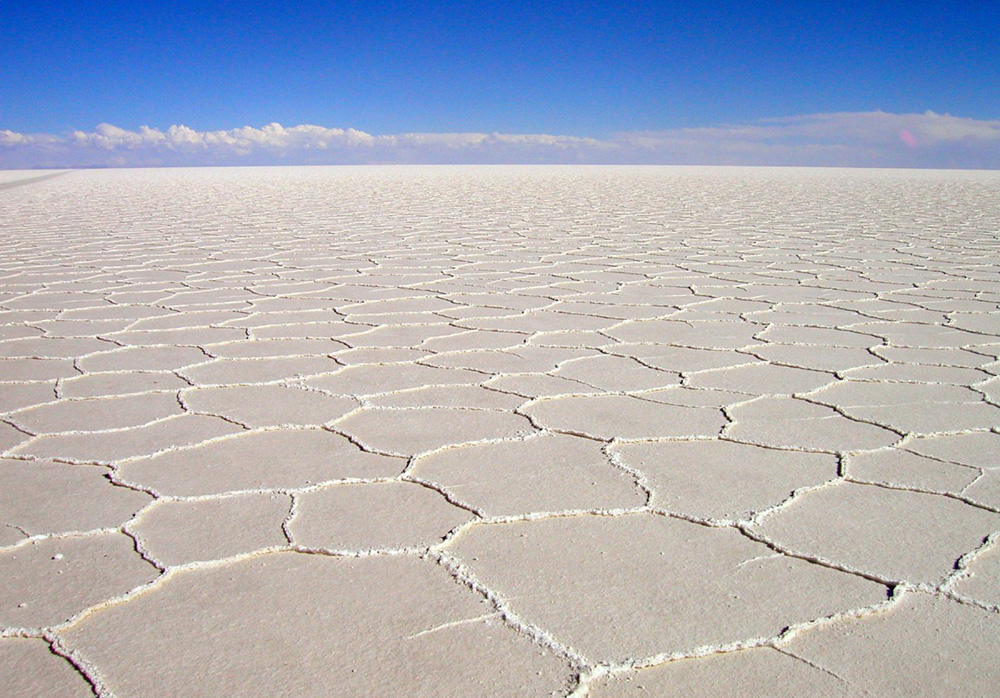 About 100 kilometers east of Qom is the utterly desolate Namak (salt) Lake. A remnant of a sea from the Pleistocene epoch, only one square kilometer of the total 1800 square kilometer area is now covered in water.
Visitors crunch layers of thick white salt as they walk across. This silent, other-worldly lake is visible from the Qom-Esfahan highway and should be a definite pitstop as you leave the city on your way towards Kashan or Esfahan.
The Rig-e Jenn desert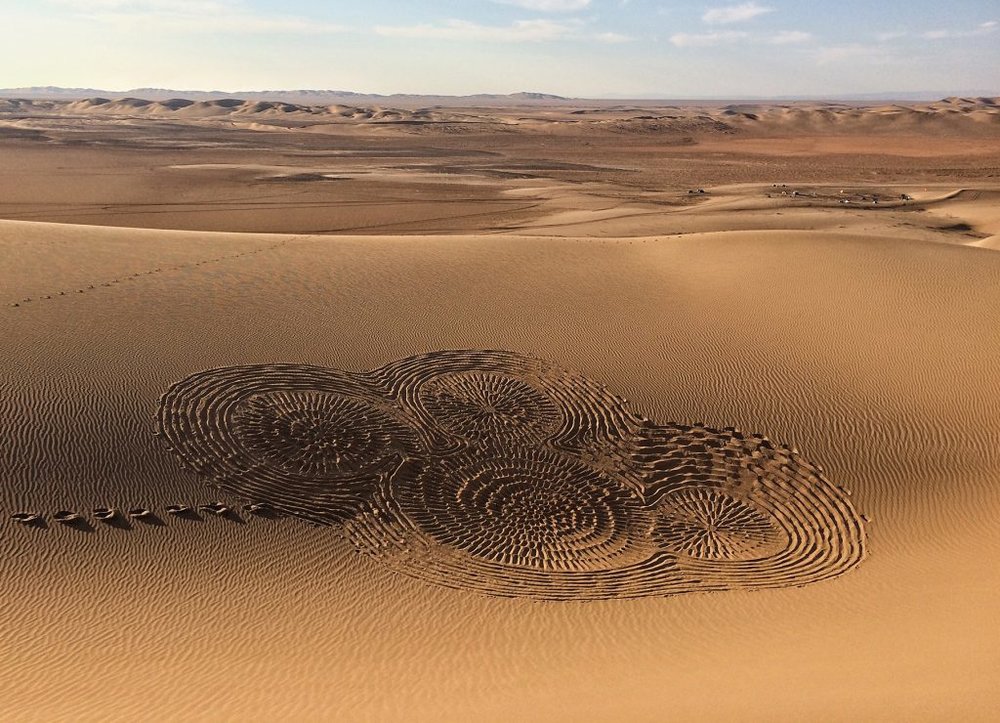 In the central part of Iran, there is a mysterious desert that is the destination of professional desert fans.
There are some legends about this beautiful desert. People say that they have heard strange sounds in some parts of the Rig-e Jenn desert, thinking of the presence of demons and ghosts.
So, if you are crazy about discovering the secrets of the desert and walking on the sands with a perplexing theme, this one is your taste.
But note that unless you are a professional desert traveler, you need to follow a guide during your tour.
Related tour: Iran Adventure tours
The Darvaz-e-Quran Desert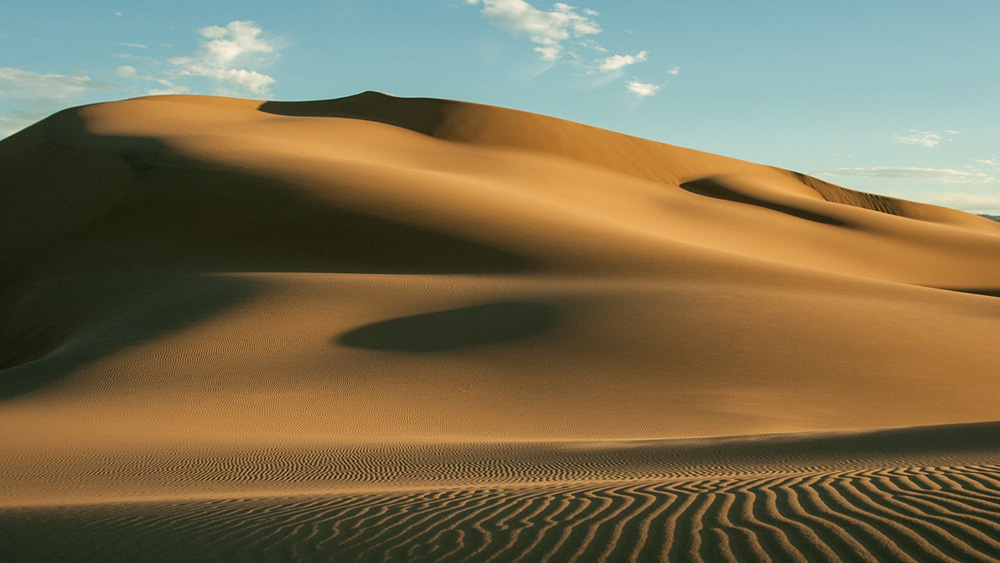 Located in close proximity to Yazd city, the Darvaz-e-Quran Desert provides you with a memorable desert touring in Yazd province. You can enjoy stargazing at night in this beautiful desert.
Additionally, Sindbad and Haftsang camps are at your service there. Camel riding, skiing on the sands, paragliding, zip line, live concert, and ATV safaris are some of the activities you can enjoy in the Darvaz-e-Quran Desert.
Most noteworthy, there is a lake in the midst of the sands which creates a beautiful scenery for the visitors.
Read more: Top things to do in Yazd
Now you know all about deserts in Iran, we highly recommend you visit at least one of them if you travel to Iran in fall and winter.
Don't forget to benefit from our 20% discount on all our tours from the first of December, till the end of February.
We, at Eavar Travel Agency, as a leading Iran Tour Operator, always try to deliver our services with the best quality and price.
It is important for us to not only deliver great service but also provide an unforgettable experience for all of our clients.